Are miners to blame for the recent sell off?
BTC just can't seem to find any support and it seems to be getting worse.
Price is sitting near the lows of the day at $7,500 and not showing much of a bounce.
Per usual for the bitcoin market, there isn't an apparent reason for the slide other than possibly technical indicators.
One theory being floated out there has to do with miners capitulating.
That is where they are no longer able to mine bitcoin at a profit so they are 'forced' to sell everything they can in order to remain in the black.
The hope is that bitcoin will bounce back sharply and they will be able to remain in the game.
If it doesn't, they are the first ones to exit the mining game.
Is that really happening right now?
This hash rate ribbon seems to imply that it is.
When this ribbon inverts, it often signals that miners are capitulating: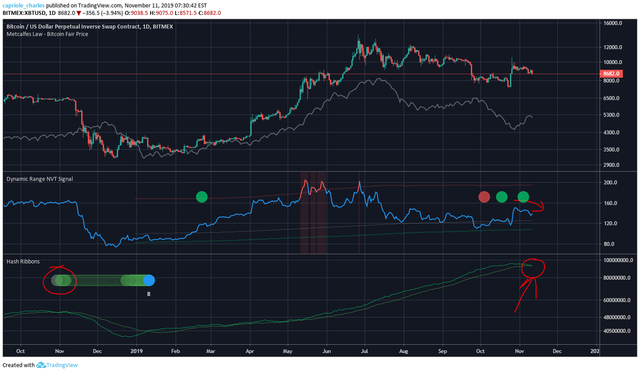 (Source:
1193899142529073152) twitter metadata:Y2FwcmlvbGVpb3x8aHR0cHM6Ly90d2l0dGVyLmNvbS9jYXByaW9sZWlvL3N0YXR1cy8xMTkzODk5MTQyNTI5MDczMTUyKXw= ~~~
As you can see it is very close to inverting, and in fact likely has when factoring in today's action.
The last time this happened was November (ironically) of last year
And we all remember what happened back then!
It happened right before bitcoin plunged from $6k to $3k in a sudden violent washout to the downside.
It appears that may be setting up again now.
Though, I don't anticipate that kind of negative price action happening now, but we still may have some some room to the downside.
I look at $6k as being my line in the sand.
If prices break below there I would reconsider my long thesis.
However, I don't see that happening and look at this current dip as a great buying opportunity with the halving now roughly 5 months away.
Stay informed my friends.
-Doc