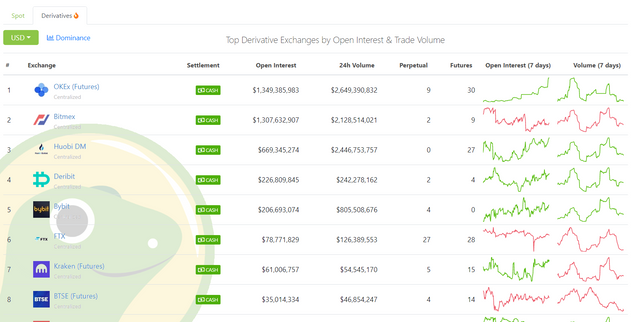 Hello Steemians!
Do you know what Derivatives are?
It is basically a contract between two or more parties whose value is based on an agreed-upon underlying financial asset (in this case, cryptocurrency). In contrast, while normal (Spot) markets trade the coins directly, Derivatives trade contracts based on the coins rather than the coins itself.
We have prepared some easy to understand visuals to explain how 2 types of common Derivatives, Futures and Options, works.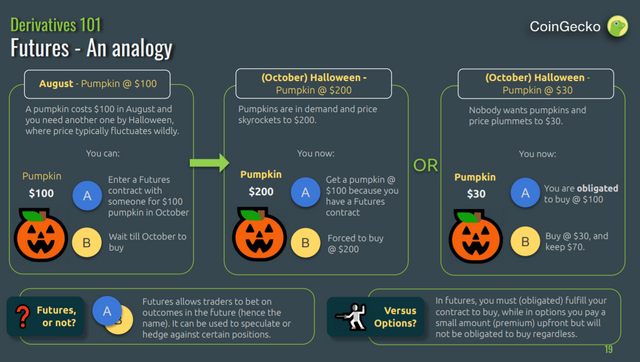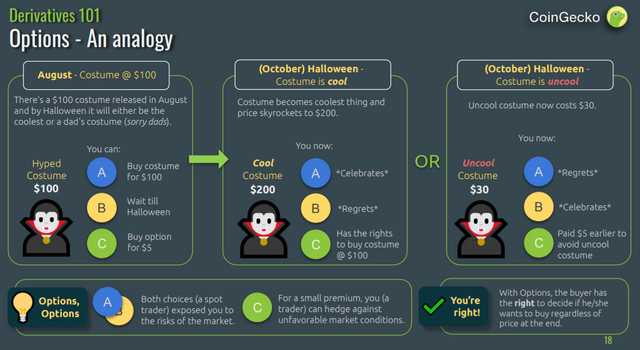 In traditional financial markets, the derivatives market is huge, with the total notional amounts outstanding for contracts estimated at over $500 trillion. To put into perspective how much money that is, the Gross Domestic Product (GDP) of the United States in 2017 was $19.4 trillion. In other words, there's 25 times more money in the Derivatives Market than the whole of the U.S Economy.
Crypto Derivatives
With the explanation to serve as the background, you may wonder "What is the size of Crypto Derivatives?"
Here's where we come in!
We have recently started tracking Crypto Derivatives and is now providing you with live updates on the crypto derivs market. Feel free to check out the page here!
https://www.coingecko.com/en/exchanges/derivatives
We believe that Derivatives will usher in a new age of crypto activity and bring in more participants to the crypto trading industry.
Open Interest
One interesting metrics in Derivatives are what is called Open Interest, which refers to the number of contracts or commitments outstanding in futures and options trading on the exchanges at any one time.
This is a better way to track Derivatives activity rather than looking at plain Volume itself.
Can you guess which exchange has the most Open Interest?
What do you think about Cryptocurrency Derivatives? Let us know in the comments below.