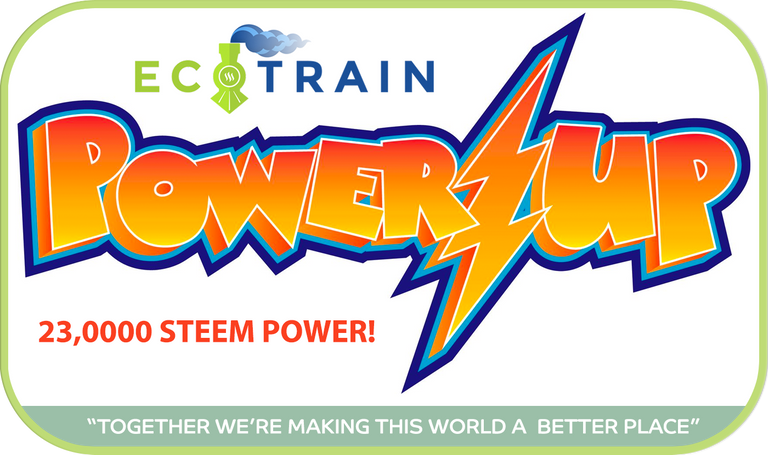 Hey Steemlings! I'm happy to share with you some good news for all of you who use the #ecoTrain tag, I have just bought a bunch more Steem and powered up 6,000 Steem Power! For all of you who have been posting on our tag, you can expect to get even better rewards. As many of you know, we support so many topics on the theme of Things That Help Make This World A Better Place. That includes topics such as homesteading, food, natural health, parenting, healthy cooking, ethics, lifestyle, arts and much more. These days being Eco minded can mean so many things, and our mission is to support and promote people who share in our vision for bright future with others.
If you didn't hear about the ecoTrain before, here are a few words to explain what we are, and how you can receive our upvotes for your posts.
ecoTrain is an open, active, global community focused on sustainability and moving towards the healing of Mother Earth, and of course ourselves! We manually curate and up-vote posts using the #ecotrain tag, based on merit. We support posts that fit the general theme of "Things that help make this world a better place". This can mean so many things, and includes topics such as Homesteading, Vegan Cooking, Spirituality, Esoteric Knowledge, Gardening, Eco Building, Self Sufficiency, Sustainability, Healthy Living, Parenting, Biodiversity, Waste, Decentralisation, Biodiversity & Nature, Climate Change, Ethics, etc..
We especially love people who are engaged with us, and support those of you who are commenting and 'showing up', with up-votes from our combined 23,000 Steem Power. We also love posts that show what you're doing in your community and people who lead by example. We love posts which challenge traditional ways of thinking, doing and being and which offer solutions, ideas and thoughts that minimize our footprint, educate our children and help us to engage more openly from a place of responsibility and contribution. "ecoTrain is about moving forwards together into sustainability and a new level of eco-green global freedom"

HOW DO WE SUPPORT YOU?
We believe in generating abundance, but you should not have to sell your soul to have it. This means that there are no real rules or exact requirements, no resteems or upvotes needed from you. If we like what you post, we will show it with no strings attached. We just ask that you do not spam our tag with things that clearly don't fit. If you are not sure then please do post and we will let you know nicely in the comments that its not the kind of content we support.
1. Up-votes:
Tier 1
Anyone who posts content using the #ecotrain tag will be considered for up-votes. Most good posts that fit our theme get good up-votes. We don't use any automation for up-votes and manually curate our tag. I would like to say a special thank you to @artemislives for helping me to curate and guide my votes. She is spending a LOT of time reading and engaging with you, and I am also following her voting trail so when @artemislives votes for you, so do I and the @ecoTrain account. We are giving up to 50% power upvotes to anyone using our tag with nothing else required from you except a great post!
Tier 2
If you would like to be eligible for up to 60% upvotes then you can delegate at least 250 Steem Power to the @ecotrain account. There has never been a better time to accumulate Steem, and with HardFork 21 around the corner we can expect the Steem Price to rise with the many improvements for curators and people buying in. If you would like to delegate please use https://steembottracker.com/delegation.html link and you can delegate to us in just a few minutes. Once you have done that please join us in the discord group and let us know you delegated so we are sure to know about it, not that I'm likely to miss it ;-)
Tier 3
If you would like to receive 80%-100% upvote for your posts then please delegate 1000SP to @ecotrain. This is an incredible investment of your Steem Power since our vote at 100% is 2300% more than you self voting at that rate. Please note that we do keep an eye on quality, and will not tolerate spam, plagiarism and clearly low value posts. Make and effort, it doesn't have to be a literary masterpiece, and you will be rewarded. On another note, especially to our International friends, we really don't mind poor spelling and grammar if English isn't your first language. What matter is your message!
2. The weekly @ecoTrain Golden Nuggets
We post once a week with the best of the posts that we discovered each week. This gives you are chance to be seen by more people and get some more support and engagement. Check out this week's Golden Nuggets here: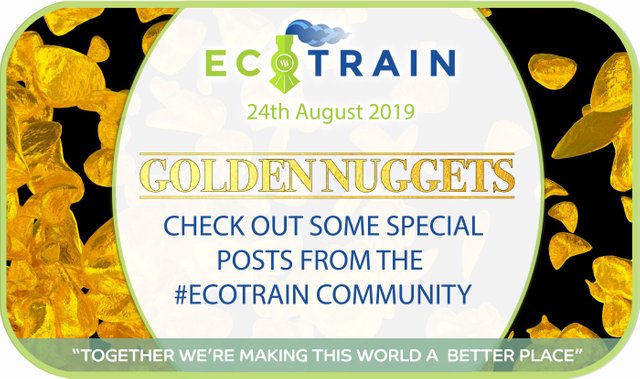 https://steempeak.com/ecotrain/@ecotrain/ecotrain-golden-nuggets-highlights-from-this-weeks-posts
3. The ecoTrain Question Of The Week
The QOTW is an ongoing community challenge that we have been doing for around 2.5 years now! This is always a fun and exciting question or even challenge.
Check out this week's QOTW here: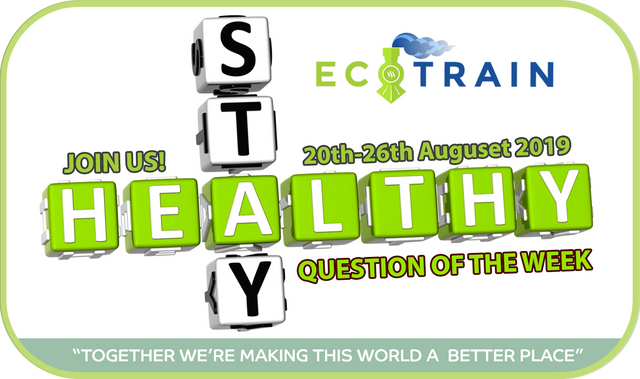 What is more important for good health... emotions, diet, exercise, positive thinking, or something else?
https://steempeak.com/ecotrain/@ecotrain/ecotrain-qotw-what-is-more-important-for-good-health-emotions-diet-exercise-positive-thinking-or-something-else
We have a discord channel, and we use it sparingly for basic communications and sharing. It is like a cosy community with none of the unnecessary noise! Time is precious and we value our time and yours! You can join our discord group at: https://discordapp.com/invite/sxpEPJc



The 8 Pillars of @TribeSteemUp
Supporting People Who Help
Make The World A Better Place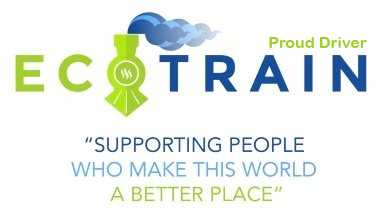 Discover our 'Golden Nuggets' at @ecoTrain