I have been dying to eat some focaccia for a few days now and yesterday I found the time to cook it. Focaccia is a type of bread which should not be more than 2 - 3 cm thick. It can be served along side many meals, as a base for pizza, as sandwich bread or just plain as a snack.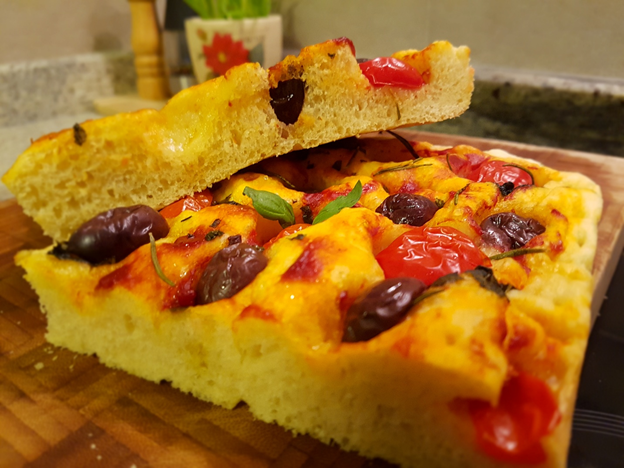 Due to the fact that I had many hungry friends, I made two of them. On the second one I've also added some kalamata olives. Any variant you may choose to prepare will be delicious, fluffy and light.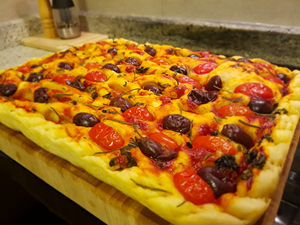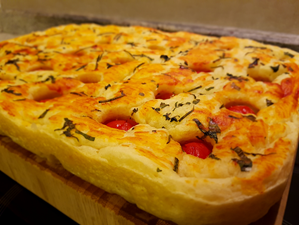 Ingredients for a 30×40 cm oven tray:
• 500 grams of flour
• 50 ml of extra virgin olive oil
• 350 ml of water
• 1 teaspoon of brown sugar
• 15 grams of fresh yeast
• 250 grams of cherry tomatoes
• 50 grams of kalamata olives (optional)
• 2 tablespoons of coarse salt
• 1 tablespoon tomato paste
• 1 twig of Rosemary
• a few leaves of Basil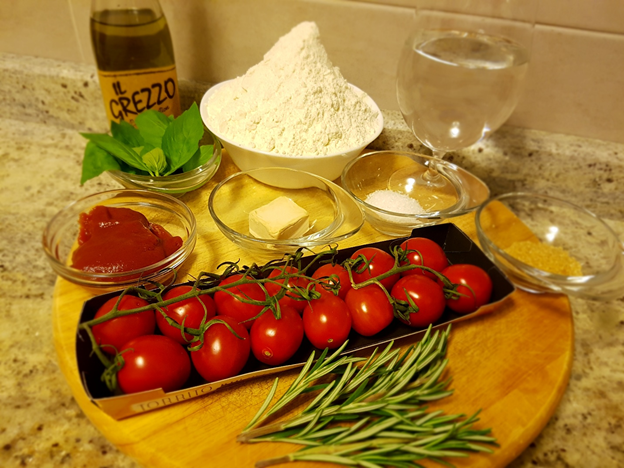 Let's get baking:
Put the flour, sugar and the salt in the large bowl and mix for 1 or 2 minutes, we'll do this to mix the three ingredients, and also to oxygenate the flour. This way we don't risk the yeast getting in direct contact with salt and our dough will grow better.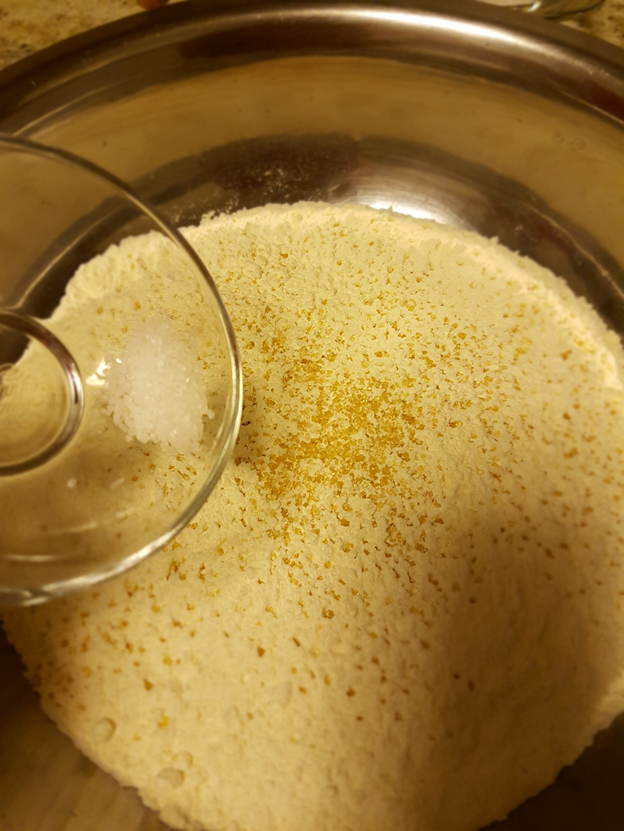 After mixing well, you will see how the flour has become aerated.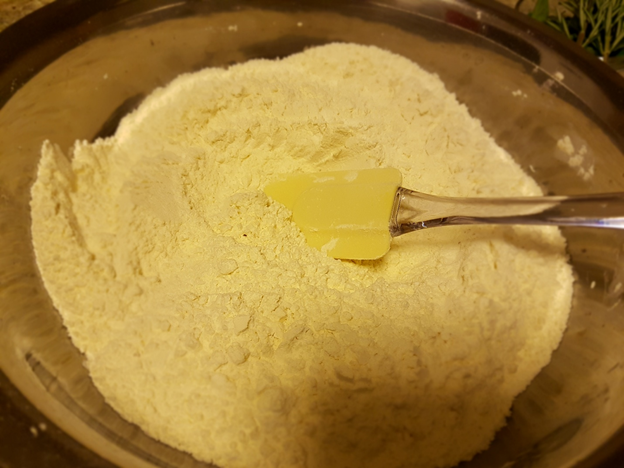 Put the warm water in a cup (the water doesn't have to be too hot), add the yeast and stir well with a spoon until the yeast dissolves completely. Pour the liquid into the flour bowl and gently stir with your hand or a wooden spoon to form a dough.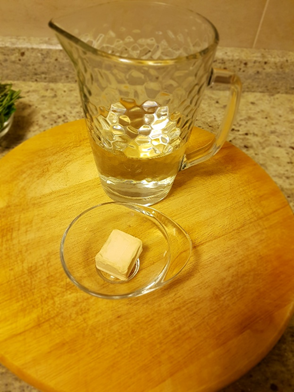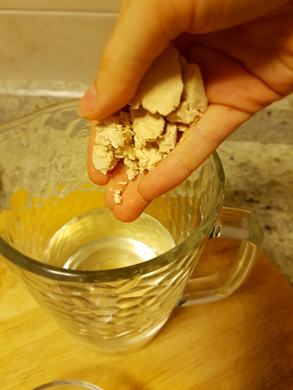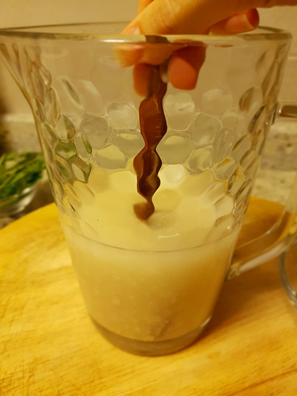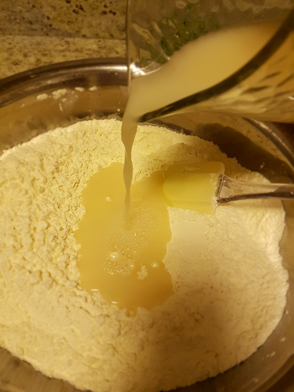 Knead the dough in the bowl for about one minute.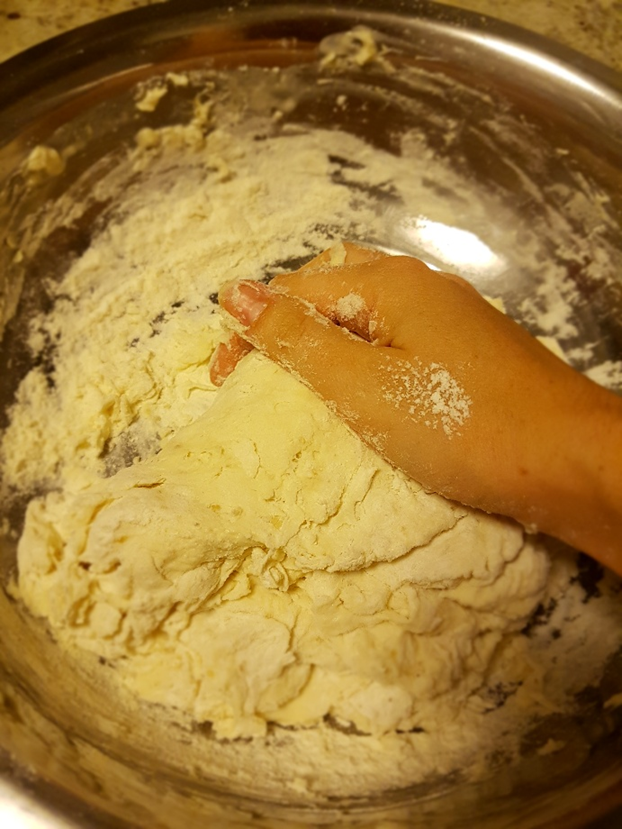 Now move the dough onto an well oiled surface and continue kneading for five more minutes. If the dough is too sticky while kneading add some more oil.
It's important to use coarse salt for the focaccia, so that we can easily tell when our dough is ready. So when you no longer feel the salt grains, it's a sign that your dough is done!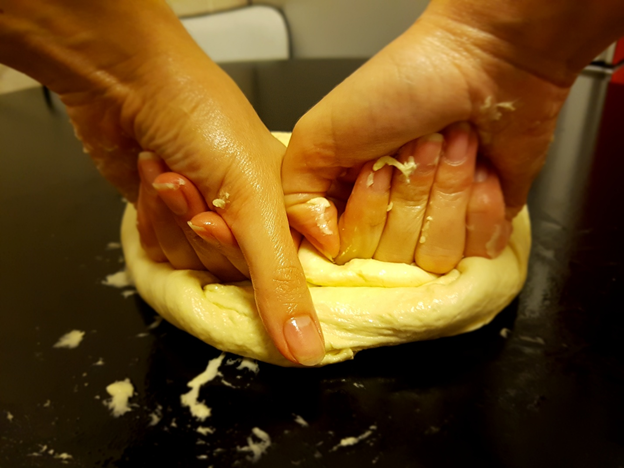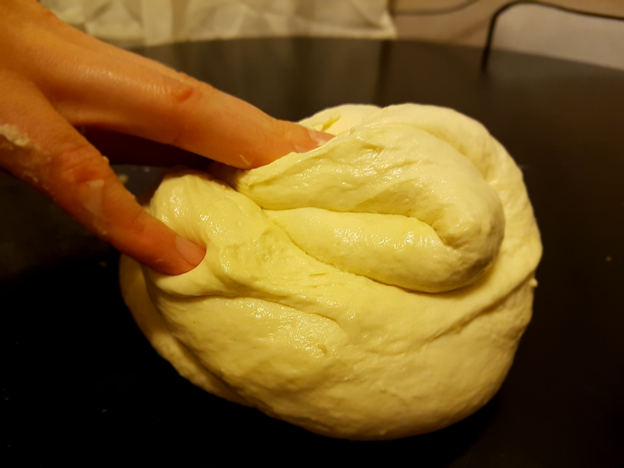 Let's prepare a bowl by spreading some olive oil onto it and then transfer our dough into it.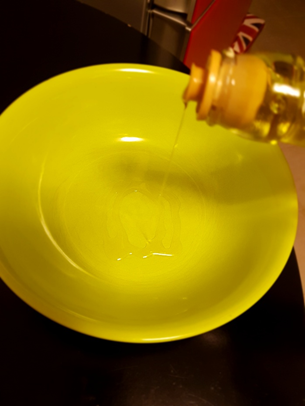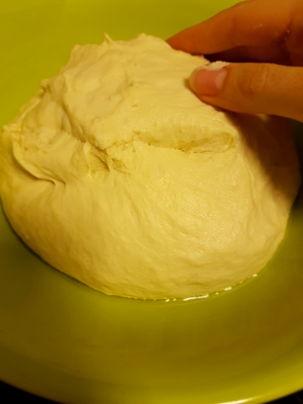 Also spread some oil over the top. Now cover it with a plastic foil (to avoid dehydration) and leave it to rise until it's about doubled it's size. This should take about 1 – 2 hours at room temperature.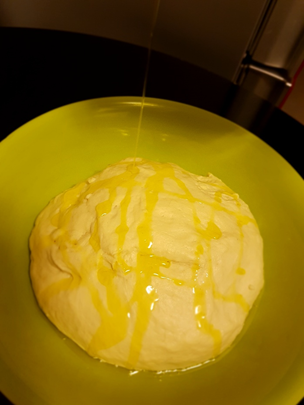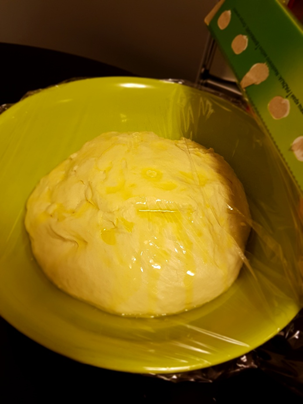 Our dough grew nicely!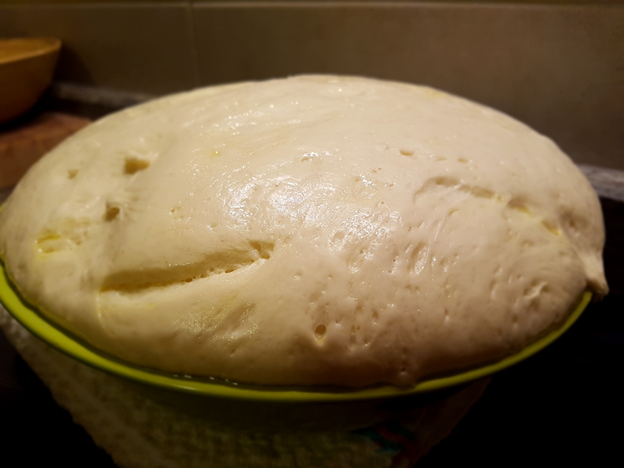 We'll prepare the oven tray by pouring some olive oil in it and spreading it evenly all over the surface.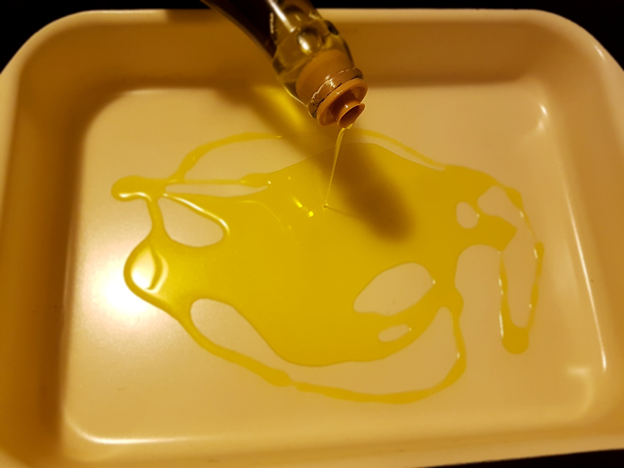 Move the slightly flattened ball of dough in the tray and gently spread it with your hands and then flip it so that both faces are covered with oil. Why do we need to do that? Because while the dough rises, it can form a crust and we don't want that.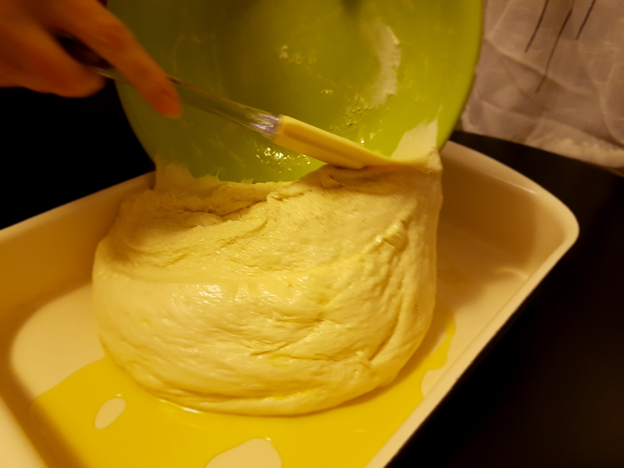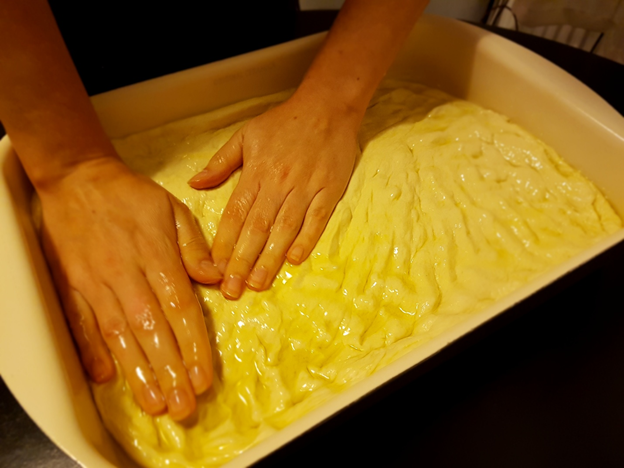 Now that we've put our dough in the tray, we'll let it rest for about 10 minutes.
Meantime I've cut my fresh basil into pieces.
After the dough rested a bit we'll make some dips all over its surface with our fingers.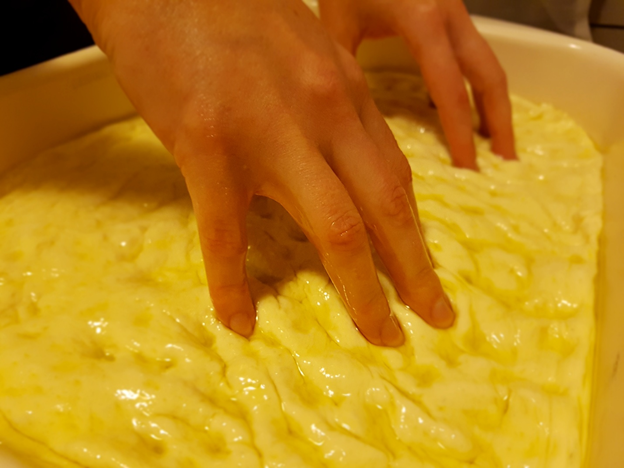 We'll then add some fresh rosemary pieces and the cut basil all over the focaccia.
You can also use dried plants, but the fresh ones have more flavor :P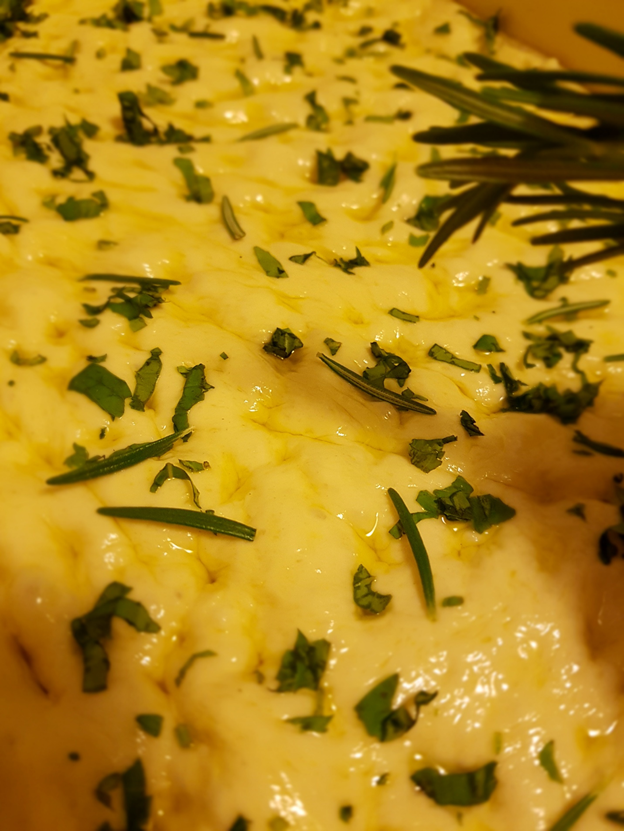 After adding the aromatic plants, add the cherry tomatoes and press them well into the dough. I've used then whole but they can also be cut in half.
At this point you could also add some olives, like I've did for my second focaccia.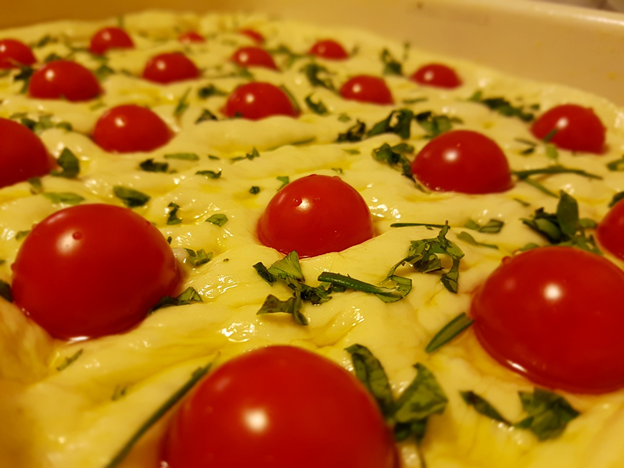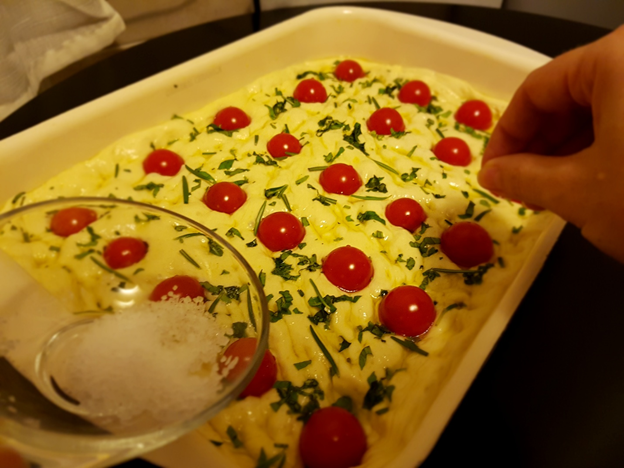 After adding all the topping, we'll cover the tray very well with plastic foil to prevent dehydration.
Let's let it grow yet again for about 2 more hours.
After 2 hours, you can notice how my tomatoes are buried in the dough. This is a sign that our focaccia has grown enough.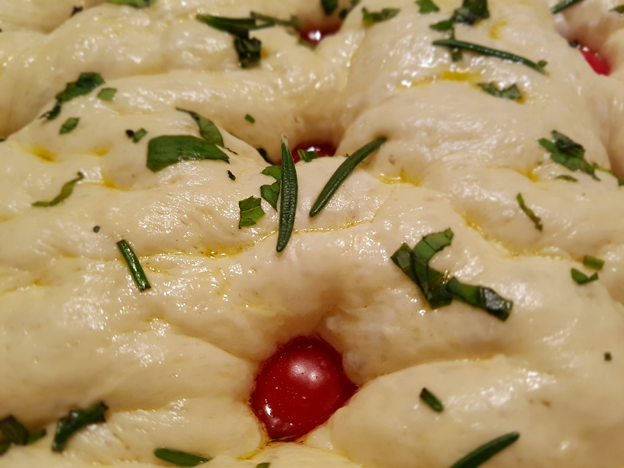 At this point we'll turn on our oven and set it to 220° C / 425° F.
Next we'll need to puncture the dough with a fork to help it bake evenly.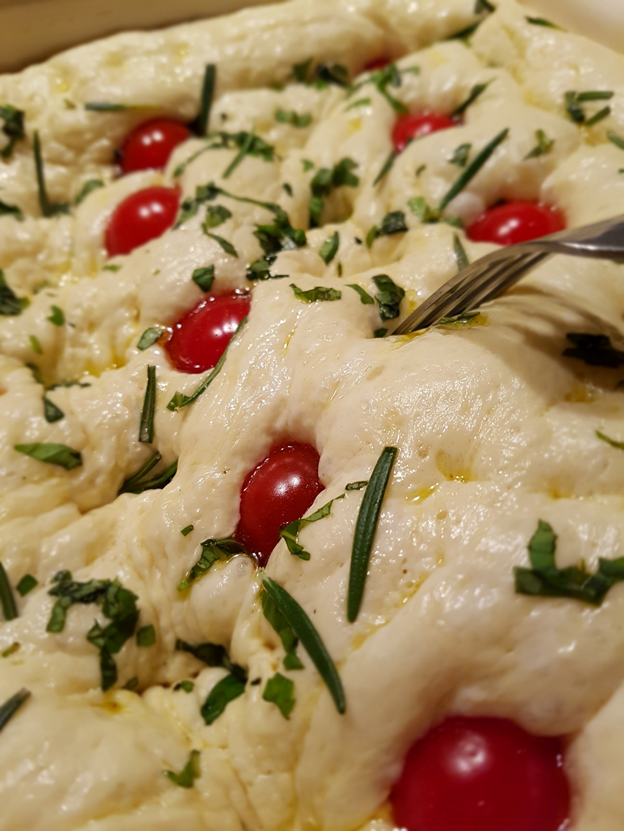 Here you can see how I've made the puncture rows between the tomatoes.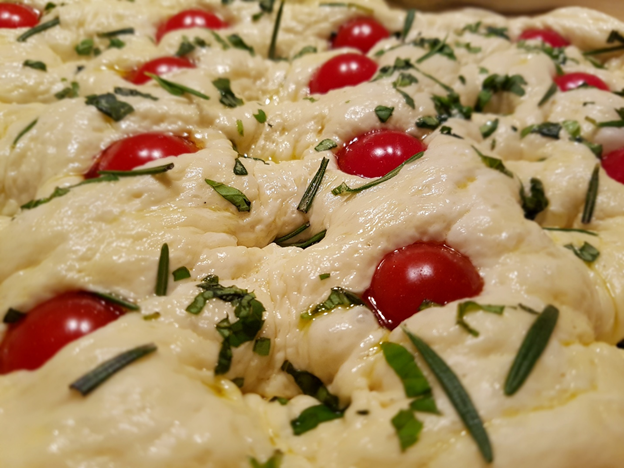 With a silicon basting brush we'll evenly spread the tomato paste all over our focaccia.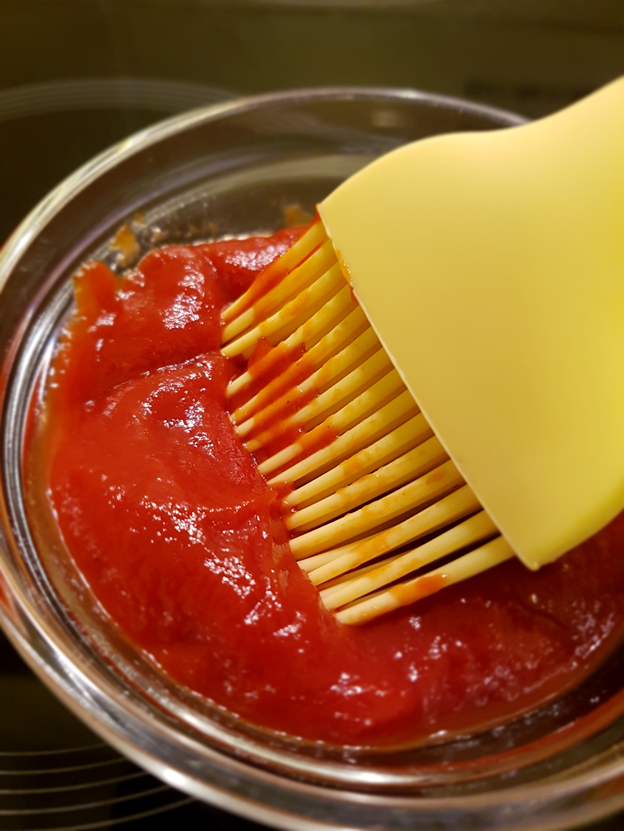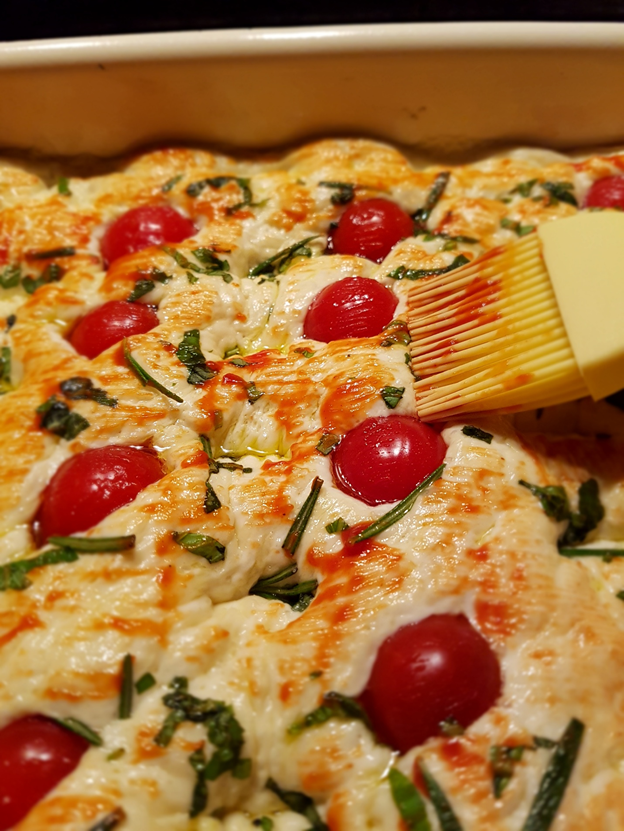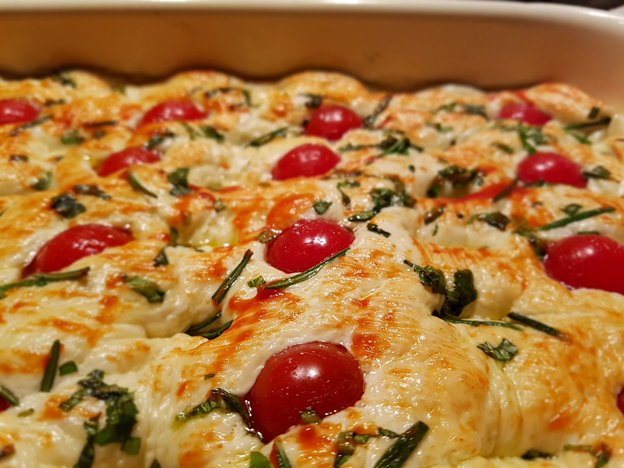 Now we'll bake in the preheated oven for 15 - 18 minutes at 220° C / 425° F.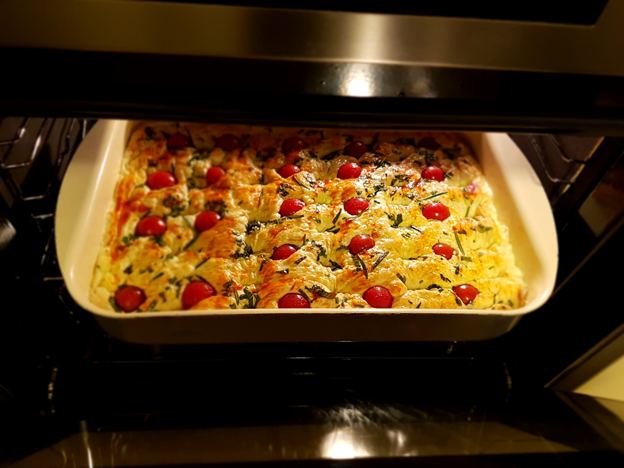 It's ready!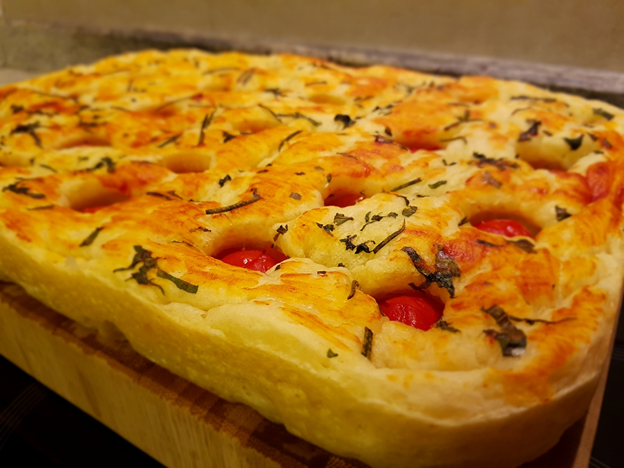 Serve it warm or cold, plain or next to a salad, it's your choice :D
Either way it's absolutely delicious!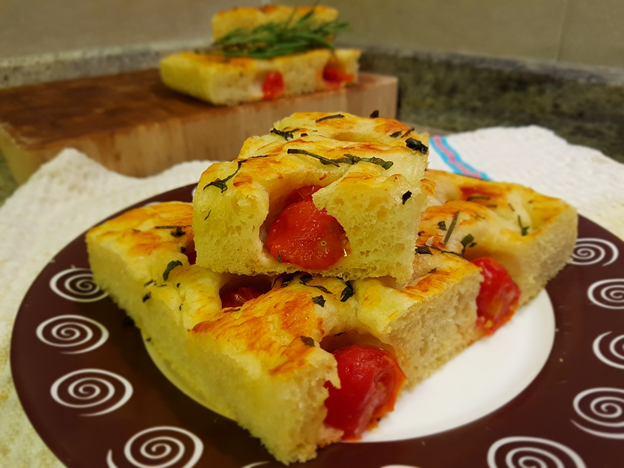 Here are some pictures of the second focaccia that I've made, with the olives on top.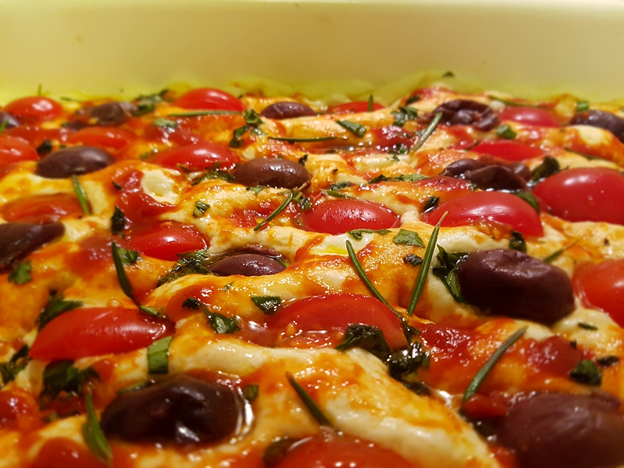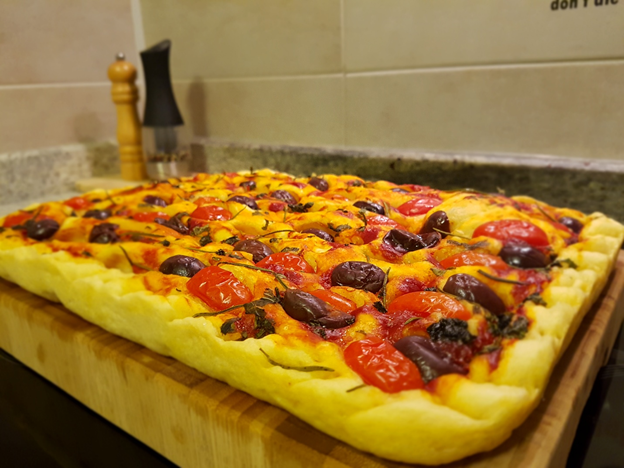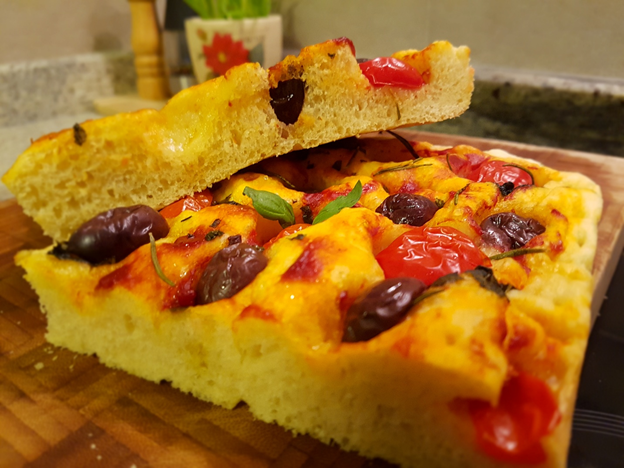 I cannot wait for you to tell me which one is your favorite ;)