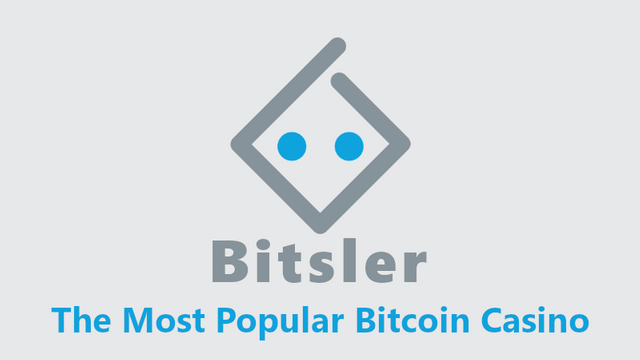 ---
Bitsler has been one of the top brands in the cryptocurrency gambling world for years now. Back in 2015, they launched their crypto casino & quickly rose to become one of the most popular casinos within the first year of operating.
What sets Bitsler apart from other online casinos, is that they feature a very active and vibrant community. Gambling on Bitsler is very much a social experience, the chat box is active 24/7 & you can immediately share your wins with other players.
Bitsler offers a total of 4 games to its players, each game has fun animations and works lightning fast. You have the well-known dice game, which features a low house-edge of just 1%. Then there's the ever so popular French roulette, with a standard house-edge of 2.7%.
That's not all, there are also two other games that are unique to Bitsler. The Cara Y Cruz game is a fun pattern-matching game, where players need to predict which symbols will be drawn. Finally, there's Multicolor, a wheel-of-fortune type game where you pick a color on the wheel to multiply your bet up to 24.25 times!
Bitsler supports 20 different coins:
Bitcoin - Ethereum - Litecoin - Bitcoin Cash - Ripple - Dogecoin - Dash - Zcash - Ethereum Classic - NEO - Stratis - Komodo - Burstcoin - Bitcoin Gold - Lisk - DIGIBYTE - QTUM - WAVES - Bitcoin SV & Bitsler Coin.
Deposits get credited after a few confirmations, but Bitsler does offer instant deposits for trusted accounts. Withdrawals are usually made instantly, though they have a system in place that protects your account from unauthorized withdraws, in case your account is compromised. In that case, the withdraw is manually verified and executed, this process doesn't take long however.
---

---
Progressive Jackpots & Contests
I know that when I gamble, I like the idea of having the chance to win it big. That's where Bitsler really shines, they feature a large progressive jackpot on two of their games, Dice & Multicolor. These are two separate jackpots that increase in value with each bet that has been made.
The Bitcoin Dice jackpot currently stands at around 0.23 BTC, while the Multicolor jackpot contains a whopping 2.11 BTC. The values of these jackpots will change after this article is published & keep in mind that Bitsler supports multiple different altcoins, each of which have their own jackpot!
---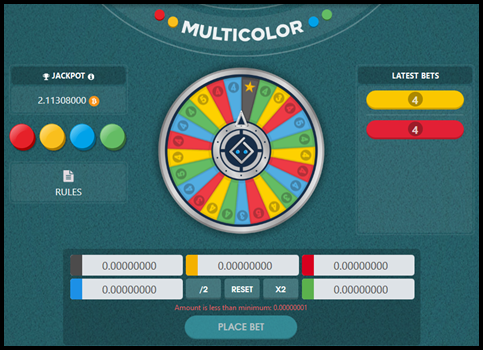 ---
There is absolutely no shortage of wagering contests you can participate with. There are daily, weekly & special wagering contests that allow you to win some hefty prizes. Bitsler gives away $10.000 worth of Bitcoin in their weekly wagering contest, of which the winner takes 50%!
The daily wagering contest might be a bit more attainable for regular players, there they give away $1000 each and every day!
---
Bitsler's Unique VIP Program
For every $1.00 you wager on Bitsler, you receive 1 XP point towards increasing your VIP level. You start out at bronze level and can level up to Diamond 1. With each level you increase, you receive multiple prizes in the form of cashback rewards & treasure chests. At the highest level, these chests can contain prizes of up to $35,000.00 (at diamond level), which are distributed using a provably fair algorithm.
---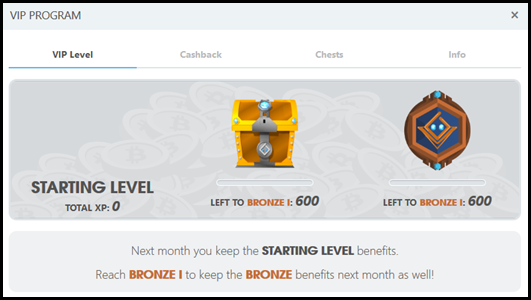 ---
The shier amount of rewards you can earn, just by leveling up your Bitsler account is pretty amazing. The first day of every month, your levels are reset, so you can get each chest again, giving you even more chances to get the top rewards!
Bitsler's VIP program is completely new
---
Conclusion
Bitsler ultimately offers its players one of the best crypto gambling experiences out there. Given the massive amount of promotions they're running, you have an excellent chance of leaving with a prize at the end of your gambling session.
The graphics are non-obtrusive, you have full control whether you want to see animations or hear sounds when you're playing one of their casino games. Aside from that you can also choose whether to view their website in light or dark mode, which is a feature I think all websites should have.
Given that they currently support 20 different forms of cryptocurrency, I'm a little bit surprised that Steem is not one of the coins they support. I'm hoping they might add it in the future, but that won't stop me from enjoying my time on Bitsler. Do note that they have an exchange on their website, so you can easily exchange your deposited coins for other altcoins.