What is TrusDice?
TrustDice is a provably fair gaming platform built on blockchain technology.
Trust is extremely important to TrustDice, and it's important to our players as well. TrustDice games operate on provably fair blockchain technology — you don't need to trust the house to deliver fair odds any more.
TrustDice Bitcoin Games
TrustDice provides provably fair Bitcoin casino, Bitcoin slots, Bitcoin poker, Bitcoin roulette and Bitcoin crash games can all be verified to offer a 100 percent provably fair experience at all times, while our commitment to fair and transparent gaming means that we monitor and exceed the expectations of our players.
Deposit and Withdrawal in TrustDice
TrustDice delivers cryptocurrency-based deposits and withdrawals, allowing players to make lightning-fast transactions with no need for personal information or logins. All deposits and withdrawals are transparently published to the blockchain, ensuring that withdrawals are processed and sent as soon as they are requested.
Provably Fair:
TrustDice allows players to submit player-customized seeds in the random number generation process that drives TrustDice games, ensuring all games are provably fair. Each individual roll in TrustDice games can be independently verified to be free from manipulation

Blockchain Transparent:
TrustDice games are powered by blockchain-based smart contracts. Players can view the smart contracts for each game — by looking "under the hood" at the code that drives a game, players benefit from a completely transparent gaming platform

No deposit, non-custodial wagering
TrustDice players can log in with EOS wallets and wager directly from their wallet — no personal details or logins necessary!

Auto-mode Gaming
TrustDice offers a variety of auto-mode functions that eliminate the hassle of manual operation

Token Incentives
TrustDice's dedicated blockchain token, TXT, is used to reward players, deliver bonuses, or even share in platform profits through a unique profit-sharing and staking system

Bitcoin Faucet
TrustDice provides players with free cryptocurrency, such as free Bitcoin and free Ethereum, through a free bitcoin casino faucet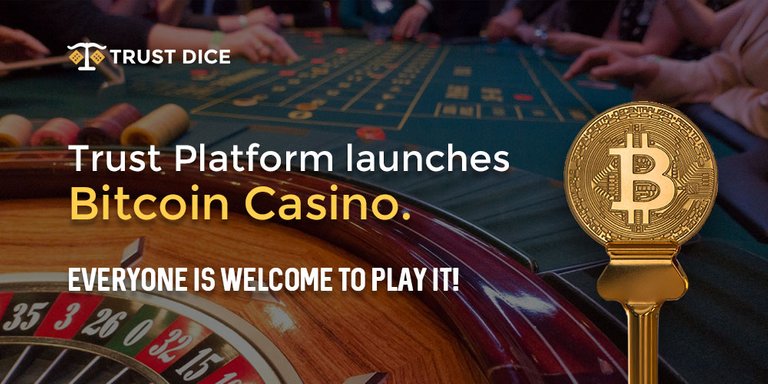 TrustDice Games
TrustDice offers all of the games you'd expect from an online casino and live casino platform, as well as blockchain-exclusive games such as Dice and Crash. Players can choose from a wide variety of different supported currencies that include BTC, ETH, USDT, EOS, OATH, and more.
Bitcoin Dice
Dice is one of the most popular Bitcoin casino games online today. TrustDice's unique blockchain-powered Bitcoin casino Dice game is provably transparent and allows players to view the smart contract that drives is, ensuring all games are completely provably fair.
Bitcoin Crash
Crash is a unique new addition to the cryptocurrency Bitcoin games world — make a wager and watch the payout multiplier increase, but be sure to pull out before the game crashes! Like TrustDice Dice games, Crash is driven by provably, fair blockchain technology.
Bitcoin Casino
The TrustDice Casino offers a broad spectrum of casino games, including video slots, classic slots, poker, blackjack, baccarat, roulette, Bitcoin slots, and a diverse range of table games.
Live Casino
TrustDice's Live Casino offers players a live casino experience available from the comfort of your own home. Players are able to play with live, real-life dealers, croupiers, and players against real-world odds.
TrustDice Promotions
TrustDice promotions provide players with a massive 100% deposit bonus for first deposits, Bitcoin free spins, and progressive bonuses for ongoing deposits, allowing players to multiply their bankroll and winnings!
Bitcoin Forum
TrustDice provides players with a dedicated TrustDice forum. The TrustDice forum allows players to share news, reviews, tips, and articles, as well as share gaming insights and strategies at any time. TrustDice forums also provide forum members with unique news updates, wagering contests, and promotions.