It wasn't so long ago that football clubs would use just a handful of players across an entire season with substitutions reserved for when a player was injured to the point that he genuinely could not carry on.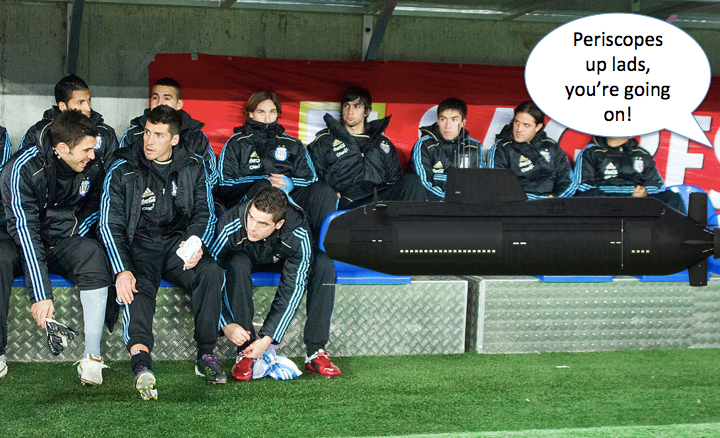 source shared under CC commons license
Liverpool for example, used just 14 players during their 1965/66 season, a year in which they won the league and finished runners-up in the Cup Winners Cup, a tournament that saw them make midweek trips to Hungary, Belgium and Italy along the way.
Aston Villa managed a similar feet when they too won the league in 1980/81 with just 14 players. Worth remembering that on both occasions the league back then consisted of 42 matches as opposed to the current 38.
This is of course in stark contrast to the way football clubs in the modern era operate with huge squads and strong benches bristling with international stars.
The 37 players that Middlesborough used in 2005/06 season remains the record during the Premier League era while the decision by the footballing authorities to allow clubs to make 5 substitutions a game during the 2022/23 season means that many clubs will surpass the 14 players used mark that Villa and Liverpool set before the final whistle of their first match is blown!
Having a strong first XI is no longer enough for sides whatever their ambitions may be!
It surprises me for example to hear Spurs fans concerned over how we'll fit Richarlison in alongside the likes of Kane and Son. My guess is there will be few occasions when the 3 of them are on the same pitch together!
The teams within the chasing pack are now seeking to build squads capable of at least keeping in touch with Liverpool and Man City who have both used strong benches to dominate at domestic and European level.
Most notably it is the "flair" players that these clubs are keen to keep well rested. Of that type of footballer, only Bernardo Silva started more than 30 league matches for City last year (33 starts total) who had the luxury of subbing him off on half a dozen of those occasions.
While for Liverpool their most used forward thinking players were Mane who started 32 games and Salah just 30 with the pair subbed off 7 and 5 times respectively meaning each played the full 90 mins of a Premier League game on just 25 occasions.
When you compare their workload with that of Harry Kane (36 starts) and Heung Min Son (35 starts) you can see why their is a need to bring in fresh reinforcements even though they might not be guaranteed a start every week.
Perhaps the most telling stat is that Spurs felt so unconfident in the strength of their bench that they subbed Kane off just once all season! The net result being that Kane played 471 more minutes of Premier League football than Mo Salah, the equivalent of more than 5 whole games. One of these clubs challenged for trophies on 4 fronts, one didn't.
In fact for Spurs, the issue is even more pressing because as far as Europe was concerned, last season we were happy to play a reserve team before we were shown mercy and kicked out of the Conference League. This coming year we'll presumably want to remain in the Champions League as long as possible not to mention get back to challenging for the domestic cups
In football, standing still is the equivalent of going backwards. Spurs learned this the hard way by failing to back Pochettino in the transfer market while their competitors all established superior squads.
You could make a strong argument for us having the best starting XI in the Premier League in 2017 but it ultimately didn't lead to silverware largely because not only did they not have the bench to back those guys up but there was no succession planning for how we would replace some of the stars of that side over the coming seasons.
Conte and Paratici don't appear keen to make the same mistake again with Richarlison set to become Spurs first permanent signing of a forward since 2017! However, we are still in a position of having to play catch-up with most of our competitors amongst the big six 6 clubs when it comes to squad depth.
A new right back and left-sided central defender seem to be priorities with Djed Spence and Clément Lenglet the names most strongly linked with a move. Thereafter, I believe we'll be entering a stage where players will need to leave before we can buy more in.
Of course this push to beef up the squad isn't unique to Spurs. Arsenal look set to double down on the large outlay they made this time last year while Liverpool and City have spent big on bringing in even more firepower in the form of Darwin and Haaland respectively.
While United and Chelsea have yet to pull the trigger, largely due to back room and board room changes slowing down recruitment, it seems unlikely that they'll remain quiet in the transfer market for much longer.
Indeed it's difficult to remember a June where so many big signings have already taken place with a good deal more looking imminent over the coming weeks.
The lack of an international tournament this summer is helping clubs get the business done early but no doubt the introduction of the 5 sub rule is also a major driving force in the need for sides to not simply refresh a team but actively expand it!
What's more, clubs want what we might commonly term "squad players" in place early to ensure they can take part in pre-season preparations and hit the ground running. These guys are no longer being brought in simply to make up the numbers, they'll be expected to make an impact even if opportunities to start matches over the first couple of months are limited.
When the dust settles at the close of the transfer window we'll be looking at the teams with the best 20+ players to fit their particular system as the ones to really watch out for in the coming season.