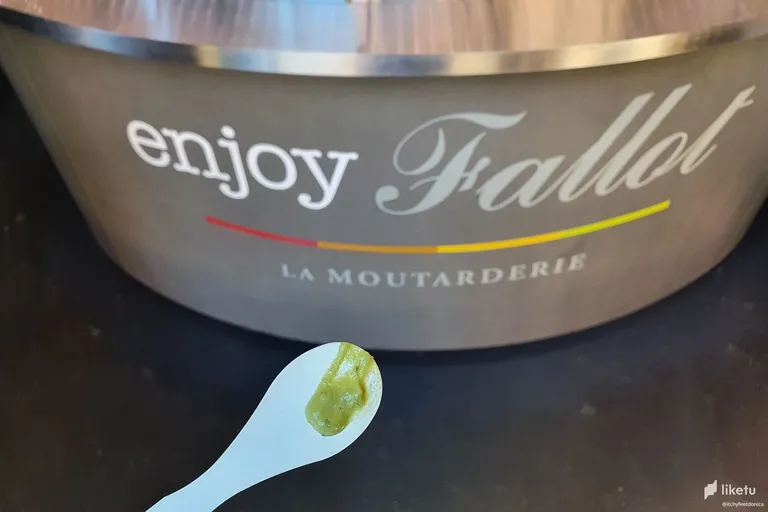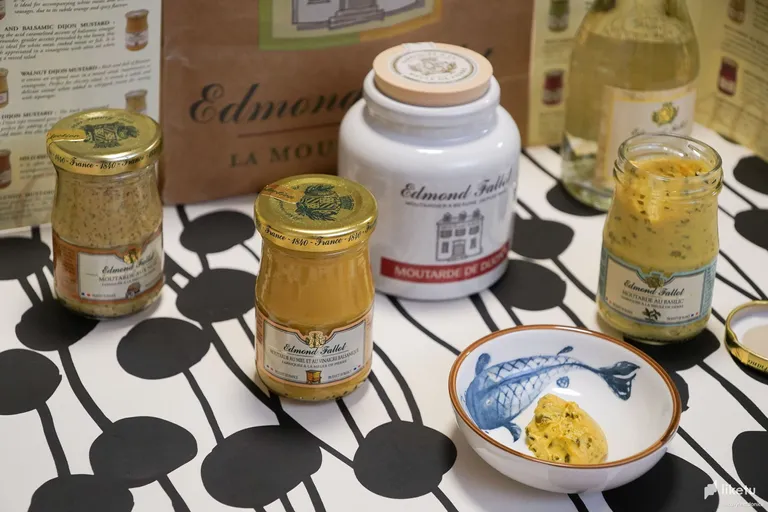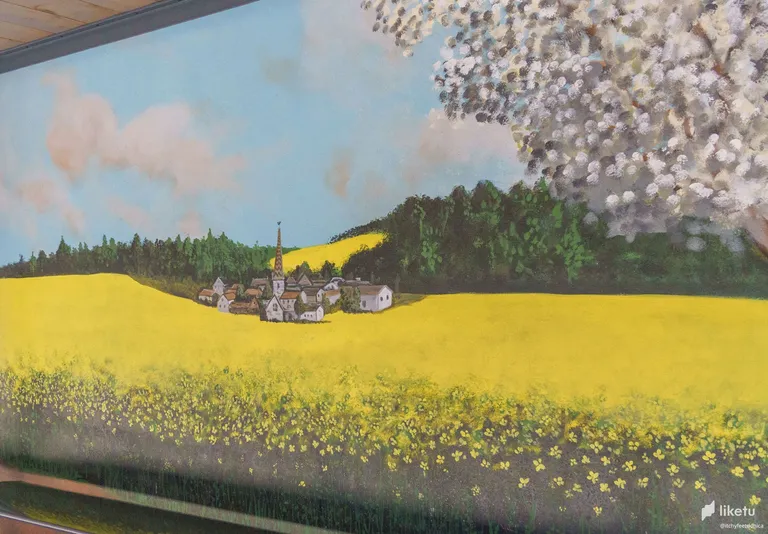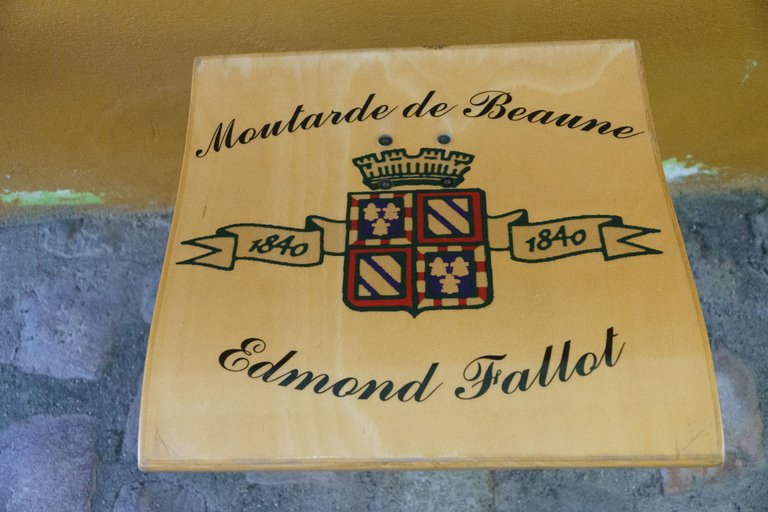 In addition to the vast fields of sunflowers in Burgundy, I've recently spotted some yellow and green mustard plants. In today's post, let's go to a mustard boutique-atelier in this region. La Moutarderie Fallot, a family business since 1840, is Burgundy's last independent mustard mill.
Perhaps you've heard of the renowned French Dijon mustard? Burgundy's capital, Dijon, is well-known for its mustard, gingerbread, and annual international gastronomy fair (of course there is much more to offer, but yeah, this is a foodie post ;)).
Dijon was an exclusive centre for mustard making in the late Middle Ages. Its mustard gained popularity in 1856, when Dijon's Jean Naigeon replaced vinegar in the traditional recipe with acidic verjuice from unripe grapes. However, most Dijon mustards now contain white wine rather than verjuice, and the majority of "Dijon mustard" is produced elsewhere.
La Moutarderie Fallot has ateliers and boutiques in both Dijon and Beaune. This one I visited is in Beaune, Dijon's smaller neighbour and Burgundy's wine capital. Remember? Grapes are also required for mustards here.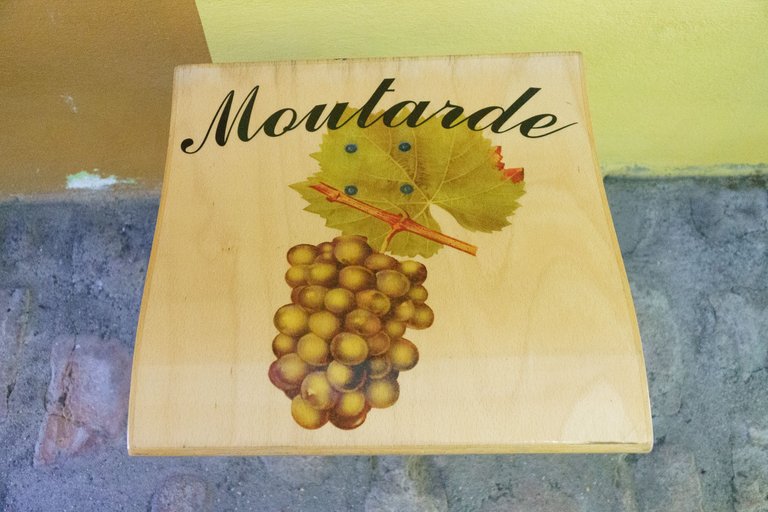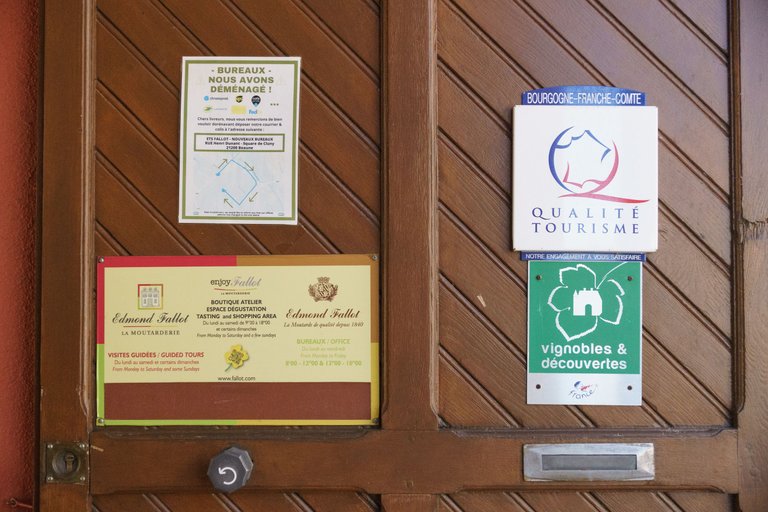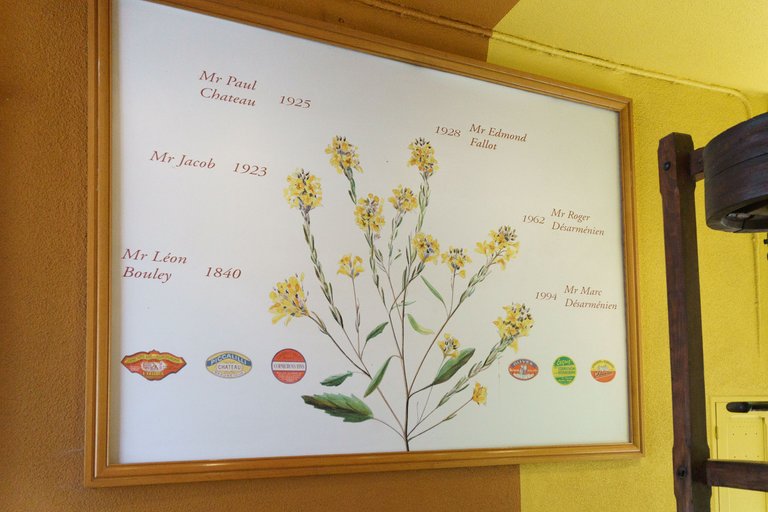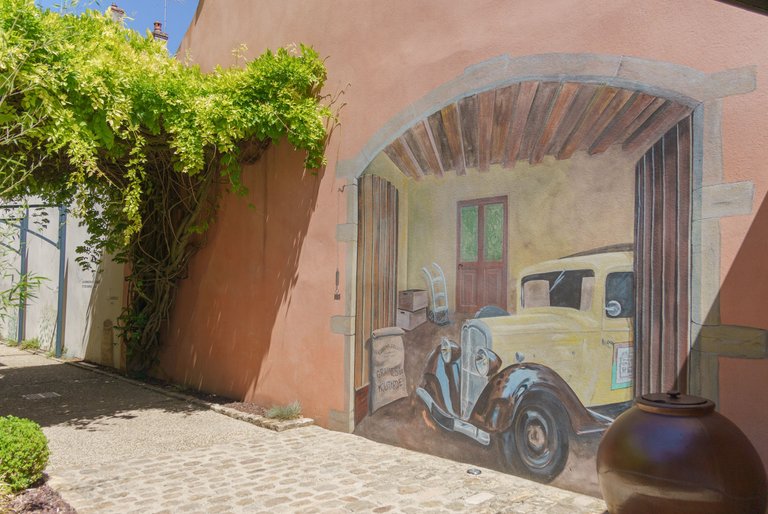 ---


The Dijon mustard has a light yellow colour (see my photos below) and a distinct sour flavour, whereas the sweeter bright yellow mustard used as a hot dog condiment often contains turmeric. The later was introduced to the US by the R.T. French Company at the 1904 St. Louis World's Fair. Mustards from other countries, such as Japan and the United Kingdom, are also available on the boutique's shelves.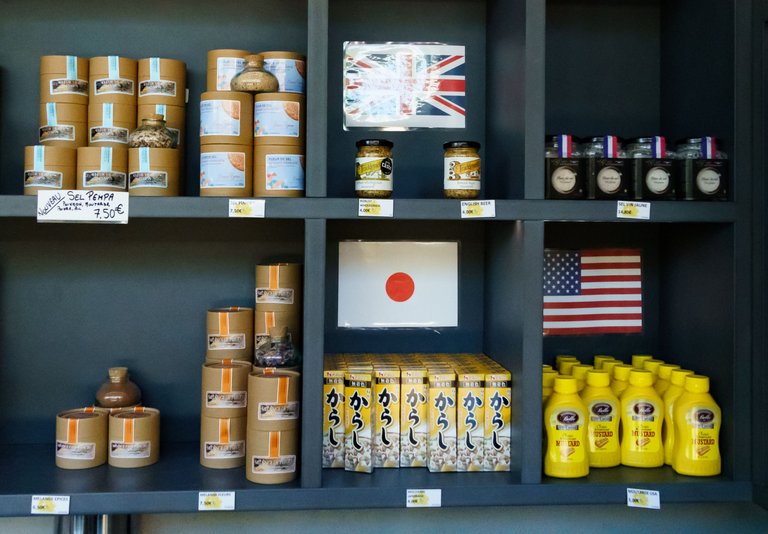 Stone mills can be seen both inside and outside the building, indicating that La Moutarderie Fallot has managed to preserve its traditional method of grinding seeds with a millstone.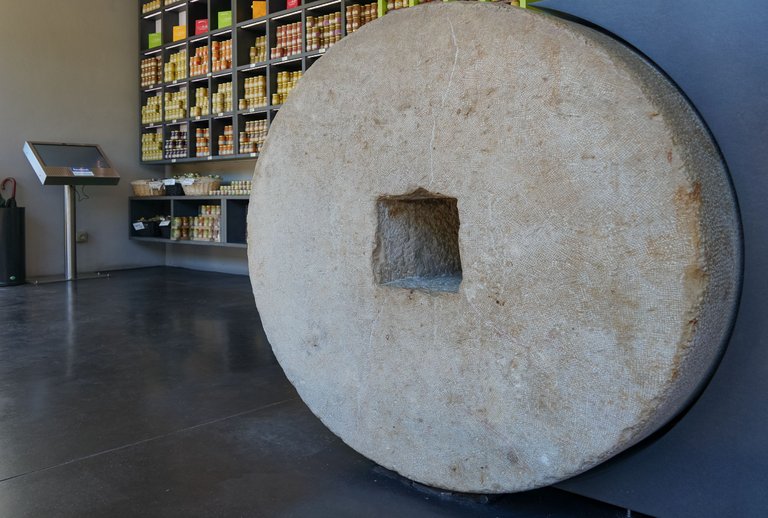 Some sample mustard seeds are displayed in a container, and it says on the slate next to it, "touch me brings you happiness." So I touched wood seed!😄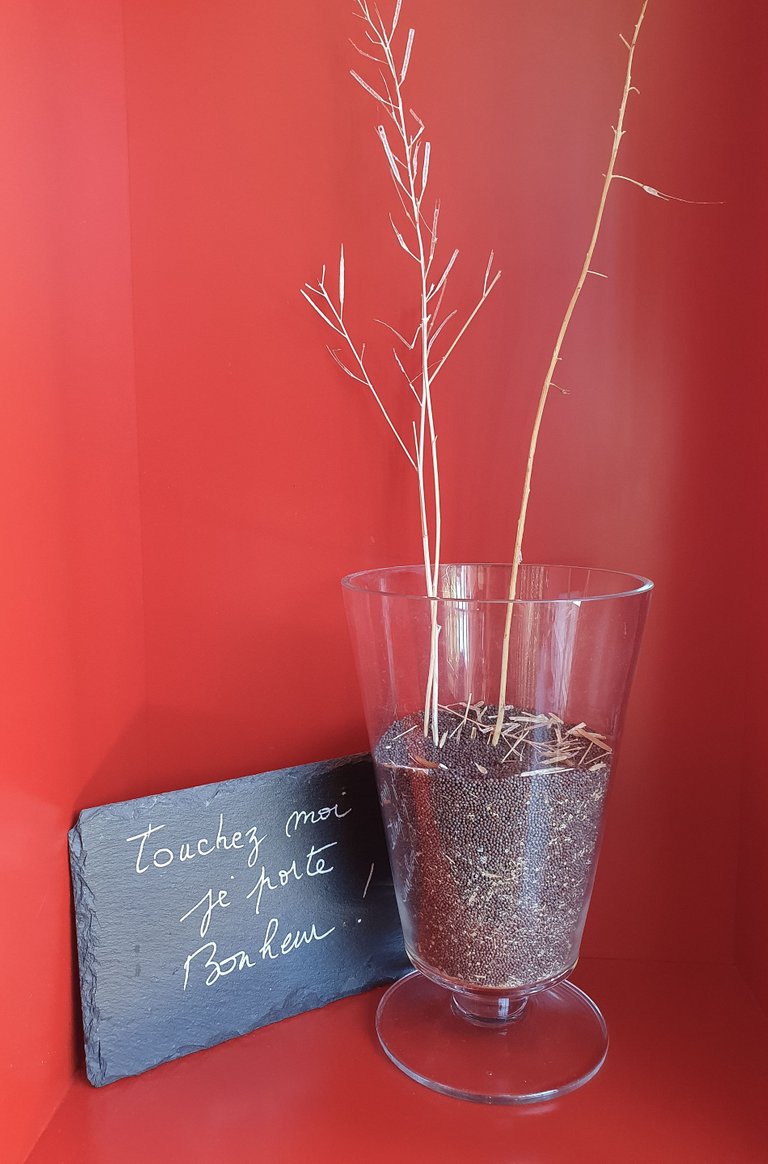 Mustards have a range of flavours depending on factors such as seed type, liquid temperature, and acid concentration. The potency of white, brown, and black mustard seeds varies; typically, the darker the seed, the sharper it is. Most mustards today are made with brown seeds (Brassica juncea) and white wine, or a combination of salt, water, and wine vinegar.
Cleaned and soaked seeds are crushed and ground on stone mills first, according to the Fallot method. After removing the hulls and bran, liquids and seasonings are added. The mustard paste is then heated and cooled before it is bottled and packaged.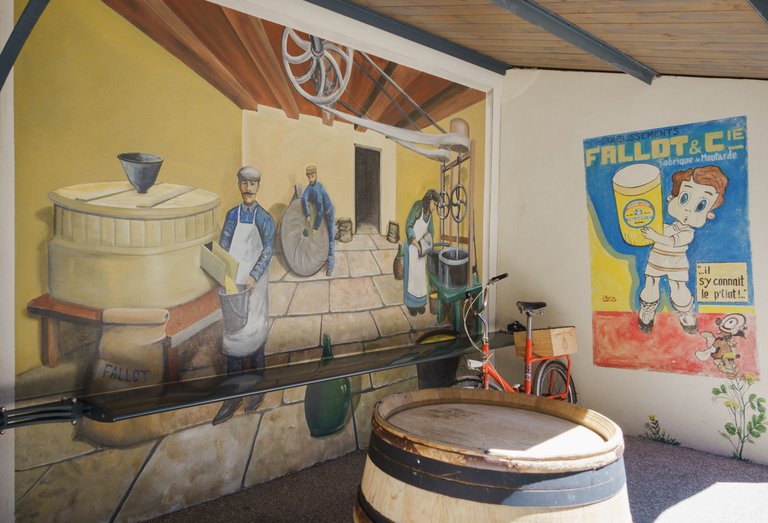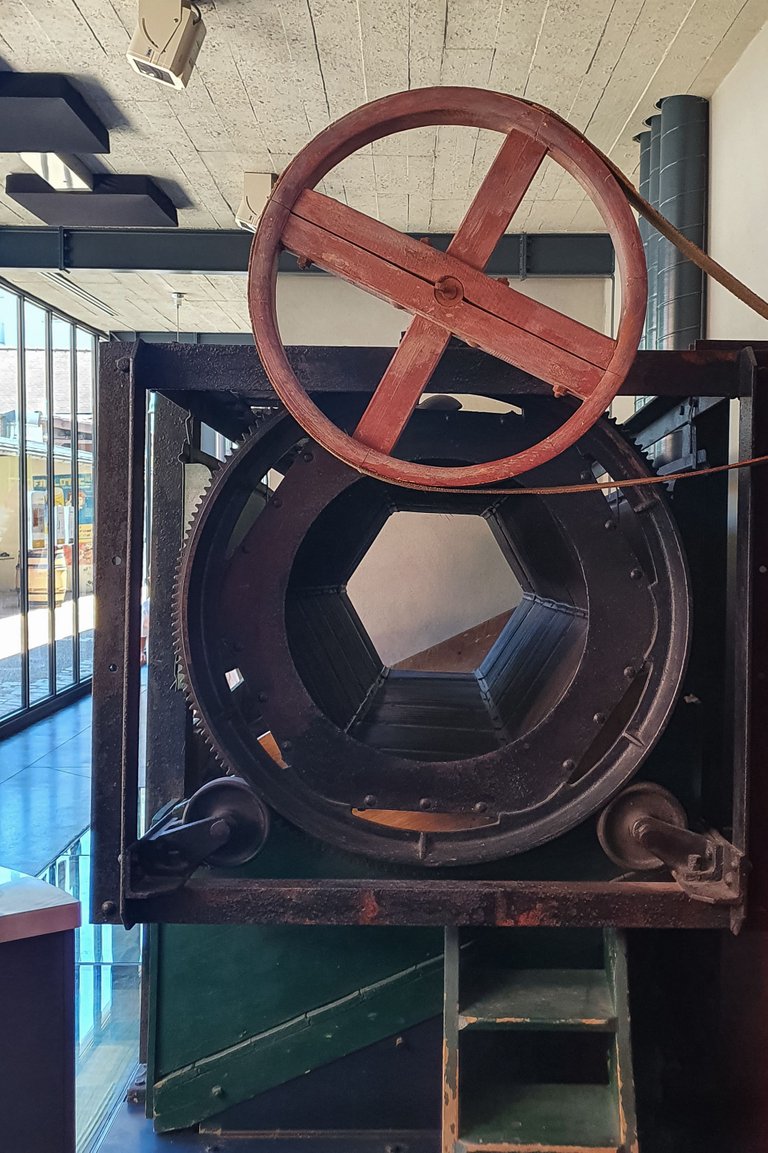 ---


A mustard tasting bar with multiple taps can be found inside the boutique. After pushing down the "jar sign", you can catch the mustard with a paper spoon. We sampled various flavours and textures, including seed style mustard, blackcurrant Dijon mustard, and gingerbread and honey Dijon mustard... Behind the counter, a lady was explaining the ingredients and answering visitors' questions.
Customers can now come to the pumps to fill their own Fallot stoneware jars after finishing the initial mustard inside, just like how the mustards were traditionally sold. Aside from regular-sized jars and gift sets, you can buy mini mustards from their vending machine. I found the 1-euro tiny jar pretty cute and convenient.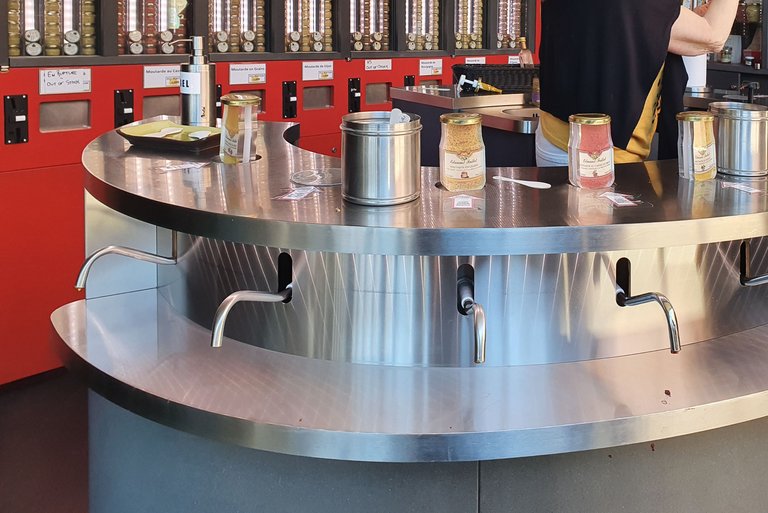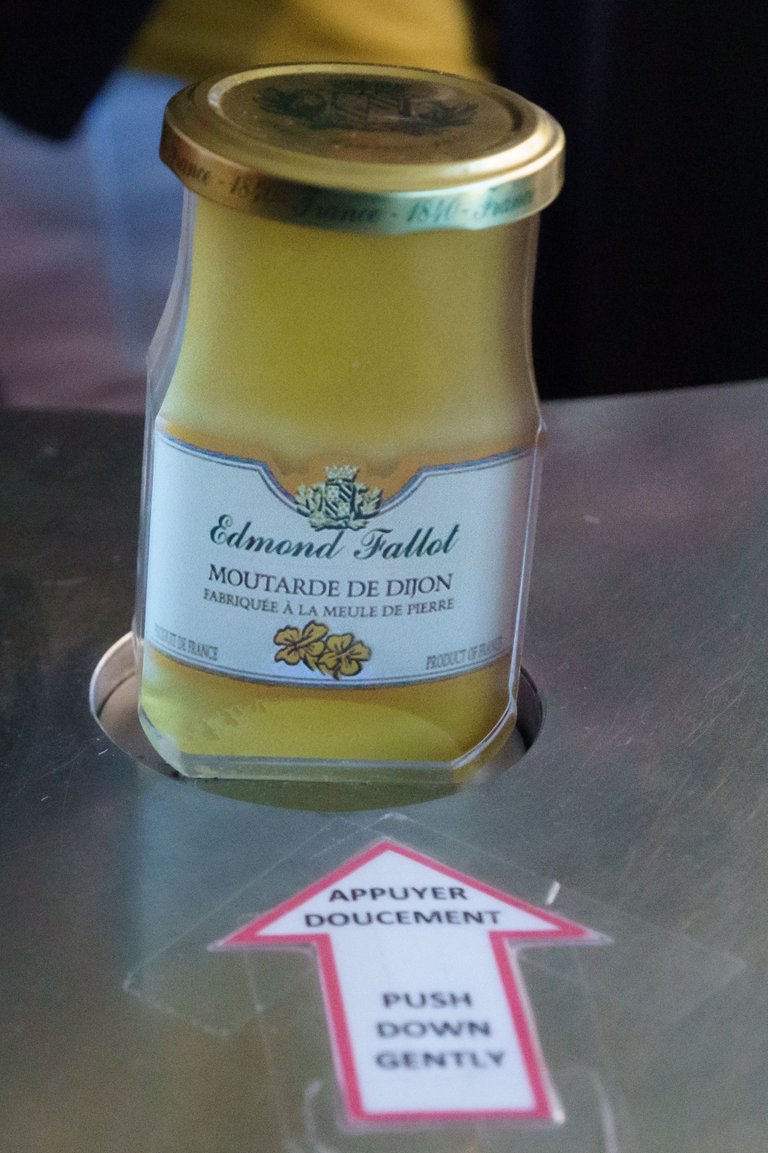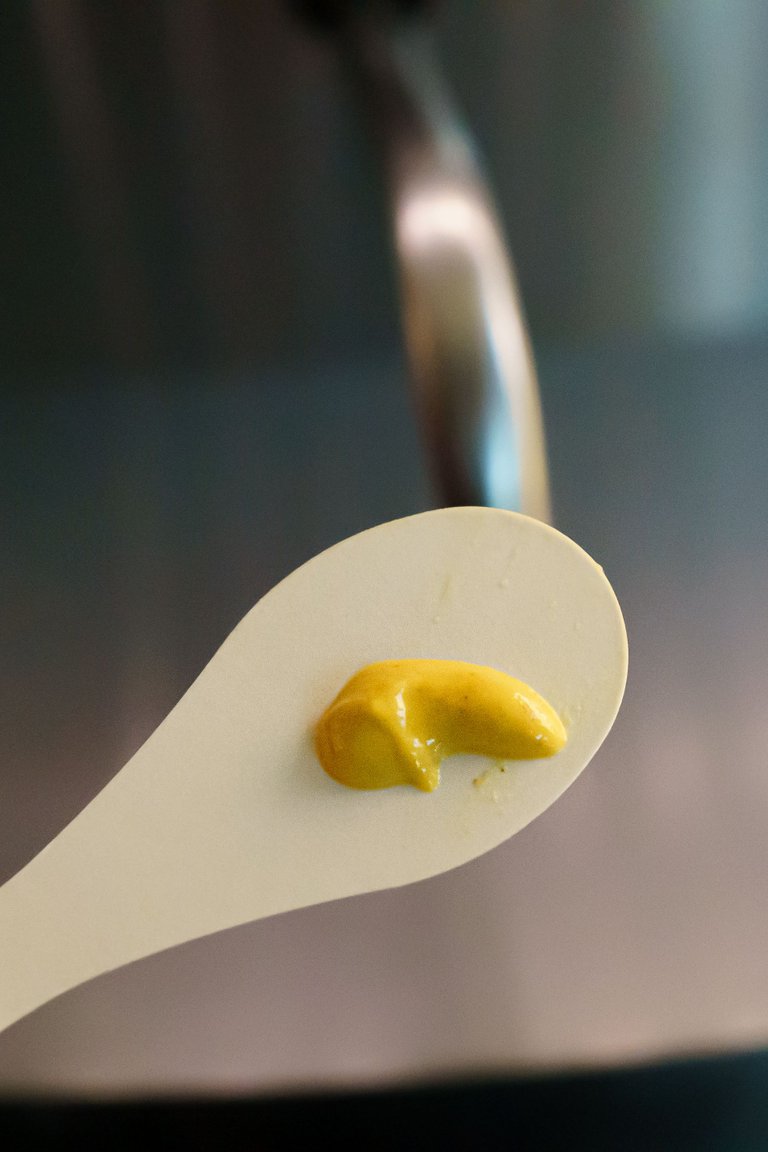 ---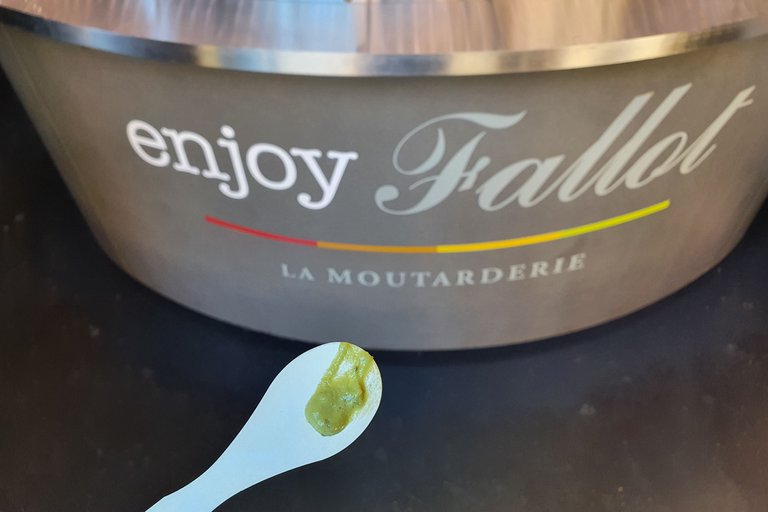 Finally, we purchased four different types of mustard as well as a bottle of white vinegar. The mustard paste can be served with meats or bread, or it can be combined with other ingredients to make sauces. In Flanders and the Netherlands, it is commonly found in a creamy soup with bacon, garlic, and parsley. If you need culinary advice or cooking recipes, here is Fallot's webpage for more inspirations.
The company's products include not only mustards but also vinegars and other condiments such as pickles. As a result, there are some interactive gherkin graphics on the floor that have drawn many young players. Additionally, souvenirs like soaps, t-shirts, and totes are available for purchase.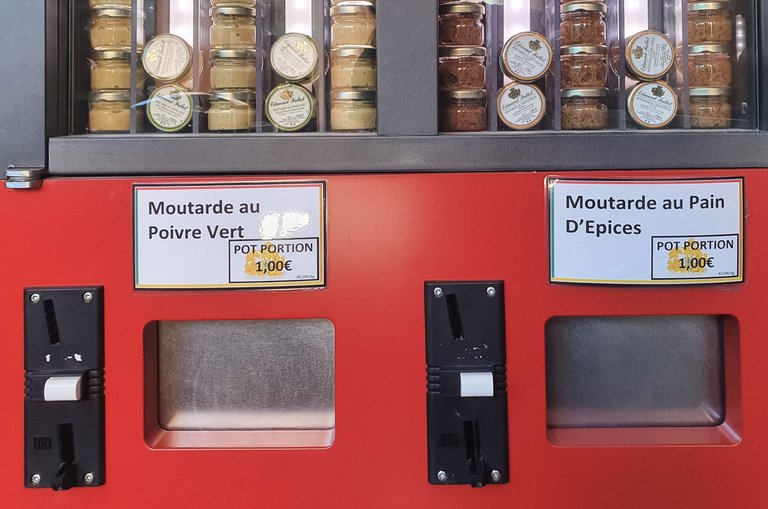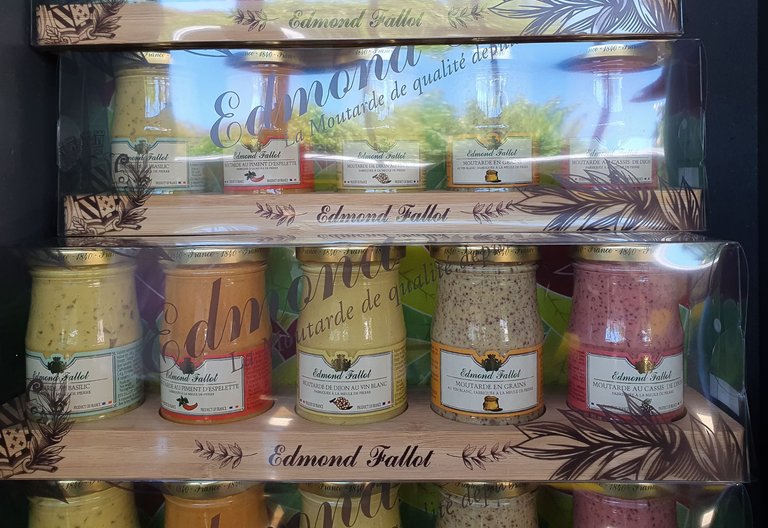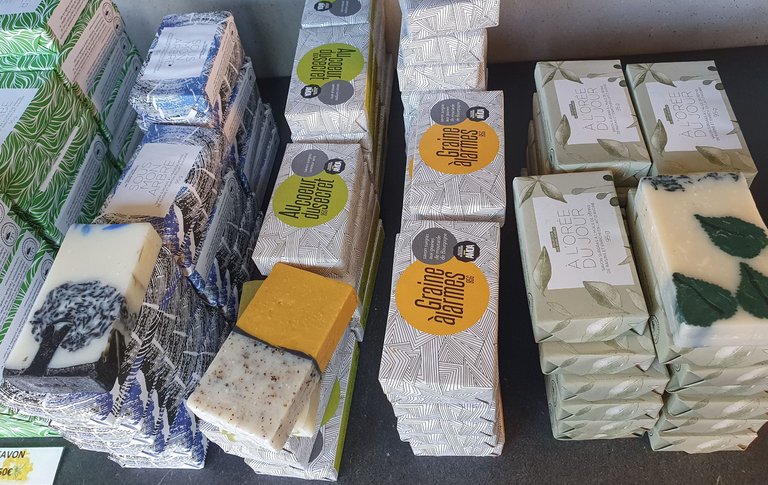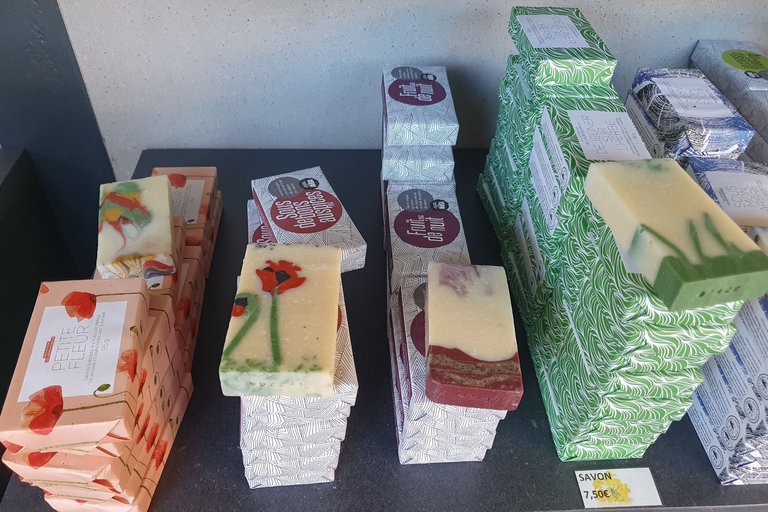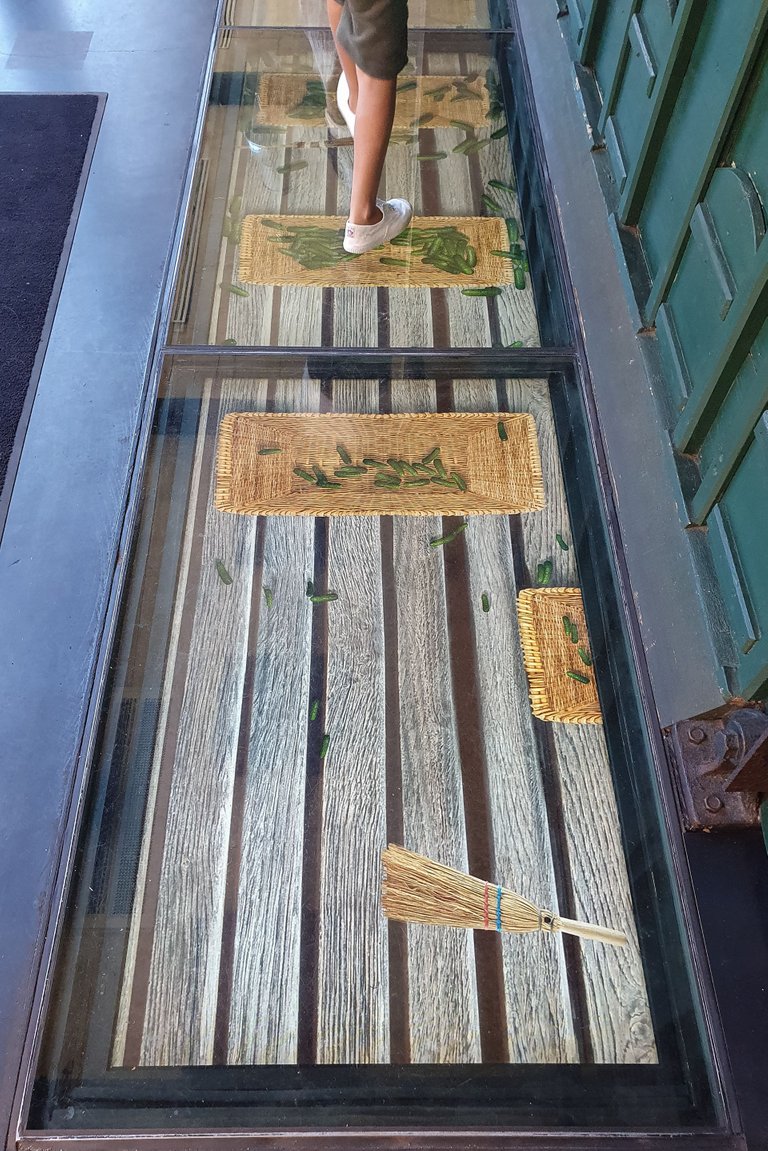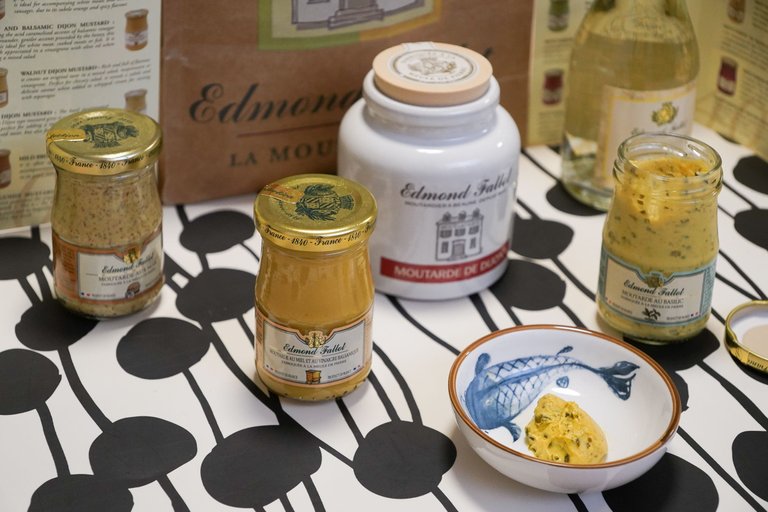 ---


Outside, there was a lovely courtyard with lush green plants and vibrantly coloured murals depicting the mustard stories. A storage silo and a mill were also visible from behind, but we were unable to go inside because the scheduled tour wasn't for another few hours.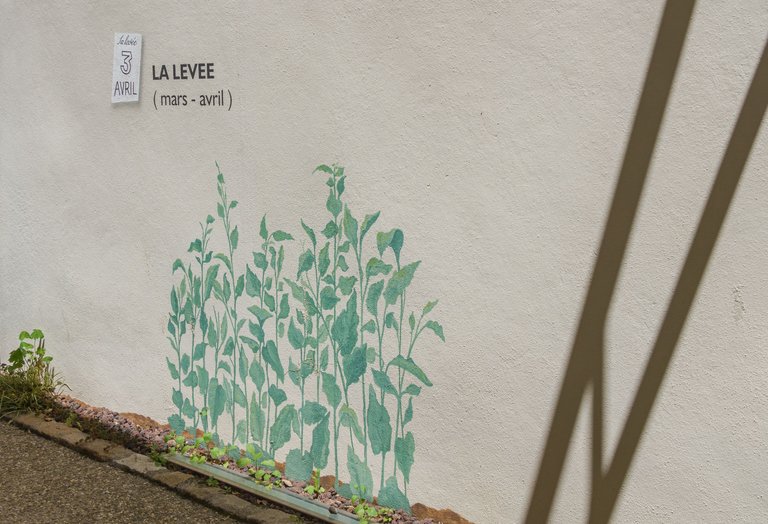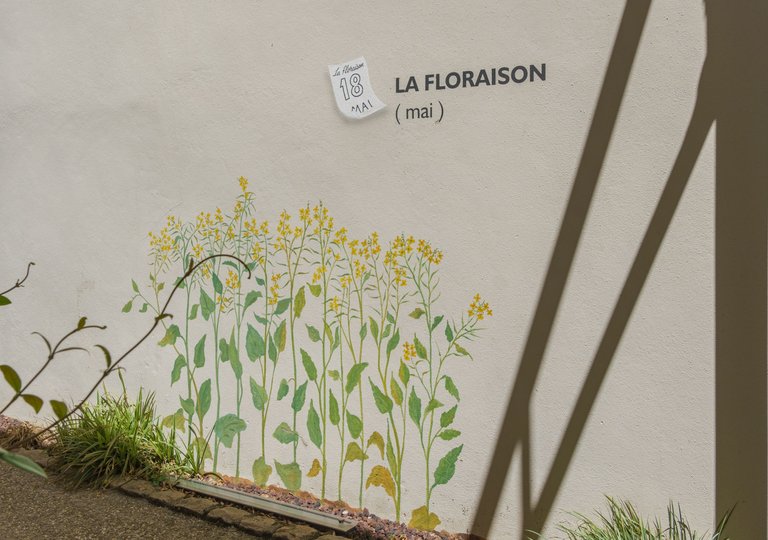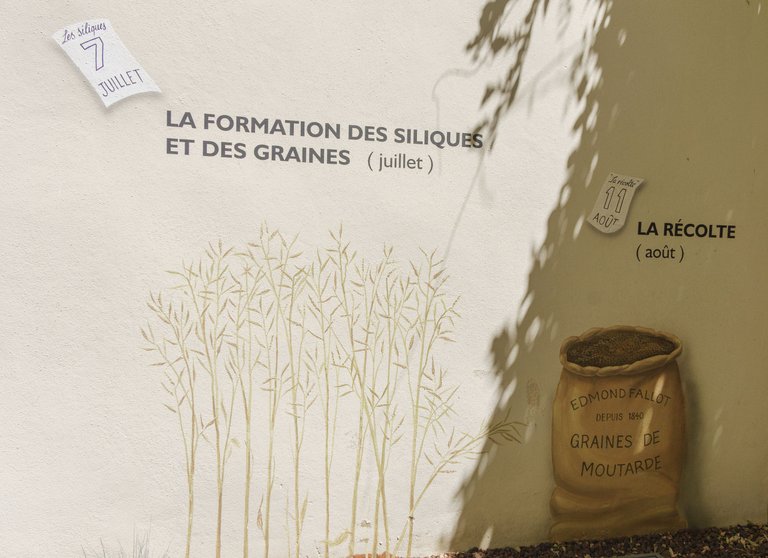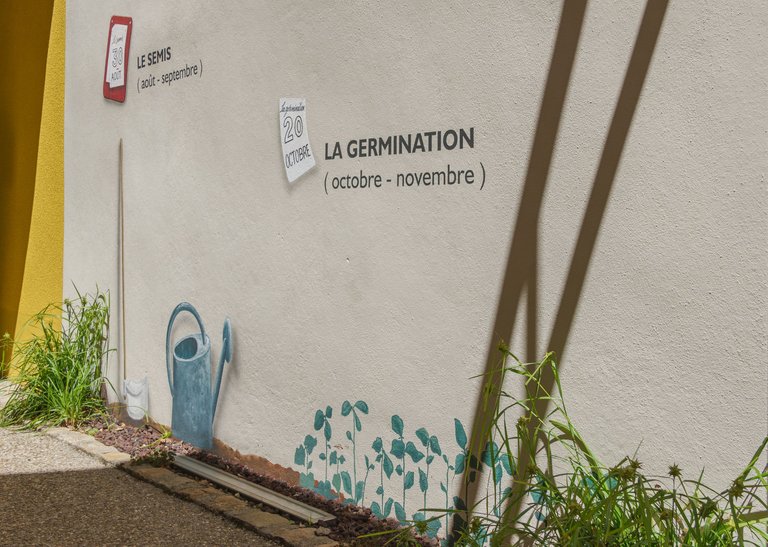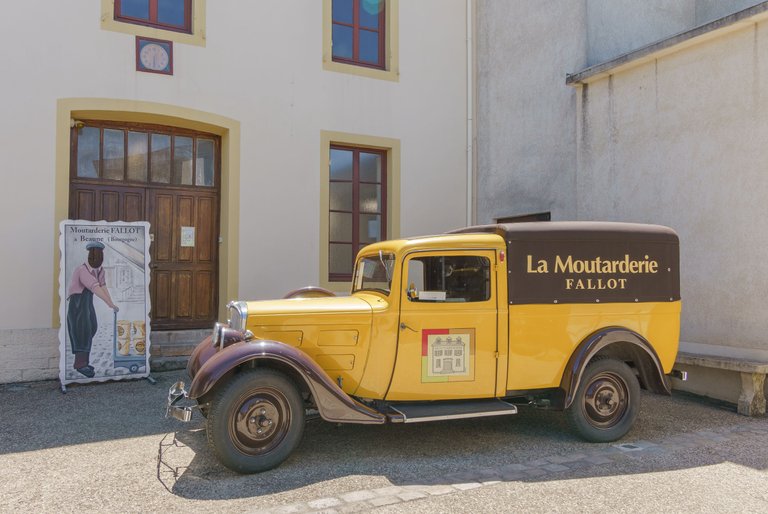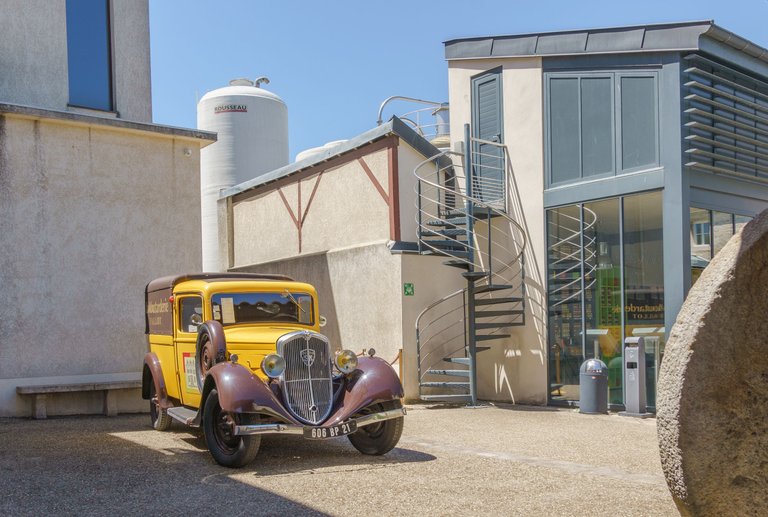 That concludes the brief mustard adventure with me. I hope you enjoyed it. :) Do you eat mustard? Which type do you prefer?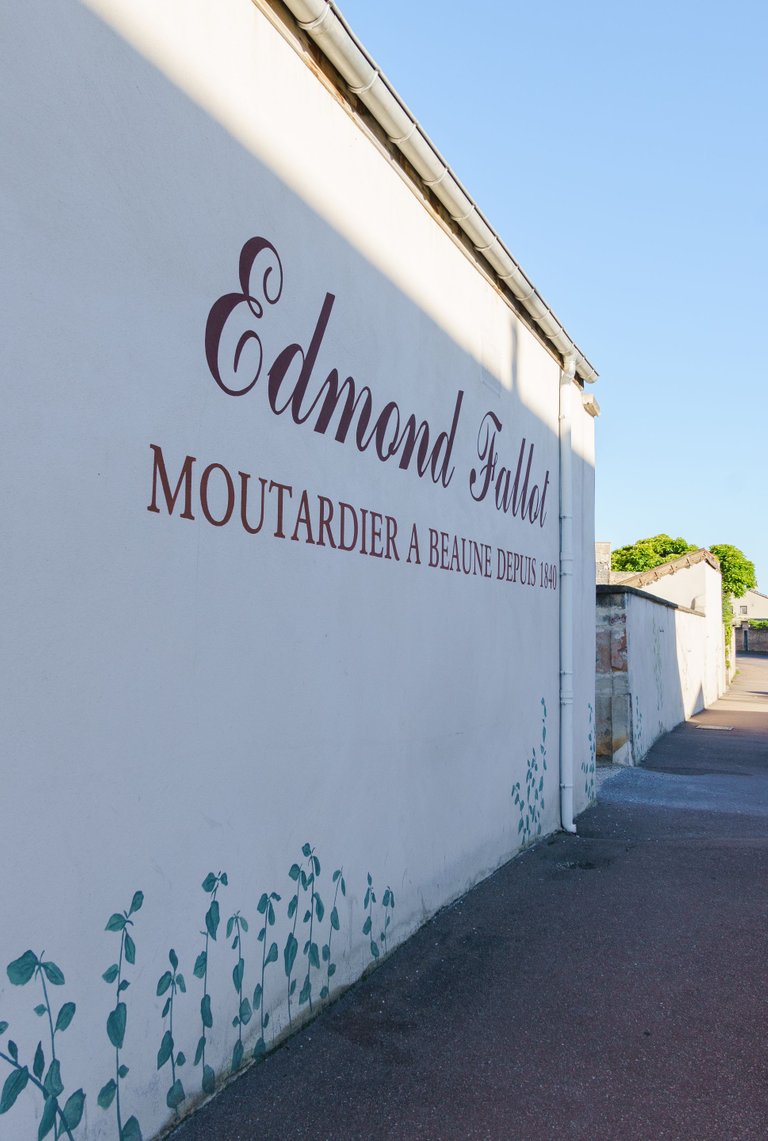 ---




除了上次说的黄绿相间的向日葵花海,在勃艮第乡间还看到不少黄绿相间的芥菜花田。今天就请跟随我的脚步,来参观一处芥末工坊。
费洛公司是1840年成立的老字号家族企业,也是勃艮第仅存的独立芥末制造商。这家公司在大区首府第戎和附近的博纳都设有工坊。我参观的这家是在小城博纳,被称为勃艮第的葡萄酒之都我要不要再挖个坑写下"乡间还到处是绿绿的葡萄园"。
第戎早在中世纪晚期就成为芥末生产中心,这里的芥末从1856年开始广为流行,因为当时来自第戎的Jean Naigeon把传统配方中的醋替换成未熟葡萄的酸性汁液,改善了过激的味道。不过,现在第戎芥末的用料已经改为白葡萄酒,而且大部分所谓的"第戎芥末"其实是在其他地方生产的。
第戎芥末黄得比较含蓄(见我在吧台前拍的照片) ,味道比较温和,而常用作热狗🌭、汉堡🍔调味品的亮黄色芥末通常含有姜黄。后者是由R.T. 法国公司在1904年圣路易斯世界博览会上推介到美国的。在店里的货架上,也看到了来自其他国家的芥末,比如日本的karashi。顺便一提,这种黄黄的karashi芥末不同于绿绿的山葵wasabi或者经常冒充wasabi的辣根,没有辣根那么辛辣刺鼻,但也不像欧系的这般酸爽XD。
店内外都看到石磨装饰,表明费洛公司保留了用石头研磨芥菜籽的传统手法。有个容器里装了些褐色的样品菜籽,旁边的石板上写着: "摸摸我会给你带来好运。" 于是,我就听话地摸了一把······😄
芥菜籽类型、液体温度和酸的浓度等因素,会影响产出芥末的味道。通常,芥菜籽颜色越深,气味也越强。如今,多数芥末都是由这种褐色的芥菜籽和白葡萄酒,或盐、水和葡萄酒醋的混合物制成的。
根据费洛公司的制作法,清洁和浸泡过的种子首先被碾碎并在石磨上研磨,等去掉外壳和麸皮后,再加入液体和调味品。芥末酱经过加热和冷却,最后装瓶并包装。
室内还有一个芥末品尝吧。按压下相应的口味标志后,用纸勺接住从龙头出来的芥末酱品尝。有水果、蜂蜜、姜饼、松露等各种口味和质地,吃了一圈,酸甜苦辣,味如人生:D。吧台后面,一位女士在充满激情地解释相关食材,让我深深感觉到美食与爱不可辜负。
顾客吃完原装的芥末酱后,也可以带上印有公司商标的陶罐来这边续罐。除了一般大小的玻璃罐和礼品套装,我还看到有自动售货机贩卖迷你版,一欧一个,小巧可爱,有点想每样来一个,还好成功抑制住了这无知的冲动。看了一圈,最后买了四种不同的芥末和一瓶白醋。
芥末酱可以和肉或面包一起吃,除了北美比较常见的热狗🌭和汉堡🍔,这边吃德国烤肠时也常常挤上几条或一坨这画面感,或者和其他配料调在一起做成酱汁。在荷兰和比利时北部,有种蛮受欢迎的蒜味欧芹培根奶油汤里也会放芥末。费洛公司的网站上提供了更多料理灵感,一看便知,在勃艮第,用芥末做菜可真是件正经事呀~。







All content by @itchyfeetdonica. Thank you for visiting!
图文 by Donica,谢谢来访!=)


---
For the best experience view this post on Liketu