Hivefest7 has been my very first hive fest and I would like to give everyone who has not been there a small impression of how such an event looks like. Maybe hivefest8 comes close to your location next year.
First of all big thanks to @roelandp and the team of amazing helpers I hope I have them all here: @minigunner @artakush @priyanarc and @blind-spot for helping organizing this great event. The venues where impressive and you did an amazing job of keeping the flock together and getting us everywhere we needed to be in time.
Also thanks for the amazing cold beetroot soup on day 2! @coldbeetrootsoup was accepting donations for their soup (it was amazing, and I certainly will be cooking (or not cooking) that one) but unfortunately only a few accounts sent some. If you want to contribute to their efforts I made them a 10% beneficiary of this post!
3 days of HIVEFEST
Day one was in "The Eye" Filmmuseum and I must say that this was a very impressive place fitting the purpose perfectly! We where in cinema 2 of the museum and the in the hallway you could see the artists of @nftshowroom lined up. Unfortunately I was so occupied with looking at the artworks that I totally forgot to take a picture. I must say it looked very cool and I hope that some of the artists could sell their NFTs.
Day 1 kicked off with an opener by Roeland and he honored the few hive members who have attended all 5 physical hivefests That is only a handful of people and including @gtg, @alpha, @arcange @roelandp, and @blocktrades. Big shoutout to them since that is really impressive to achieve!
BTW Roelands outfits where the most amazing going full HIVE!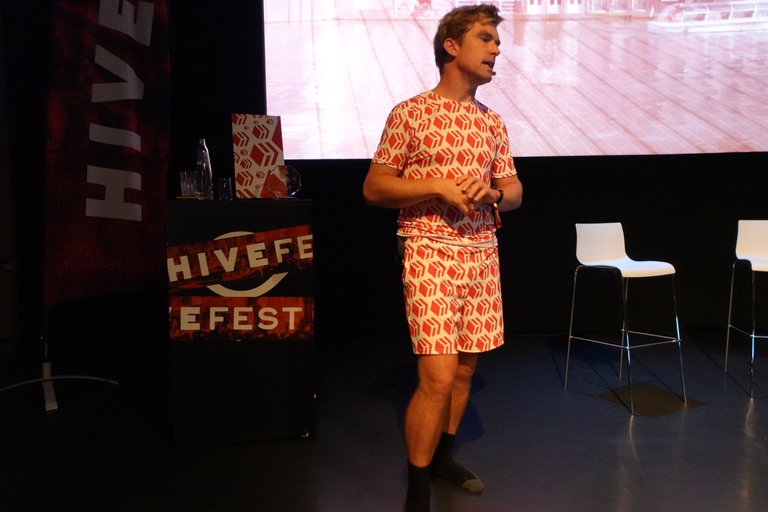 Core dev update
@howo did a very detailed and clear presentation on RC delegations which will soon become a thing and there was also some talks about the next hardfork. Unfortunately I was so much listening that I forgot to take some decent photos. Anyways I will post a frame grabbed from the recorded livestream. If you want to rewatch day 1 CLICK HERE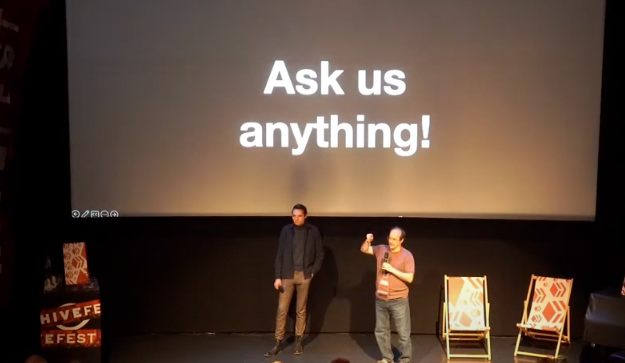 NFT for Peace
On day 1 there where many interesting presentations but one of the most important ones was right at the very beginning with @arcange and @zirochka presenting the @hivebuzz NFT project "NFT for peace"
Zirochka told us about her experiences in war torn Ukraine and why she stayed and volunteered to help to put the funds collected by the initiative to good use. It was very touching as she said thanks to all the many people who stayed connected with her and helped her during these dark times. Many of us where fighting against their tears.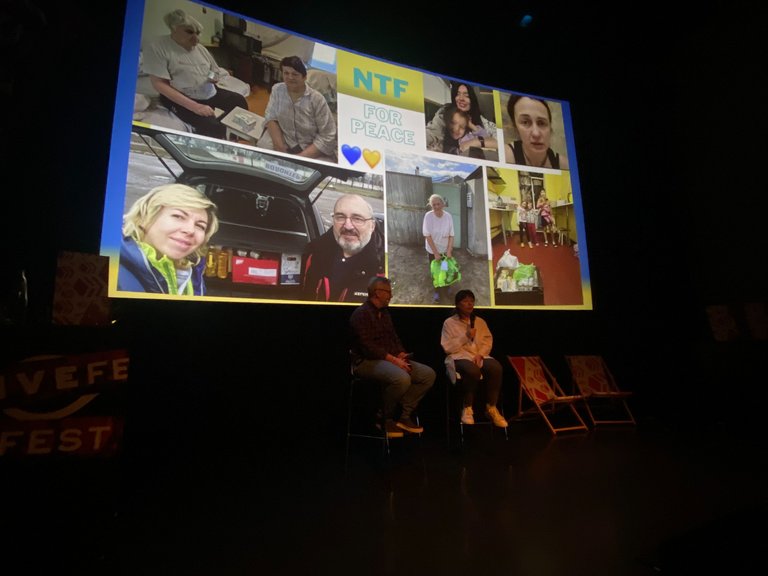 The money will be used to provide food, medics and utility items, and help to the civilians of assaulted Ukrainian cities. Under no circumstances will it be used to buy weapons, ammunition or military equipment!
source: https://peakd.com/nftforpeace/@hivebuzz/nft-for-peace
If you want to help the victims of war in Ukraine simply go to https://hivebuzz.me/ and buy the various NFTs with either HBD or HIVE you can donate in various levels and receive the NFT according to the size of your donation.
I just donated 50 HIVE and I got this nice badge that can be viewed on hivebuzz:
https://hivebuzz.me/@solymi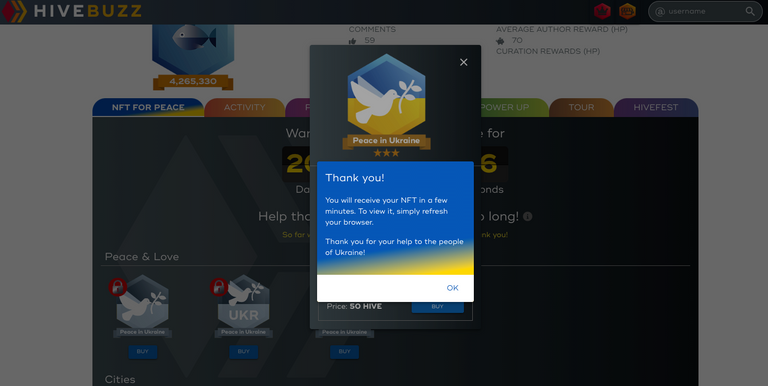 If you don't have funds to donate don't worry! I made @hivebuzz a 10% beneficiary of this post as well
Lassecash
Next up was @lasseehlers introducing the outpost https://www.lassecash.com where it is all about truth, anarchy and crypto. A very interesting combination of tokens and dieselpools was also presented and if you want to give Lassecash a try you can log in with your HIVE credentials and start posting. There is no real restrictions on what you can post about on lassecash. Go find out for yourself and maybe you will find new friends and followers.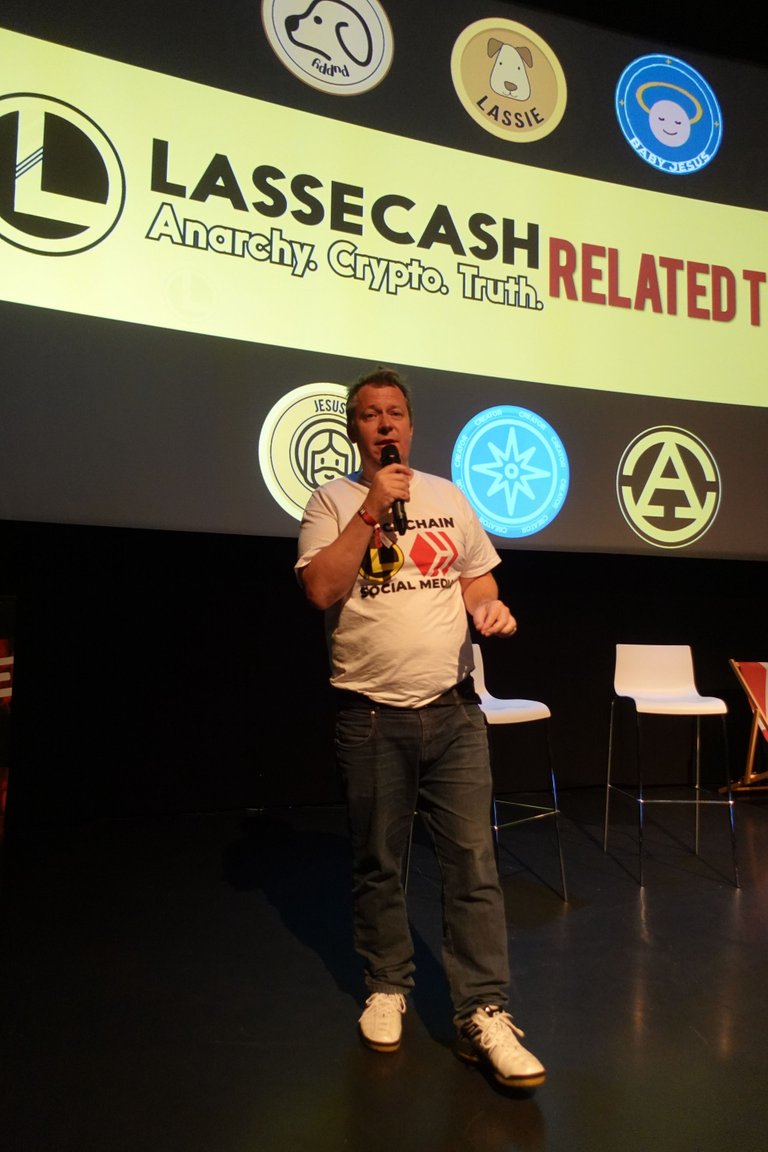 The most important input to take away from Christoph's presentation is that a meetup starts with already 2 people! 2 hiveans are a crowd! Christoph is organizing the meetups in Vienna and if you want to join in you are always welcome. Every first Thursday of the month we will meet up in Vienna and there is an anouncement post 2 weeks prior. The last one can be found on @manncpt 's BLOG also check out @winalab and @globalschool! Winalab is an adventure workation that can take place in several places in Austria and Hungary. I am also part of the inofficial team of Winalab and I will try to help the project where I can.
All in all a very good presentation and if you want to watch it go to youtube with this timestamp.
Freechain the movie
@lordbutterfly presented the developments around "FreeChain" a documentary in the works and we could see a first glance into how it will look. The original idea of the documentary is to bring the blockchain closer to the viewer and make them understand what it is. The originality is in the detail that the narrator will also learn along with the viewer which in my opinion is a great idea, and it has not been done before. So the narrator will have no clue about hive and blockchain technology, but in the end will be a bit smarter along with the audience hopefully. Major festivals will be targeted and also streaming services such as Netflix and co. Probably we will have to wait about 8 months to see the full movie. The teaser was awesome and you can check it out on the restream on youtube under this timestamp
After the teaser we could talk to Jovan Dopud about his visions for the documentary.
I am very much looking forward to this one and I hope it will have the desired impact for HIVE as well. Just imagine this movie is watched by millions of netflix users, that could have a huge impact on how HIVE is looked upon.
Visionary Studios by @jeffjagoe
I really liked the presentation of Jeff, it was clear and easy to follow and what can I say I love the project and I hope somehow I can be part of it. My first question was if they had open positions after he finished.
Visionary studios has several projects under their umbrella such as a NYC Chicken Fastfood chain and a game called soulofox. They are blockchain agnostic and mainly use hive as means of communication.
If Jeff makes it to the next hivefest he will get a 5star badge as well.
We had a great chat on the last day although I was pretty drunk and herbed at that time already :) anyways I sent him my phantom wallet address as requested. Update: I received this awesome NFT giving me access to the visionary discord:

Thanks a lot for that and it looks beautiful.
If you want to find out more about visionary studios you can do it here on hive: https://peakd.com/@visionarystudios
or on their website: https://www.visionarystudios.io/
Awesome presentation and awesome presenter!
quantum computing and transaction signing by @pibara
This was way out of my league of understanding what Pibara was talking about, but if I understood correctly this is a future problem where the quantum computers could basically retrieve your private keys only from a single signature with your public key. It was interesting to listen to and I hope we are still a long way from large quantum computers trying to hack our private keys. (approx 5-15 years according to specialists)
If you want to read something that is not as complicated you could go for Pibaras book "The Ragnarok conspiracy" You can find the first chapter here:
https://peakd.com/fiction/@pibara/ragnarok-conspiracy-1-44-prologue-repost
Marketing efforts and a marketing agency for hive @behilarious
There is a new communication plan to target developers, @arcange introduced the team around this project. And @behilarious did an amazing presentation. It is about incentivising new developers to deploy their builds on hive. For a new developer it is quite hard to check out hive because the information is overwhelming. The scattered information around the chain does not make it easy to onboard.
A new frontend would solve this. HIVE 5 would be a project map of the whole ecosystem. It would work as a dating app such as Tinder etc. If you like a project you can react on it and if you would like to be involved. The idea is great and I hope this will be a major onboarder in the future.
If you would like to cast your vote for their proposal you can do it after reading what it is all about. https://peakd.com/proposals/@behilarious/dev-marketing-proposal
or if you wan't to go to the proposal directly:
https://peakd.com/me/proposals/232
just cast my vote there although my stake is not a major influence but still every vote counts!
CBM is one of the games I have not played actively. I looked at it a year ago and found the interface a bit clunky and I did not get the concept of the game. Rollie held an amazing presentation and I will defo look into the CBM ecosystem more. There is some good collaborations in the foreseeable future including major breweries that we all know and love. The user interface has seen a lot of development and the game will also rebrand to BEERVERSE. Great presentation and I love the ideas of the game. Profit generation will be done by selling recipes to breweries and doing virtual tours and much more. I think I will have to get into this game soon.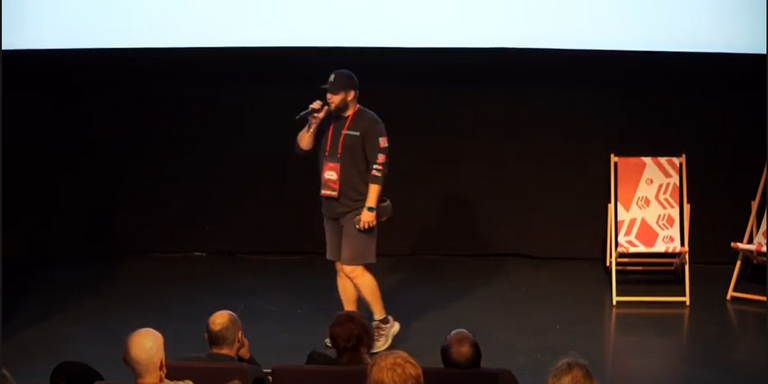 Lithuanian cold beetroot soup is amazing! Period!
The guys presentation was awesome! And the soup was amazing. If you have not donated and ate from that soup shame on you! :D
Watch it @artakush and @minigunner did the most lively presentation!
Timestamp
Science communication Stemsocial and citizen science by @lemouth
A very interesting talk about how civilians like you and me without a scientific background can help to bring it further. Stemsocial is one of the oldest communities on HIVE. Lemouth is one of the founders and he is a professor at one of the oldest universities on the planet. I am talking about Sorbonne in Paris. If you are interested in science the Stemsocial community will be the place to go! https://hive.blog/trending/hive-196387
If you want to visit CERN, contact Lemouth!
Citizen science is allowing non scientific actors to participate in scientific research. If you think this is something for you you can find out more about it at this TIMESTAMP
A very interesting presentation and I must say the timing would have been better here if we have this a little earlier in the day. Many people where already half on the boat and in the beermode.
Boatride and Balls of Steel
After the last presentation we had an amazing time having some drinks in the museum and then we went to the boats to have a tourist tour on the canals of Amsterdam. This later on helped me a lot with orientation when my phone was empty and I had to find my way back to my airbnb. The balls of steel or petanque tournament was amazing too and I really loved the location.
Saying good bye for now cheers solymi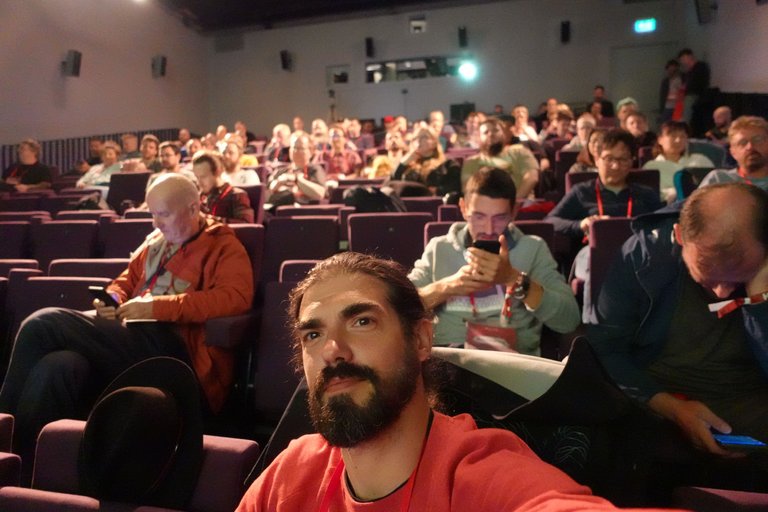 This concludes all of DAY 1
This post is already getting too long so I will work on part 2 in the coming days and trying to give you an overview of all the presentations of DAY2 (putting link here when done)
Final Thanks
Thanks to all the amazing people who made HIVEFEST7 possible!
To make sure I don't forget to mention anyone:
This section is a quote from Roelands post, click to check it out:
Next to the @valueplan proposal's support HiveFest 2022 was made possible by generous donations of @splinterlands, @smooth, @pharesim, @spk.network and @yababmatt.
Also, minnow and plankton tickets were made possible by donations from:
@crimsonclad
@steevc
@gandalf
@engrave
@thejohalfiles
@brianoflondon
@walterjay
@pharesim
@blocktrades
@arcange
@starkerz
@theycallmedan
Thank you so much again for your generosity and kindness!
Thanks for reading my post, if you liked it feel free to share!
I love comments so go for it and leave one!
Cheers @solymi
gaming4.coin