Hello everyone 🤗
How are you? I hope you are fine. Do you like to eat desserts? I love making and eating desserts like waffles and San Sebastian Chesecake. I've made San Sebastian Cheesecake before, but when I made waffles I was very small and I don't remember much. I just remember baking the batter on the waffle base in the toaster and from the first cooking the toasted dough stuck to the toaster. 😁
Herkese merhaba. 🤗
Nasılsınız? Umarım iyisinizdir. Tatlı yemeyi seviyor musunuz? Ben waffle ve San Sebastian Chesecake gibi tatlılar yapmayı ve yemeyi çok seviyorum. Daha önce San Sebastian Cheesecake yaptım ama waffle yaptığım zamanlarda çok küçüktüm ve hatırladığım pek bir şey yok. Sadece waffle tabanındaki hamuru tost makinesinde pişirdiğimi ve ilk pişirmeden tost hamurun tost makinesine yapıştığını hatırlıyorum. 😂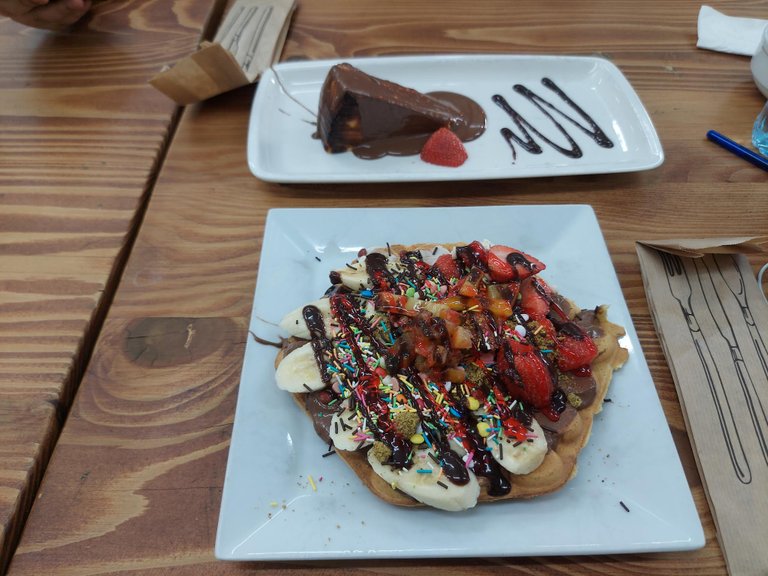 When I said that I would return to Bursa before my school started again last summer, when a friend of mine said that we should have a San Sebastian Cheesecake in a place where we ate waffles before, I of course agreed immediately. I always definitely welcome waffles or San Sebastian. Honestly, I never refuse any food offer. This is how much I love to eat. But lately I noticed that I lost weight due to lack of appetite.
Geçen yaz okulum tekrar başlamadan önce Bursa' ya döneceğimi söylediğimde bir arkadaşım daha önce bir kere waffle yediğimiz bir yerde bir de San Sebastian Cheesecake yememiz gerektiğini söyleyince ben de tabii ki hemen kabul etmiştim. Waffle ya da San Sebastian' ı her zaman kesinlikle kabul ederim. Doğrusu ben hiçbir yemek teklifini hiçbir zaman reddedemiyorum. Bu kadar çok seviyorum işte yemek yemeyi. Ama Son zamanlarda iştahsızlıktan dolayı kilo verdiğimi fark ettim.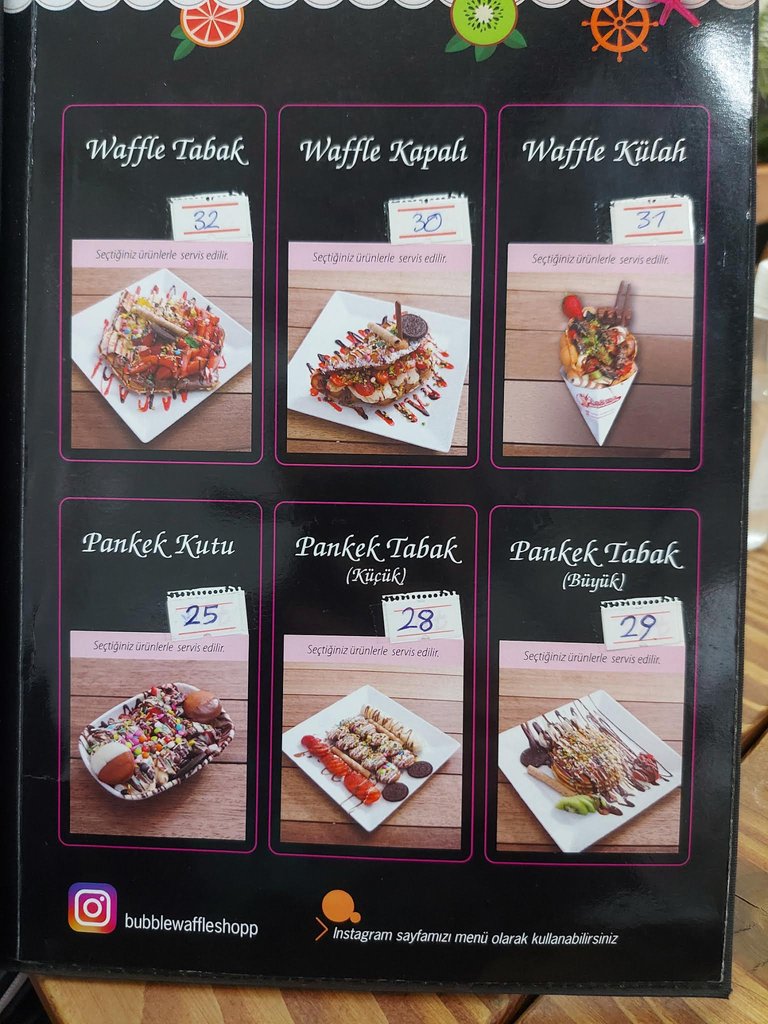 As you can see, this page of the menu has waffles and pancakes. The number of options here is pretty good in my opinion. The name of the place is Bubble Waffle. It is about 10 minutes away from the metrobus station in Şirinevler.
Gördüğünüz gibi menünün bu sayfasında waffle ve pankek var. Buradaki seçenek sayısı bence oldukça güzel. Mekanın adı Bubble Waffle. Şirinevler' de metrobüs durağına yaklaşık 10 dakika yakın.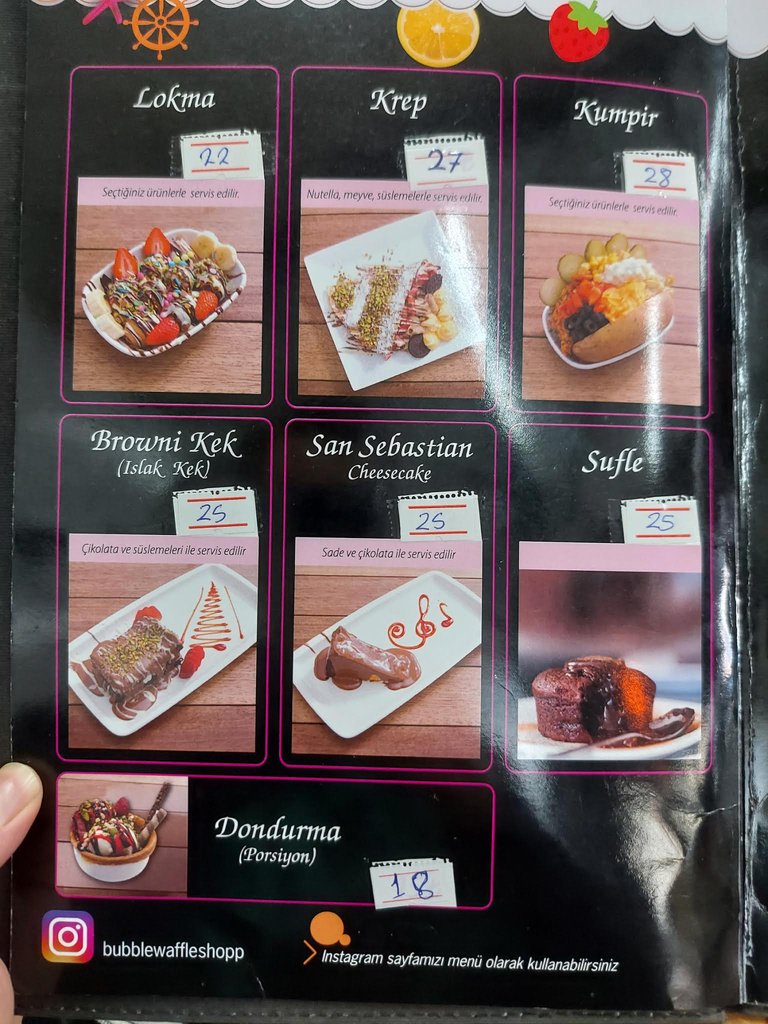 There are other desserts here besides waffles and San Seabstian. You can also see Brownie and Souffle on this page of the menu. My friend said he had Brownie here before but he didn't like it much. I would still like to try the Brownie.
Burada waffle ve San Seabstian haricinde başka tatlılar da var. Menünün bu sayfasında Brownie ve Sufle de görebilirsiniz. Arkadaşım burada daha önce Brownie yediğini ama pek beğenmediğini söyledi. Ben yine de Browni denemek isterdim.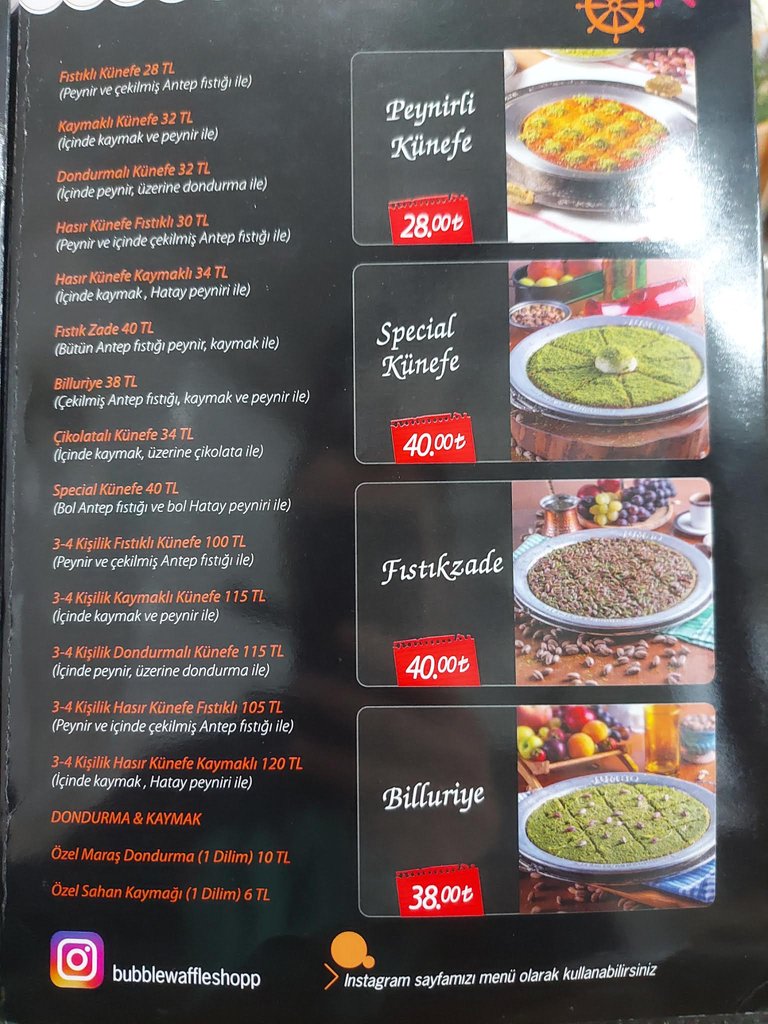 There are also traditional desserts and dishes other than desserts in this place. But we usually go here for dessert. I think we went to this place about 6 months ago. Maybe even longer. Therefore, these prices are not valid at the moment. Unfortunately, after that day when I went there with my friend, there was a hike in everything, as well as in the desserts here.
Ayrıca geleneksel tatlılar ve tatlı dışında yemekler de var bu mekanda. Ama biz buraya tatlı yemek için gidiyorduk genelde. Galiba yaklaşık 6 ay önce gitmiştik bu mekana. Hatta belki de daha uzun bir süre. O yüzden bu fiyatlar şuan geçerli değildir. Maalesef arkadaşımla beraber oraya gittiğim o günden sonra her şeye zam yapıldığı gibi buradaki tatlılarda da zam yapılmıştır kesinlikle.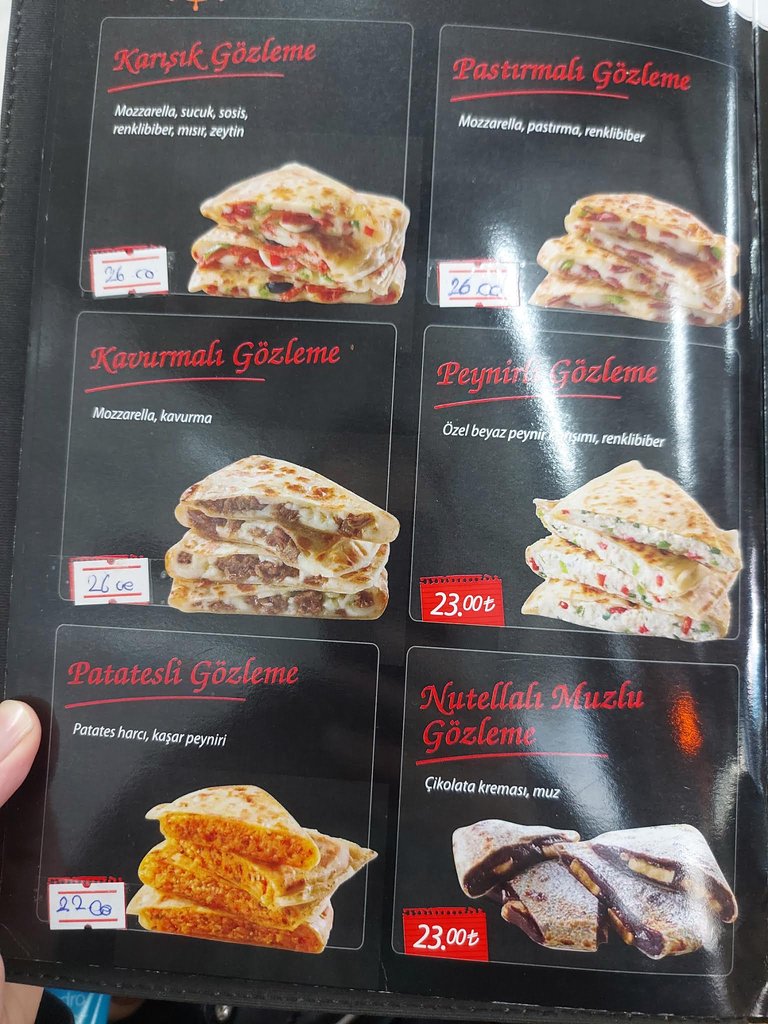 If you choose waffle then they will bring you a paper on which you mark exactly what you want the waffle to be. There are so many choices about waffles here. There are options such as dark chocolate, white chocolate, nutella. There are also fruit options such as banana, kiwi and strawberry. I'd love to have peaches too, but I guess people don't like peaches when they eat waffles. I generally like fruits like peaches. As you can see here, waffles have plenty of ingredients and they were absolutely delicious.
Eğer waffle seçerseniz o zaman size bir kağıt getirecekler ve bu kağıtta waffle da tam olarak neler olmasını istediğinizi işaretleyeceksiniz. Waffle ile ilgili çok fazla seçenek var. Siyah çikolata, beyaz çikolata, nutella gibi seçenekler var. Ayrıca muz, kivi ve çilek gibi meyve seçenekleri de var. Şeftali olmasını da isterdim ama sanırım insanlar waffle yerken şeftali pek sevmiyor. Ben genel olarak şeftali gibi meyveleri seviyorum. Burada gördüğünüz gibi waffle da bol malzeme var ve kesinlikle çok lezzetliydi.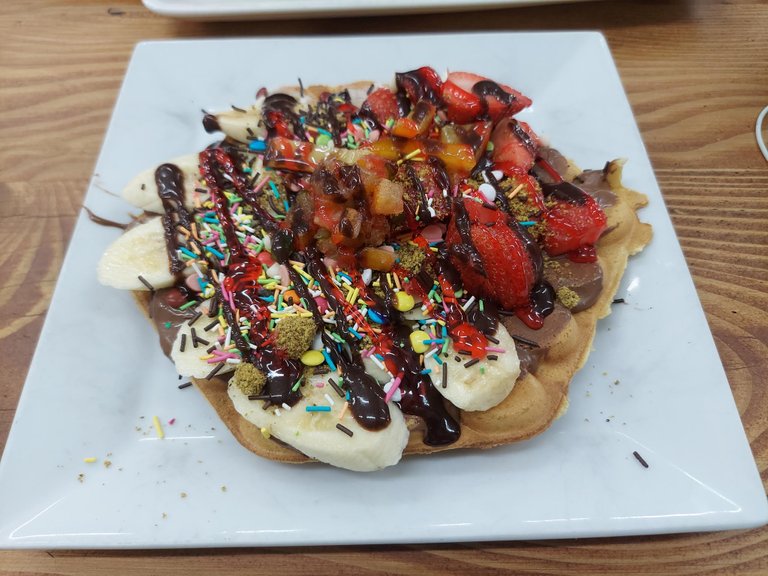 Secondly, we ordered San Sebastian. This is one of my favorite desserts. And I've done San Sebastian twice before. Of course, it was not such a high-cost dessert at the time, but now it is really expensive to cook this dessert. That's why I don't do San Sebastian anymore. They served San Sebastian with lots of chocolate and one small strawberry. I think that's very good, because San Sebastian must have lots of chocolate.
İkinci olarak da San Sebastian sipariş ettik. Bu benim en sevdiğim tatlılardan birisi. Ve daha önce iki kere San Sebastian yapmıştım. Tabi o zamanlarda o kadar yüksek maliyetli bir tatlı değildi ama şuan bu tatlıyı pişirmek gerçekten çok pahalı. O yüzden artık San Sebastian yapmıyorum. San Sebastian' ı bol çikolata ve bir tane küçük çilek ile servis ettiler. Bence bu fazlasyıla iyi çünkü San Sebastian bol çikolatalı olmalı.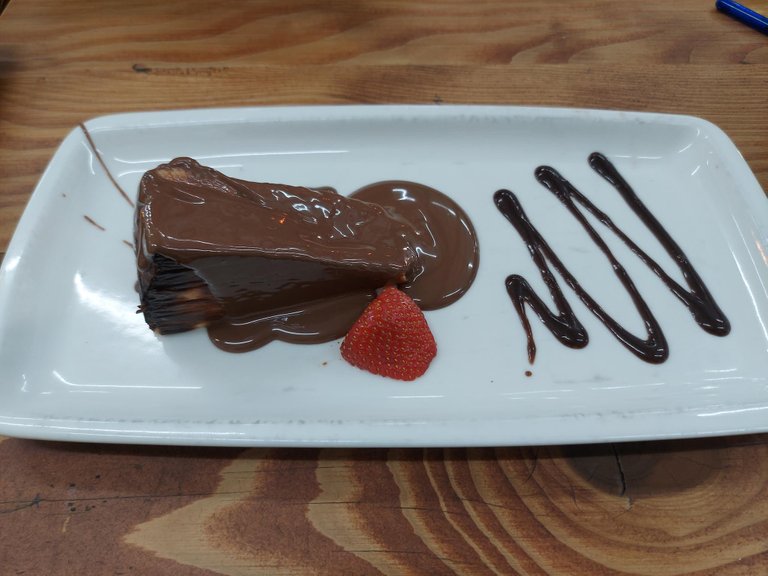 I remember it was a good day. At that time, everything was different for me compared to now, but to be honest, I was not as conscious as I am now, even if everything was a little better back then. That's why I'm happy for every day and every year now. And also because I know people better. I would like to share a beautiful and meaningful photo that I liked from that day.
O günün güzel geçtiğini hatırlıyorum. O zamanlarda her şey benim için şimdilere göre farklıydım ama doğrusunu söylemek gerekirse o zamanlarda her şey biraz daha güzel olsa bile şimdiki kadar bilinçli bir insan değildim. O yüzden her günüm ve her yılım için mutluyum artık. Ve ayrıca insanları daha iyi tanıdığım için. O günden beğendiğim güzel ve anlamlı bir fotoğrafı burada paylaşmak istiyorum.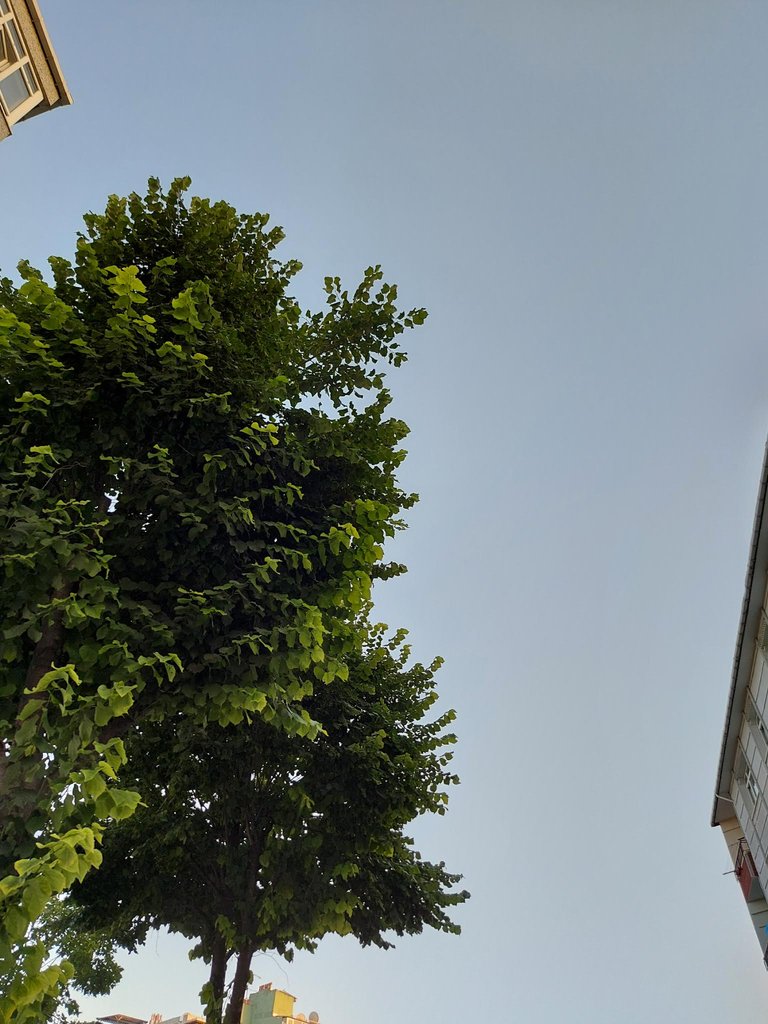 I hope you are having a good day. Last week my days were like a nightmare. I thought I'd be relieved when I had my wisdom teeth extracted, but it was bad that I couldn't open my mouth more than an inch for about a week. Fortunately, in the long term, it was very good for me to have these teeth extracted.
Take care of yourself and don't forget to drink lots of water.
Umarım günleriniz güzel geçiyordur. Geçen hafta benim günlerim kabus gibi geçiyordu. Yirmilik dişlerimi çektirince rahatlayacağımı zannettim ama yaklaşık bir hafta boyunca ağzımı bir santimetreden fazla açamamak kötü oldu. Neyse ki uzun vaade de bu dişlerimi çektirmek benim için çok iyi oldu.
Kendinize iyi bakın ve bol bol su içmeyi unutmayın.
Stay with Peace!