Hello my friends on Hive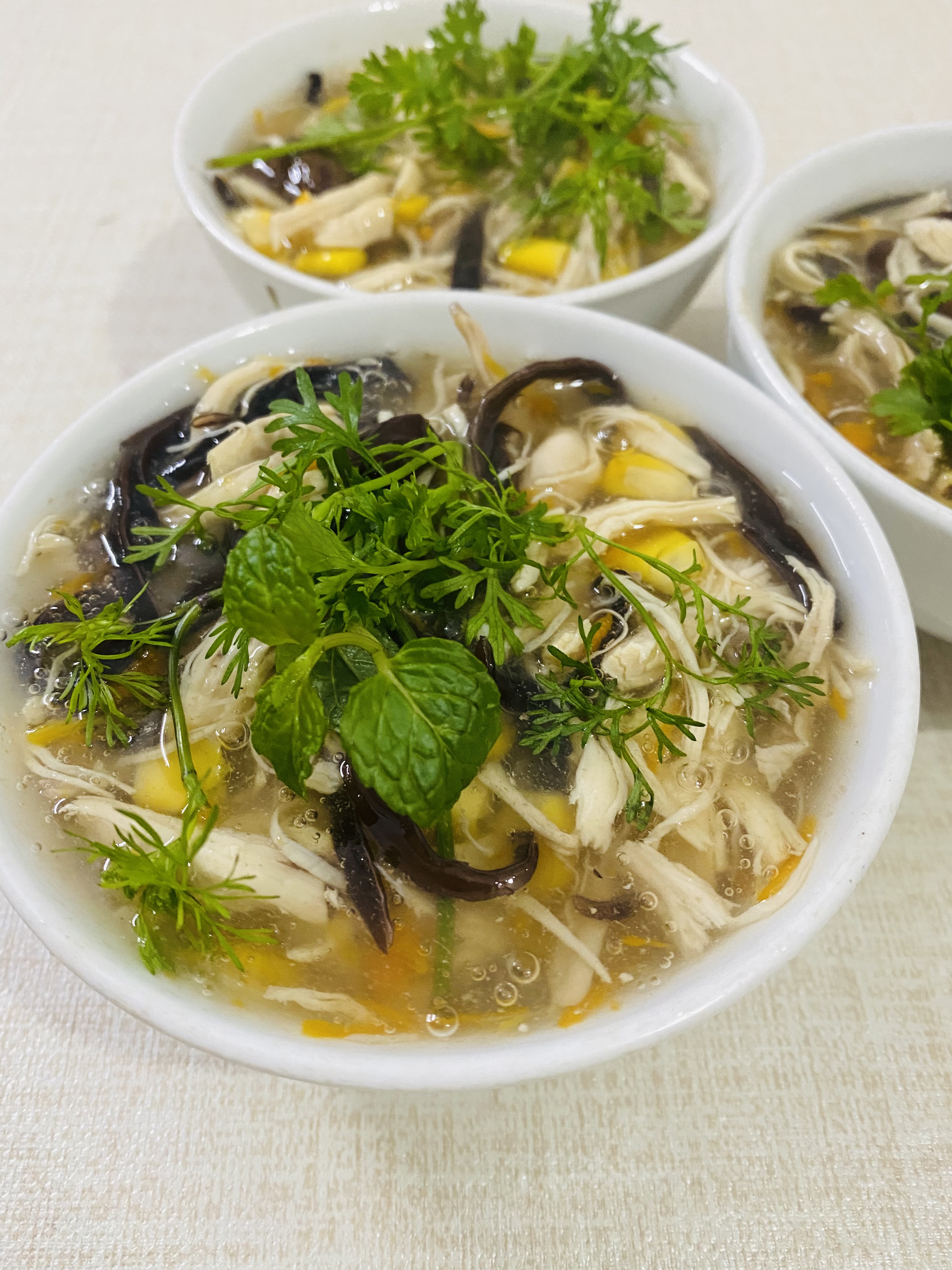 I was at home today and cooked for my daughter, the dish is "mixed chicken soup". Soup is a liquid food made from ingredients such as meat, fish, vegetable or fruit. This dish is very popular in Vietnam and is often used as an appetizer at weddings.This dish is not only delicious but also very healthy. During the war, the French colonialists invaded Vietnam to exploit resources and exploit Vietnamese labor. They have left a lot of pain for our country, but they have also brought us something new. Those are dishes of French origin such as: Bread, pâté, steak, flan and soup. Those dishes have been processed according to the taste of Vietnamese people and have become one of the most loved dishes here.In this article, I will share my chicken soup recipe. I know there are tons of chicken soup recipes out there, but I still want to share my recipe, I think this recipe is a combination of three great cuisines: French, Chinese and Vietnamese. Seriously, my soup is sophisticated yet it is very easy to make. This dish is packed with nutrients, fiber and protein and is fat-free, which is why soup becomes my favorite wintertime dish. In my opinion, this soup works for any time of the year. You can a easily customize it to your tastes or food restrictions. I hope you make chicken soup and love it as much as I do. My liitle daughter was crazy for it as well.
To make this soup you'll need:
Veggies : wood ear, Chinese black shiitake, sweet corn, carrot, other mushrooms (if you have one)
Meat : Chicken
Spices: salt, seasoning, sugar, pepper.
Thickening powder: use tapioca starch or corn starch
Accompanying vegetables: coriander
Steps to make chicken soup
Step 1:
I always have chicken lying in my refrigerator and it comes handy when you are clueless about what to make for meals. I skipped @ecotrain's leftovers contest and to my regret, this recipe fits that contest's criteria. Place the chicken in a pot, add tap water to cover the chicken. You can boil chicken with ginger to enhance the flavor of the dish, but if you don't have ginger, that's okay. Boil chicken for about 25 minutes, frozen chicken will take longer to boil than fresh chicken, I usually use chopsticks or fork to poke the chicken, if no blood comes out then the chicken is cooked. Remove cooked chicken using a chopstick and keep aside covered. Wait for the chicken to cool then shred chicken by hand, you should shred them as small as possible.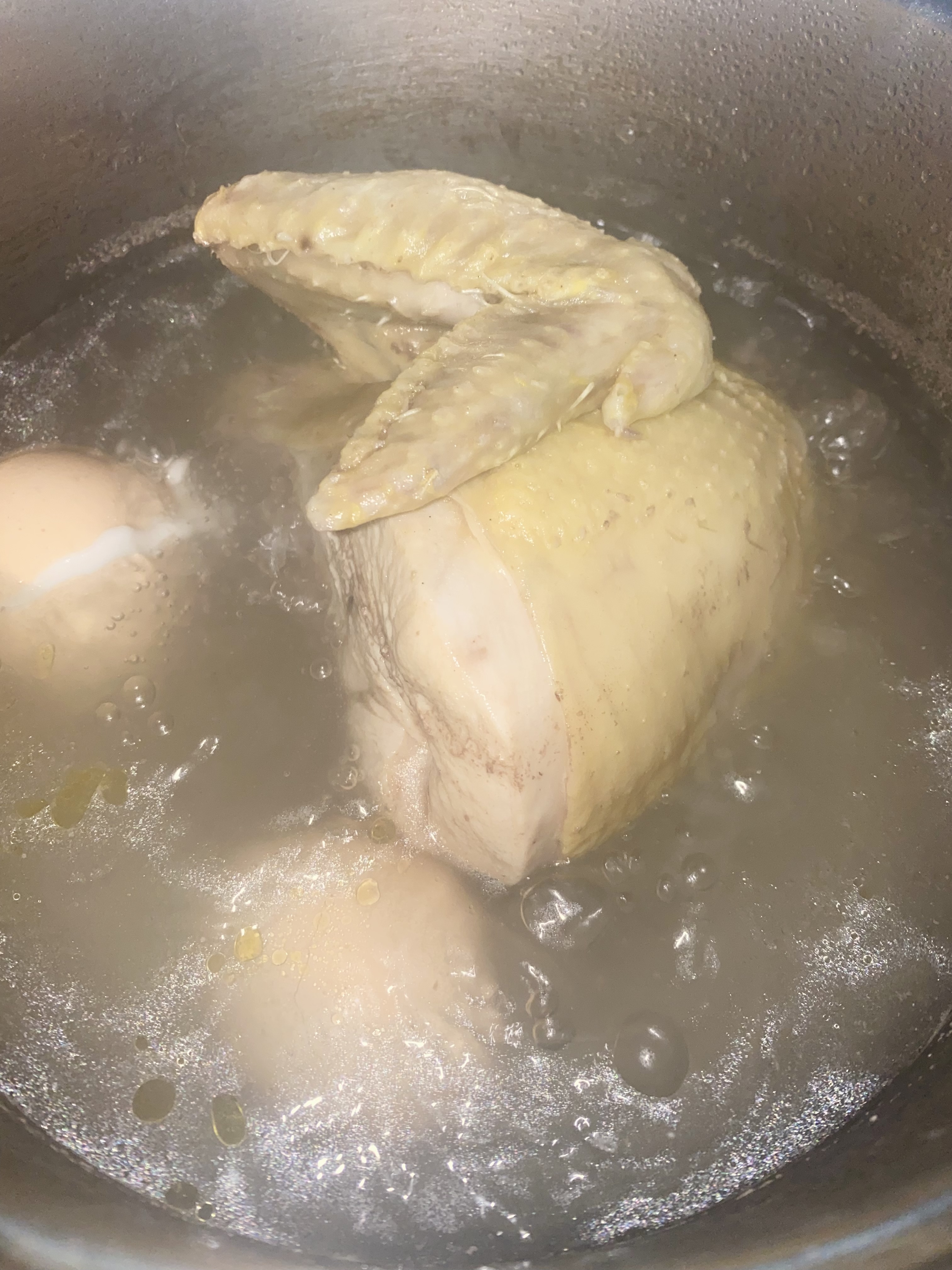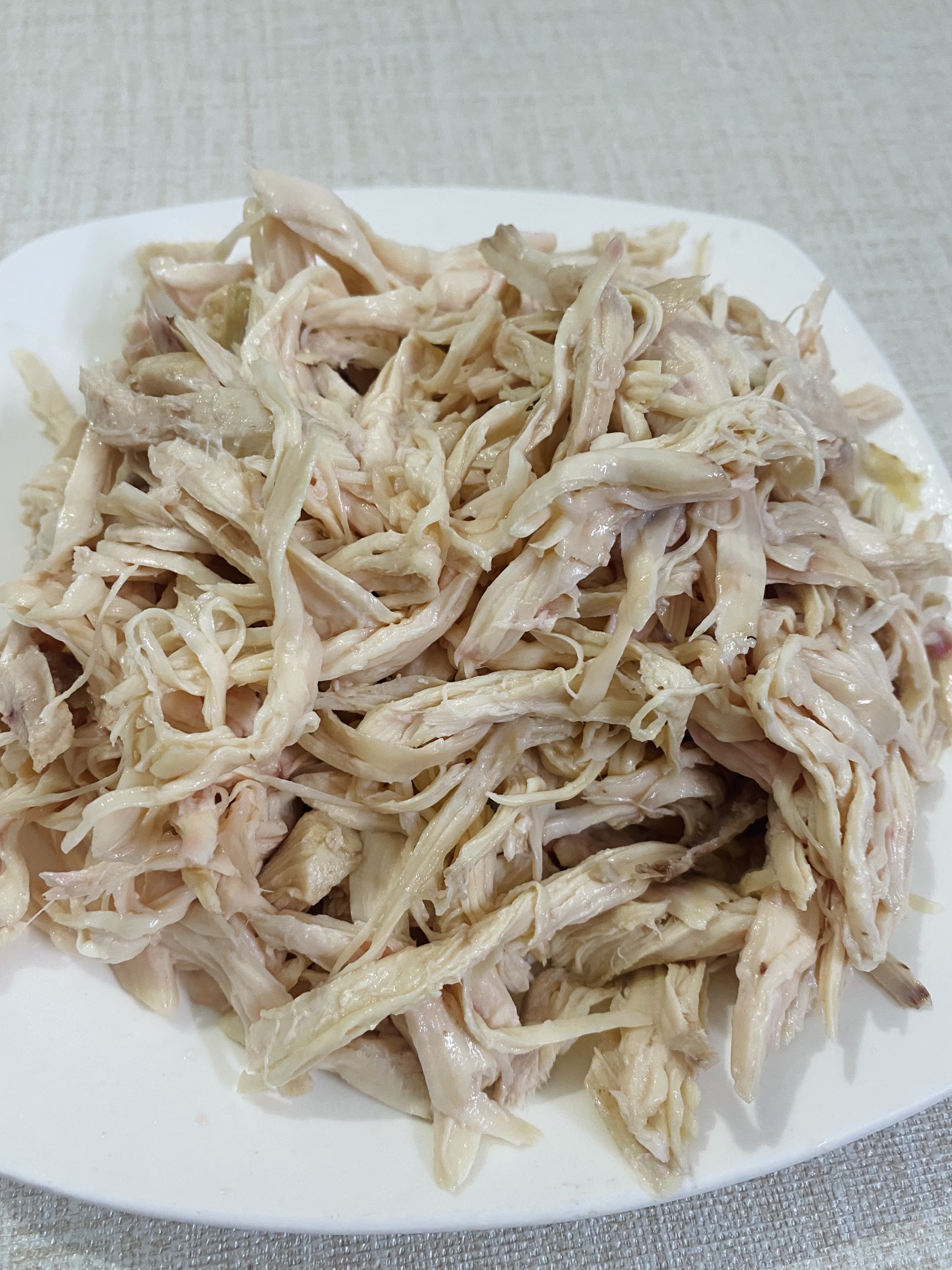 Step 2:
I used frozen corn in this recipe because I haven't had time to go to the market lately. If you use fresh sweet corn, the dish will be sweeter and crispier. Canned sweet corn is an ingredient that is always in my refrigerator, we need to rinse the corn several times before cooking.Soak dried shiitake and wood ear mushrooms in warm water for about 30 minutes or if you want to save time, you can put them in boiling water (it only takes 10 minutes).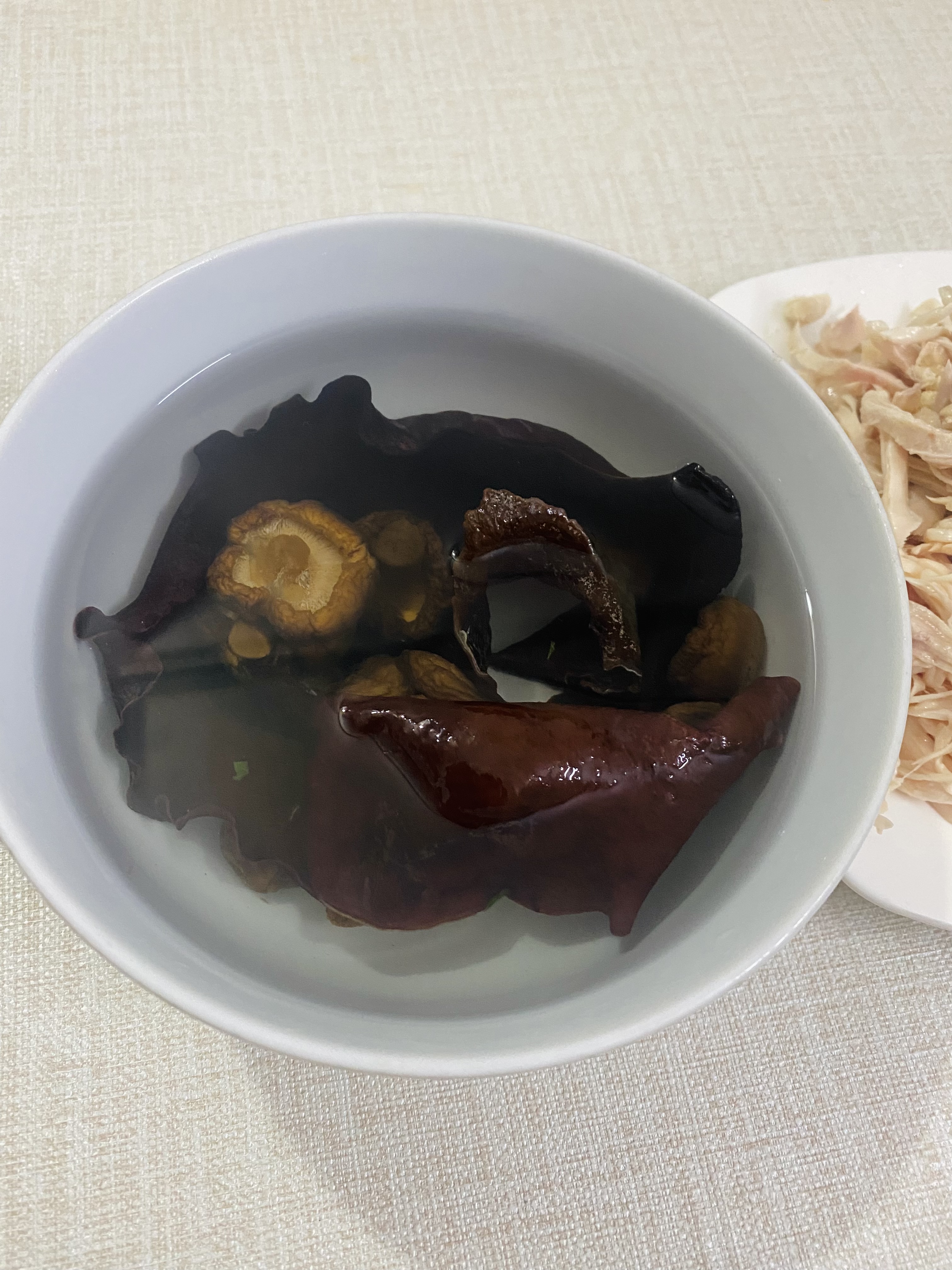 Wash the black shiitake and wood ear mushrooms, then cut off the dirty parts on their surface, and then cut them into strands. Mushrooms are an indispensable food in soups, they give a crispy texture and interesting texture to the soup. If you don't have the above two types of mushrooms, you can use enoki mushrooms or seafood mushrooms. Julienne carrots with a peeler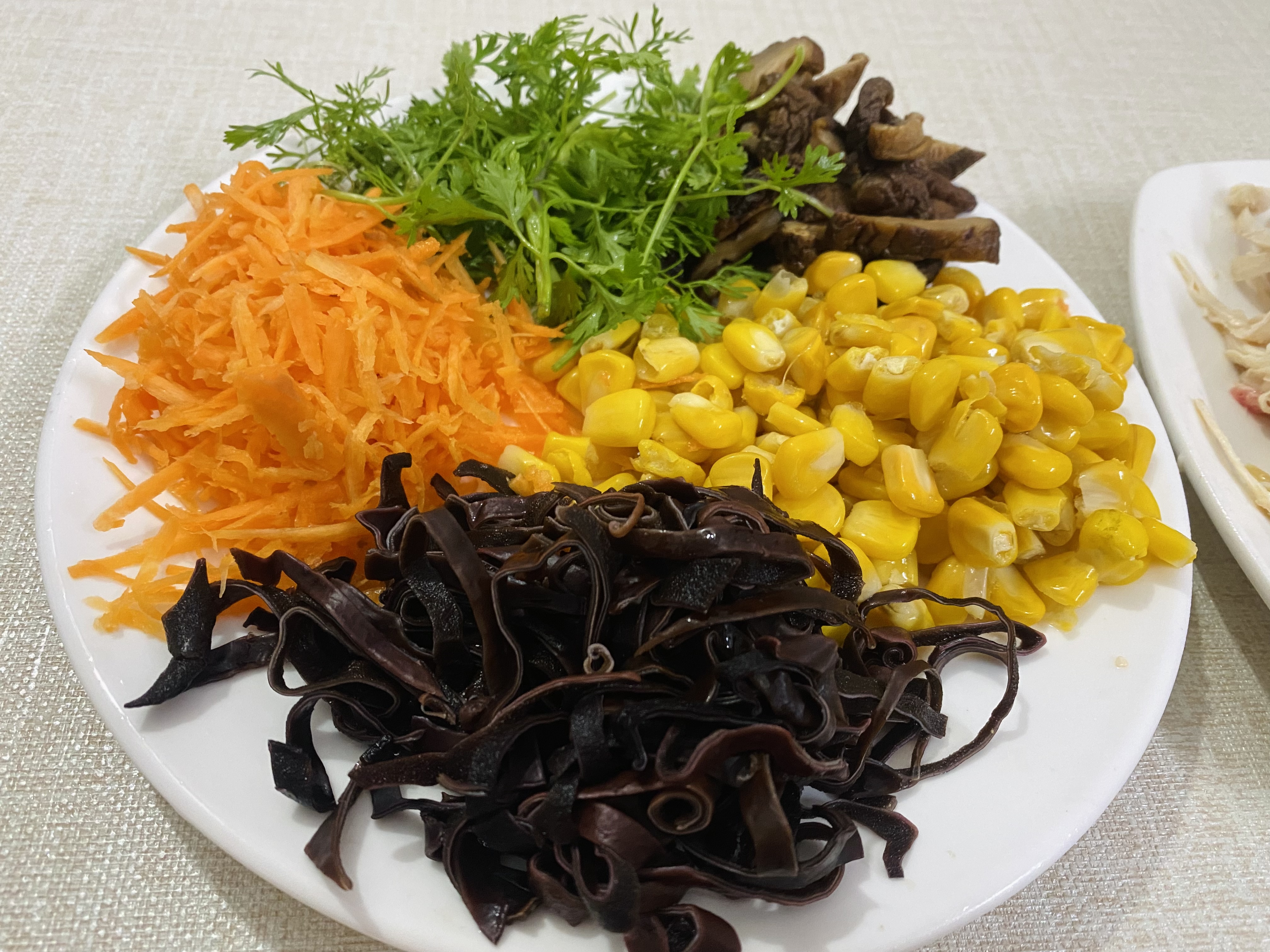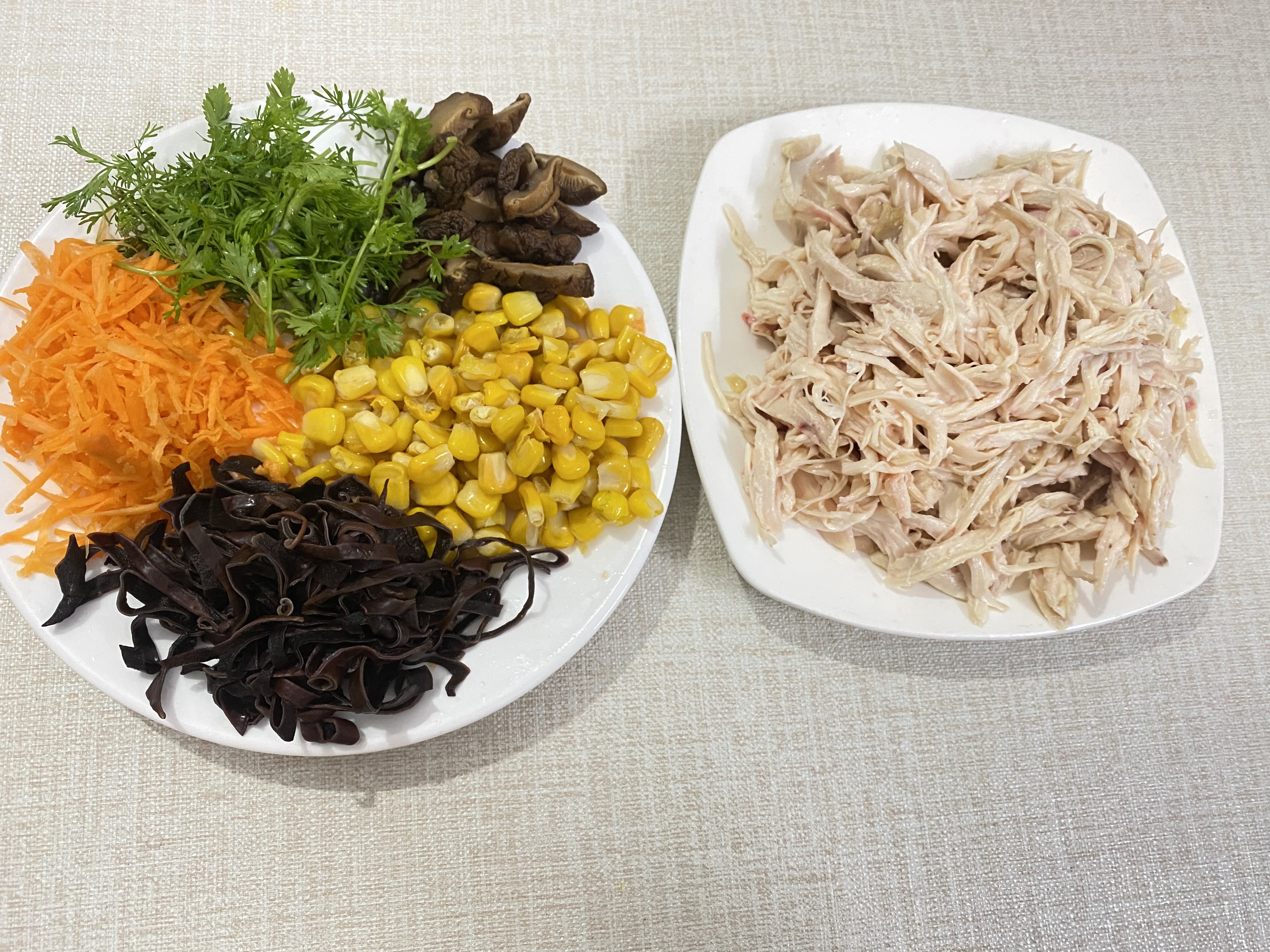 Step 3:
There are many chicken soup recipes with eggs but my daughter didn't like the taste so I omitted the eggs in this recipe. Add the chicken, mushrooms, carrots and corn to a pot, adding water to cover them. Put the stove on the chicken stove and bring to a boil over low heat.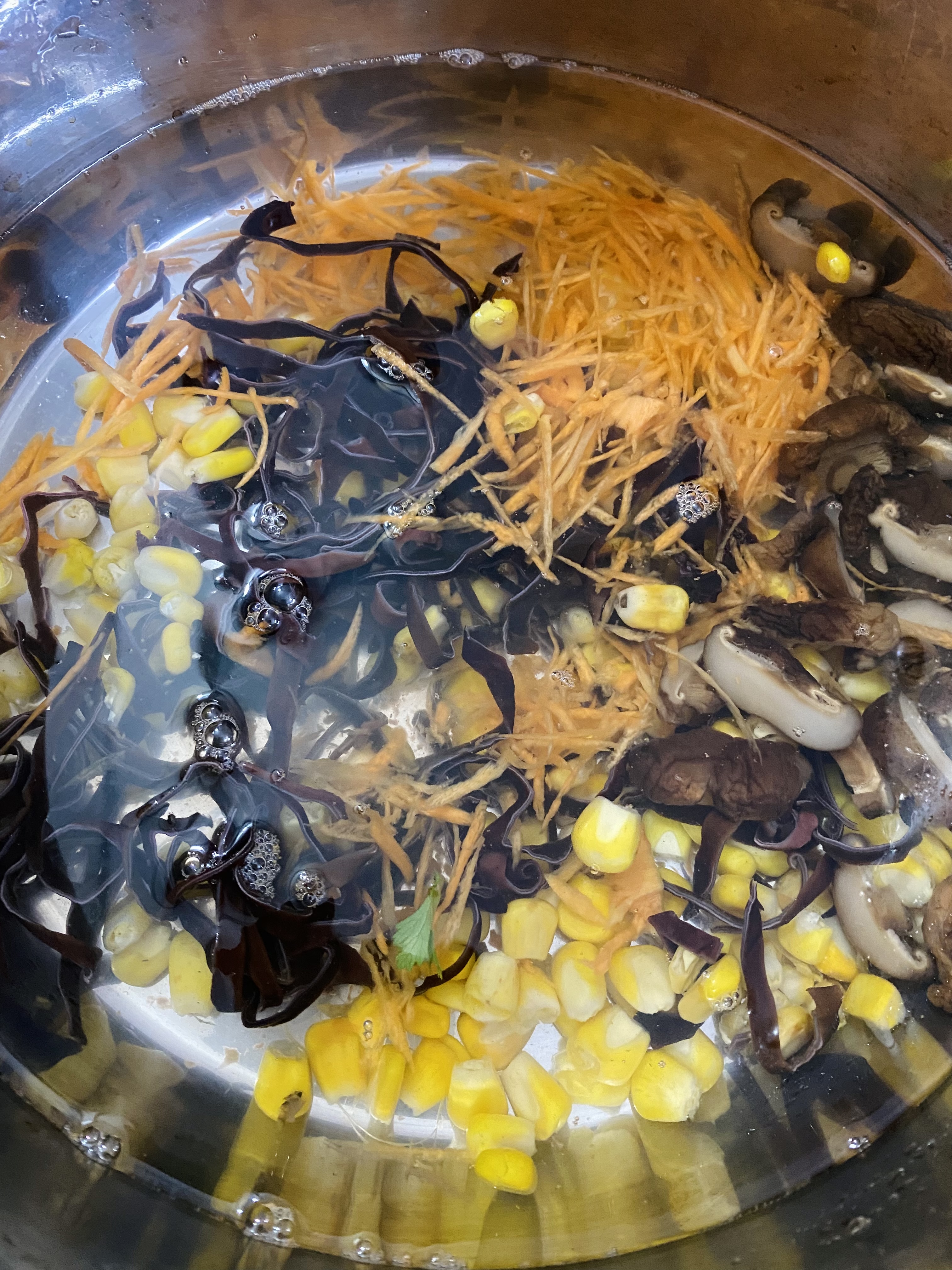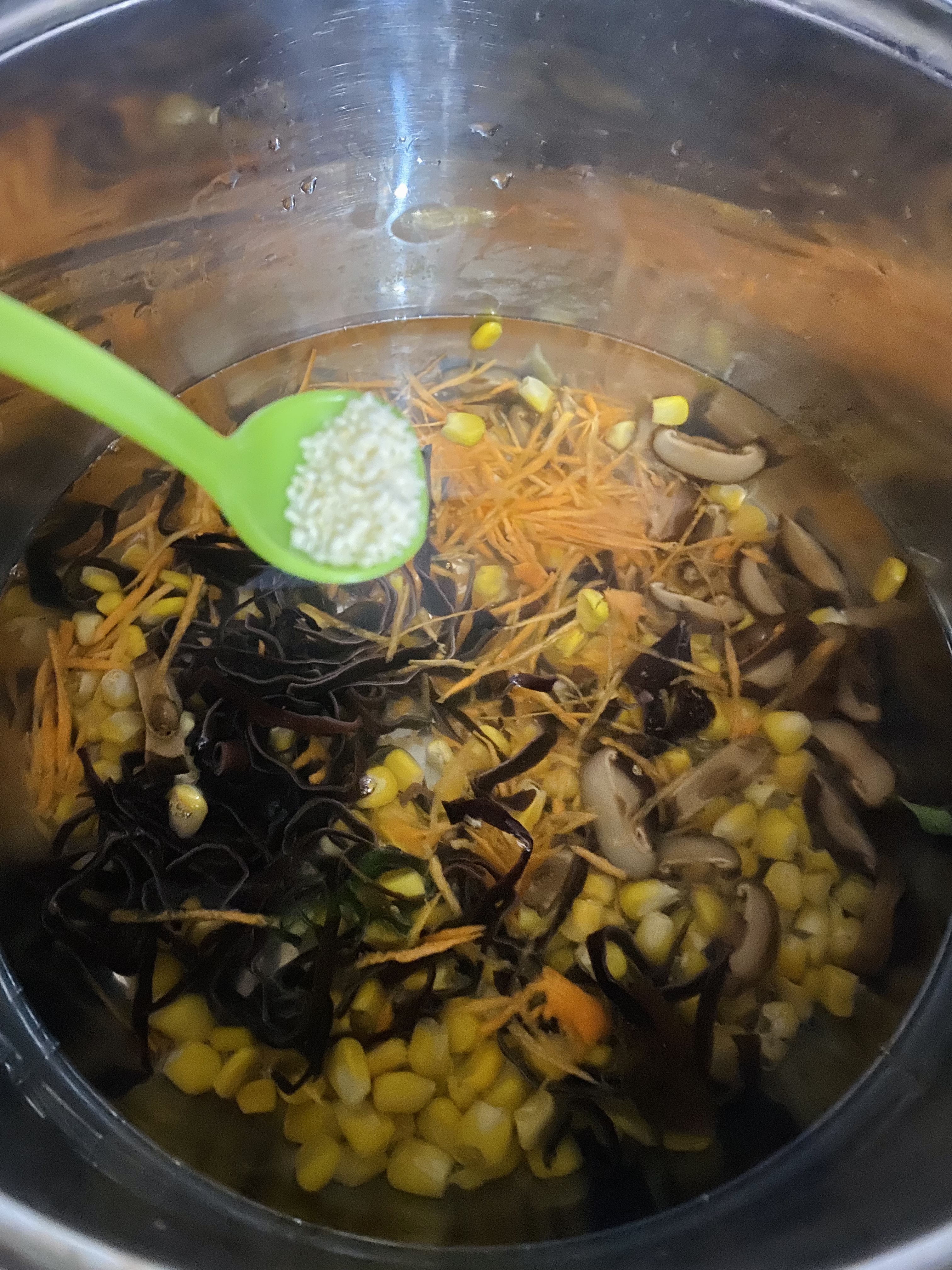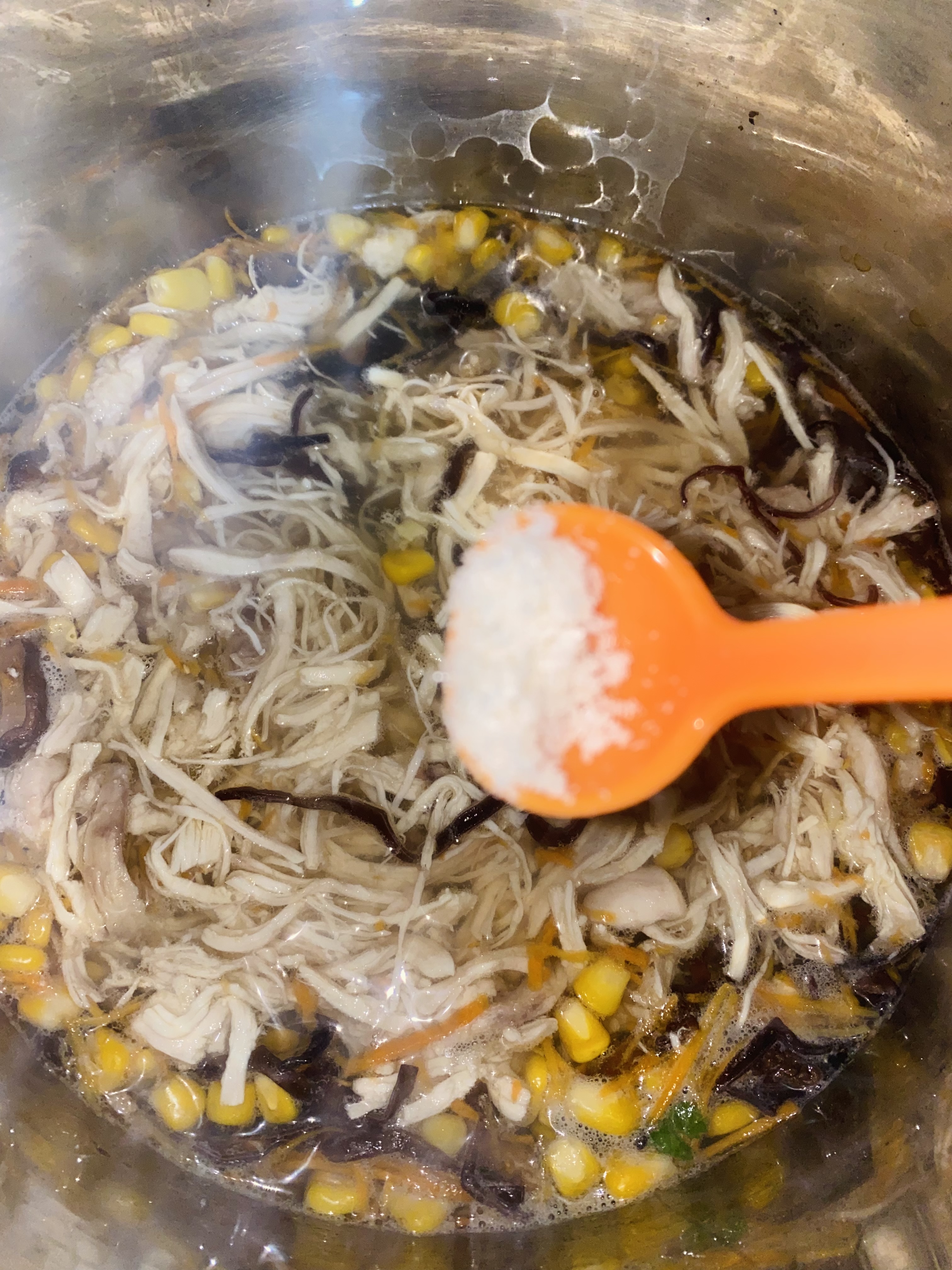 Add the tapioca starch to the bowl, add the cold water and stir until the tapioca is dissolved. Add tapioca flour mixed into pot. This mixture will thicken your chicken soup, giving it a smooth silky taste. Adjust seasoning with , sugar and seasoning. Stir well to let the soup thicken to your liking, cook the soup for 3 minutes. Scoop the chicken soup out into bowls, sprinkle ground pepper, coriander and serve hot.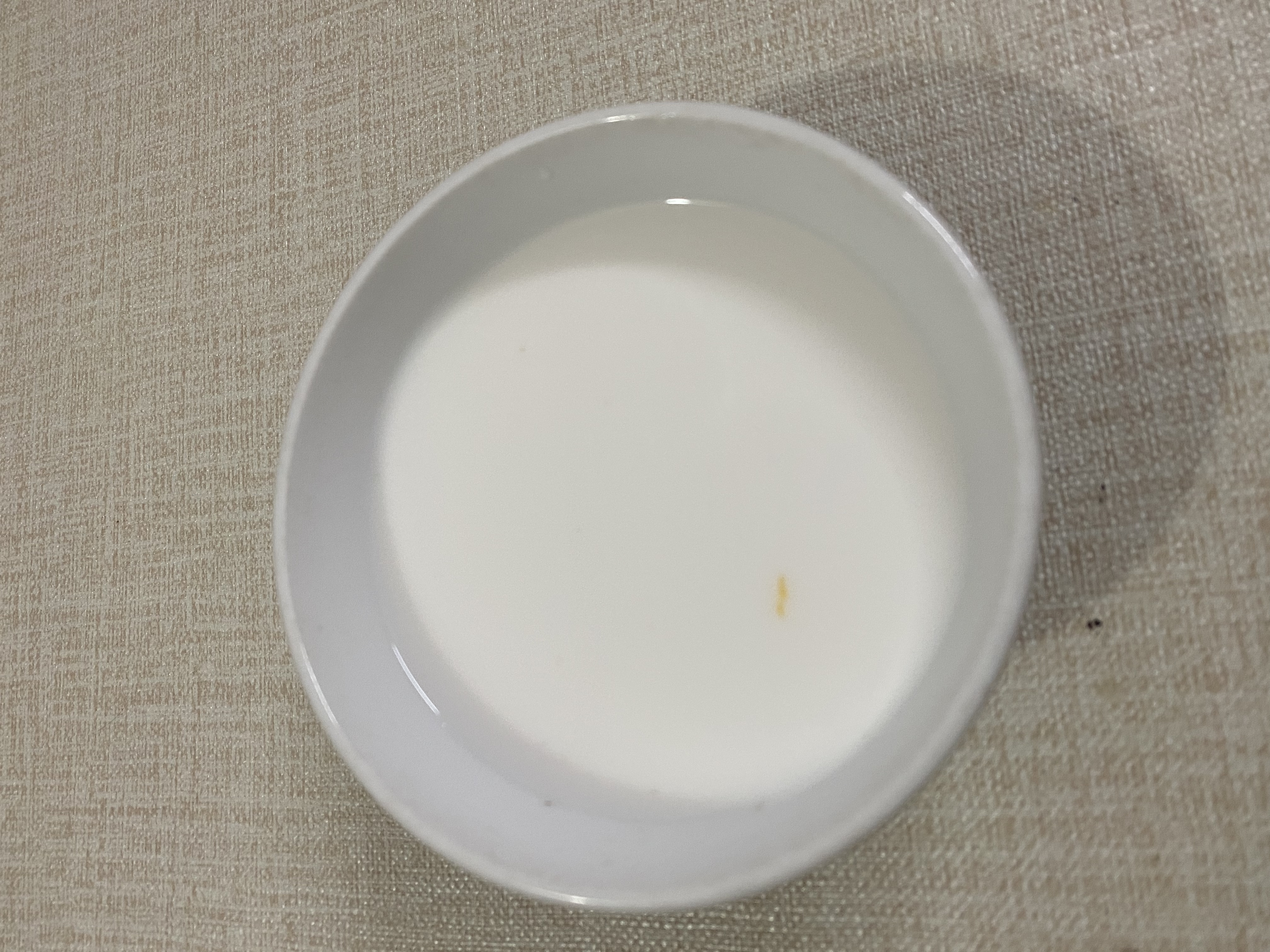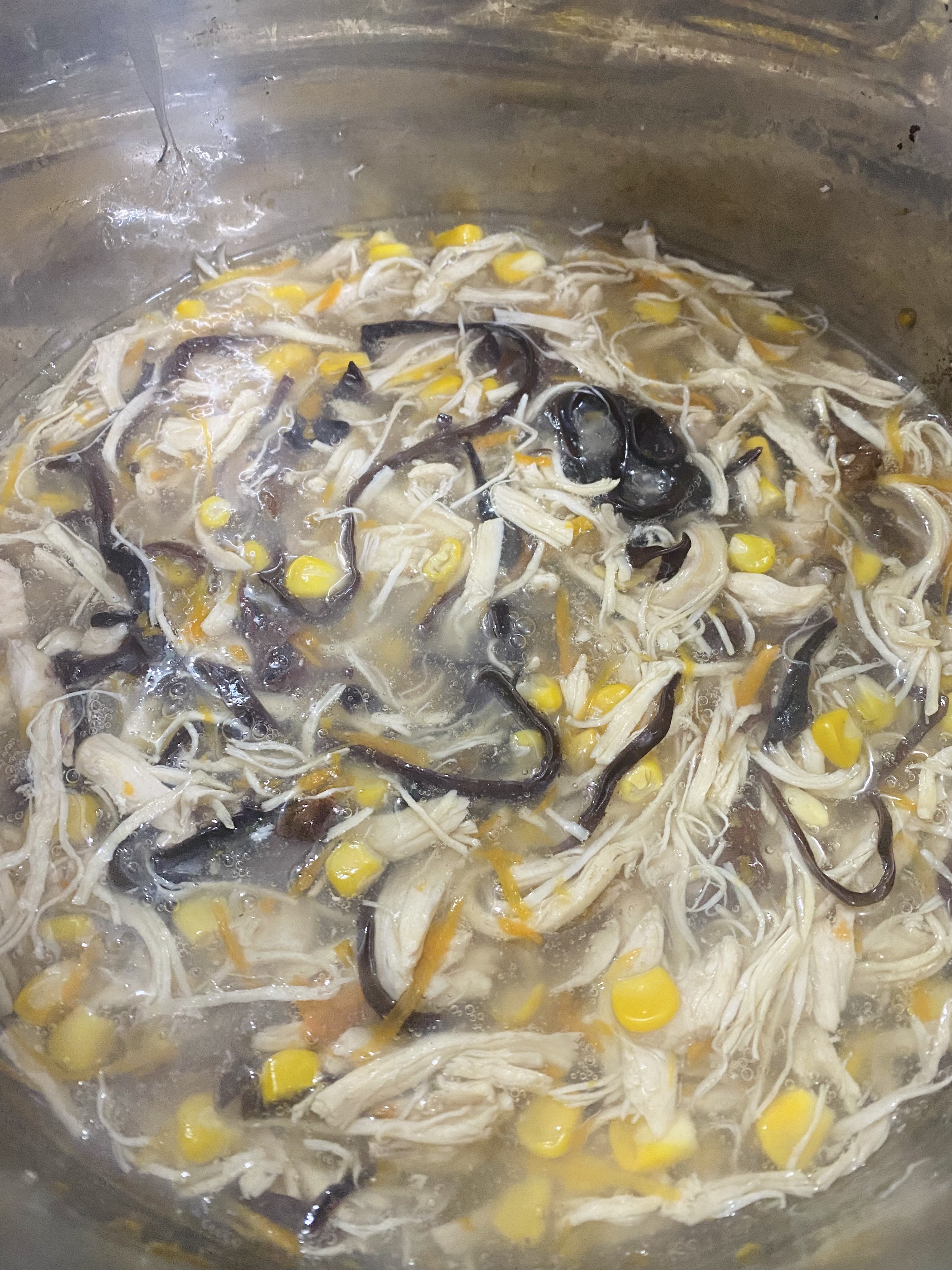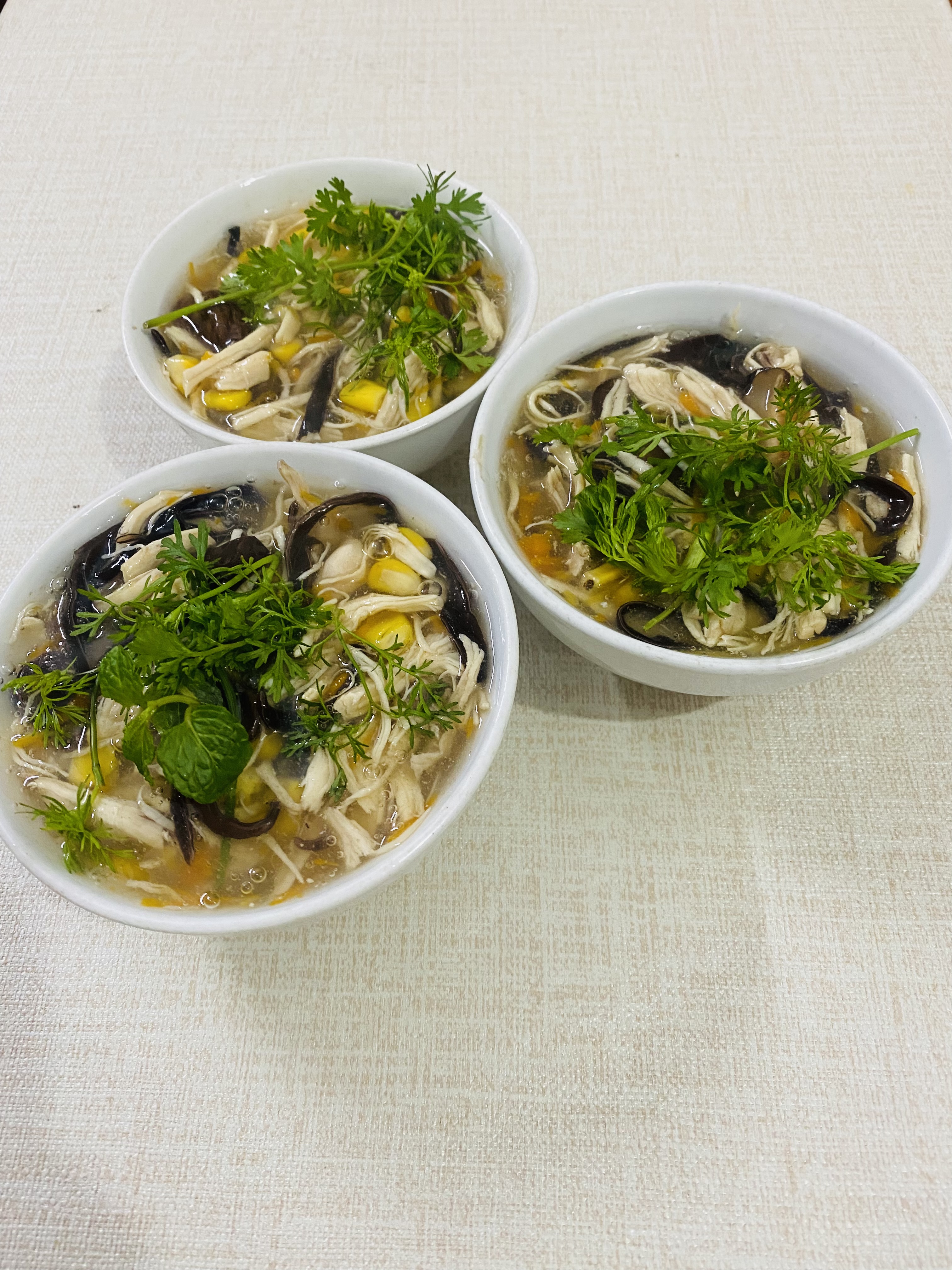 Soup is ready !
Thank you for reading my post. Have a nice day and good luck, stay healthy!
These photos are my property

@ngoan8x

, please don't use it and say it's yours. Thank you!