We have dedicated a day for it - 1st March of the year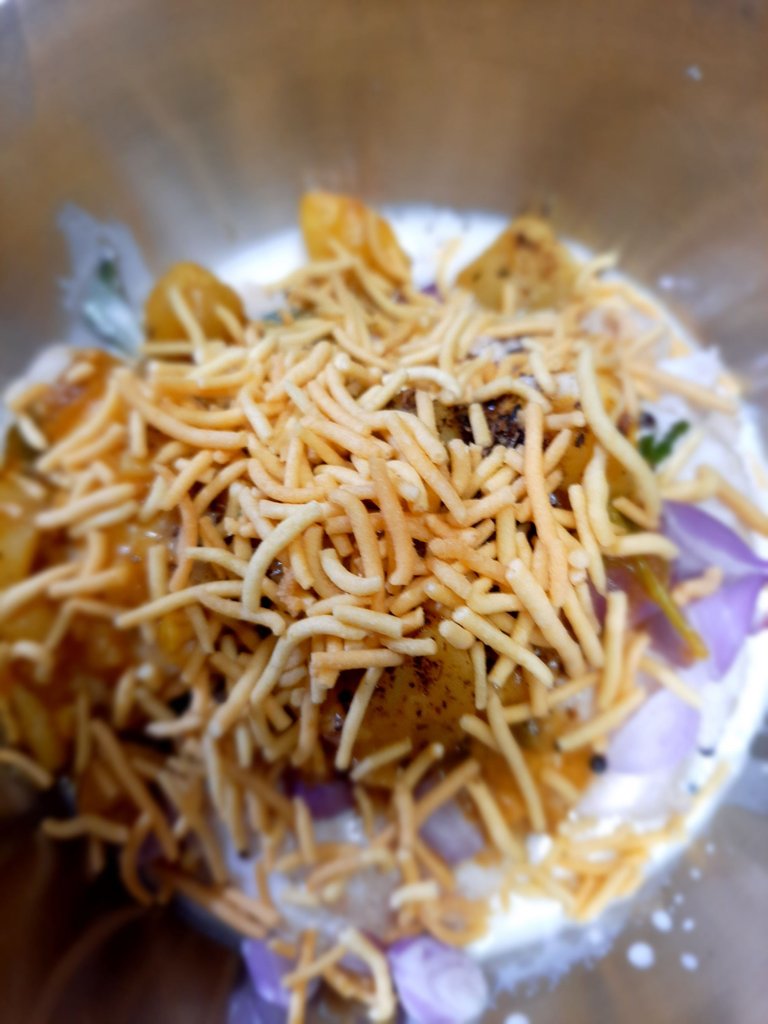 Dahibara Aloo Dum (ଦହିବରା ଆଳୁଦମ) is a very famous signature street food of my place. It's so popular that you will get it almost on every other street, though there are some special places where you get the best. It won first prize at the 11th National Street Food Festival in 2020 and we have dedicated a day for it - 1st March of the year is celebrated as Dahibara Aloo Dum day in Odisha - when summer starts.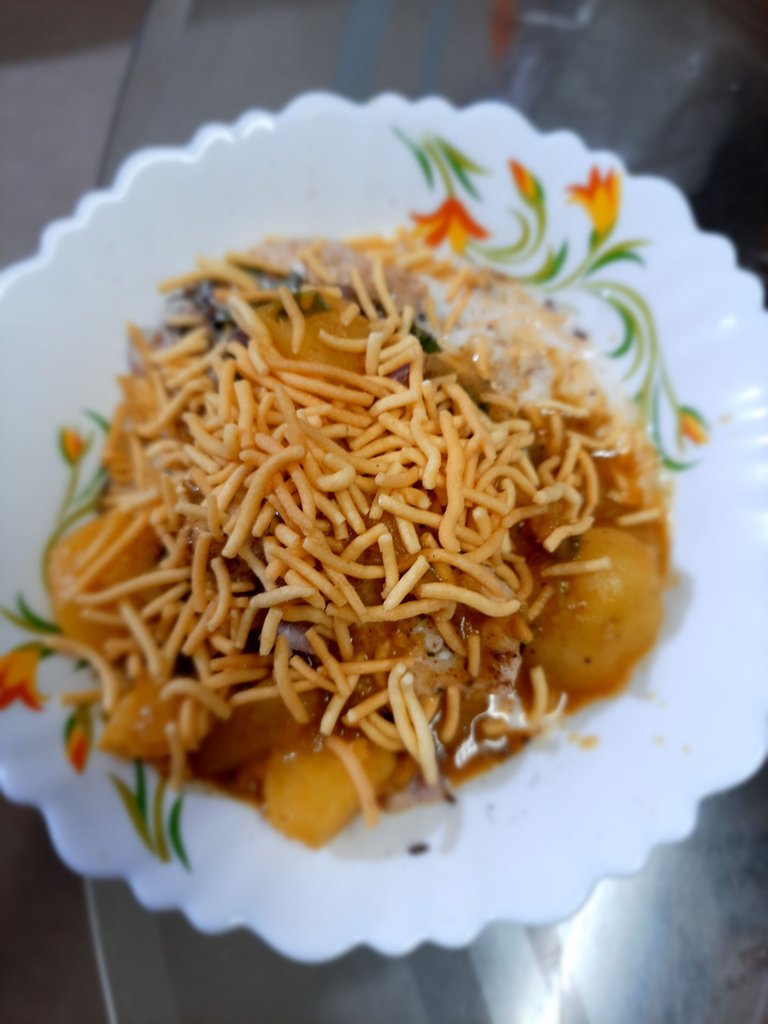 Dahibara and Aloo Dum are two separate dishes, and here is the recipe for each, but what makes it so special is the serving.
Dahibara:
Ingredients
250 grams of Black Grams (black lentil)
Small piece of ginger
One teaspoon of Cumin Seeds
Half teaspoon of Mustard seeds
2 cups curd
Few Green Chillies if you are fan of it
Two dry red chillies
Ten curry leaves
Vegetable Oil for frying
Salt for taste
Process:
Dahibara is bara (or vada) soaked in Dahi (Curd) tempered and here is the process. Soak the black grams overnight, or if you have time constraints, then soak in lukewarm water for 3–4 hours. Grind the soaked black grams with minimum water, to make a thick paste and leave it for another 4–5 hours for better fermentation (to avoid adding baking soda and use natural fermentation of black grams). Whisk it vigorously fast by hand - your hands have better bacteria; this is the most crucial step. To know if your batter is ready put a small piece in water, it should float, else you will need more muscle work. After the batter is ready, grate the ginger, slice the green chillies, and add them to the batter, add one teaspoon of cumin seeds, salt (don't forget) to the taste and mix well. Now its ready to be fried.
Keep some drinking water in a bowl to soak the fried bara. Then heat vegetable oil in a pan and once its medium hot (very important – oil should not be too hot), take small portion of batter and shape it round and slide into the oil. Fry it till it start floating and becomes golden brown. And then take it out and put immediately into the water bowl. Repeat this till you fry all the bara and put in the water bowl.
Trick: If you cannot make the batter slip from your hand, then use a slippery surface like banana leaves, or a food grade polythene.
Next is to prepare the curd, mix two cups of water, to two cups of curd in a bowl, making it thinner. Heat one teaspoon of vegetable oil in a pan and add half teaspoon of mustard seeds. Once it starts to crackle, add the curry leaves, and dry red chillies and tamper it for few minutes to have that lovely aroma and take out and leave it to cool off for five minutes. Then add it to the curd mix (now you understand why it should be cool?)
Now take out the soaked bara one by one, squeeze them between palms to remove water and put it in bowl having the cud mixture. Once you put all of them, leave it for couple of hours, to become soft. Then it is ready to be served.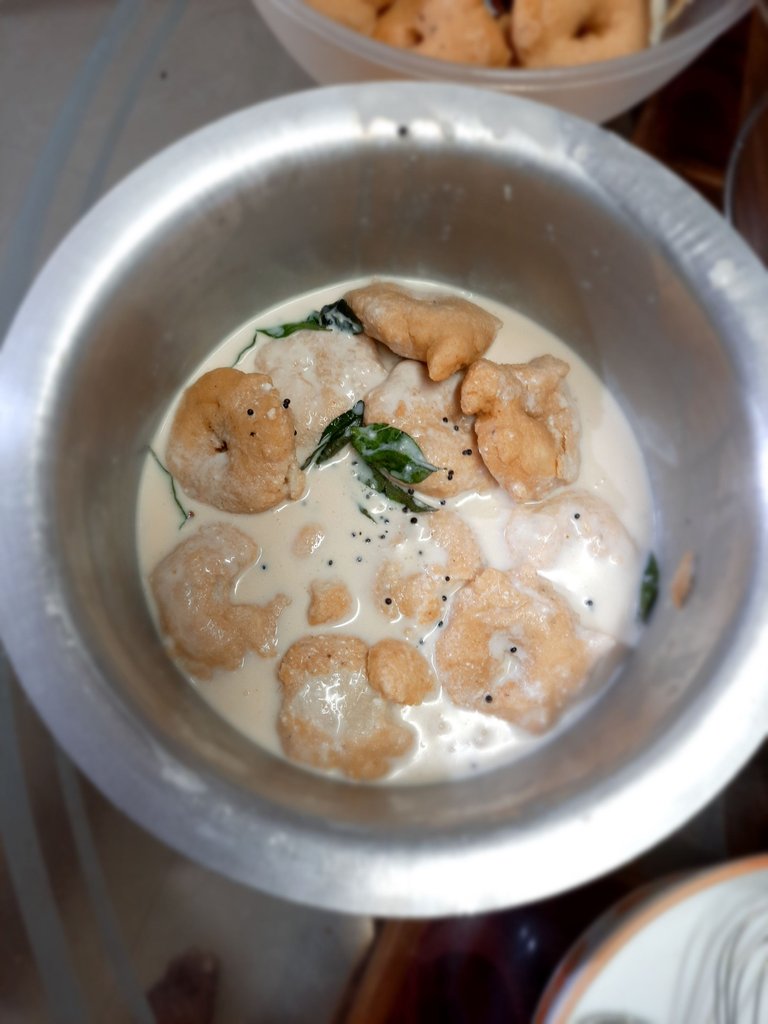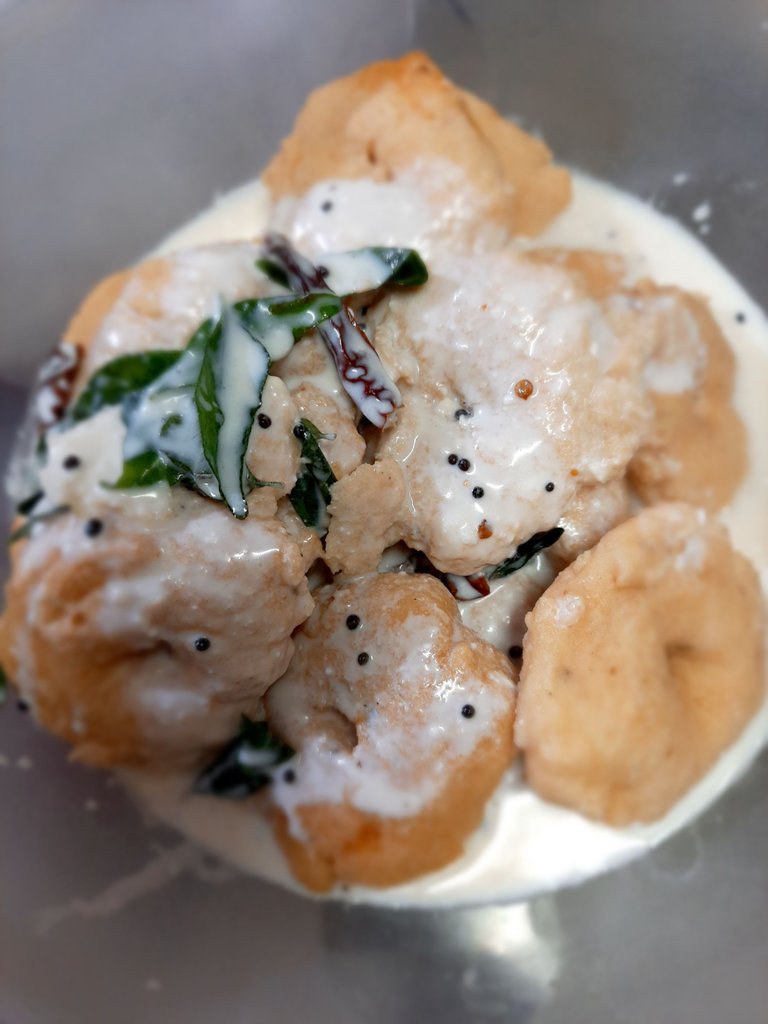 Aloo Dum
Ingredients
Four to five medium sized potatoes (Aloo)
One medium sized onion chopped.
One to two teaspoon ginger garlic paste (fresh if possible)
A pinch of turmeric powder
One teaspoon Coriander Powder
One teaspoon Cumin Seeds Powder
Kashmiri Red Chili Powder for colour
Red Chili Powder if you want it spicy
One teaspoon garam masala (roast cardamom, cinnamon and cloves and crush it)
Two teaspoons of Mustard Oil (or Vegetable Oil)
Two chopped tomatoes
Two Bay Leaves
Process:
Boil potatoes, peel off and cut into medium cubes. Heat two teaspoons of mustard oil or vegetable oil in a pan. Put red chilies, bay leaves and chopped onion and fry till it becomes golden brown (not burn). Add ginger garlic paste, turmeric powder, coriander powder, cumin powder, chili powder (both red and Kashmiri) and fry (in low flame) till the raw smell goes away and they become separated. Now put the chopped tomatoes and saute it to become soft and mushy. You can add a little water if it sticks to the pan. Then put the cubed potatoes, mix, and cook it well for 4–5 minutes as the spice blends into the potatoes. Then add a cup of water, salt (don't forget) and leave it to boil till the gravy becomes consistent (should not take more than ten minutes). Turn off the flames and put the garam masala on it and cover it for few minutes and then mix it. Now it is ready to be served.
Serving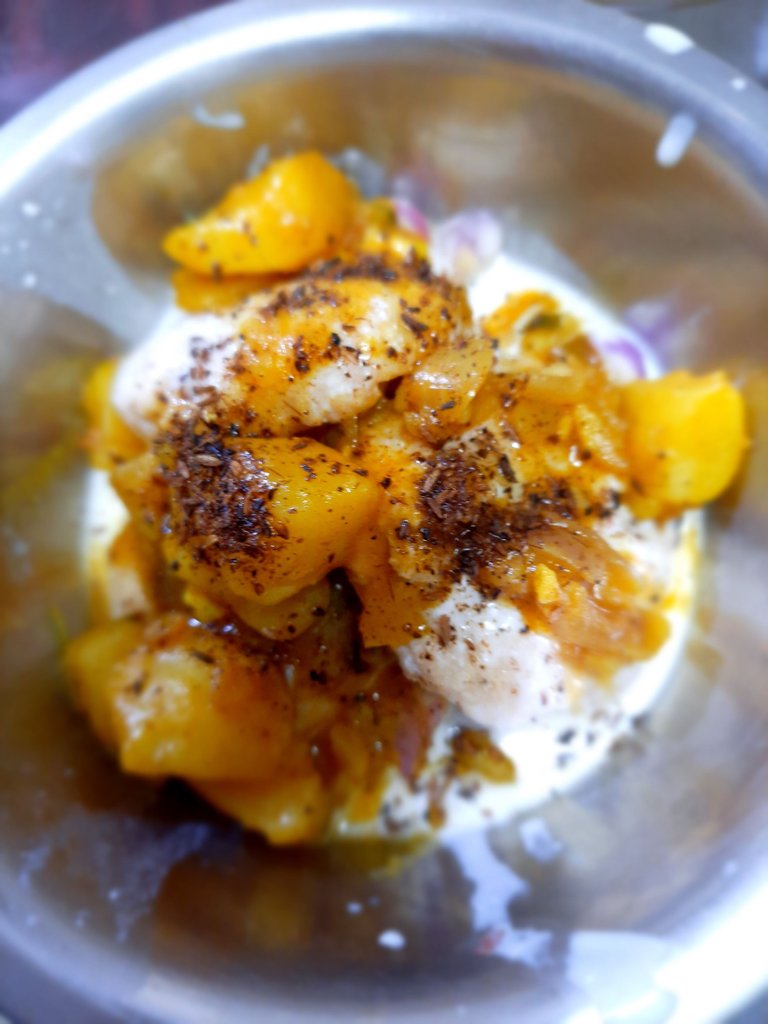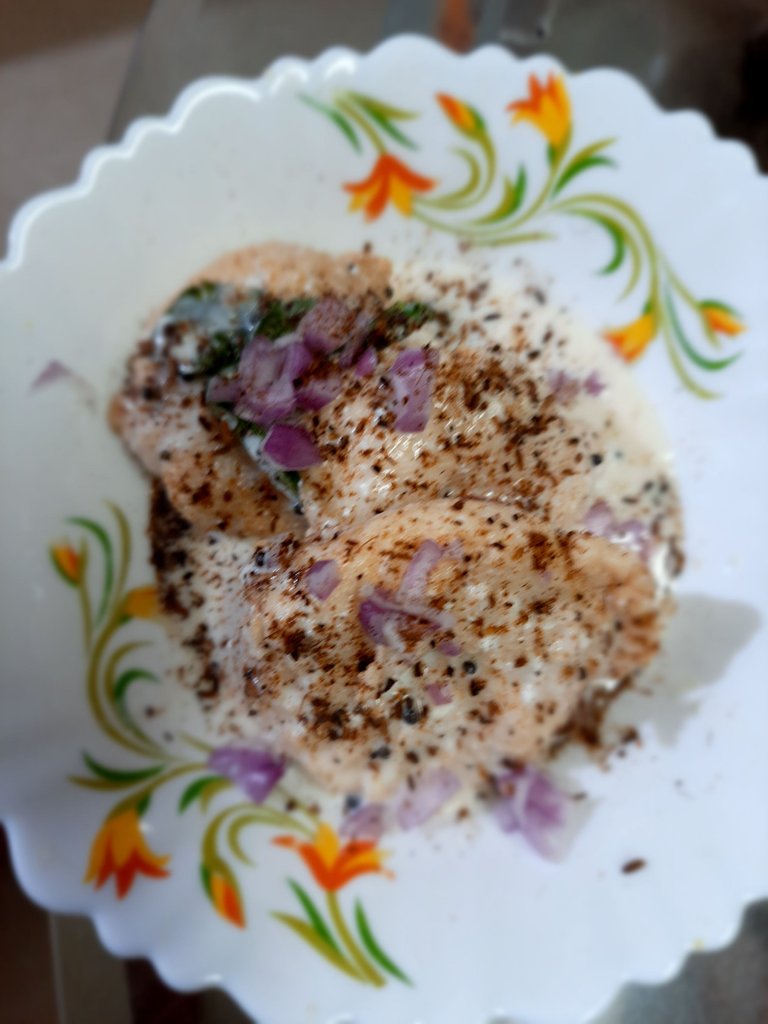 Place four to five dahibaras on a plate, put a little black salt (if you like). Then add roasted cumin and red chili powder, best to prepare it fresh. You can also add chat masala, and then top it with Aloo Dum. Then garnish it with Sev, a popular Indian snack made from chickpea flour, looking like crunchy noodles. The taste that Sev adds, is unmatched and you can get it readymade from stores or make at home. We use Sev as a topping for most snack foods, fries and even eat it standalone, so it is always available at home. If you cannot get Sev, then you can garnish it with chopped onions, coriander leaves. You can add few mint leaves if you like. And if you want a sweeter version, then add sweet chutney of Imli (Tamarind). Your yummilicious Dahibara Aloo Dum is ready.
Ever noticed, why we add grated ginger and cumin seeds to the batter ? They work well as natural digestives. I am sure, once you try this, you will get addicted to this mouth watering street food. Tag me when you make this and share your experience.
Note : This detailed recipe will be part of our Employee Cookbook in my workplace. There was a Cooking photo contest across the world and photos of my recipe was one of the winning participation, so a detailed recipe was asked for.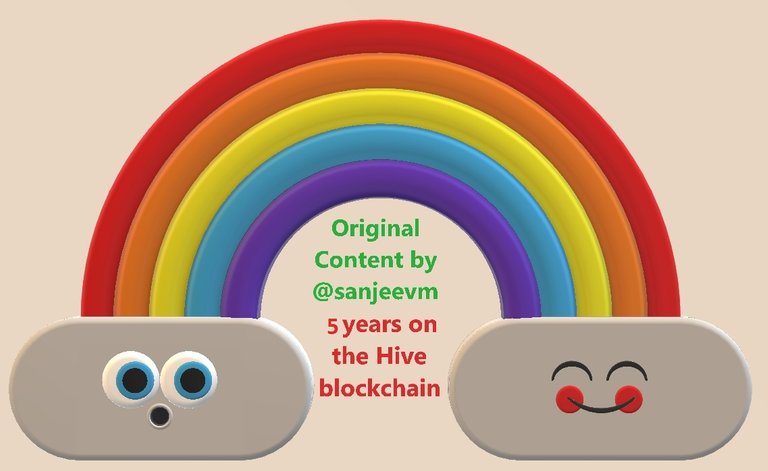 copyrights @sanjeevm - content created uniquely with passion for #HIVE platform — NOT posted anywhere else! #HIVE is my only social diary - my blog is my life.