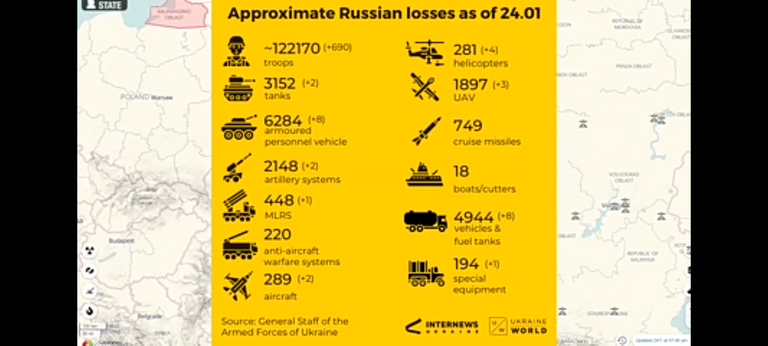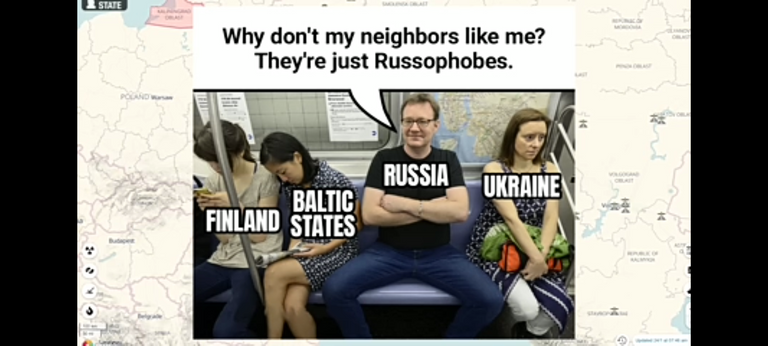 122,170 killed in action as well as massive amounts of losses all the way across the equipment list. Absolutely phenomenal that we see four helicopters also getting hit.
690 soldiers being lost in the past 24 hours.
Two tanks eight armor personnel carriers two artillery pieces however the two Jets and four helicopters really compound this war into some pretty clear terms. 100 million US dollars for those six airframes alone. If not even more. Don't forget the loss of operational capability and ability by Russian forces to have close air support with these airframes being destroyed. Colossus disaster of at least six pilots.
Putin private retreat gets missile defense system. Now this is pretty outrageous and you really wonder why this would be the case however incredibly this does fall within the compatibility reach of the new Turkish Ukrainian drone project with the 900 km operational radius. That means that absolutely you could see a loitering munition hit the Russian military leadership and decapitate it with one single blow. Or God forbid wreck his pretty little mansion.
Unfortunately you can't keep a big secret like that secret for long and the fact that it was outed into the international media now means that people watching certain areas like this can discover incredible tidbits of information like this. And the fact that such valuable weapon system would be wasted on defending this out of the way luxury retreat instead of providing Frontline soldiers protection and security might have quite a bit of an impact with how this war is going to get run.
Krimmena
Dense forest makes for close quarters fighting. And Ukrainian forces are getting some gains however the Russian forces don't make it easy. Which is perfectly fine continued pressure just ties up all these troops in this Northern section. As well as the decreased supply line after the last massive offensive as well as consolidation of the troops and reconstitution of forces on front lines is starting to bog this entire front down for the Russian forces. While they dig in place and make it a solid position. Russian forces are getting set up. These Northern forces are going to get cut off pretty soon.
Soledar
Russian forces have enormous trouble making even a small River crossing so in this area you see a massive front line defensive position now being put on one side of a creek. However the front line actually makes for an extremely tenuous position for any possibility of a river crossing in this area as to the West you have high ground which no doubt we are seeing Ukrainian forces occupy. The fact that you have precision NATO artillery most likely operating off of that high ground means that any force is trying to conduct a river crossing in this area is going to get smashed. And we have seen Russian forces being incapable of even small River crossings.
The fact that Russia is really unwilling to cross a river shows a massive lack of technical and engineering capability as well as a distinct learning curve especially after the huge previous River crossings that ended up being incredible disasters as well as losing phenomenal amounts of troops uselessly not even in combat operations. The fact that precision equipment can Target these different River crossings and destroy the massive amount of military equipment that gets stuck behind the initial River crossing Force. Makes for an extremely tempting Target that has continually been worked over extremely hard by Ukrainian military forces.
Ukrainian bridge layers!
NATO forces actually have gotten a huge amount of military assistance in the form of bridge crossing equipment and other engineering capability. Making Ukrainian forces being able to quickly and easily cross anything but some of the largest rivers. The fact that modern warfighting equipment has evolved to this point and that we've seen Western military's shipping out phenomenal equipment only means that Russian forces are going to have a continuous problem.
Bakhmut
The bulge continues to press around however the city still stands. In fact with Russian forces deciding that it was easier to press in other directions and not incur phenomenal amounts of losses taking a defense position. However fighting continues to rage and south of the town we are seeing another push however targeting of red army forces continuous without any slowdown.
South of the town in a really difficult to spell town Russian forces are going wild. So you definitely have a raging battle going on there with troops in contact. Which unfortunately hasn't been that active over the duration of this conflict. Quiet and uneasy in action. Sometimes end up catching the attention of the general who gets really mad and then demands the Red army launch human wave attacks. Although the human wave attacks could always be from deserting troops from other sectors being forced into blind charges of defense positions just to get rid of them.
Marinka
In a huge Frontline mistake apparently a howitzer was brought up and even though it's a self-propelled howitzer it was put on the front line in some idiotic and sacrificial manner so it was completely and totally destroyed. That being an incredibly easy target for Ukrainian drones to spot as well as providing one of the most iconic videos in this entire war with precision distraction and targeting of this equipment and unit. Apparently you also can't post any of that footage on YouTube otherwise you can get into trouble. The incredible mismanagement of this conflict by Russian forces is.....
This thing supposed to be as far back as possible to barely cover and protect your troops not pushed all the way up to the front line and used to directly assault positions with direct linear fire this is an indirect fire weapon that needs forward observers to direct fire or drone integration.
Minimizing exposure while maximizing effective combat capability of this weapon system is the Paramount goal to increase it's survivability. Oh well...
Kherson
Well the Red army decided to send a bunch more sacrificial lambs into this area of operations for Ukrainian forces to smash and destroy before watching them run at the upcoming offensive. Isolating even more troops means that you're going to have an increased strain on supply lines the second that all this is cut off and the only availability for resupply is a bridge that's already been blown up by Ukrainian military forces 1 Bridge!
And of course it's a bunch of soldiers with assault rifles and no heavy equipment. Meaning they are much more of a liability than a quality military asset. Incredibly this is once again looking to be just incredible.
Ukrainian forces also ended up sinking about you had some Russian special forces unit decide that it would be a great idea to sneak across into the Delta for some dumb reason and end up getting shot up and about sunk so I doubt there's going to be much for survivors in that case especially with the phenomenal amount of chance for those men to catch hypothermia.
Crimea
Of course the Russian military base Sevastopol continues to take continuous drone strikes.
Polish leopard two tanks!
Immediately we are going to see Ukrainian troops being shifted over for training and most likely being driven across the border into Ukraine directly. I think that'd make it absolutely an amazing military propaganda video. Watching Ukrainian forces driving they're brand new tanks to the front lines! However the fact that Ukrainian troops are getting this capability and these chances is just incredible.
In this video Germany is being accused of hiding behind its export licenses however with my reporting today on the subject it is discovered that Germany is sending leopard 2 main battle tanks over as well as now Germany is going to be able to also make a massive amount of money over supply repair reconditioning and retrofitting of all the damaged leopard two tanks that are going to be getting directly shipped right back to the factory. Making Germany actually being an incredible financial beneficiary in this entire conflict.
The fact that Poland said they were going to send these tanks to Ukraine no matter what Germany said kind of set off and interesting set of dominoes that resulted in Germany finally agreeing. Numbers looked at around 100 total leopard tanks from around the world being pledged so I can only imagine how many are actually going to land on the ground. Plus additional knowledge of Abraham's tanks being shipped over to Ukraine is absolutely going to shift this entire conflict.
Finland seizes Russian assets!
Once again the amount of funds being seized worldwide absolutely and completely will pay for this entire conflict in its entirety we were talking about one of the largest financial fortunes in the world being evaporated and destroyed.
Morocco t72 tanks
I believe I have reported on this already and Morocco actually spend a lot of money upgrading these tanks into being on par with most western military tanks. 20 of these have already been sent over with an undisclosed amount being also available and getting shipped at a future date. I'm sure it takes some time to bring these out of storage as well as do preliminary maintenance before shipping. This would be another reason why we don't see a massive amount of Ukrainian troop surge on the front lines having so many military forces getting shipped around the world for training on these weapon systems directly by the host Nations that are donating all this gear.
Morocco has like 300 of these tanks so the fact that they are willing to make a business deal and ship a bunch of this equipment over to Ukraine is most likely going to be covered by the international Bankin cartel! Yeehaw! Congratulations Ukraine on a massive amount of quality equipment.
Russian fathers of more than three legal battles.
You're you're seeing Russian families as well as the fathers themselves getting legal representation and fighting this. A large portion of the male population has more than three kids so sending off all of the Young bucks absolutely does increase your chances of staying home. As well as also getting a chance to avoid this entire conflict. Russian legal battles continue as I'm sure those who have access to a lot of the cash and resources as well as businesses our parents with more than three kids. So it's only a matter of time until you watch the Red army get ahead of some legal defeats. Going after a bunch of kids who don't have representation and young males is going to catch up with the Russian government however the current squabbles right now just continue to divide the country
---
Well now it looks like Abrams tanks are going to join this conflict. As Germany is also starting to approve the release of 29 leopard two tanks of the most newest variety. Yep that means that Ukraine is getting tanks and not only is Poland sending over some however that is eclipsed by the Germans now having to send the most latest technological variant to the front lines. In fact actually that makes sense because if there's work going on you want to know how well your equipment stacks up against the red army. And this is the perfect time as well as the perfect model with upgraded electronics as well as optics and the extremely technologically important new barrel weapon for the main gun.
Big news is Ukraine is pushing for a treaty with Belarus to prevent a conflict.
Bakhmut
---
New Turkish jet engine variants are going to be landing in Ukraine once again enhancing and compounding the phenomenal amount of unmanned aerial assets within the Ukrainian military's control. 900 km is phenomenal on top of that it's got Ukrainian made engines as well.
This absolutely opens up a massive amount of opportunity and possibility for Ukrainian forces.
Frontline feedback is definitely going to enhance the capabilities of this equipment especially with the extended run times more fuel efficient and powerful power plant as well as updated electronics.
This makes another large paradigm shift as well as increase amount of capability. That operational capability covered already however any additional advancements are greatly appreciated.
Of course this is definitely be another reason why Russian forces ended up putting air defense systems up to protect Moscow especially with these new weapons systems coming into play because absolutely these weapon systems are completely and totally capable of reaching Moscow at this point.
Ukrainian Frontline troops actually get a chance to rest and relax in a portable hot tub and I'm going to assume is pretty phenomenal congratulations to those war fighting heroes and hopefully they get a chance to relax before the next offensive needs their skilled hands.
---
Speak the truth drops that tanks are on the way for Ukraine!!!!
And absolutely it does look like the entire world of tanks is going to be open to Ukrainian forces here in a minute.
Abrams for Ukraine!
It is unknown exactly how many are going to be transferred out over however in the past couple hours it is official we are going to see the Abrams tank make it into this conflict which is most likely going to result in the complete and total capitulation of Crimea. I really don't see any other possibilities in this conflict other than the complete and total expulsion of Russian forces from Ukrainian military executions. We are going to watch Ukraine army go from fighting this war with equipment made during the Cold war into a modern-day fighting force with the cream of the cream for international military technology.
It's going to be a little while before you're going to see Ukrainian soldiers being able to feel this equipment however I'm just going to guess that a bunch of Ukrainian military personnel have already been in the middle of training and that's the reason why we've seen this massive operational pause during this winter. Is it possible Ukrainian forces thought ahead and shipped a bunch of its forces off for advanced warfighting training with top-tier military equipment. It seems so and I can only speculate however I'm sure that the history books are going to prove these points for us..
Biden administration busts china for war support!
Yep it's pretty funny but we are seeing China actually working on receiving its own set of sanctions and situations over the fact that they are supporting this war with military equipment. And we're talking about more military equipment than just the pretend body armor and airsofting military equipment that is going to the front line switch is of the most incredibly poorest quality ever. The fact that Russian troops have to fight in that kind of equipment is incredible however having the knowledge come out that formally China is getting into trouble because of its entire financial involvement with this conflict isn't surprising anybody in this world.
Putin's Belarus buildup!
Yep we're watching nearly 200 tanks and even more equipment as well as soldiers which I believe was more than 9,000 are getting transferred over this front. Making this continued build up advance right on time. Unfortunately Russian propaganda can't claim that this is just for military exercises as we've got a current war going on and now a large group of the Russian federation once again building up and installing supply lines.
Russia needs criminals!
Busted apparently well you have a bunch of captured Russian forces being interrogated and one of them was told by his mother that it would have been better for him to die. Which basically yes that is true because he is facing and execution if he returns to russia. Serving 15 years out of a 22-year sentence as well as it sounds like he was also facing another 12 years most likely for continuing to commit crimes within the prison it only makes sense for these criminals to escape the sentence by joining the military and going to the front lines. The only problem is is they can't go back home. So the only thing you can do is I would assume put this individual on the front lines and let him defend one of these positions to the last breath. I do know that is against his belief system most likely. However you never know what that guy could agree to in return for not facing a Russian prison or firing squad.
Russian media comedy hour!
Apparently there is this hidden large sector of the world that agrees and condones the Russian military operations in ukraine. I'm not exactly sure where this is and it's probably made up of mentally ill as well as internet trolls kind of like the ones that I've encountered. However claiming that Russia is this amazing place while obviously being a complete and total propaganda show that is less intelligent than American soap operas is pretty funny.
I mean these hosts can't even get along with themselves and show the fracturing as well as delusion that the Russian government is trying to promote to its people.
Apparently 120 countries in this world met for some kind of global conference and Ukraine wasn't invited however I failed to see how this shows a concrete amount of support for the Russian federation let alone the war. Apparently in the United Nations 70% of the world delegates have been bought or compromised by the Russian federation. Ironically it seems like Russian propaganda is getting force-fed to communist Chinese media in some kind of chance that we are going to see China get involved in this conflict. Which I really don't see how that would work out very well. Especially with China already having its own issues over the past couple of years as well as the destruction of its economy and implosion of its real estate market and tech center manufacturing capabilities.
Russian nuclear torpedoes!
Well again we have another really clear and blatant threat that one of these nuclear missiles could completely destroy New York city. That sounds to me like a pretty crazy and unrealistic expectation as any nuclear strike would resort in the complete and total destruction of the entire world. The fact that Russia is completely willing and capable of throwing around these threats really underlines the importance of the next item that they start to cover which happens to of course be the fact that native forces are sending main battle tanks into this conflict. Useless idle threats of striking other countries that are not even involved in the conflict that you are losing clearly shows quite a bit of an issue with the Russian thinking.
NATO main battle tanks as viewed by Russian propaganda
This is the beginning of the panic that we are going to see. And this panic is absolutely being exposed as the incredible event that we are going to see here in a few minutes. German tanks showing up on the battlefield is scary enough for the red army. The fact that German tanks are going to be joined by United States Abrams tanks is absolutely going to change the game. Watching the next offensive come up you can only expect to see some pretty decisive battles being decided just with this logistical supply. The fact that absolutely the entire world could afford to supply these tanks because Russia currently has massive financial assets that are being held by the international banking cartel this means that Ukrainian forces absolutely can afford this kind of high level military equipment.
And absolutely seeing Russia deploy it's top of the line electronic warfare as well as air defense systems the entire rest of the world has followed and given Ukrainian forces all sorts of equipment to counter this war fighting technology by the Russian federation. Which in return Ukraine has actually given absolutely priceless information as well as confirmation with wartime battlefield employing of these weapon systems. The fact that Russian forces are even allowing themselves to be a part of this conflict is pretty amazing and astounding. You would think that they know way better than to directly engage and give away the capabilities and abilities of the best equipment they have however now it is getting to the point where Russian forces have expanded everything they've got and the capabilities of their equipment really haven't materialized in any effective way shape or form. I mean why would you have to use human wave attacks against defensive positions if the Terminator armored personnel carriers were capable enough to break through the front lines. Which there has been no word about the incredible capability of that legendary feared Russian weapon system. It's like those weapon systems never got a chance to actually get deployed to the front lines and make any kind of meaningful difference because Russia is more afraid of other countries finding out about its design flaws and lack of capability and ease of destruction by quality NATO munitions. Sure would be a shame if that extremely expensive military equipment got destroyed by cheap Rock propelled grenades or anti-tank mines.
Russian morale!
Well it's pretty amazing at this cute little blonde thinking that she knows something about the world. Especially when she spouts off an entire amount of idiocy. You actually have Russian immigrants trying to sneak across the Mexican border illegally. You have a massive Russian community here that was brought over in the '80s legally. As well as the continued migration of Russian people to the United states. I should know I bitch about all of the Russian immigrant kids that get out here and immediately take out massive loans on getting a nice car and then drift it and wreck it. I've met some amazing Russians and the local community. And from what I know as well as the amazing horror stories that they've told me about Russia they absolutely value getting a chance to be an american. So when I hear this Russian lady say that America has a huge amount of problems I can agree with her yes however it's nothing near like what is going on in Russia with the wholesale mobilizations for a war that has 120,000+ killed in action. I have to say that this is probably the cutest sheltered little idiot I've ever seen put on Russian State television however she is better looking than watching a bunch of fat old bald guys arguing over which commentator is going to sign up and to deploy the front lines first. Which I'm really hoping that all of them get shipped out there.
Russians desert and get caught in Moscow with machine guns!
Yep a bunch of Russians apparently were able to get out of the front line and then push all the way out to the Moscow area before they were caught by police forces. Once again proving that the Russian State military really isn't very capable of taking care of itself as well as being able to identify and track deserters. Most likely we are going to see those individuals being shipped to the front lines for the next human wave attack.
Frontline progress
Really not a lot of action going on however this in of itself has shown the fact that Ukrainian forces are capable of shutting down Russian offensives and holding the defensive line they have.
This is month three of the Russian offensive being completely and totally shut down. Watching even more of this conflict getting mismanaged by the Red army is bringing incredible.
---
And I'm gonna do the promotion tag line!
Budo brothers!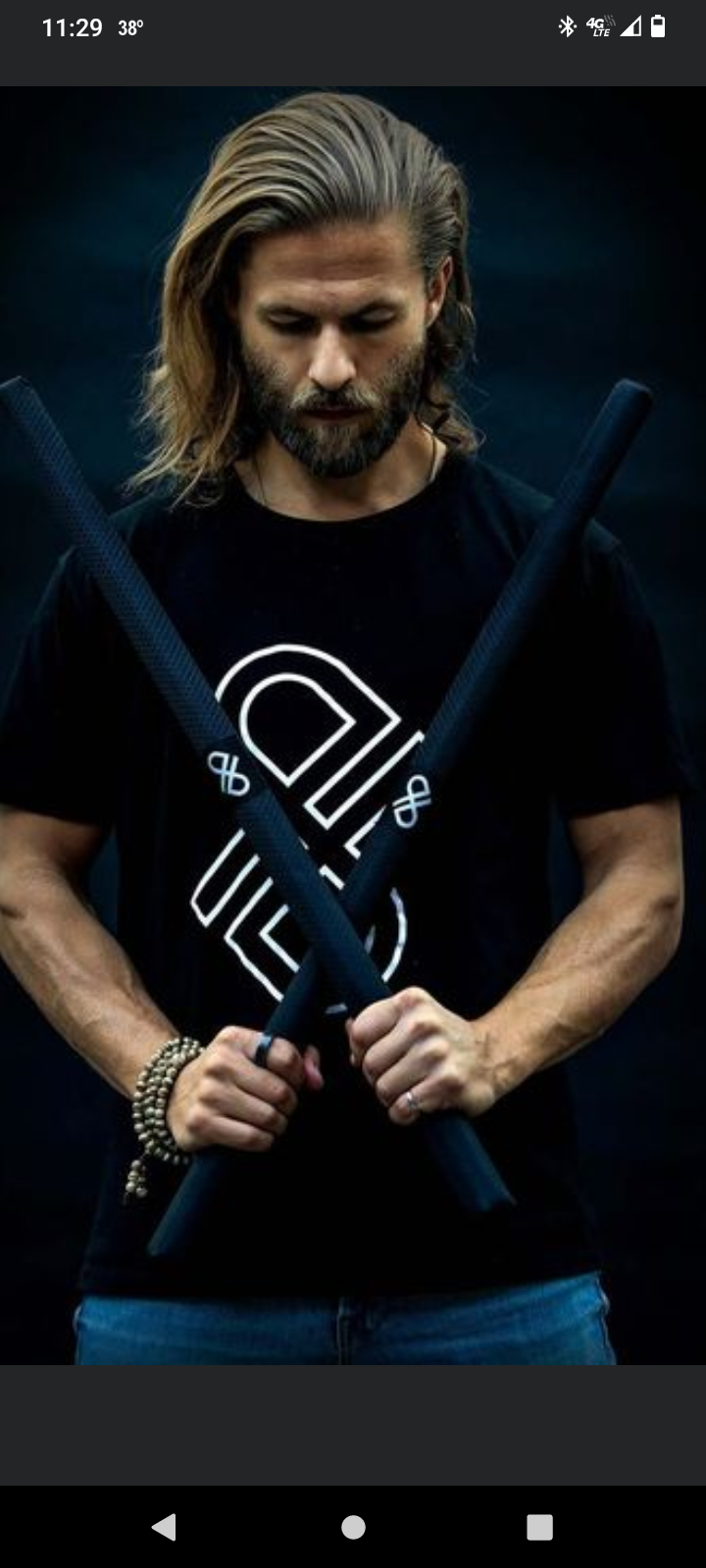 I'd definitely like to promote them. They are sending me a pair of these sticks. So in return I'd love to promote them here on the blockchain. Cool gear and martial arts videos that are phenomenal.