Hello to all "Art Talk" friends, this is my very first time posting in this community.
Art is one of my favorite topics.
Being an artist myself and married to a Sculptor, I thought I'd share and talk about one of the greatest British Artist's, "Henry Moore" with you, as we are privileged to have one of his original sketches in our possession.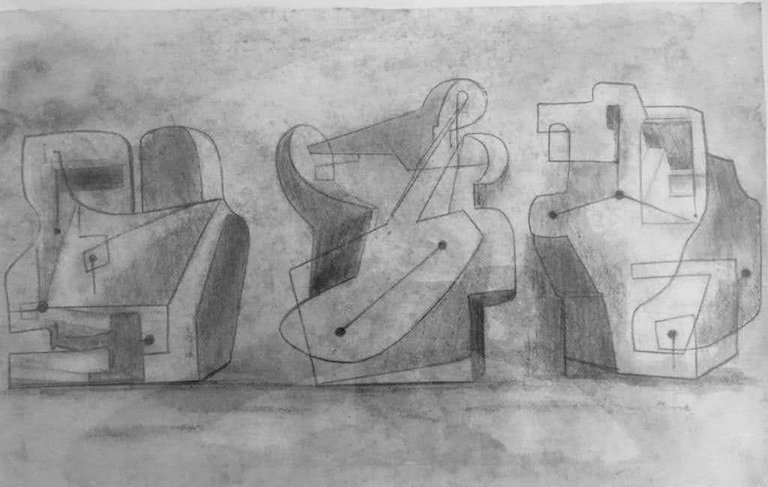 This original sketch by Henry Moore dated 1943 and signed by him as well, hangs proudly in our dinning room.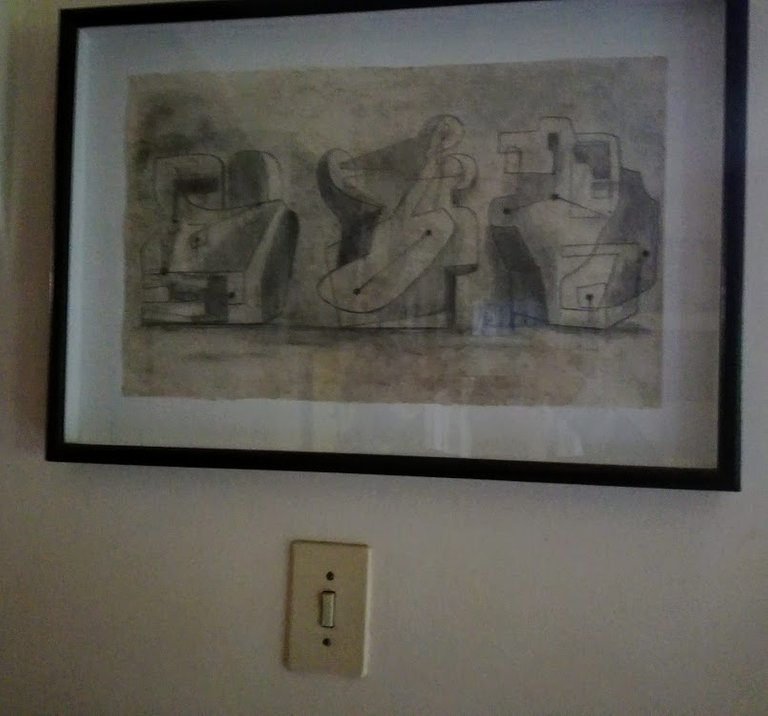 The sketch was given to my husband by his friend, Professor Ralph Palmer's wife after he had passed away. Ralph was an art lecturer and Sculptor who was a friend of Henry Moore when he lived in the UK during the 1940's and was given the sketch by him as a gift, which we now have.
I love the hollowed rounded natural forms and style of Moore's sculptures. I'm not surprised that he's believed to be one of the most famous British artists' and geniuses of the twentieth century.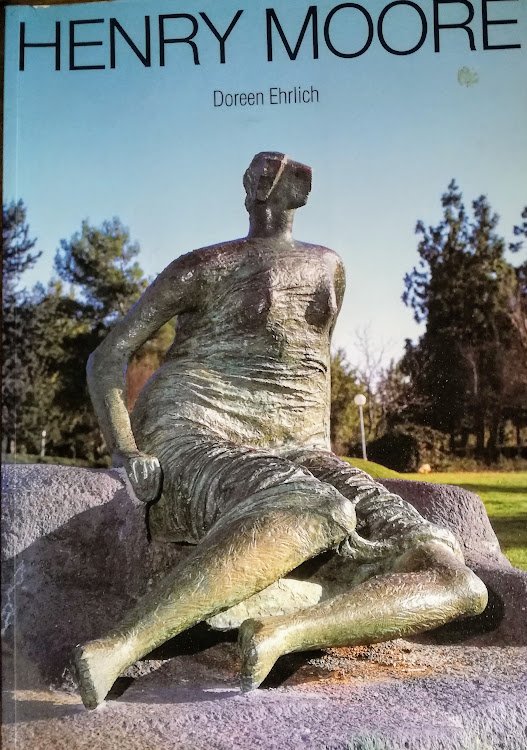 This book "Henry Moore" by "Doreen Ehrlich" on some of his art, is a must for any Art Enthusiasts to have in their possession, it gives a good understanding of the man as an artist... a very good and interesting read.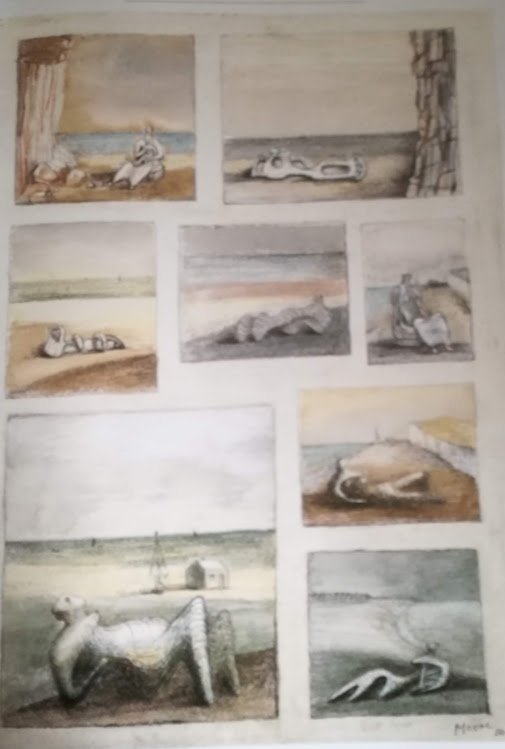 Photo from Henry Moore Book by Doreen Ehrlich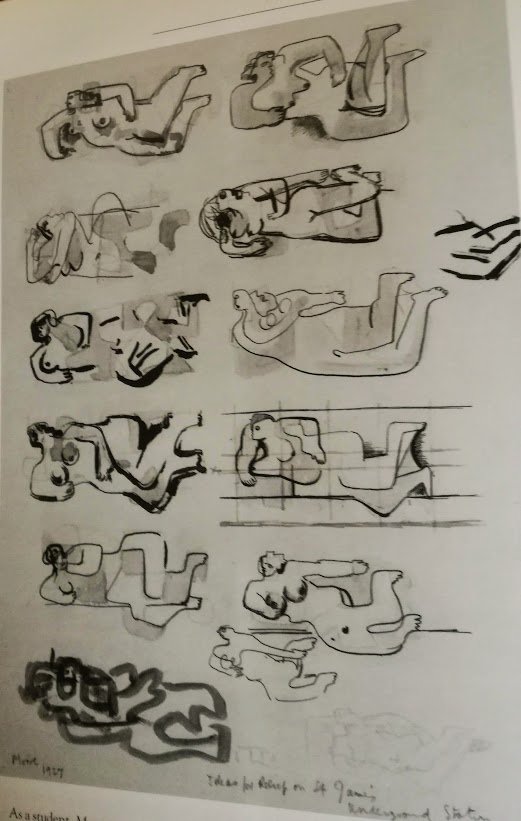 Photo taken from Henry Moore Book by Doreen Ehrlich
These are some of his very early sketches he did with pen and wash for ideas designed for the headquarters of the London Underground Railway, St James's Park,1928.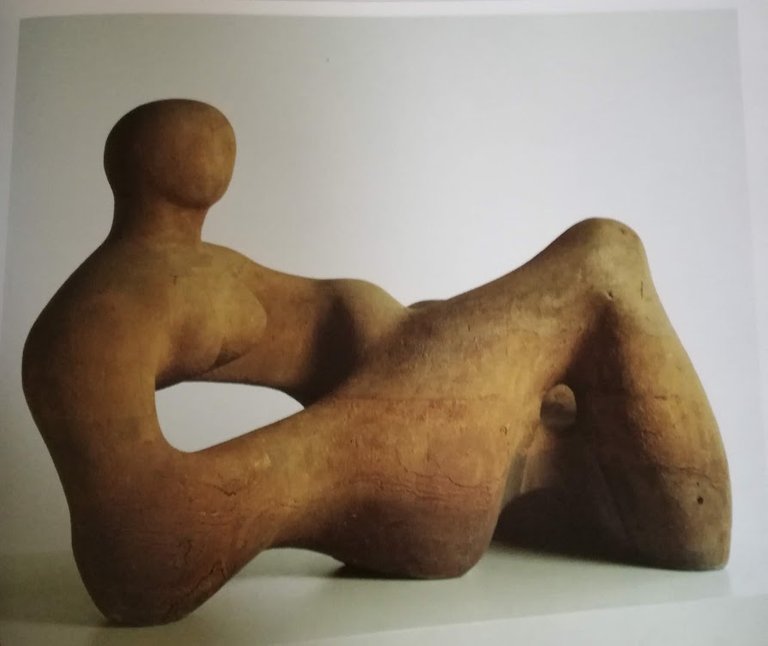 Photo from Henry Moore Book by Doreen Ehrlich
One of his stone sculptures made from "Green Horton Stone" which is housed in Tate Gallery, London.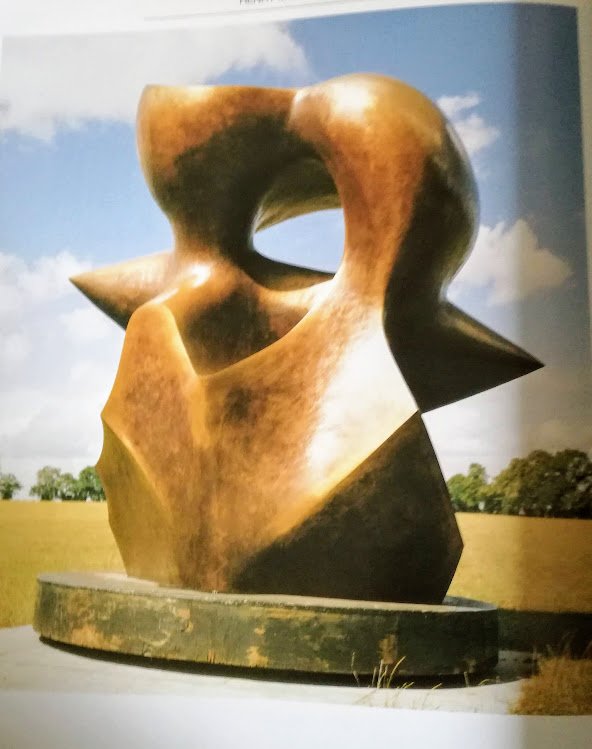 Photo from Henry Moore Book by Doreen Ehrlich
One of Henry Moore's bronzes, "Large Spindle Piece", was done in 1968.
I love the structured flowing lines of his work.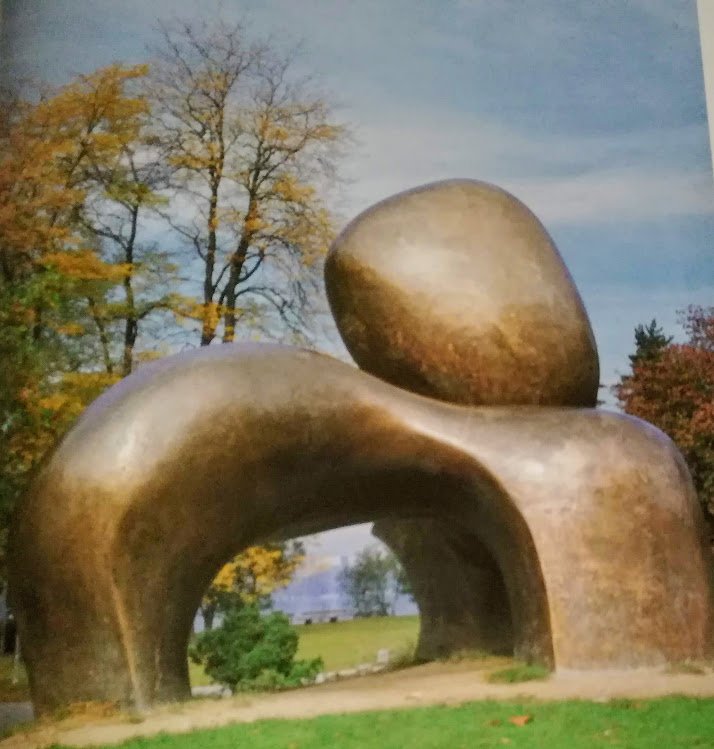 Photo from Henry Moore Book by Doreen Ehrlich
This beautiful Bronze "Sheep Piece" was done by Henry Moore in 1972.
He was an amazing artist with great architectural skills, one of my favorite artists for sure.
---
While I'm on the subject of sculpture, I thought I'd share a few of my Husband Peter's works.

These are two of his bronzes done a few years ago, the torso on the left was sold to a collector.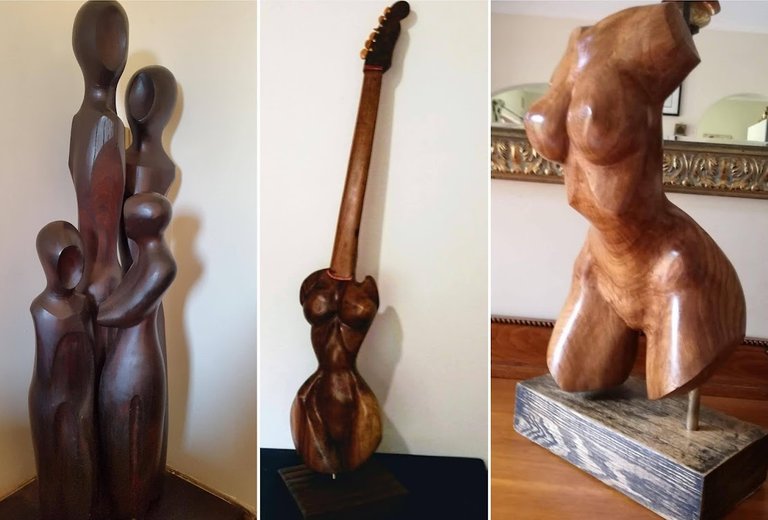 Wooden Sculptures by Peter Wink
Peter uses different types of wood for his sculptures, Imbuia-wood, Kiaat-wood, Stink-wood, Sneeze-wood, red ivory wood almost every type of wood one can think of.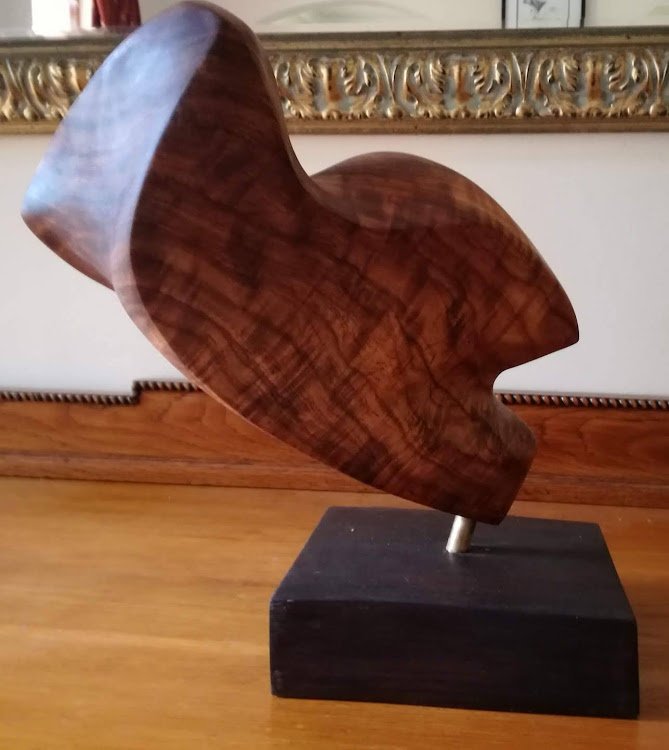 This abstract piece is made from Kiaat wood.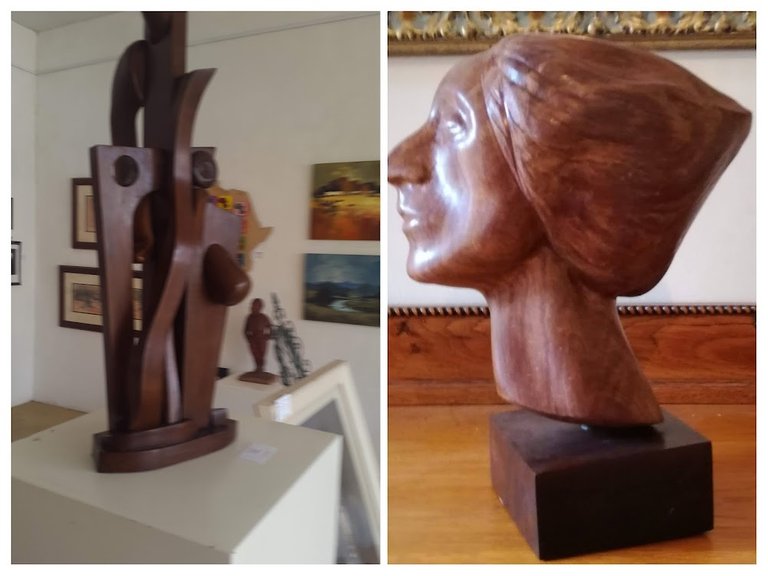 The Imbuia abstract wooden piece on the left was bought by a collector.
The "Peasant woman" on the right is made from Kiaat wood.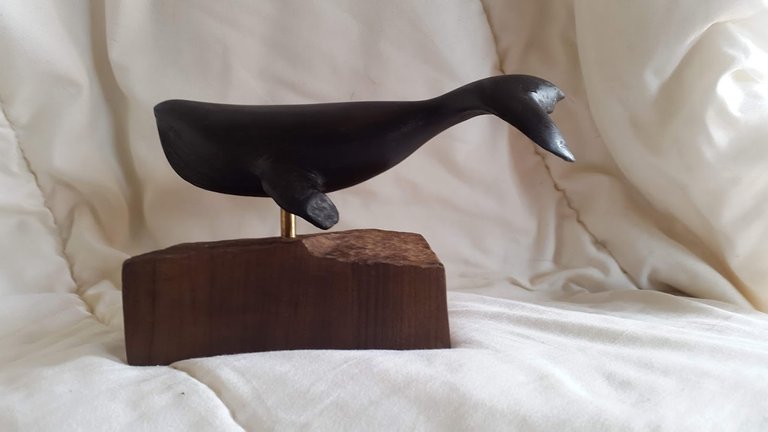 The Whale is made from Ebony wood.
Peter has been doing sculpture and art almost his entire life, he sold his first painting when he was about six years old.
He went to night school to study art for awhile, he taught himself to do sculpture, learning from other artists.
The two Sculptors that influenced Peter the most is Henry Moore and Rodin, a french Sculptor and artist, I would like to share with you next time.
I won't go into long detail on Peter's art, will leave that for another day.
Thank you for giving me the opportunity to share my post on art with you.
Hope you have enjoyed it as much as I have.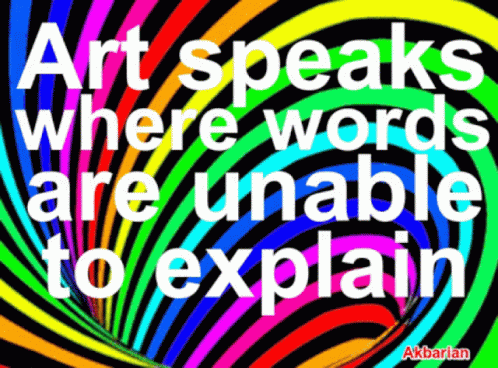 ---
HIVE SILVER BLOGGERS SUBSCRIPTION LINK:
If you're between the ages of 40 and 100 and have a passion for blogging and cryptocurrency plus have some wisdom to share, please stop by and subscribe to the new exciting Hive Silver Bloggers Community that is already attracting some of the best talent here on Hive.

Thank you for stopping by.

All photos property of @artywink
Original content by @artywink