One of the reasons I visited Manila was to art hop for the reason of finding inspiration and motivation to work on my paintings. Finale Art is my main destination since I'm connected to the gallery and I rarely come here since I live far away.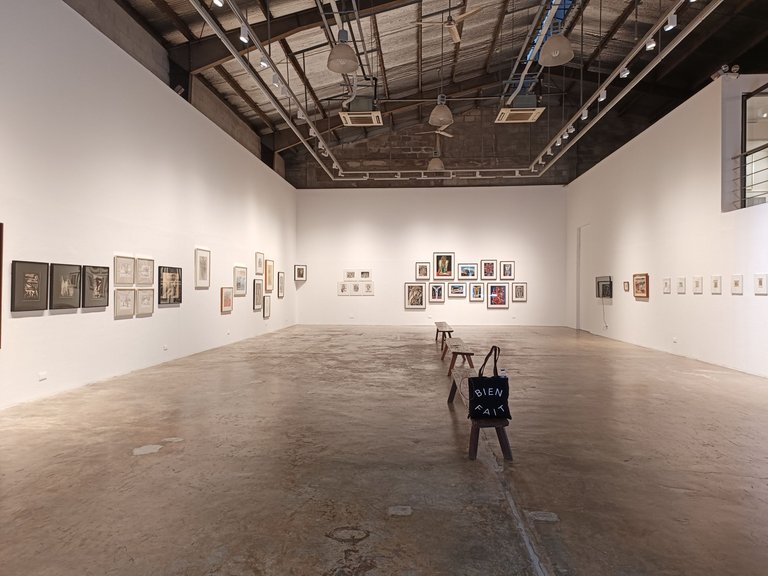 @nmore's bag looks like one of the art pieces too hahaha bien fait ~ well done ~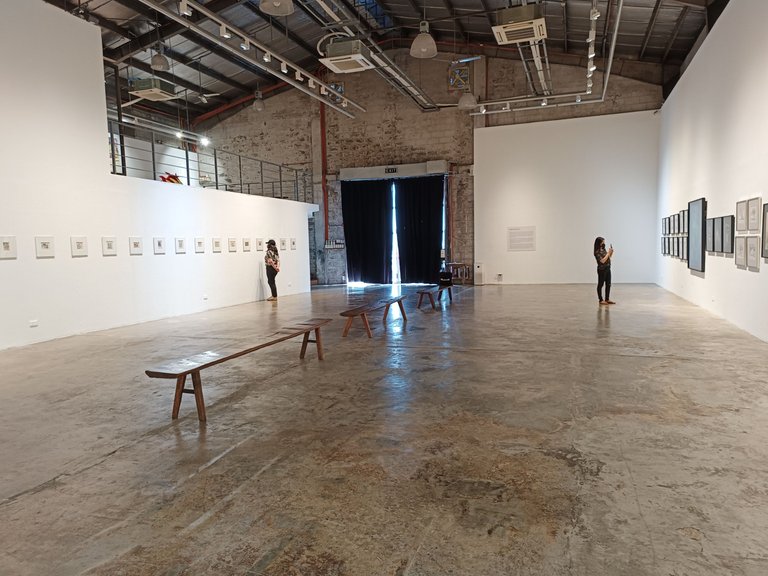 @nmore and @jirahscreation had the same interest in going to an art exhibit, so they came with me which made me so happy that I have companions sharing the same interest. We three are the only ones around, and we each did our own thing, feeling the art, and taking pictures of the art piece we like, nmore is focused on cesar legaspi's artwork while Jirah is on Romulo's paintings.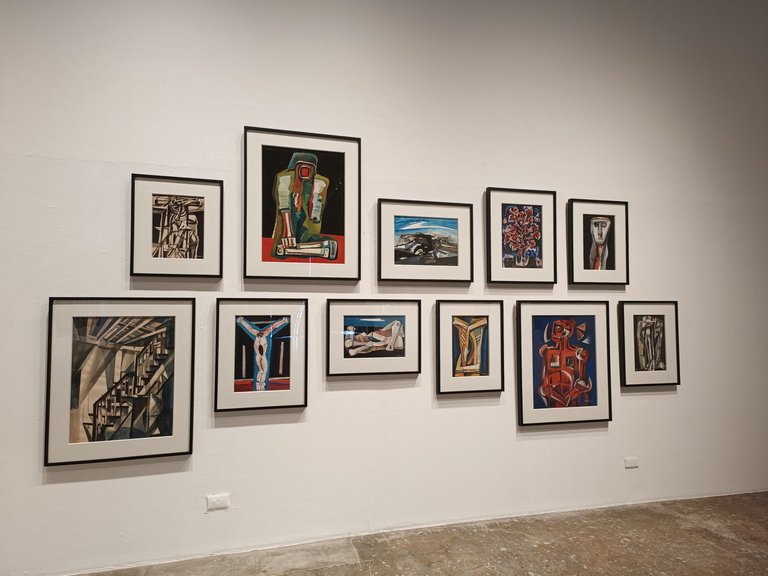 This is my second time seeing ang kiukok's paintings, the first one was in Davao, where he had his solo exhibit, it was a celebration of the artist's homecoming who was born in Davao City, finale art had a partnership with SM at that time for the event. My colleagues and I, fine art students were invited to do an exhibit along with him, you can read more details about it here.
The thing that attracts me most to ang kiukok's work is his selection of colors and the way he strongly paints his figures, thinking back on his years, it's out of an ordinary art movement like he didn't care about all those realism rules during his times and went on with what he wanted to paint, which what I admire the most of his works.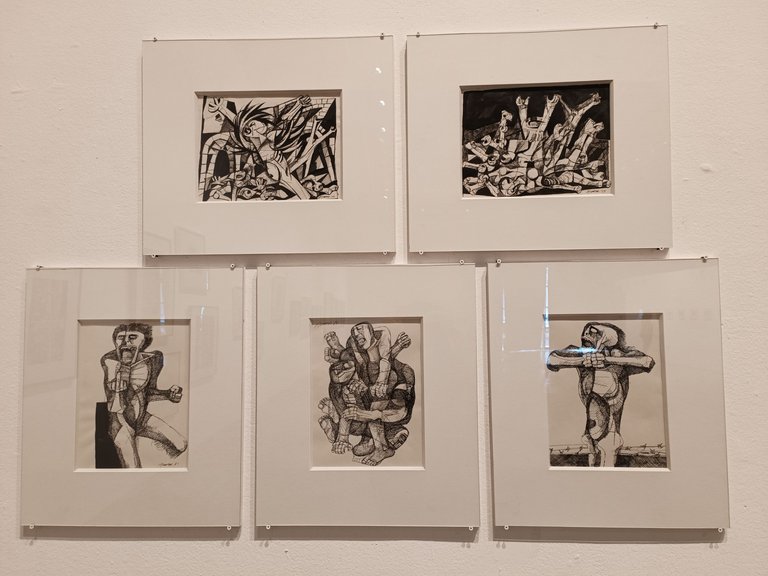 more works of ang kiukok,
It's my first time seeing a pen and ink medium of ang kiukok, if only I can afford to buy this I would have already bought it, but one piece probably costs a million ☹️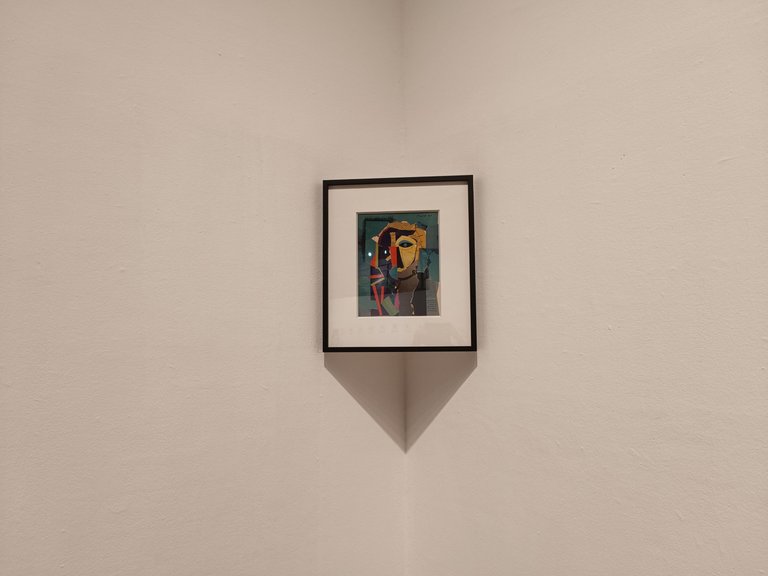 I wondered why this got hanged a little further away from the rest of kiukoks paintings, but after reading the title which is face I figured the arrangements, maybe it's a self-portrait of the artist but I'm not sure.
most of romulo olazos works here are his prints, charcoal, and one oil painting, I'm not into printmaking much but its still admirable to look at, especially the process of making it.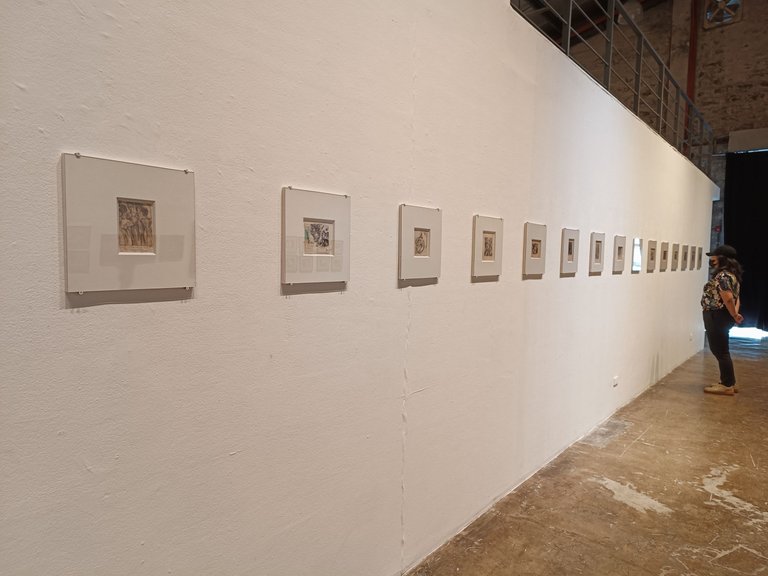 @nmore, feeling the art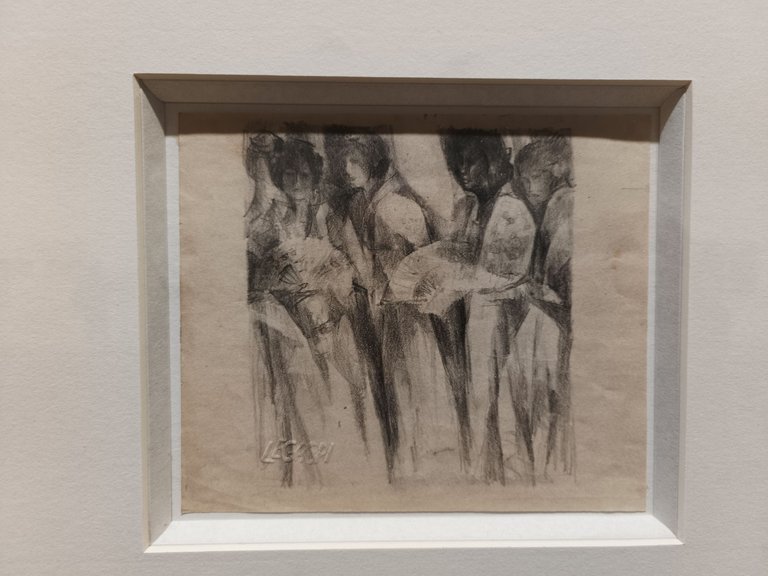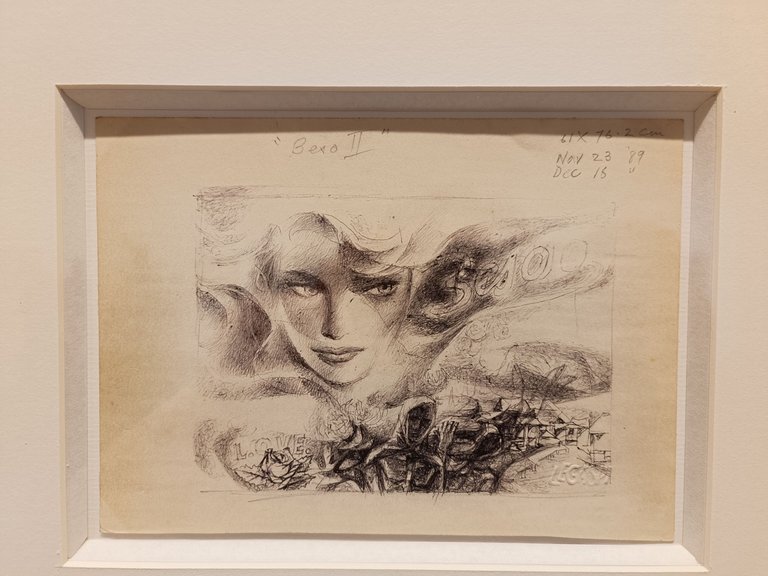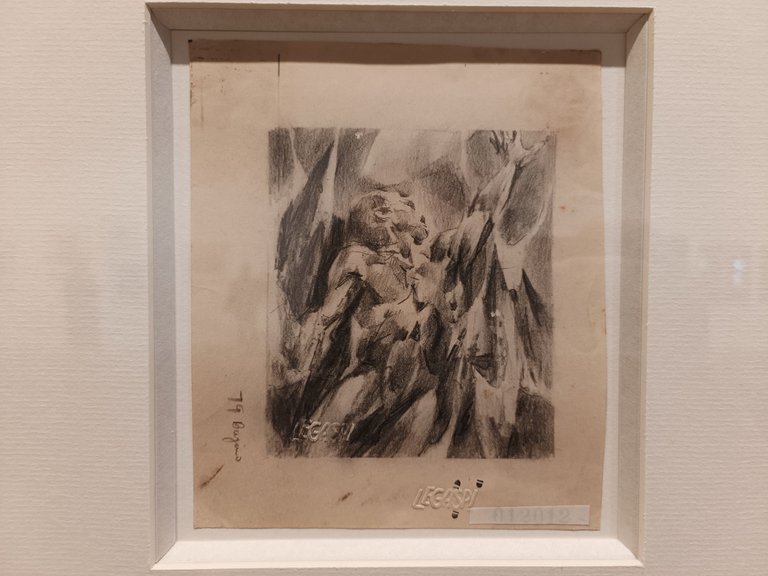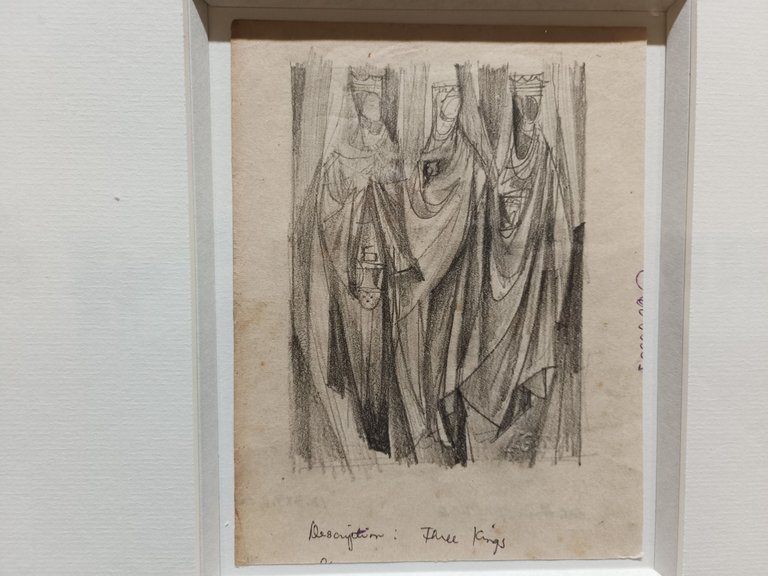 close up drawings
I think these are cesar legaspi's drawing studies, like sketching the concept first before painting it on a canvas. with all those details, the artists must've have put a lot of patience in drawing these.
As an artist I don't have the patience to do drawing studies, I always draw directly on the canvas so it doesn't take much of my time like I want to get on with it but then again these are small works so maybe the artists didn't take that long to draw it or maybe this is just one of his visual diaries, either way, I love the details.
Season of Disbelief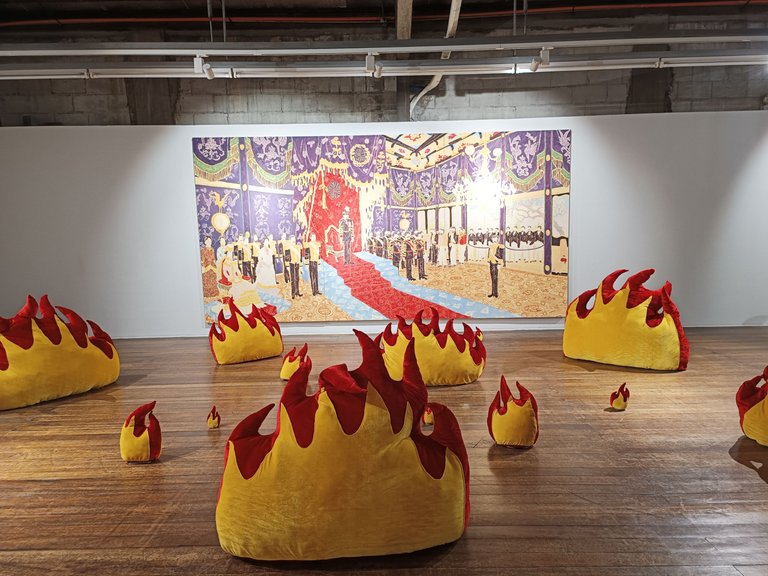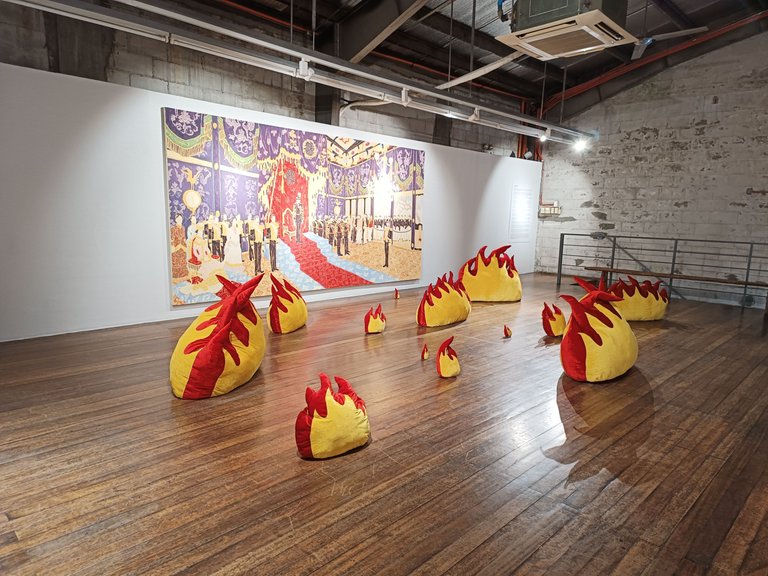 I moved to the upstairs gallery after looking around in the tall gallery (first floor), and as I got there I was intrigued by the installation art of the artist's gale encarnacion and the painting with it.
I read her artists statement and find the concept witty, it is inspired by the rivalry between Coco Chanel and Elsa Schiaparelli an installation art of an event that happened between the two fashionistas. The concept has a lot of meanings that are relatable to the artist's life, from the challenges of being an artist to the medium used, and to be recognized.

In the Quiet Spaces: An Invitation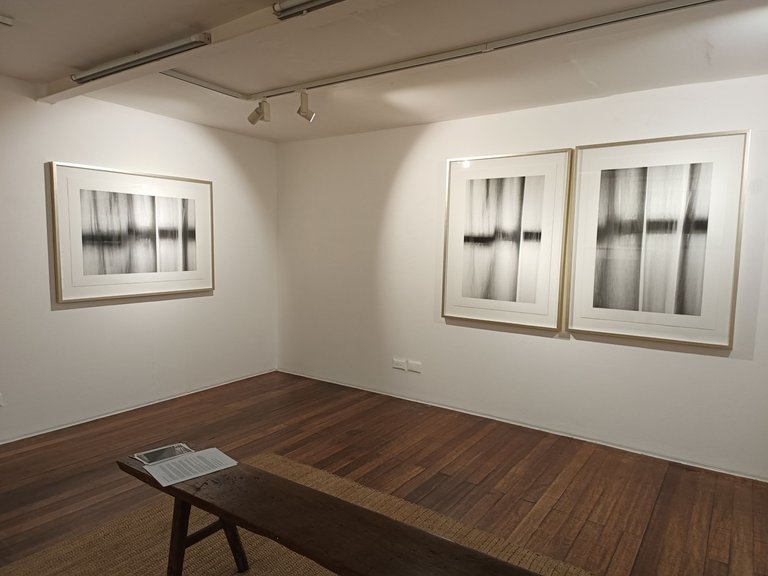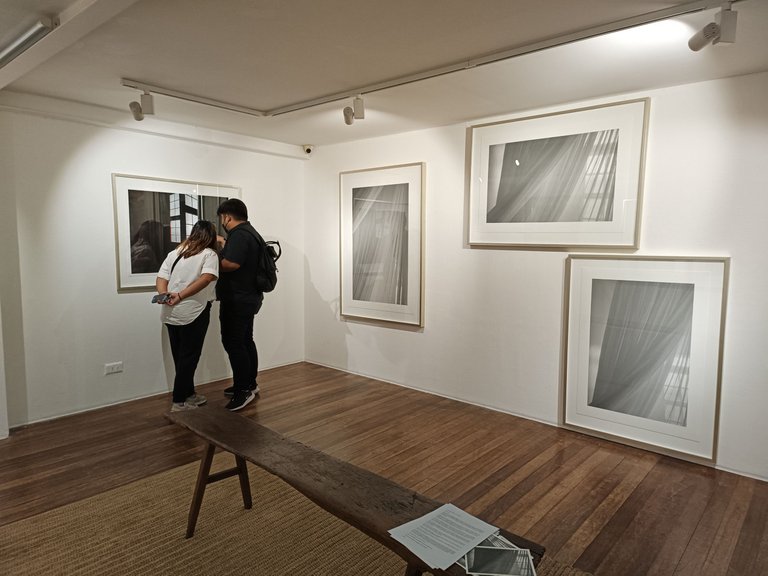 I moved to the video room area, exhibited by Denise Weldon, a digital prints of curtains, windows, and doorway, products in the artist's room that she always see every day during the pandemic, and the memories she created at those times which we all can relate to, and this is her inviting us or reminding us of those time the comfort and struggle we faced back then, or at least that's what I interpret it to be. her poem and artist statement are beautiful.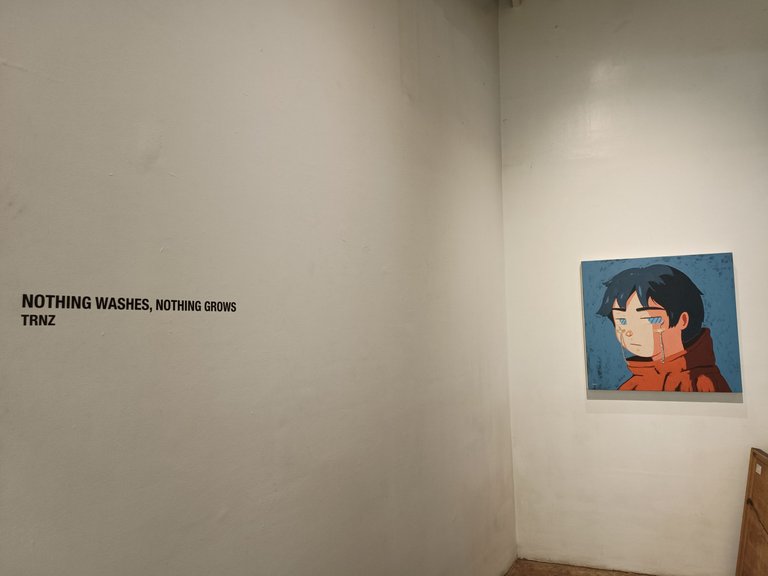 when we finished looking around at finale art, we moved to the galleries beside it, Nothing washes, nothing grows by trnz, was the first art exhibit we saw in vinyl on vinyl first floor, I wonder what the title means? I feel like it has something to do with growing up but still has our childish side within.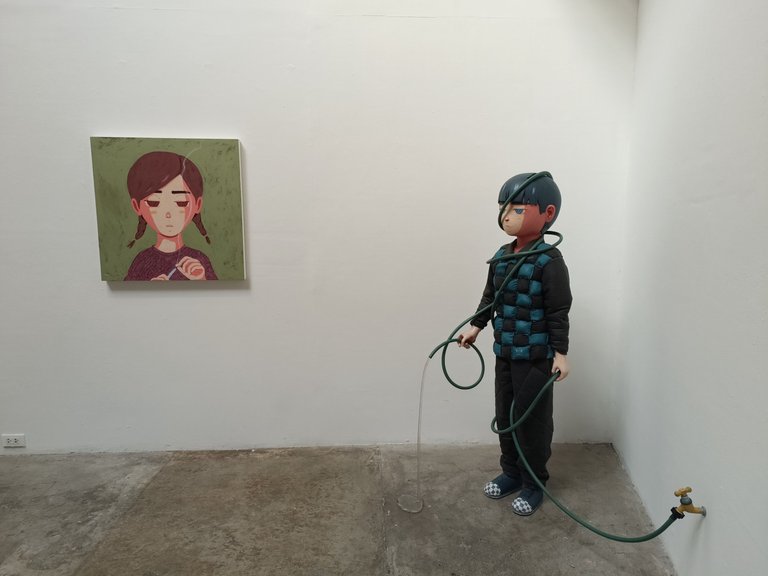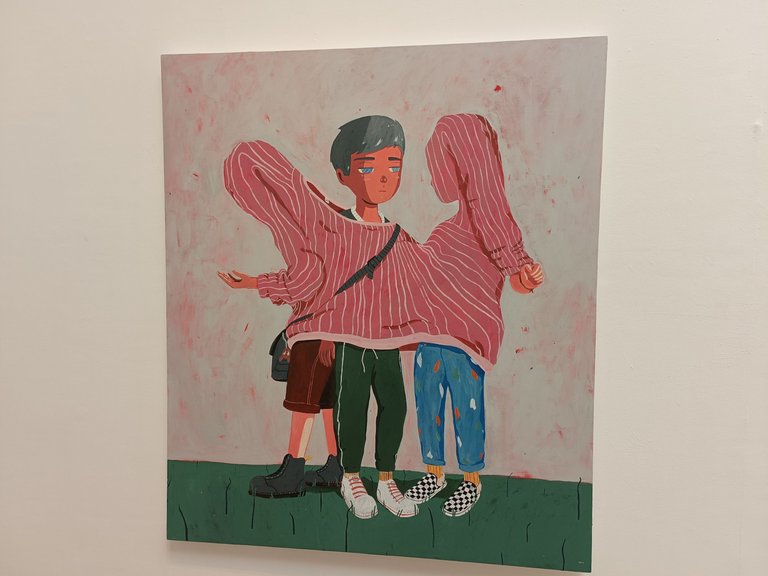 Seeing his works reminds me of anime, a drawing style similar to studio ghibli, I also love the part where he made a sculpture out of his style... I wondered if he had it made or if he made it himself.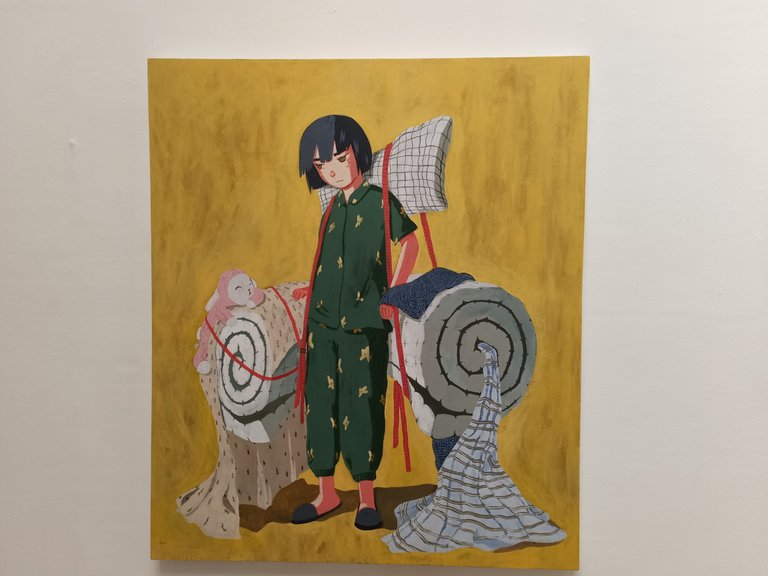 this one is my favorite of all, reminds me of howl in howls moving castle, have you seen it? do you think it looks like him?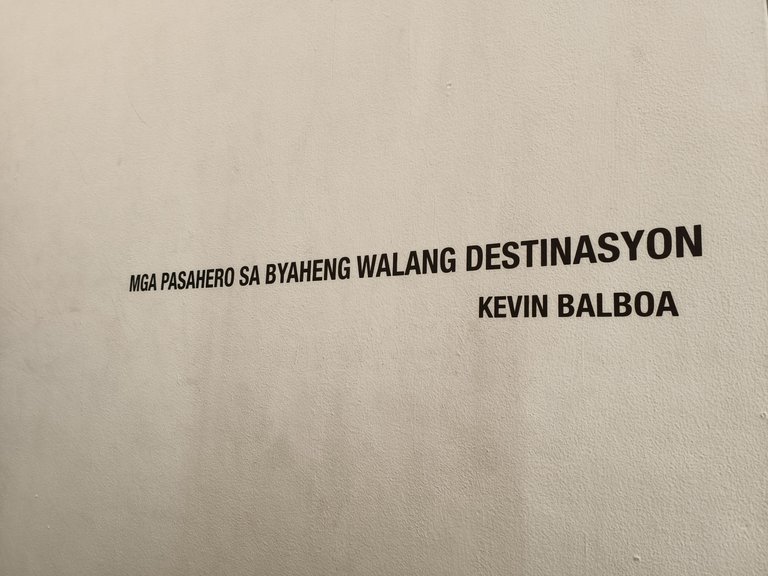 Passengers on a trip without destination -kevin balboa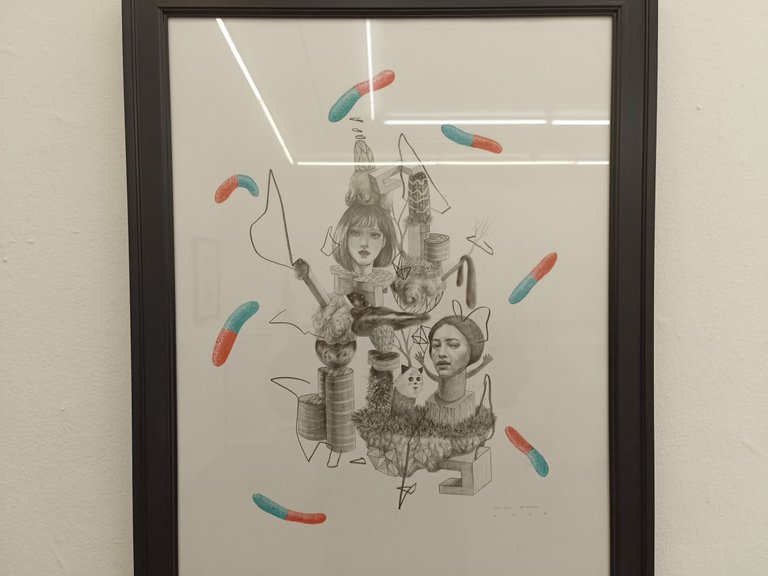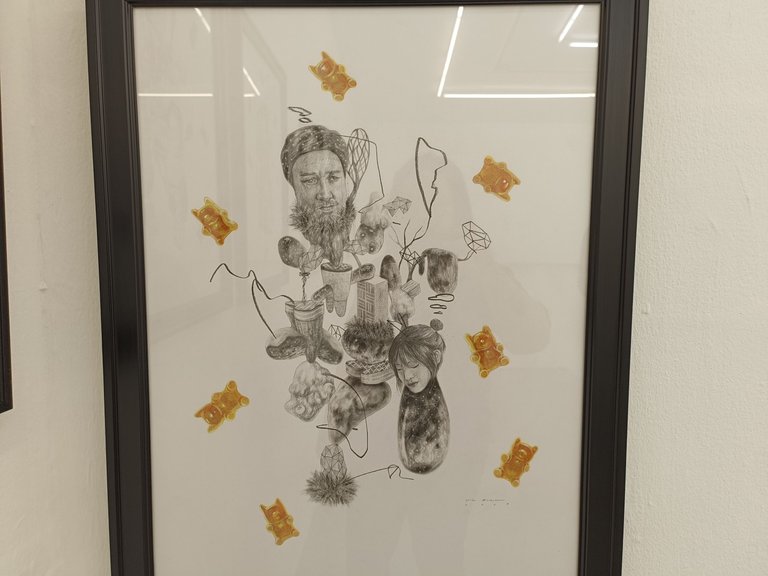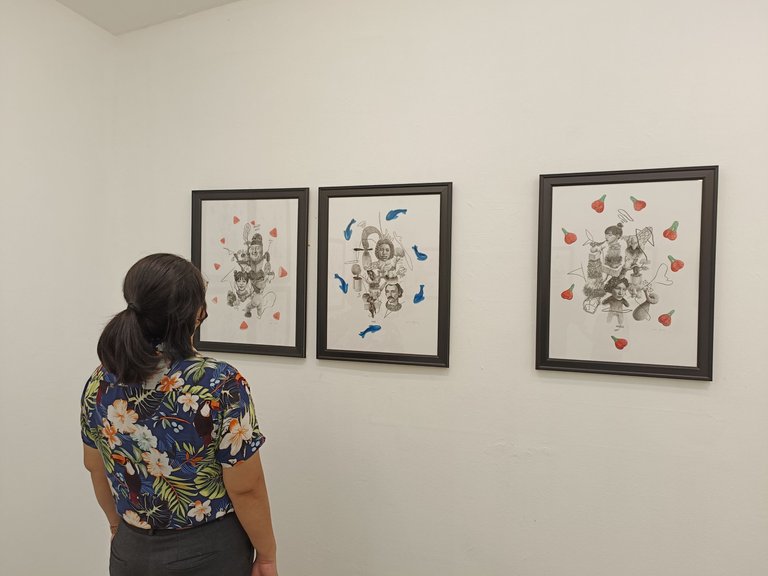 @nmore is my model
The artist portrays his experience of joyriding in public transportation, observing the people surrounding him which are the people you see in his sketches, and the candies you see are his favorite candies, eating them while riding without destination.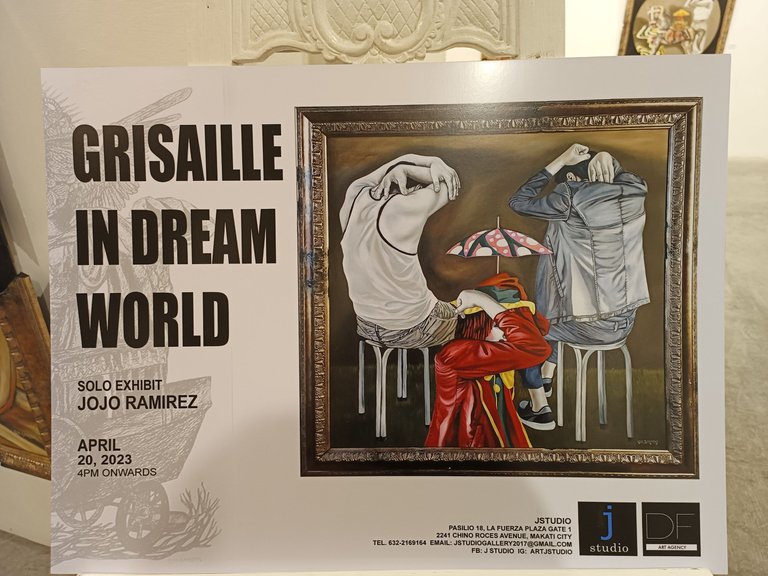 our last stop is the solo exhibit of Jojo Ramirez in Jstudio beside vinyl on vinyl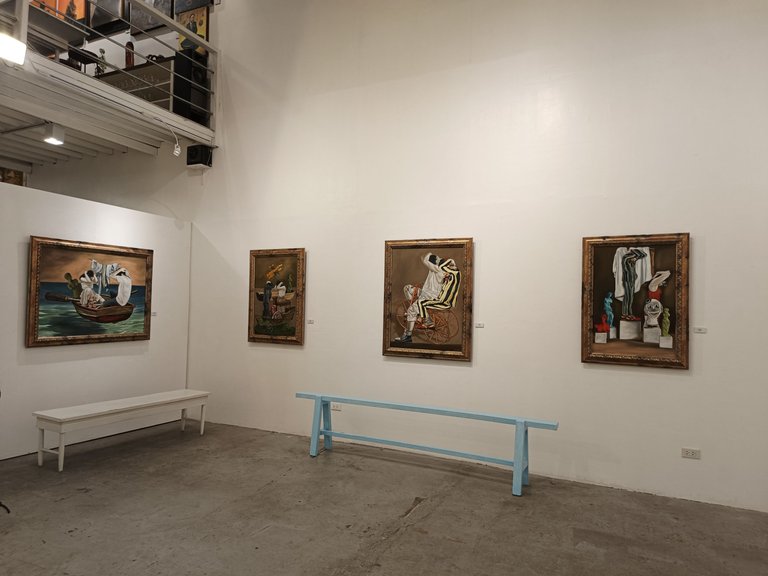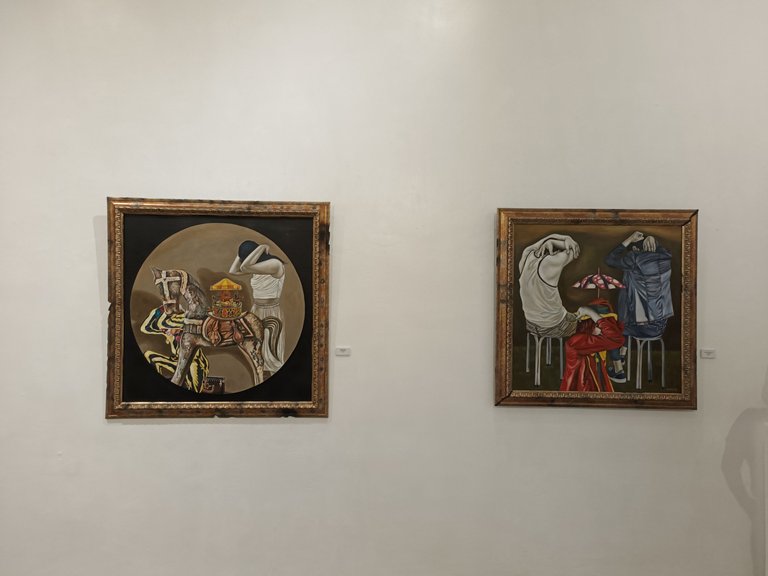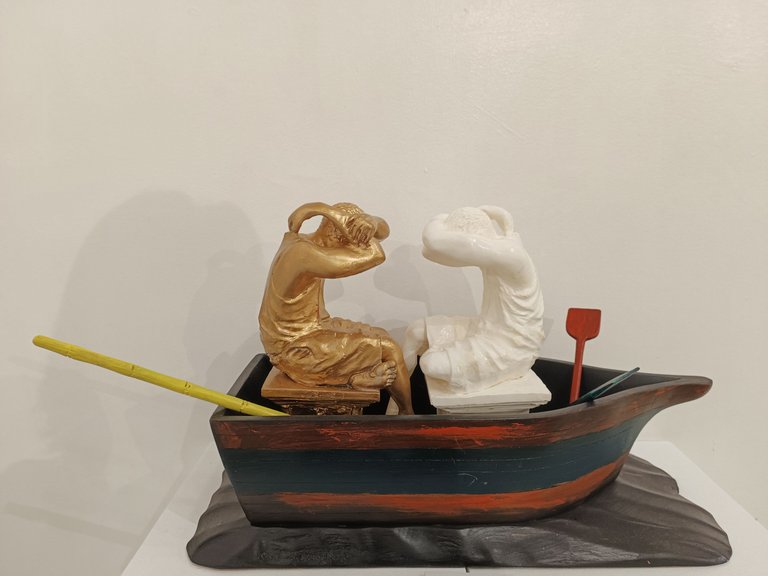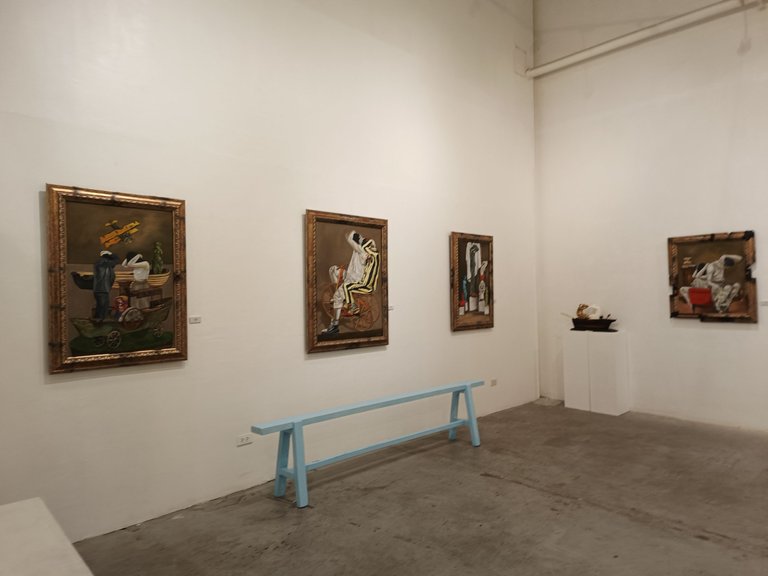 grisaille is a monochromatic painting technique using grey color, it's a process of painting using grey color as an underpainting and coloring the subject the next which he connected to a real-life situation, like if there's darkness in your life, there will come a time it lightens up after, the clown seen in his works are portraiture of life is fun and beautiful. in my current state right now, I somehow relate to his works, I'm kind of amazed at how he relates his concept to an art technique... that's something I can't think of at all like it's new for me.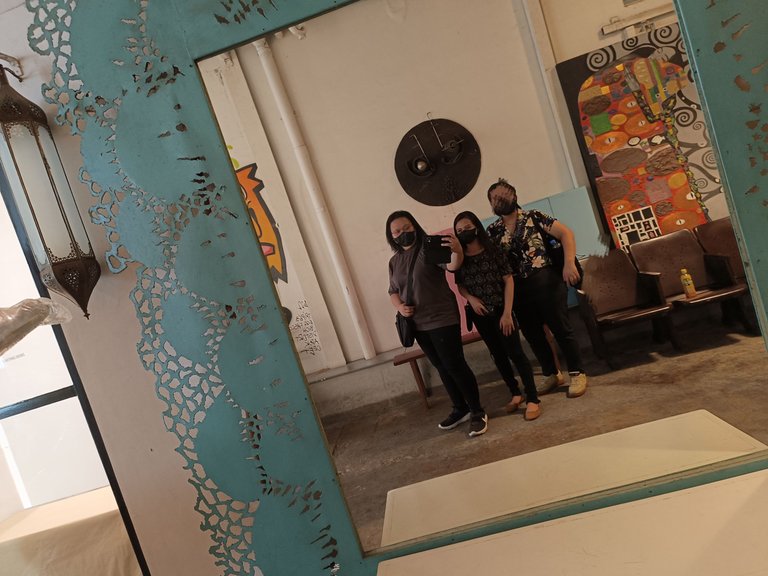 after our art hopping, we planned to go to Nmore's favorite palabok food area, I didn't get to take a picture of our food because we ate it after it got served and my comment is, for a cheap price it has a lot of servings which is worth it, and it was delicious too.
I mentioned that I was supposed to be with @cthings and @arcgspy going to art galleries, but both were busy, nmore said to invite c for coffee, which reminds me that I awe c something before, and I planned to repay her kindness even if it's just coffee... for now...😣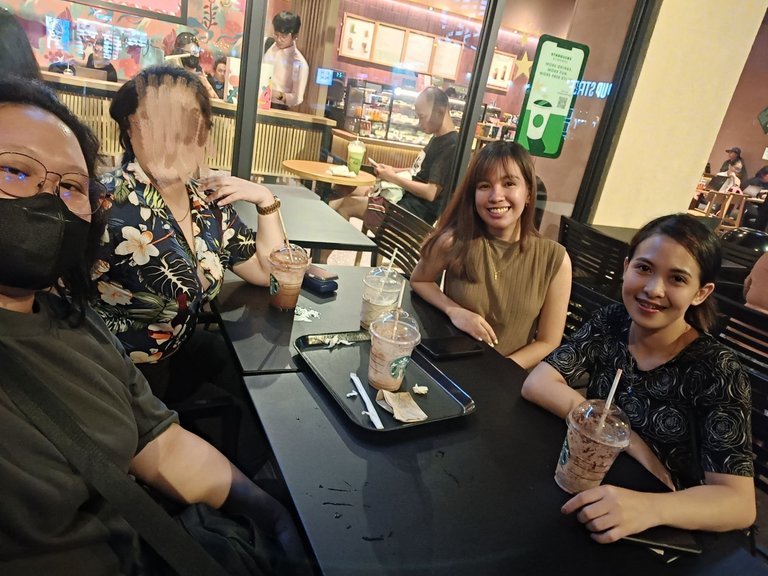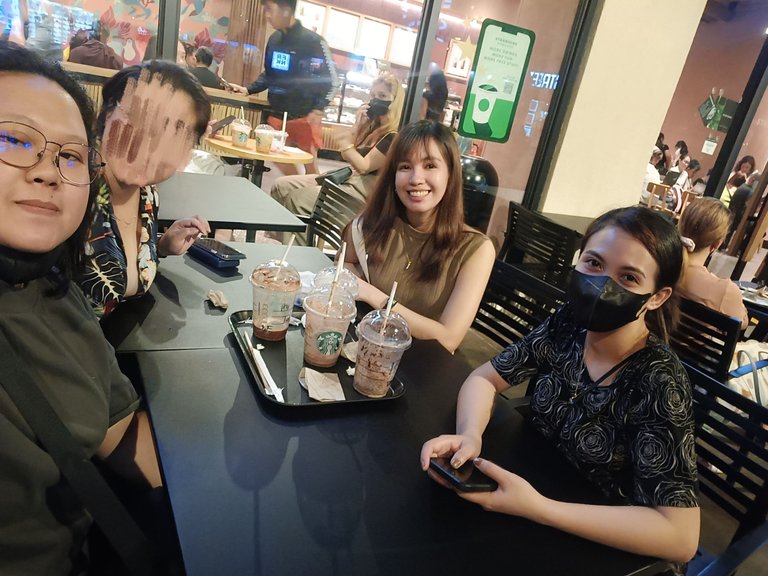 @cthings was busy that day and only had little time to spare which we are thankful she still gave us time, we bonded, we talked and they met @jirahscreation they convinced her to come back and blog again on hive which she did.
I really enjoyed going to art galleries in Manila, observing and absorbing the art place gave me motivation to work on my paintings again, and new ideas opened up for me, I also thought Manila art is so different, and I wanna be part of the place, like physically, I got a little ambition to move into the place, but It won't be an easy path to take, and in order to achieve such dream is for me to produce lots of painting.
THANK YOU FOR READING!