¡Saludos abejitas creativas! | ¡Greetings creative bees!
¡Feliz noche para todos! Hoy me emociona mucho poder traerles este tutorial de una de mis recientes creaciones y en esta ocasión se trata de un lindo y delicado dulcero con temática de Minnie Mouse muy fácil de hacer y con un resultado hermoso. No sé si lo habrán notado pero una de las cosas que más me gusta hacer en cuanto a manualidades se refiere son los dulceros, me parecen súper prácticos y además existe infinidad de formas de hacerlos, con muchas temáticas, materiales y colores, y que además de servir de dulceros también podemos utilizarlos con otros fines, en mi caso me gusta obsequiarlos a los niños siempre que puedo, es como tener siempre un detalle para regalar y sacarme de apuros cuando toca hacerle un regalo a un niño y lo mejor es que es algo que les gusta. Hoy les enseñaré a elaborar este lindo dulcero y espero que les guste tanto como a mí, sin más, ¡vamos a crear!
¡Happy night everybody! Today I am very excited to be able to bring you this tutorial of one of my recent creations and this time it is a cute and delicate candy box with a Minnie Mouse theme, very easy to make and with a beautiful result. I don't know if you've noticed, but one of the things I like to do most when it comes to crafts are candy boxes, I find them super practical and there are also countless ways to make them, with many themes, materials and colors, and they also In addition to serving as sweets we can also use them for other purposes, in my case I like to give them to children whenever I can, it is like always having a gift to give and get me out of trouble when it is time to give a gift to a child and the best thing is that it is something they like. Today I will teach you how to make this beautiful candy box and I hope you like it as much as I do, without further ado, let's create!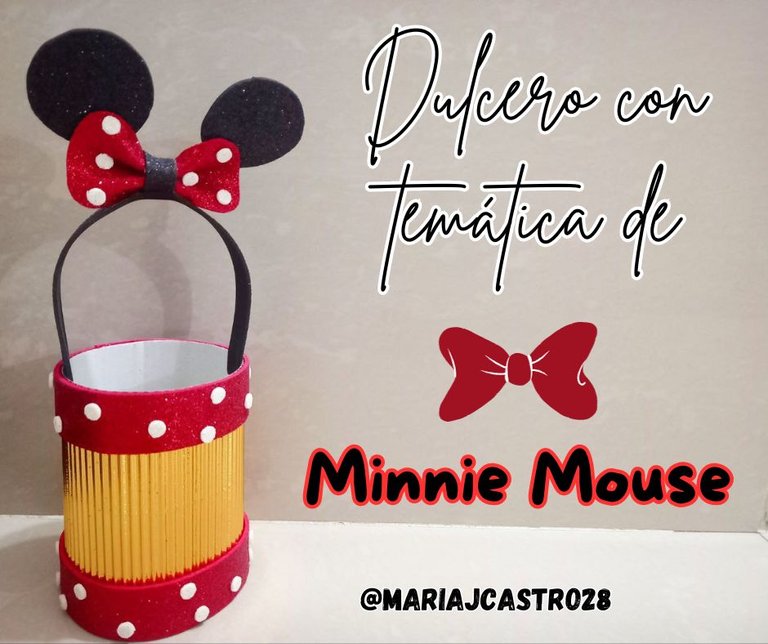 Imagen de mi propiedad editada en canva/Image of my property edited in canva

• Cartulina corrugada metalizada dorada.
• Foami escarchado negro, rojo y blanco.
• Abre huecos.
• Pintura al frío negra.
• Pinza de punta delgada.
• Cartón.
• Pincel.
• Lápiz.
• Regla.
• Tijera.
• Silicón.
• Gold metallic corrugated cardboard.
• Black, red and white frosted foam.
• Open holes.
• Black cold paint.
• Thin nose tweezers.
• Cardboard.
• Brush.
• Pencil.
• Ruler.
• Scissors.
• Silicone.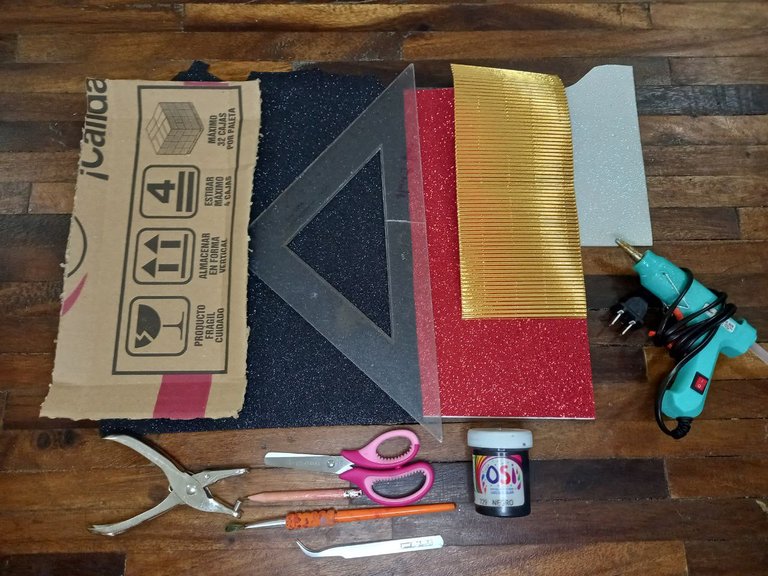 ✨ PASO 1. Lo primero es recortar una pieza de cartulina corrugada metalizada dorada de tamaño que queremos que sea nuestro dulcero, en mi caso tenia esta pieza guardada y me pareció ideal para el dulcero.
✨ STEP 1. The first thing is to cut out a piece of gold metallic corrugated cardboard of the size that we want our candy box to be, in my case I had this piece saved and it seemed ideal for the candy box.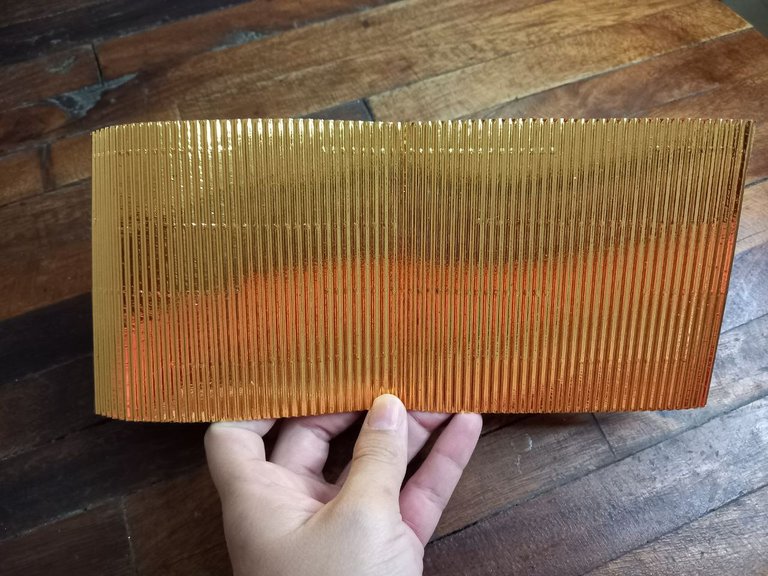 ✨ PASO 2. En base al tamaño de la pieza de cartulina vamos a medir un circulo de cartón del tamaño ideal que pueda ser cubierto por la cartulina y pueda servir de tapa, luego de tener el circulo de cartón se pinta con la pintura al frio negra por ambas caras y se deja secar muy bien.
✨ STEP 2. Based on the size of the piece of cardboard we are going to measure a cardboard circle of the ideal size that can be covered by the cardboard and can serve as a cover, after having the cardboard circle it is painted with cold paint black on both sides and let it dry very well.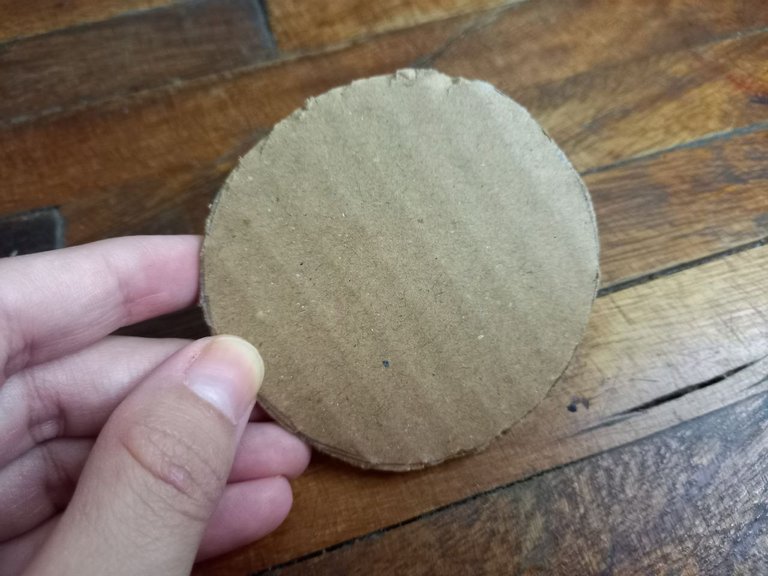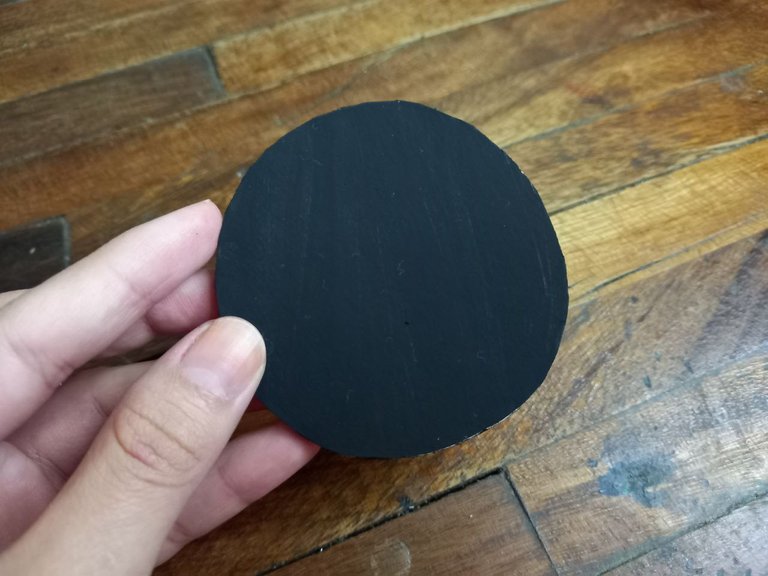 ✨ PASO 3. Una vez que se secó la pintura le apliqué silicón caliente a la orilla del circulo de cartón y comencé a pegarlo en la orilla interna de la pieza de cartulina dorada, fui pegando poco a poco hasta llegar al final y unir los extremos de la cartulina formando un cilindro que es la base del dulcero.
✨ STEP 3. Once the paint was dry, I applied hot silicone to the edge of the cardboard circle and began to glue it on the inner edge of the piece of gold cardboard, I glued little by little until I reached the end and join the ends of the cardboard forming a cylinder that is the base of the candy bowl.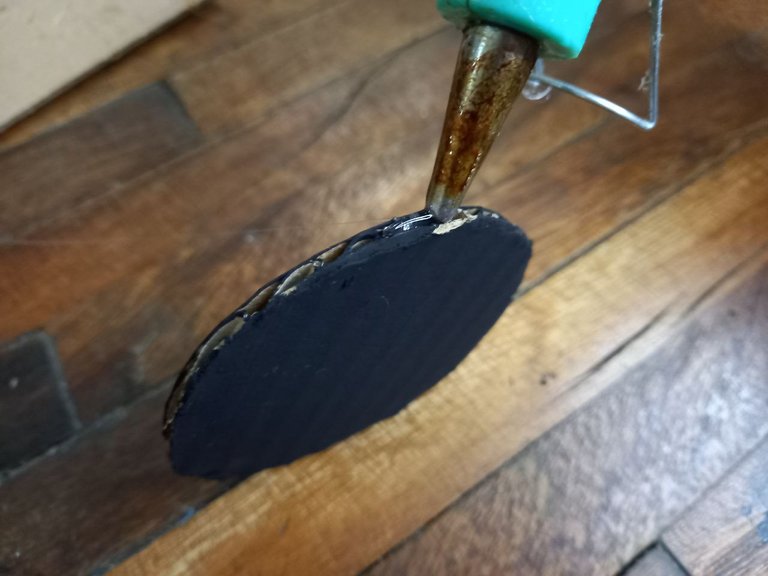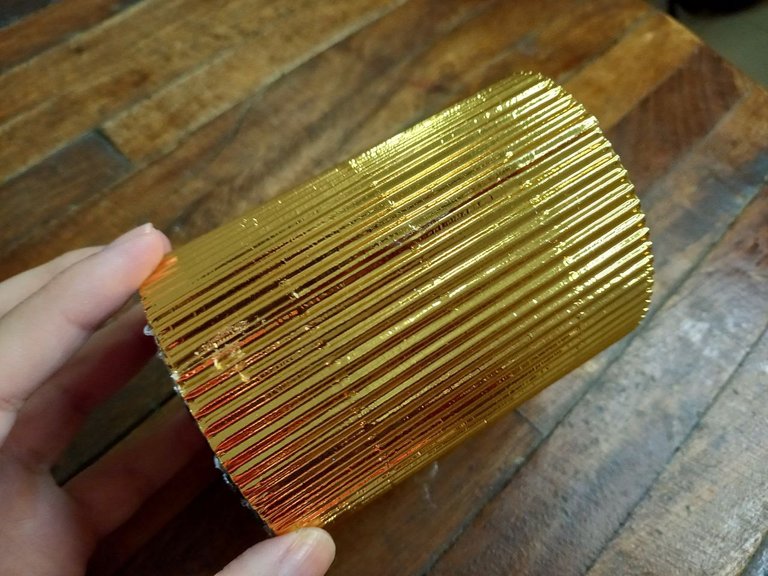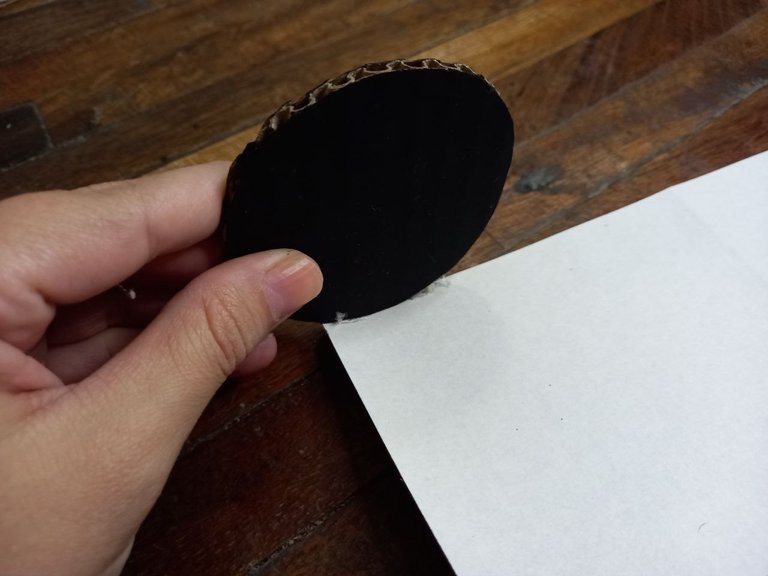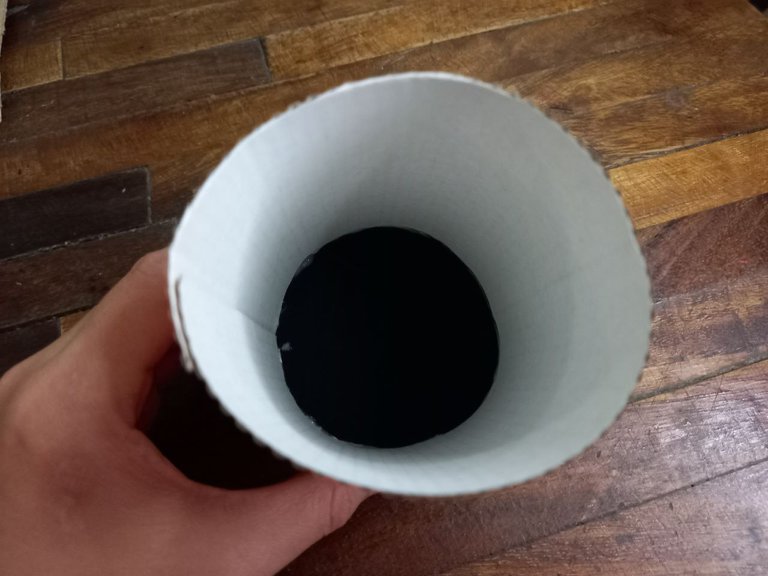 ✨ PASO 4. Recorté 2 tiras largas de foami escarchado rojo de unos 2 cm de ancho y pegué cada una en los bordes superior e inferior del dulcero, quedando de la siguiente manera:
✨ STEP 4. I cut out 2 long strips of red frosted foam about 2 cm wide and glued each one to the upper and lower edges of the candy box, looking as follows: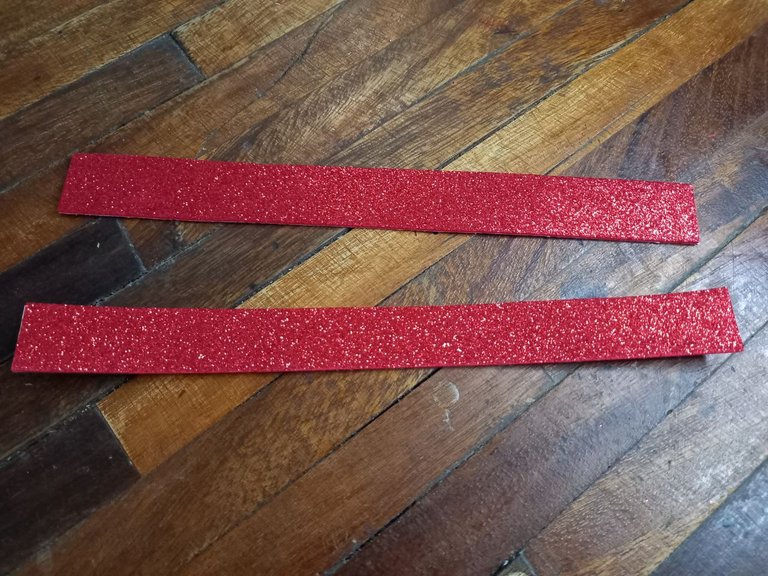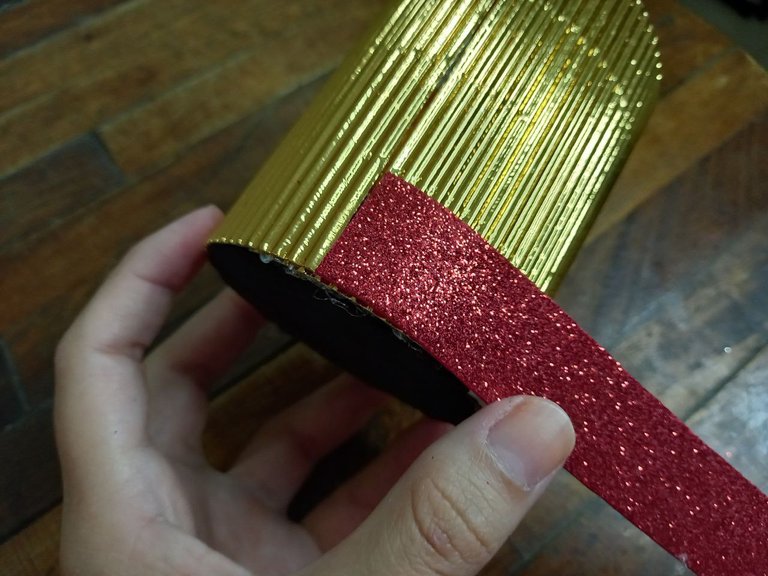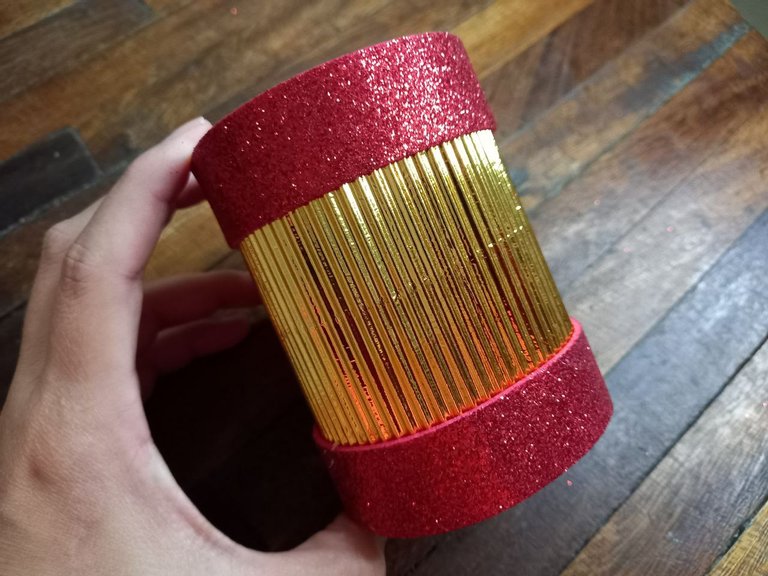 ✨ PASO 5. Con el abrehuecos recorté varios círculos de foami escarchado blanco y con ayuda de una pinza de punta delgada los fui pegando uno a uno sobre las tiras de foami rojo del dulcero.
✨ STEP 5. With the hole opener I cut out several circles of white frosted foam and with the help of a thin-tipped tweezer I glued them one by one on the red foam strips of the candy bar.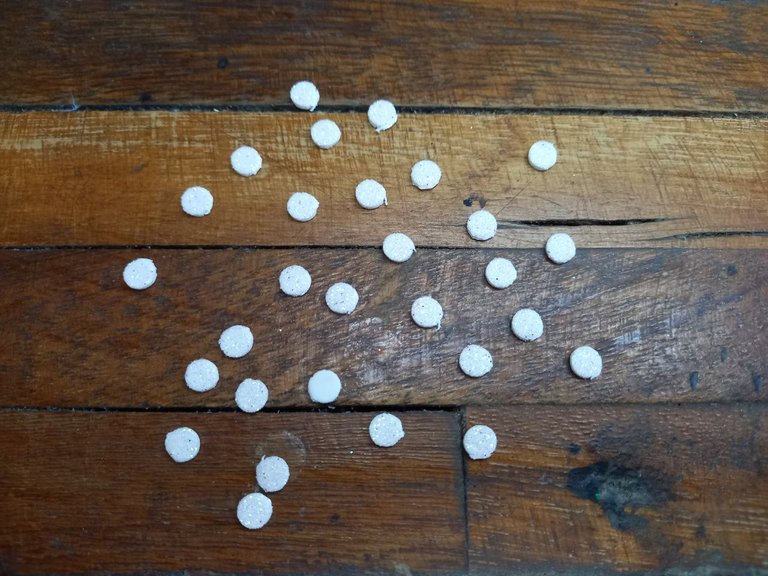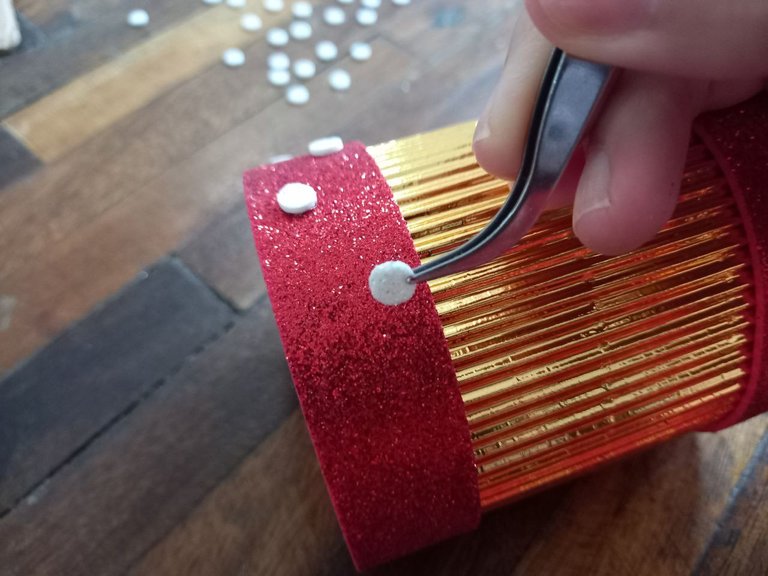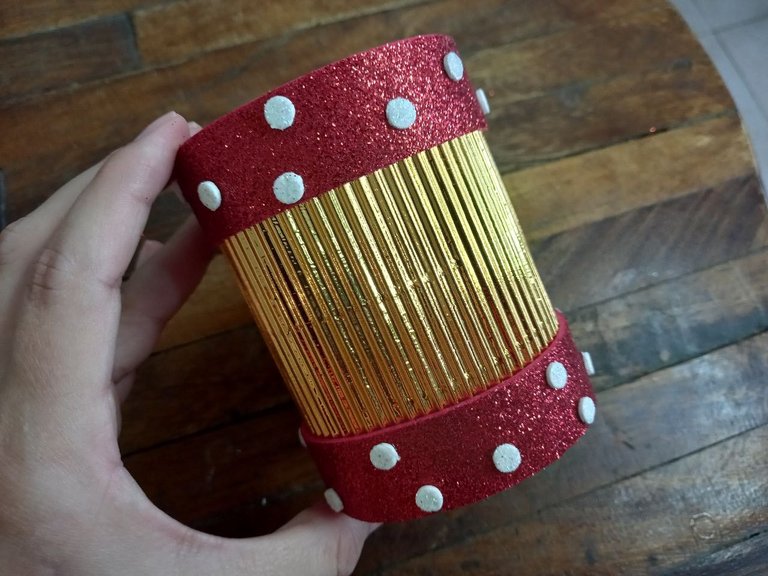 ✨ PASO 6. Recorté una tira de foami escarchado negro de unos 2 cm y la pegué en la orilla interna del dulcero de un lado al otro, sirviendo para sostener el dulcero.
✨ STEP 6. I cut out a strip of black frosted foam about 2 cm and glued it to the inner edge of the candy bowl from one side to the other, serving to hold the candy bowl.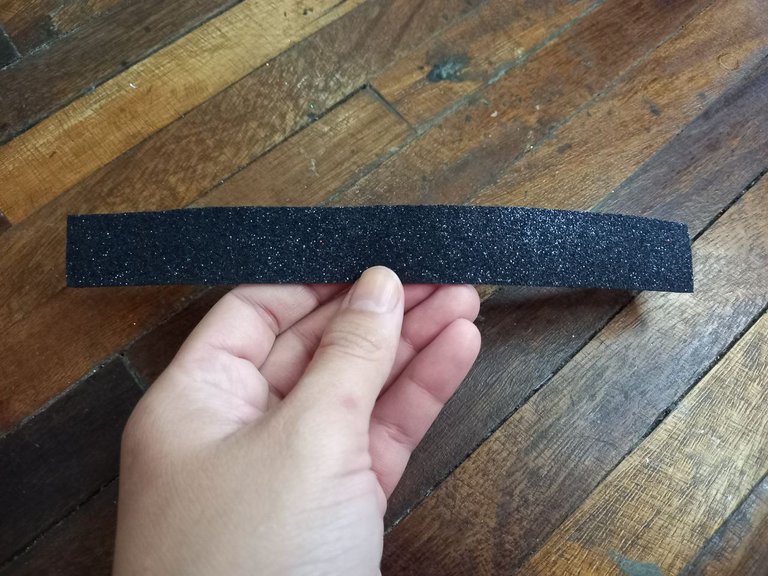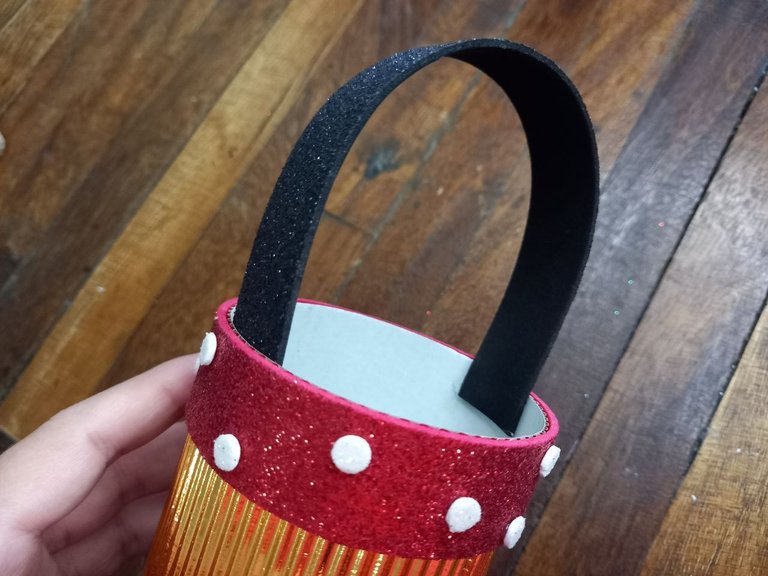 ✨ PASO 7. Recorté un rectángulo de foami escarchado rojo y 2 círculos medianos de foami escarchado negro. Al foami rojo le redondeé las puntas, le apliqué silicón en el centro y cerré la pieza para que se pegara, luego le aplique silicón en las orillas traseras y doblé estas para que se pegaran y formar un lazo.
✨ STEP 7. I cut out a rectangle of red frosted foam and 2 medium circles of black frosted foam. I rounded the tips of the red foami, I applied silicone in the center and closed the piece so that it would stick, then I applied silicone on the back edges and folded them so that they would stick and form a bow.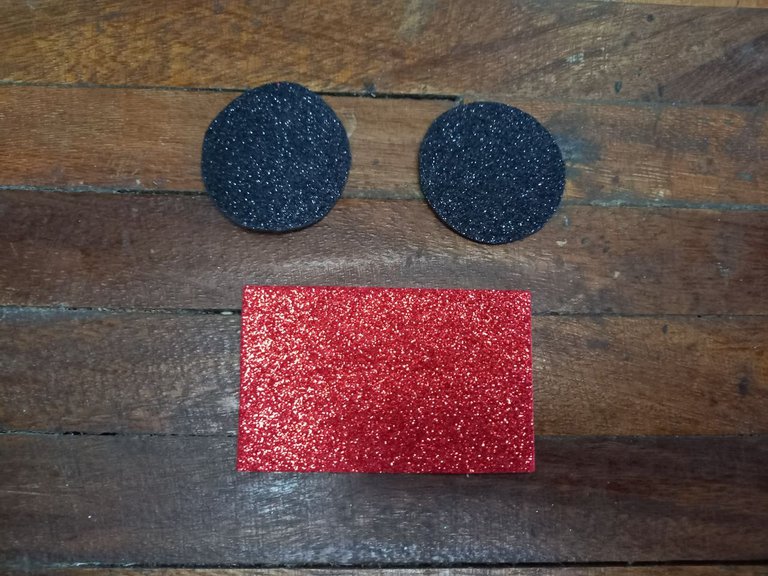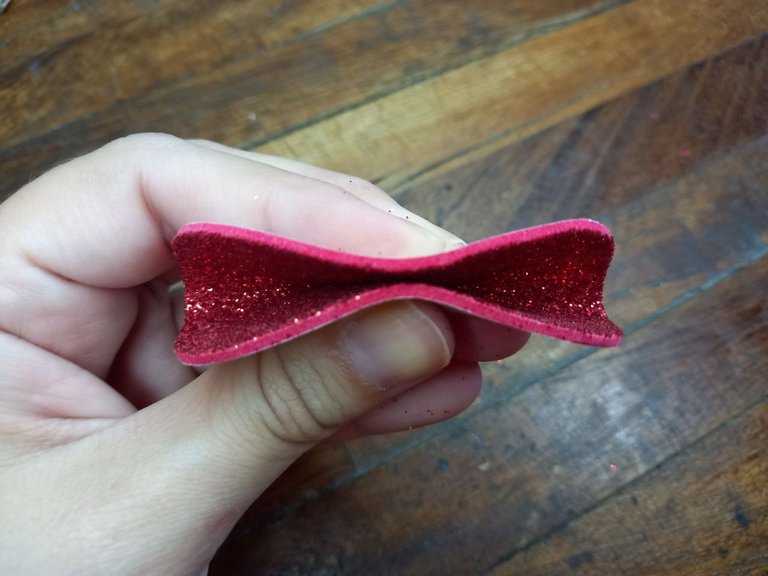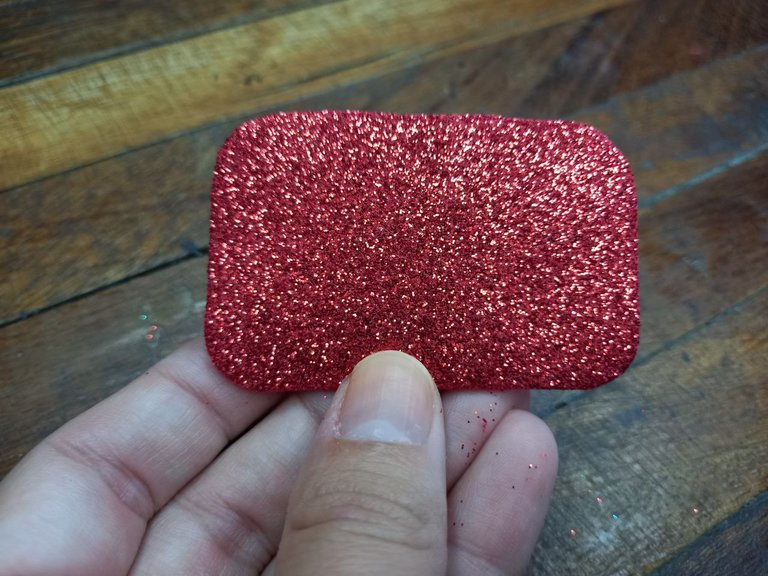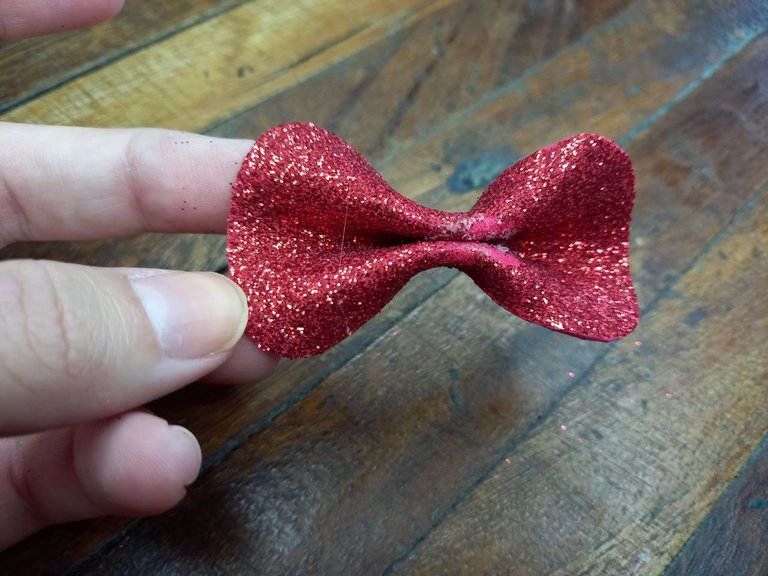 ✨ PASO 8. Recorté una tira pequeña de foami escarchado negro y unos 6 círculos de foami escarchado blanco con el abrehuecos, pegué la tira de foami negro en el centro del lazo uniendo sus puntas en la parte trasera, pegué los círculos de foami blanco en el lazo para decorarlo y pegué los círculos medianos de foami negro en la parte trasera del lazo, uno de cada lado, ya que estas vendrían siendo las orejas de Minnie.
✨ STEP 8. I cut out a small strip of black frosted foam and about 6 circles of white frosted foam with the hole opener, I glued the black foam strip in the center of the bow, joining its tips at the back, I glued the circles of white foam on the bow to decorate it and I glued the medium circles of black foam on the back of the bow, one on each side, since these would be Minnie's ears.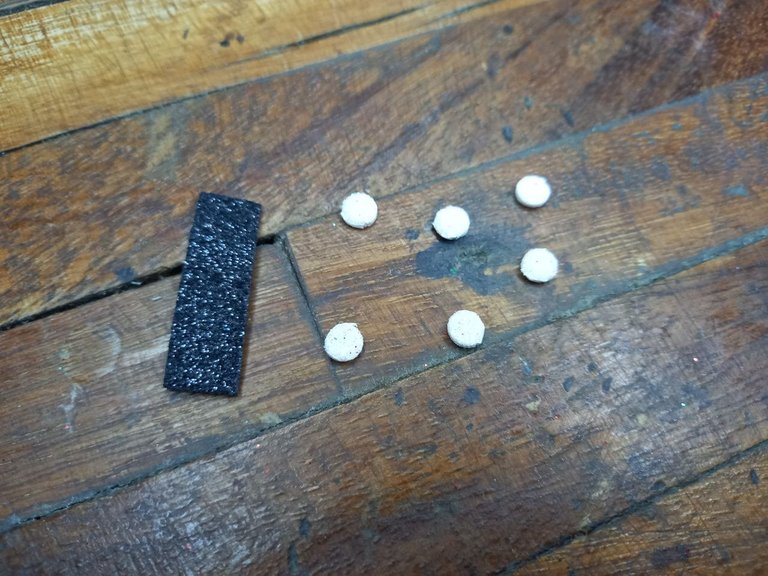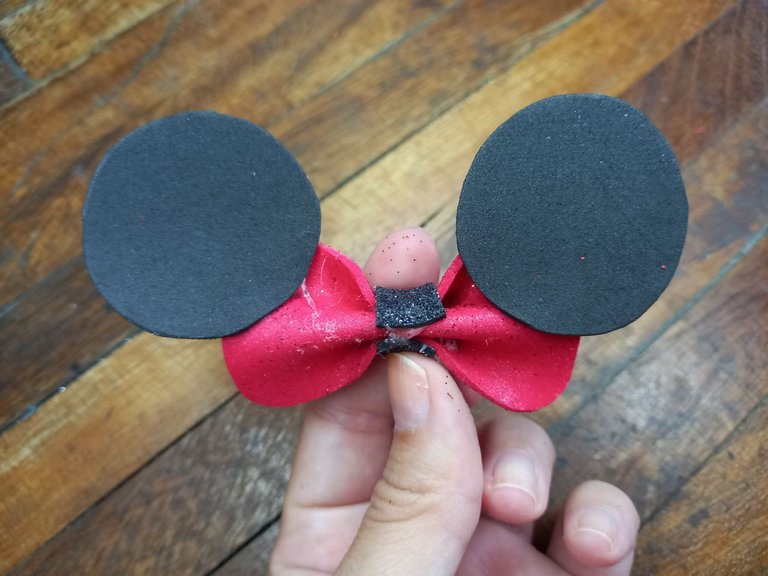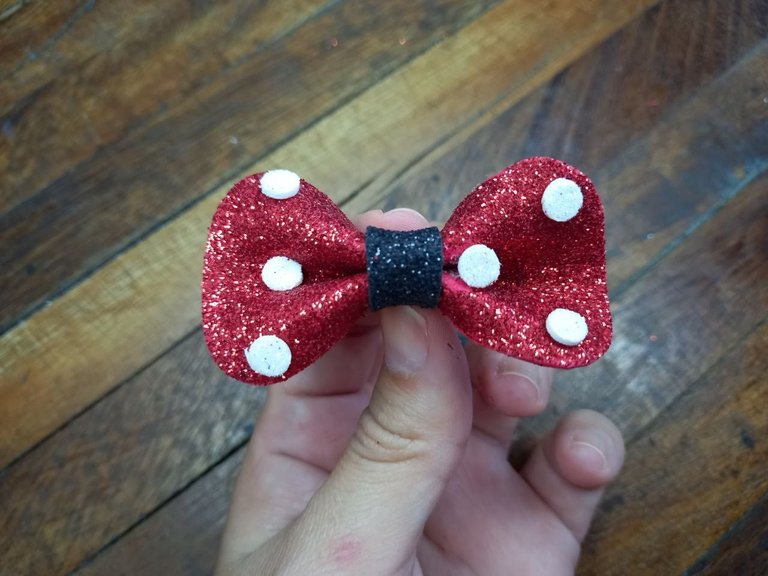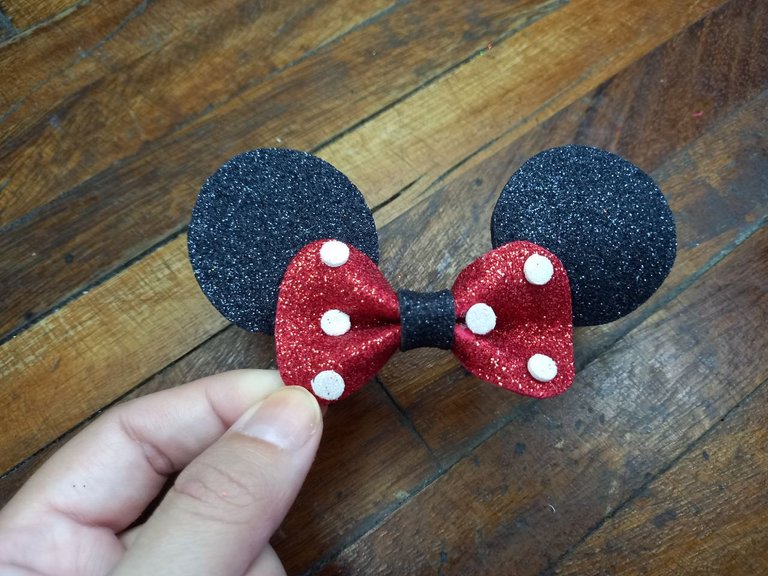 ✨ PASO 9. Por ultimo pegué el lazo con las orejas en el centro de la parte superior de la tira de foami negro del dulcero.
✨ STEP 9. Finally I glued the bow with the ears in the center of the top part of the black foam strip of the candy maker.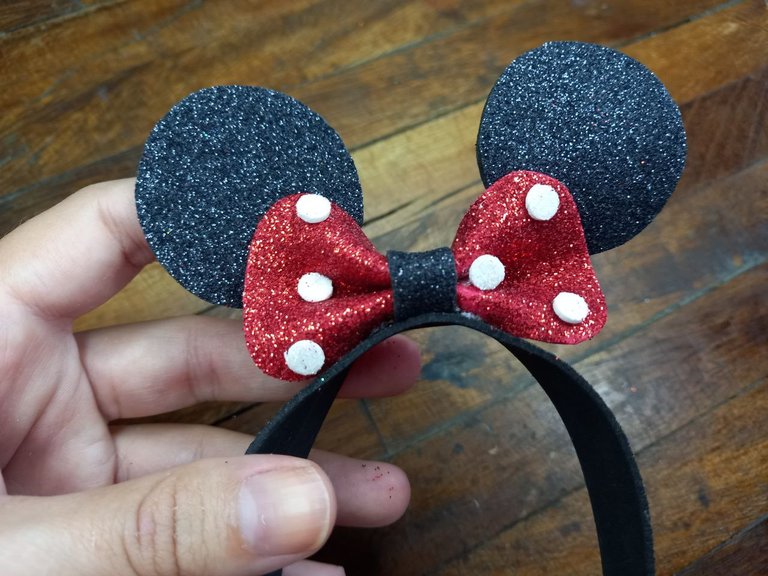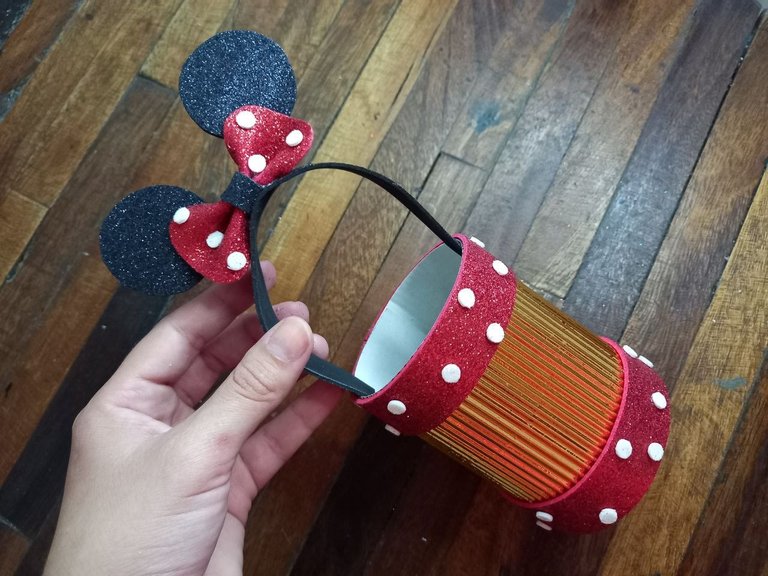 ¡Y listo! De esta forma tan sencilla fue como elaboré este lindo dulcero con temática de Minnie Mouse. Para mi esta es una de esas temáticas que no pasa de moda y este dulcero aunque es simple logra transmitir su esencia. Espero que les haya gustado este tutorial y les pueda ser útil para recrearlo en casa.
¡And ready! In this simple way I made this cute Minnie Mouse themed candy box. For me this is one of those themes that never goes out of style and although this candy bar is simple, it manages to convey its essence. I hope you liked this tutorial and it can be useful for you to recreate it at home.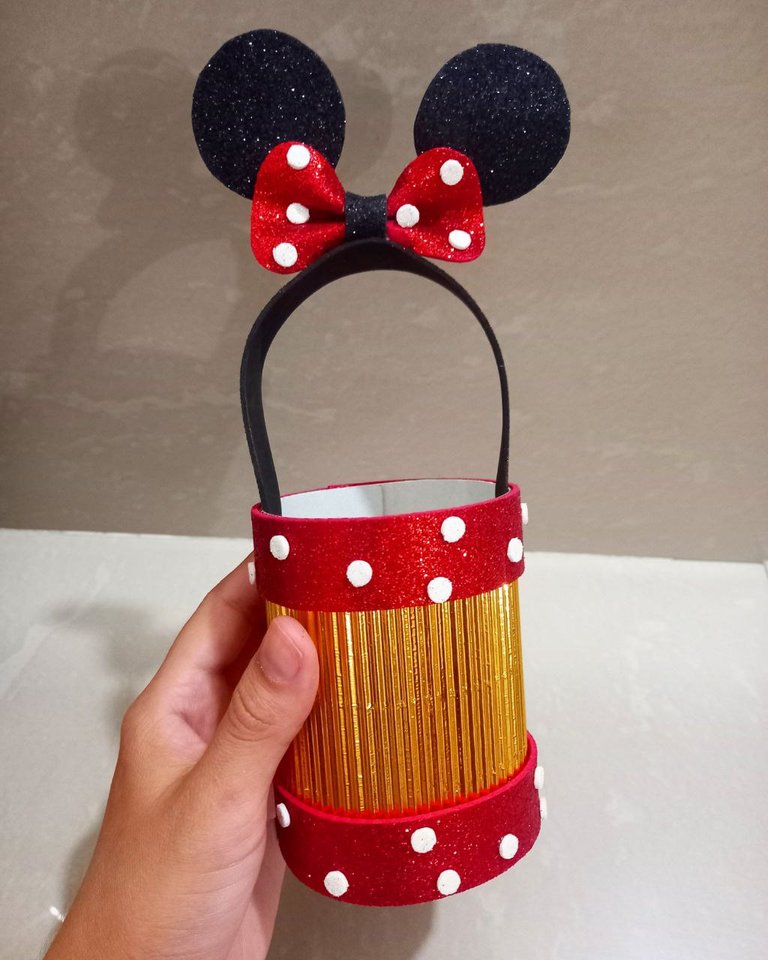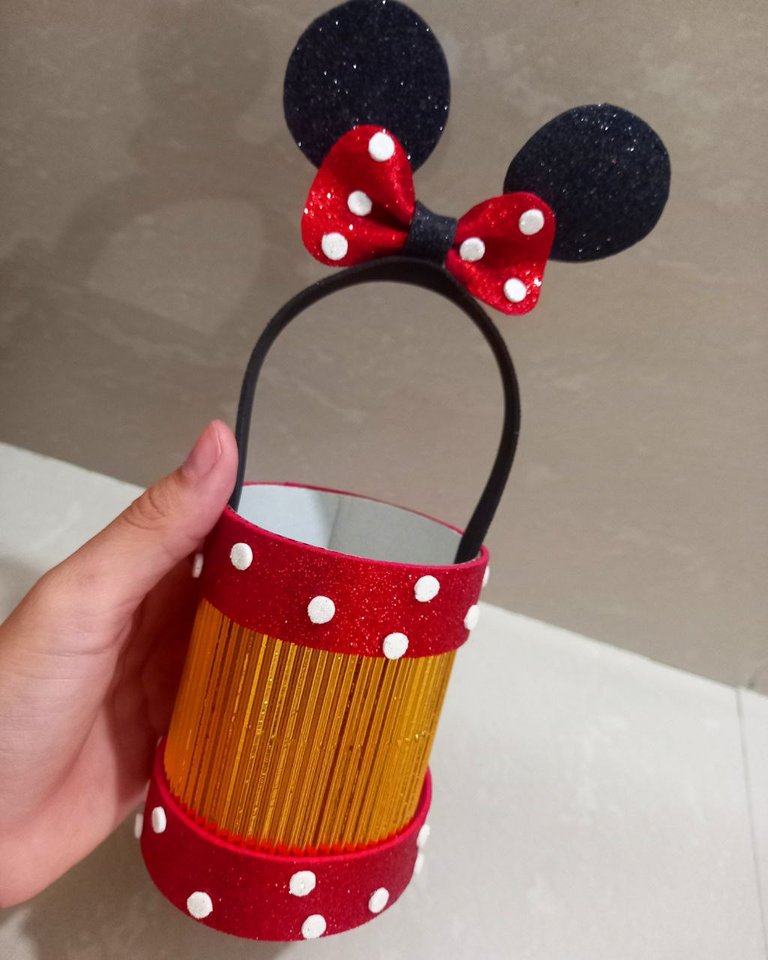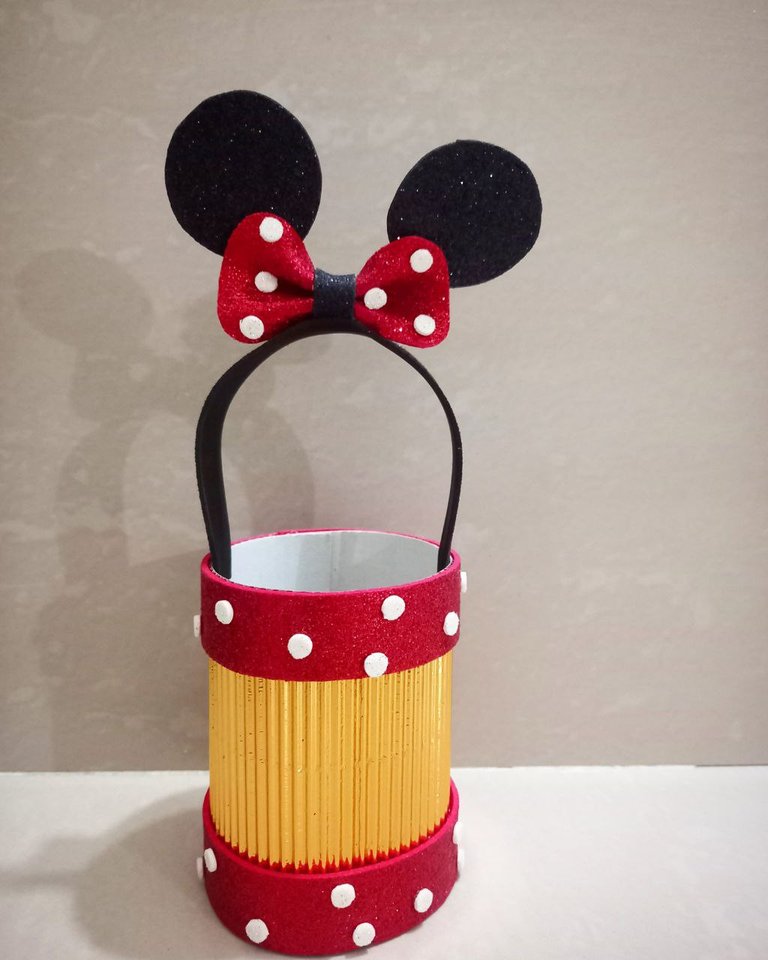 ¡Gracias por detenerte a leer!
Todas las fotografías son de mi propiedad.
Fotografías capturadas con mi Samsung Galaxy A12
Separador de texto elaborado en Canva.

Nos vemos en mi próxima publicación.
¡Tengan un feliz día!
¡Thanks for stopping to read!
All photographs are my property.
Photos captured with my Samsung Galaxy A12
Text separator made in Canva.

See you in my next post.
¡Have a happy day!