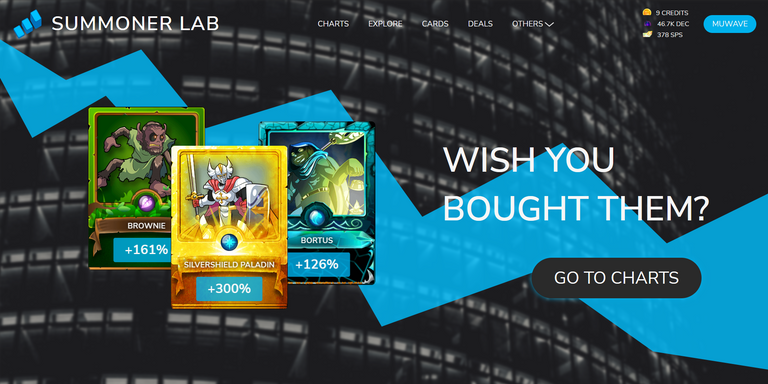 What is Summoner Lab
Summoner Lab is a data analysis website for Splinterlands. Both investors and players can find meaningful information on card prices and battle statistics. Are you interested in buying a card? What is the best time to do so? Summoner Lab provides charts with years of historical data so that you can buy at the minimum and sell at the top; if you are a nerd like me you can even dive into technical analysis. For people that want to improve their gameplay, Summoner Lab (in the cards page) offers insights like win rate, best supporters, best counters and best rule set for each card and league. For example, assume you are struggling to win against Yodin in Diamond, then you can go to Summoner Lab, filter by Diamond league and click on Yodin:
From there you can see that it only wins 12.5% of the times against teams that include Kralus, so it's probably a good idea to rent one in the market below. Are you really serious about beating Yoding and you want to buy Kralus? Is it a good time to buy it? That's for you to decide, but Summoner Lab can provide you with the data necessary to make that decision: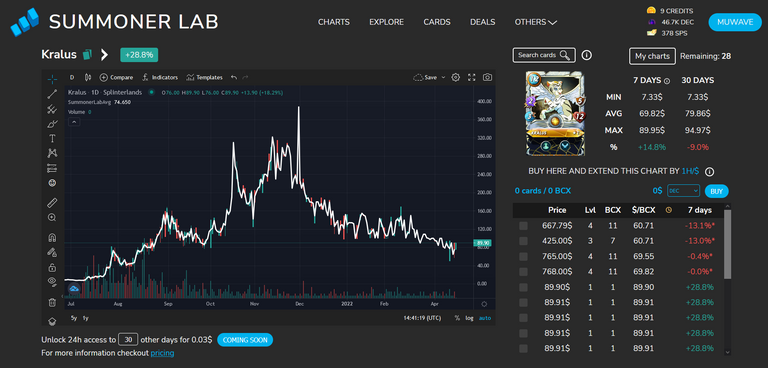 You can find many more information on Summoner Lab, have a look for yourself at summonerlab.com
---
The challenge
What do you use Summoner Lab for? Did you manage to flip the market using charts? Do you want to show off your technical analysis abilities? Were you able to build a better deck or win more battles?
Write a post about your experience with Summoner Lab or a guide on how to use the website.
Submission
Your post must include in the first lines that it's a submission for the Summoner Lab Contest and link to this page
Link your post's URL in the comments of this contest post
Do not embed your link
You must post from your own Hive account
Only one entry per person
You can post in any community
Misinformation on how the website works will not be tolerated. If you have any doubts we'll be glad to answer your questions on discord
Prizes
The number of views and upvotes will count toward the decision of the winners, but we will also take into account the overall quality of the post.
1st place: 1 chaos legion pack + 10 SPS + 1 month Summoner Lab Pro
2nd place: 1 chaos legion pack + 5 SPS + 2 weeks Summoner Lab Pro
3rd-5th: place: 5 SPS + 2 weeks Summoner Lab Pro
6th-10th: place: 1 week Summoner Lab Pro
Deadline June 1st 2022 at 00:00 UTC