---ENGLISH VERSION---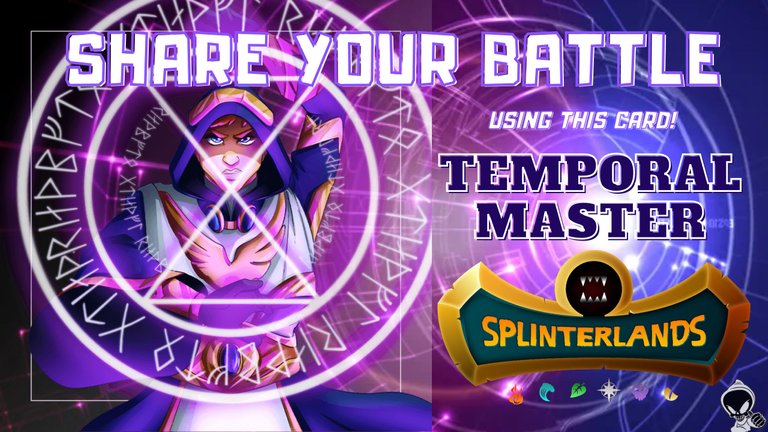 Hi guys,
Will share with you a battle that I used TEMPORAL MASTER to enter the
Weekly Challenge - SHARE YOUR BATTLE

CARD THEME: TEMPORAL MASTER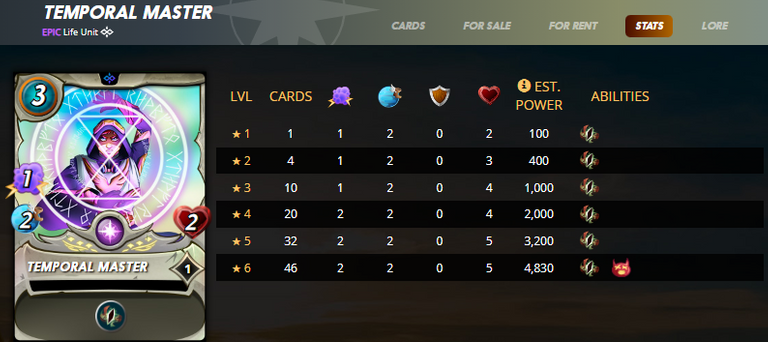 My opinion about TEMPORAL MASTER
TEMPORAL MASTER is a monster that its use is very limited, due to its low stats and an ability that leaves it very vulnerable in the first few rounds, when it cannot attack. But when it attacks it has an increased power and can finish its target. I don't like this monster and few times I choose.
Do I have card TEMPORAL MASTER?
Yes, I have TEMPORAL MASTER at level 1.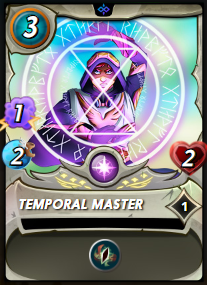 ------ RULES BATTLE------
MANA CAP
Fog of War: Monsters lose the Sneak and Snipe abilities.
Reverse Speed: Monsters with the lowest Speed attack first and have the highest chance of evading attacks.

------ CHOSEN ELEMENT ------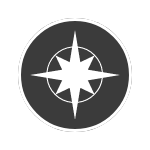 ------ SUMMONER ------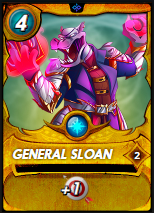 ------ MONSTERS AND POSITION ------
| | | | | |
| --- | --- | --- | --- | --- |
| 1ª POSITION | 2ª POSITION | 3ª POSITION | 4ª POSITION | 5ª POSITION |

------- STRATEGY DETAILS ------
1ª POSITION: BLINDING REFLECTOR will be my tank, which in low mana battles is very tough with its armor.
2ª POSITION: SOUL FIEND can make a difference as it has zero mana cost and can hinder the enemy.
3ª POSITION: TEMPORAL MASTER the monster of the week challenge, its magic power can be crucial to eliminate powerful enemies.
4ª POSITION: HALFLING ALCHEMIST has a great ability to break enemy attack in half.
5ª POSITION: GRENADIER in the last position will be free from SNEAK attacks, and its increased attack can do a lot of damage to enemies.

------ BATTLE ------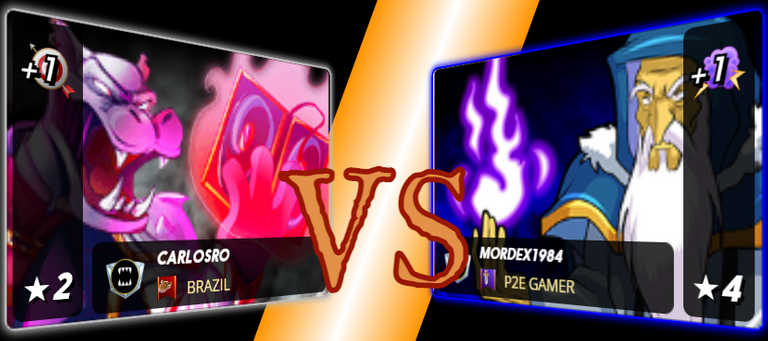 👆CLICK ON THE IMAGE TO SEE THE BATTLE 👆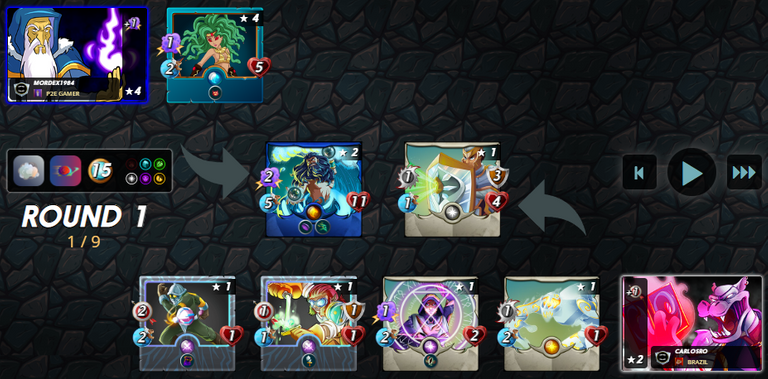 👆 My opponent chose magic monsters with an attack boost with the highest level summoner, which can affect me drastically.
👆1º Round: My monsters are slower and will attack first making a very good advantage for this battle. I managed to break the legendary DJINN's attack in half, and still dealing great damage in this first round. My tank held up well and survived.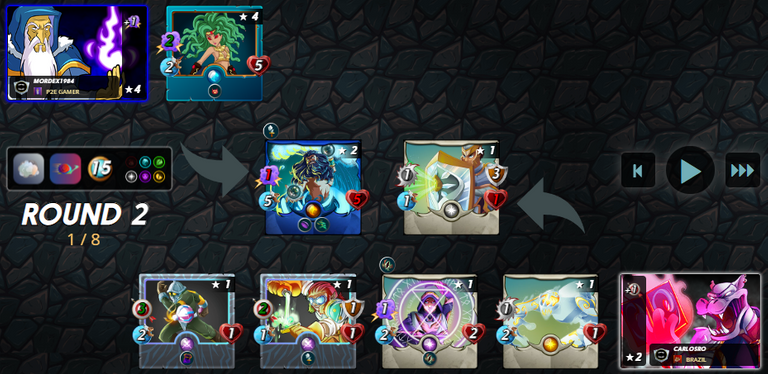 👆2º round: With my attacks being performed first, I managed to kill DJINN, and TEMPORAL MASTER performs its increased attack making the enemy monster suffer and be weakened for the next round.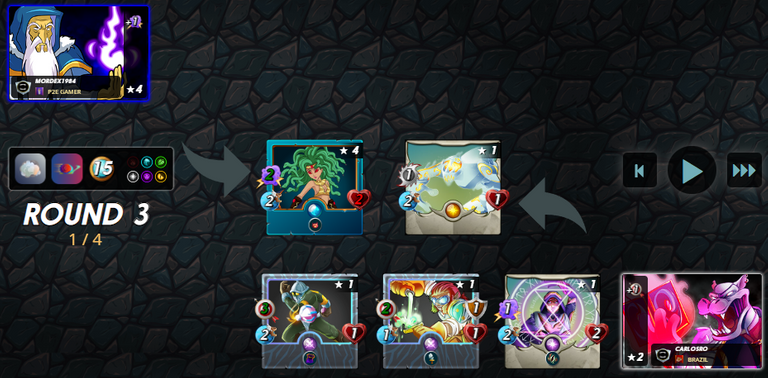 👆3º round: HALFLING ALCHEMIST ends this battle with a precise attack, crowning victory.


------ FINAL CONSIDERATIONS ------
My strategy was very bold but I managed to finish the enemy. Attacking first was very promising causing irreversible damage to targets, rendering them unresponsive.
TEMPORAL MASTER played its role and managed to do great damage with its increased attack, but it is a monster with a specific ability and must be very well planned when selected for a battle.

♥️ Thanks for reading ♥️


---VERSÃO PORTUGUÊS BRASIL---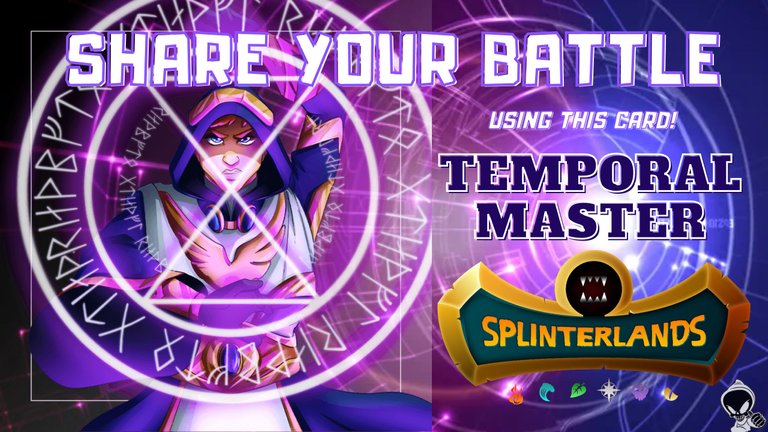 Oi, pessoal,
Vou compartilhar com vocês uma batalha que usei TEMPORAL MASTER para entrar no
Weekly Challenge - SHARE YOUR BATTLE

CARTA TEMA: TEMPORAL MASTER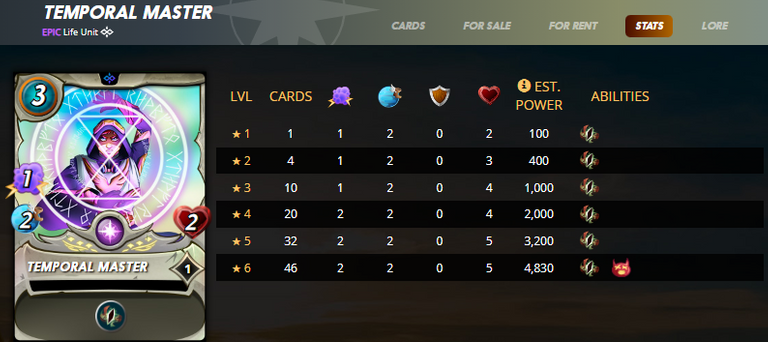 Minha opinião sobre TEMPORAL MASTER
TEMPORAL MASTER é um montro que seu uso é muito limitado, por ter estatisticas baixas e uma habilidade que o deixa muito vulnerável nas primeiras rodadas, quando não consegue atacar. Mas quando ataca tem um poder aumentado e pode finalizar seu alvo. Eu não gosto desse monstro e pouca as vezes que eu escolho.
Eu tenho a carta TEMPORAL MASTER?
Sim, tenho TEMPORAL MASTER no nível 1.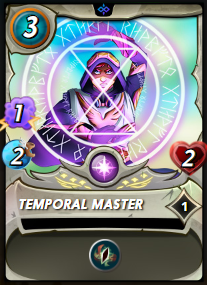 ------ REGRAS DA BATALHA ------
MANA CAP
Fog of War: Monstros perdem as habilidades Sneak e Snipe.
Reverse Speed: Monstros com a menor velocidade atacam primeiro e têm a maior chance de evitar ataques.

------ ELEMENTO ESCOLHIDO ------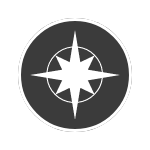 ------ INVOCADOR ------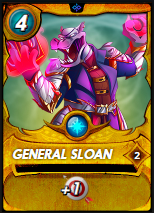 ------ MONSTROS E POSIÇÃO ------
| | | | | |
| --- | --- | --- | --- | --- |
| 1ª POSIÇÃO | 2ª POSIÇÃO | 3ª POSIÇÃO | 4ª POSIÇÃO | 5ª POSIÇÃO |

------- DETALHES DA ESTRATÉGIA ------
1ª POSITION: BLINDING REFLECTOR será meu tanque, que em batalhas de baixa mana é muito resistente com sua armadura.
2ª POSITION: SOUL FIEND pode fazer a diferença por ter custo de mana zero e pode atrapalhar o inimigo.
3ª POSITION: TEMPORAL MASTER o monstro do desafio da semana, seu poder mágico pode ser crucial para eliminar inimigos poderosos.
4ª POSITION: HALFLING ALCHEMIST tem uma ótima habilidade de quebrar o ataque inimigo pela metade.
5ª POSITION: GRENADIER na ultima posição estará livre de ataques SNEAK, e seu ataque aumentado pode dar muito dano a inimigos.

------ BATALHA ------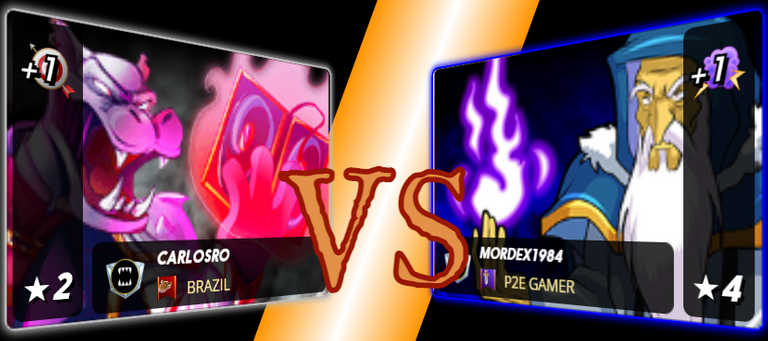 👆 CLIQUE NA IMAGEM PARA VER A BATALHA 👆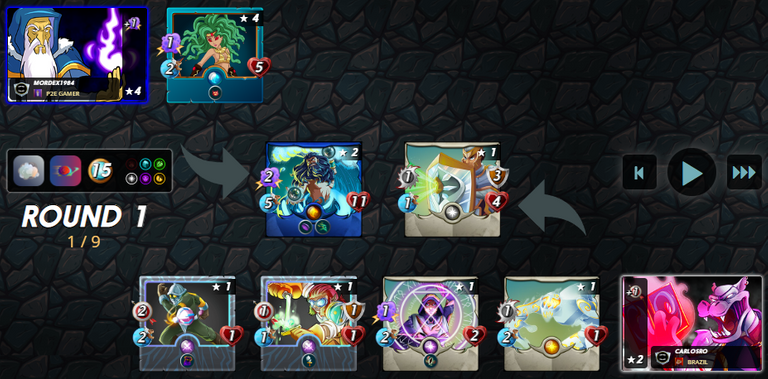 👆 Meu oponente escolheu monstros mágicos com um aumento de ataque e o invocador com nivel maior, que pode me afetar drásticamente.
👆1º Rodada: Meus monstros são mais lentos e atacarão primeiro fazendo uma vantagem muito boa para esta batalha. Consegui quebrar pela metade o ataque do lendário DJINN, e ainda causando grandes danos nessa primeira rodada. Meu tanque aguentou bem e sobreviveu.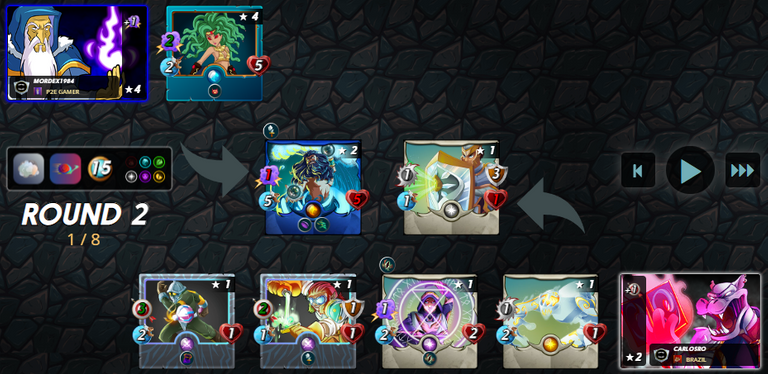 👆2º Rodada: Com os meus ataques sendo efetuados primeiro, consegui matar o DJINN, e TEMPORAL MASTER efetua seu ataque aumentado fazendo o monstro inimigo sofrer e ficar fragilizado para proxima rodada.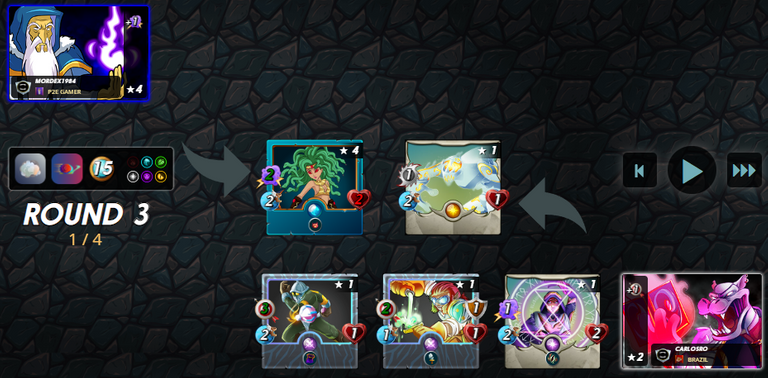 👆3º Rodada: HALFLING ALCHEMIST termina esta batalha com um ataque preciso, coroando a vitória.


------ CONSIDERAÇÕES FINAIS ------
Minha estratégia foi muito ousada mas consegui finalizar o inimigo. Atacar primeiro foi muito promissor causando danos irreverssiveis aos alvos, os deixando sem reação.
TEMPORAL MASTER fez seu papel e conseguiu dar ótimo dano com seu ataque aumentado, mas é um monstro com habilidade especifica e deve ser muito bem planejado quando for selecionado para uma batalha.

♥️ Obrigado por ler ♥️

Let's go on this adventure together?
Enter the Game Here: Splinterlands
Follow me on Social Media
Twiter
Instagram
Facebook