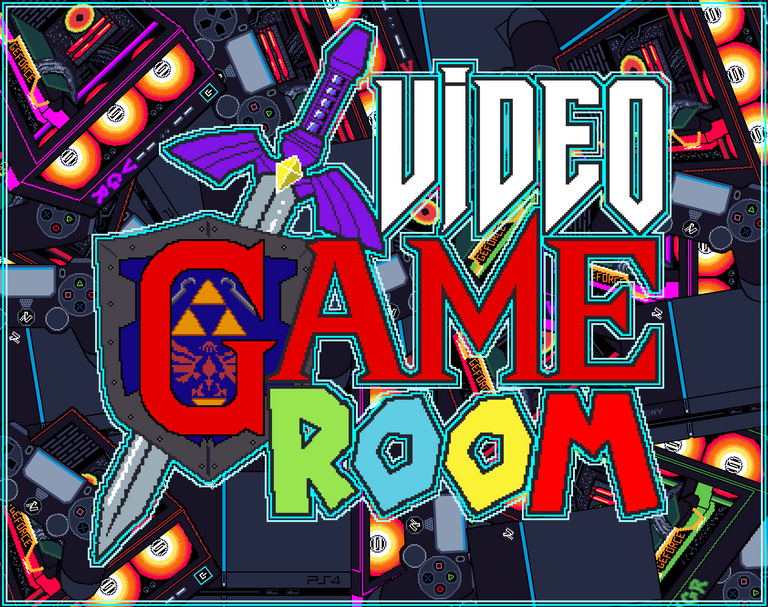 Hello to all friends of the HIVE community, today we are happy to present the new game that we at PGM community have released together with @mirafun , the user who took care of the programming and from here the project was born:
VIDEOGAMEROOM
New HIVE blockchain game https://pgmshare.com/pgmgame .
---
FUNCTION
In the Video Game Room to gain access to PGM's gaming world you have to pay a small fee of 8 SWAP.HIVE will grant you lifetime access to the game and the gaming room. In this gaming room you will find 3 items for you video gamers:
---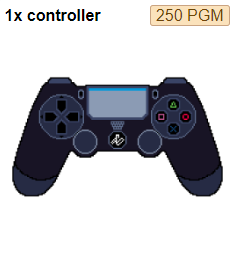 All users who enter VideoGameRoom and have paid the lifetime subscription will receive a free controller, thus saving 250 PGMs.
---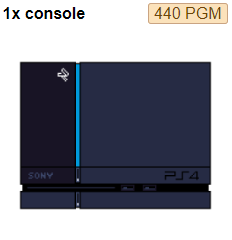 As a second available item there will be the Console, which will give you twice as many benefits as a controller, while saving you money compared to buying 2 controllers, which would give you the same amount of resources as a console.
---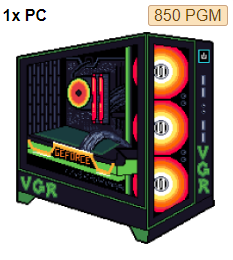 And finally, we have a computer that equates to:
but with a saving of several PGMs and a much higher ROI.
---
GUADES
Everything will work with a distribution pool of PGMs which we would like to increase in case users increase every day. Currently the weekly PGM pool is 500, in case the in-game users reach 100 we would like to increase the pool from 500 to 1000 as a celebration and a thank you.
---
SHARING PRIZES
Share this post with everyone:
re-blog = 0.5 PGM
comment mentioning 2 friends to play it = 0.5 PGM
---
THE GAME IS STILL UNDERGOING GRAPHICAL AND STRUCTURAL IMPROVEMENTS SO IT WILL CURRENTLY BE POSSIBLE TO PLAY THE PRE-ALPHA PHASE OF THE GAME, WE APOLOGISE IN ADVANCE IN CASE OF BUGS OR SIMILAR.
To report any errors in the game you can do so in the PGM discord in the #pgmsahre-bug-report section : https://discord.gg/5Jfmrsmp
---
---
---
---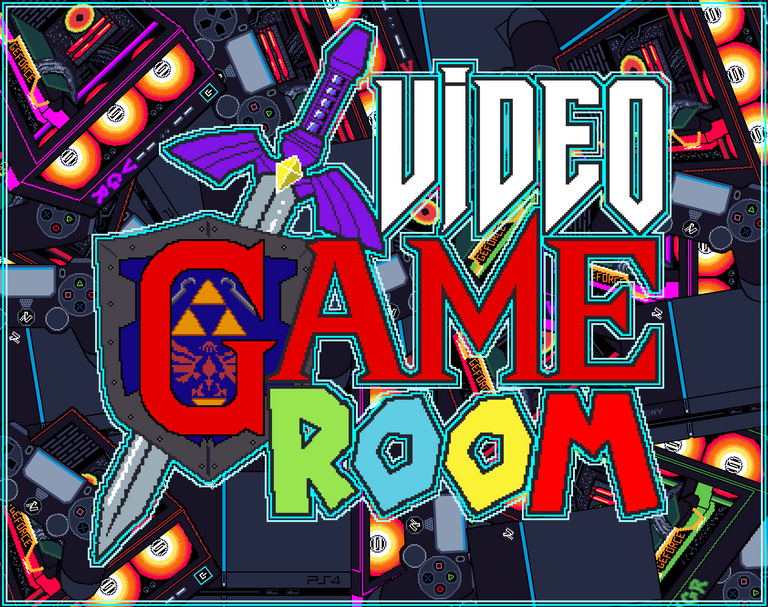 Hola a todos los amigos de la comunidad HIVE, hoy tenemos el placer de presentaros el nuevo juego que en la comunidad PGM hemos sacado junto con @mirafun , el usuario que se encargó de la programación y de aquí nació el proyecto:
VIDEOGAMEROOM
Nuevo juego de HIVE blockchain https://pgmshare.com/pgmgame .
---
FUNCIÓN
En la Sala de Videojuegos para entrar en el mundo del juego de PGM tienes que pagar una pequeña cuota de 8 SWAP.HIVE te dará acceso de por vida al juego y a la sala de juegos. En esta sala de juego encontrarás 3 objetos para los videojugadores:
---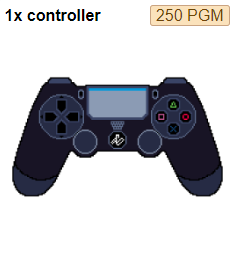 Todos los usuarios que entren en VideoGameRoom y hayan pagado la suscripción de por vida recibirán un mando gratis, ahorrando así 250 PGMs.
---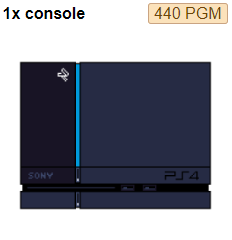 Como segundo elemento disponible estará la Consola, que te dará el doble de beneficios que un mando, a la vez que te ahorrará dinero en comparación con la compra de 2 mandos, que te darían la misma cantidad de recursos que una consola.
---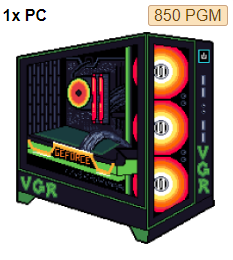 Y por último, tenemos un ordenador que equivale a
pero con un ahorro de varios PGMs y un ROI mucho mayor.
---
GUADES
Todo funcionará con un pool de distribución de PGMs que nos gustaría aumentar en caso de que los usuarios aumenten cada día. Actualmente el pool de PGMs es de 500, en caso de que los usuarios en el juego lleguen a 100 nos gustaría aumentar el pool de 500 a 1000 como celebración y agradecimiento.
---
COMPARTIENDO PREMIOS
Comparte este post con todo el mundo:
re-blog = 0.5 PGM
comentar mencionando a 2 amigos para que lo jueguen = 0,5 PGM
---
EL JUEGO AÚN ESTÁ EN FASE DE MEJORAS GRÁFICAS Y ESTRUCTURALES POR LO QUE ACTUALMENTE SE PODRÁ JUGAR A LA FASE PRE-ALFA DEL JUEGO, PEDIMOS DISCULPAS POR ADELANTADO EN CASO DE BUGS O SIMILARES.
Para informar de cualquier error del juego puedes hacerlo en el discord PGM en la sección #pgmsahre-bug-report : https://discord.gg/5Jfmrsmp
---
---
---
---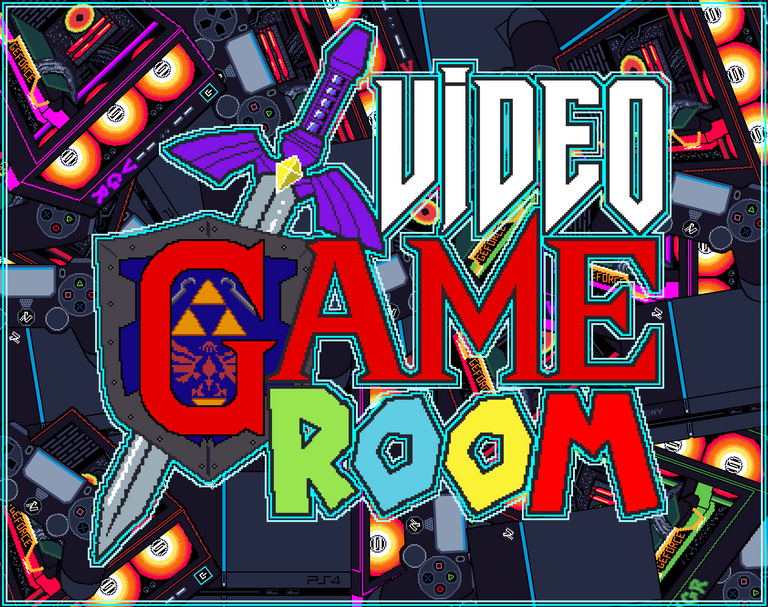 Ciao a tutti amici della community di HIVE , oggi siamo felici di presentare il nuovo gioco che abbiamo rilasciato noi di PGM community insieme a @mirafun , utente che si è occupato della programmazione e da qui nasce il progetto:
VIDEOGAMEROOM
Nuovo gioco della blockchain di HIVE https://pgmshare.com/pgmgame .
---
FUNZIONAMENTO
Nella Video Game Room per accedere al mondo del gaming di PGM bisogna pagare una piccola tassa di 8 SWAP.HIVE che vi garantirà l'accesso a vita al gioco e alla sala da gaming. In questa sala da gaming si troveranno ben 3 oggetti per voi video giocatori:
---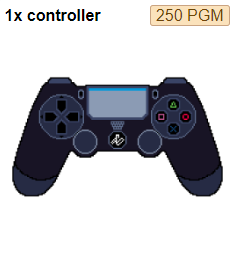 Tutti gli utenti che entreranno su VideoGameRoom e avranno pagato l'abbonamento a vita riceveranno in omaggio un controller quindi andando a risparmiare 250 PGM.
---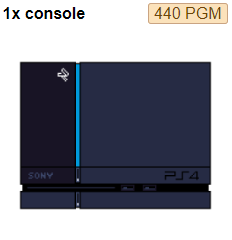 Come secondo oggetto disponibile ci sarà la Console , la quale vi darà il doppio dei vantaggi rispetto a un controller , mentre vi farà risparmiare rispetto all'acquisto di 2 controller , che vi andrebbero a dare lo stesso quantitativo di risorse di una console.
---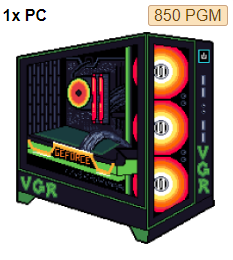 E in fine abbiamo un computer che equivale a:
ma con un risparmio nell'acquisto di parecchi PGM e un ROI molto più alto.
---
GUADAGNI
Il tutto funzionerà con una pool di distribuzione di PGM che ci piacerebbe aumentare in caso gli utenti aumentino ogni giorno. Attualmente la pool di PGM è di 500 unità , nel caso gli utenti in game arrivino a 100 vorremmo aumentare la pool da 500 a 1000 come festeggiamento e come ringraziamento.
---
PREMI PER LA CONDIVISIONE
Condividi questo post con tutti:
re-blog = 0.5 PGM
commento menzionando 2 amici a giocarci = 0.5 PGM
---
IL GIOCO È ANCORA IN FASE DI MIGLIORAMENTO GRAFICO E STRUTTURALE QUINDI ATTUALEMENTE SARA POSSIBILE GIOCARE LA FASE PRE-ALPHA DEL GIOCO , CI SCUSIAMO IN ANTICIPO IN CASO DI BUG O COSE SIMILI
Per segnalare ogni errore del gioco sarà possibile farlo nel discord di PGM nella sezione dedicata al #pgmsahre-bug-report : https://discord.gg/5Jfmrsmp
---
---
---
@badpupper
@qoogohome
@nahueldare3627
@bot-bdbhueso
@engilhramn
@amaari
@hurtlocker
@benthomaswwd
@bokica80
@trentonlundy1
@pedrobrito2004
@mad-runner
@libertycrypto27
@lolz.pgm
@candnpg
@underlock
@c3r34lk1ll3r
@eijibr
@synergized
@lozio71
@noroi
@tokutaro22
@tinyputerboy
@arpuch
@bencwarmer
@flaxz
@beststart
@coquicoin
@splinter100dedos
@timehacker
@atma.love
@kryptofire
@bechibenner
@arc7icwolf
@fun.farms
@operahoser
@freed99
@servelle
@nftfrappe
@dk1trade
@aliveprojects
@valentin86
@lordshah
@edgerik
@neoxvoter
@heartbeatonhive
@imno
@vaynard86
@hive-117778
@ahmadmangazap
@krueger053
@crazyphantombr
@moeenali
@yeckingo1
@jdike
@hankanon
@luislrt
@davot
@gondek
@emaxisonline
@stea90
@noctury
@kvinna
@mvl2304
@pousinha
@uveee
@uthantzin
@elgringoviejo2
@florenceboens
@arkasz
@krakonos
@quekery
@rtonline
@mizuosemla
@enginewitty
@felixgarciap
@svanbo
@pregosauce
@myothuzar
@miketr
@danideuder
@savvytester
@ricardoeloy
@stefano.massari
@ydaiznfts
@darmst5339
@tengolotodo
@lipe100dedos
@hive-103505
@mein-senf-dazu
@acgalarza
@callmemaungthan
@kaibagt
@maurojd
@zottone444
@naythan
@itharagaian
@reiseamateur
@isiksenpalvoja
@middle-earthling
@elikast
@mypathtofire
@ivanslait
@dstampede
@kryptogeier
@bananofarmer
@kryptodenno
@mehmetfix
@thoth442
@dewabrata
@mario89
@jfang003
@drunksamurai
@thgaming
@genming
@rocinanteprimo
@azj26
@davidxxl
@xykorlz
@web-gnar
@ianballantine
@entrepidus
@salamera
@osomar357
@suhlaing
@alicia2022
@cpol
@blitzzzz
@ladymisa
@from-mars
@thisisawesome
@flaxz.alive
@kojiri
@spryquasar
@memess
@pero82
@gregory-f
@ynwa.andree
@circlebubble
@steem-holder
@daje10
@solairitas
@hoosie
@shiftrox
@familiadare
@lorddiablo
@mxm0unite
@serhotest
@hannes-stoffel
@new.things
@luizeba
@beeminer
@vocup
@asynckronism
@hhayweaver
@barmbo
@bigtakosensei
@javivisan
@davidthompson57
@nilarwin
@hive-143869
@lotto-de
@astrocreator
@valdiva
@splinterob
@cursephantom
@iamraincrystal
@thedoc07
@atnazo
@sonyared
@princekham
@skuration
@skgcrypto
@chaosbug
@mv-curacion
@stewie.wieno
@adysscheryl
@thealliance
@dragon-ti
@prinzvalium
@chapelle
@guurry123
@invest-time
@hive-135941
@pirulito.zoado
@caracol32
@siphon
@elkingplayer
@cantfoldaces
@michupa
@bitcoinflood
@assassyn
@splintercell-01
@chechostreet
@bilidrg
@ternizator
@daniarc
@egistar
@kirstin
@bobthebuilder2
@tampilyne
@curator50
@galdor100max
@misterc
@kqaosphreak
@jim-crypto
@manuvert
@jimmy.adames
@dynamicrypto
@splinternews
@solymi
@rzc24-nftbbg
@healjoal
@definethedollar
@heruvim1978
@tawadak24
@rachaeldwatson
@chubb149
@eddwood
@shawnmichael-gt
@ironshield
@dagz
@metronet
@bitandi
@robibasa
@andy-vibes
@quotidien
@chuiiiiiiii
@karmaa13
@torran
@indiebandguru
@nane-qts
@dracozauberer
@sonaker
@cryptochroma
[mention for PGM users , if you no longer want to be mentioned tell me now I will take you off the lists! ]