Hello Splinterland warriors!
After a long time, the Splinterland team has started the tournaments again and this time i am taking part in it as i already participated in the previous tournament of silver shield knights, and this time too.
SILVERSHIELD KNIGHTS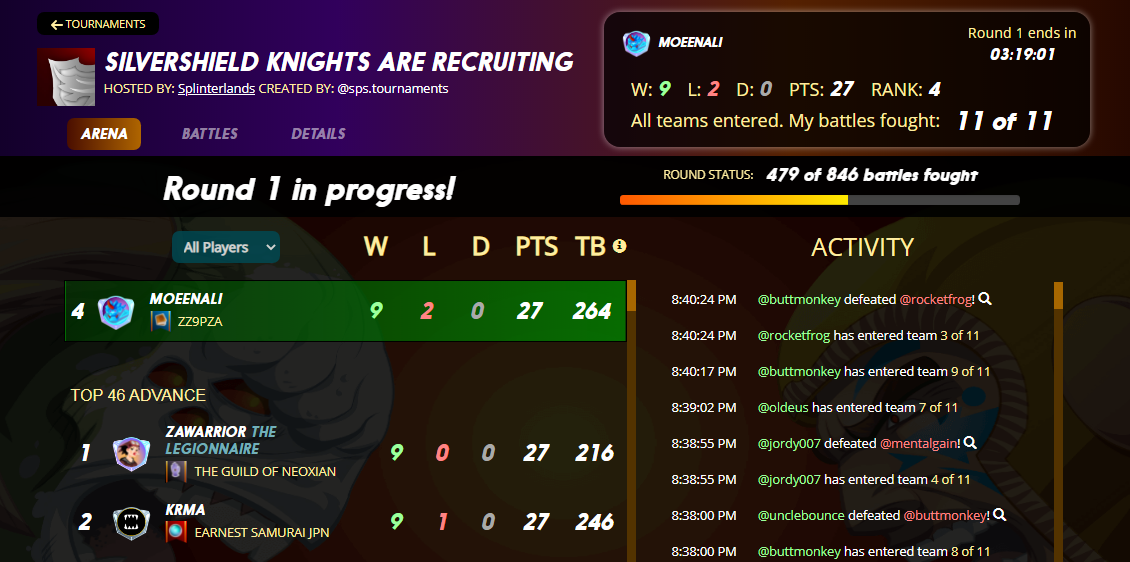 Here is the snap-in which you can see the top players as this is not the final leaderboard but in round 1 i got the 4th position with a total of 9 wins out of 11, the two battles i lost from some clever opponents. Currently, the zawarrior (xawi) holding the first position with zero loss and 9 wins so definitely she will hold this position in round 2 also.

PRIZE REWARDS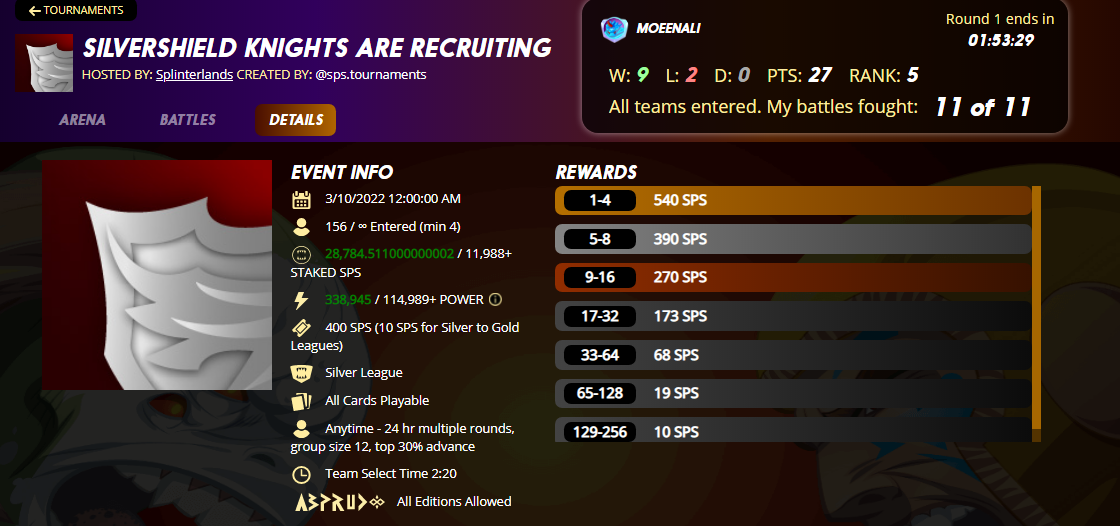 Well, here is the prize distribution list based on your rank that from 1-4 position will get 540 SPS worth $50+ while the entry fee for this tournament is 10 SPS so if your rank is below from 128 then you will get your SPS back sounds good which means that no loss and if you win and your rank is above 128 then you can get more SPS based on your rank position that you can see here in the rewards section. However, there are some requirements to be eligible for this tournament you will need to stake a minimum of 11k SPS while needing 114k Collection power then you can enter in these tournaments.

UPCOMING TOURNAMENTS PRIZES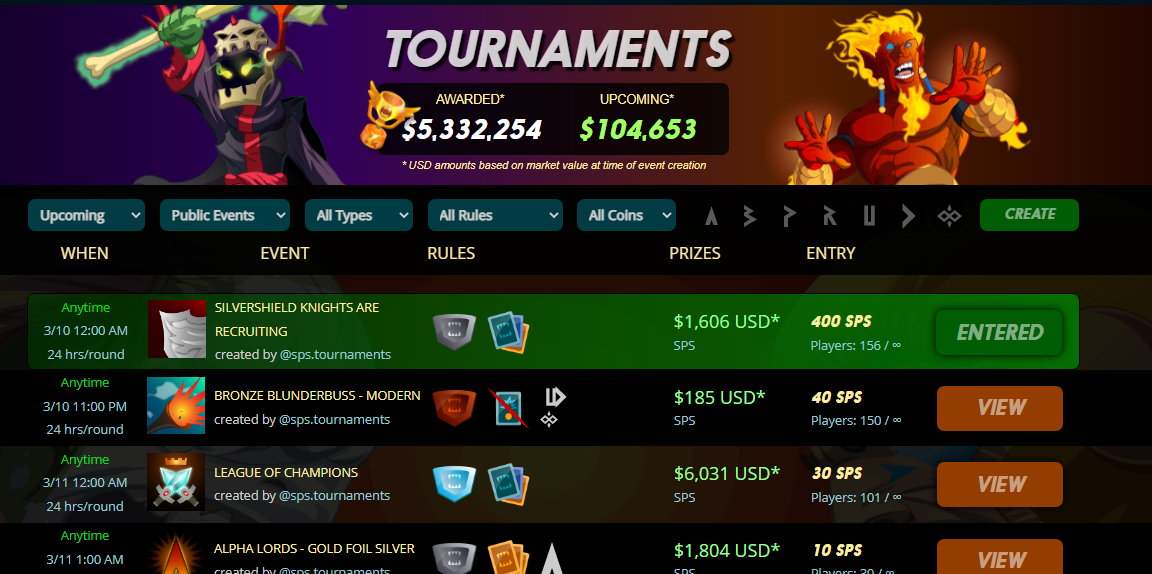 Well, this is the best opportunity for all of us to increase the SPS earning by participating in the tournaments battles to get rewarded in SPS based on our rank. The list is below with lots of USD rewards in the form of SPS tokens that you can sell or stake to get Staking rewards. The silver shield knights tournament is giving out 1600 USD worth SPS tokens to the players who participated in this tournament so i will participate in the upcoming tournaments too especially in the silver leagues because i don't have higher cards or more SPS staked yet to participate in the higher leagues tournaments.

THE QUEST REWARDS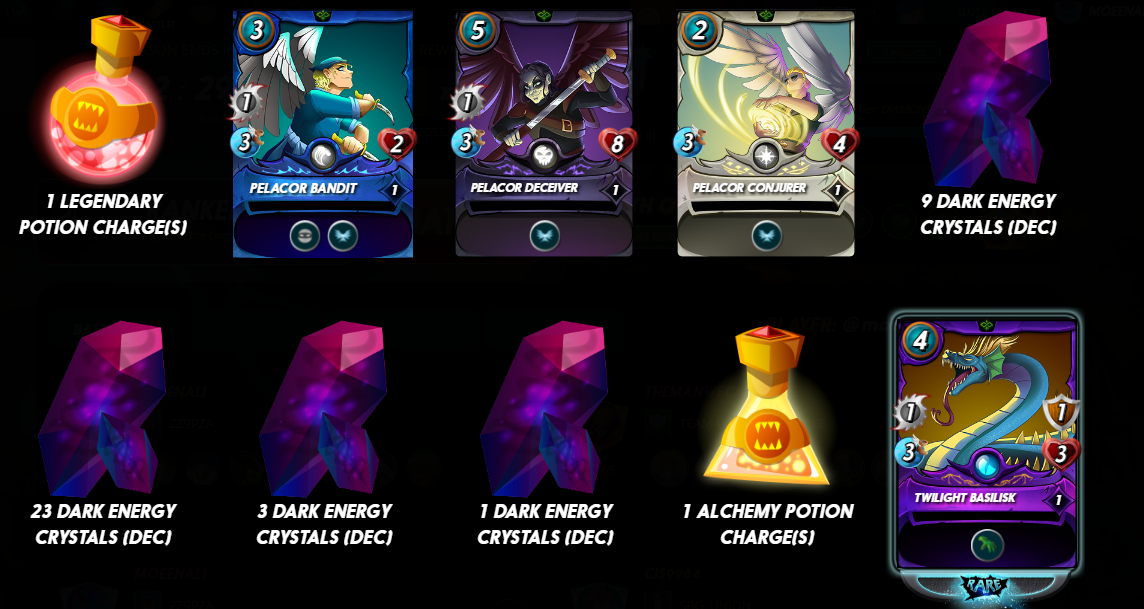 It was a difficult quest with earth splinter that I completed hardly because of the level 10 and almost max level cards players but still recovered the rating and claimed the rewards in the diamond league which is not good but still, something is better than nothing waiting for the season end rewards to get something good.

All images and animations are from the Splinterlands blogs and website

If you are new to this game then signup here to play the game click here for signup
---
---
Thanks For visiting my Blog
Best Regards @moeenali