Pleased to meet you. Sincerely, I am.
Humans intrigue me.
I listen to their conversations, their thoughts. The silly little debates about whether I'm real or not. You'd think that might offend me, but it doesn't. I actually love when they doubt my existence. My power is at its peak when they misconstrue my voice for their own.
Slithering my way between soul and spirit, I salivate. Study. Strike.
"Do you really think you're good enough?"
Clever, no?
To pose a question, rather than an assessment.
You see, a statement stirs a defense - provokes the human mind into proving that they can do anything, anytime anywhere.
But a question?
Hmmm, a question - well, that's just....delicious. A seed, planted. Then, just sit back and wait for the fruits of doubt, depression and despair to ripen with time. tick tock, tick tock.
---
"If they only knew the real me..."
It doesn't take long before pronouns shift. "Do you..." morphs to "am I..." easily and effortlessly. What a courteous little host! The epitome of hospitality! Su casa es mi casa.
Hide me, protect me. Let's shield the world from this darker side of... hmmm -you.
After all, considering us, is there really a place where I end, and you begin?
---
"I don't have to feel this way. I don't have to give into this monster."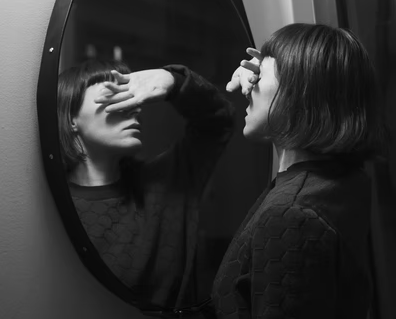 Shhhhhh... there, there. Come, let's be reasonable. A monster? Monster? Me?
Are you certain?
or - perhaps - am I just the deepest darkest part of you that knows you best?
---
---
This was an entry into @snook's Create Your Own Monster Challenge Want to be challenged to use your imagination? Join in! Winners are picked randomly - so don't stress - just write!
One entry per person
Entries must be posted on Hive with the tag #snookschallenge2
Entries must be in by 5:00 PM CST (11:00 PM UTC) Saturday, December 18, 2021.
Please post the URL of your post under the MAIN POST
---