After we had a blast of lunch at Ho Kow Hainam Kopitiam, we walked towards Lorong Panggung at downtown Kuala Lumpur to walk down the memory lane of KL Chinatown, a place my parents frequented when they were still dating. This place is a heritage, now regularly densed by people, both local and tourists. Besides spotting people taking photo with various poses, people did their TikTok video here too.
Long time ago, this area was in a destroyed state, then a company spotted it and fell in love with this area, started its project called Project Kwai Chai Hong and in year 2019, after months of refurbishing, it became a lovely place, highly insta-worthy spots with every corners filled with murals drawn by few local artists, depicting the life of people in the 1960's.
Since we were already here at Ho Kow, we just walked to the back of Lorong Panggung and then we reached here.
👣👣👣
Let's walk with me!
For clearer view of photos, please click in. Maybe my files are big, so whatever show on the blog layout are abit blur
While exploring the heritage at this Kuala Lumpur Chinatown area, this is also for #WednesdayWalk initiated by @tattoodjay.
At Lorong Panggung, we saw this brightly sunny painted rows of shoplots. My parents said the windows were still the same colour blue. Just right beside this row of shop, there was a small backlane small alley called Kwai Chai Hong.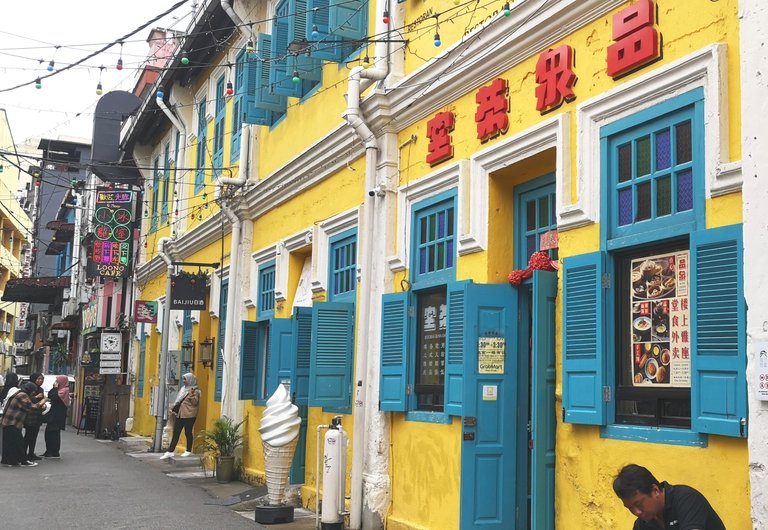 There was a shop called Panggung which is still until some renovation, I think. I was not too sure as it was closed.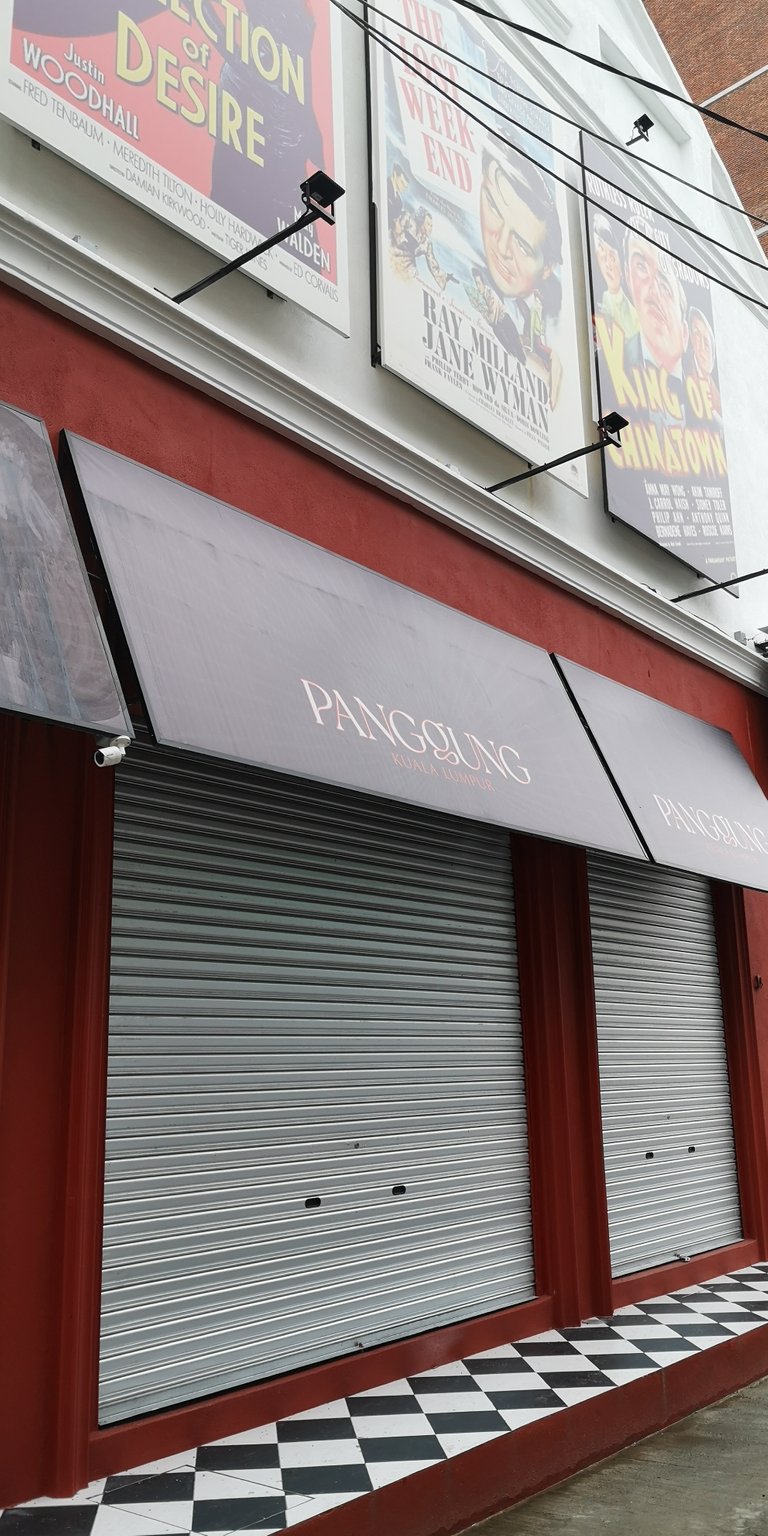 And these red bright area with grills and wooden chinese words.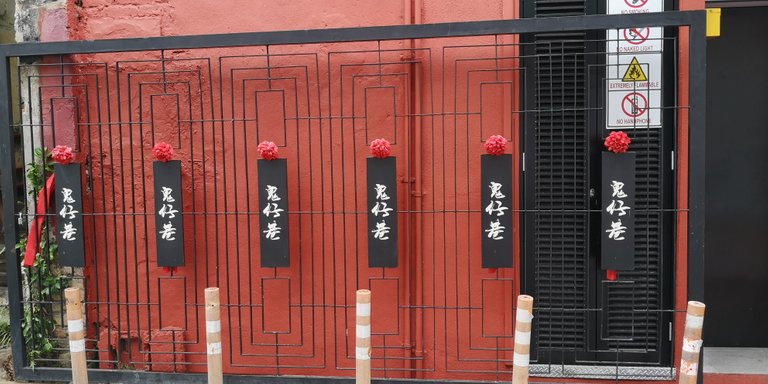 ---
Kwai Chai Hong 鬼仔巷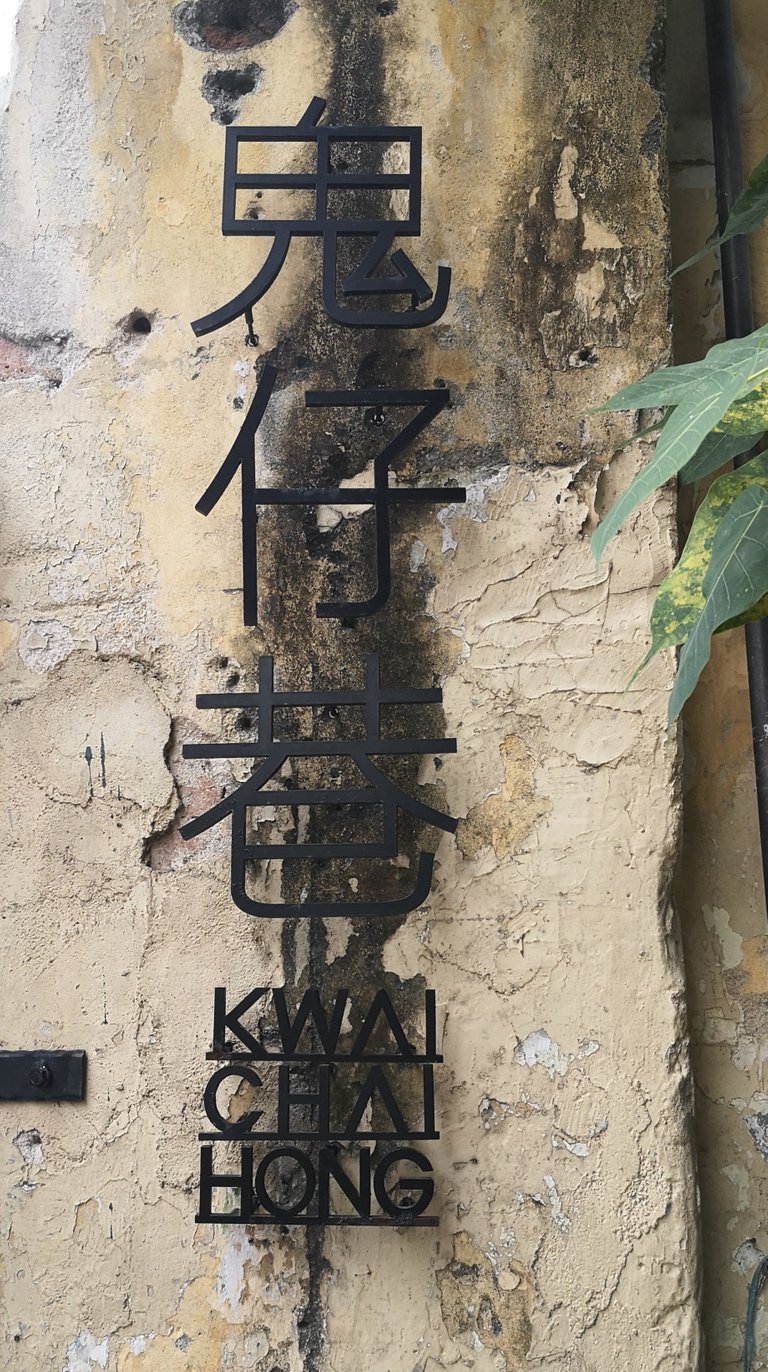 Location: Lorong Panggung, City Centre, 50000 Kuala Lumpur, Wilayah Persekutuan Kuala Lumpur
We were greeted by this 'floating signboard' on our left which is in Mandarin characters saying 鬼仔巷 aka Kwai Chai Hong.
Kwai Chai is Kantonis language meaning little ghost. Direct translate will means 'little ghost alley'.
I searched to read up. The name of this alley could be reflecting naughty children who loved to roam around here to play. It also also due to drug addicts, drunkards and gangsters who hid in this area for their activities.
On our right, there is this beautiful statue. Depicting lady in the pre-war time. Some believed it was the lady boss who ran the prostitution in this area.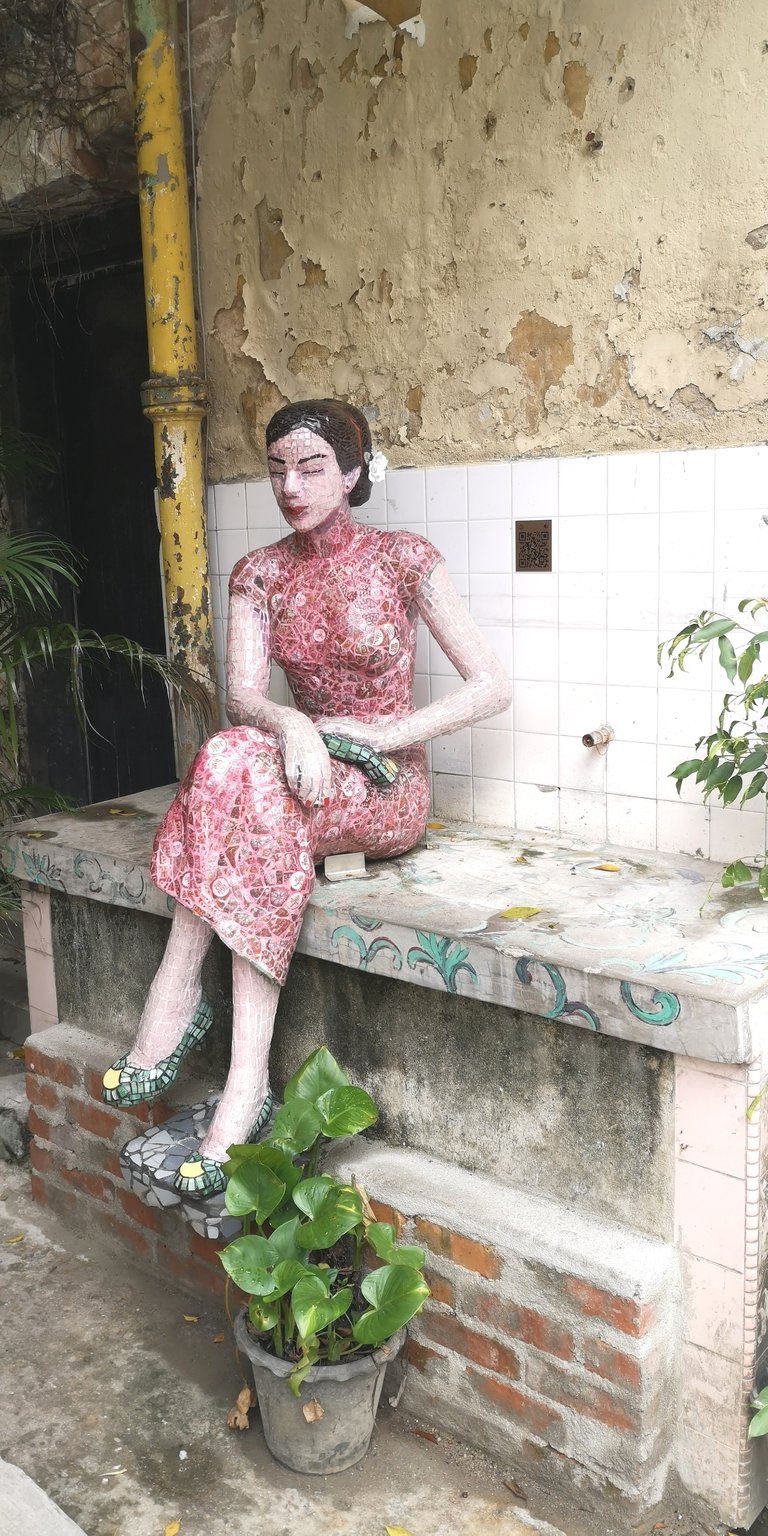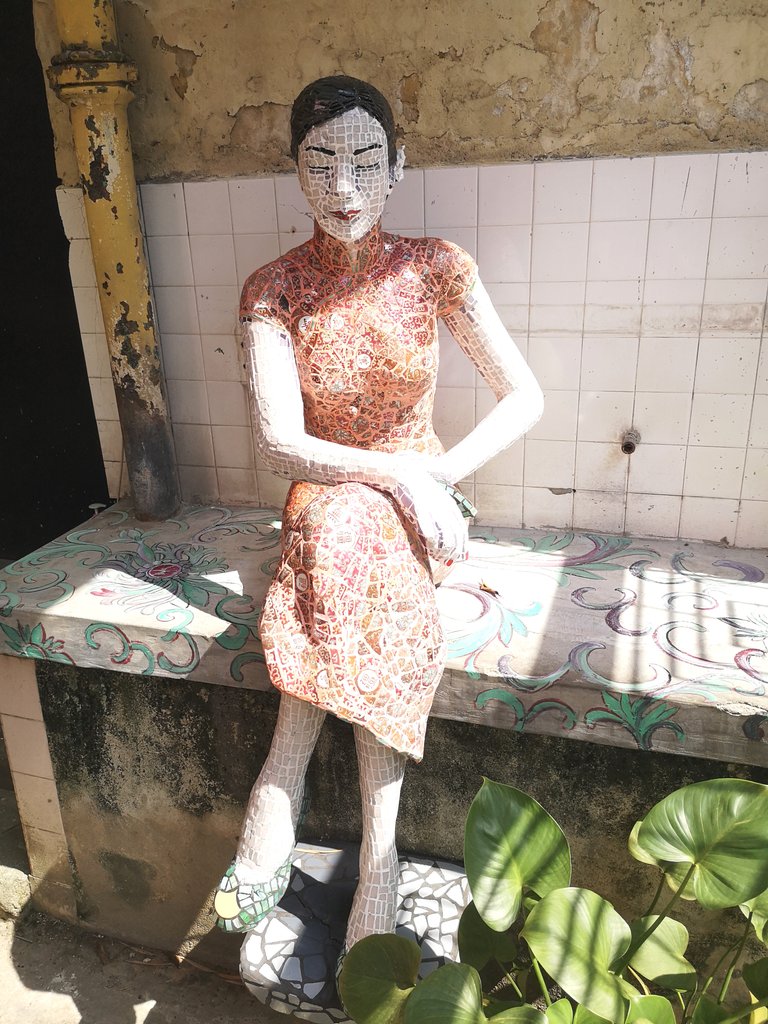 There is a lovely bridge called Red Bridge connecting Lorong Panggung to the back doors of shops. It is called 红桥 in Mandarin. A lot of people took photos here, so we needed to take turn and find the correct timing to cross the bridge.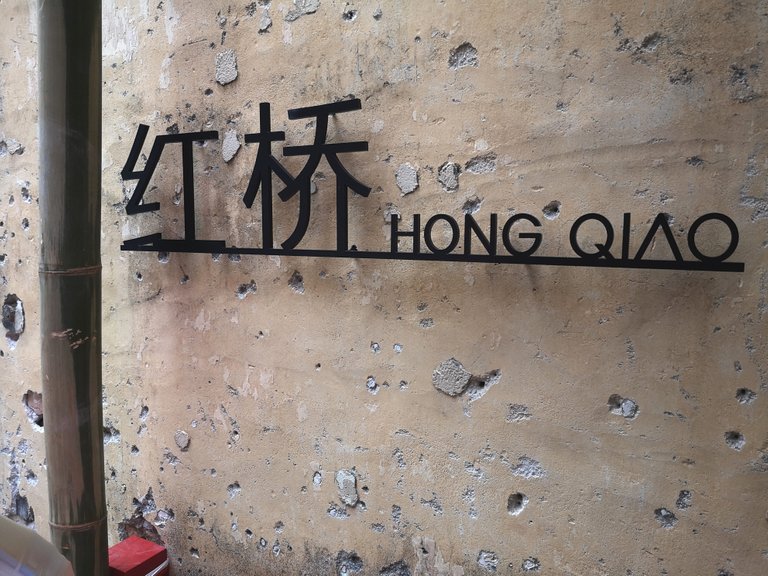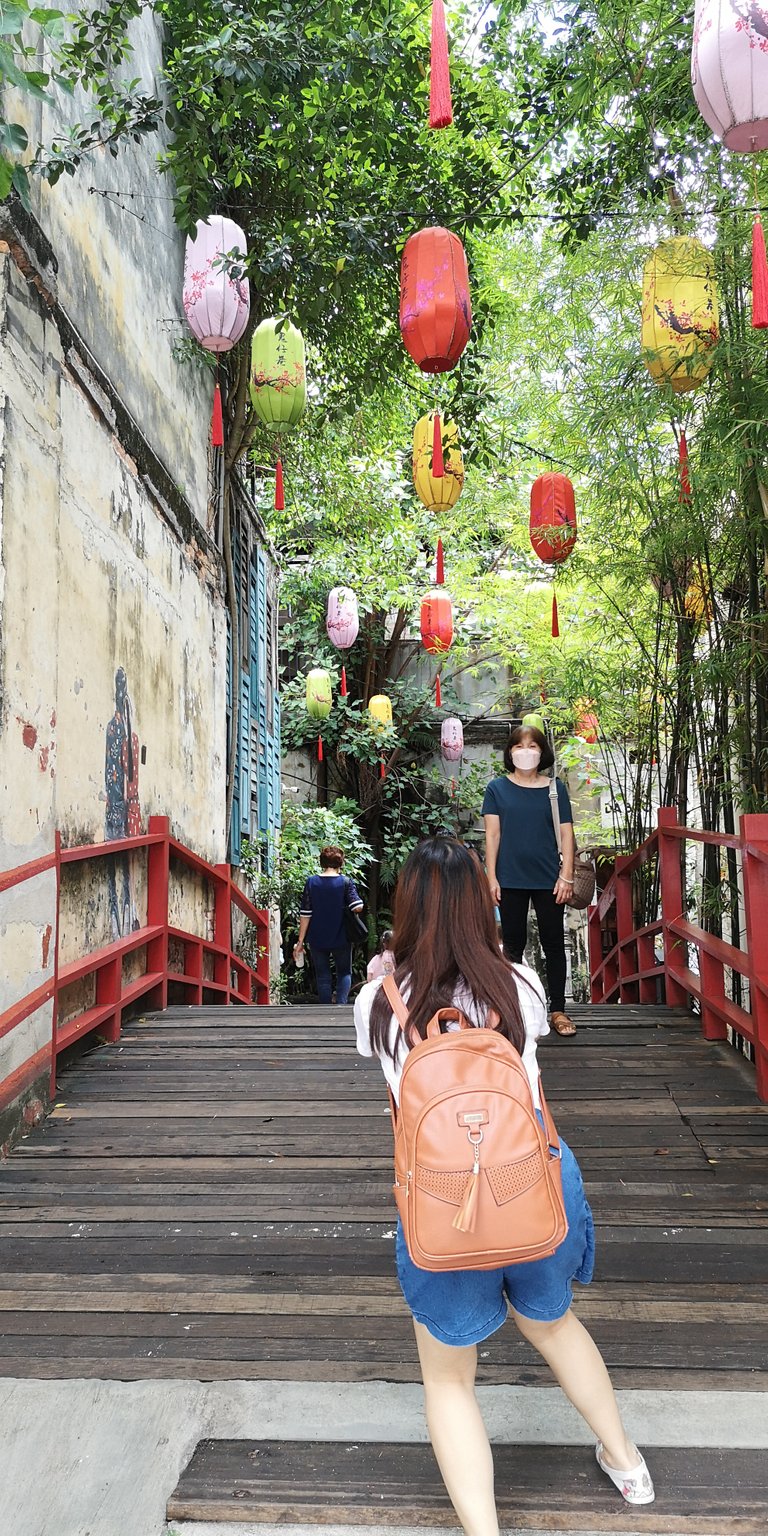 By this time, we noticed many colorful tang-lung hanging on tops. Also a beautiful mural on the left showing lovely intimate couple. So beautifully painted. I fell in love.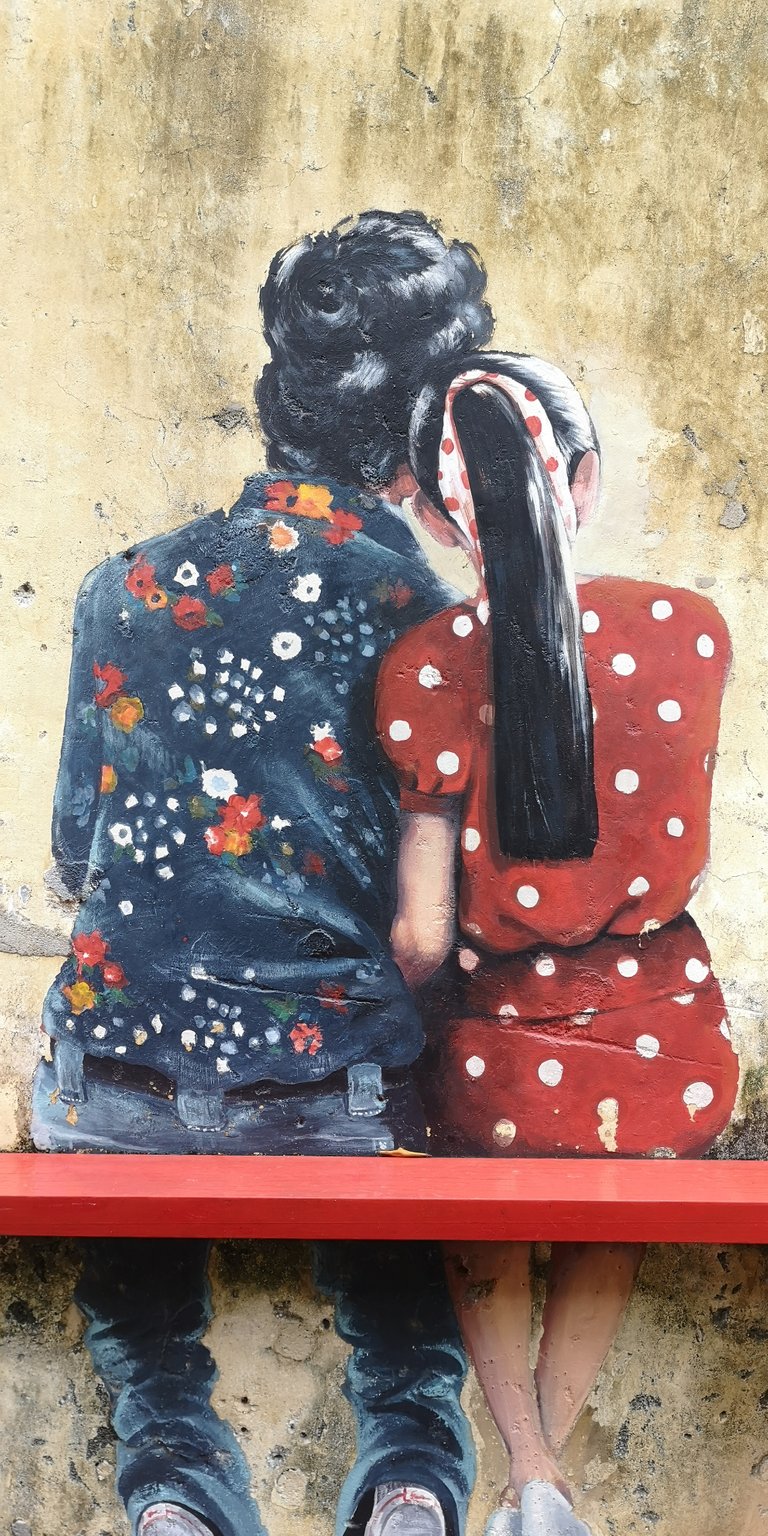 We finally managed to cross the bridge. At the end of the bridge, in front of us, I saw this lamp post which is also the talk of town because it was the longest standing lamp post in KL, been there even before war. Wow!!!
I tried to scoop down to take the whole thing from head to talk, but looked like I failed. Haha. Good try, good try, Jade.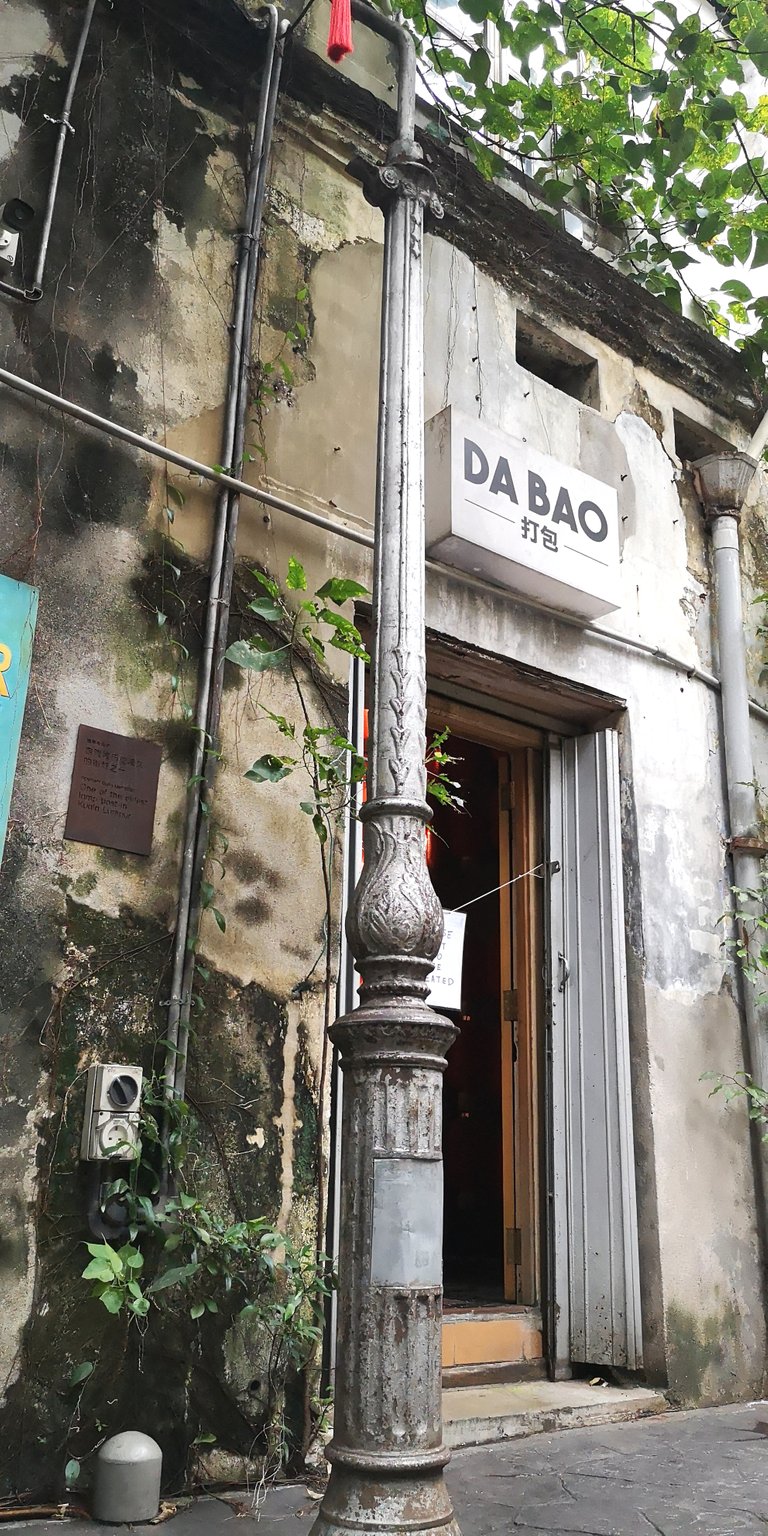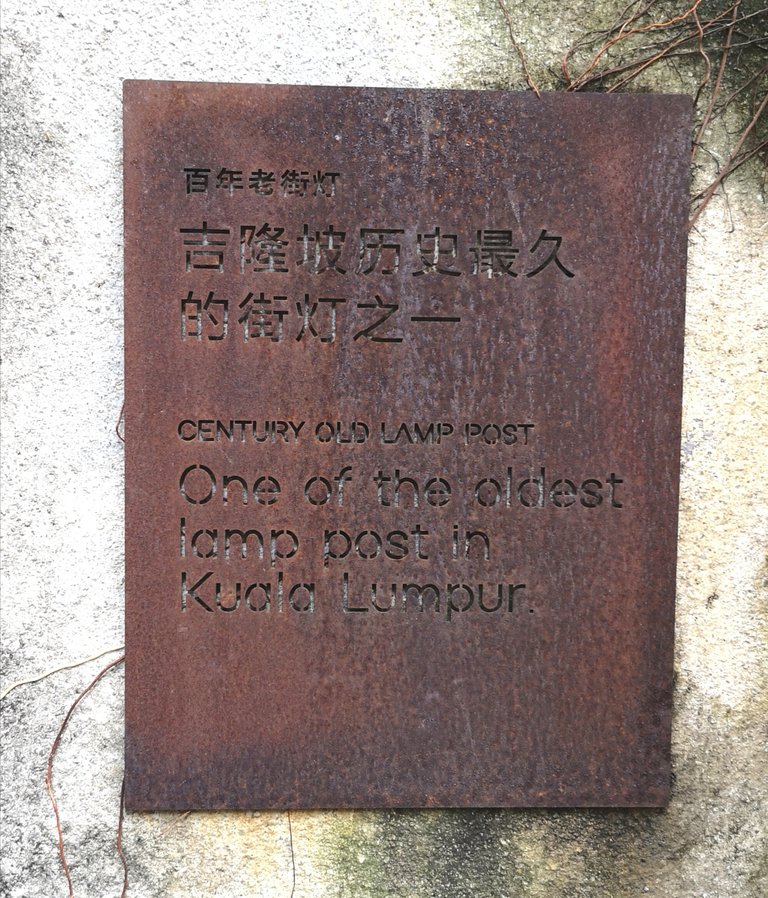 Just beside the lamp post was the back door to Da Bao shop. I had not been and I hope I can dine here one day.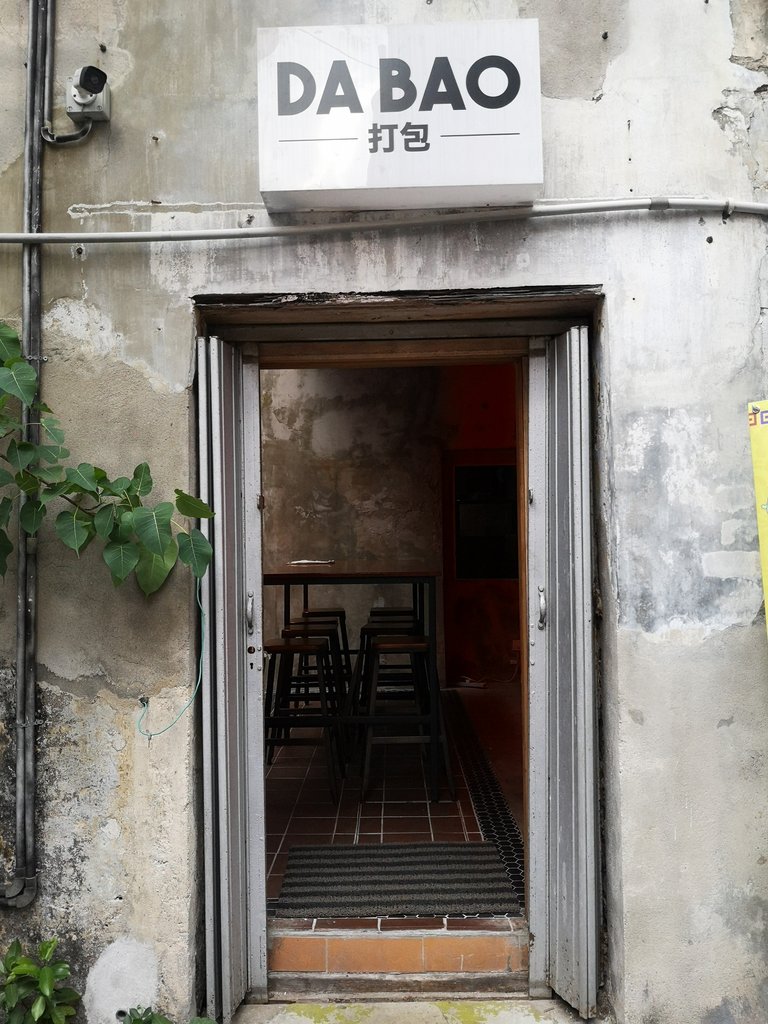 Indeed, this is a heritage, rustic-feel of alley, you could still see some remnants of old building and could imagine how dilapidated it was last time. But now, beautiful beautiful and beautiful.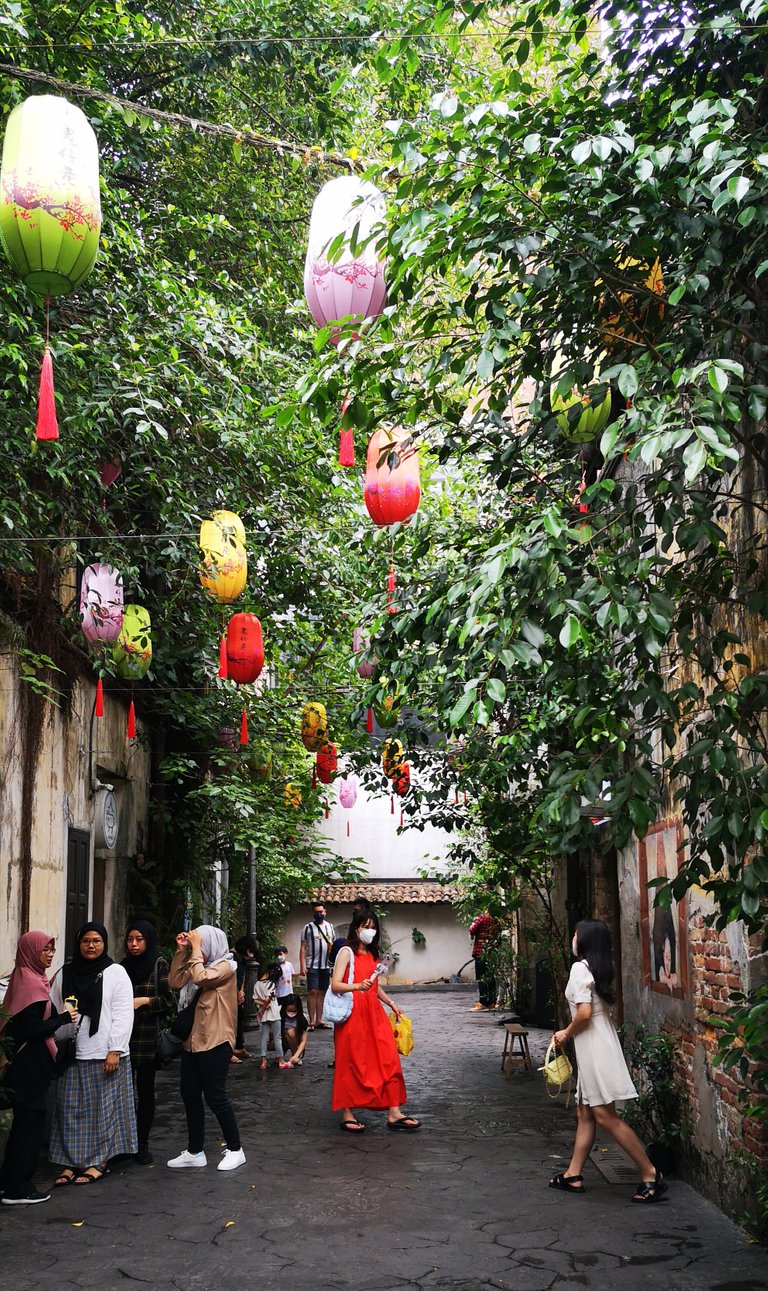 Let's selfie first before I forgot! My combo eye-bag and black eye was terrible due to insufficient sleep, spending time with parents was way more precious than my sleep. Haha.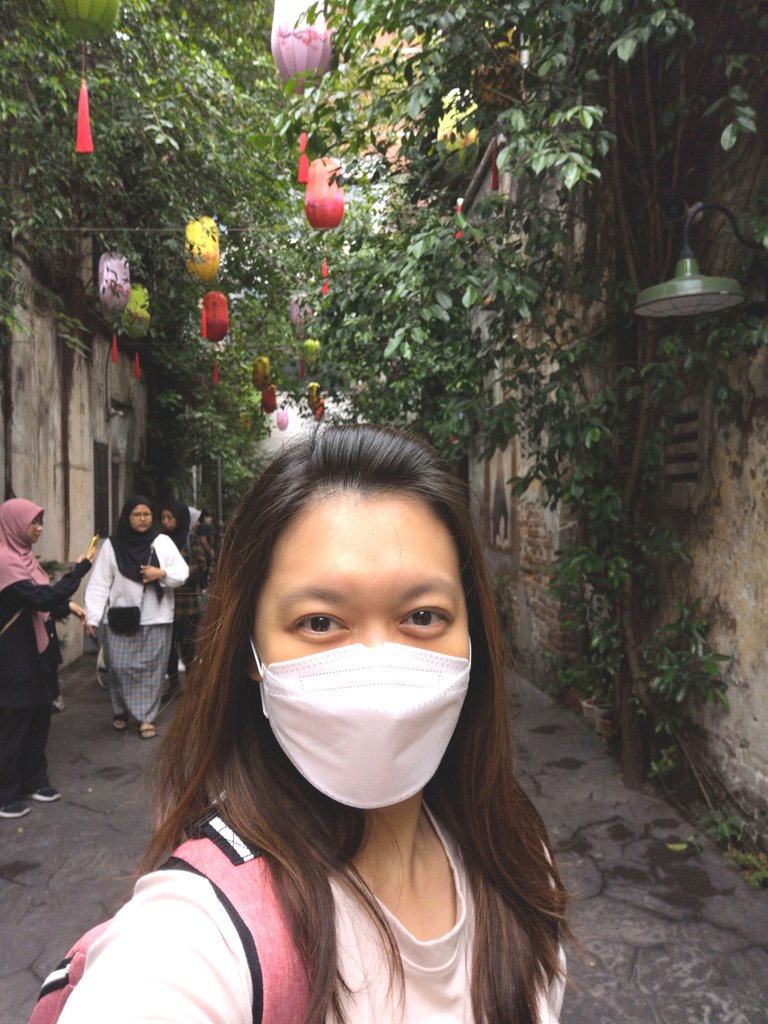 ---
Exploring the murals
Uncle with Er Hu
I asked my parents to sat down at one of the murals to take photo. This is a mural showing an uncle playing a traditional Chinese instrument called 'er hu'.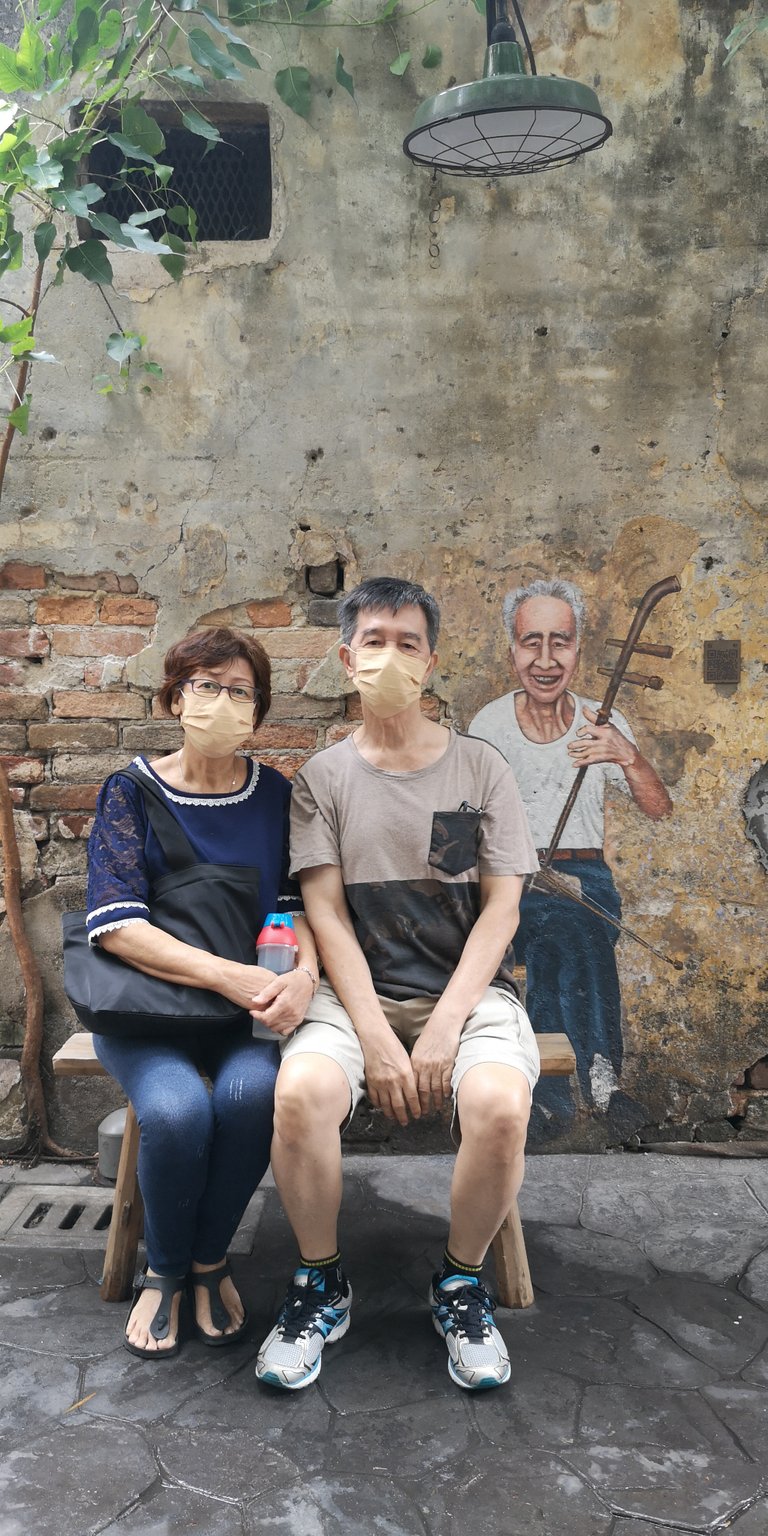 Then, my parents called my boys to join them. Followed by my brother's daughters. Such lovely grandparents and grandchildren photos.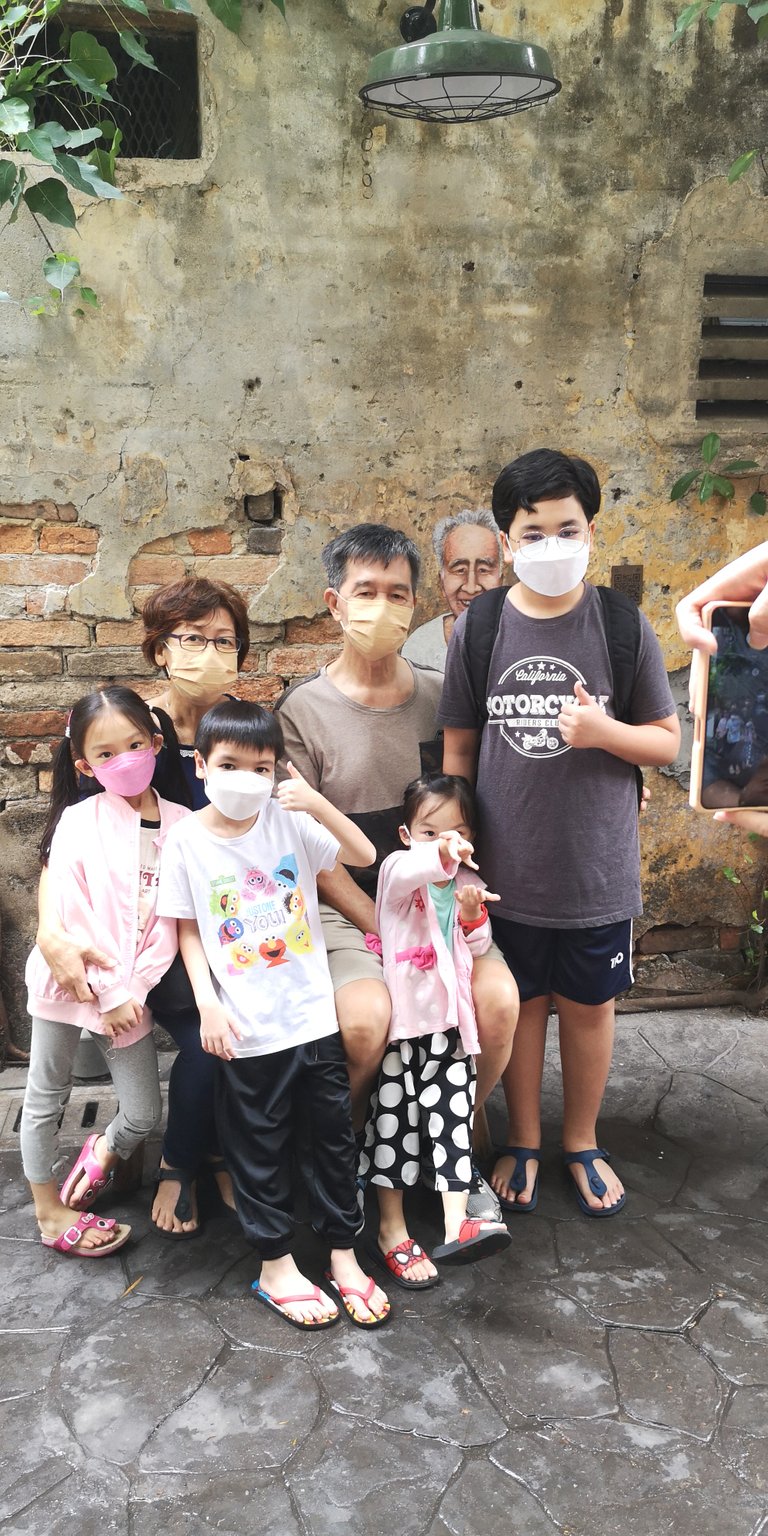 I walked around to look at the murals here which I did not get to do it last year when I was here with husband.
Children playing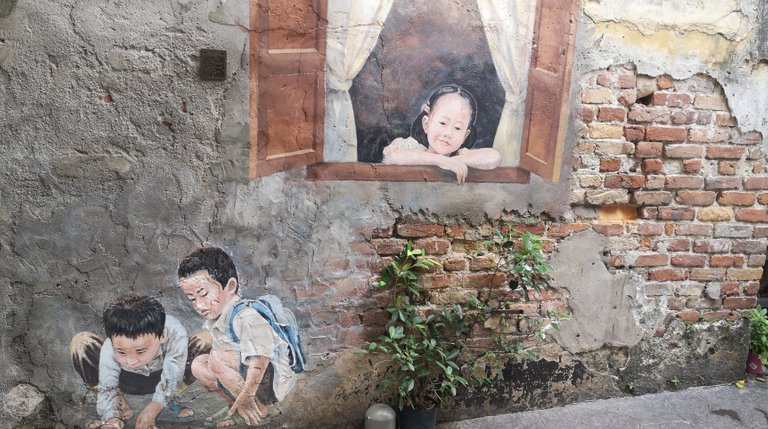 In old days, there we no gadgets. Children playing with one another at the streets of Chinatown were normal scene. Just like this mural.
Prostitution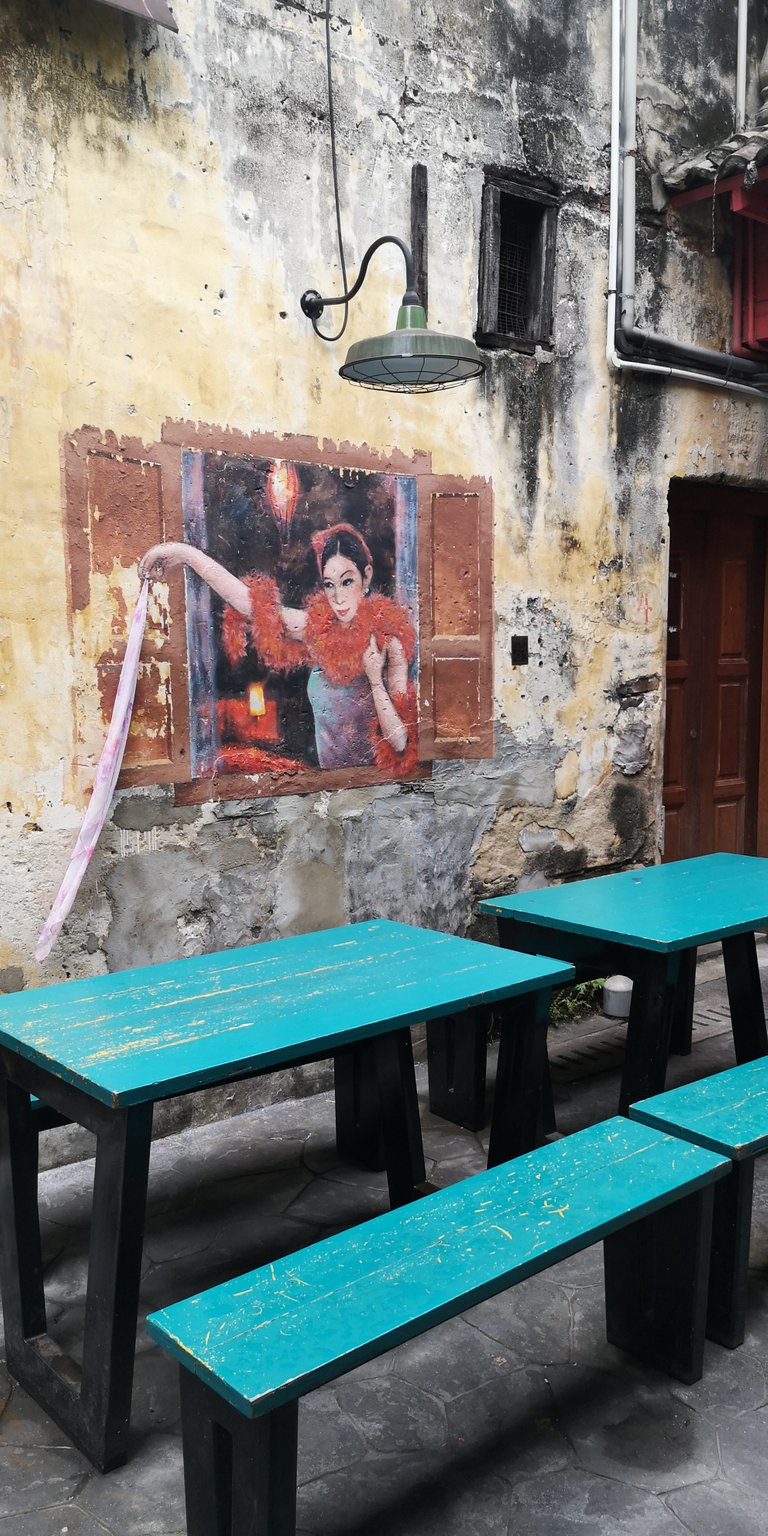 This is a mural showing a prostitute calling out to her customers.
Calligraphy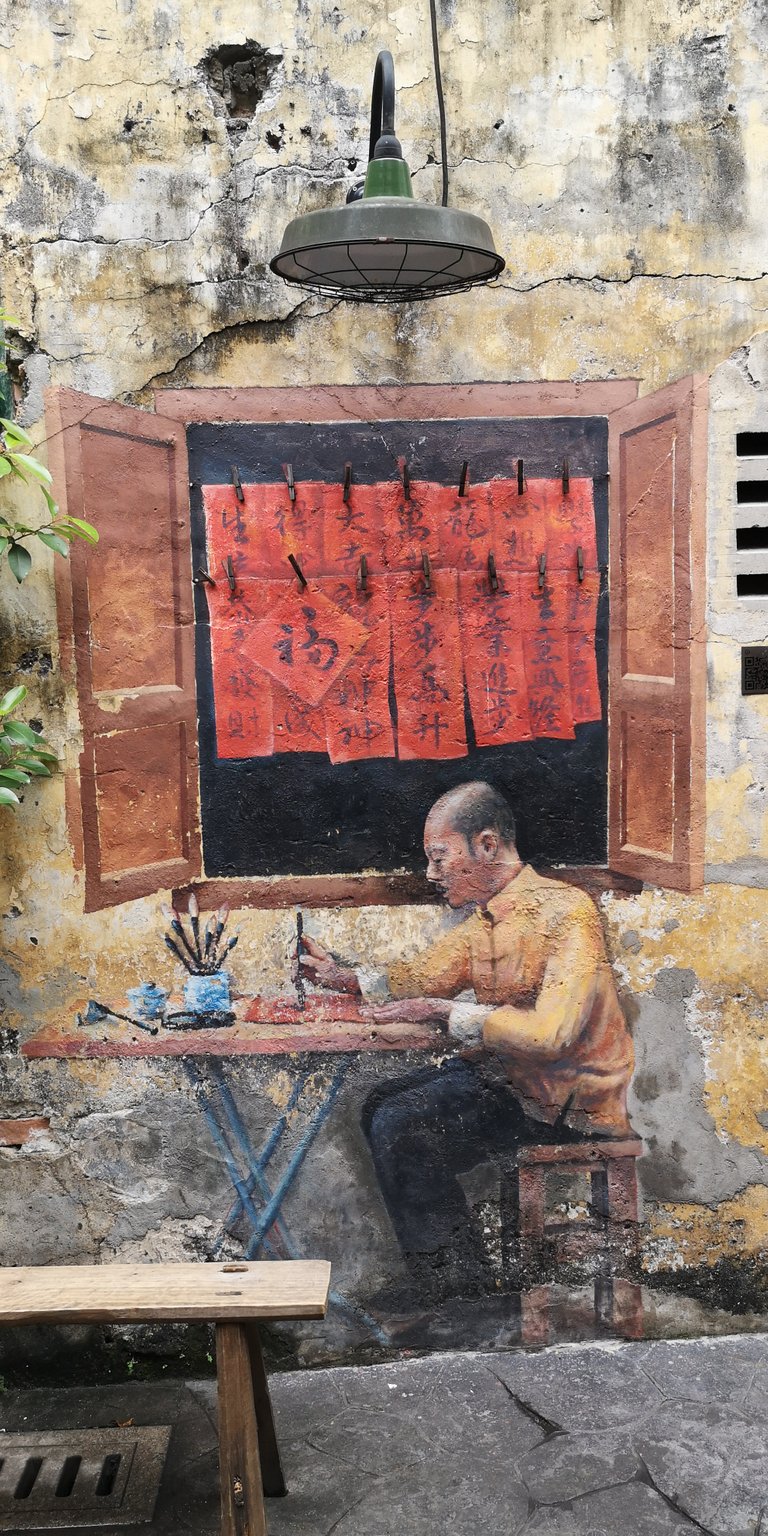 This shows a Chinese Calligrapher helping Chinese illiterate migrants to write letter back to China.
Sharpening knife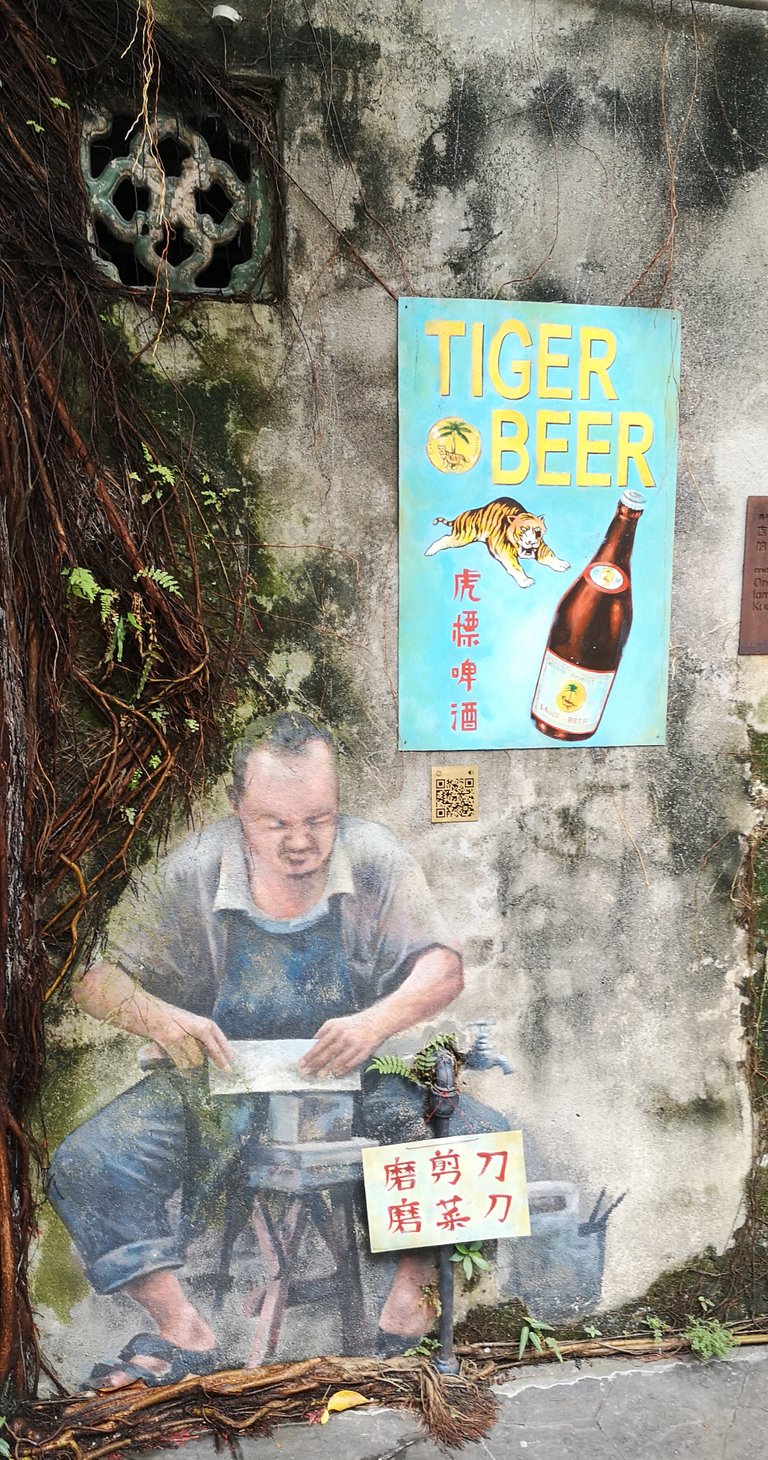 This shows an uncle sharpening knife using traditional way of rock block.
The awesome plants still surviving in the bricks of the building. Wow.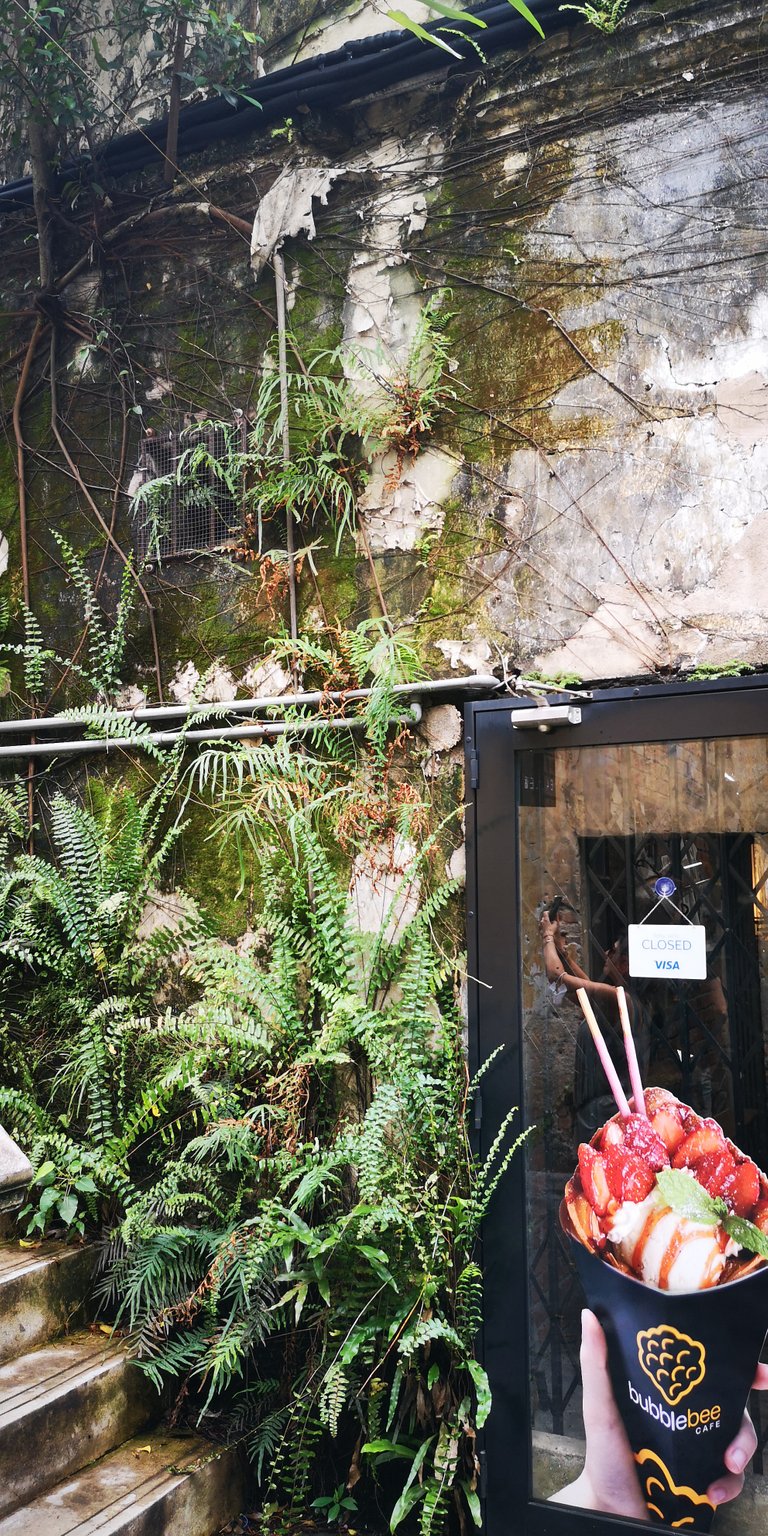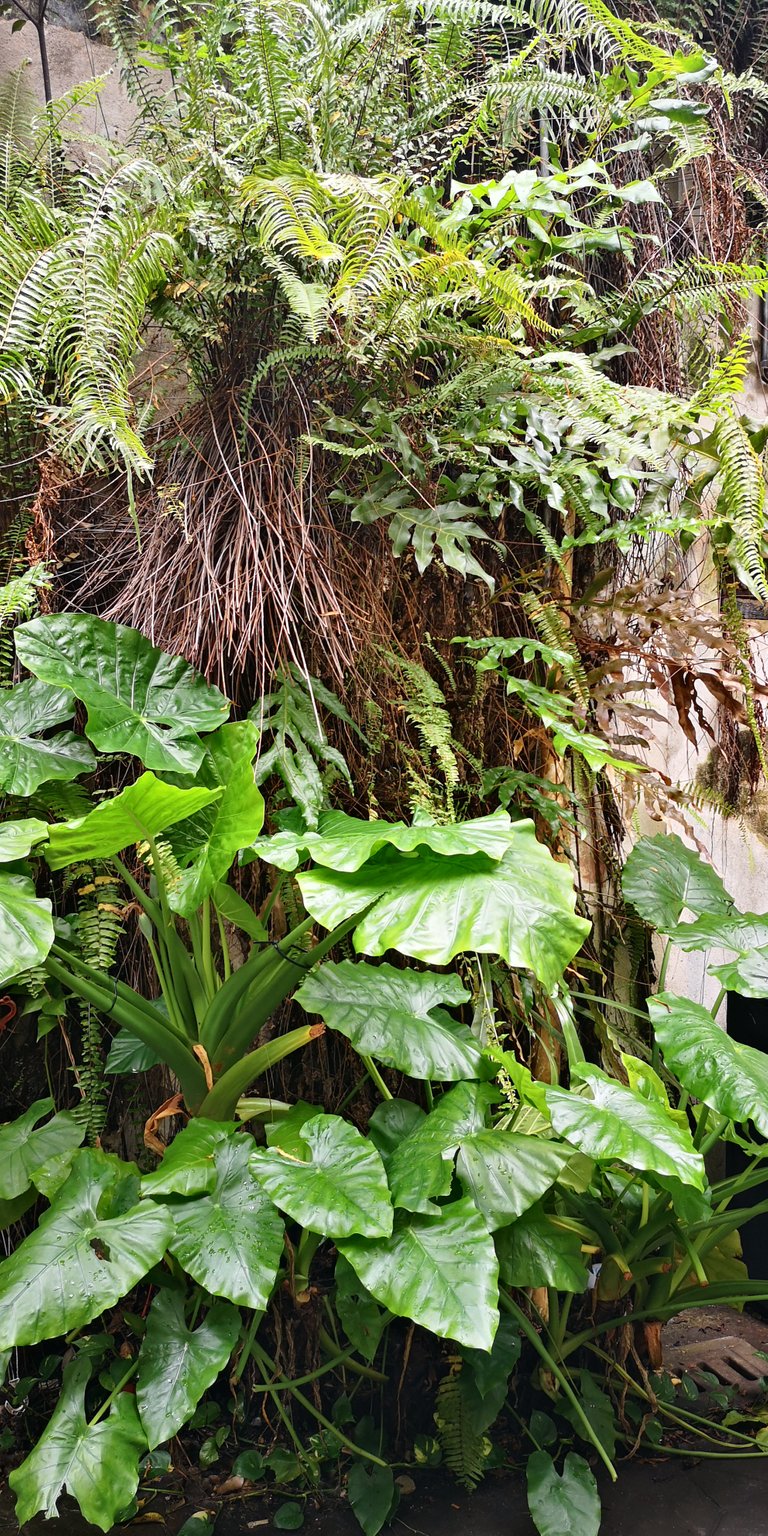 Mural of Chinatown Life
Right at the end of this alley is a corner of biggest mural here, depicting the life of ancient Chinatown. There is a staircase for you to walk up but I did not do it because the children were a little impatience. If you looked closely, you will be able to have a glimpse of how Chinatown life was last time.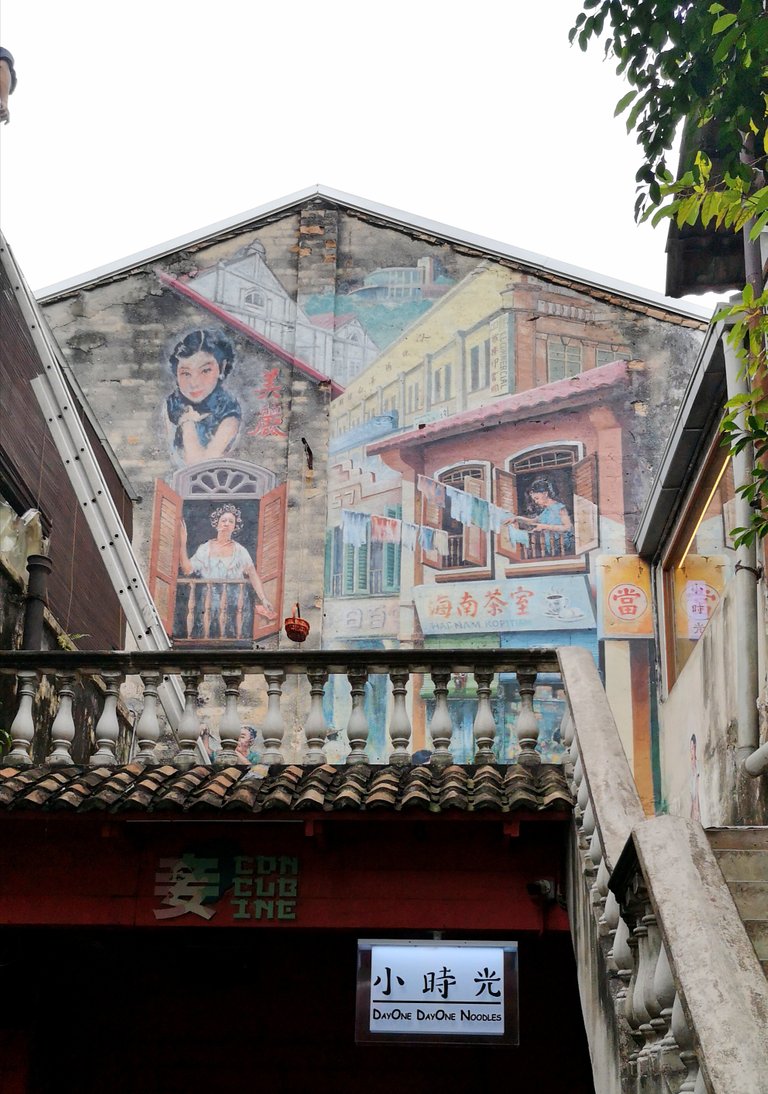 ---
Last year March 2021
I came here last year during my anniversary with hsuband and it was on different theme. Let me show you.
The alley was decorated by these pieces of beautiful long clothes with pattern on it.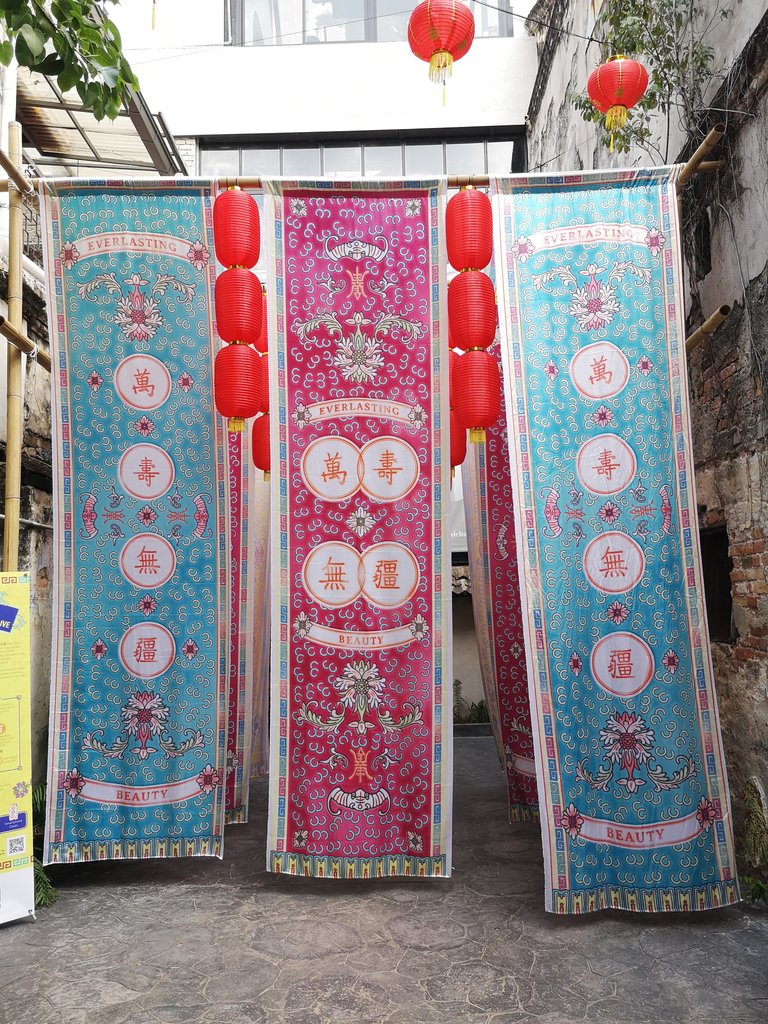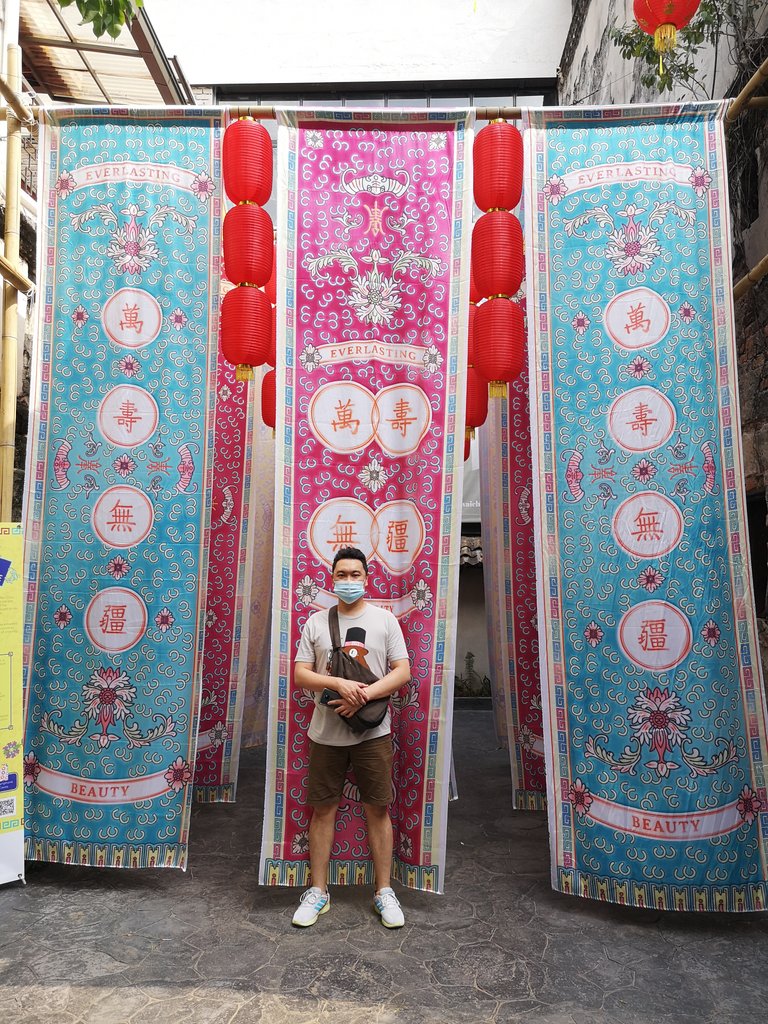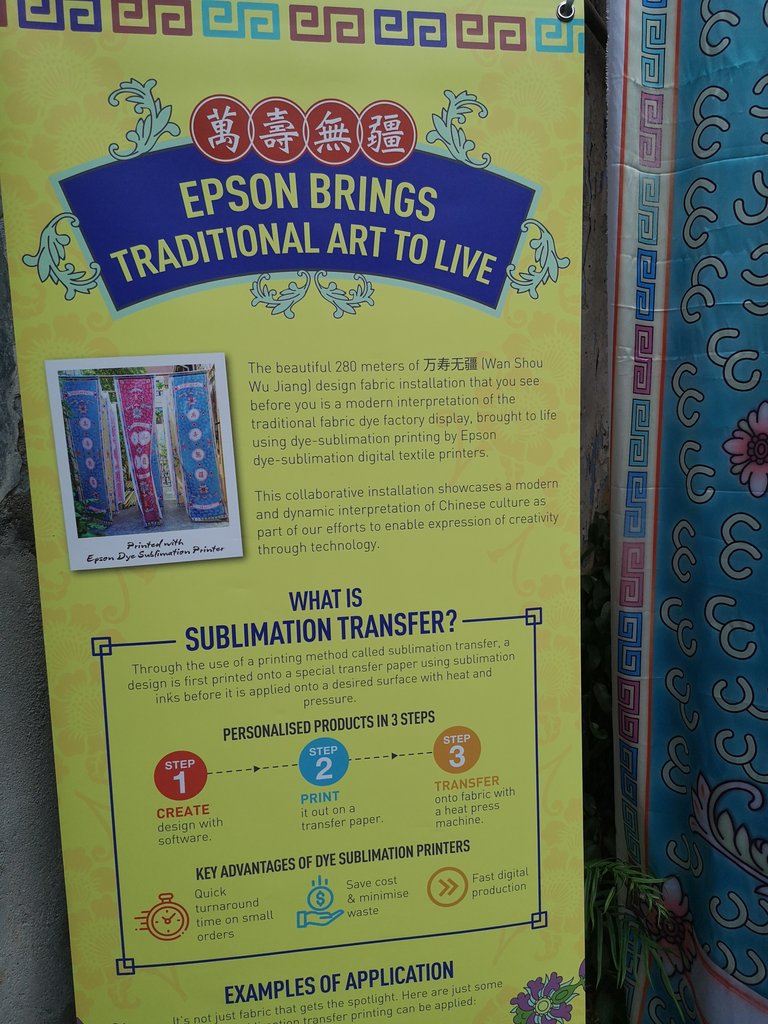 And many red tanglungs too, especially in one corner of empty shoplots.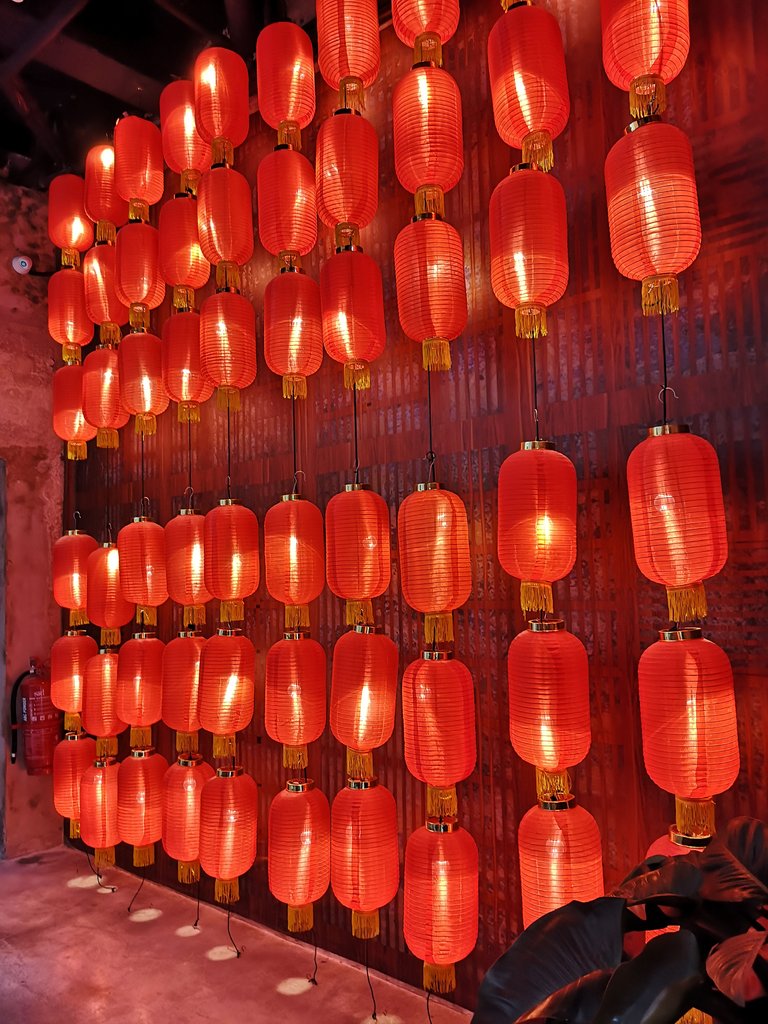 ---
It was a wonderful short walk here. My parents were glad they got to reminisce their good old days walking here. Many things had changed. Bye to Kwai Chai Hong, next up to Petaling Street. Thank you for walking with me to this heritage corner of KL downtown.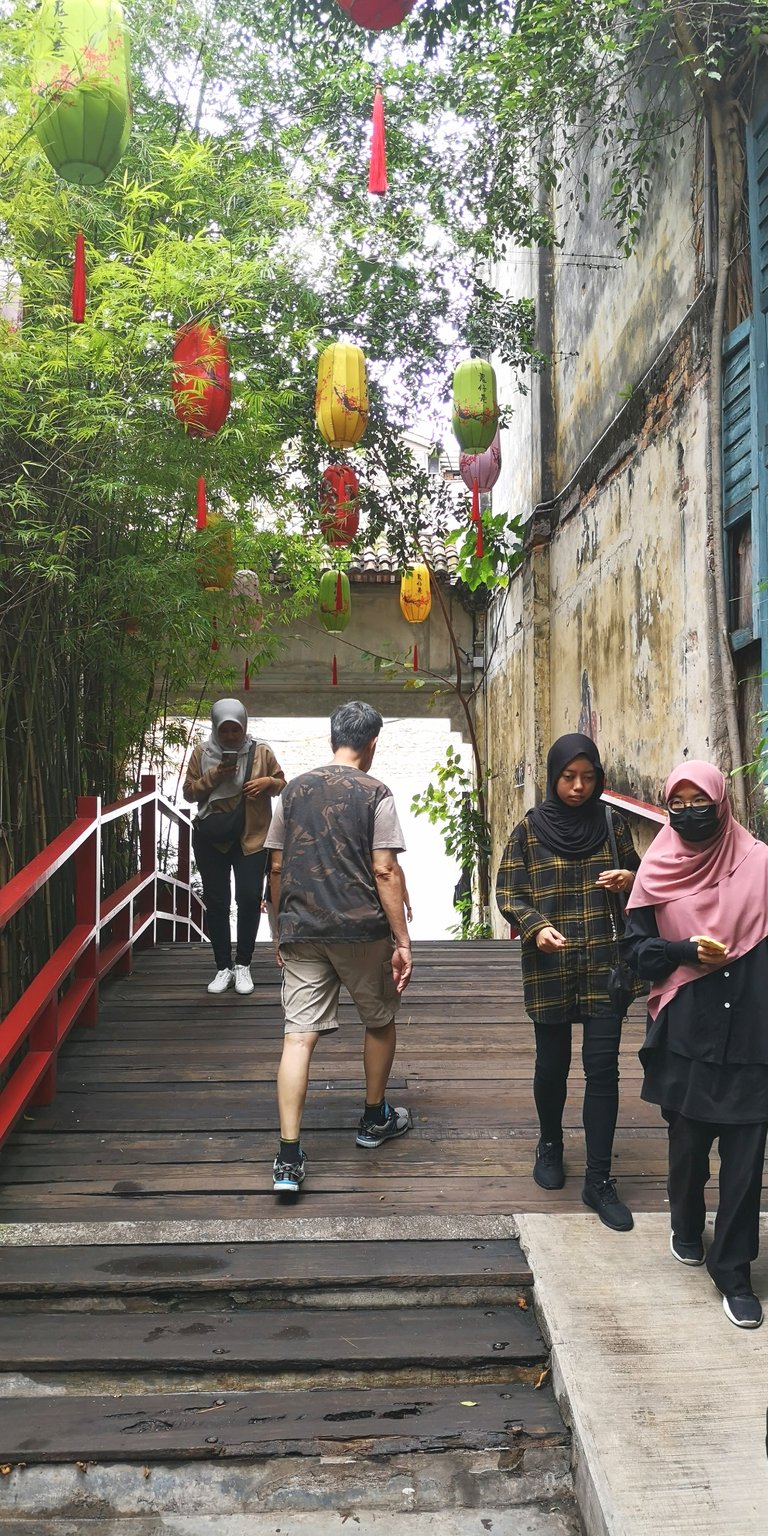 See you in next blog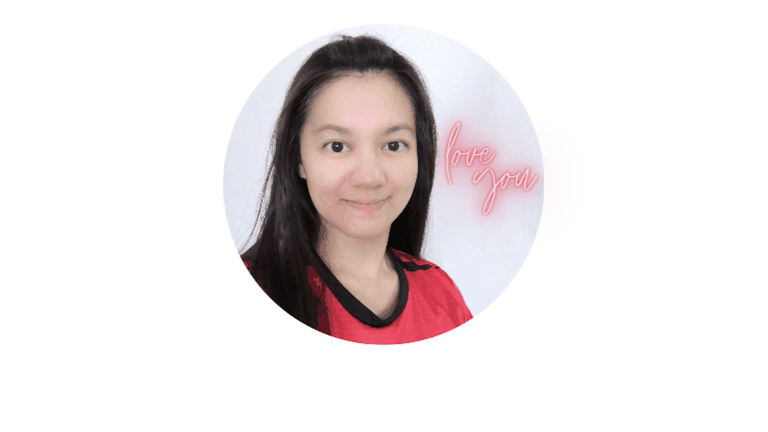 Hello there, I am the lady behind this little space of my blog in this awesome vast Hive blockchain. Often, when I blog, read, curate and get to know new people, I feel that I am no longer stucked inside the four-wall of my apartment, but rather, I am travelling all across the world, just like a little heaven-on-earth experience. Hope you enjoy reading this snippet of my life as I enjoy exploring yours. Thank you for swinging by.