In January I went to Magnolia with a group of friends and we took a walking tour of the Magnolia complex. It is beautiful and inspiring and I want to share it with you.
Magnolia is the creation of Chip and Joanna Gaines after their hit HGTV show Fixer Upper that started in 2013 and ran for 5 seasons. For the show, they remodel homes, mostly in the Waco, Texas.
My Google Fit tracked a 1.51 mile walk.
8:11am .85 miles 1 hour and 41 min
Break for Lunch
11:17am .66 miles 1 hour and 44 min
Silos
The Silos are a famous and easily recognizable landmark in Waco standing at 120 feet (36.576 meters) and they are the heart of Magnolia.
This is also where our Magnolia tour started.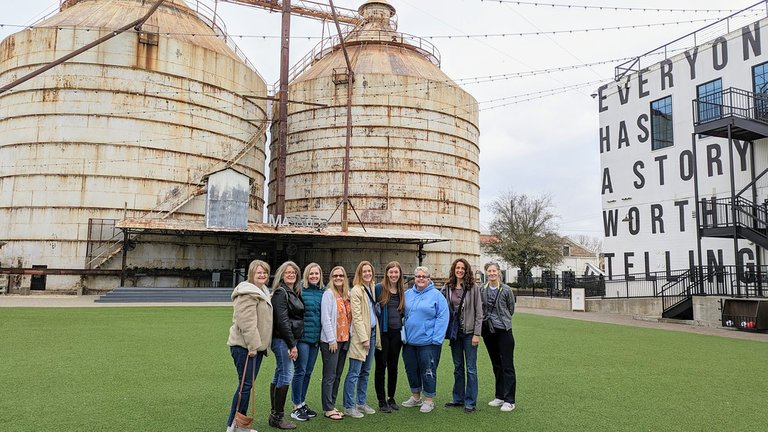 Magnolia Market
This is my second time in Waco. The thing I remember most from my first trip is the market and how beautifully it was styled. I have a T-shirt that I still wear and it is one of my favorites, it so soft! I got a couple more things this time. :)
The Market is a converted grain barn and office building.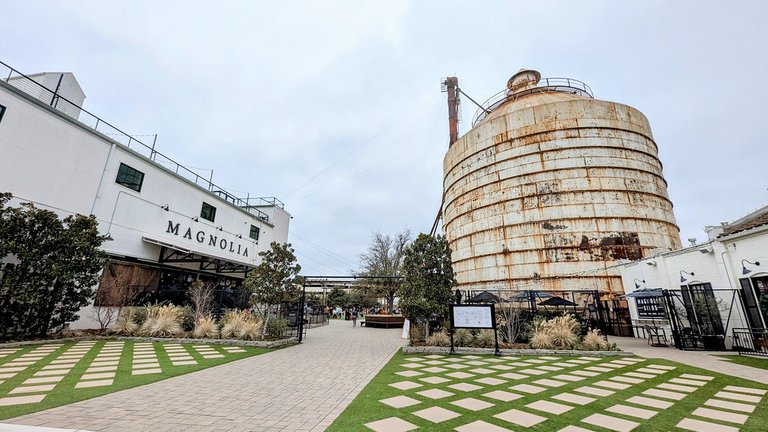 Here is a look at the inside.
Rooftop
The tour included going to the VIP rooftop. It was cool to see the complex from above.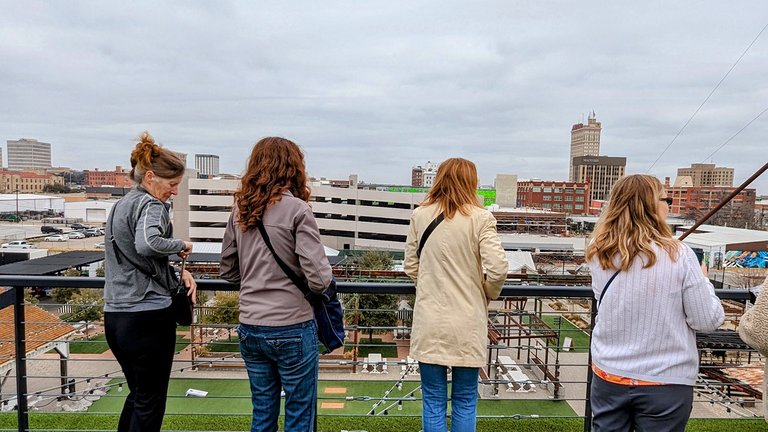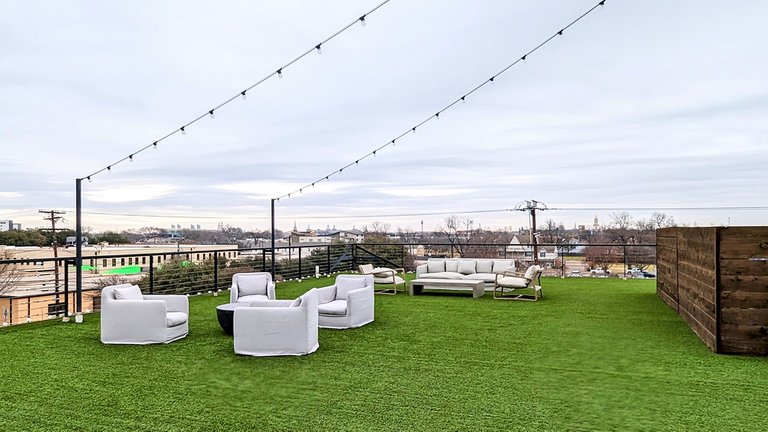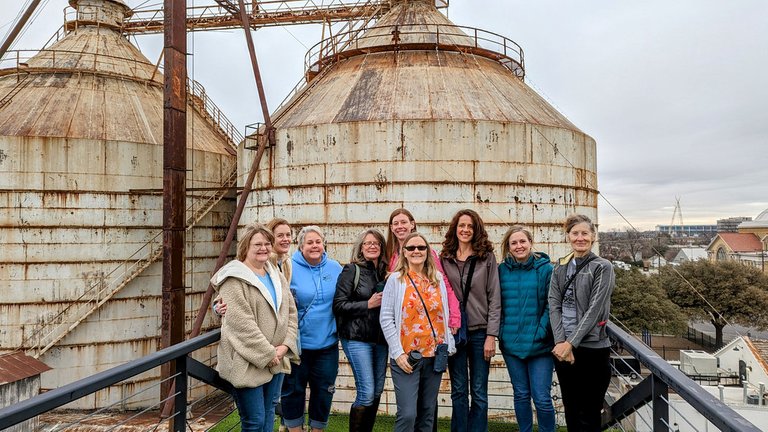 ---
Here is a good shot of the Barn and Lawn.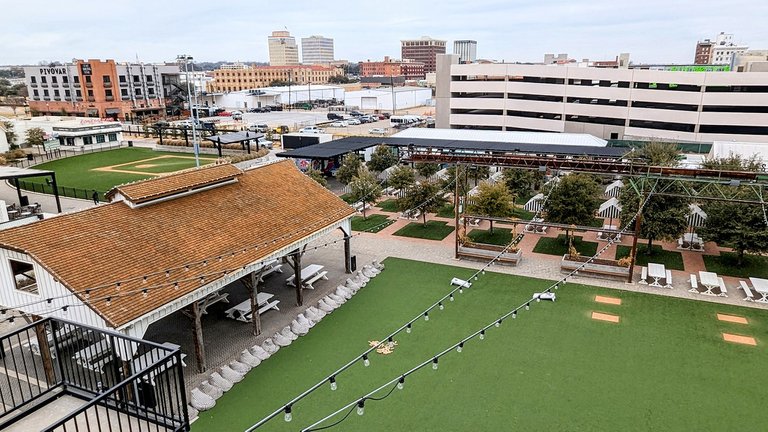 The Barn
Right outside the market is a green space to play and lounge and there is a historic barn that covers some picnic tables.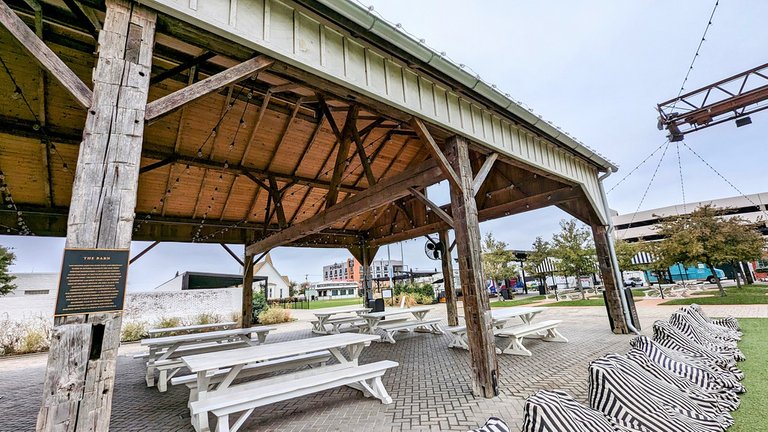 The plaque says,
This historic barn was hand hewn and originally raised in Ontario, Canada in the 1870s. When heritage restorations, a Waco based company found this barn, it was vacant and on the verge of falling apart. The Barn was deconstructed and transported 1,4000 miles to serve a new purpose here on the Silo grounds, On April 29, 2016, the Gaines family and members of the Waco community gathered to participate in an old-fashioned barn raising- A tradition dating back centuries when farmers manually raised the beams of a barn rather than using heavy machinery. Each of the beams weighs approximately 3,000 pounds, and each one required more than 20 people to lift into place.
What a neat history and story. That is how Magnolia is, each part has a special story and history.
---
Lawn Games
This green space is a great area to play or relax. They have all sorts of toys and some bean bags by the Barn.
I also really love the saying on the Market's wall.
Everyone has a story worth telling.
Food Trucks
Magnolia has many food trucks that make some good choices for lunch, dinner or snacks.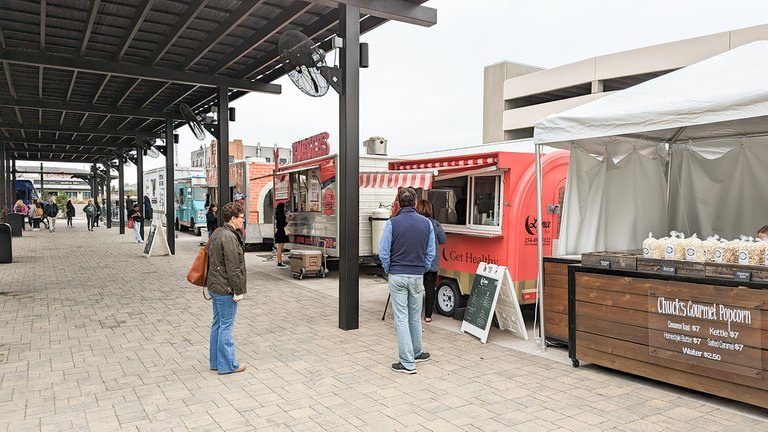 I chose Cheddar Box. I do love me a good grilled cheese sandwich and tomato soup, especially on a chilly day.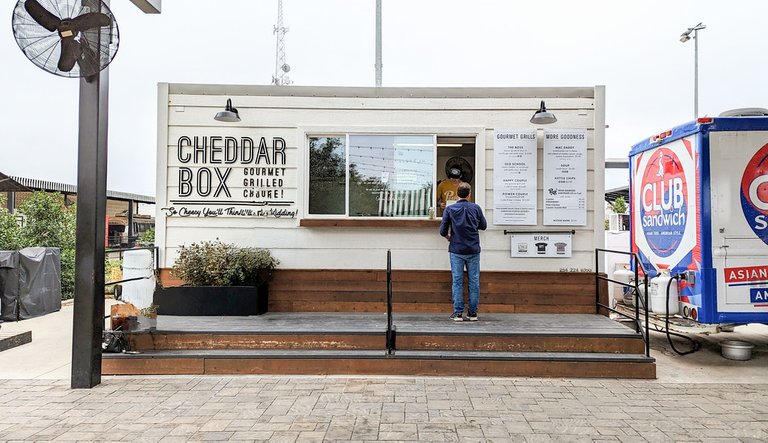 I am not a big fan of popcorn so I didn't taste it but my friends said the kennel corn from one of the food trucks was really goo!
---
Map
Here is a look at the map so you can get a feel of the layout of the complex.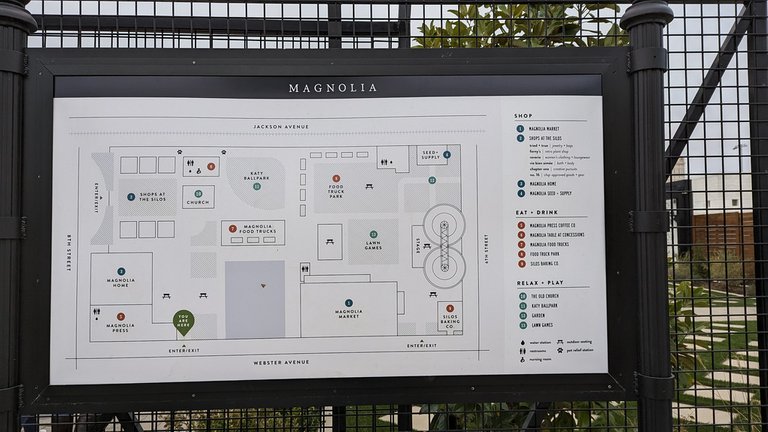 Katy Ballpark
This wiffleball field was such a cool surprise. There are bats and balls and anyone can use them.
The best part for me are the bronze statues of Babe Ruth and Lou Gehrig and the story behind them.
Katy Park opened in 1905 as the home field for several local baseball teams. In 1929, the New York Yankees came to town to play an exhibition game, giving Wacoans a chance to watch legends like Babe Ruth ad Lou Gehrig. After the Great Depression, the field become the home of the minor league Waco Pirates. The 1953 tornado destroyed most of the field, and by 1956 the Pirates had played their last game. Less than a decade later the park was turned into a parking lot.
The first time I went to Magnolia I parked in that parking lot.
It is so much better as a whiffle ball field!
The story of the bronze is very sweet. The tour guide told us about it and later when I watched Fixer Upper The Castle I saw it on TV. Chip gave the statues of Babe Ruth and Lou Gehrig to Jo as a 19 year anniversary gift. The 19th year gift is traditionally a bronze gift. Wow I guess when you have an empire you can give this kind of bronze gift!
Magnolia Press
We were there on a chilly morning in January and so it was a nice treat to get a tea from Magnolia Press, a coffee shop.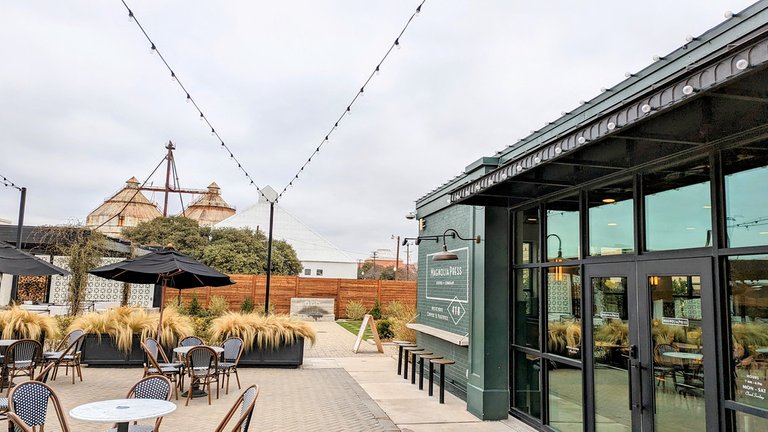 Church
I was looking forward to seeing the old church (it was built in 1894). Like the Barn and Silos the church was abandoned and discovered and revitalized by Chip and Jo to the complex. I was excited to see some holiday decorations still up too.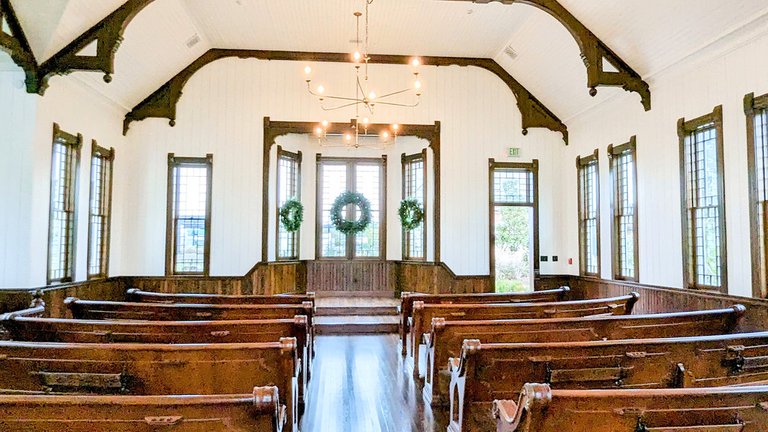 Shops at the Silos
Located to the west of the church is a group of six buildings called Shops at the Silos and each shop has it's own unique theme. My favorite was Ferny's. I do love plants! I tried on a cute sweater in one shop, smelled bath salts in another and bought a water color book in another. This whole place inspires my creativity!
Ferny's Retro Plant shop- Plant shop curated by Jo's younger sister
Chapter One- Books and paper goods
No. 16- Sporting goods
Tried and True- bag, jewelry and accessories curated by Jo
Vie Bien Aimee- bath and body products
Reverie- Women's clothing
Ferny's
We sat in this awesome little retro plant shop for quite awhile.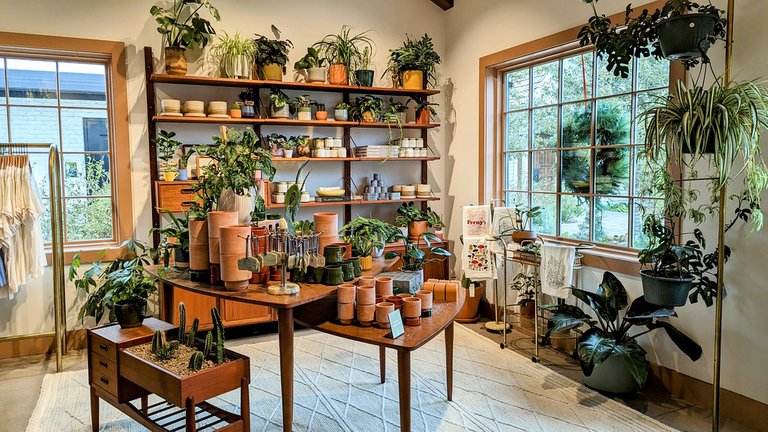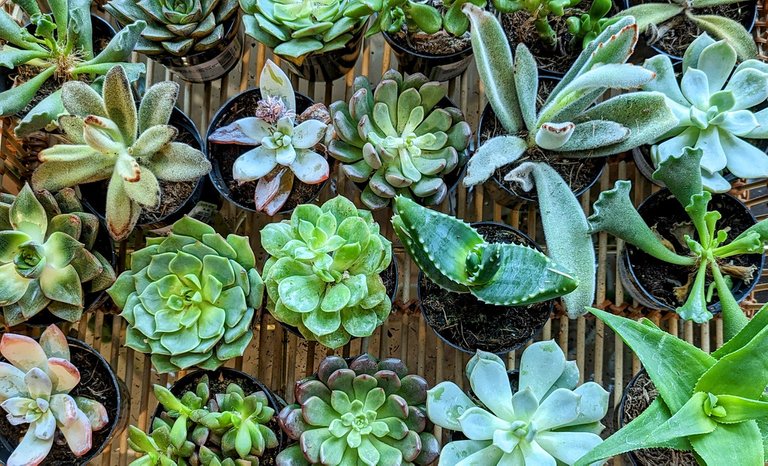 Vie Bien Aimee
I did a selfie of the three sisters in Vie Bien Aimee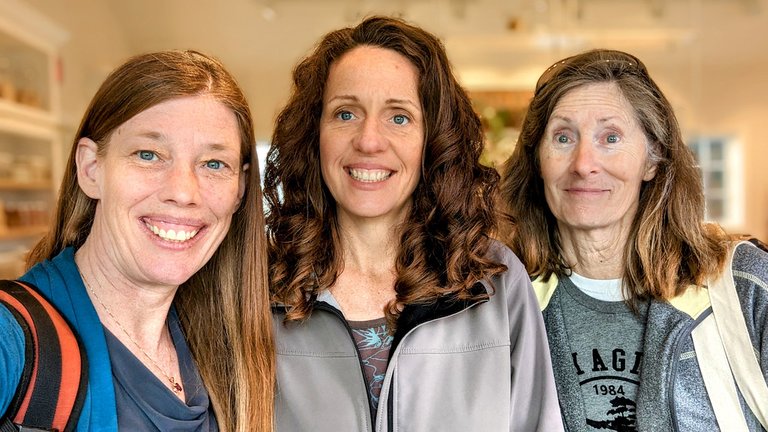 Magnolia Home
Another new addition to the complex that I was excited to see is Magnolia home, which is a furniture store with Jo's sense of design. It was beautiful. The things that inspired me most in the store were the Monstera plant (I got one when I got back) and the brick.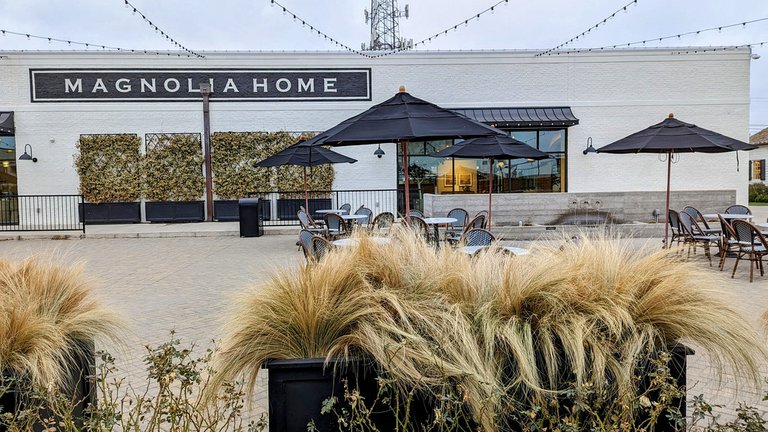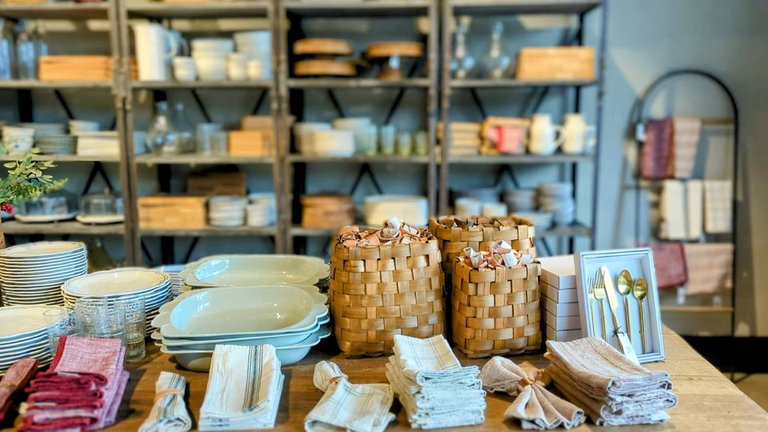 Silos Baking Co.
Let's end with a treat... the bakery.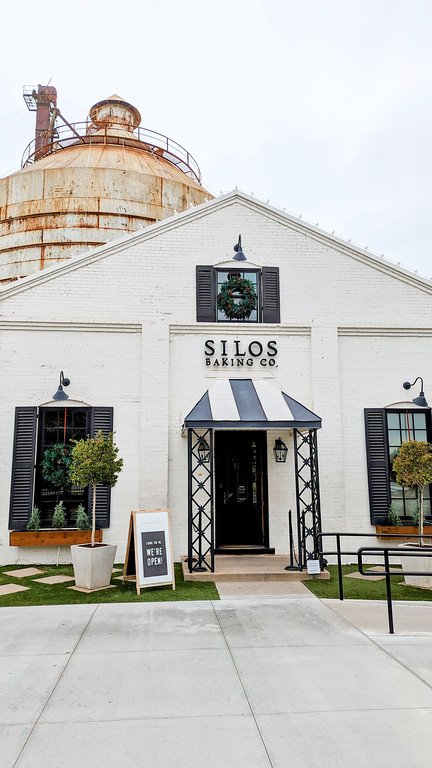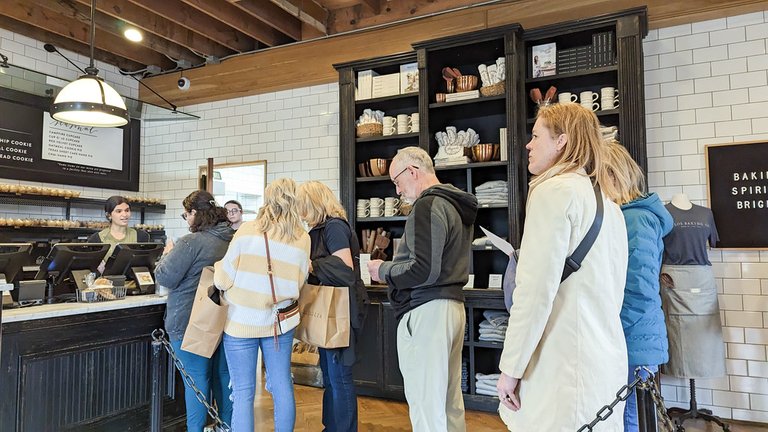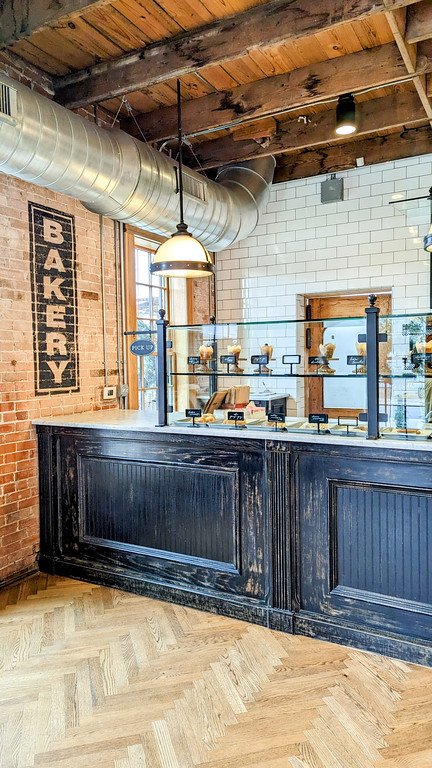 ---
According to the plaque outside the baker.
Originally part of the Brazos Valley Cotton Oil Company property, records indicate this corner building is over 100 years old. After the closure of the mill, this building was briefly transformed into a flower shop, where chip often bought flowers for Joanna while they were dating. The flower shop eventually closed, and as Magnolia started to grow, Joanna dreamed of buying this corner building to use as an office. When Chip and Joanna inquired about purchasing the property, they discovered that the Silos and Grain Barn were included in the sale. Chip and Joanna bought the Silos property in 2014 and transformed this building into Silos Baking Co., which opened for business in June 2016.
I hope you enjoyed this tour of the Magnolia property. It was so fun shopping, eating, resting, discovering and being inspired there.
Sources:
Fixer upper (TV series)
Magnolia Market
New at the Silos: the Old Church
Shops at the Silos

Share Our World Series
2021 posts are here 4 Year Hive Birthday (2021)
All the 2020 posts are here 3 year anniversary on HIVE
All the 2019 posts are here My 2019 Steem Journey
All the 2018 posts are here My Year Journey on Steem