Good evening folks!
How are you doing?
Previous weekend was first weekend after a long time that I was at home for the whole weekend. No trips due to bad weather results in no new material for sharing. But you don't want to hear excuses right, I am sure you want to see new post. Thank God I still have something on stock. I will get back to Logarska Valley. I know I said at Part 5 that it is the final part, but now I have bonus part. There won't be any photography directly connected with Logarska Valley or other natural beauties in vicinity, but will be related to the place where we stayed during our trip to Logarska Valley.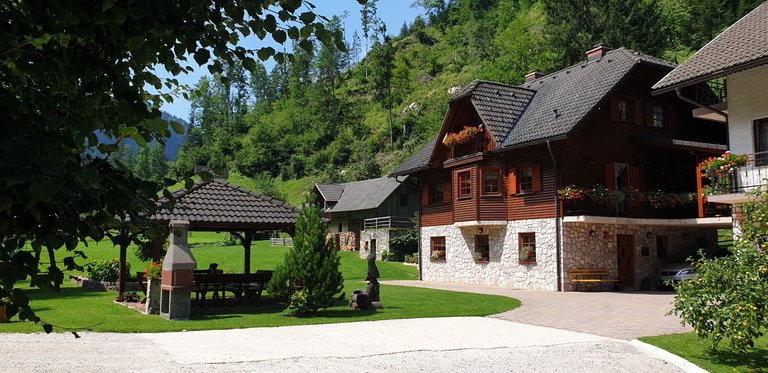 I probably mentioned to you already that Covid did something good for me as well. I got a travel voucher for 200 EUR as all other adult (18 years +) Slovenians. Our government decided to help tourism in these crisis times with giving each resident a touristic voucher which can be spent for accommodation. I spent mine in Logarska Valley, for a three nights stay. Well I had to pay a small amount on top as room rate was 75 EUR per night. Here I can add that the rate is very reasonable compared with what you get.
I can start with home baked cookies we got for welcome at the moment we came to the property to do the check in. I think they were walnut cookies, a really good walnut cookies. They bought me at that moment. What else was included? Stay with food, breakfast. Again it was a delicious meal. It was half served half selfservice. You got nice plate of all kind of salami and cheese for appetizer. Eggs, can not miss at the table with true farmers breakfast. You could get them any way you liked, but the best part was that they came hot. You would say, OK but that is nothing special… No I didn't mean served hot, but they were still hot as they were taken each morning directly from underneath the hen. Great feeling eating so fresh egg and taste was also amazing, or it was only in my head I don't know. Also other ingredients were all from their own garden or local from the farmers in vicinity, plus Nutela, haha, which should not miss.
I put a lot of weight on bread as a bread lover and this aspect made breakfast gorgeous as well. Slightly warm home baked small buns of all kinds. Yummy!
A shame that they don't offer lunches or dinners, but probably they are too busy running all other business on the farm and rather to be above quality at what they offer than just offer everything just that they do.
Well I am not sure if I even mentioned in which type of accommodation we stayed at the beginning…
It was a tourist farm. They had beautiful garden with a lot of vegetables. They spices garden was also amazing and I never drank lavender juice before, but the one they do is awesome.
They also have several goats plus two pigs beside roosters and hens and a cat as well.
Animals were a nice addition for our young one who was calling the goats beeeee beeeee when we departed all the way to our home.
What else should I mention?
Definitely amazing surroundings of the place. So much space and all so nicely maintained. You can really relax there and recharges you battery.
There is also river nearby, which creates nice sound when you are relaxing. It is too cold to swim in it, but you can walk in it for a while and throw some stones with kids…
I left interior of the house for the end. Not that there would be anything wrong with it, but we didn't spend much time inside as place there is so beautiful it is a shame to be inside. There is so much to do over the day that I am not sure whether the bed was so confortable or we were so tired to sleep that well :) Room had a balcony with amazing Mountain View. We are putting white noise sometimes for our young one to sleep better, but there was no need as we heard the river into the room which calm him down a bit for a good night sleep. Room size is decent, but as I said don't need more if you are only sleeping. There is small SPA in the building as well which you can hire privately for the supplement. We didn't try it out, but I am sure it meets all it needs.
To close this thing I will add a few words about the hosts. Great people, who knows how to do tourism. They were helpful with a lot of tips. You could feel positive energy from the cookies moment :) They are a musical family, for which I heard they love playing to their guests as well. We didn't have the opportunity to hear them out, but I am sure there will still be the opportunity as we will definitely be back!
That lovely place you will see below is called Tourist Farm Čerček.
If you haven't been there yet, make sure to stay there during your visit of Logarska Valley.