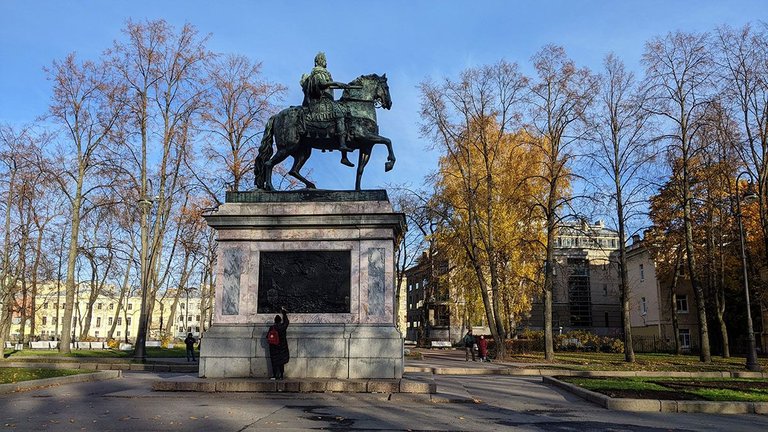 Late fall sunny days feel like a gift. After several gloomy rainy days, it's a joy to see blue skies outside the window in the morning. This time I went for a walk to Mikhaylovsky Garden. On my way to the garden I met two monuments: the monument to Emperor Peter I and the monument to Emperor Paul I.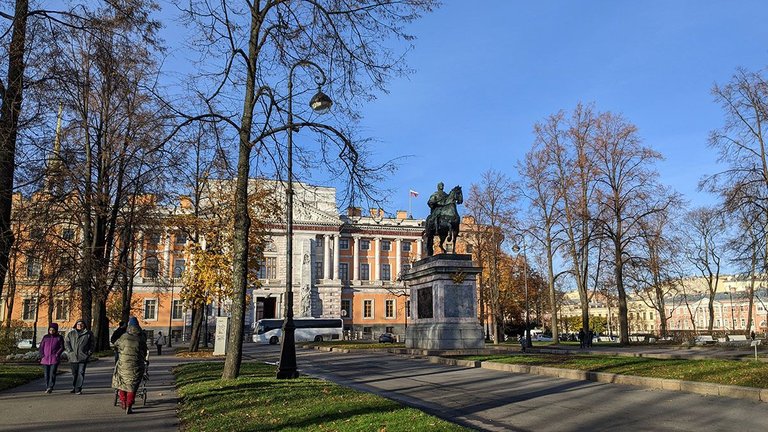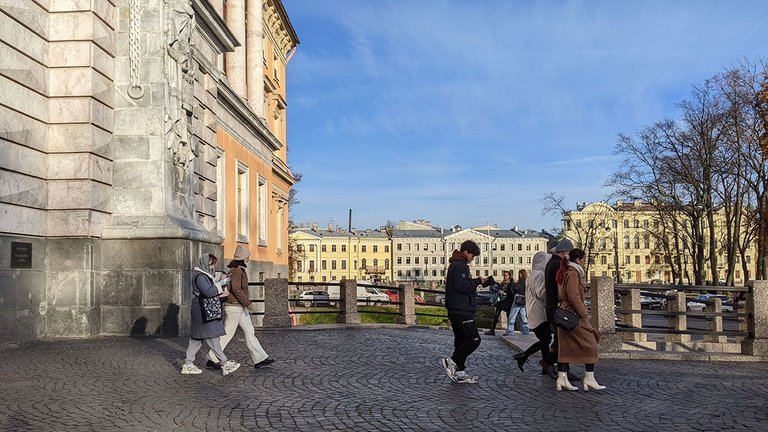 The bronze equestrian monument to Emperor Peter the Great is in front of St. Michael's Castle, the great sculptor Bartolomeo Carlo Rastrelli was the author of this monument. This monument is very famous, it is mentioned in all travel guides. In the people this monument is also popular, and the maximum attention is attracted by two bas-reliefs decorating the sides of the stone pedestal. It is believed that some figures on these bas-reliefs have the special ability to help in various troubles of life. According to the belief, it is necessary to touch certain details (hand, boot, etc.). These details are polished by many touches and shine brightly.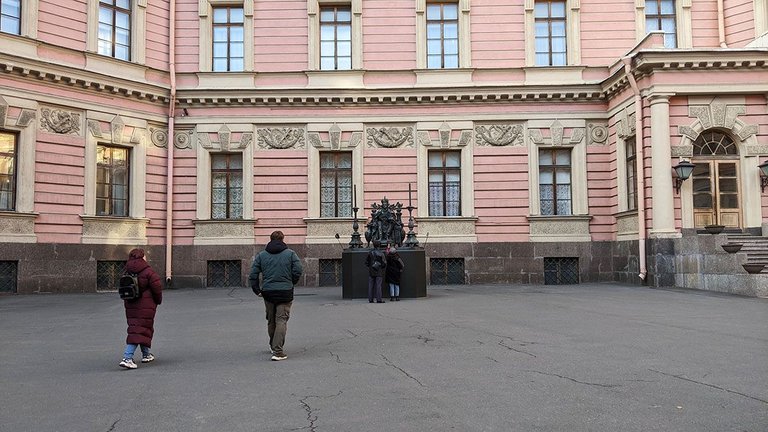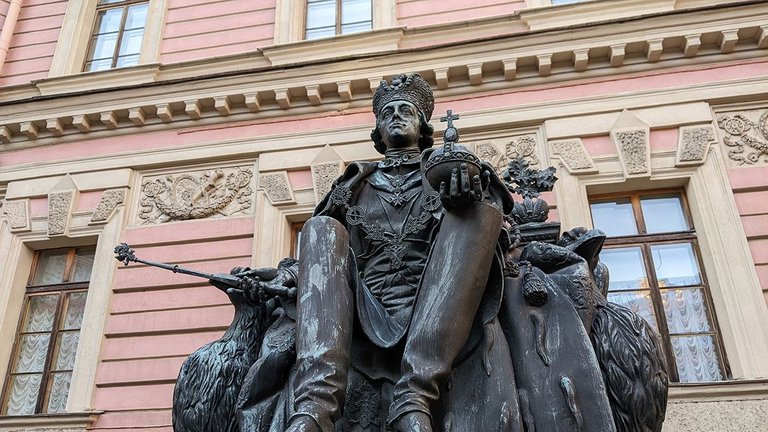 I didn't pay much attention to the monument to Emperor Peter the Great this time, I focused more on the monument to Emperor Paul I. It is one of St. Petersburg's youngest monuments, it was unveiled in he 2003.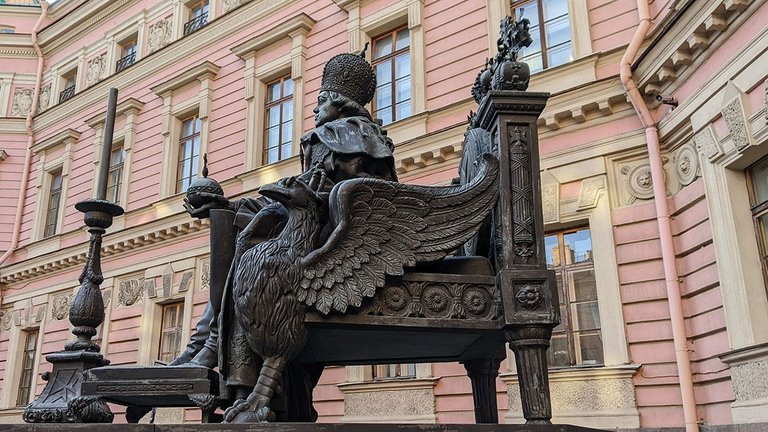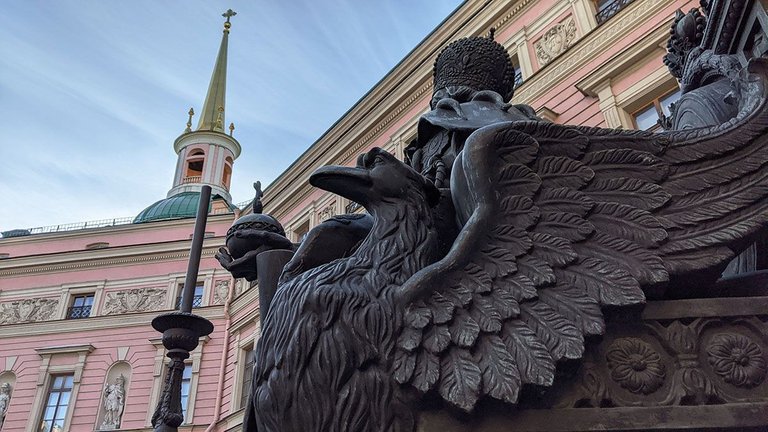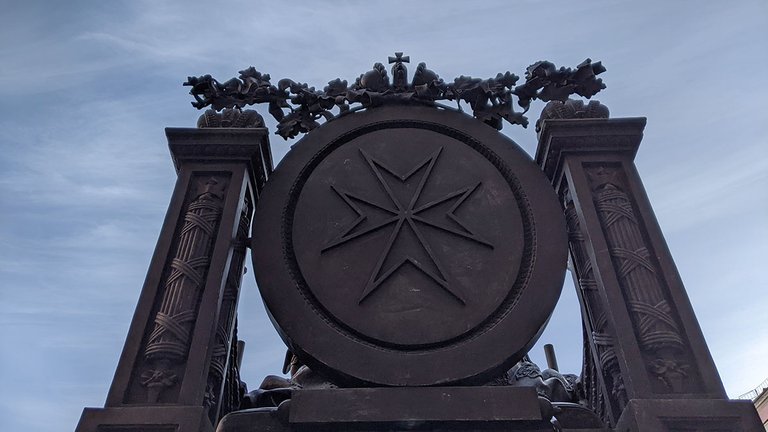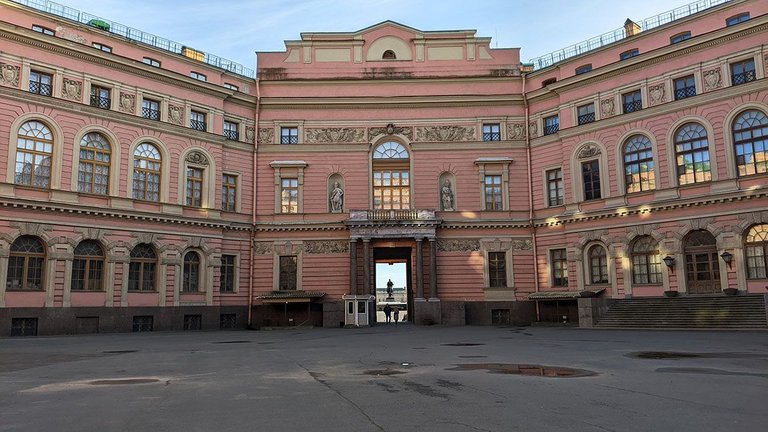 This emperor had a tragic fate, he is sometimes called the Russian Hamlet. The emperor sits on a throne decorated with figures of griffins, the symbols of the Russian imperial house. If you go around the monument, you can see an unexpected symbol - the Maltese cross on the back of the throne. The Order of Malta found a refuge in Russia after Malta surrendered to French troops led by Napoleon Bonaparte in 1798. Emperor Paul I was elected Grand Master of the Order of Malta.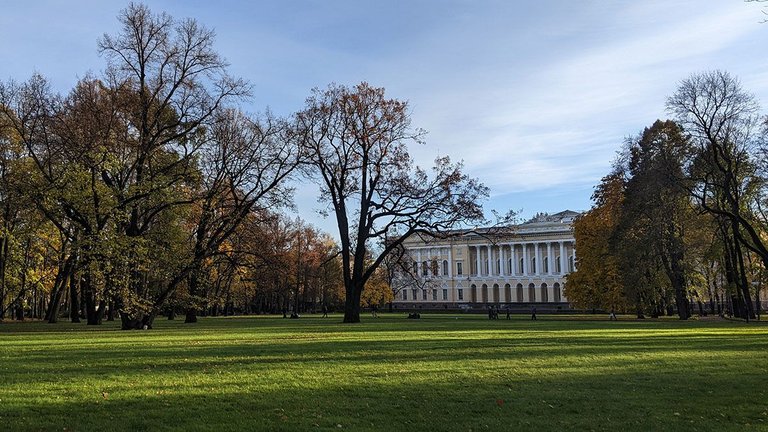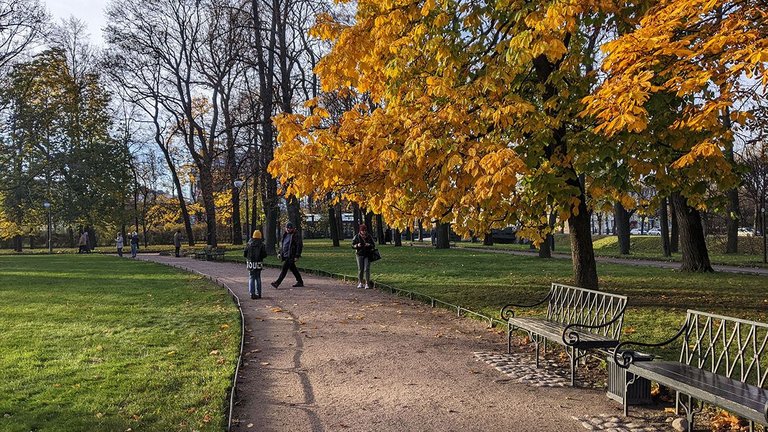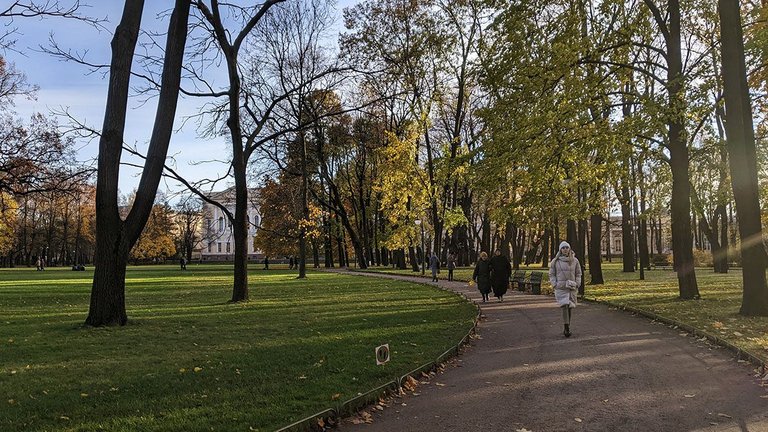 Mikhaylovsky Garden is located opposite the St. Michael's Castle. This garden covers a large area from Sadovaya Street to the Griboyedov Canal. On the south side Mikhailovsky Garden adjoins Mikhailovsky Palace. In Russian the name of the castle and the palace sounds the same, "Mikhailovsky", and it may seem that the names of Castle, Garden and Palace have the same origin, but it is not so. Mikhailovsky Palace owes its name to its owner, Grand Duke Mikhail Pavlovich, son of Emperor Pavel I. The castle was named after the temple of Archangel Michael, located there.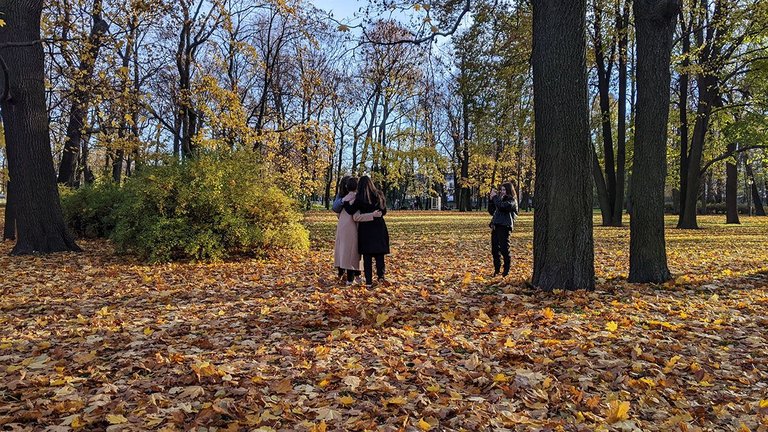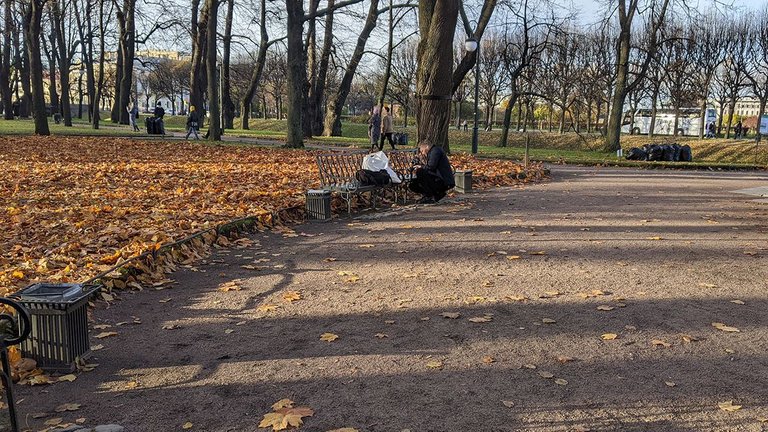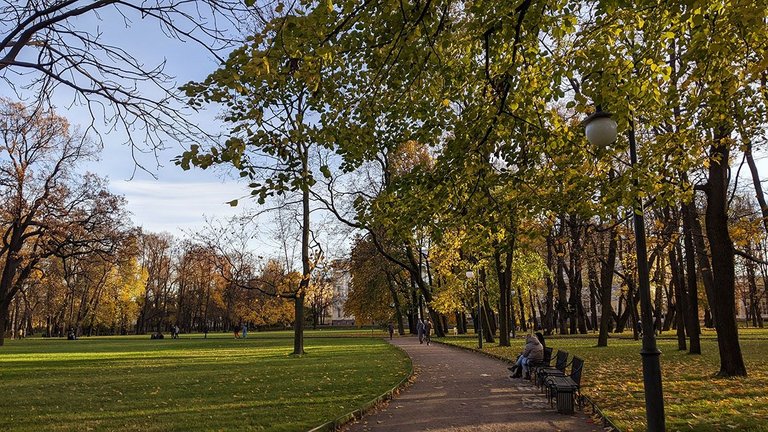 On this warm autumn day in Mikhailovsky garden there were many strollers. Some wandered along the paths, some rested on the benches or bought sweet nuts in stalls near the entrance to the garden. Many took the opportunity to be photographed against the last of the autumn leaves. The leaves have fallen from the trees, but the colorful carpet of leaves on the lawns continues to delight the eye.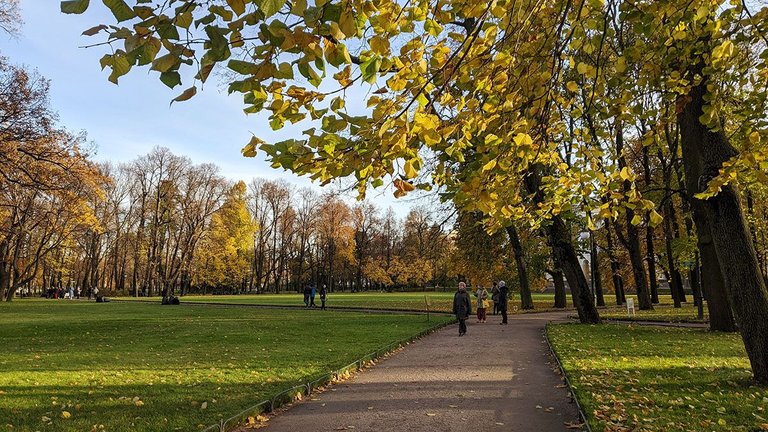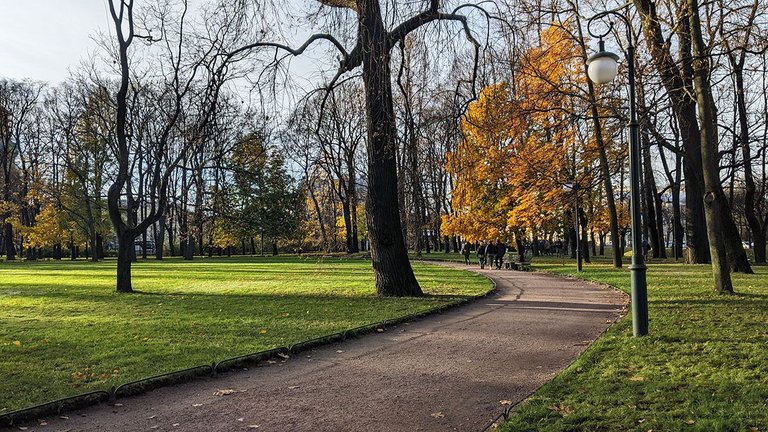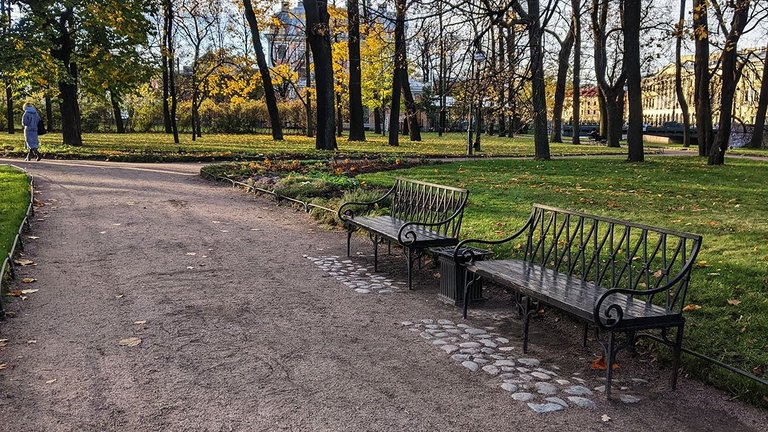 | ○ | ○ |
| --- | --- |
| Smartphone | Google Pixel 3a |
| Location | Saint Petersburg, Russia |