From Ukraine to UK
Recently I have been volunteering at my local airport to welcome Ukrainians coming into our country. This is a scheme operated by the UK government to set up welcome hubs in the main airports, port and train stations to offer support for Ukrainians and act as a meeting point for host families coming to pick them up. UK has a bad rep for the red tape required to get a settlement visa, so I'm hoping whatever little thing I can do can help the Ukrainians feel more welcome when they finally arrive.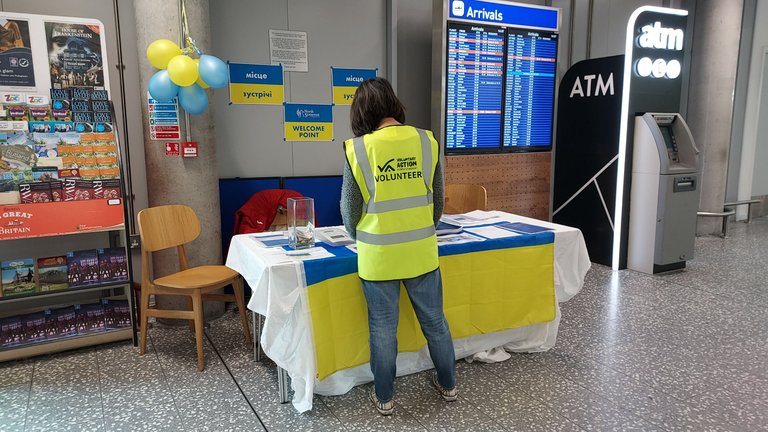 ---
My first day of volunteering was on the second day the welcome hub started at my local airport. I avoided the first day as things are normally a bit chaotic at the beginning. We had a small table by the flight arrivals notice board, someone had bought a Ukrainian flag as a table cloth, and there were a few posters up on the wall. Our role was was give out some information leaflets, and provide information on any onward travel arrangements (Ukranians get free public transport if they show their passport) or any other information they needed. We also had waters, and snacks if they needed it.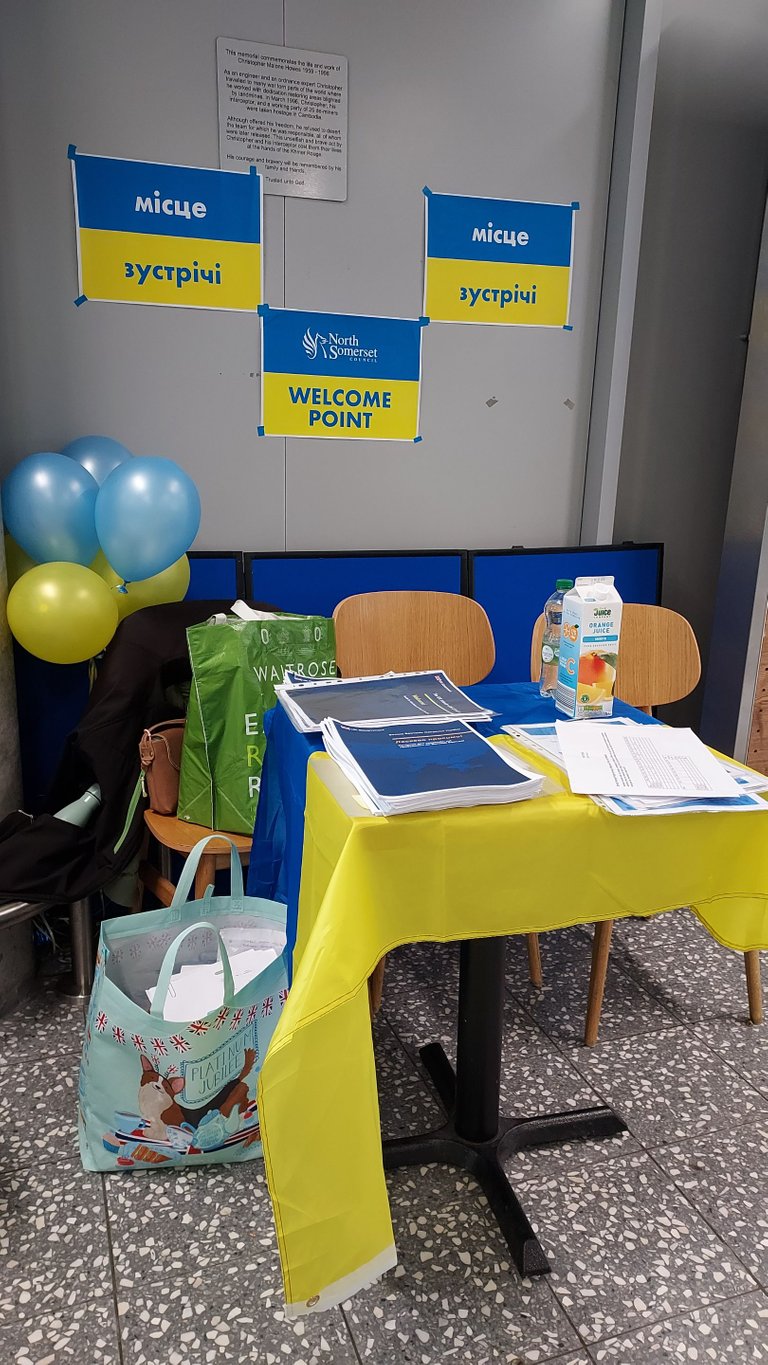 We don't know who or when will be arriving, but are given approximate numbers arriving at a particular hour, but no flight details. The first couple of hours of my shift nothing happened and we just sat around looking out for arrivals who look like they may be refugees. We started to play a guessing game looking at the arrival flights and guess if there would be Ukrainians on board. Someone stopped by to thank us which I thought was very undeserving as we weren't really doing anything great.
By the end of my shift, two families had arrived. One was met by their host family so we didn't have to do much. The other, Anna, arrived with her beautiful daughter Lera who was probably 5 or 6 years old. Lera really put me to shame as she knew more English than I Ukrainian. Luckily the war didn't seem to have much adverse effect on her, and she was in great spirits. When I gave her some chocolate and sweets, she gave me a chocolate back in exchange 😍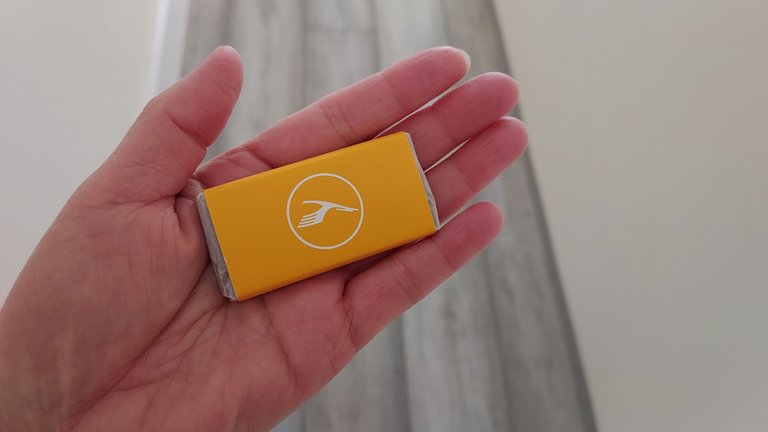 ---
So far I've done six shifts and every time I turn up, the welcome desk has evolved as all the volunteers put their little mark on it to make it more welcome. On my second shift, we got a bigger table, it looked much better.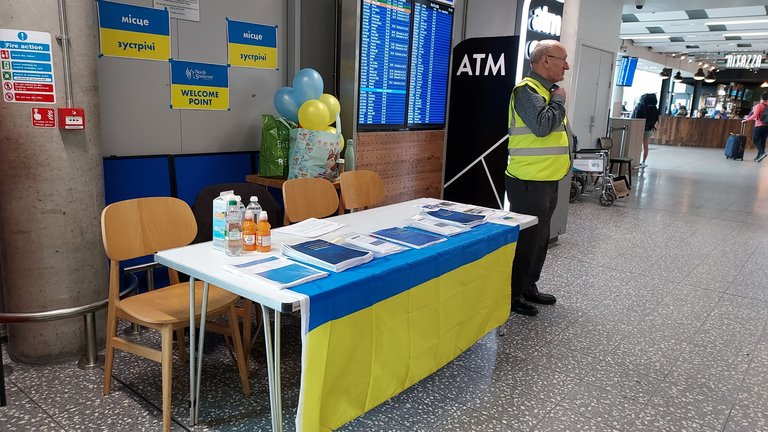 Then a few days later somebody put up some bunting, and a few more welcome posters. We also had a donation bucket. I was so overwhelmed by people's generosity. During one afternoon shift that lasted four hours, we received over £100 in donation. Many people donated their foreign loose coins, and some even went to get cash out from the ATM to donate.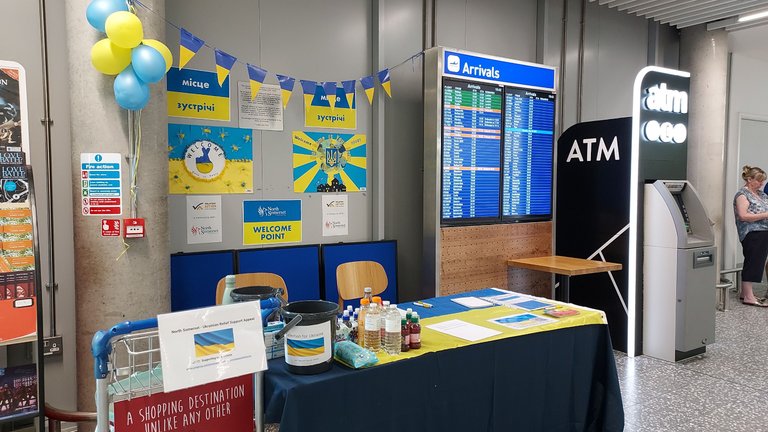 Some local businesses donated toys for the children. It was so beautiful to see their little faces light up when we gave them the toys and sweets.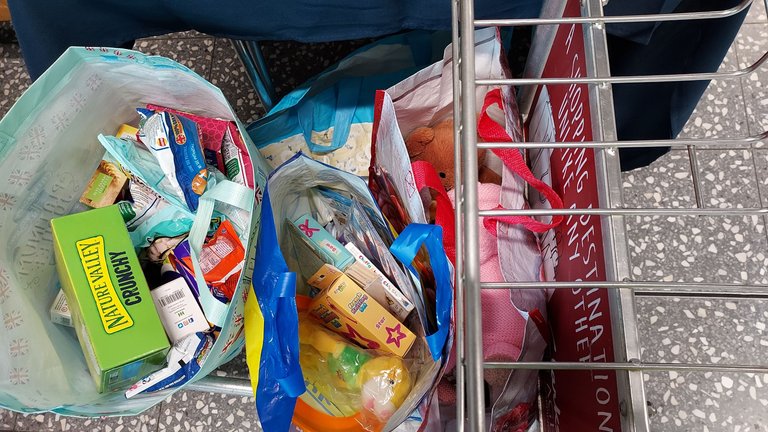 ---
This is the first time I've done any volunteering job and although it's not always very busy. it's very rewarding when we can help people. Chatting to the host family whilst they wait for their Ukrainians to arrive is very interesting. Most complained about the amount of time it takes to process the settlement visa, and many ended up writing to their local MP (Member of Parliament) to get things moving. Some host families drives 3 or 4 hours from Cornwall, an area further down south, as our airport is bigger. A few of them were so emotional when they finally meet their Ukrainians. Another gentleman came to pick up a family of 6. A mother with her 2 young children, her parents and a female relative. The gentleman said his mother had died recently leaving behind a house. He wanted to put that into good use as he knew it was difficult for a family of 6 to find host families so they could stay together. He hired a mini van to come pick them up, and of course the mini van driver offered his services free of charge.
Not all stories are so happy. Yesterday, a host family returned to the airport with a Ukranian mother and her child who had arrived in UK just a few days ago. It turns out the husband had passed away, and she had to return back to Ukraine. People die in the war, and this death, like many others was totally unnecessary. A woman has lost her husband and a child will never see his father again.
---
From UK to Ukraine
A couple of weeks ago I sent a feel good package to @zirochka in Ukraine. Many daily items are still in short supply in Ukraine so I sent her some random girlie things to cheer her up and make her more comfortable - herbal tea, hand cream, facials mask, wolly socks, eye drops etc. I wasn't sure how long it would take for the parcel to arrive, or if it would arrive at all. There was a whole week with no update and I was worried the parcel had dropped into a black hole. Then suddenly, the parcel was with Ukraine customs and she had collected it a few days ago!!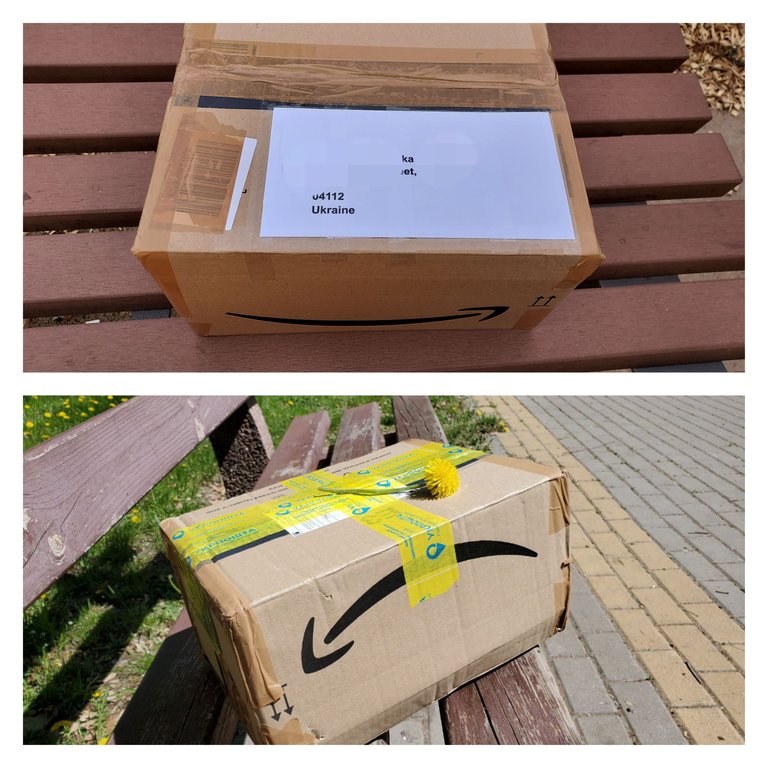 I'm so happy to see a beautiful smile from @zirochka and that she is able to enjoy a tea break from UK. 💙💛
You can read about it in her post here as well.
https://peakd.com/mywartimediary/@zirochka/my-wartime-diary-small-pleasures-of-life-in-the-sea-of-pain
---
100% of this post rewards will be sent to @zirochka to support her in doing what is needed in Ukraine for those in need. I would be grateful for your generous support and upvote. Thanks.