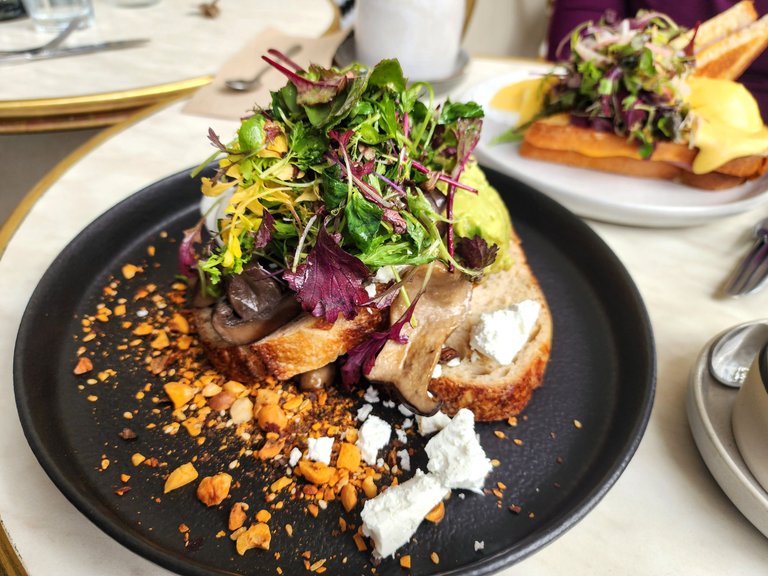 Wise men don't need advice. Fools won't take it.
- Benjamin Franklin -
Yesterday was a heavy day for me and it ended with a headache that persisted throughout the night and into the morning. It's nothing I can't handle and I've had far more troubling days, but it left me feeling drained and in need of some space and time to think. Fortunately I have it however, also last night, a friend of mine called and needed some advice. In truth I think it was more about needing a sounding-board, someone to bounce her thoughts off, so she suggested breakfast. I decided it was exactly what I needed to draw a line beneath my own situation for a time and provide the gap or detachment from it.
---
---
We went to a small place neither of us had been before and ordered up.
I had poached eggs on rye bread slathered with smashed avocado with feta cheese, mushrooms and garnished with dukkha and a pile of weeds on top - See above and the below image after I pulled it apart. My friend ordered up a toasted ham and cheese sandwich served with eggs benedict and a pile of weeds also - See the second image below. Of course, there was coffee; there's always coffee.
The food was great, I mean really great. The combination of flavours seemed to explode in my mouth, the dukkha adding an element to eggs on smashed avocado toast I'd not experienced before, but it was for other reasons we'd convened, so we got down to it.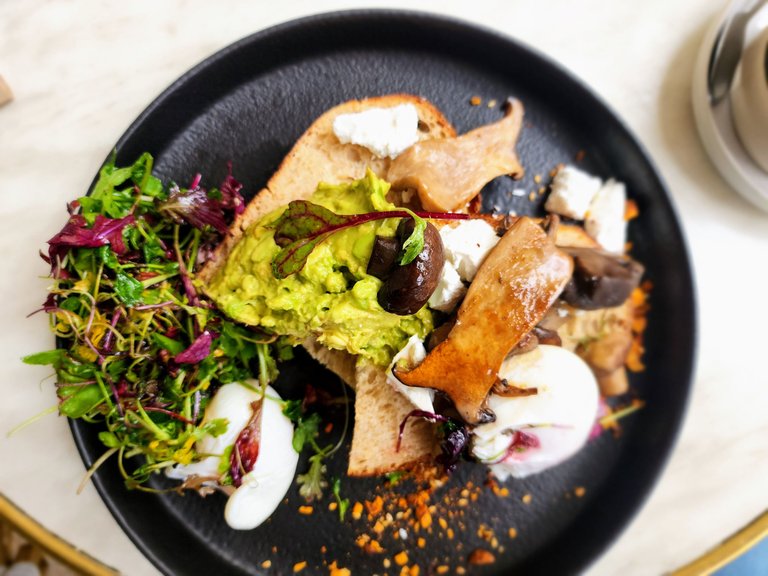 My friend, let's call her April since in only a few days we'll be in the month of April, secured a new role with the government five months ago. I was her main reference so was interviewed over the phone for an hour on her behalf; I was happy that she'd secured the job. It requires low-level security clearance though as it's a quasi-military government department and it's that which is causing the issues; five months later and she's still not cleared.
She currently works at a financial institution so is earning, however the government called her yesterday saying that they'd like to start her soon and irrespective of the security clearance. It sounded like a good idea. The problem is, they also told her that should her security clearance not come through, she'd be terminated with immediate effect. That would leave her unexpectedly jobless and with a mortgage and other financial commitments that might not be a great situation.
Her question was, G-dog, what do you think I should do?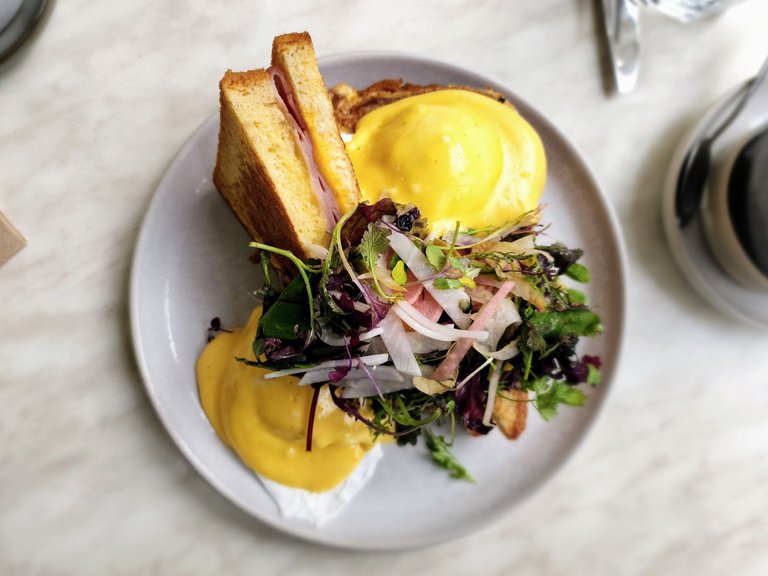 When asked this question, my response is always, what are your options, basically to get the person to think about and list them out. She listed them and I followed up with, what do you think you will do? To this, she responded with a course of action and we began to discuss it, the pro's and con's, and as we did I could see her moving towards a decision.
Of course, she asked me a few times, but what would you do, however I'm always reluctant to offer my opinion in situations like this because my personal situation may differ from the person asking me and the decision I would take may be skewed and unsuitable because of it. I also like people to come to their own decisions, albeit with my input, as they are more likely to own their decision and be comfortable with it.
She came to a decision eventually and I could see her relax as it settled on her.
Interestingly, she thanked me for my advice and said that I'm always such a great listener; I didn't really give any advice though, I merely helped her logic through the options and she ended up circling back to the option she'd already determined was the best. I was happy to help though and felt good about guiding her through the process...and I got to eat some scrumptious food too!
Advice can be a double-edged sword and should be approached with caution by those giving it and those receiving it.
Unsolicited advice, that is, advice given when a person has not asked for it, is one of my pet hates. I have received so much great advice over the years and some terrible advice as well; some was asked for and some unsolicited. Either way, I've learned that advice must be weighed and measured, not blindly taken on-board or discarded. It's there to help, by and large, however sometimes it's of no help whatsoever and can be totally irrelevant or even destructive. The receiver needs to understand how the advice may apply to them and make independent decisions, in my opinion at least.
These days I rarely give advice in situations like above preferring to prompt the person to think things through for themselves. I believe it to have more value than simply saying, you should do this, or you should do that. Reasoning it out gives the person ownership and responsibility for the decision; right or wrong, they have themselves to blame or thank for taking the decision in the first place.
---
Have you been in a position to offer advice or have you received it? What was the situation and how did it work out? Feel free to comment below and tell me about it.
---
Design and create your ideal life, don't live it by default; tomorrow isn't promised so be humble and kind - galenkp
[All original and proudly AI free.]
Any images in this post are my own.