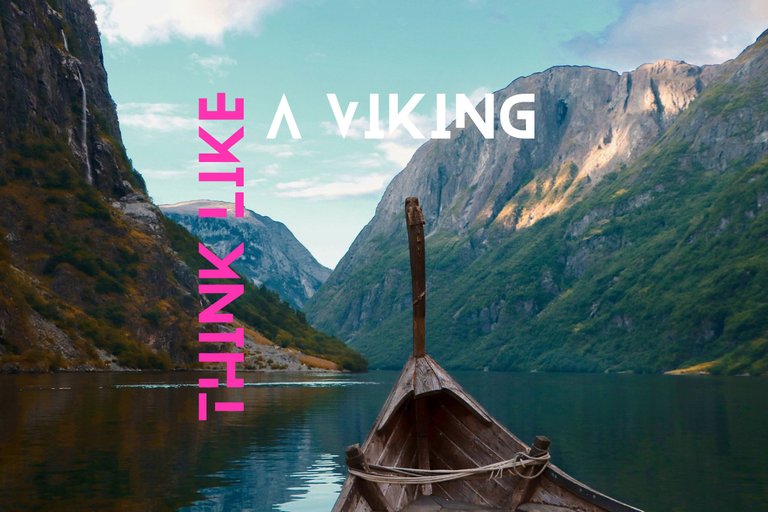 Everyone is master of his own words.
---
Each Thursday I select a Viking quote, sometimes randomly but ofttimes based upon relevance or meaning to my life at that point in time. Despite these phrases being over a thousand years old I believe most can still offer value in modern society and I find it interesting to ponder, weigh and measure them. original im src
---
This week's Viking quote
Everyone is master of his own words. - Grettir Saga
How would you say you're perceived by others? I suppose the answer depends on who it is that's looking as different people may have different perceptions of you and your actions. A parent may see you one way, a teacher another, your work colleagues in yet another and your life-partner differently again for instance. We cannot dictate to others about how they should perceive us however they are most often influenced by how we act and by what we say or write; how we present ourselves essentially.
Over the last several days I've watched a known plagiarist, someone who has been caught out and addressed three times prior, plagiarise yet again. I, and diverse others, addressed it reasonably firmly and the person has found themselves permanently blacklisted. Unsurprisingly, the person is professing their innocence, at least, continues to maintain that the plagiarism was unintentional. I'm not sure how one unintentionally copies and pastes someone else's writing and passes it off as their own, however this individual claims it is so. Of course, those of us in the community who see it, the user's peers, see through the delusional behaviour quite clearly.
Like always, there's many ways to read this particular Viking quote with the most obvious being that one can control what one says or writes.
I'm drilling down further though and suggesting that one can control or manage how one is perceived by the actions we take and by what we say or write. Our plagiarist friend has done this quite completely; actions have left a distinct impression and perception with the community at large and it's unlikely to change. It brings to mind the phrase; you reap what you sow. Also, the thing with other people's perceptions, right or wrong, is that they are incredibly difficult to change once formed. With me, it takes a lot to gain trust however it's very easily lost and once lost...well, it's nigh on impossible to regain. That's just how I'm made. I more easily change my perceptions based on new information however, like the trust thing, someone's perception of people can be difficult to change.
I'm a best-life seeker; I chase the best version of myself, for me and others. Whilst I don't always hit that high mark through reaching for it I attain better results more often, am a better person more often I guess and, in my opinion, I present much better to others for it. I don't live my life to impress, gain accolades or adoration from others, I live my life for myself and choosing this process and deploying a continual improvement mindset means I'm best-placed to avoid regret later in life...A happy by-product is that people's perceptions of me may be more positive also.
I don't believe we are defined as people, individual humans, by our reputation and other people's perceptions; perceptions can be skewed and sometimes baseless. Naturally, other people's perceptions can be completely on-point as well. But our reputation does not truly define the human being we are, I believe it's our character that does that; how we act, speak, write and treat people and how we generally conduct ourselves. What we do when no one is looking says a lot about us and I think the feeling of contentment, self-respect and worth that comes with those actions are of such great value to us as individuals.
I'm honest enough to say I've not always been my best version and, with no disrespect intended, haven't met a single person whose conduct, at some point or another, is unimpeachable. It's the nature of humans to be flawed and fallible and I don't think any of us are above reproach. Having said that, I feel it is in people's best interest to present themselves as well as possible and to act in a manner that shows good character...But I'm not naïve enough to think that it'll happen, as per with our plagiarising friend above.
---
That's it for this week, a thousand year-old Viking quote urging caution when it comes to our actions lest we be perceived poorly and reminding that we have the power to control our words and actions, and therefore, people's perceptions. Please feel free to disagree with my interpretation and add your own, tell me a story around this quote or topic or simply react to it and let me know what you think, how you see it, how it relates to you or someone you know.
Skol.
---
Design and create your ideal life, don't live it by default - Tomorrow isn't promised so be humble and kind
Discord: galenkp#9209