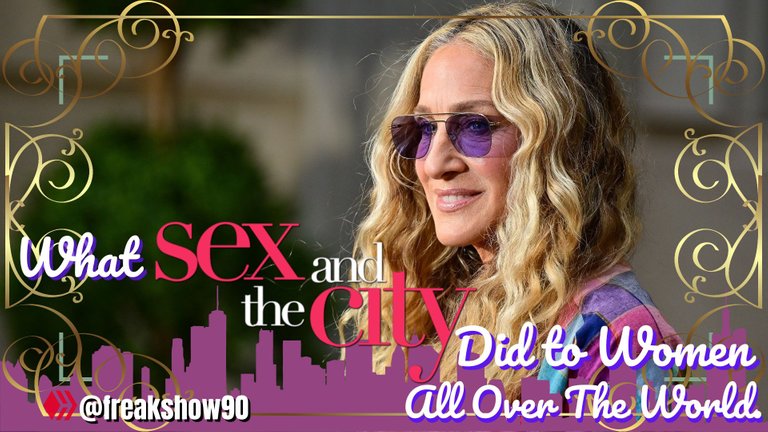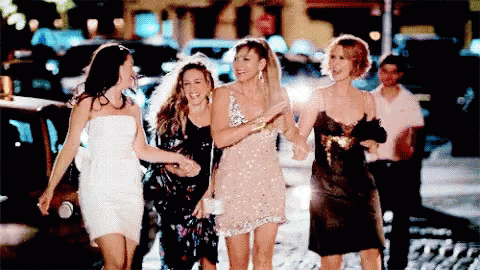 Sex and the city is a series that has something that makes people who watch it fall into one of two possible situations. Number one, you love it with fascination and can't stop watching it. Number two. You think it's shallow, empty and a bit cliché for a certain type of women, in a certain type of economic situation, for a particular social status, and that therefore, it doesn't reflect the situation of millions of women around the world. And you see, finding those two extremes on a scale, it struck me powerfully. Because, one thing is certain. I have seen this series (and yes, I am a 32-year-old, heterosexual, male) and I think its appeal is largely due to its ability to reflect the states of doubt that each and every woman has.
Sex and the city es una serie que tiene algo que hace que las personas que la miran, caigan en una de estas dos posibles situaciones. La primera, la amas con fascinación y no puedes dejar de consumirla. La número dos. Crees que es superficial, vacía y un poco cliché para un determinado tipo de mujeres, en un determinado tipo de situación económica, para un particular estatus social, y que por tanto, no refleja la situación de millones de mujeres en todo el mundo. Y verás, hallar esos dos extremos en una balanza, me llamó poderosamente la atención. Porque, algo es cierto. Yo he visto esta serie (y sí, soy un hombre, heterosexual, de 32 años) y creo que el atractivo que tiene se debe, en gran medida, a la capacidad de reflejar los estados de duda que todas y cada una de las mujeres tiene.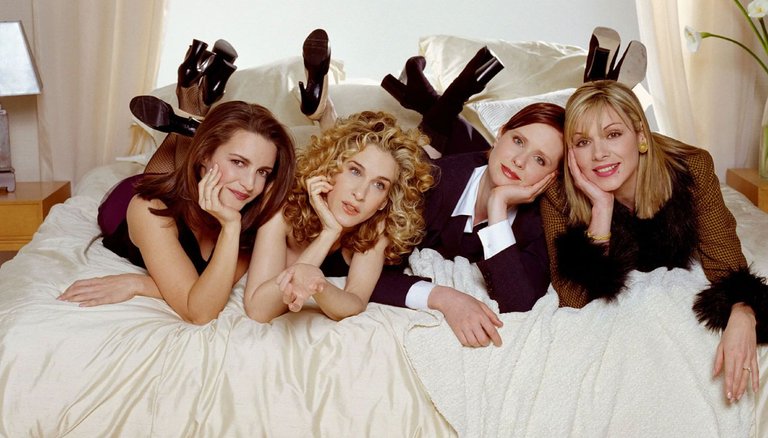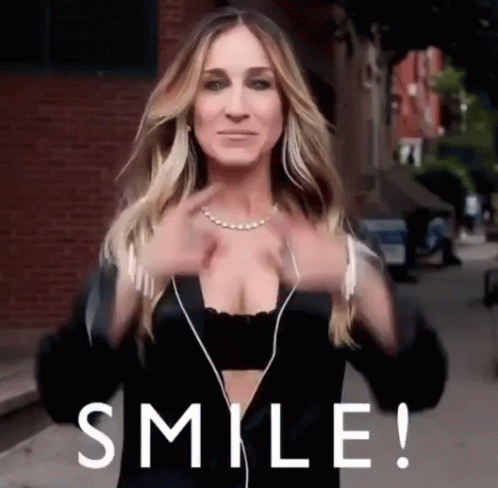 In this sense, the "hook", i.e. the power of attraction, and therefore of success, is due to the fact that she has been able to exemplify very well the different stages of billions of women. I absolutely refuse to fall into either of the two "camps". In other words, I don't consider it a masterpiece, but neither do I consider it an ode to stupidity, as some people tend to label it. I think, and here I will be categorical, that the main characters (all female) are especially reflective of Western women. Regardless of where they are or what socio-economic level they have. I would even go much further. I am convinced that reflecting the inner sea of doubts, uncertainty and existentialist questions that thousands of women almost always have can be anything but simple.
And the construction of the characters revolves around the friendship that the group has. They call each other, they look after each other, they communicate their problems, they celebrate their victories. They love the companionship. The sum of the whole, and not just the parts. Something that in a society that is deeply individualised and full of competition everywhere you look, seems to be increasingly out of fashion. And let's not forget that Sex and the City was first broadcast in June 1998, making it one of the first hits of subscription television. It also marks a milestone for productions with all-female actresses and leads. The plot, as much as the problems and situations of life, is about the everyday life of a city woman (it is set in the New York of the 90's and the beginning of the new millennium).
En este sentido, el "gancho"; es decir, el poder de atracción, y por tanto de éxito se debe a que ha sabido ejemplificar muy bien las diferentes etapas de miles de millones de mujeres. Me niego rotundamente a caer en alguno de los dos "bandos". Dicho de otro modo, ni la considero una obra maestra, pero tampoco una oda a la estupidez, como algunos suelen tildarla. Creo, y en esto seré categórico, que los personajes principales (todos femeninos) son especialmente un reflejo de las mujeres occidentales. Independientemente del lugar en donde se encuentre o del nivel socio-económico que posean. Incluso, iría mucho más allá. Estoy convencido que reflejar el mar interior de dudas, incertidumbre y preguntas existencialistas que miles de mujeres tienen, casi siempre, puede ser de todo menos sencillo.
Y es que, la construcción de los personajes gira en torno a la amistad que el grupo tiene. Se llaman, se cuidan, comunican sus problemas, celebran sus victorias. Aman el compañerismo. La suma del todo, y no solo de las partes. Algo que en la sociedad profundamente individualizada y llena de competencia por donde se mire, parece quedar cada vez más en desuso. Además, no olvidemos que Sex and the city se emitió por vez primera en junio de 1998, lo que la vuelve uno de los primeros hits de la televisión por suscripción. Asimismo, marca un hito para la producción con actrices y protagonistas netamente femeninas. Donde la trama, tanto como los problemas y situaciones de la vida, recorre la cotidianidad de una mujer de ciudad. (Está ambientada en la Nueva York de los años 90's y principios del nuevo milenio).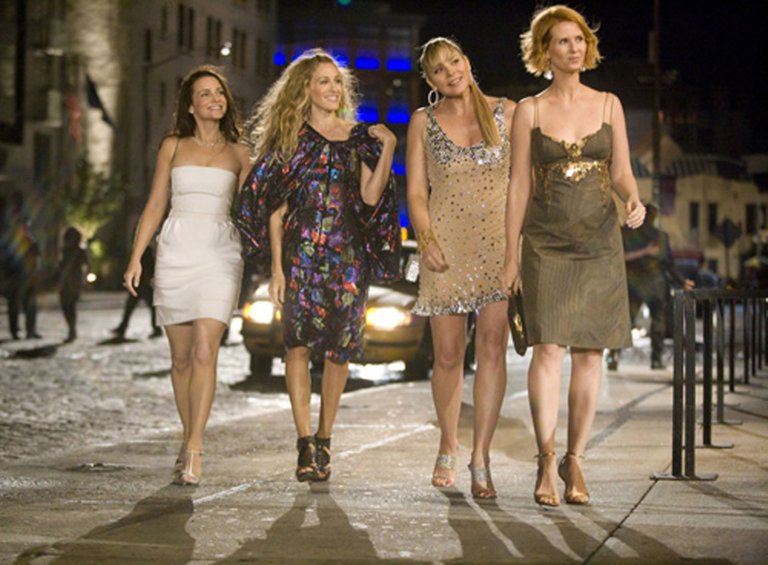 I believe that to make value judgements without having seen it is to look at the panorama with an ill-gotten convenience. Women have always had a rich and rich history that has been worth the effort to tell, but let's face it, we lived (and if you ask me, I still believe we do) in a society that was designed for men and not so much for women. It's a fact, it's not a stance I (the author of the post) am taking. On the contrary, what I want to exemplify is that HBO, as the official distributor of the series had the vision to be one of the first major networks to bet on a production that targets women. Although there is an undeniable halo of vanity, social stratum and a certain superficial banality, I wouldn't be lying if I told you that it has great documentary value, and I would even say anthropological value.
Creo que caer en los juicios de valor, sin haberla visto, es observar el panorama con una mal habida conveniencia. Desde siempre, las mujeres han tenido una nutrida y rica historia que ha merecido el esfuerzo en ser contada, pero admitámoslo, vivíamos (y si me pregunta, aún creo que sucede) en una sociedad ideada hacia los hombres y no tanto hacia las mujeres. Es un hecho, no es una postura que yo (el autor del post) estoy tomando. Al contrario, lo que quiero ejemplificar es que HBO, como distribuidora oficial de la serie tuvo la visión de ser una de las primeras grandes cadenas en apostar por una producción que tiene como objetivo a la mujer. Si bien, es innegable el halo de vanidad, estrato social y cierta banalidad superficial, no mentiría si les digo que tiene gran valor documental, y yo diría que hasta antropológico.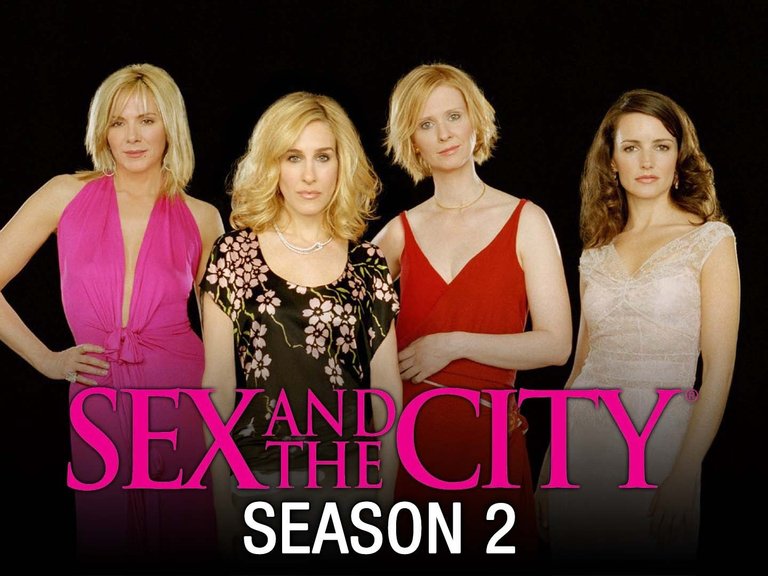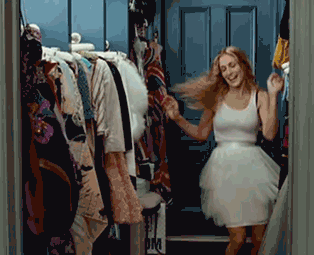 Although it is a subjective view of a certain group of friends walking around the Big City of New York, it is also true that there are realities that women have to face on a daily basis. For example: the free exercise of their sexuality in a Western and macho society. The details related to finding a partner. Frustrations after an emotional break-up: even harassment. These are just some of the topics that we will find in this excellent series created by Michael Patrick King, which in turn, is entirely based on the novel written by Candace Bushnell, and produced by the renowned Sarah Jessica Parker, who also plays the well-known "Carrie Bradshaw" in Sex and the City.
There is another aspect I want to highlight about this series, (which also has two films and a farewell episode/movie called "Just Like That") and that is that it places an important value on sincere and productive friendship between a group of women. Something, at least where I live, (Venezuela) I don't know if it's quite like that. Where the women in the series, although they have quite diverse and distinct personalities, destinies, visions and tastes, share something that is elemental; sisterhood, as an unbreakable and non-transferable value. That notion of unconditionality, hard-won over the years, is something that I rescue and see as an incredible value for the millions of women who have seen this show, and that they should continue to maintain.
Si bien, es una mirada subjetiva de una cierto grupo de amigas que anda por la Gran Ciudad de Nueva York, también es cierto que hay realidad que las mujeres tienen que enfrentar a diario. Para muestra un botón: el libre desempeño de su sexualidad en una sociedad occidental y machista. Los detalles relacionados con la búsqueda de pareja. Frustraciones después de un rompimiento emocional: inclusive, el acoso. Son tan solo algunos de los tópicos que hallaremos dentro de esta excelente serie creada por Michael Patrick King, que a su vez, está enteramente basada en la novela escrita por Candace Bushnell, y producida por la reconocida Sarah Jessica Parker, que también interpreta a la conocidísima "Carrie Bradshaw" en Sex and the city.
Hay otro aspecto que quiero destacar de esta serie, (que también cuenta con dos películas y un episodio/película de despedida llamada "Just Like That") y es que le da un valor importante a la amistad sincera y productiva entre un grupo de mujeres. Algo, que al menos donde yo vivo, (Venezuela) no sé si es del todo así. Donde las mujeres de la serie, aunque tengan personalidad, destinos, visiones y gustos bastante diversos y distintos, comparten algo que es elemental; la hermandad, como valor inquebrantable e intransferible. Esa noción de incondicionalidad ganada a pulso a través de los años, es algo que yo rescato y veo como un valor increíble para las millones de mujeres que han visto este show, y que deberían seguir manteniendo.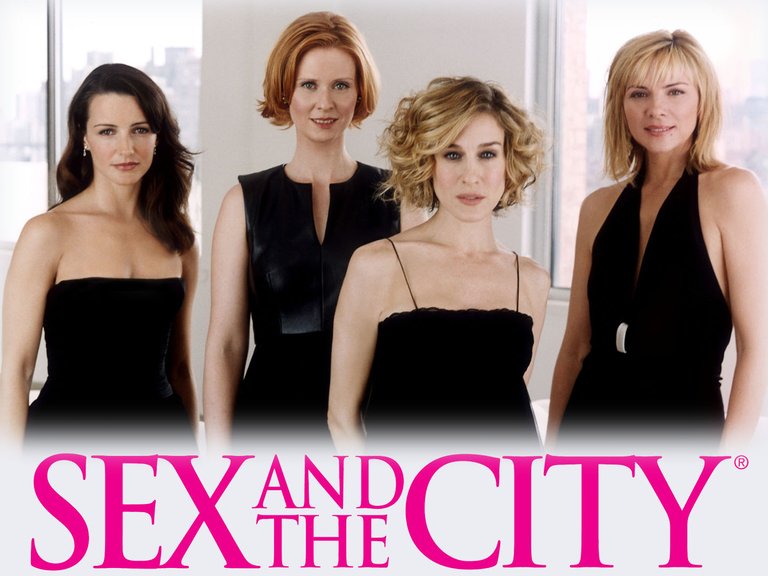 Finally, in a world overwhelmingly and undeniably dominated by power structures aimed at and favoured by men, for a show to emanate those and so many other positive values for women is something that stands out to me. It also has spectacular and well-acted performances. It reflects the essence of the historical moment in which the protagonists lived, and emphasises the power that a woman possesses far beyond the size of the cup in her bra. Another virtue of the show is that it is consistent. They don't try to sell you a utopian, overblown story, they just show you a side that always existed but went unnoticed by the vast majority. With HBO, with Sex and the City, I'm glad it's not that way anymore. From my perspective, absolutely recommended and great value in many disciplines.
Finalmente, es un mundo abrumadora e innegablemente dominado por las estructuras de poder destinadas y favorecidas hacia y por los hombres, que un programa emane esos y otros tantos valores positivos para las mujeres, es algo que destaco. Además de que cuenta con actuaciones espectaculares y bien logradas. Refleja la esencia del momento histórico que vivían las protagonistas, y hace énfasis en el poder que una mujer posee mucho más allá del tamaño de copa que tenga en su sujetador. Una virtud que también posee el show, es que es consistente. No intentan venderte una historia utópica y sobredimensionada, solo te muestran una cara que siempre existió pero que pasaba desapercibida para la inmensa mayoría. Con HBO, con Sex and the city, me alegro que ya no sea de ese modo. Desde mi perspectiva, absolutamente recomendada y con un gran valor en muchas disciplinas.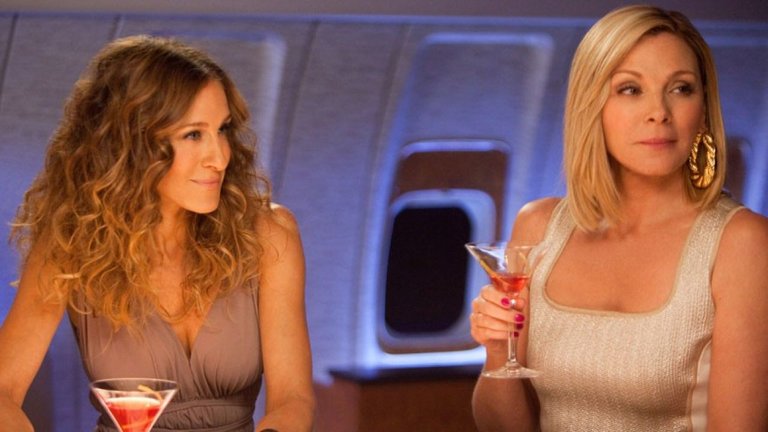 All GIFs used on this post are available in PeakD Platform