Ape Swap!
Alright; here we go. Another BSC liquidity pool I am putting some money in. I am sure you are now rolling your eyes, but what can I do, this is currently the game. Trouble of you do not know which one is going to succeed, as since most of them are clones of Pancakeswap or Goose Finance, there are very limited differentiators. Without that, as a regular user, we are stuck with what we know. Either to project, or the yield, or the TVL (Total Value Locked). I will go through each of the criteria and my personal thought process. But Ape and Banana first!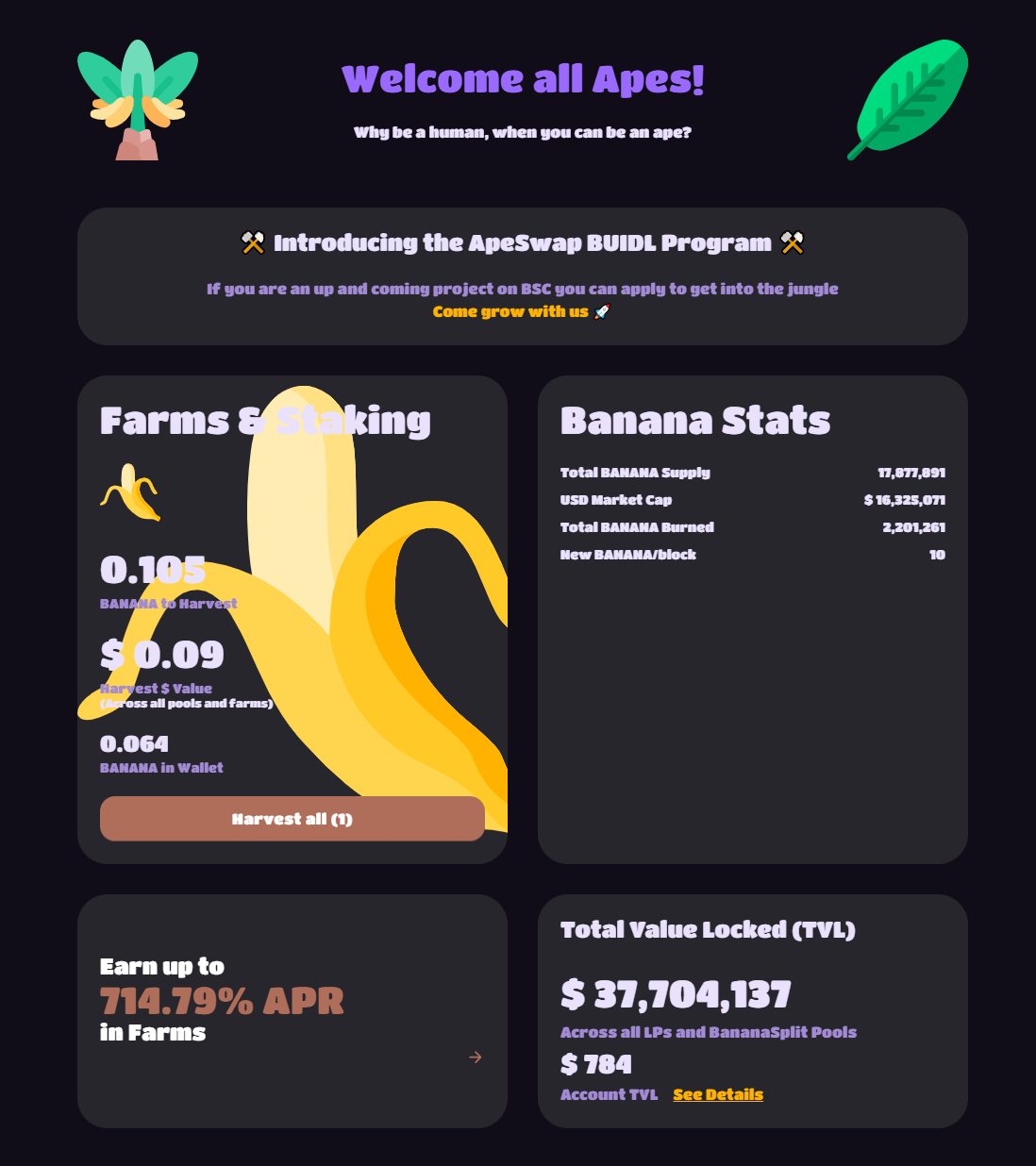 The way it works for me, I have to get into a pool to understand the mechanics of it. This is my 4th pool, and I wanted to do a post just to keep a record of it. This time I just put-in an small amount of seed money to check it out. My first impression of the page is blurry fonts on the dark-mode! What's up with that? I have no idea who was the designer for this, but it is a non-starter and terrible on your eyes, but who cares?! Look at the TVL! People put in $37M in it already! Just for reference, our own project CUB Finance have a little over $17M TVL at the time of this writing.
Chart
I didn't get a good chart from my usual sources (Trading View). However, it is listed on Coinmarketcap, so using that chart for price action: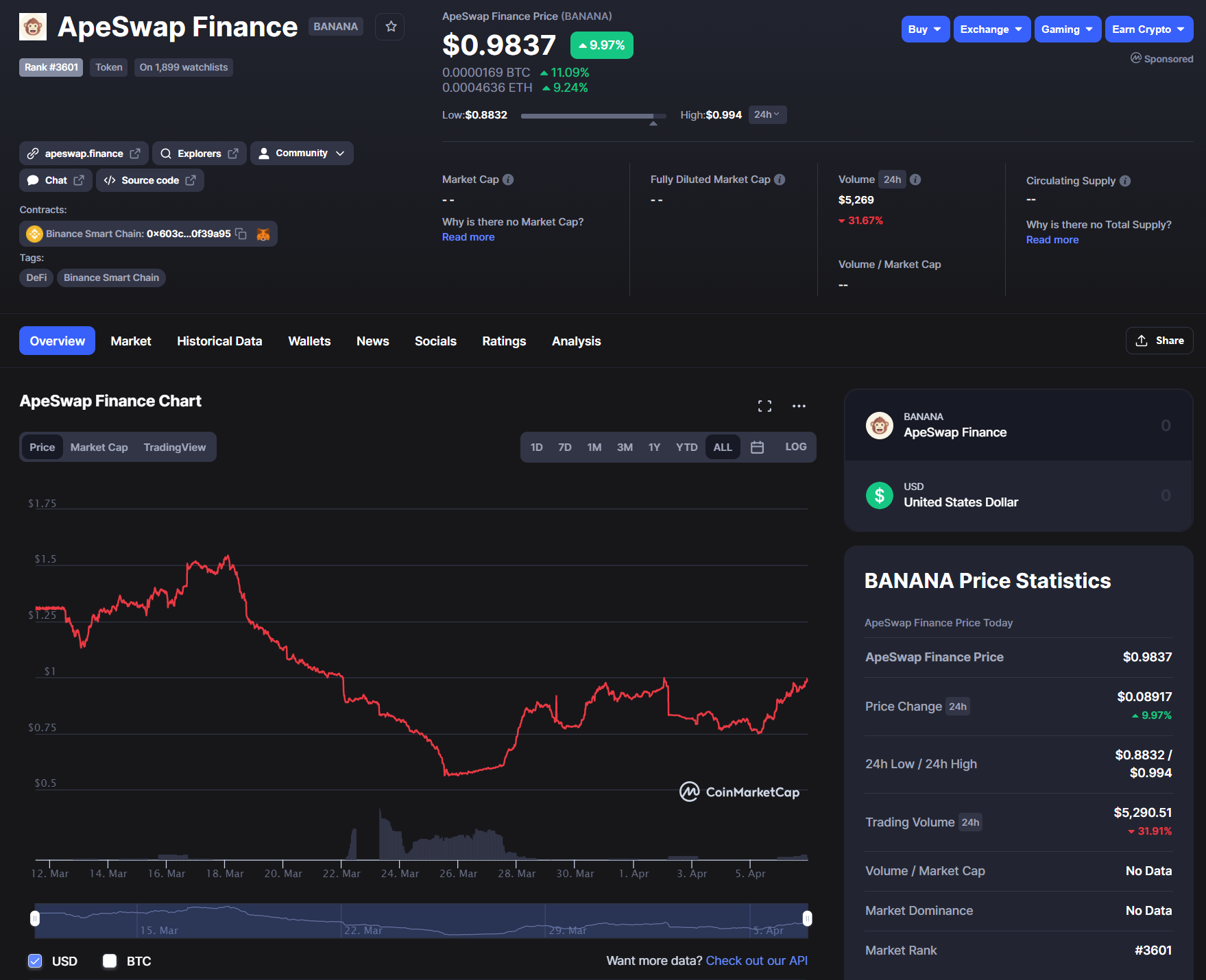 Source
I will look for better chart elsewhere, but for some reason their smart contract is not getting picked up by the Tradingview tool. Also there are numerous fake clones that are out there, so it is not easy to find the right one. Anyways, looks like the price had a bottom around 60 cents, and from there it is rallying. As of this writing, it is trading nearly $1.
Return
We are yield junkies right now, so next question is definitely how much this thing is yielding! I am only in the Banana/BUSD pool. This is how they look at this point: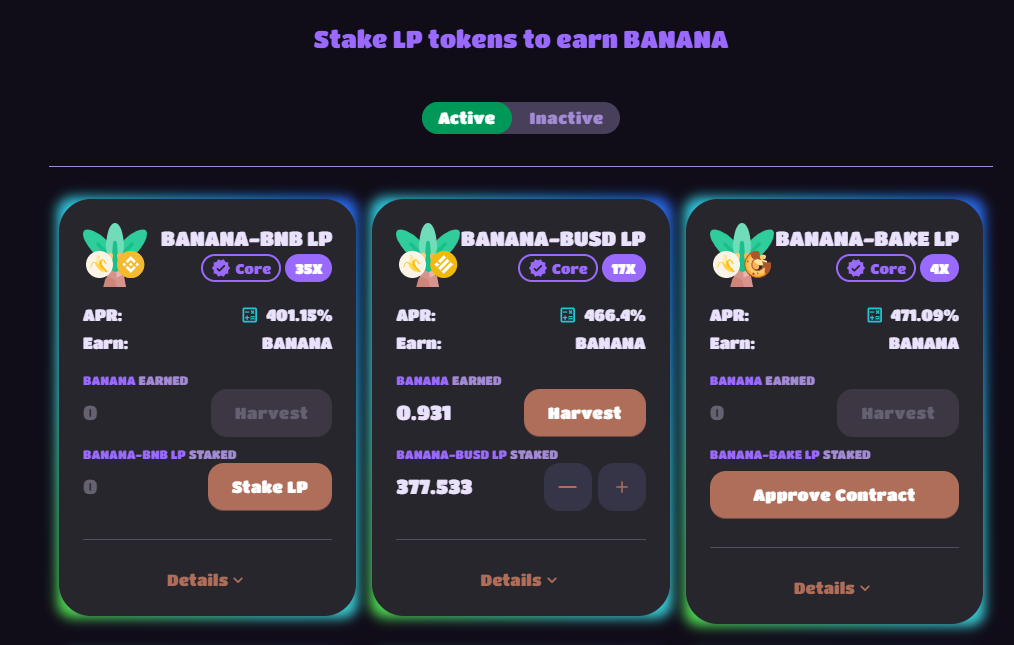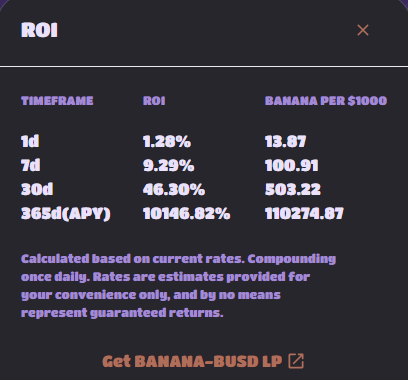 Not too bad! Almost 14 tokens a day, with a price nearly one dollar, gives you about $14/day for a $1000 investment. That is higher that CUB as of now, which is giving you $9/day for a $1000 investment for equivalent farm. We will compare the farms in a minute, but remember daily yield is not everything. It changes a lot and highly volatile. That shouldn't control your decision on which project to farm.
One interesting item that is different in Ape Finance, at the front end, there is a place to check your pool statistics. So, we don't need a 3rd party tool to check the stats every time. I appreciate this feature, I wish all other pools have it too.
Again Ape Finance has various pools, where you can choose to use whichever poison you like. I am currently sticking only with BUSD pools. Two reasons:
Most LPs have a BUSD pool, and that pool/farm usually does not have any fees
For most farms, that is the flagship pool with the highest reward, therefore it is lucrative and easy to compare
Comparing Yield between for TOKEN/BUSD Farms
| Project | CUB | COMOS | BANANA | EGG |
| --- | --- | --- | --- | --- |
| Current Price | 3.03 | 1.88 | 0.76 | 25.94 |
| Token/$1000/day | 3.41 | 19.01 | 14.45 | 0.44 |
| $Return/$1000/day | 10.33 | 35.74 | 10.98 | 11.41 |
| $TVL | 16 M | 2.6 M | 35 M | 124 M |
Current prices and yield at the time of writing (updated at 09:00 AM CST)
I hope this table is useful to you, it is certainly useful to me, because I never really looked at various projects at this light. For BSC yield farming, daily return is the KING for most people, but I will share my personal view based on the criterias I talked about at the beginning.
Daily Yield
This one is easy, higher the yield better it is, because you want more bang for the buck you are investing. But critical thing to remember that since most of these projects are clones, their yield typically stay high in the beginning but they all drop rather quickly. So unless you plan to jump around a lot, you better think about where you want to be in terms of the age of the project.
TVL
More and more, I am leaning towards this one as the main criteria. Simply because if you like to exit, a high TVL will help you exit quickly and perhaps more comfortably. A lower TVL, especailly after a month of two of the project is probably telling you that whatever the reason might be, the team is failing to attract capital. Now, please take this with a grain of salt, as that can change very quickly in crypto. A new innovation, a new listing, can suddenly get a lot of capital in.
Team
This is perhaps the most important factor in crypto. Trust. If you know the Team, you know that you can trust the project in terms of safety of your capital. For me personally, although CUB is the lowest yielding product at the moment, my current investment is the highest at CUB for this simple reason.