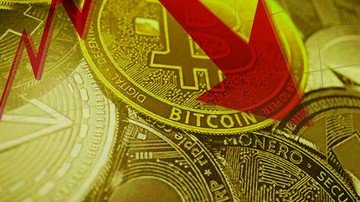 Source pic
The main crypto prices tend to weaken on Wednesday (10/8/2022), where investors tend to wait and see the release of inflation data in the United States (US) for the period of July 2022. Launching data from CoinMarketCap at 09:11 WIB, Bitcoin was 3.65% at a price of US$ 22,942.06/coin or equivalent to Rp. 340,460,170/coin (assuming an exchange rate of Rp. 14,840/US$). Meanwhile, Ethereum fell 4.66% to a position of US$ 1,688.34/coin or Rp. 25,054,966/coin. Meanwhile, alternative digital coins (tokens) (alternate coins/altcoins) Solana fell 5.01% to US$ 39.9/coin (Rp 592,116/koin) and Polkadot 5.13% to US$ 8.72/coin (Rp 129,405 /coin).
Bitcoin again touched the price range of US$ 22,000, after for two consecutive days it stayed in the range of US$ 23,000. Investors tend to put on a wait and see mode ahead of the release of US inflation data for the period of July 2022. This evening, Indonesian time, US inflation data from the consumer side (Consumer Price Index/CPI) for the July 2022 period will be released. Uncle Sam's CPI last month is expected to decline slightly to 8.7%. This is due to the decline in world crude oil prices and will provide a signal regarding the next steps of the US central bank (Federal Reserve/The Fed).
Now, investors are closely watching how the US central bank (Federal Reserve / The Fed) struggles against inflation. If the US CPI grows above the market consensus expectation of 8.7%, risk assets such as stocks and cryptocurrencies will likely experience a correction due to market expectations that the Fed will continue its rate hikes. According to CME FedWatch, a tool that measures the probability and likelihood of future rate hikes, it now shows a 70% probability of another 75 basis point (bp) rate hike, which would match the last rate hike announced in June 2022. However, if the inflation rate falls below forecasts, the prospect of a 75bp hike is likely to decrease and the crypto market will respond positively. On the other hand, the world's second-largest cryptocurrency exchange, Coinbase, said that trading activity in Q2-2022 had fallen nearly 30% from Q1-2022 and earnings had missed the average analyst forecast. "We went through a tough second quarter of the year and this is true not only for Coinbase, but also for most crypto companies," Emilie Choi, President and COO of Coinbase told Bloomberg TV. Crypto exchanges have been hit by the same barriers that beset other digital asset industries, prompting the company to lay off about 20% of its workforce as part of a cost-cutting initiative. Recently, a complaint filed in US District Court in Delaware by shareholder Donald Kocher on behalf of Coinbase Global Inc. accused the company's leadership of making "false and misleading statements" in the company's public filings ahead of its live listing in April 2021.