Just 5 days later there is a premium on BUSD again in the swap pool. 5 days ago of course I wrote about an arbitrage opportunity going the other way.
Now look at what I found this morning!

Okay, so I usually would trade 100 at a time, and since the pool is pretty small you don't get quite all of the 2.3% arb: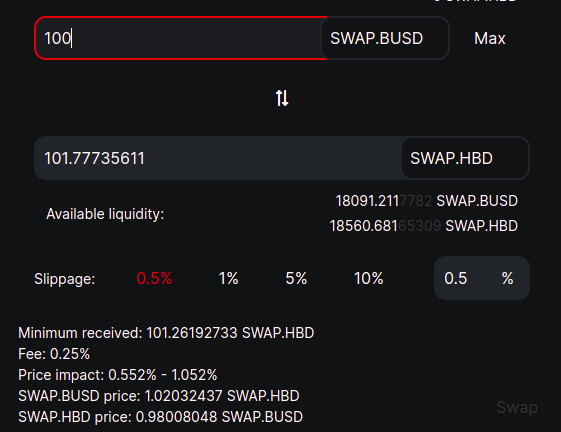 You might notice, there seems to be a lot more in the pool since the last arb, and this would be true, and its not just @ecobanker, since my last post it seems that a few thousand more dollars have been participating in the SWAP.HBD:SWAP.BUSD pool. Remember the rate is dependent on BXT price, which is priced in HIVE, so if HIVE price goes up in USD, BXT price in USD also goes up, and this will yield a higher APR percentage and perhaps even more liquidity.
For now @ecobanker doesn't have a chance to take the arb back over, I moved 4000 HBD over to swap.HBD and now the account has over 20% of the pool paying 8.6% apr. Its a lower apr than HBD savings, but its a full step closer to coming out the other side as Colombian Pesos.

Plus of course we have to add the swap fees, there has been a big boost in use (and thus fees) lately with the arb opportunity, legendary toni montana got back to me about the recorded fees, which seem to be somewhere between 2 and 5 % apr. These are paid in SWAP.BUSD and SWAP.HBD, in kind.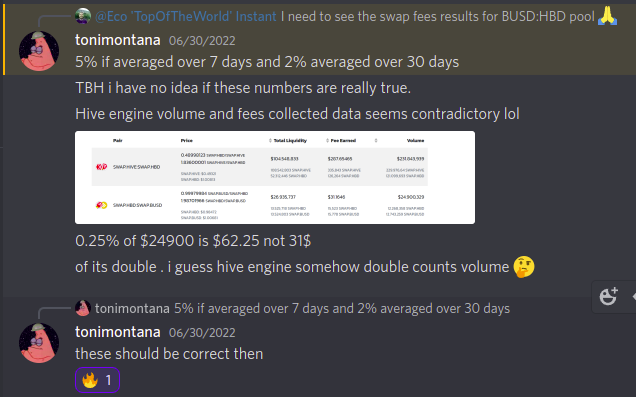 Even more liquidity would be provided if we were to try out my proposal, I could probably take another push at it, its just 5 months into the one year proposal, I wonder if I was asking too much money (maybe way too much?) and if we asked for much less if it would have a better chance.
Take a look at my proposal with fresh eyes and let me know what you think. Should I do a new one much smaller? We got 14 million Hive Power worth of votes on this one, but we need 38 million.
Life goes on, and the opportunities come to those who will take them. 5 days ago I didn't know when you could get a 2% premium on busd ever again, but I predicted that it would be within a week. Now, 5 days later, I feel like a sage, an old man who has 'seen all this before'. Be patient, wait, and let the price come to you - this is the way to trade.
Freedom and Friendship