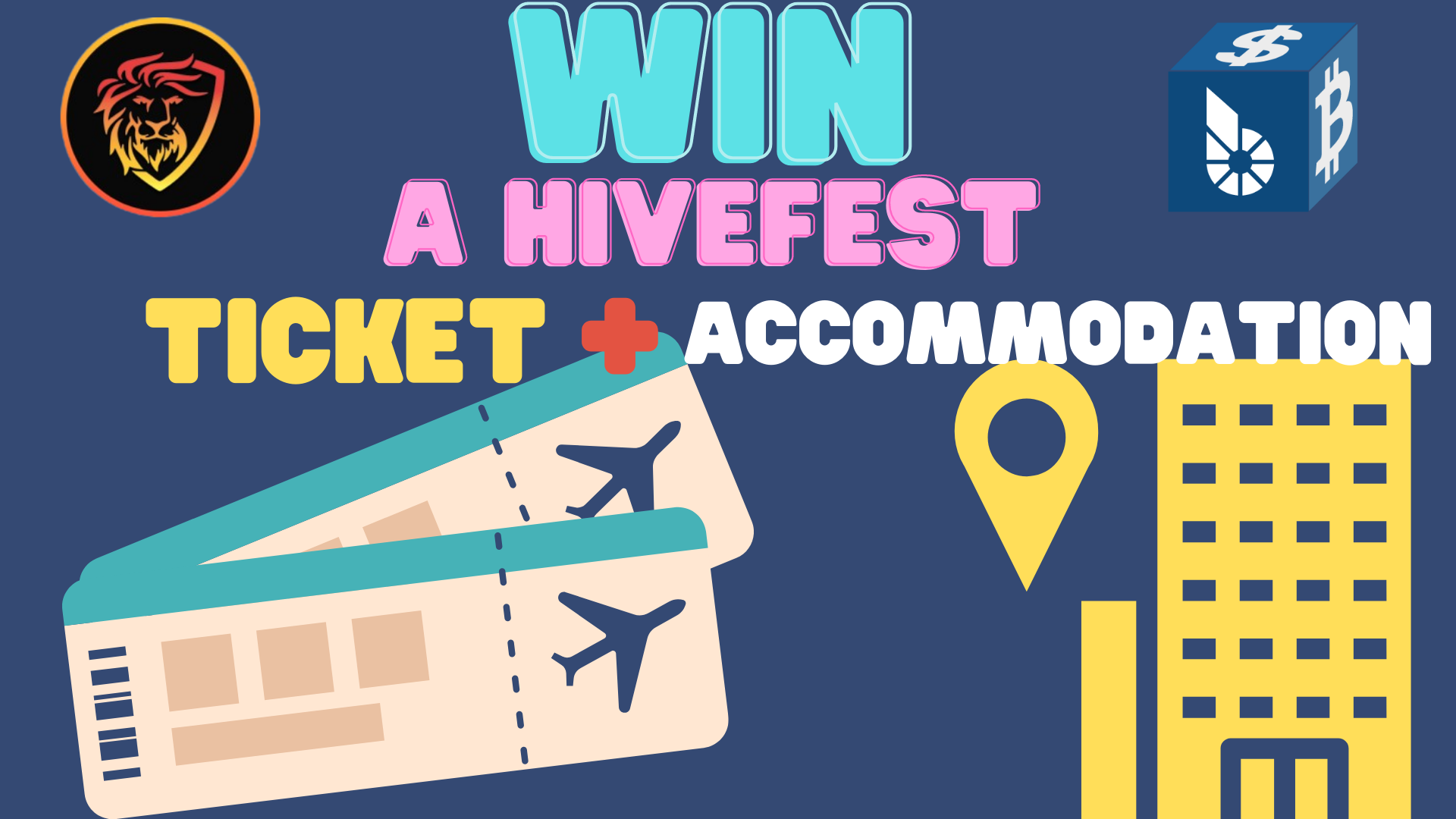 Made with Canva
Lions, have you heard of a big announcement made yesterday by @leogrowth about awarding two hivefest tickets + accommodation to the winners who are going to participate in the contest. Two separate winners will be announced at the end of this month.
Let's not forget that Hivefest will be hosted from September 15-18, meaning that you after announced as a winner will have enough time to make your arrangements.
Who Can Participate?
Anyone. This contest is not only for those who are already part of the LeoFinance. By anyone it means, those who are already a part of the LeoFinance community, or ones who ain't part of the LeoFinance but still on Hive and those who don't have any account yet on Hive/ LeoFinance, can easily create an account and start participating in the contest.
Eligibility
Must have a Hive/ LeoFinance Account.
Follow @leofinance, @blocktrades, @leogrowth and @hivefest on Hive platform. Also follow FinanceLeo on Twitter and join LeoFinance Discord.
Make a post on LeoFinance frontend (Desktop or LeoMobile) about this contest letting other people know and use tags #hivefest #blocktradescontest and #leofinancehivefest. Share the link of your post on Twitter using hashtags #leofinance, #hive, #cryptocurrency and #hivefest.
At least 08 posts should be published from LeoFinance frontend. Share those links on Twitter with the hashtags #leofinance, #posh, and #hive.
Participate in the Leo Power Up Day which will happen on 15th and use that tag #LPUD. Share the post on Twitter using hashtags #hive #leofinance, #cryptocurrency and #lpud.
Participate in Bring your fam to Leo, make a post about it and use the tag #bringyourfam. Share the post on Twitter using tags #leofinance #hive, #cryptocurrency and #adoption.
Subscribe to the Newsletter on LeoFinance and also write a post about it. Share it on Twitter with the tags #leofinance #substack #newsletter and #crypto.
Note: Extra posts are are more than welcome, as you may get extra rewards for your posts with the upvotes received. The limit is at least 08 posts to be published.
A big shoutout to @leofinance and @blocktrades for sponsoring this one of its kind contest.
So, what are you waiting for?
Posted Using LeoFinance Beta