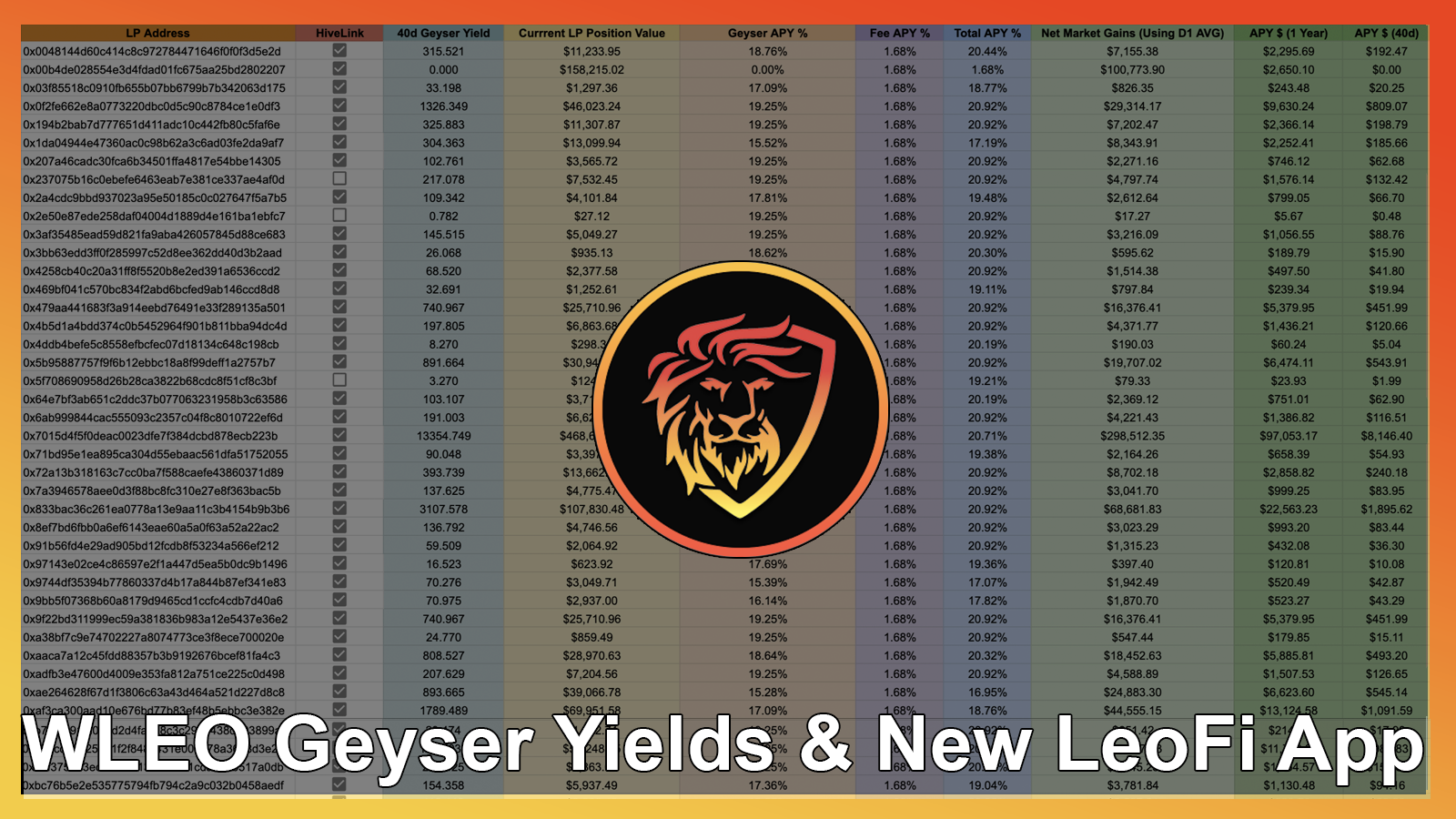 Well this is an oddly timed post. So many developments and not enough time, so we're swinging where we can and working strange hours. I know everyone has been anxiously awaiting the Geyser #3 eruption along with the new LeoFi app development updates.
DeFi is here to stay and launching Wrapped LEO (wLEO) along with the Geyser distribution system for LP incentives has been a major source of growth for the LeoFinance economy.
The Geyser incentivizes deep liquidity in the wLEO-ETH pair on Uniswap. This depth of liquidity allows our project to rapidly expand and welcome new investors who want to purchase large quantities of LEO (wLEO).
Along with that, it also pairs the LEO token to ETH price action. Thanks to our deep liquidity pool on Uniswap, wLEO (and thus, LEO) have enjoyed the nice altcoin rally seen in the major cryptocurrencies alongside Bitcoin in USD terms.
LeoFi has 3 major products launching in the very near future. Two of them are likely to launch within the next week and we'll discuss a few of the details (including an announcement of an announcement of a pending snapshot) at the end of this post.
As we continue to expand the scope and scale of LeoFinance, our community and the applications we build, DeFi is going to become a major arena for us to play in. LeoFinance is a community for crypto hodlers and finance enthusiasts. We're the perfect community to build, launch and innovate on top of existing DeFi architecture.
In the next few days, you're going to see some massive changes to the LEO and wLEO economy.
Today's Geyser also marks a few key changes. I'll very briefly dive into some details of what we've updated below.
Geyser Curve Dampened
Last month's Geyser brought forward an issue with the Geyser APY curve that we didn't anticipate. A few Liquidity Providers (LPs) who got into the pool late realized that their APY was just a few %.
The intention of the Geyser is to incentivize "aged liquidity" - a.k.a. liquidity that entered the pool early and didn't leave - but it is not the goal of the Geyser to completely disincentivize anyone who wants to join the LP later on.
Some of our new LPs found that the last Geyser payout was extremely low. Either because they entered the pool late or because they added liquidity and didn't really see much of an increase to their LP APY.
We spent some time investigating these cases and decided to dampen the harshness of the Geyser curve. This carries essentially an unnoticeable impact on the existing LPs, but makes the world's difference for new LPs who have recently gotten into the pool or added liquidity to an existing position.
Again, we want to make sure that the most heavily rewarded liquidity providers are those who pool early, pool often and leave their liquidity in for an extended period of time. The purpose of the wLEO-ETH pool (and the WLEO Geyser) is to have a reliably deep liquidity pool and consistent APY.
As you'll find out in one of the new LeoFi products launching next week, depth of liquidity and stability of the WLEO pool is going to be an increasingly important narrative against the backdrop of our new app.
Geyser Distributions Moved
This Geyser distribution also includes 40 days worth of payouts instead of 30. We decided to extend this month's geyser along with next month's geyser so that we can move the payouts to the 1st of every month.
@themarkymark suggested that the 1st of each month would bring predictability to the payouts since the Geyser is normally set to erupt around the 16th of each month but typically fluctuates due to the different calendar days and mostly due to our ability to push the button, get the Geyser out and launch a post like this.
Having the Geyser on the first of each month will bring a nice level of predictability both for us and for the LPs. Liquidity rewards from the Geyser will now be sent on the 1st of each month starting with the next distribution (April 1st).
HiveLink System Updated
HiveLink had a few issues and didn't properly detect one liquidity provider who entered the pool last month. This caused them to recieve their Geyser payout on the Ethereum blockchain as wLEO instead of on the Hive blockchain as LEO. We pushed a fix for this so that future LPs won't get missed if they HiveLink their account prior to adding liquidity to the wLEO-ETH pool on Uniswap.
$20k in Geyser Rewards!
This month is a bit longer than most, but it does mark a fun milestone: $20,000 USD worth of Geyser LP incentives were just sent to WLEO Liquidity Providers.
In the last distribution, WLEO was $0.50 and today's WLEO price is about $0.60 (off of recent highs we saw at $0.75-$0.80).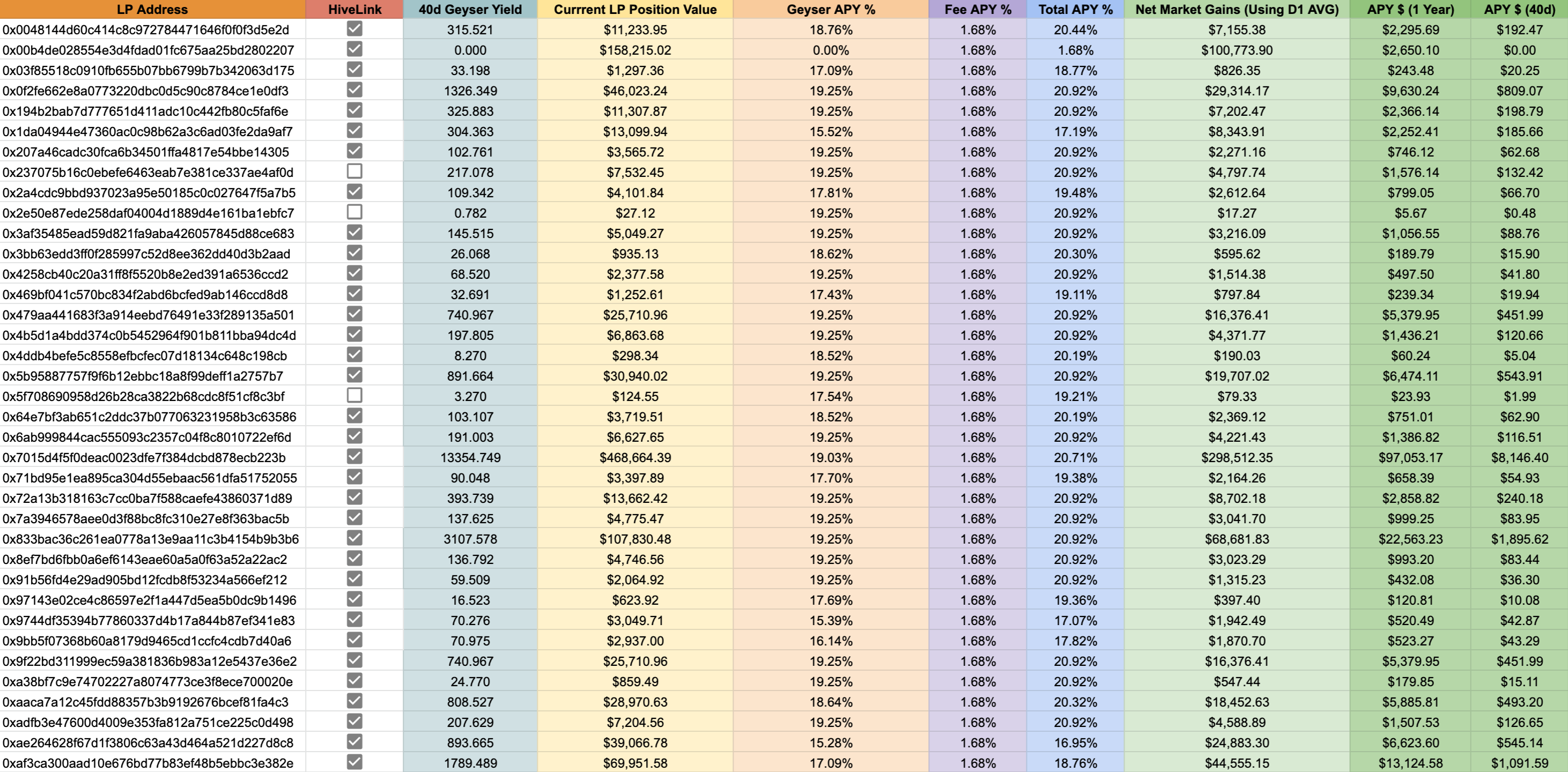 Note: Geyser APY is based on the current LP position value as opposed to the value actually added to the pool. Most DeFi pools use the original added value to determine APY which makes it look a lot higher.
For many of these LPs, if you take their APY / their added value instead of current value, the Geyser APY is more like 60% - 70% APY which is fun to think about.
LeoFi in Q1 2021
On to some of the fun announcements of announcements. I've already seen a few Leo detectives snooping around and putting together little breadcrumbs of what we're about to launch.
LeoFi is about to launch 2 major products on another blockchain. These developments will effectively make LeoFinance a tri-chain project (operating applications on 3 blockchains simultaneously).
Many projects boast about future interoperability but LeoFinance has interoperability today. Allowing you to blog and earn rewards on one chain (Hive) and seamlessly wrap those rewards onto another chain (ETH) and participate in DeFi (Uniswap Liquidity Pool).
In less than a week, two more products will enter the LeoFi branch of LeoFinance and introduce a number of interesting dynamics to the LEO (wLEO) token economy.
I think one of these projects is highly anticipated and everyone can guess what it is but the other is an entirely new beast. We're excited to see how the community reacts.
Snapshot Announcement
One of the new DeFi products we're launching includes a new token to facilitate a particular set of operations.
Most other DeFi projects launch presales to get initial distribution and fund their project.. but we are not most other DeFi projects.
LeoFinance is a project with a two year track record and one of the most thriving communities in all of crypto. Instead of a presale, we're doing an airdrop to incentivize early bird community pariticpation on the new DeFi app we're launching.
This airdrop is also no ordinary airdrop. We're calling it a "hybrid claimdrop" for a variety of reasons. A snapshot will be taken in about 2-3 days. 24 hours prior to the snapshot, we'll release a post with all of the details on how the claimdrop works.
It will be based on LEO staked (LEO POWER) and WLEO pooled on Uniswap and if/when a particular set of actions are taken on the new DeFi app, the airdrop can be claimed - and yes, it's also a cross-blockchain airdrop where a token is delivered on Hive but auto-wrapped onto another blockchain.
Details will be announced s _ _ _ ™️
🦁

LeoFinance is a blockchain-based social media platform for Crypto & Finance content creators. Our tokenized app allows users and creators to engage and share content on the blockchain while earning cryptocurrency rewards.
Support LeoInfra's Onboarding Efforts by Delegating HP to @leo.voter (Currently at 2.4M HP). We Use this to Claim Accounts and Delegate RCs to Newly Onboarded Users
Posted Using LeoFinance Beta