U.S. Debt currently stands at $31.4 trillion, and the Senate just voted to suspend the debt ceiling until 2025, so until then, the sky's the limit for U.S. Debt, sort of.....
In return for raising the limit the Democrats had to agree to limit government spending next year, keeping it level with this year, and then only a 1% increase in 2025.
Given the current rates of inflation this will mean a real terms decrease in spending on welfare and infrastructure projects, and is equivalent to savings worth $1.5 trillion over the next couple of years.
The only exception is defence spending which has no cap, so the FED is free to spend as much as it wants on nukes and bombs and basically killing who it wants.
So everything's fine!
FINE!
Just fine!
By 2030, based on current projections, the annual U.S. deficit will only have risen only slightly to -6% of GDP, meaning that overall by 2030 the total deficit will only be around 100% of US GDP.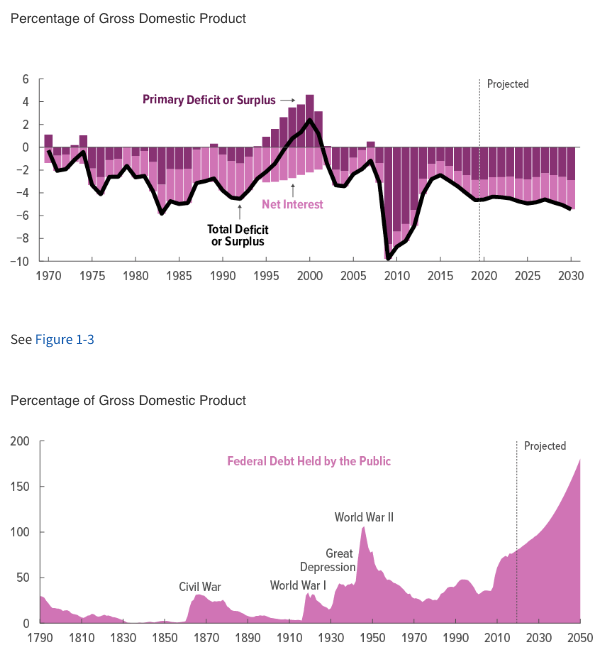 All of this is, of course assuming that there are no global crises for the next 7 years until 2023: so no wars, massive terrorist attacks, banking collapses, or pandemics that are going to inflict another couple of trillion onto the budget deficit in the space of a few months.
So just carry on...?
I mean why not, I mean I can't see any problem with just keeping on going, I mean what's the problem when it seems there is no likely scenario that the U.S. is ever going to be able to pay back its debt.
Surely they're planning a financial (global currency) reset?
The more I look at the above the more I expect there's going to be some sort of real financial shock in the form of just writing off the above debt and implementing a CBDC that transfers the above debt to poor people and puts it on them and their unfortunate children to pay by probably doing free labour or alternatively choosing to die and having their assets go the State.
The above situation can't go on forever, it just looks unfeasible to me.