I used to own a fair bit of Litecoin as I used to subscribe to the theory that Litecoin would generally follow the price of Bitcoin and probably outperform it.
I used to think that the Litecoin price would increase when crypto started to become more popular, as it is easier for someone on an average wage to own a whole litecoin, which psychologically seems more than owning a mere fraction of a Bticoin.
I also used to think Litecoin was more functional than Bitcoin - with its signficantly cheaper transaction fees and faster speed of transfer - and I've long used Litecoin for transferring between exchanges to purchase some of the more obscure alt coins.
However, yesterday it took almost an hour to transfer some Litecoin from Binance to Kraken - I wasn't in any rush, and the fee was acceptable, a more $0.40 - but that was a LONG TIME - I'm used to around 20 minutes.
It reminded me of the dearth of development on Litecoin: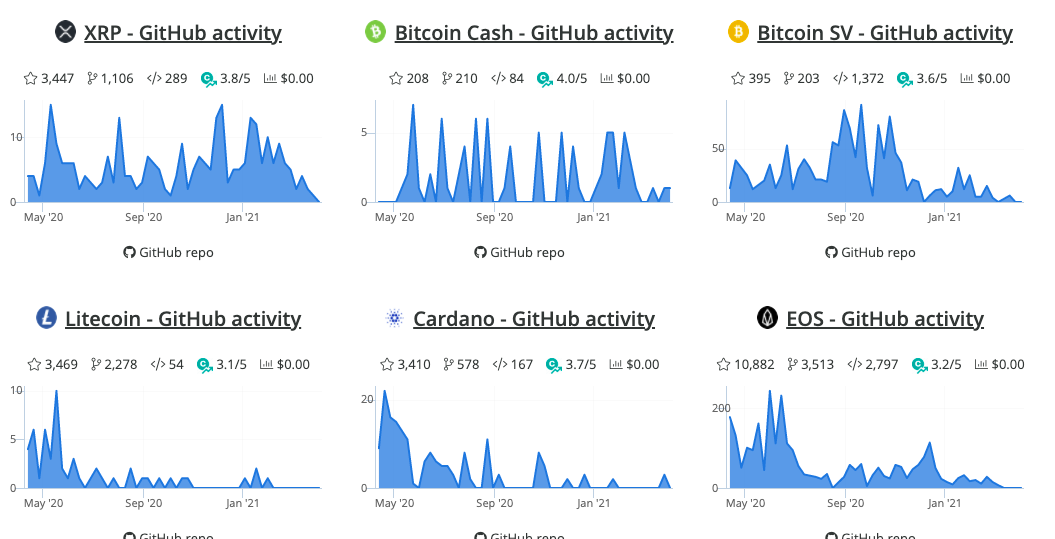 Keep in mind the scales are different, and litecoin is on the low side!
I actually sold most of my LTC a few months ago for Rune (at $0.40) and AVA (at $0.70) and some for Cake (I think I bought that for $7) - and I've got no regrets, especially about the Rune!
What is the actual point of Litecoin These Days?
I don't buy the throwaway line that 'it's Bitcoin's sliver' - it's now slipping out of the top ten, surpassed by a range of mainly DEFI coins. That could be the start of a death spiral for Litecoin?
And the transfer fees may be cheap, but there are alternatives - Binance Smart Chain or Hive or even Dash for example.
So with the lack of development I just can't see the point of it?
The only hope I can see for it is either that people get nostalgic for 2017 or people buy it because it does have a cool name, like something out of a sci-fi movie!
But honestly, I'm glad I sold most of my mine, no going back for me!
(Apologies if this posts twice, either Leo's scheduler didn't work yesterday or I accidentally scheduled if for tomorrow rather than earlier today!)
Posted Using LeoFinance Beta