Yesterday was spent at a Buckingham Palace Garden Party in celebration of my mum being awarded as a Member of the British Empire (MBE) for her services to the NHS.
She was actually awarded the MBE in the New Years honours list back in 2021 but of course COVID has put a stop to large gatherings like a Garden Party (there were approximately 7000 people there yesterday) and so she's had to wait patiently for her trip to the palace.
Still in the meantime, the award has also seen her and my dad get a trip to Wimbledon last summer to sit for the day in the Royal Box on Centre Court, watching some of the best tennis players in the world do their thing including the women's semi-final.
We also all got a trip to see the Lord Lieutenant of Berkshire's House last Autumn to watch my mum actually receive the award. Fans of the TV show 'The Great British Bake Off' would recognise his stately home as the venue that is used to shoot the very popular reality series.
In general I'm not a Royalist and don't have any great love of the Royal Family but it was a privilege to get to go inside Buckingham Palace and meet so many who like my mum have contributed to society, often unnoticed and unappreciated for long periods of time, get the recognition they deserve.
Apparently I have some kind of sixth sense that allows me to sniff out fellow cricket lovers in a crowd and I just happened to meet these 2 gentlemen who were there to receive an award for their services to cricket!
https://m.youtube.com/watch?v=_QRQBKqd8II&t=394s
We'd actually arrived at the Palace a little later than the opening time and took our time walking through the gardens to the building itself. Given that my sister who came with us is 37 weeks pregnant then we were never likely to be moving anywhere fast and we certainly wanted to avoid the crush to get to the front and see the Royals up close.
Still having parked my sister on a bench under a tree, I suggested to my mum that we take a wander towards the palace to see what we could see and mingle with a few of the other guests. It was at this point that we met the 2 guys mentioned above and we were just chatting on the lawn in front of of the palace when some very well dressed secret service men in suits, top hats and carrying umbrellas asked us (and the crowd in general) to move back a little to allow them to form a corridor through the masses for the Royals to pass through on their way to the Royal tent where they sit and take afternoon tea.
So we stood waiting for a little while to see who might appear until we spotted the Duchess of Wessex and wife to the future King of England, Kate Middleton strolling down the line towards us.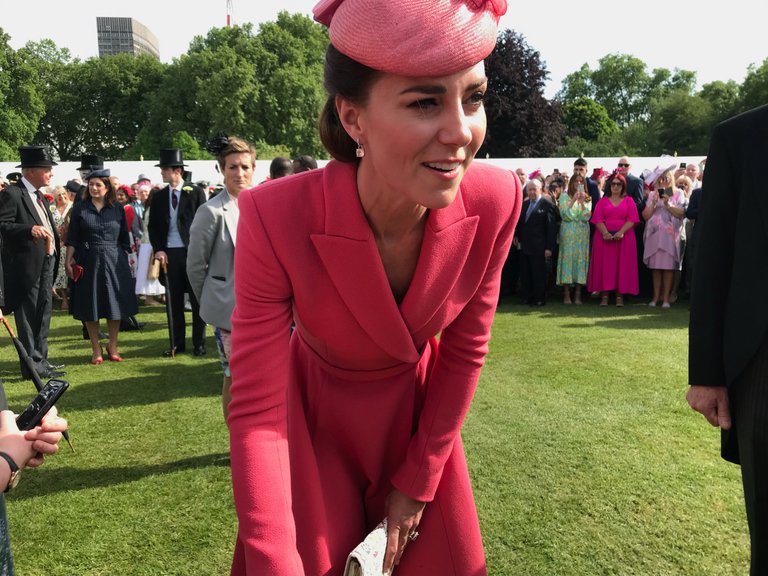 As luck would have it, she decided to stop and have a chat with the elderly mother of the 2 cricketers from Newport so that despite getting there late and not pushing to the front, I probably managed to get mum as close as anyone to what was the most senior member of the Royal Family attending yesterday.
However, the fun didn't stop there and as we were walking back to our hotel we started getting messages from family and friends that they'd seen mum's picture online standing next to Kate.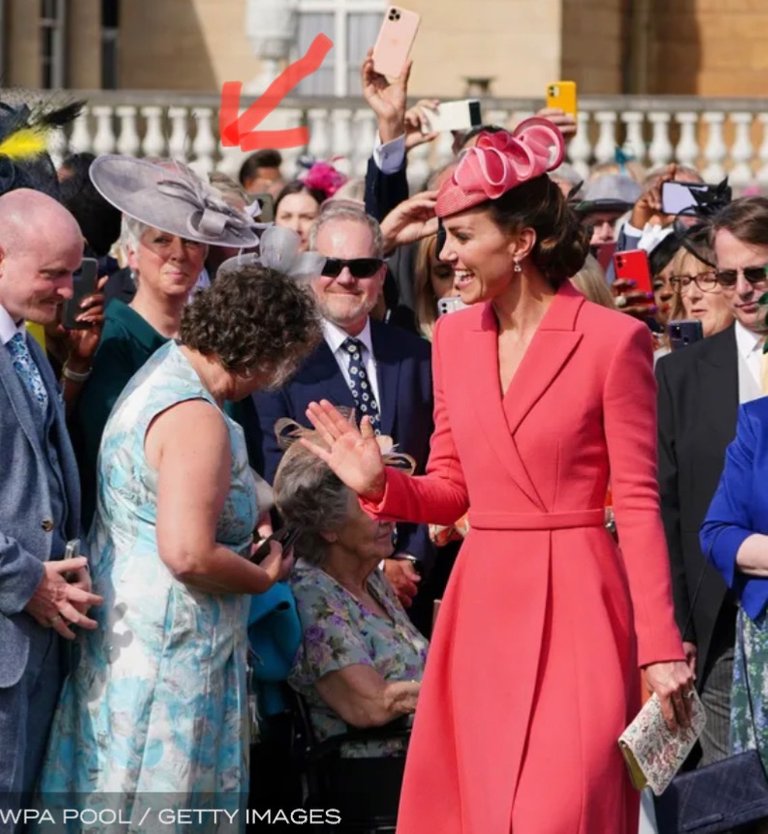 Mum is the lady in the satellite dish like hat looking at the camera source
It seems like this image taken by one of the professional press photographers there has been used across a lot of the publications and media sites covering the event including Hello magazine, The Daily Mail, Daily Express and many many more.
I've just shown mum how to do a reverse image search on Google so she can see her picture trending across the world and as you can imagine she's pretty chuffed!
It was a really nice day out for all us and I'd hope that everyone else there being awarded for their contributions to the community had a similarly good experience.
When you get to meet people like that it only reinforces my belief that to make the world a better place you only need to follow some pretty basic rules.
do what you love
take pride in whatever you do and do it to the best of your ability
be prepared to work for success
A few more of my pictures from the event