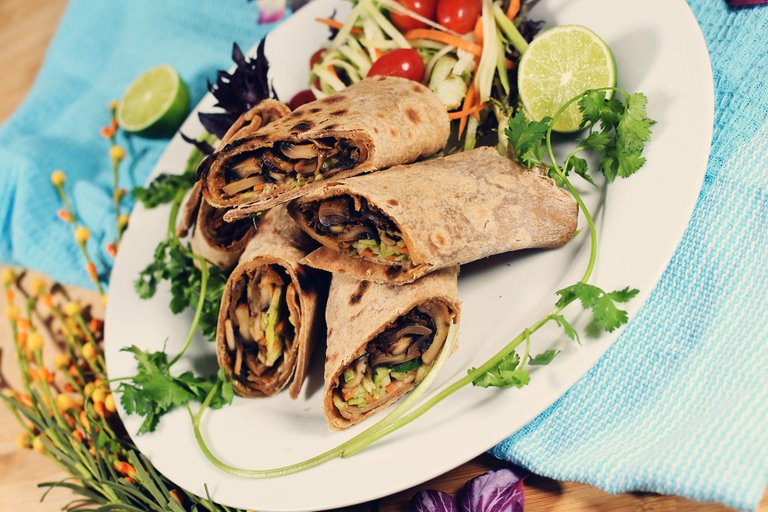 It's been a while since I've had an Indian tandoori dish. It was chicken at the time which was when I still ate meat. I loved the taste of the spices. I suppose a proper tandoori dish would be cooked in a tandoori oven. I'm sure the restaurants that I've gone to used a regular kitchen grill.
Indian food is very easy to veganize, although I've never seen a tandoori dish veganized in a restaurant. Not that it doesn't exist. I don't know.
It was time to take a trip to an exotic place where, if cooking were done in someone's home, folks on the street would get hungry with the aromas of warm spices wafting through the air. I've never been to India but this is what I imagine. Besides it's winter weather again today,(8C today and 23C yesterday), so I have to travel in my mind to a hot place.
As all traditional dishes, this spice blend would vary from house to house, region to region. Some have fewer or more spice items then others.
For this spice blend I've used what is used in some blends. I may be missing some that are often used, and I may have additional spices that are not always used.
I have used portobello mushrooms as the meat substitute. Portobellos are quite meaty and larger that regular button mushrooms.
Tandoori mushrooms
1 cup tandoori spice paste
340 grams portobello mushrooms
Oil for frying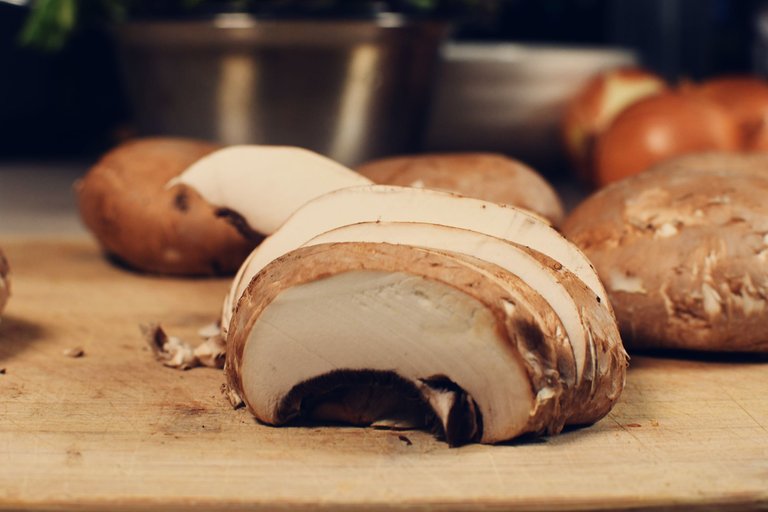 This blend made enough to keep in a jar for more uses. I used ground and whole spices. I used what I had.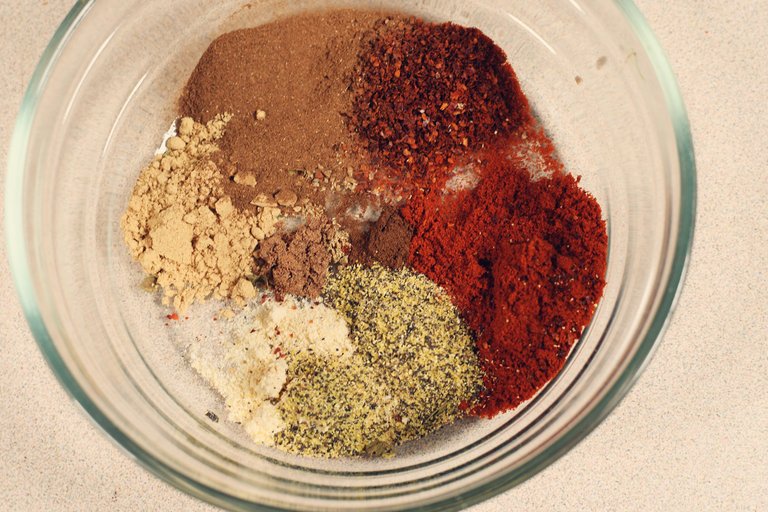 Tandoori spice blend
Ground spices
1 teaspoon ground ginger
1 teaspoon garam masala
1 teaspoon paprika
1 teaspoon chili powder
1 teaspoon cayenne pepper
1 teaspoon black pepper
1/2 teaspoon onion powder
1/2 teaspoon cinnamon
1/4 teaspoon nutmeg
1/4 teaspoon cloves
Whole spices
1 teaspoon cumin
1 teaspoon coriander
1 black cardomom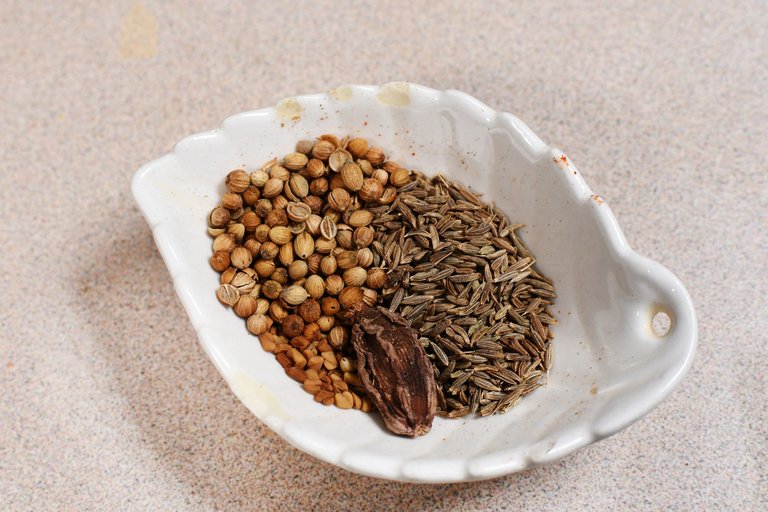 Toast whole spices until the seeds pop and the aroma appears, making sure it's not burnt. Grind in a blender until fine.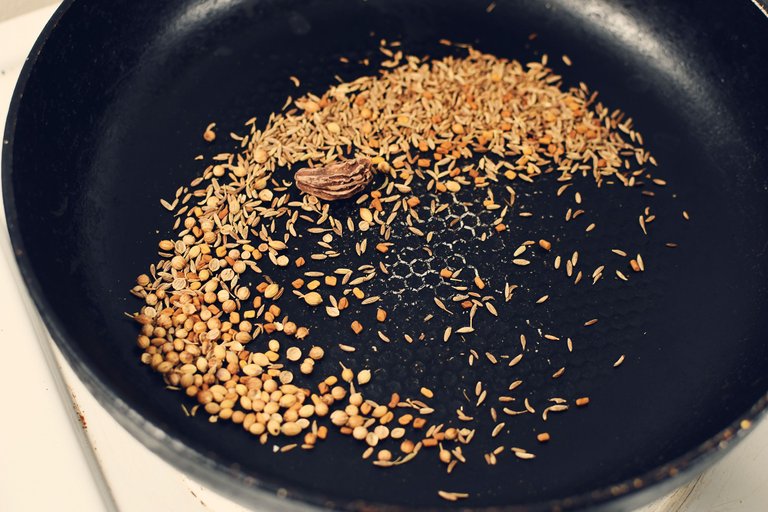 Do the same for the ground spices. Blend ground whole spices and ground spices together.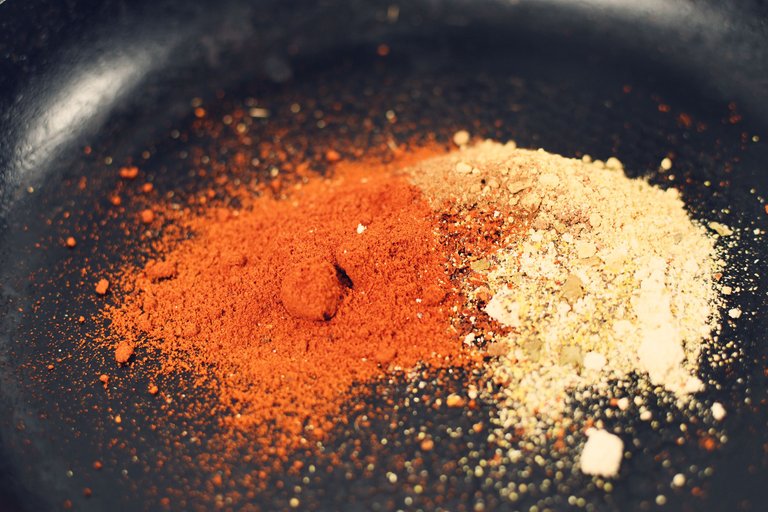 I made my own version of a paste which was quite basic. I would be adding some powdered spice to it.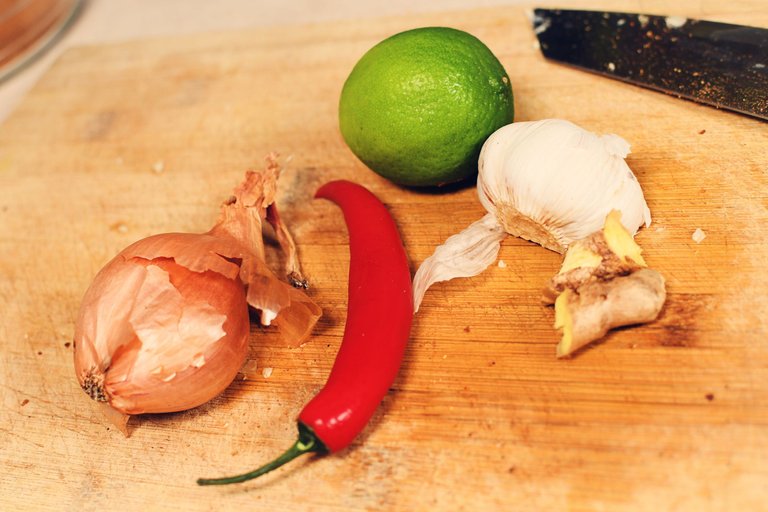 Spice paste
40 grams shallot
15 grams chili
10 grams ginger
20 grams garlic
Juice of a lime
1 1/2 tablespoon tandoori spice blend
2 tablespoons vegan yogourt (forgot to add to the photo)
1 teaspoon agave or sweetener to balance out the tartness of lime(optional)
Salt to taste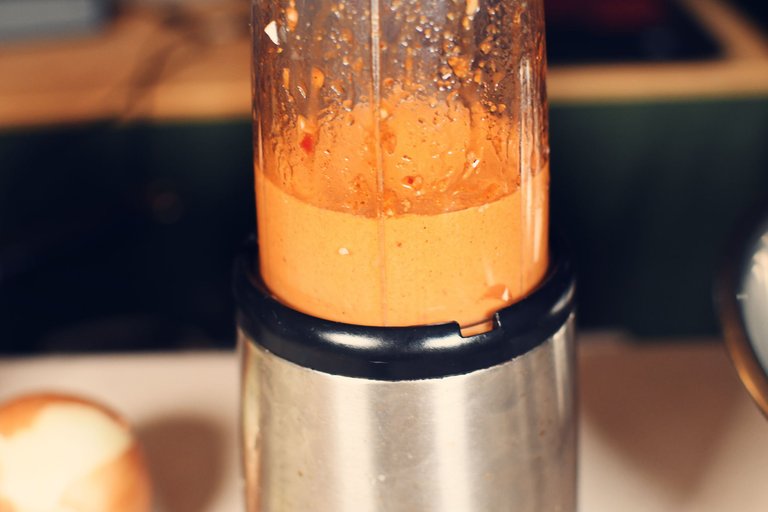 Grind everything in a blender and coat mushrooms with the paste.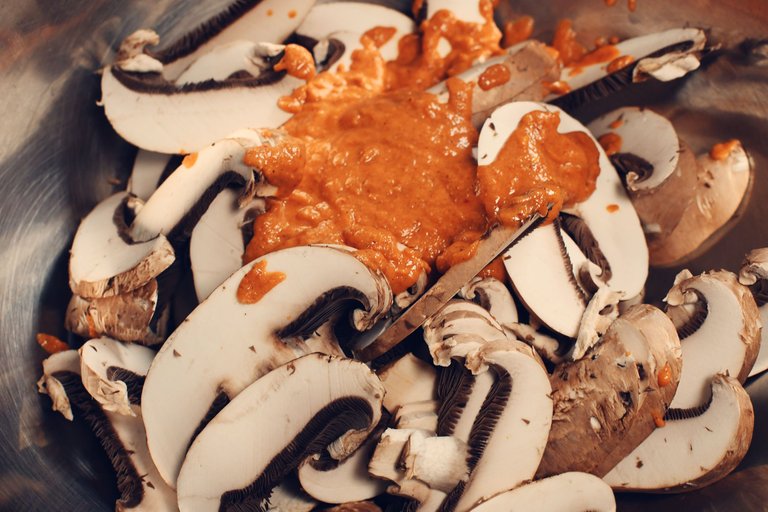 After browning onions in oil, add mushrooms. Cook the mushrooms on low until as much of the moisture as possible is gone.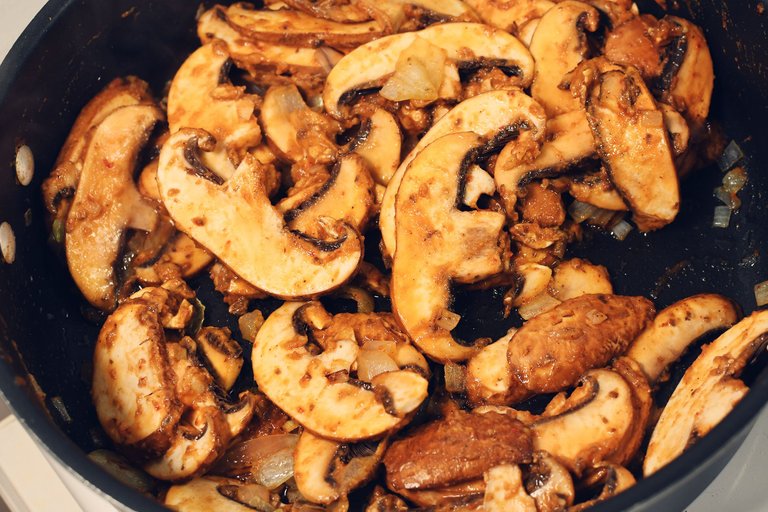 While the mushrooms are cooking, make rotis.
Rotis
2 cups sifted wheat flour
3/4 cups water or more if needed
2 teaspoons oil
1 teaspoon salt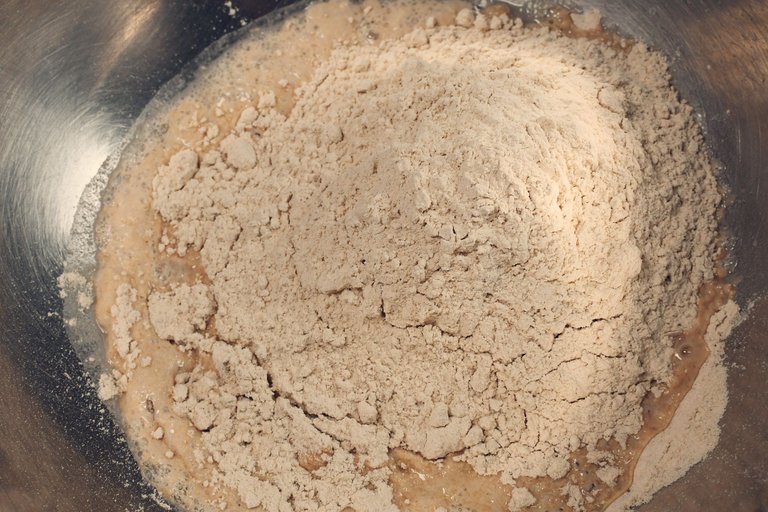 I have tried rotis several times and not until now did I get results that I was super satisfied with. I used a flour that is organic sifted wheat and it was great to work with. I usually use all purpose for this.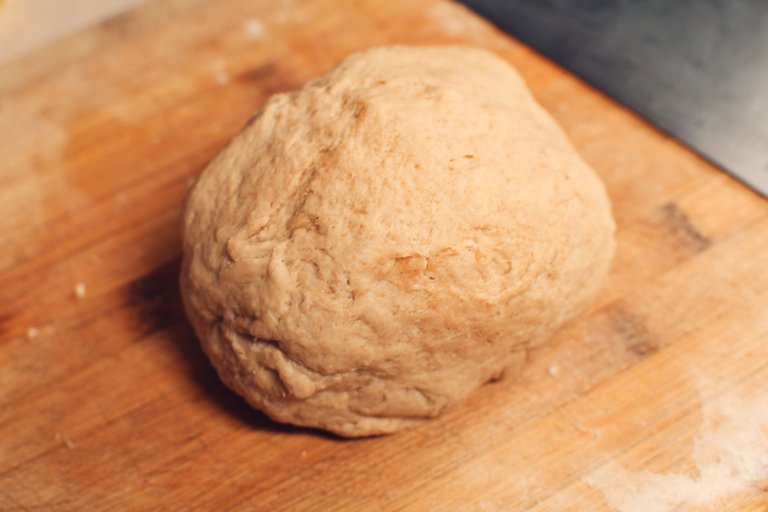 Mix the water and flour together and knead for five minutes or so. Cover and rest for half an hour.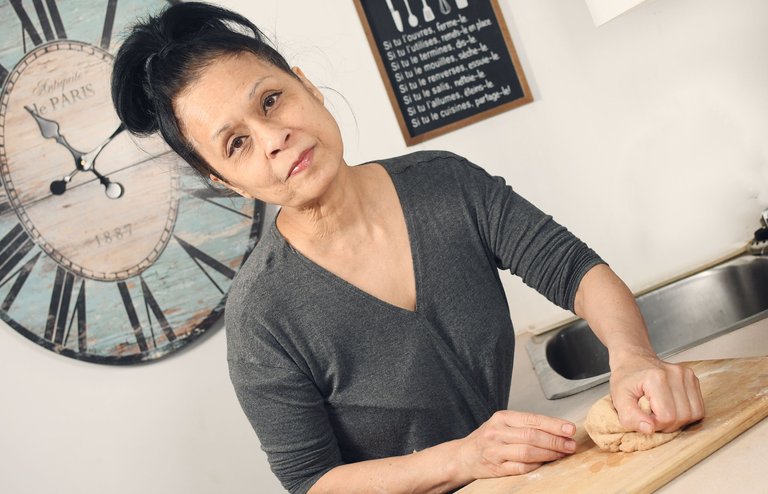 Cut into desired equal pieces and roll. I wanted a fairly large round so I could wrap the mushrooms.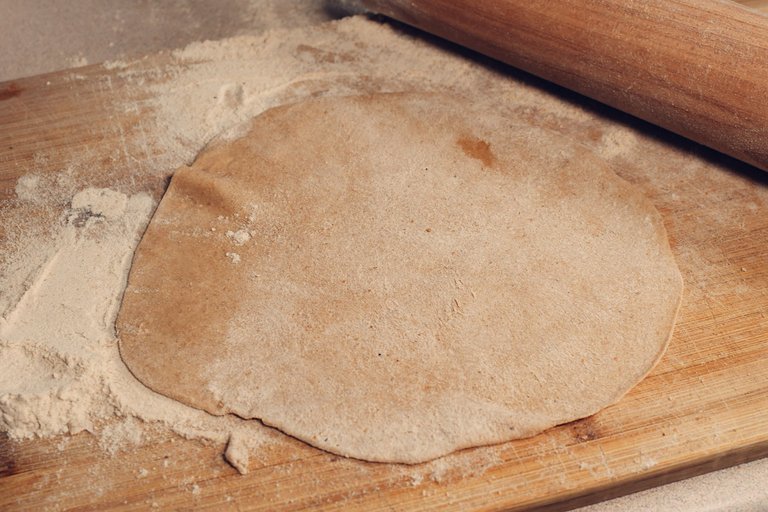 I got out my cast iron tawa for this, but sometimes I just use a regular pan. I put it on almost high at first then adjust the heat according to the cooking of the rotis. It was turned down a little to avoid burning but high enough to cook until puffing. I like to turn them over after they get brown spots.
There is nothing more satisfying then a roti that puffs up. This was not the most perfect puff but for me, it was a thrill. I know that would be normal in households around the world.
Most people here just purchase ready made wraps and rotis. They are available everywhere. I am determined never to do that again. I find that the ready made ones have preservatives that make me feel, not so great, after consuming. These homemade ones don't have that affect. But that's just me.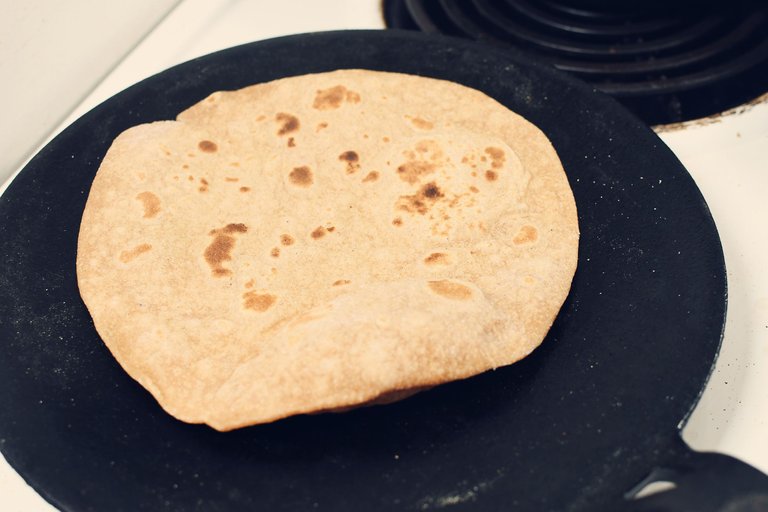 The time had come to assemble the rotis.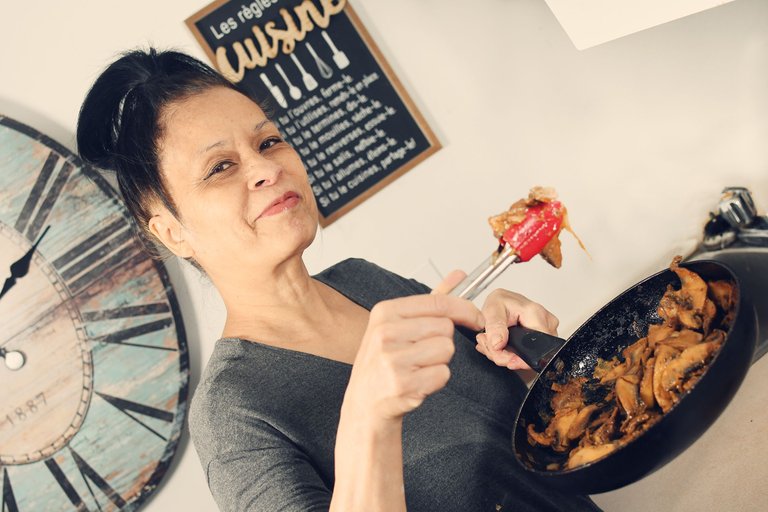 I started with a generous line of mushrooms.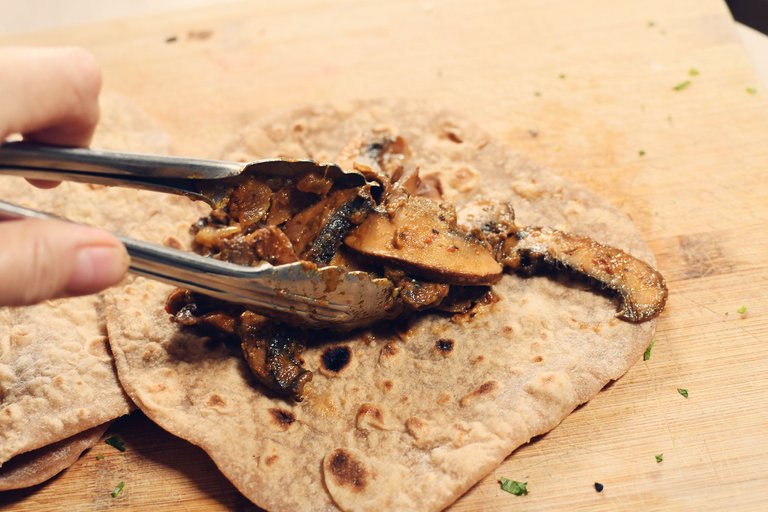 Earlier I had chopped cucumbers, onion and tomatoes to add, but I only used the cucumber. I thought the tomato would make the wraps too wet. I didn't use the onion because there was onion cooked with the mushrooms and that was strong enough.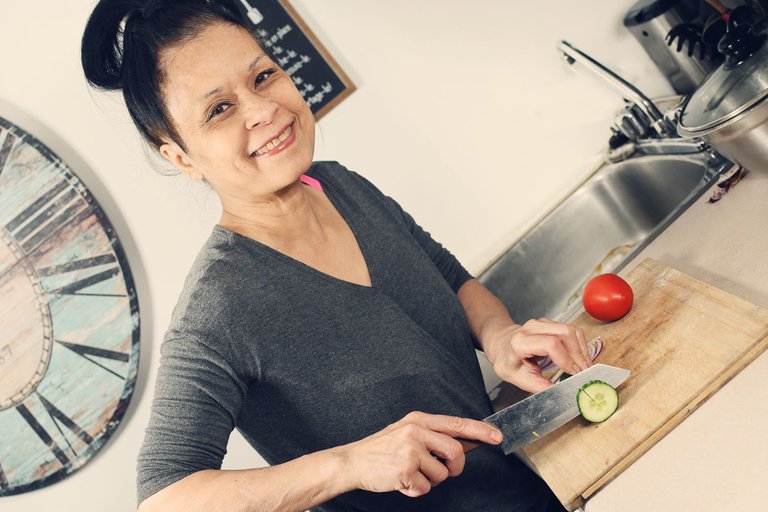 I used the cucumber and some leftover chayote slaw from the other day.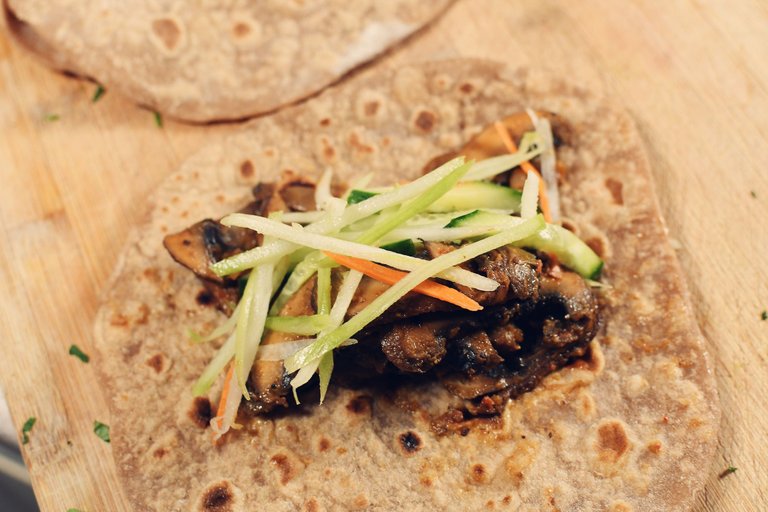 After wrapping them, I warmed them seam side down first then turning them. It was just for a few minutes. The items were already warm.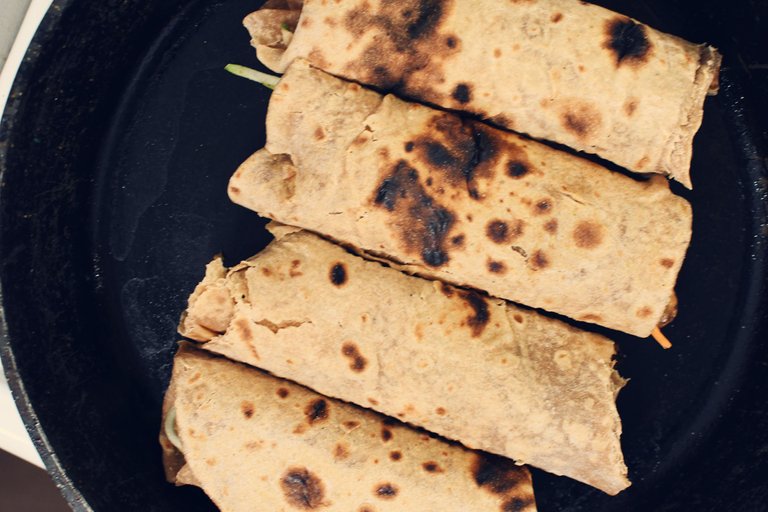 To serve, I had a dish of basic marinara sauce from another time, and I made a dipping sauce from vegan yogourt.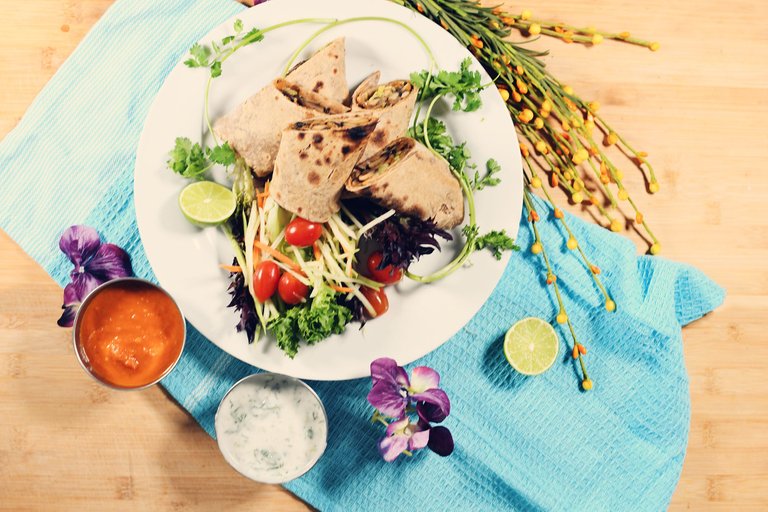 Yogourt dipping sauce
1 cup vegan yogourt
1/8 cup shredded cucumber
5 or six mint leaves chopped
1 stalk green onion chopped
Salt and pepper to taste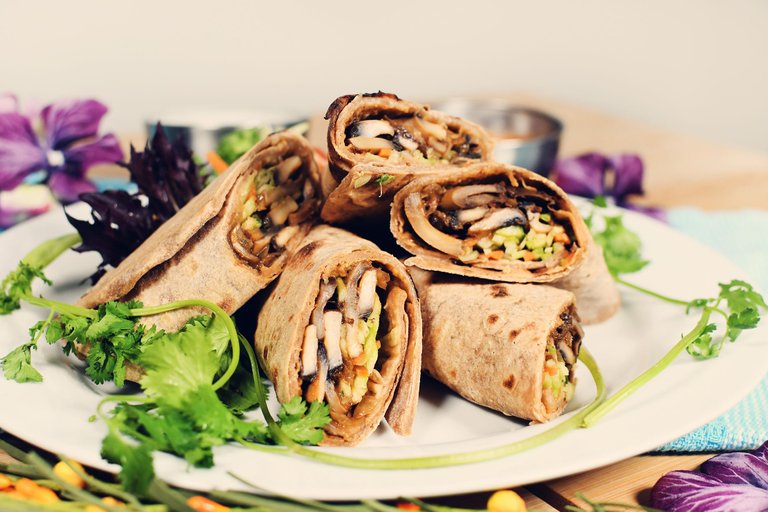 This is an easy thing to make, although it may not seem this way. The people I know would think it is too time consuming. They're used to buying these things ready made.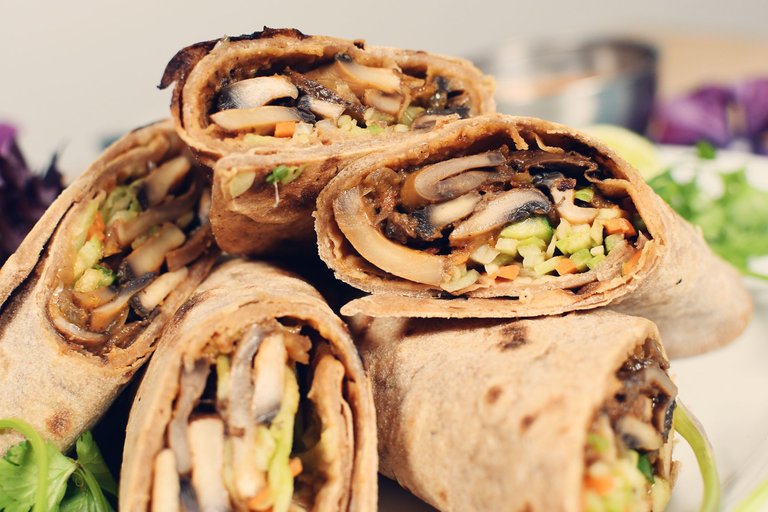 If you're not doing a post, it could take as little as 40 minutes, (not including dough resting time), to whip up, providing you have all the ingredients on hand.
With these mushrooms the wraps were satisfying but felt like it was light enough to eat, so a nap was not required.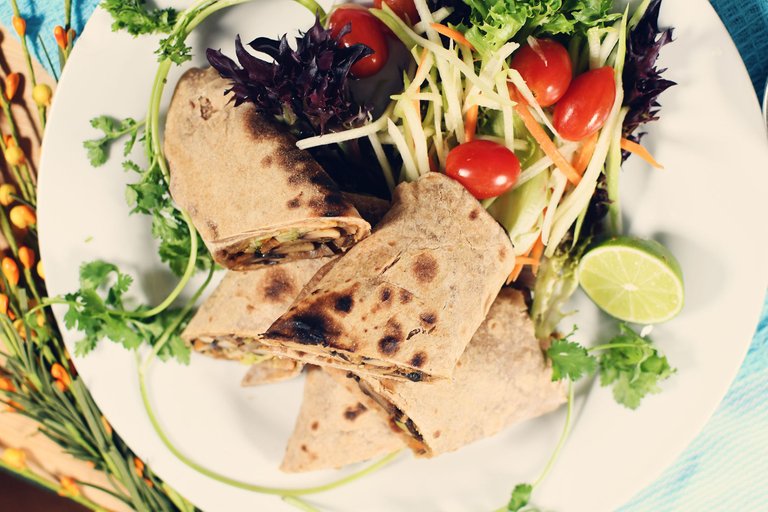 Thanks for dropping by and have a great day.

design by: @KidSisters
Photos taken with a Nikon D7500 by me, except for the ones of me, taken by my other half.