Read this post on TravelFeed.io for the best experience
---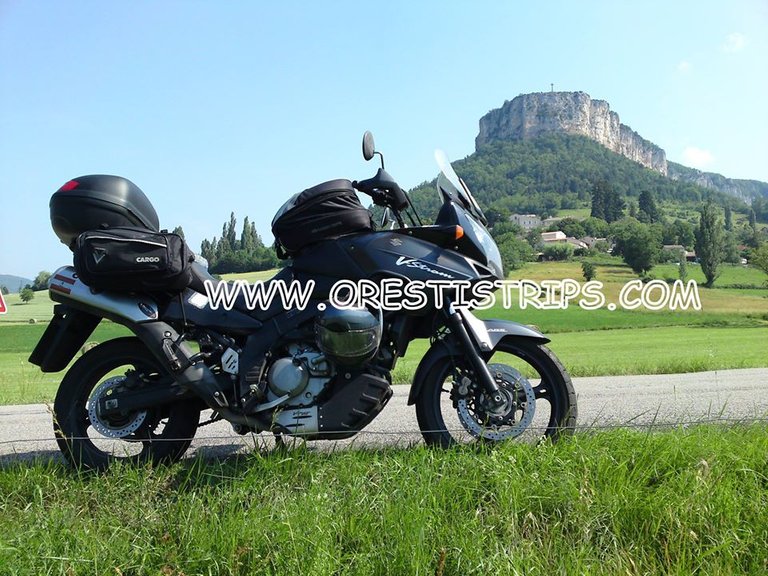 ---
From Greece to Slovenia
It's not hard to convince people like me about a trip especially when it's gonna be done on 2 wheels but the "official" excuse for this one was to reunite with friends I haven't seen for quite a while. Well, I won't promise you all reunions went as planned but I can vouch for the stories that will follow. Besides...when people make plans God laughs :) (If there's one anyway).
On a hot late August day I have just rode all the way from the South East end of Attiki region up to the port of Patra (Greece) in order to take the ferry up to Trieste (Italy). Here's my loaded trusty donkey waiting to enter that long ferry in the back.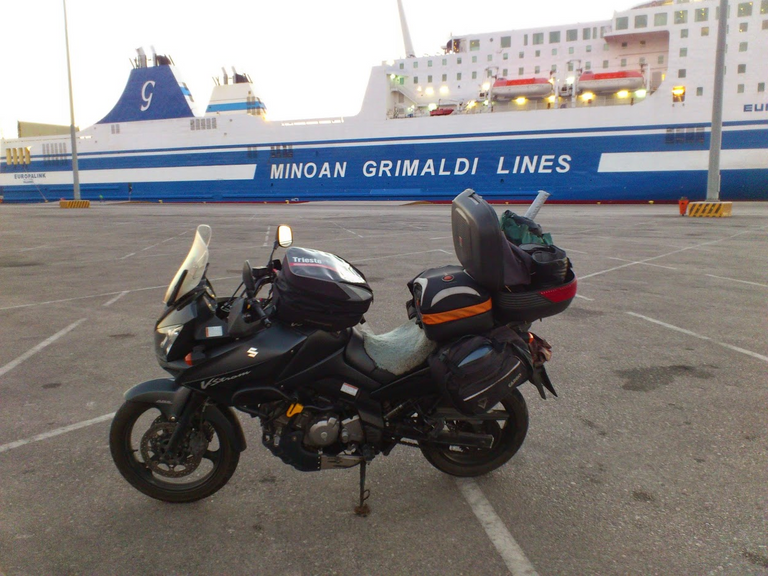 Arriving early enough I was able to find a good spot for my tent: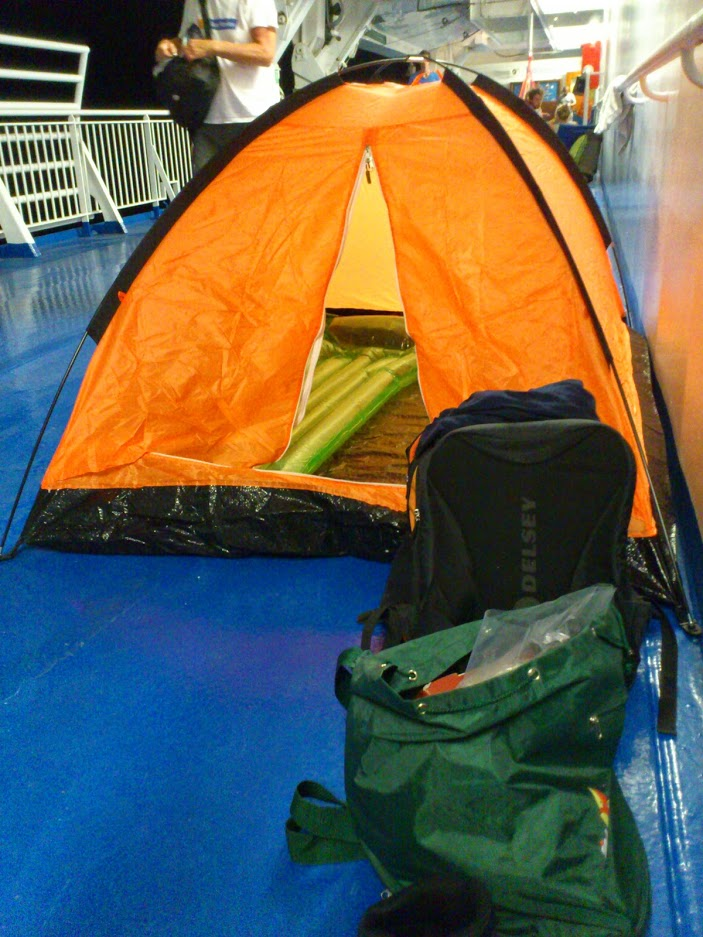 Best way to pitch a tent on a ferry? Neodymium magnets from a hard disk.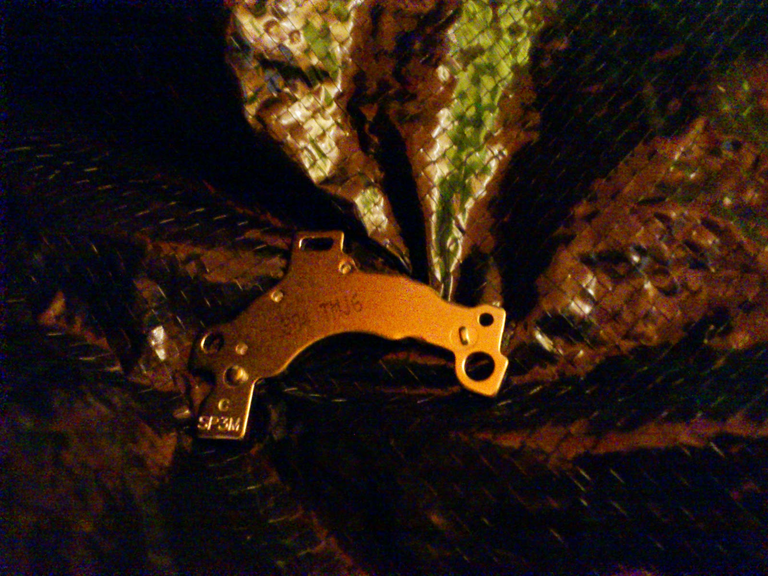 The ferry generously offered me awful impressions. The lack of enough toilets and trash bins was beyond imagination. Needless to review the rip off at the restaurant for portions designed for sparrows. The drop of service from ferry companies over the last years is hard to comment. The view of the calm see as we reached the port of Igoumenitsa (Greece) next morning fortunately was quite the opposite: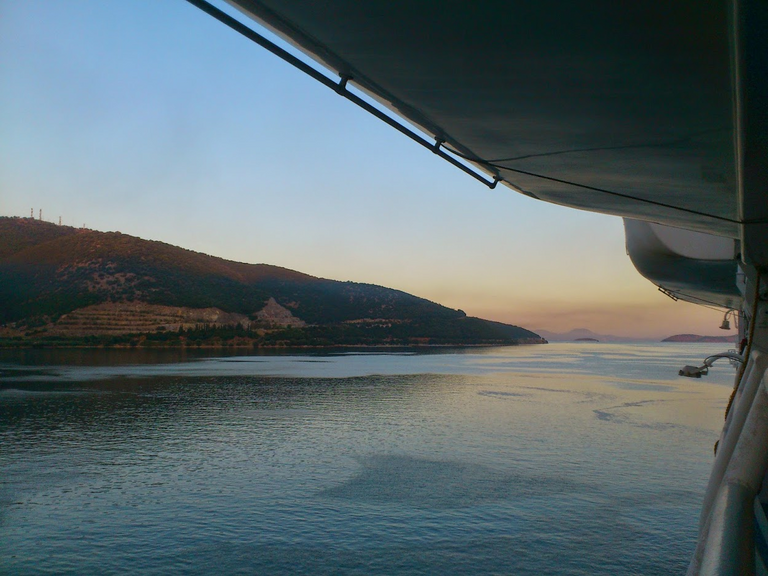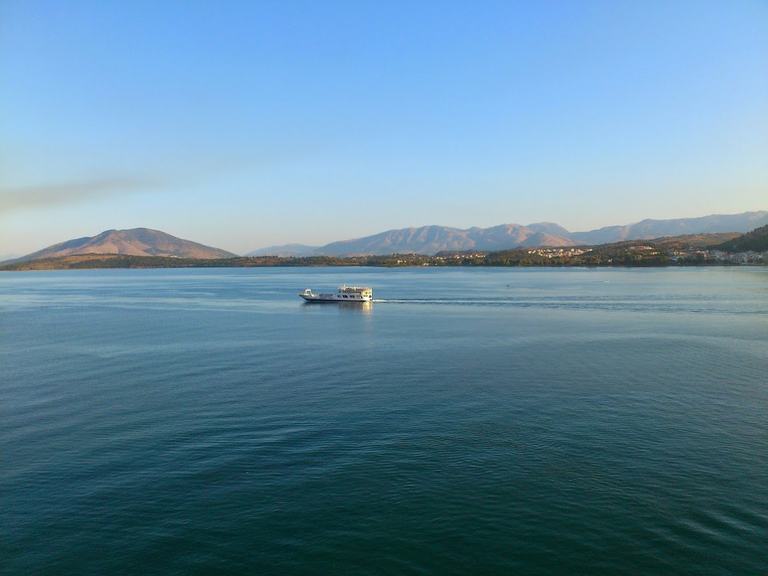 Same was the view of the sun before diving in the sea somewhere in the middle of the Adriatic sea: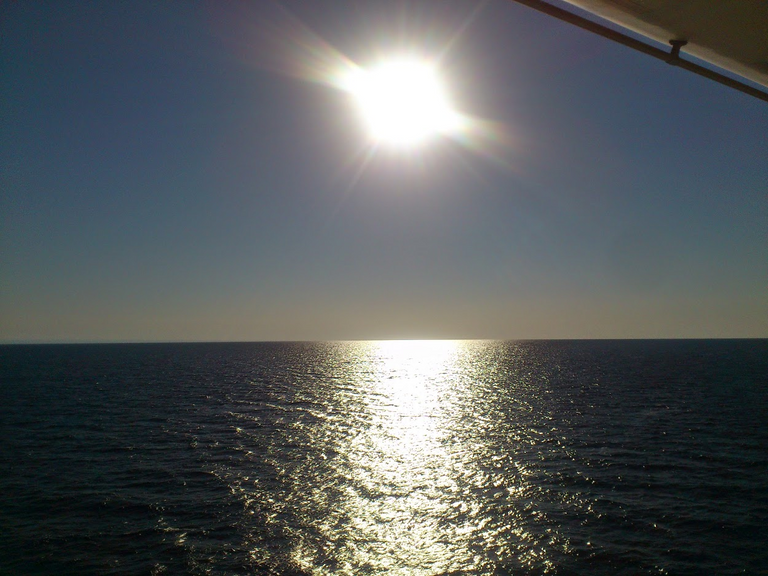 And the sunset was not bad either: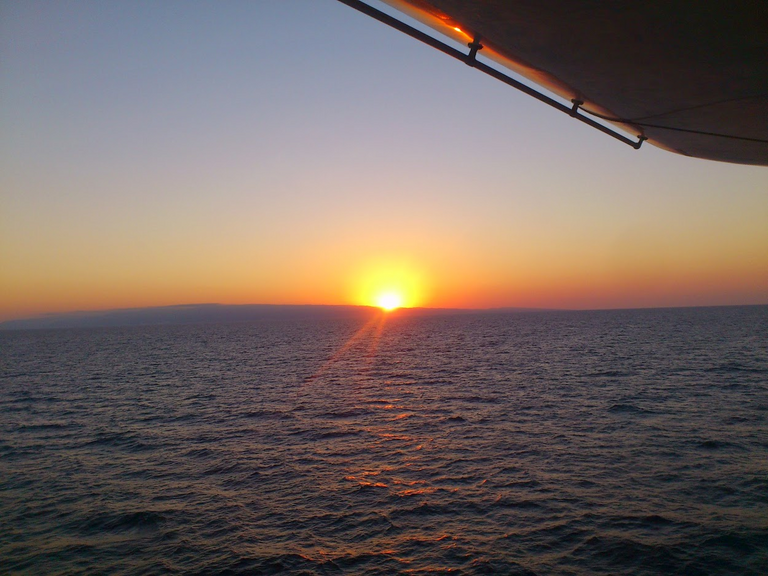 Day3 on the ferry and as we reached the port of Ravenna the weather is already much more miserable. Cloudy 'n rainy, didn't allow much space for pictures and any joy in general. After 45 hours we finally arrive at Trieste in very questionable weather. I make my way up to Ljubljana via Postojna on a very nice route riding literally and luckily in between dry gaps of rainy weather for most of the part. I risked not to delay wearing my rain gear and this proved to be a risky but wise choice. As soon as I arrive at my AirBnB my host leads me to the garage to park my bike it started to rain dogs and cats. Couldn't be luckier. His mum definitely could be luckier though. I met her upstairs at their nice apartment where I had rented a room. She had just lost her husband and was now trying to continue life living with her son who...ehm...I wouldn't rush to judge someone who lost his father so recently. Mine was recently gone too. Been there. I told her about my loss in an attempt to find common consoling ground. Such a lovely hospitable woman and so was her spacious apartment from which I could do my favourite hobby: observing people going to their early morning commitments. I had my breakfast eager to explore the city later.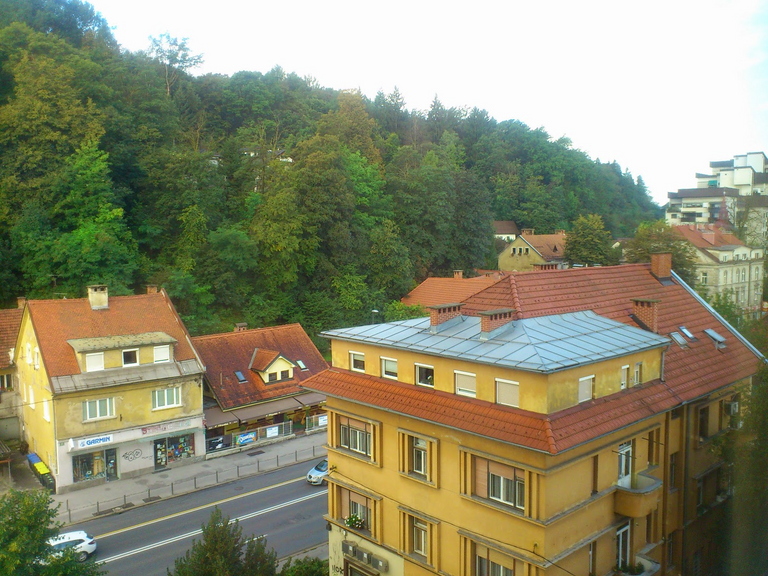 View from the living room
I never knew there could be different elevators for the odd and straight floors till I saw this: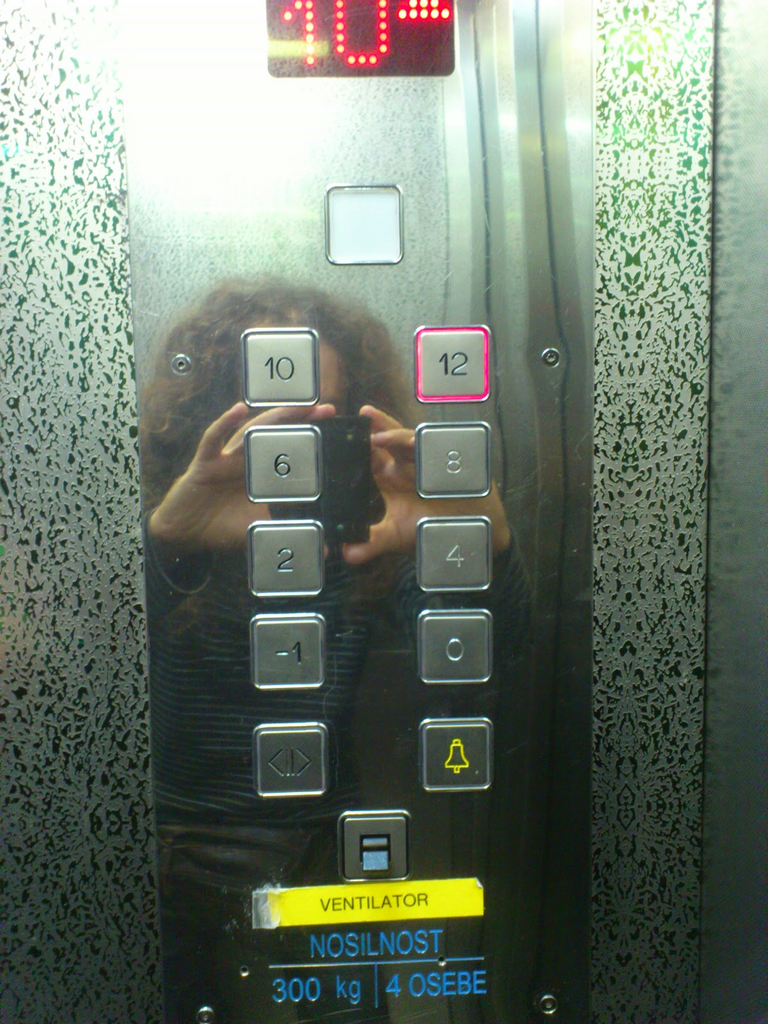 Straight floors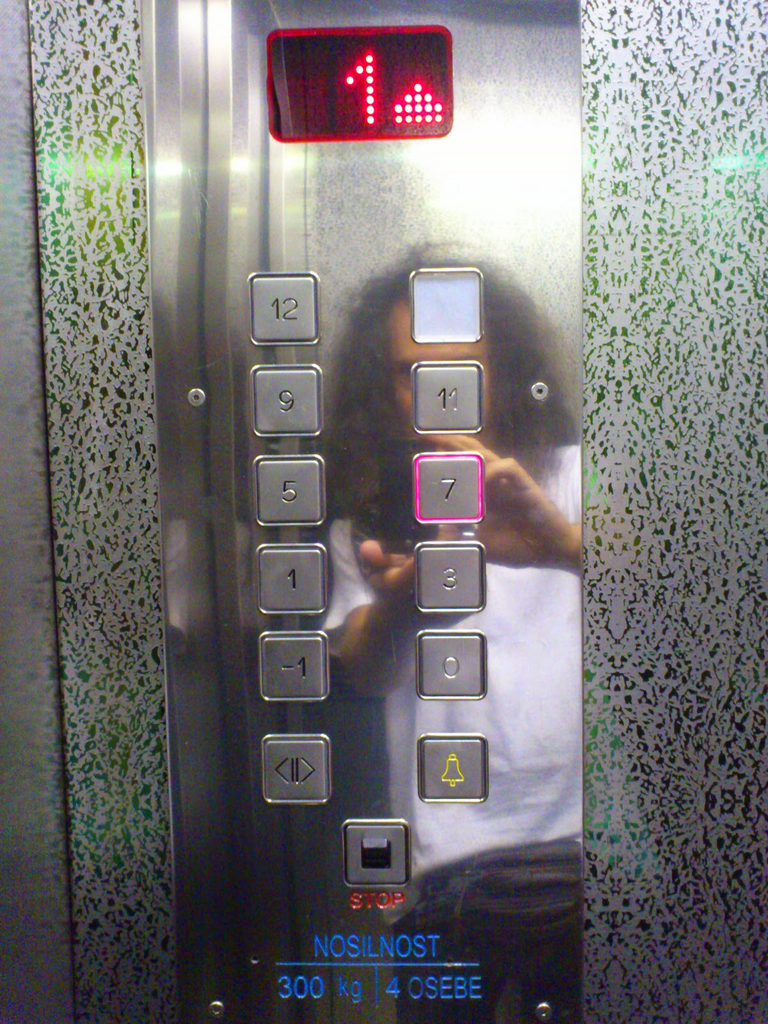 Odd floors
My host's son invited me to the roof top which offered an overview of the city compared to that of a balloon tour:

Ljubljana from the top

I had the chance to walk a LOT around Slovenia's capital under fantastic weather conditions. I soon find myself walking in the lovely Jakopic Promenade park: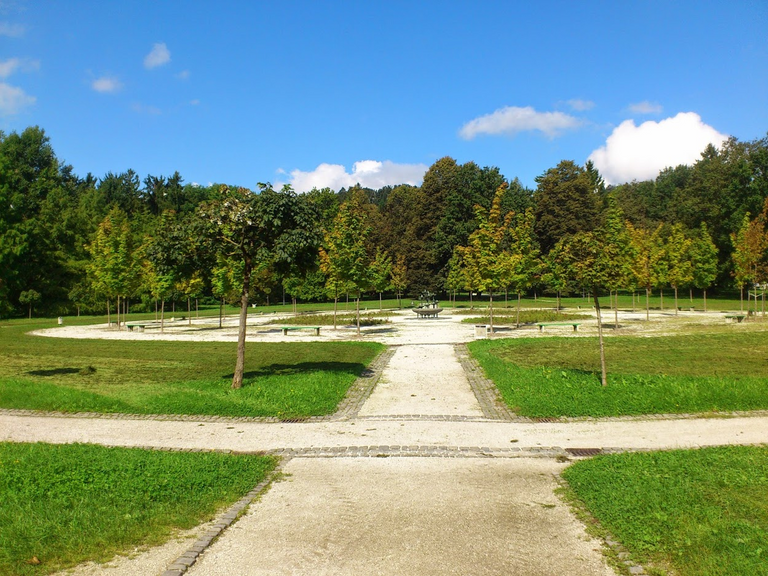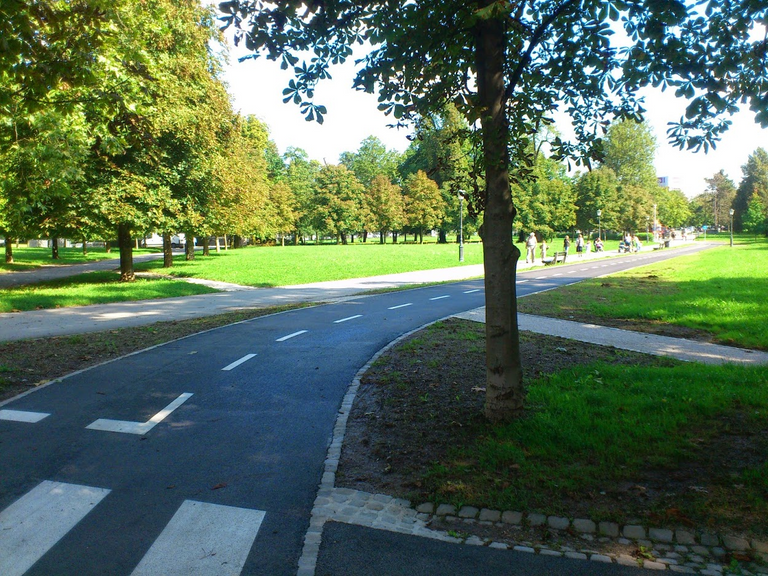 Bicycle routes with top notch tarmac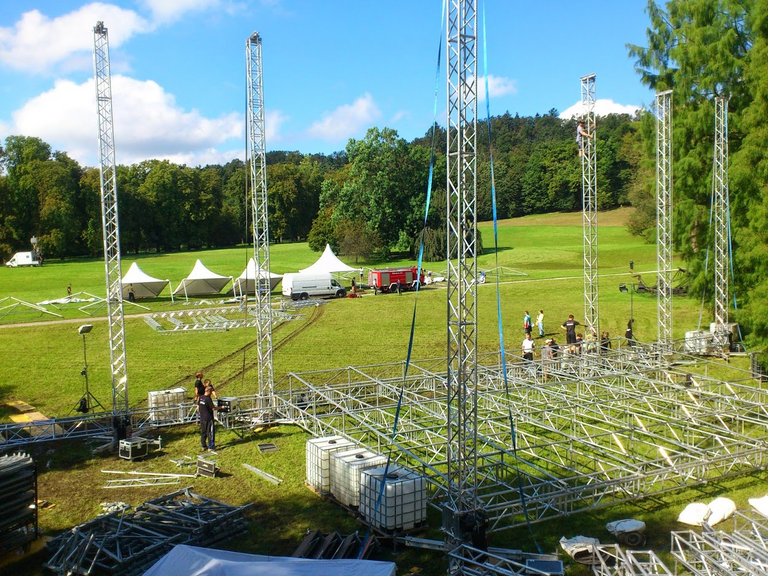 Great venue for open gigs
In the park 2 girls promoting Herbalife stopped me proposing me to measure my fat. Since I have not much of fat to measure I was intrigued to see what their device would read and...: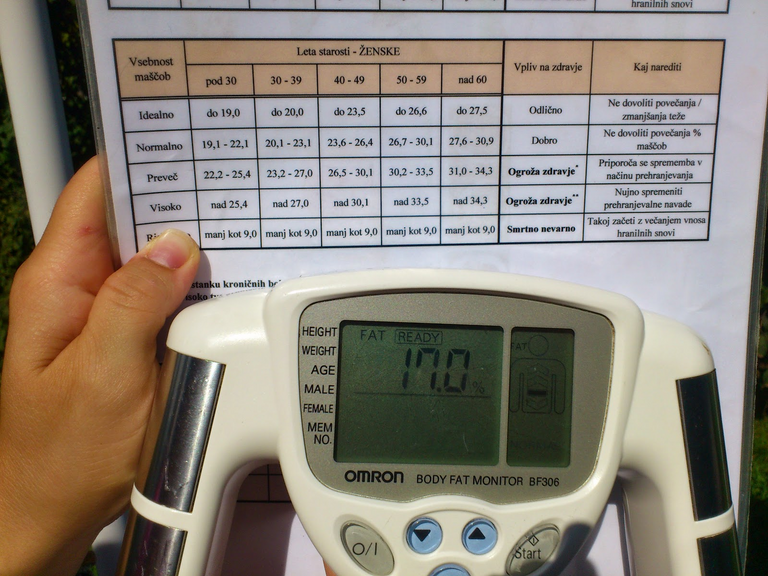 It's easier to extract blood from a stone than fat from my body
The "fat specialist" insisted in having a picture with me so...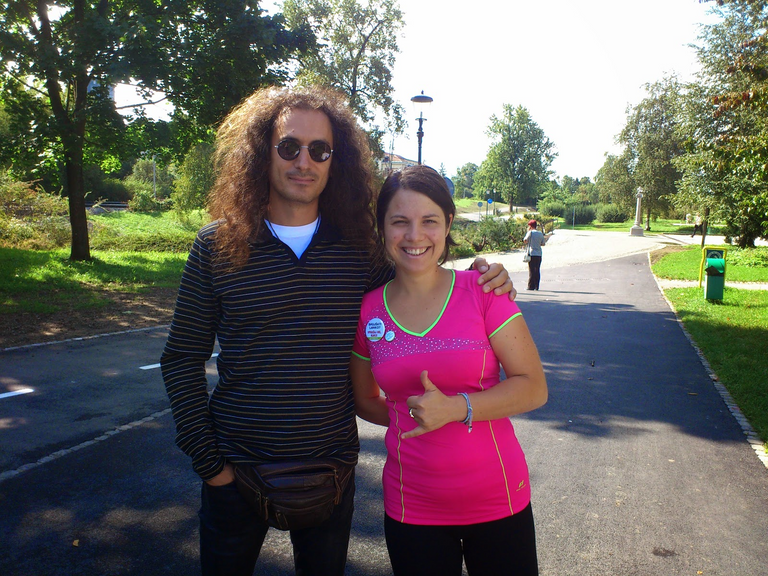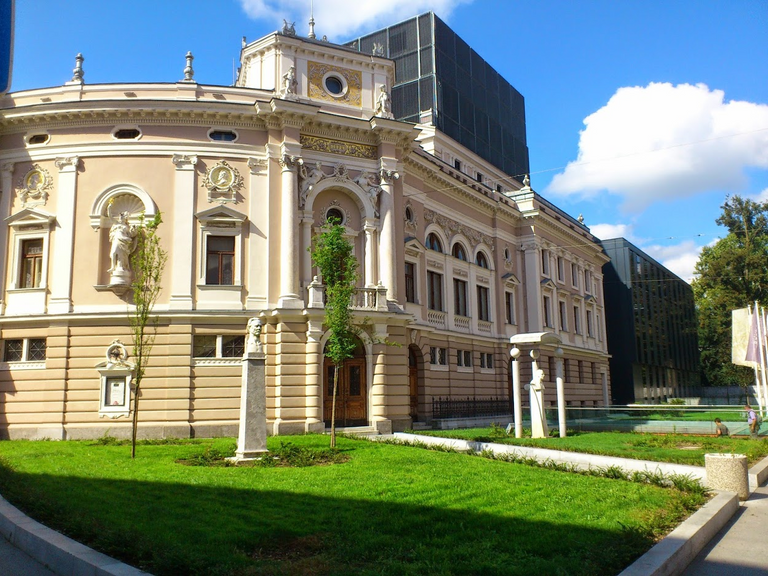 SNG Opera Ballet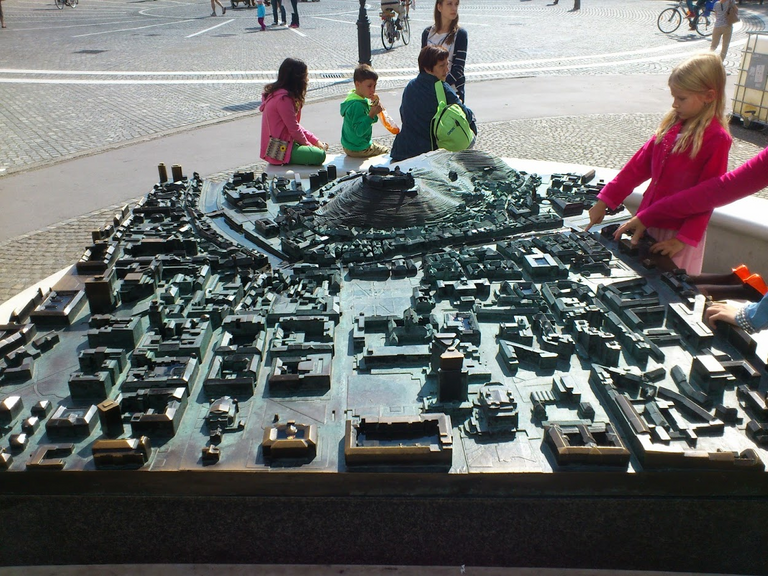 Slovenian kids around..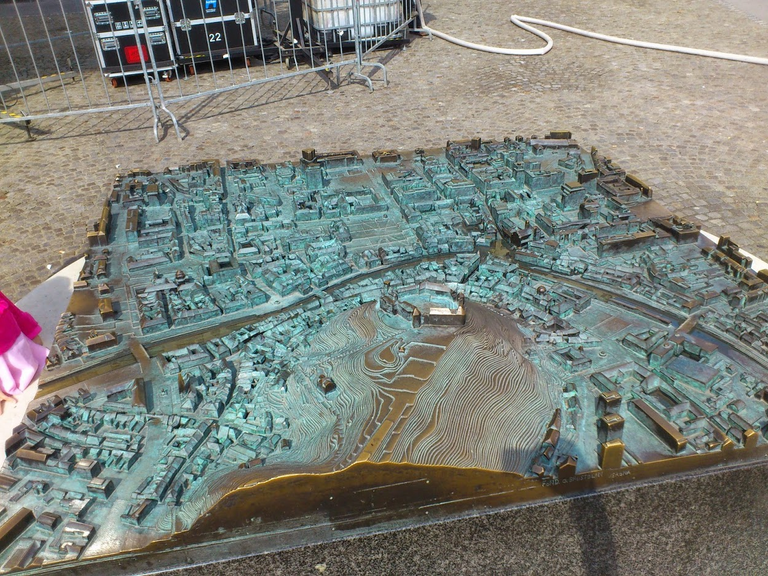 ...Ljubljana's miniature.
A stop at Preseren square gives you the chance to enjoy all these wonderful buildings around:
Preseren monument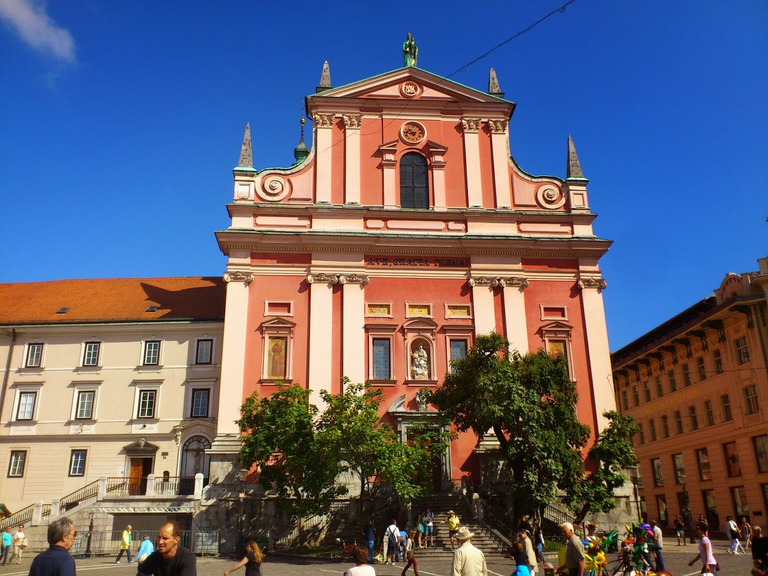 Franciscan monastery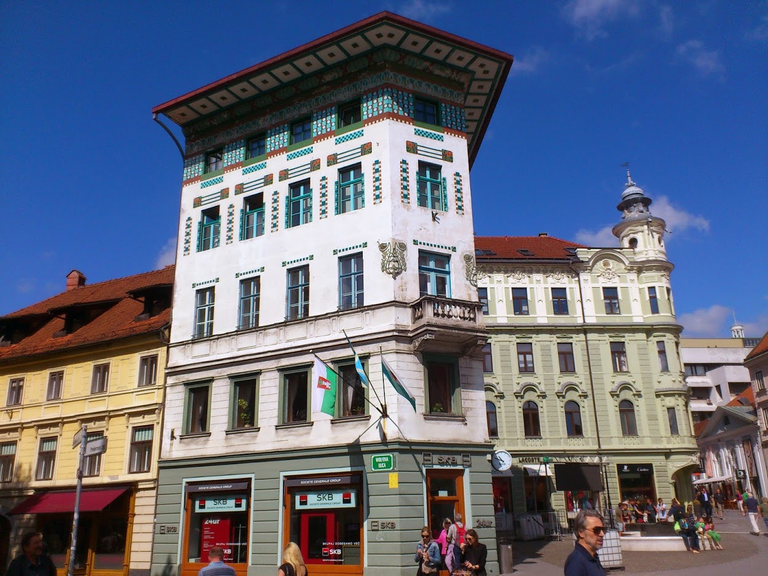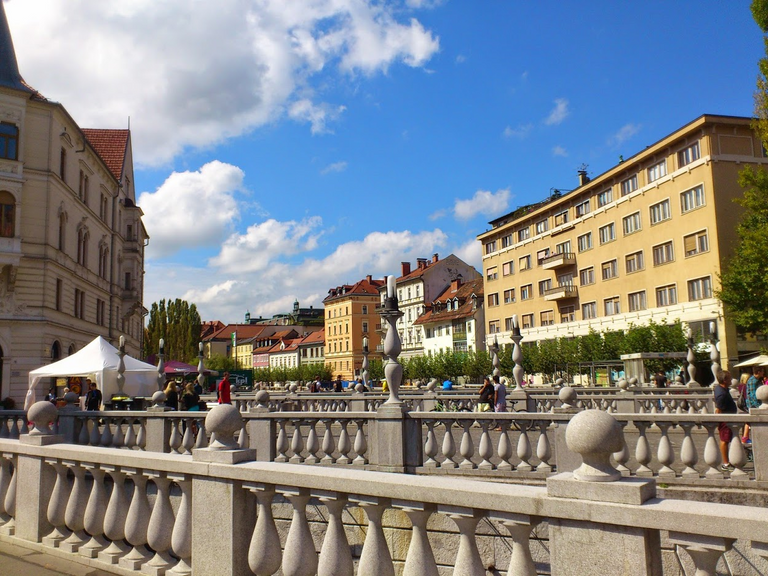 It's called triple bridge for a reason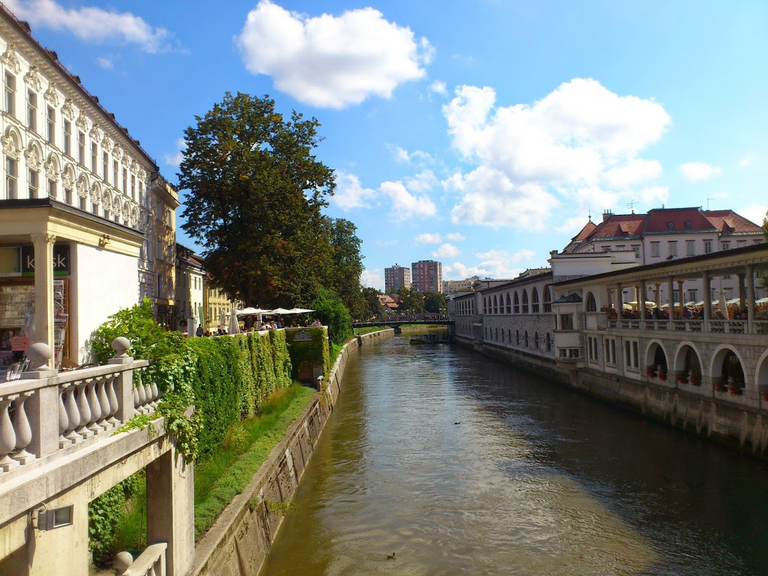 Ljublanjka river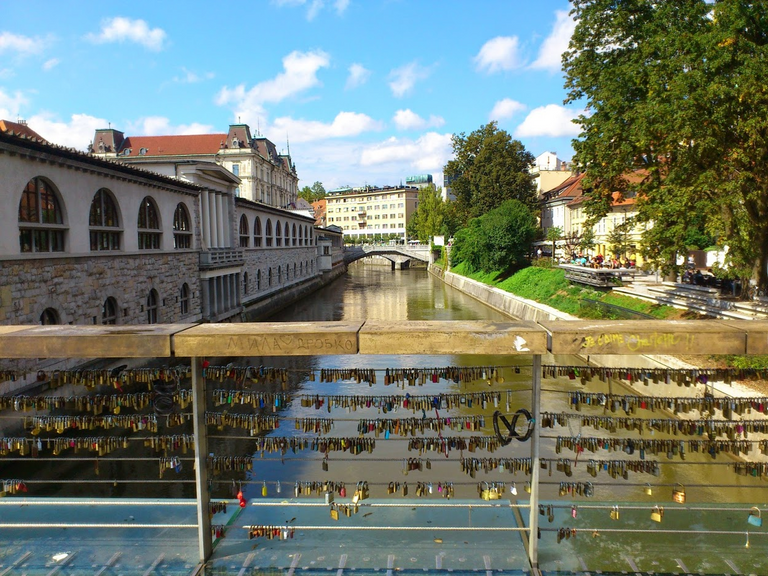 Butcher's bridge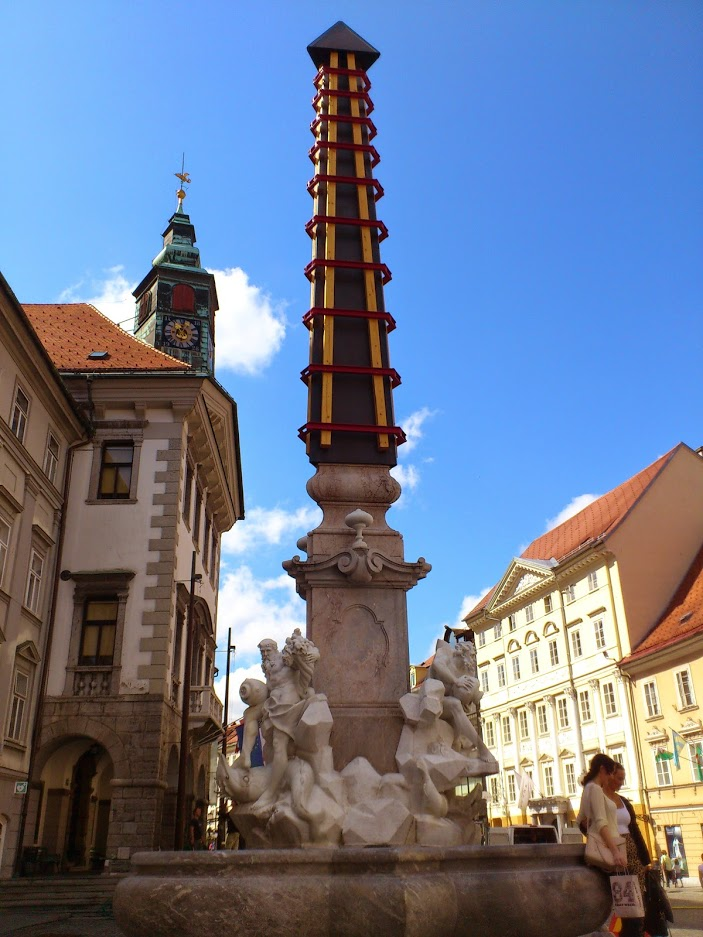 Robba fountain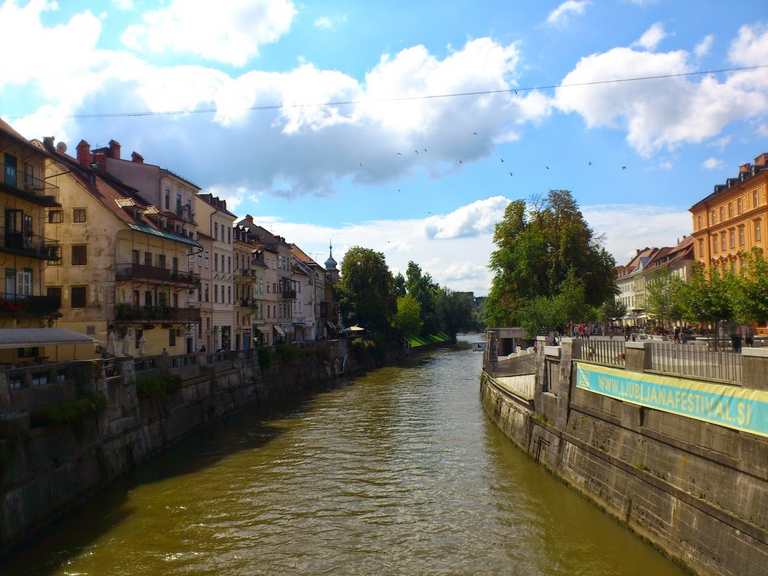 View from Cobblers bridge
A walk up to the castle of Ljubljana offers a nice overview of the city: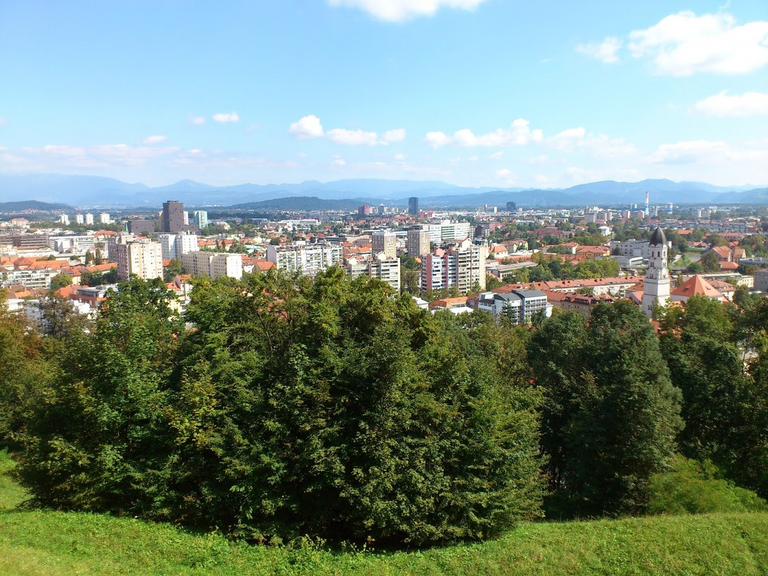 And nice it is itself:

Words of wisdom in the castle's toilets: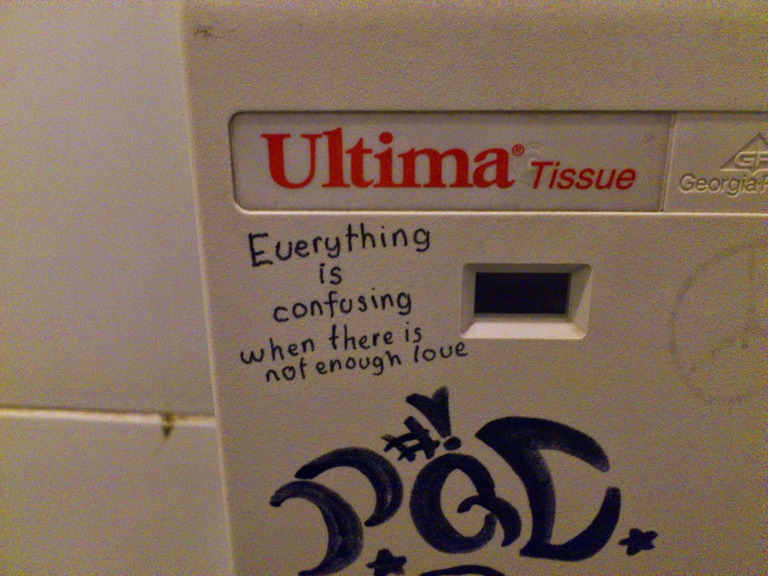 Isn't it?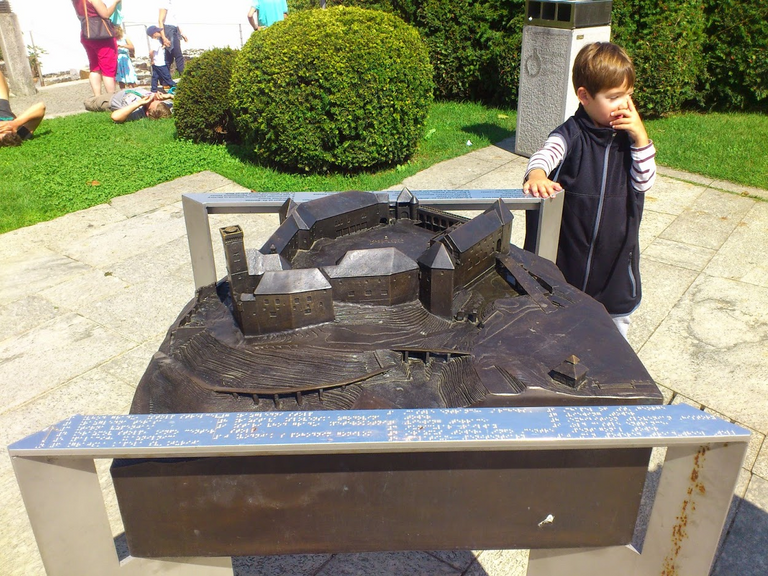 The castle's miniature with instructions for blind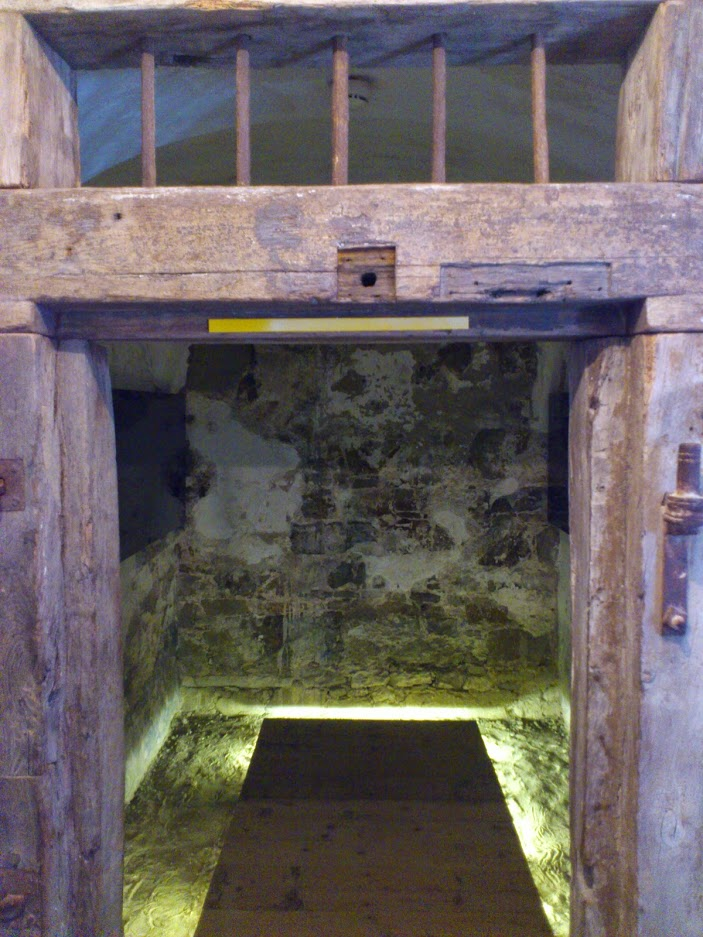 Some of the castle's prison cells were open...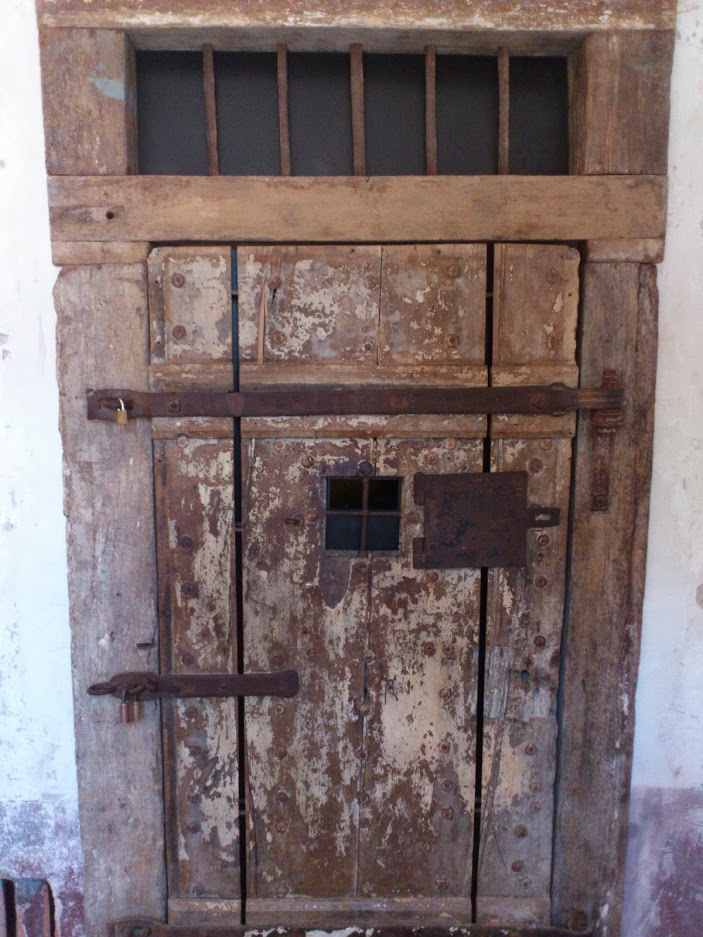 ...some were closed.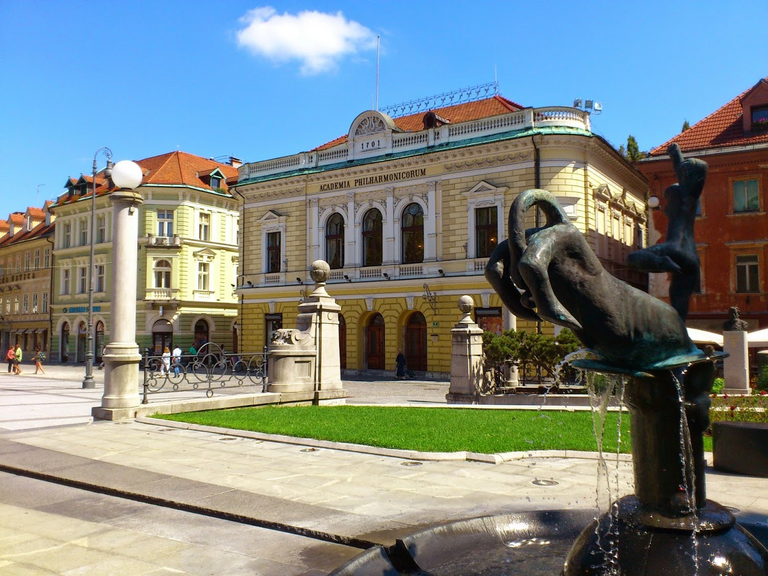 The local philharmonic building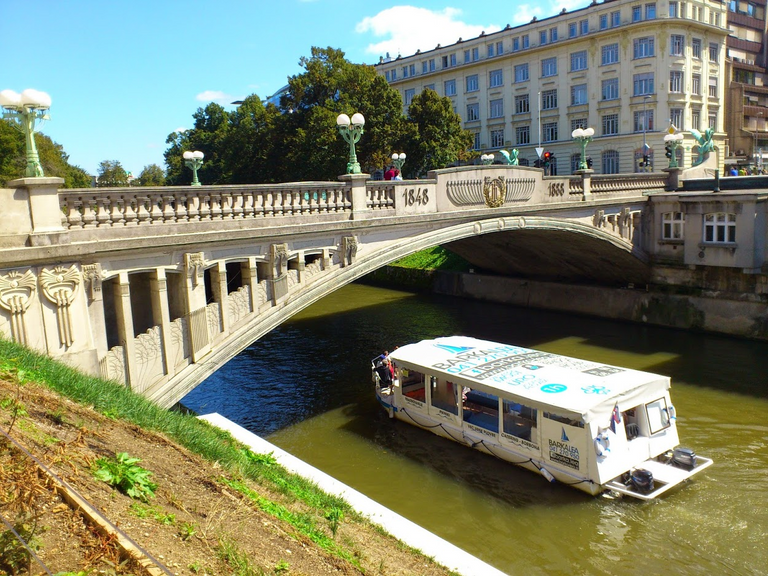 Dragon's bridge
Right by the Green Dragon, emblem of Ljubljana, I had one of the best ice creams ever.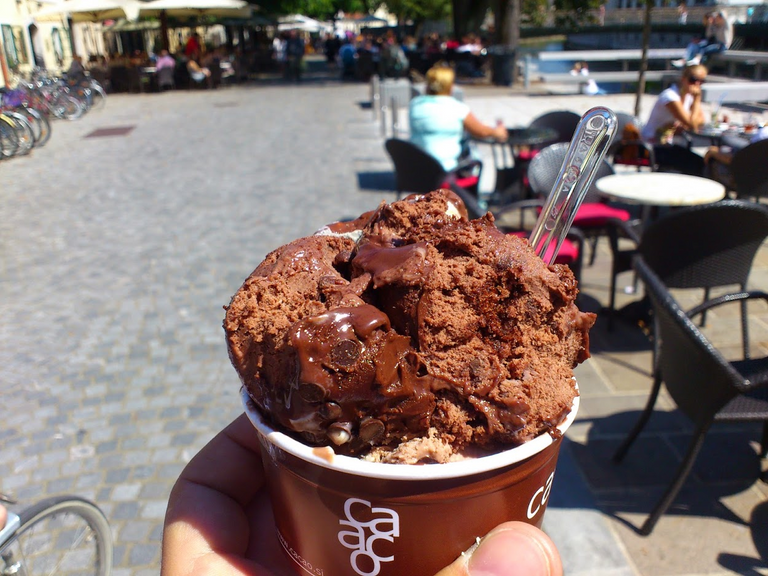 Muffin chocolate. Orgasmic.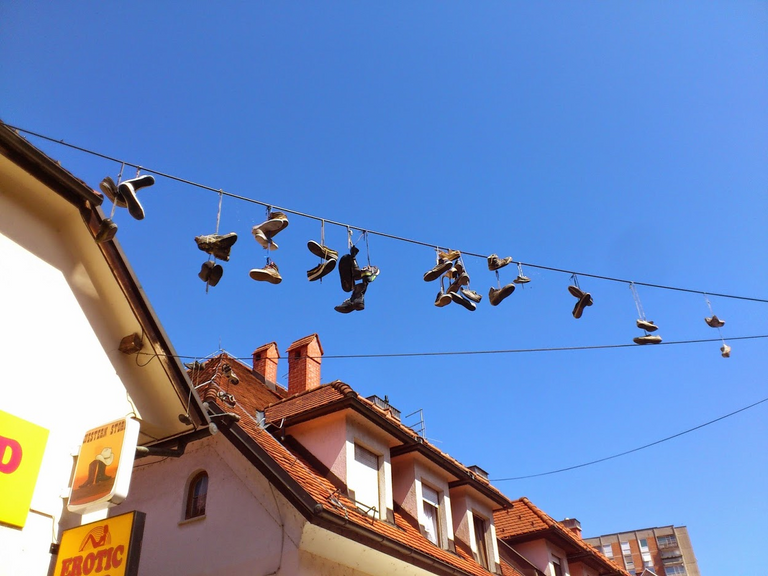 Yep, that's shoes.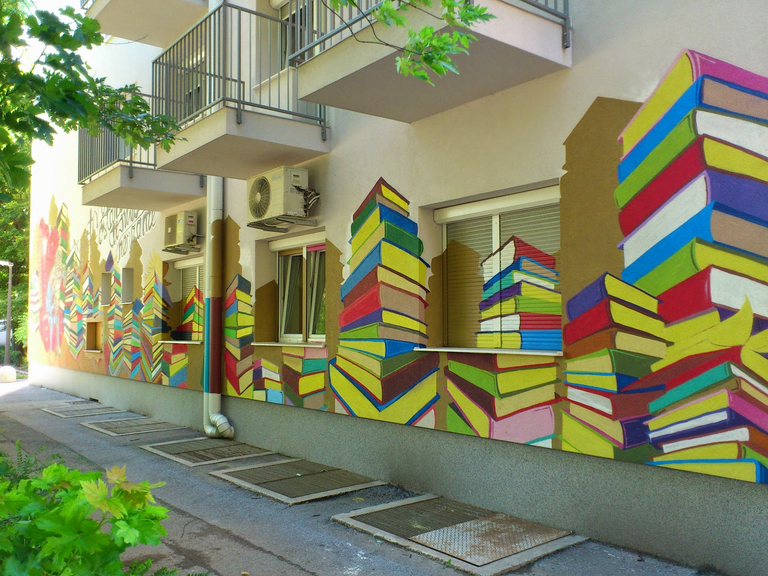 Nice touch to an indifferent building
My host's son gave me the chance to be guided around Metelkova, his favourite area. Interesting to see the Slovenian equivalent of Exarcheia  in Athens: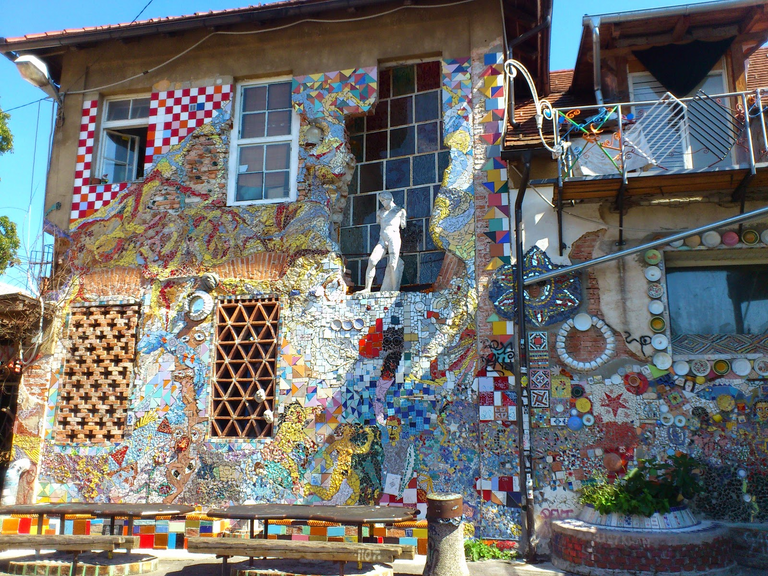 You know you're walking around Metelkova when you see such stuff
At some point he had the (feel free to comment it) idea of climbing on a rooftop: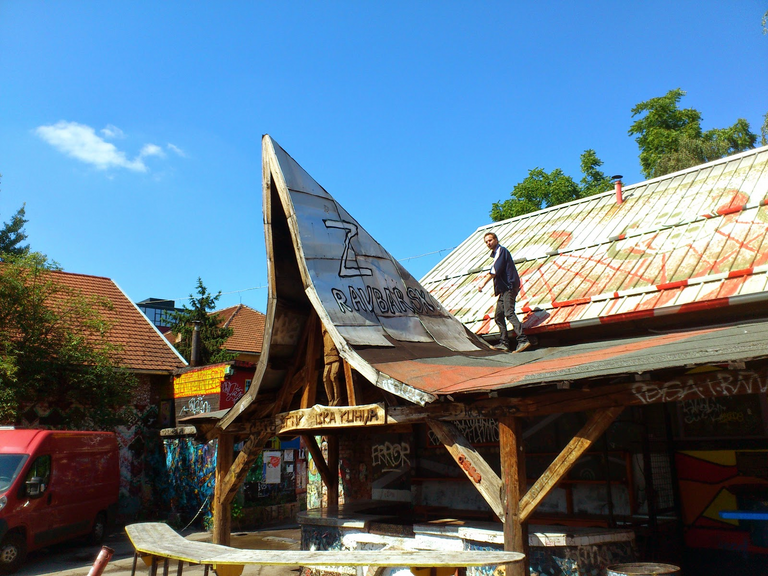 Fortunately I didn't have to call 112. Shortly after though he he had another (feel free to comment this too) idea to start banging those metal sheets of the roof top: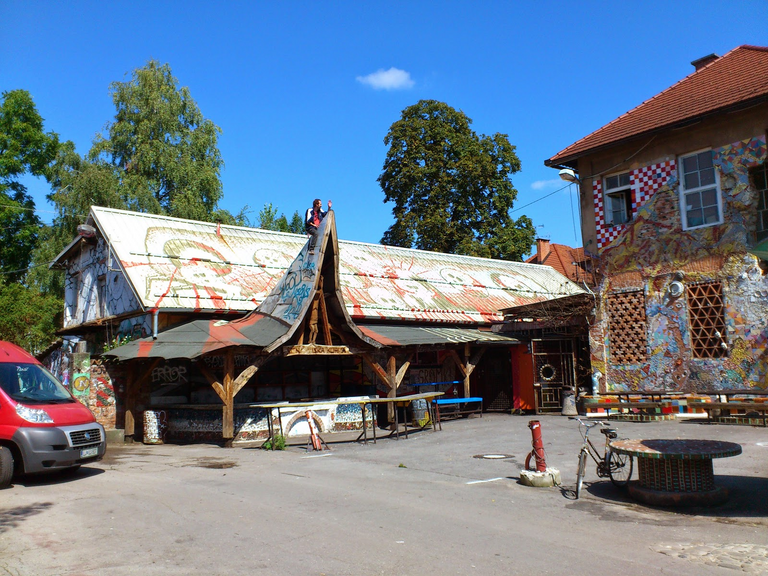 Fortunately a lady came out of that window on the right and managed to convince him about a quieter behaviour. He did so after enough attention was attracted and noise produced. That lady by the way is the one who has done a large portion of the graffiti around this area.
When I was done walking the city Ljubljana took a very well deserved place in my heart forever. Relatively small but super beautiful, this capital is easily among the best ones in Europe for my taste. Cuteness is widely spread around the historic center that's why I keep recommending a visit without second thoughts.
Stay tuned cause I am heading North to other beauties on the next one.
See you in part 2!
---
View this post on TravelFeed for the best experience.