Read this post on TravelFeed.io for the best experience
---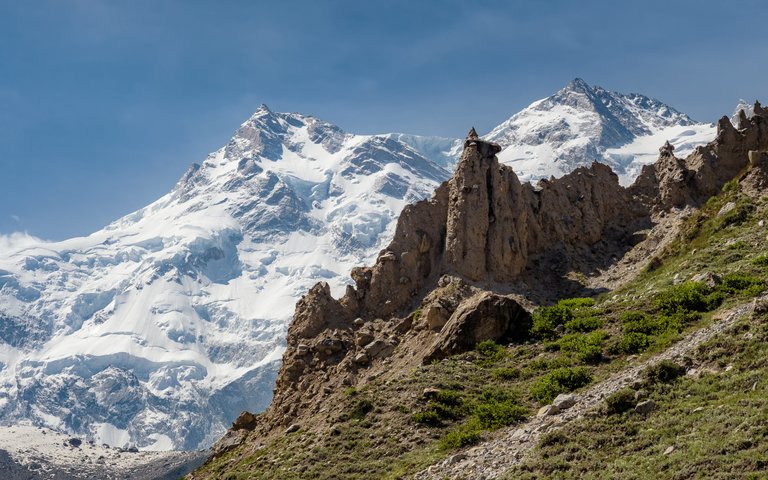 We continue walking along and above the glacier to the base camp Nanga Parbat. Suddenly a smiling old man is catching up with us and children are walking nearby. At this time we sit on the stones and take a breath. After he walked forward, I felt rather ashamed of myself. I need to do more sport and exercise if I want to continue trekking in the mountains.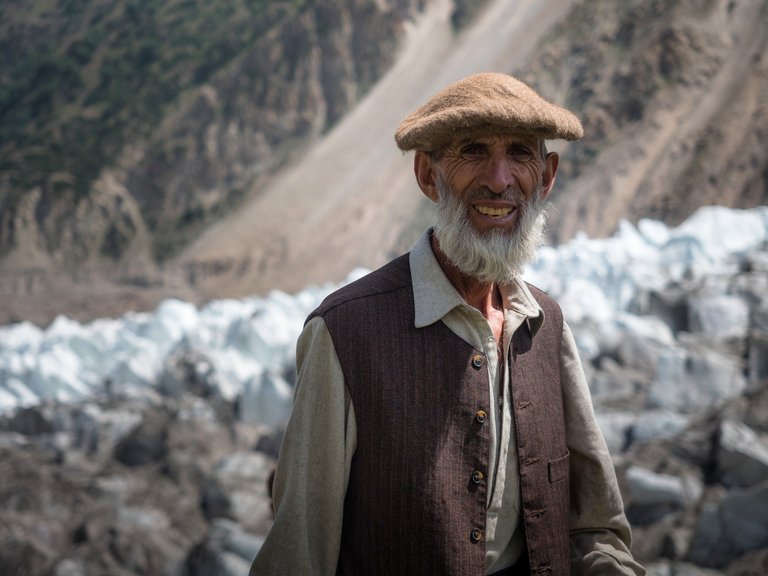 It seems that in front of us there are the destroyed remains of an ancient outpost that guards the secrets of the mountain.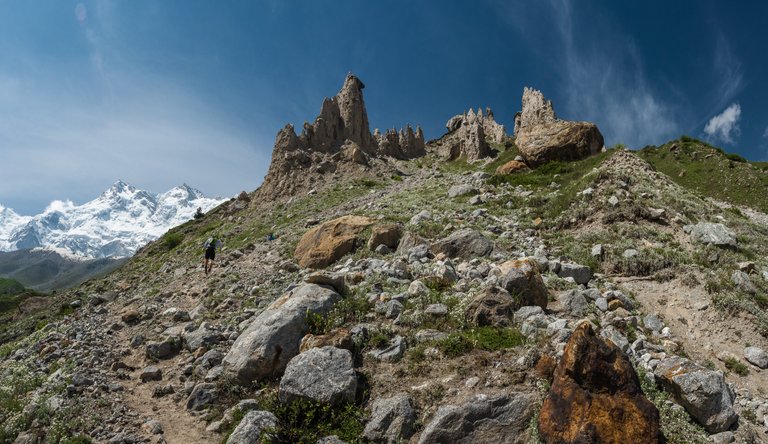 On the trail, I want to photograph a very authentic Pakistani girl, I take out my camera and nod at it. In response, I get a very hard "No". But the boys calmly react to the camera, this young man did not even move when I pointed the lens at him.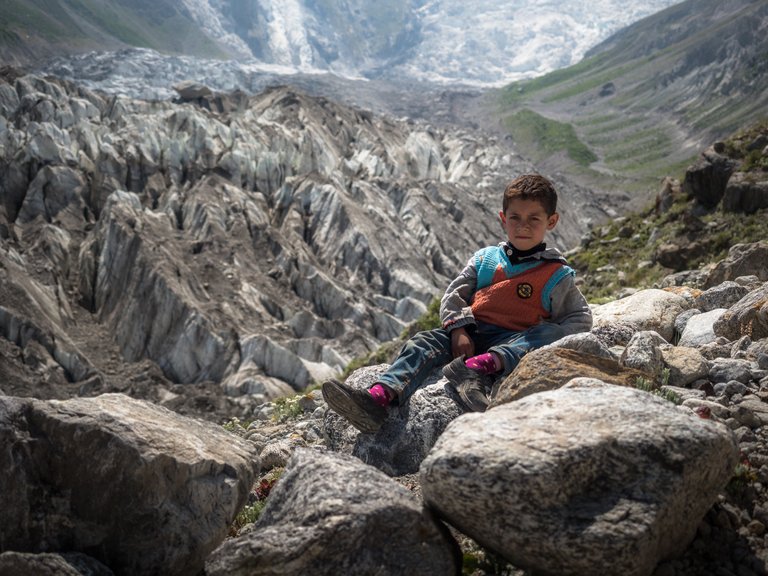 Olya @kibela lags behind the group, I also walk slowly. Dima took her bag with a camera, but it is still hard, and we're already thinking, maybe she should stop somewhere under a stone, waiting for our return?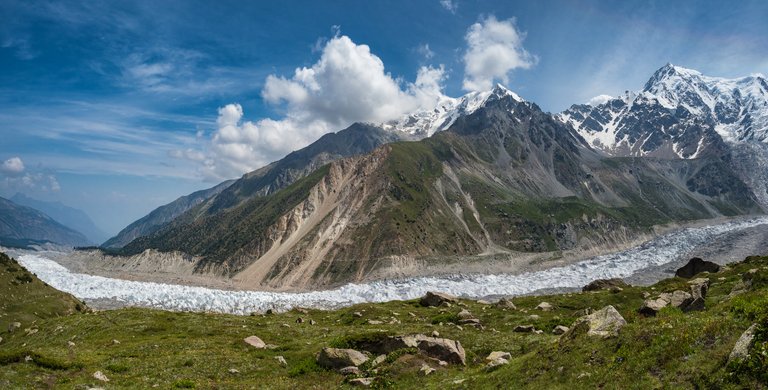 But our policeman firmly took her by the hand and dragged her upstairs. His help came in handy. Periodically along the way, they talked, he asked her about us and told about himself that he has a wife and several children.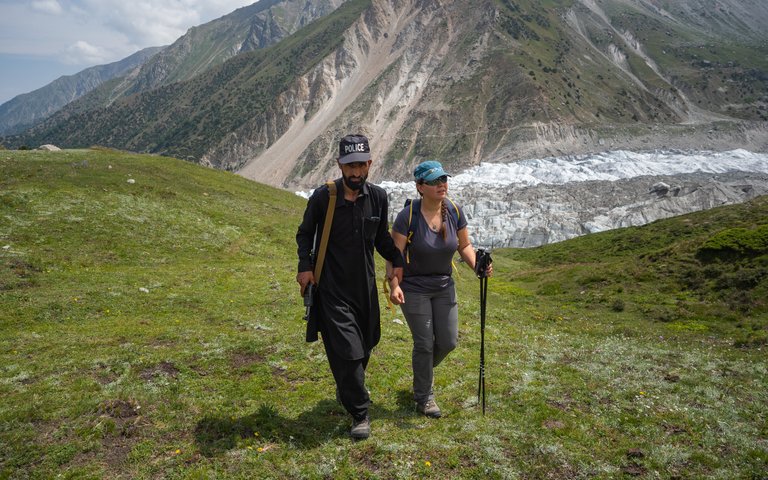 The most difficult moment of the path is right in front of the base camp. Everyone is already tired, the trail goes up, it seems, at 45 degrees. We walk almost like climbers on an ascent: a few slow steps, a break, a few steps, a break.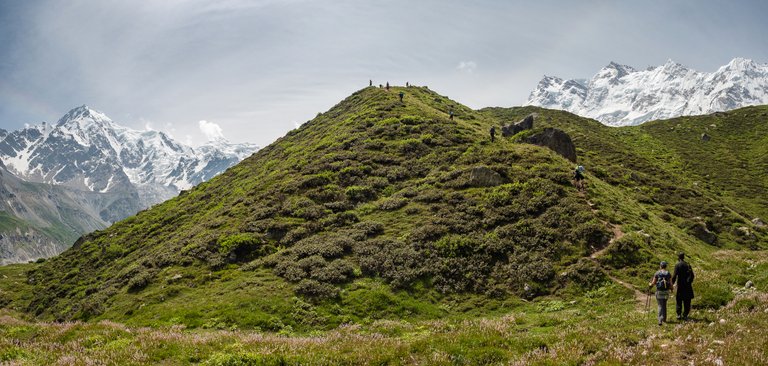 Well that's all, we got to the finish! After that first big stop, we walked another 8 kilometers with a climb of about 700 meters. In total, today it is a little more than 14 kilometers in one direction and we gained 1100 meters of altitude. Not bad!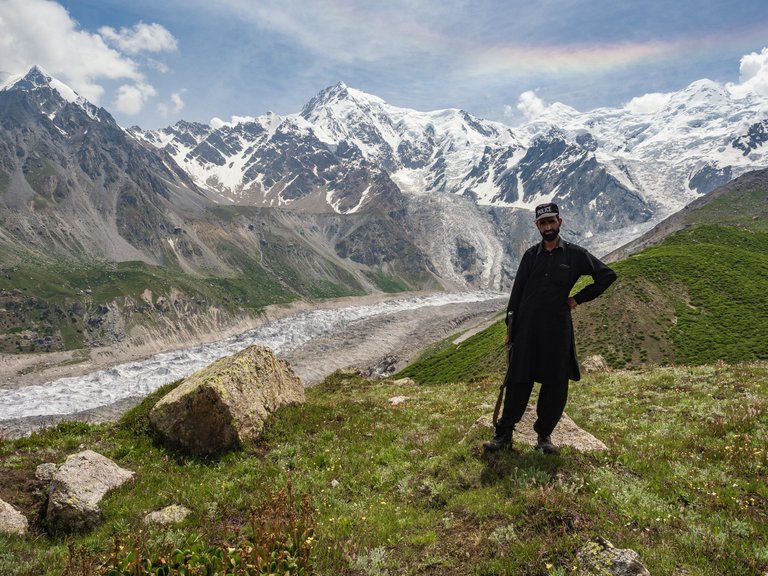 The Base camp is around us, or rather the place where the climbers' tents should be, but not a single one is visible. It is strange, because the sky, especially in the morning, is clear, the weather is good and hot. Although, maybe that's why now is not the time to climb? After all, we hear and sometimes see avalanches breaking away, and this is a dangerous and unpredictable element ...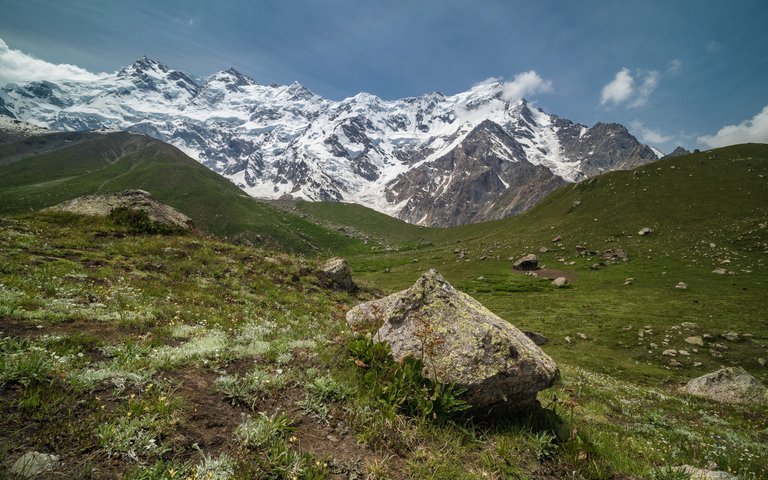 It is worth saying that this base camp is only one of the three that are used to climb Nanga Parbat by three different routes: from the side of the Rupal wall, from the side of Diamir (where in 2013 terrorists shot an international mountaineering expedition) and from the side of Rakhiot (this is ours). Accordingly, the camps are located at different points. And since expeditions are organized here not as often as to the lower and more accessible peaks, when there are no climbers there, the infrastructure of the Base camp is removed. And only goats roam here at this time.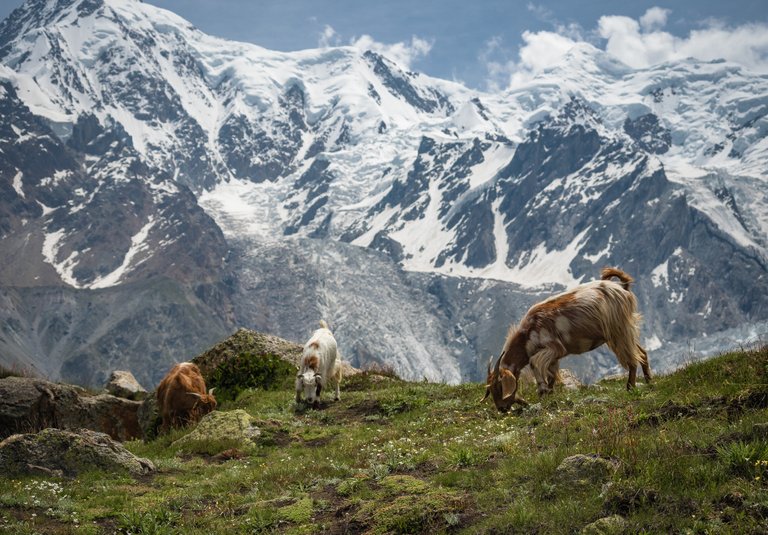 Well, the place is good, there is a lot of grass. And the height ... neither local goats, nor local people are afraid of it. They live here, they walk these mountains faster and more vigorously than we do at sea level :) I wonder, where are the shepherds?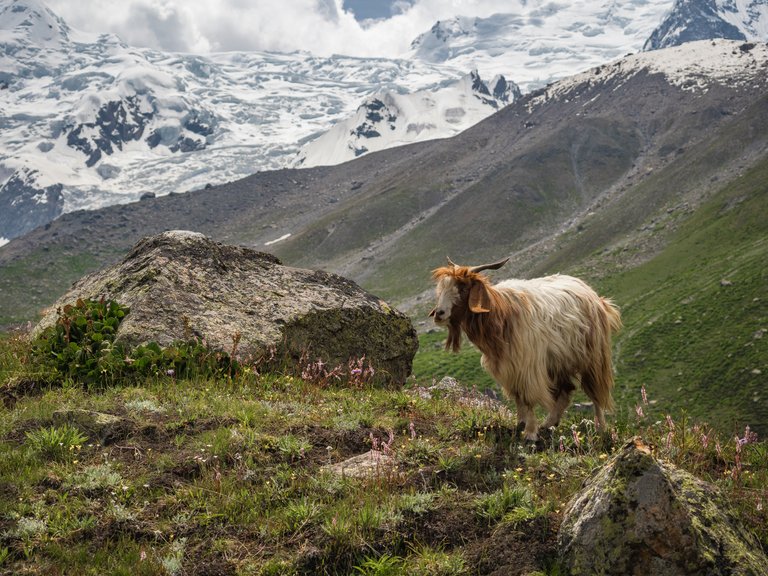 We are sitting on a hill with a good view to either side. We take a breath, rest our legs.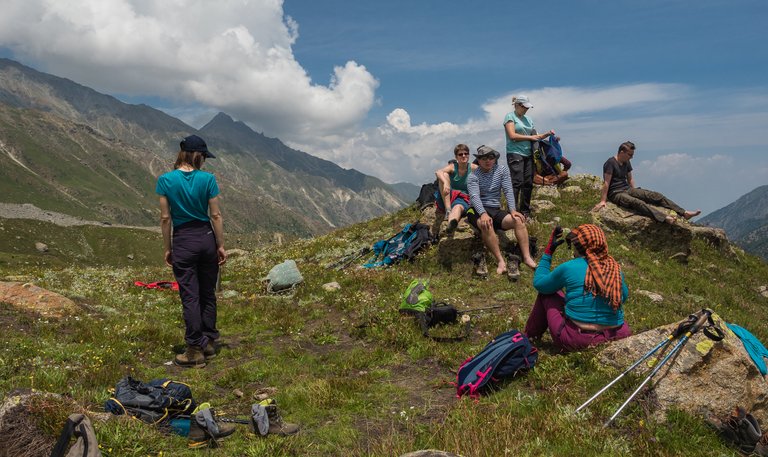 Our main task has been completed and we can lie in the sun with peace of mind ...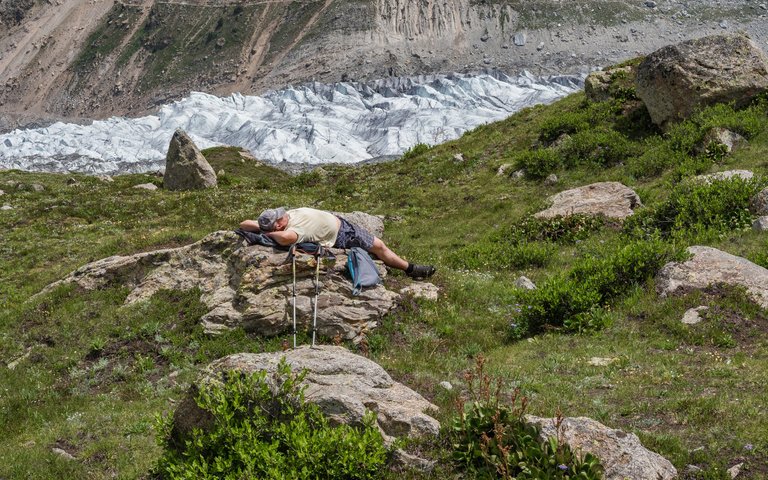 ... and take pictures. Pakistani policeman takes pictures of our girls, and girls ...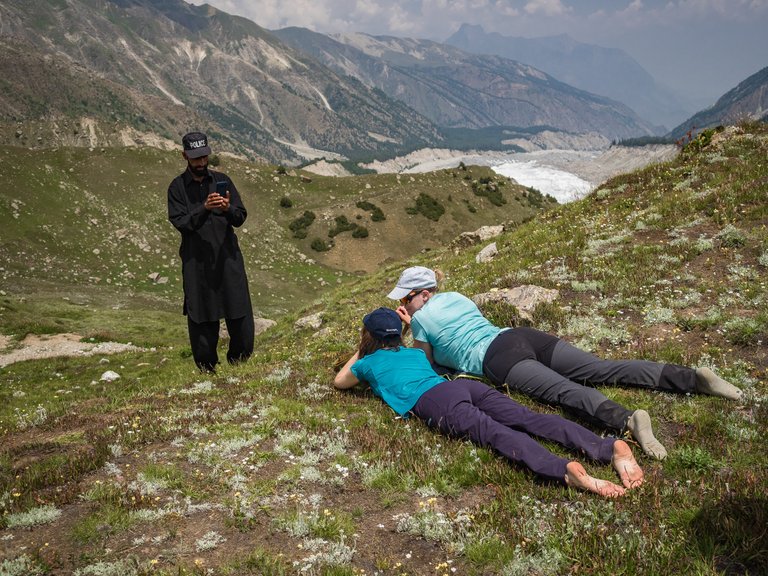 ... well, the girls take pictures of his Kalashnikov assault rifle. And everyone is happy :)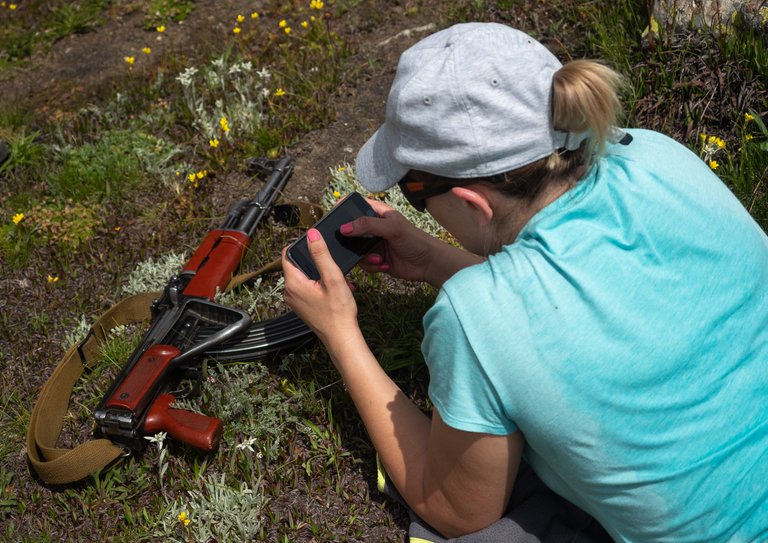 And I managed to make an amazing (in my opinion —you, of course, can disagree with me :)) shot with Pakistani women in a blooming alpine meadow above the glacier. The faces of none of them, even the one that turned in our direction, can not be seen, but I did not want to photograph their faces, since this is negatively treated for religious reasons. I just liked the scene in general — the everyday life of a group of women in bright clothes in such a picturesque place high in the mountains.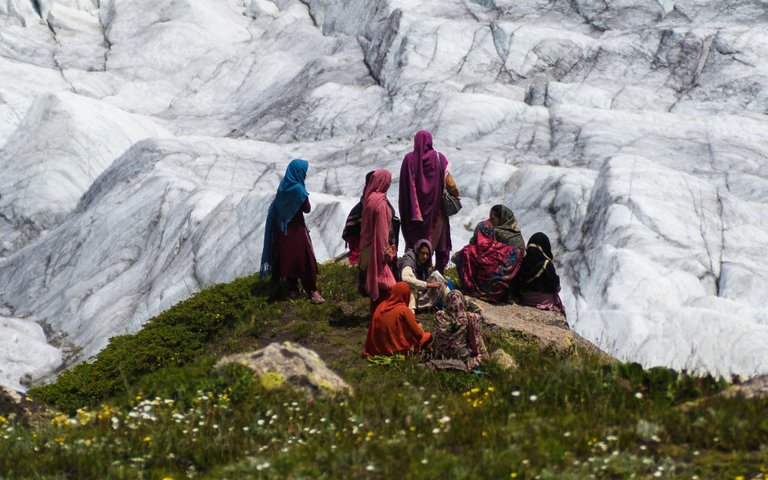 Dima gathers the team to go a little further, but the main part of the group is too tired. Dina, Natasha and Oleg go with him. And I lay in the sun with my eyes closed, until I realize that I am overheated. Urgently into the shade! Well at least a huge boulder had grown into the ground nearby, in the cool shade of which I get better.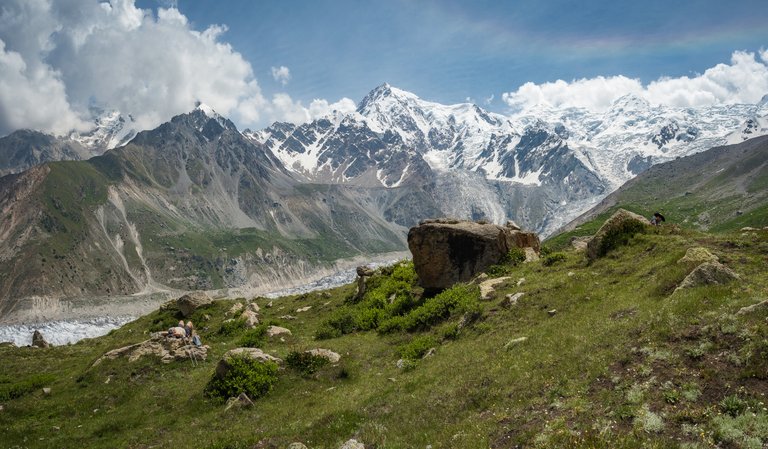 Well, it's time to go back. The same route, only back — all the same far.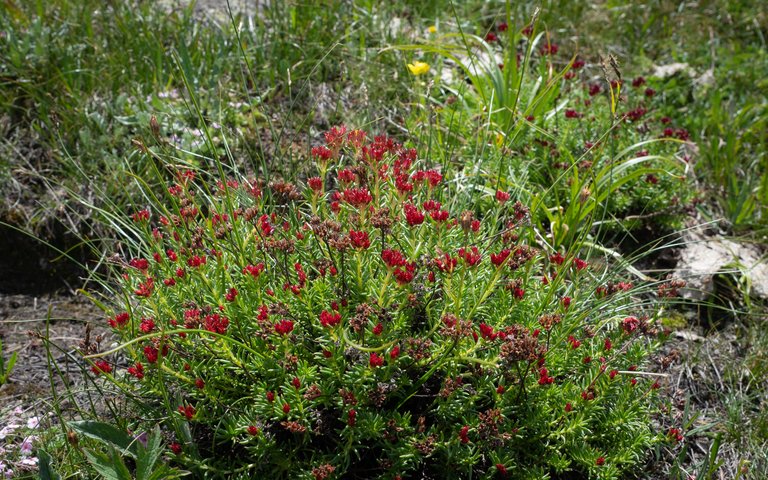 We moved out first, when Dima and the company had not yet returned. It is much easier to go down, and the weather is getting worse, so it's not so hot now.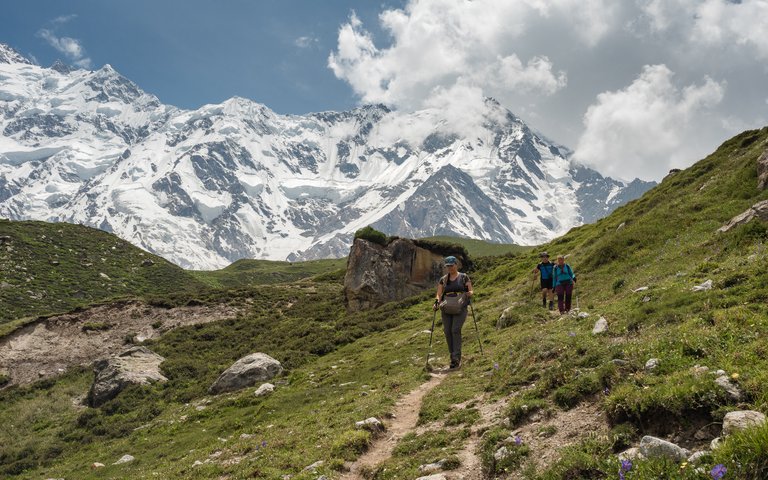 And on the way back there is something to admire.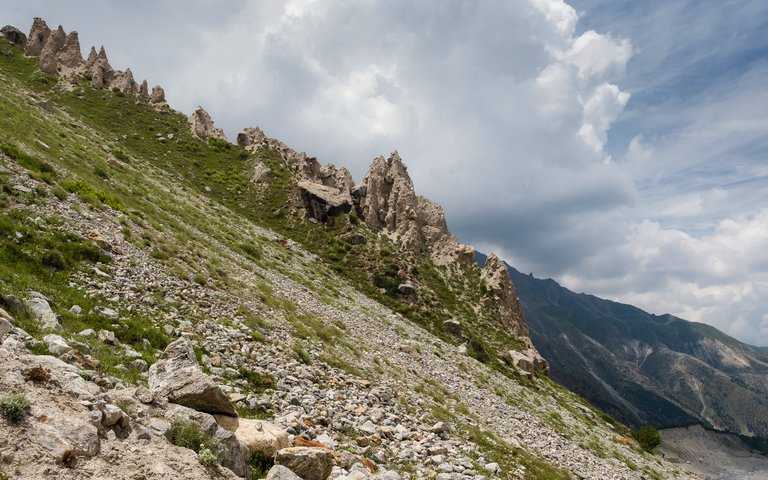 And here are the shepherds — sitting by the rock, having a smoke break. These hats on their heads are part of traditional clothing, despite the fact that they are made of wool, they are worn even in the most intense heat. However, given that everyone here is mostly black-haired, and the hats are light, heads in such hats heat up less in direct sunlight than if they were completely without a headdress, it is the protection against heatstroke. Well, such a hat should also help from the cold — two advantages in one thing.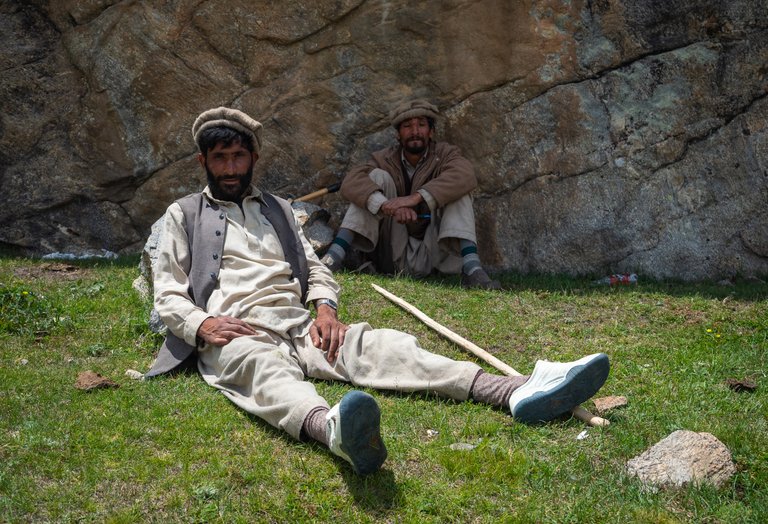 While we have a time, we can stop and shoot a little more flowers.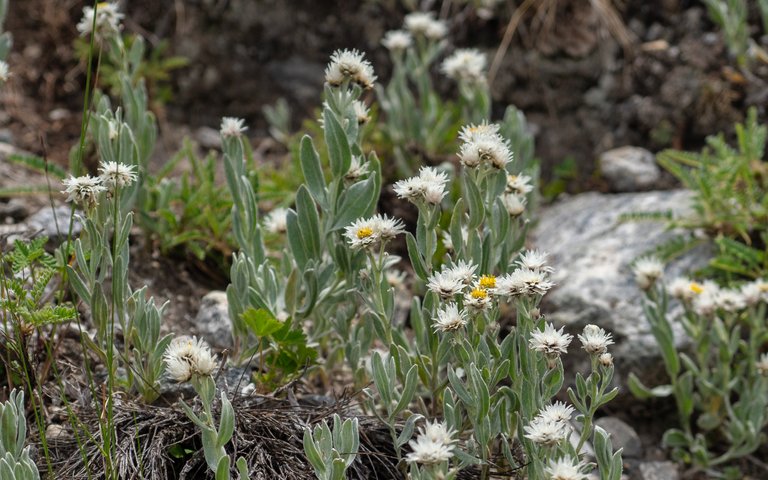 Now it is much more comfortable to go — down, with the feeling that we have coped and most likely in the future we will not greatly delay the others with our lag. So Olya cheered up, and carries her photo bag herself, along with a backpack.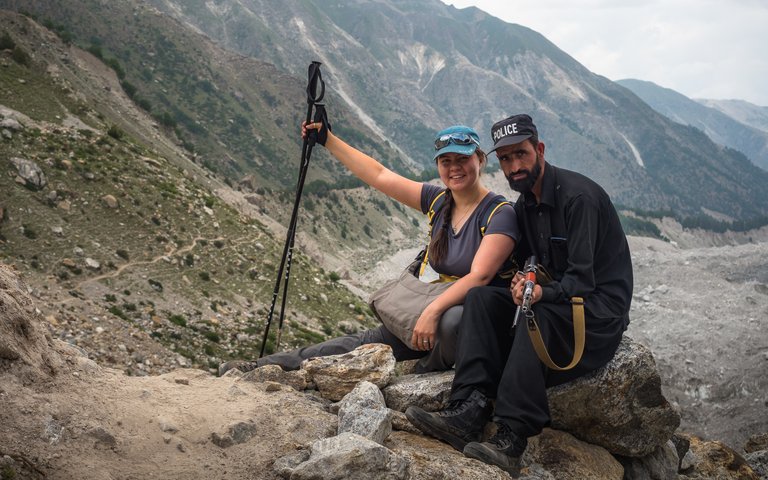 She was so cheerful that she even agreed to pick up a gun and pose for a picture with it. The policeman even offered her to shoot from his gun, but for some reason she refused :) Would you agree to such an offer?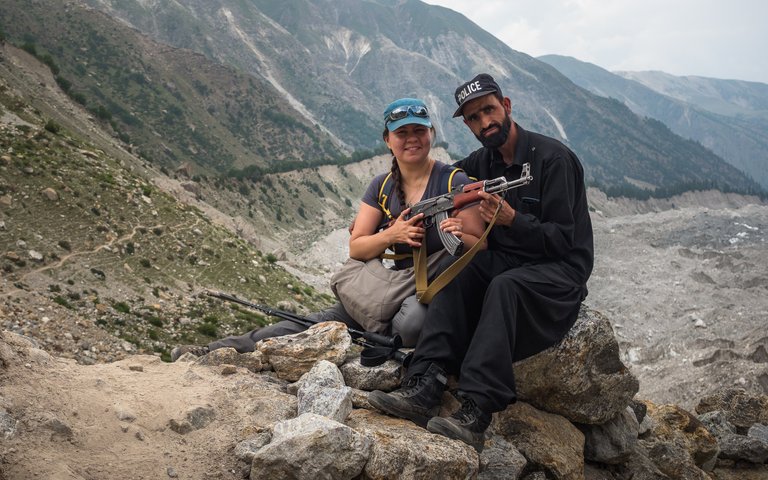 It started to rain on the way. When it got stronger, we were already sitting near a local cafe, somewhere near Messner Lodge, drinking hot tea and eating dried apricots. After waiting for the whole team and having drunk more than one huge thermos of tea, we all went home together.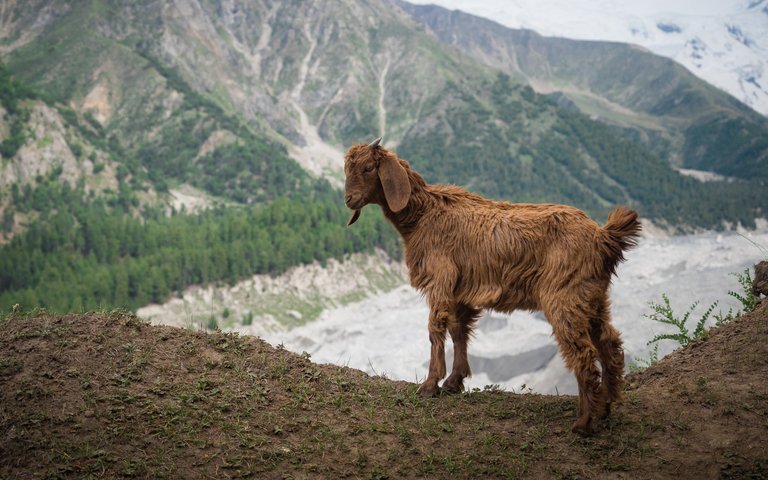 In some places the edges of the cliff near the path are lined with logs. Safety! It's nice. Still, there are more people walking here near the bases and lodges than along the path further from where we returned.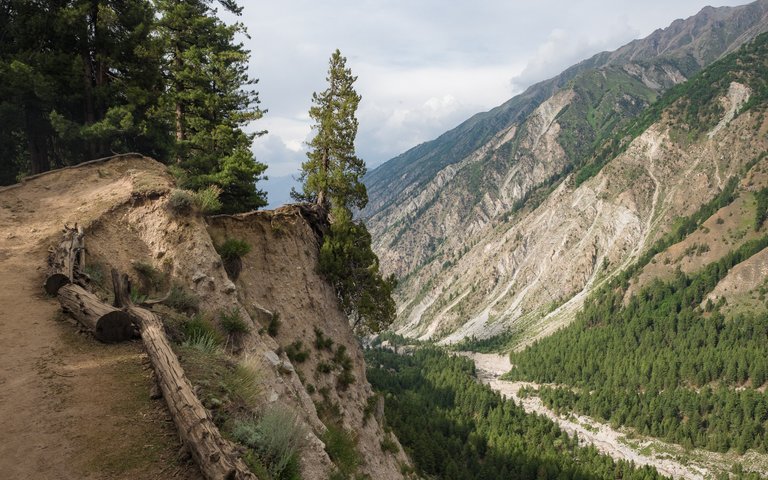 Again the forest, roots and stumps. This means that the camping is not far away.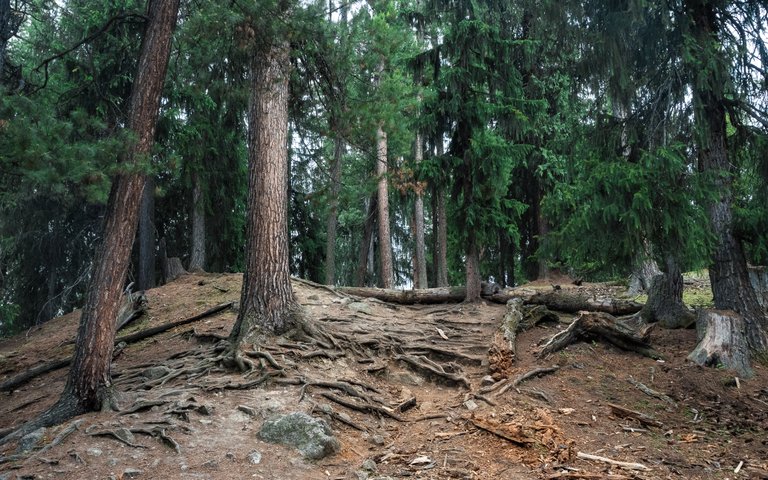 Wow, what cones are lying here! Big and beautiful. I'll take a couple home.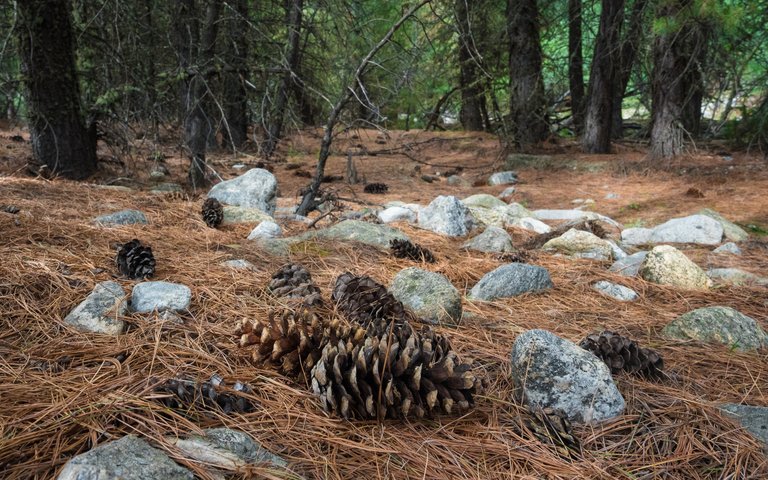 A glade with dry trees. I wonder what happened here?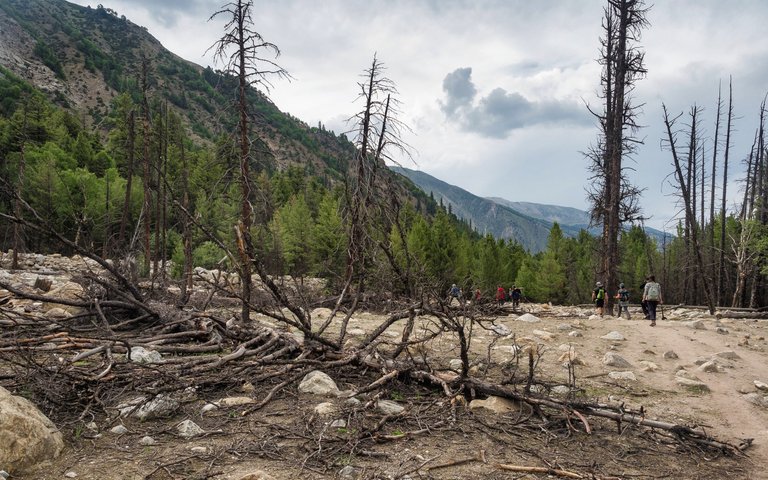 Already very close to the house, we met such a beauty. Stylish trendy youth! :)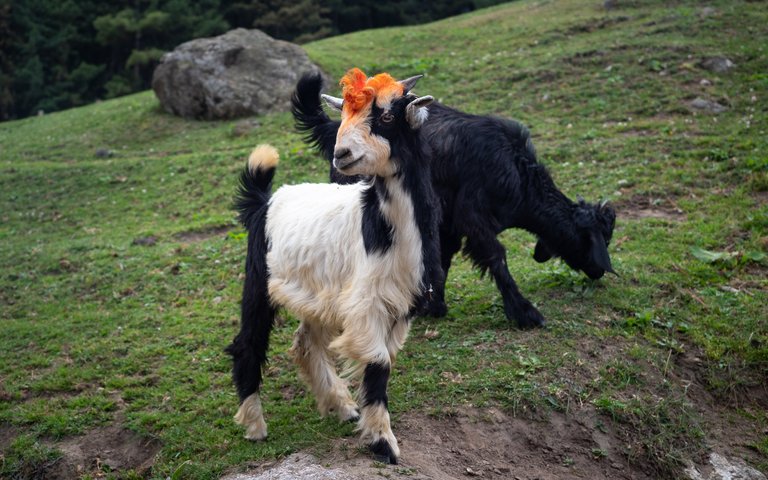 We definitely need to buy something for the dinner, because today is Pasha's birthday. In general, he unexpectedly found himself in Pakistan, he was told about the trip literally a day before departure — and this is not an exaggeration, this was a surprise gift from his wife :) It was easy to organize and keep secret, since visas were requested and received not personally by each participant, but our organizer Dima. And today we will definitely drink!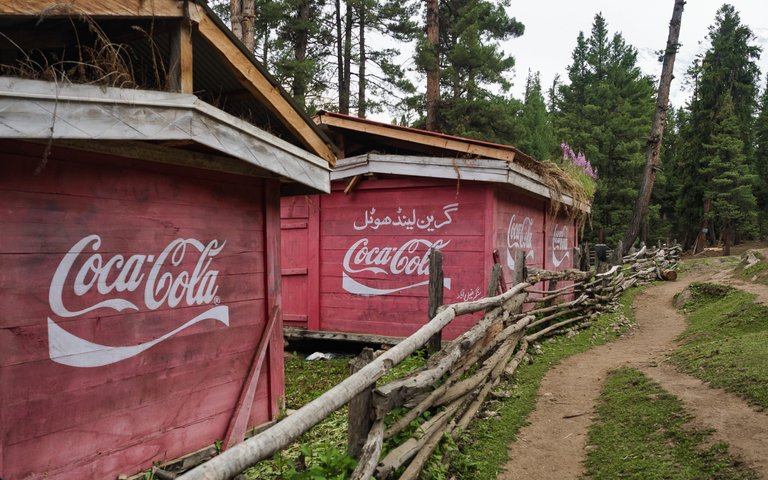 Near the Lake of Reflections, a groom in a burgundy jacket and a white shawl around his neck galloped past us. Well, that's what we thought — maybe not the groom, just dressed up.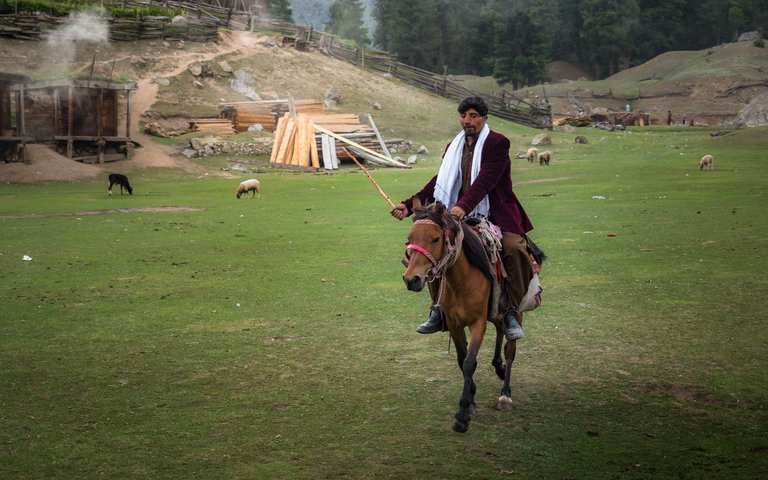 We returned at 17:00 — we were gone for almost 12 hours. How good it is to shower after such a walk! We have fun at dinner and celebrate Pasha's birthday. The glasses are full of... Pepsi Cola!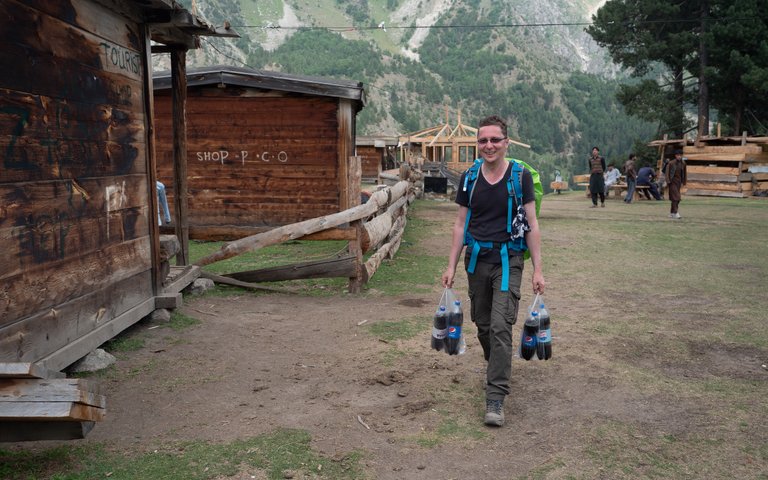 After all, Pakistan is an Islamic country, and it is almost impossible to buy alcohol here. Almost — because I read about cases of purchase and that even beer is brewed somewhere, but we have never seen anything alcoholic. Even in duty-free Abu Dhabi they refused to sell liquor to us, saying that the import of alcohol into Pakistan is prohibited.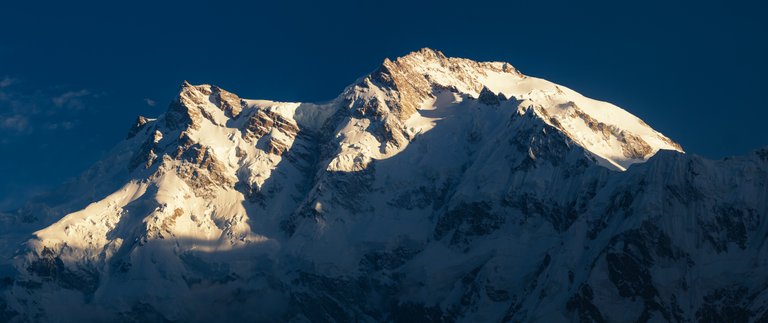 The last rays over the top. The night brought clouds to the clear sky, and the stars were not visible. Well then, let's get some sleep!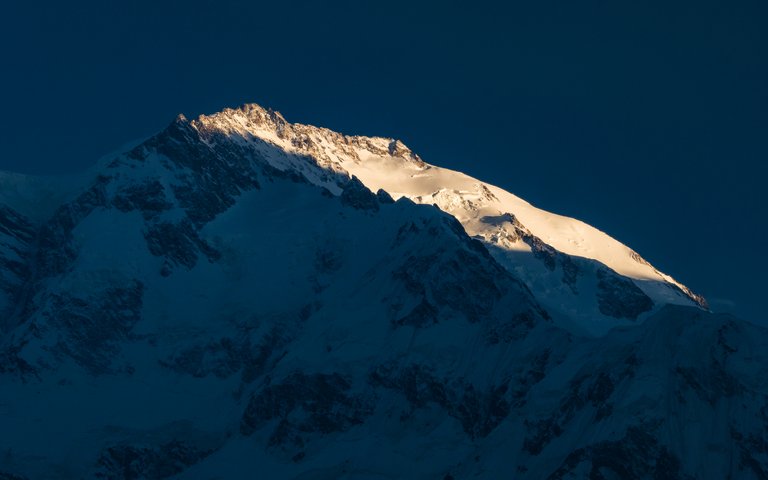 Tomorrow we have to descend from the mountains down, it is much easier, and I'm ready for it! And then go by car, overnight at the hotel, and then — a new trekking, of course to the mountains. Fortunately, there is so much to choose from :)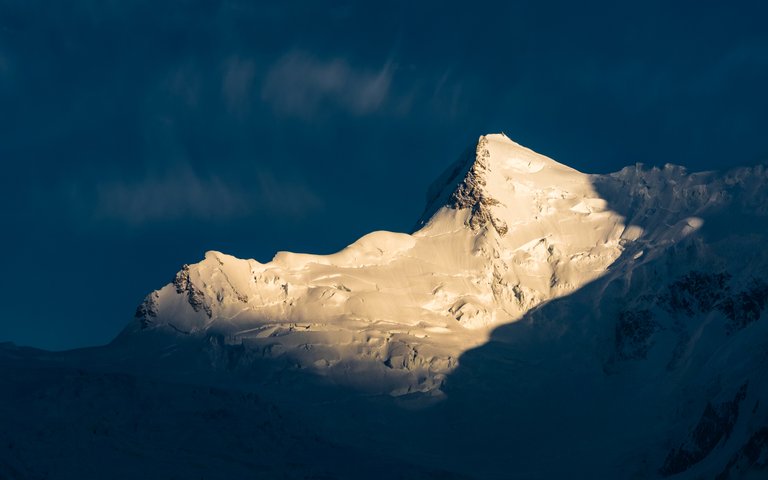 To be continued...
---
Parts of the journey:
---
Camera: OLYMPUS E-M1 Mark II
It's better to watch the photos in high resolution — just click on them and open in a new window.
---
You can also see my photos in my blog LJ and in my profile on NatGeo
---

By the way, if you are interested in purchasing my high-resolution photographs in order to use them privately (including printing on photo paper or large canvas), create a collection of limited editions of digital pictures you own or just thank me for my work, you can visit the new Lensy.io marketplace and view and buy one of limited editions of my tokenized photos. Lensy.io is a digital photography marketplace built on the Hive blockchain.

You can also feel free to write me and ask any photo you like from my blog to add there for the purpose of further purchase.
---
View this post on TravelFeed for the best experience.