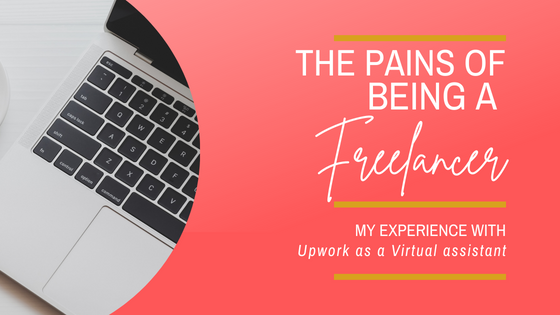 ---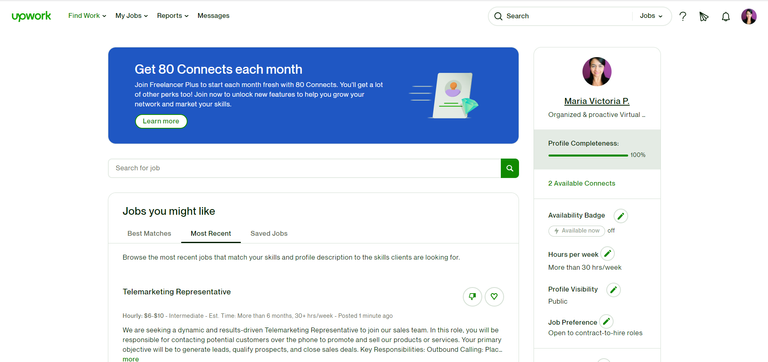 So, as you may know by now I am from Venezuela, and even tho the calendar says that 6 years have passed since I graduated as a Lawyer, to be honest, I feel like fresh-out of university lawyer without important experience in my resume, why? Cause I got pregnant when just a few months after graduation had passed and also a little thing called the Pandemic of COVID-19 happened and well… Here I am, a lawyer with no experience in the field beyond writing legal documents.
Now if we add this to the fact that Venezuela's Economy is a joke, well, looking for a job here is I won't say impossible but the amount we need to survive especially with a little kid to feed is not a small amount and finding a job that pays well in here, I just know I will have better luck trying to find something elsewhere.
Now, why don't I just migrate? First of all, to even think of going to another country costs money, second of all, I don't want to be so far away from my family, and we just I don't know we really don't want to, unless we get like a really good offer.
All that leaves me with only a way….
The Remote Work Way
Here is where Hive comes into play, but as you guys know the price of Hive is not like you can live of kind of high and as content creator rewards are no guarantee, If I could get another Job in Hive beyond my content rewards THAT WOULD BE MY DREAM! But…. Since I have not yet found that, and also, I think we shouldn't keep all our eggs in one basket.
This is why I started to look around for options and opportunities, and that is how I found a gazillion pages to look for remote work, here are some of the ones I use or have a profile on:
• LinkedIn
• Freelancer
• Fiveer
• Indeed
• web3Career
• BeInCrypto
• https://www.workana.com/
and Upwork.
This last one is the one that has been easier for me to actually get Interviews, callbacks and actually hired.
Upwork
Now how does it work? Is pretty simple, you need to sign up, build your profile and you are ready to send proposals for the different offers that are posted on the site
Connects
I think they are implemented to avoid spam applications but truth be told they are a source of revenue for the site, these connects are a sort of token used inside the Upwork to pay to be able to send a proposal.
This is a system that almost all remote pages are using right now, so you better get used to dealing with them, I firmly believe that if you are unemployed and currently looking for a job, then you shouldn't pay to just send a proposal (your resume) to companies for a job. It doesn't make sense you are looking for money precisely because you don't have money.
This is why I don't pay for the premium versions of any of these sites, so I just wait for the free connects they send me monthly to be able to send my proposals, sadly this limits me on the amount of proposals I can send.
Proposals
Now a proposal is much more than just sending your CV, you have to write a cover letter, you can submit your rate and add important info you want the recruiter to know.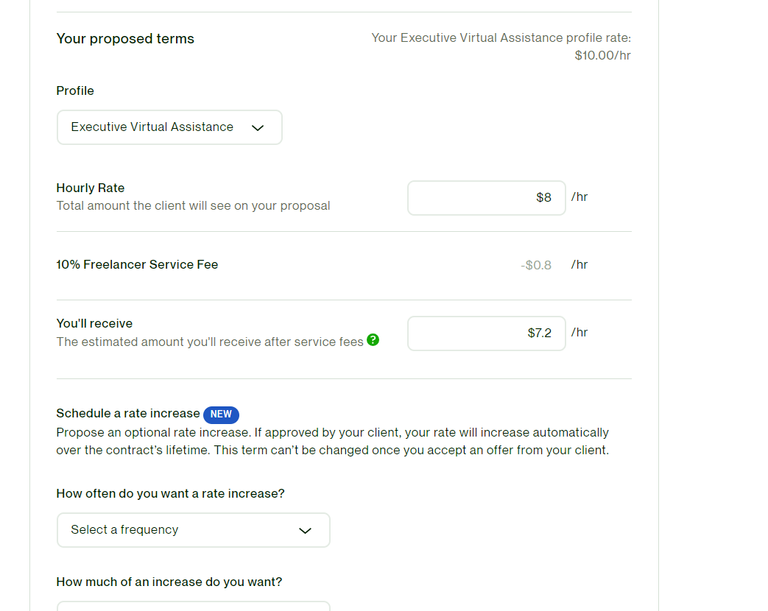 How does the payment works
Now this is where I get frustrated, the idea is your payment is secured and your client is also protected from scams, if you stay in the platform, this cause Upwork handles all the money, they get a payment from your employer and only after you have completed the work of the week they will release it to you, or at least that is how it works in theory.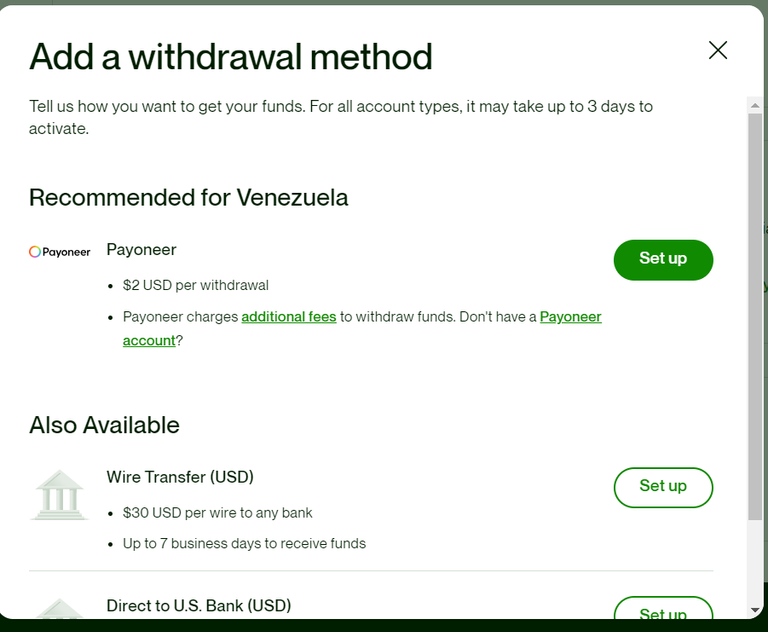 The reality is that it takes up to 10 days for you to get the payment, why? Cause they give the employer a whole week to check your billed time, then 3 more days for the money to be released after the employer has approved it.
This whole service of protection obviously comes with a cost, I don't know how much if any is taken from the employer, but when you set your rata, Upwork notifies you that they will take 10% of that.
So, if you set a rate of 10 USD / Hour you will get 8 USD at the end, this is something you have to take into account when submitting a proposal.
The Commissions/Fees never end
Now you would think well that is all they take from you…. NOPE! As a Venezuelan I truly don't have many options to actually get my money so, I have to die with PayPal.
When I do a withdrawal from Upwork to my PayPal account they discount me 2$ per withdrawal 🫠
AND THEN THERE IS PAYPAL… you would think oh, but then you get your money and can spend it as you wish… well nope, cause Venezuela. Here is the thing, PayPal in Venezuela only works in USD and doesn't connect to any Banks in the country, so there is not a direct withdrawal, Binance doesn't have them on their P2P market cause I don't know but I guess is easy to abuse the option so, they just don't have it, I found that ByBit does have it as an option but…. They never have anyone really buying USD through paypal.
The only option I can use is @orinco (true be told is nice to have a trusty service like them) and AirTM the issue? The FEES, the last time I tried to use any of them to withdraw 50 USD from PayPal, I was going to get 38 USD 😒 12 USD in fees after all the other fees I just lost.
Hive always present
It sucks, it sucks big time, thank god I have good Hiver friends who always come to the rescue and save me from those high fees. I have managed to count with @Enrique89 and @eddiespino to help me exchange PayPal for Hive and I will forever be grateful to them for that.
Hive is so much more than just a place for me to get money, is the community, really the one thing that keeps me going all the time here is the friends from all over the world that I have been fortunate to make part of my life.
So my opinion about UpWork
I have a couple of advice or tips for you if you are thinking on using Upwork:
Use your free connects wisely
Do not fall for every job offer in the site, only send proposals to those who have their payment verified and be smart if you see that they posted the offer too long ago or have too many interviews already then I would suggest don't apply to those, so you have a better chance to actually get noticed.
Use AI for the cover letters and your CV, I speak about that in this post but used wisely again, don't just copy/paste the response the AI gives you, just used it to improve your Letter and CV.
Don't forget all the fees, if you put your hourly rate too low and won't be working full time, you will be working for free after all the deductions so, keep in mind all that before accepting or sending a low proposal.
But don't charge too high or you won't get the job either =(
In all, I have gained a lot of experience, and knowledge on how the system works, I have managed to get a few contracts, and working as a Virtual Assistant is something that I really like, and I have learned so much in so little time.
I take all this as added experience for my CV so, that is a Pro, the whole fees, and discounts I suffer are a Con.
The more I manage to get experience the more I can charge obviously so, for now, I have to start low to later be able to get a reasonable salary.

Looking for a JOB!
If you know of any job I could do, let me know in the comments or in DMs on Discord I'm always on the lookout, I can do VA work or Translations (English/Spanish). I obviously would gladly accept Hive or HBD!

As always, thank you very much for reading me and
I hope to read your comments!
---
Picture Credit: Source of the dividers, All images are of my property unless said otherwise, the emojis are made with Bitmoji.com & Icons with icons8
Disclaimer: This is an alt account to post personal and short content, for Hive tutorials, initiatives and more please go to my main account @victoriabsb
---
Are you a Mom or a Dad? Of a human or a Cat or a Dog or of anything? Join us in our Community!

---

For Hive Tutorials, Initiatives, Curation & more go to @victoriabsb
😗 Follow me on my Other Social Media...❗️⬇️⬇️⬇️⬇️