---


Saludos a mis estimados amigos de la comunidad de @fulldeportes, hoy es sábado, pero eso no quiere decir, que no sea propicio para hacer diferentes rutinas de ejercicios, hay que tomar en cuenta que muchos gimnasios están cerrados los sábados y domingos, pero para eso tenemos muchas cosas en la casa con las que podemos hacer ejercicios, sillas, bancos, sofás, entre otras cosas que nos darían mucha utilidad, el día de hoy les traigo una rutina para el tren superior, que realmente es muy buena y sobre todo efectiva, consta de 5 ejercicios, en donde trabajaremos con series de 5 y en algunos casos de 4, y repeticiones con máximos de 15 movimientos.
El primer ejercicio, será el de flexiones de pecho, un movimiento tradicional que es muy efectivo para trabajar los pectorales, los hombros, tríceps y los músculos de la espalda, aquí haremos 5 series de 15 repeticiones respectivamente, el descanso entre series en este ejercicio y en todos los de la rutina será inferior a los 55 segundos.
Segundo ejercicio de la rutina,es el de flexiones, pero esta vez con un ángulo inclinado, es ideal para la parte inferior del pecho, son 4 series de 12 repeticiones, al terminar con estas flexiones, continuamos con la misma tónica, pero ahora usando un banco para hacer un movimiento de flexión, pero con agarre tipo paralela en donde el trabajo se siente con más intensidad en los hombros y pecho este sería el tercer ejercicio, son 5 series y 12 repeticiones.
Pasamos al cuarto movimiento, que es el popular fondo para los tríceps, es ideal para este músculo y también para los hombros y en cierta manera se hace sentir el trabajo en los abdominales, son 4 series y 15 repeticiones de tensión absoluta para este músculo, y por último con ayuda del bando y una silla, trabajaremos barras paralelas, todo atleta sabe que las paralelas son muy efectivas y trabajan prácticamente todo el tren superior, con 4 series y 12 repeticiones daremos punto final a esta excelente y completa rutina para el tren superior.
Este vídeo fue hecho gracias a la colaboración de mi hermano Jorge Camacaro, quien muy gentilmente tomo las fotos y los vídeos necesarios para hacer esta publicación, todo fue captado desde mi celular, un Redmi note 11 y las aplicaciones usadas para la edición fueron: Canva.com y la app, InShot, espero que este trabajo sea de su total agrado.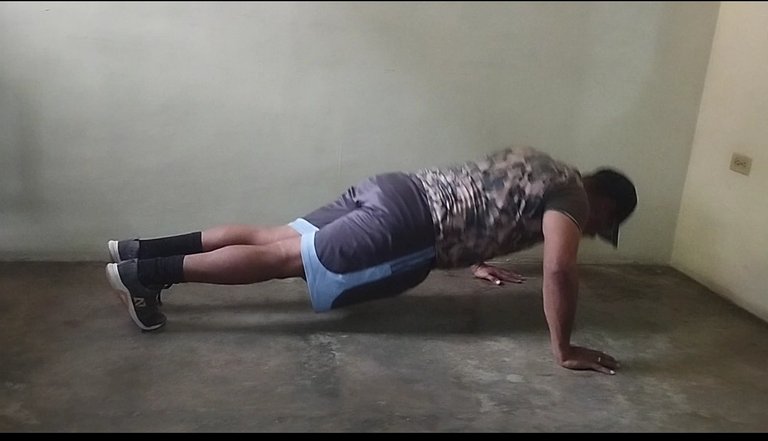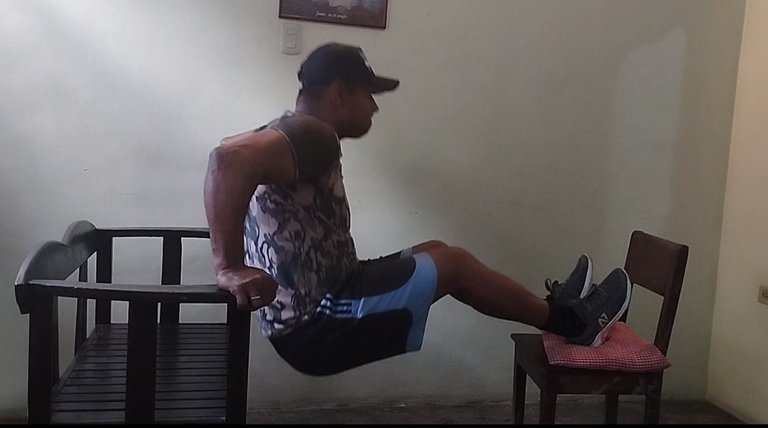 Greetings to my dear friends of the @fulldeportes community, today is Saturday, but that does not mean that it is not conducive to do different exercise routines, we must take into account that many gyms are closed on Saturdays and Sundays, but for that we have many things at home with which we can do exercises, chairs, benches, sofas, among other things that would give us much utility, today I bring you a routine for the upper body, which is really very good and above all effective, consists of 5 exercises, where we will work with series of 5 and in some cases 4, and repetitions with maximum of 15 movements.
The first exercise, will be the push-ups, a traditional movement that is very effective to work the pectorals, shoulders, triceps and back muscles, here we will do 5 sets of 15 repetitions respectively, the rest between sets in this exercise and in all of the routine will be less than 55 seconds.
Second exercise of the routine, is the push-ups, but this time with an inclined angle, it is ideal for the lower chest, are 4 sets of 12 repetitions, at the end of these push-ups, we continue with the same tonic, but now using a bench to make a push-up movement, but with parallel grip type where the work is felt with more intensity in the shoulders and chest this would be the third exercise, are 5 sets and 12 repetitions.
We move on to the fourth movement, which is the popular bottom for the triceps, it is ideal for this muscle and also for the shoulders and in a way the work is felt in the abdominals, are 4 sets and 15 repetitions of absolute tension for this muscle, and finally with the help of the bando and a chair, we will work parallel bars, every athlete knows that the parallel bars are very effective and work practically the entire upper body, with 4 sets and 12 repetitions we will give final point to this excellent and complete routine for the upper body.
This video was made thanks to the collaboration of my brother Jorge Camacaro, who very kindly took the photos and videos needed to make this publication, everything was captured from my cell phone, a Redmi note 11 and the applications used for editing were: Canva.com and the app, InShot, I hope this work is to your total liking.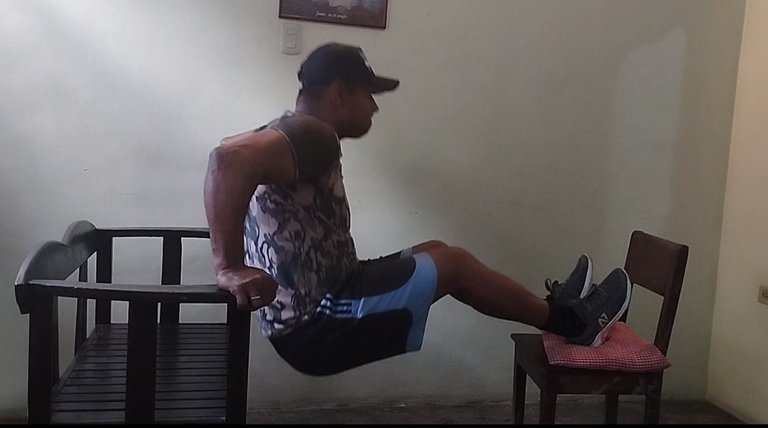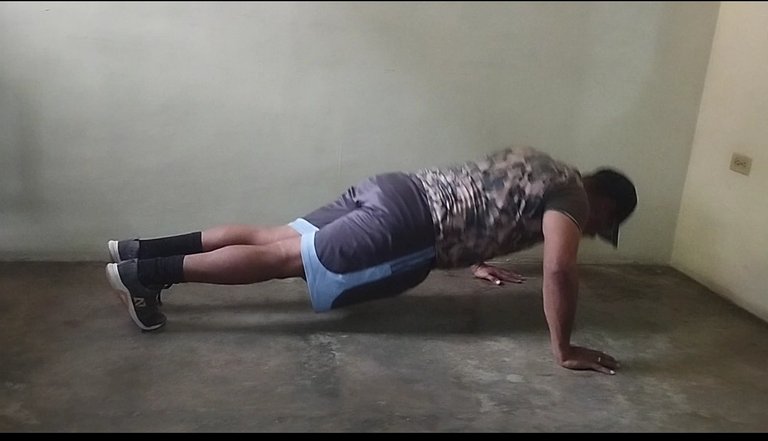 ---
▶️ 3Speak