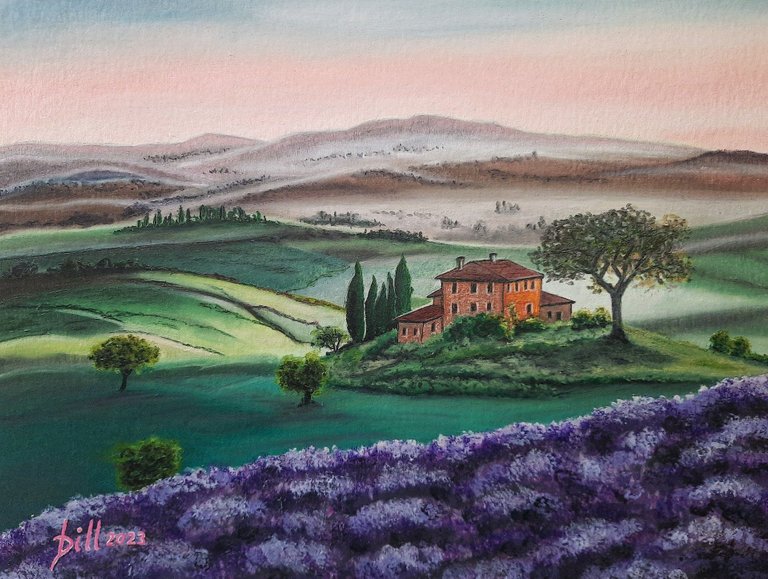 "A Memory of Tuscany"
Oil Pastel on Paper, 40cm x 30cm (15¾" x 11⅞")
I've been thinking a lot about Italy lately, and now that the idiotic COVID restrictions are a thing of the past, Caro and I will probably visit Tuscany next May. Until then, I'm left with my memories of which I painted one last week.
Yes, they grow lavender not just in Provence / France but also in Tuscany, and mine looms large in this painting. I can't help it: I'm fascinated with that particular color and I went a bit overboard on the lavender. 😃 Like Bob Ross always said, it's my world, and I get to decide which happy little trees live in it... 😂
 
Ich habe in letzter Zeit viel über Italien nachgedacht, und jetzt, wo die idiotischen COVID-Beschränkungen der Vergangenheit angehören, werden Caro und ich im nächsten Mai wahrscheinlich die Toskana besuchen. Bis dahin bleiben mir meine Erinnerungen, von denen ich letzte Woche eine gemalt habe.
Ja, Lavendel wird nicht nur in der Provence in Frankreich angebaut, sondern auch in der Toskana, und mein Lavendel ist auf diesem Bild ganz groß rausgekommen. 😀 Ich kann nicht anders: Ich bin von dieser ganz besonderen Farbe fasziniert und habe es mit dem Lavendel ein wenig übertrieben. Wie Bob Ross immer sagte: Es ist meine Welt, und ich entscheide, welche glücklichen kleinen Bäumchen darin leben dürfen... 😂
 
Creative Process: