Hello dear friends,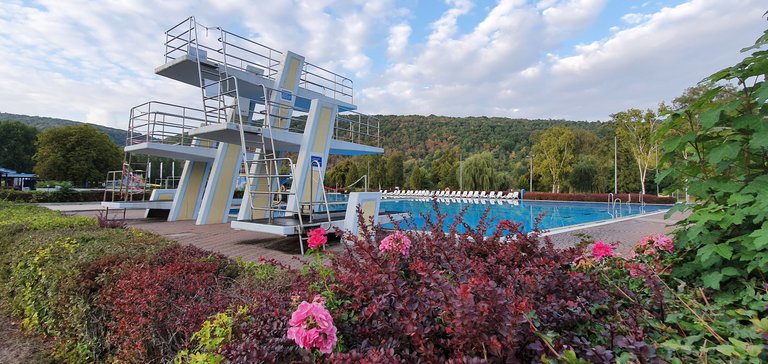 for one or the other my following contribution may appear somewhat profane. For myself, however, is a kind of longing post. Yes, it is, so to speak, a little ode to the Wertheim outdoor pool, the place where my family and I have spent and enjoyed almost every free minute in this terrific summer.
🌞 🌊 🌊 🌞
Hallo liebe Freunde,
für den einen oder anderen mag mein folgender Beitrag vielleicht etwas profan erscheinen. Für mich selbst ist allerdings eine Art Sehnsuchts Posting. Ja, es ist sozusagen eine kleine Ode an das Wertheimer Freibad, dem Ort, an dem meine Familie und ich in diesem grandiosem Sommer fast jede freie Minute verbracht und genossen haben.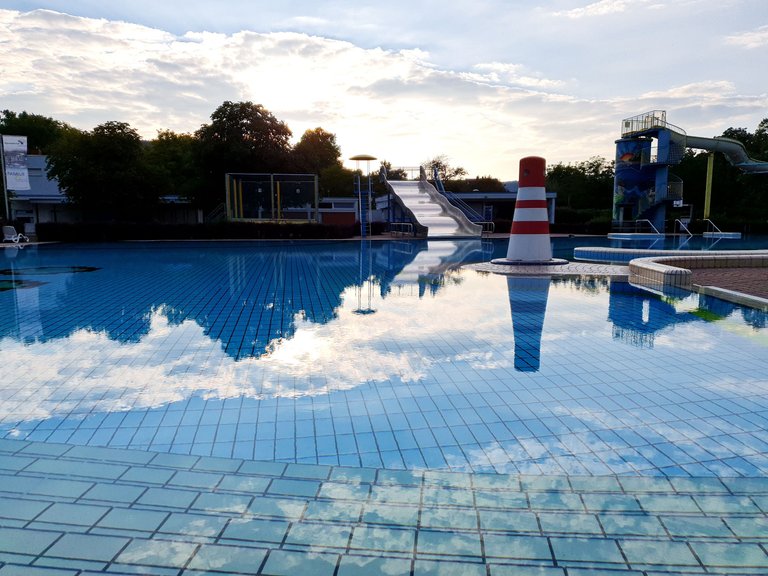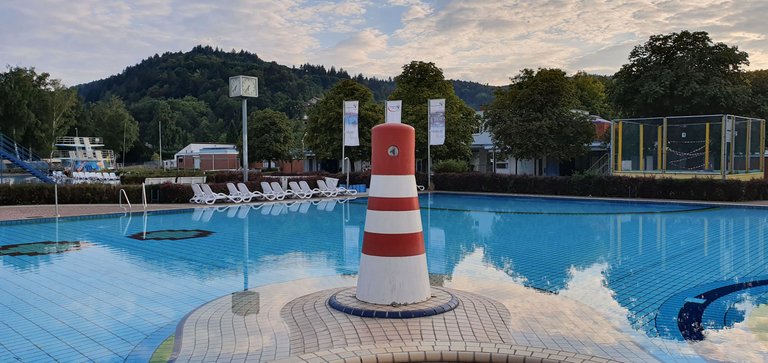 ---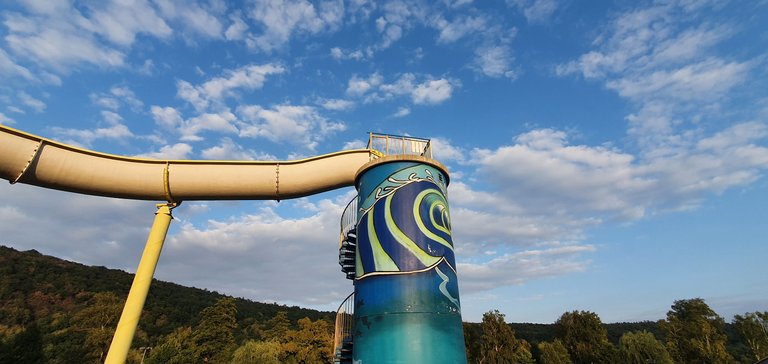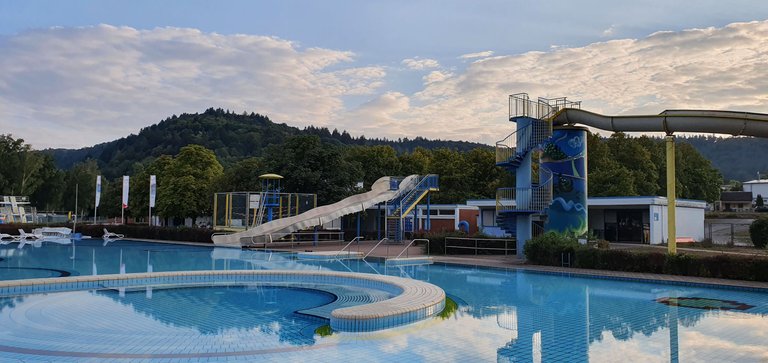 The Wertheim open-air swimming pool has always been highly praised by visitors from other cities and countries. Especially with our neighbors from the Netherlands, Wertheim is very popular in the summer, especially since the outdoor pool is located right next to the campground. Some of the locals don't really appreciate the swimming pool, although it has to be said that there are a number of regular visitors in all age groups.
🌞 🌊 🌊 🌞
Das Wertheimer Freibad wird uns wurde stets sehr gelobt von Besuchern aus anderen Städten und Ländern. Gerade auch bei unseren Nachbarn aus den Niederlanden ist Wertheim im Sommer sehr beliebt, zumal das Freibad direkt neben dem Campingplatz gelegen ist. Die Einheimischen wissen das Schwimmbad teilweise gar nicht so recht zu schätzen, wobei man auch konstatieren muß, daß es eine Reihe von Stammbesuchern in allen Altersklassen gibt.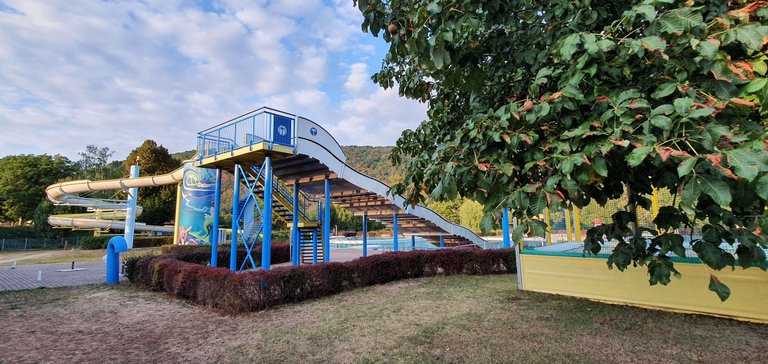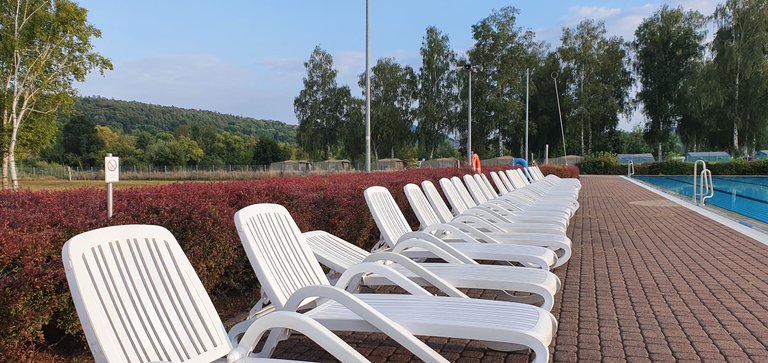 ---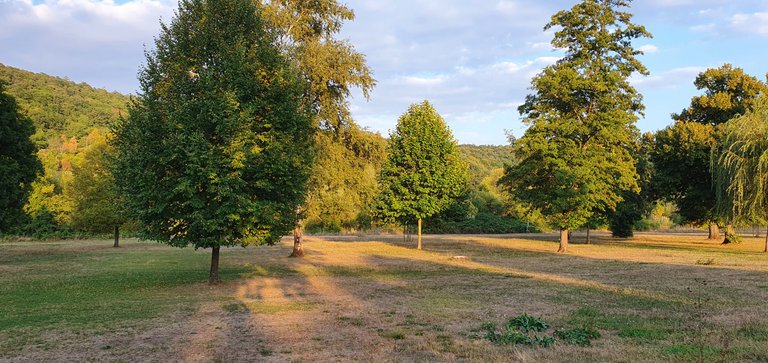 Besides the lush sunbathing lawn, where a number of trees provide sufficient shade, the entrance fees are also very humane compared to other pools. We had this year a family annual ticket, which costs 120 EUR, for under 100 EUR.
According to the chief swimming master, the opening should also be secured for the next season. In view of the exploding energy prices, this is anything but a matter of course. However, the Wertheim swimming pool is largely heated by solar power. This summer, due to the warm weather, additional heating was only required for 14 days.
🌞 🌊 🌊 🌞
Neben der üppigen Liegewiese, auf der ein Reihe von Bäumen ausreichend Schatten spenden, sind auch die Eintrittspreise im Vergleich zu anderen Bädern sehr human. Wir hatten dieses Jahr eine Familien Jahreskarte, die 120 EUR kostet, für unter 100 EUR.
Lt. dem Chef Schwimmmeister dürfte die Öffnung auch für die nächste Saison gesichtert sein. Angesichts der explodierende Energiepreise ist das alles andere als selbstverständlich. Das Wertheimer Schwimmbad wird aber weitestgehen durch Solarstrom beheizt. Diesen Sommer musste auf Grund der warmen Witterung auch nur 14 Tage zusätzlich geheizt werden.
---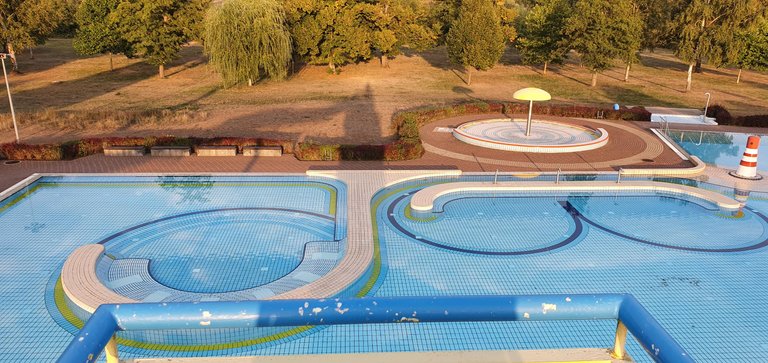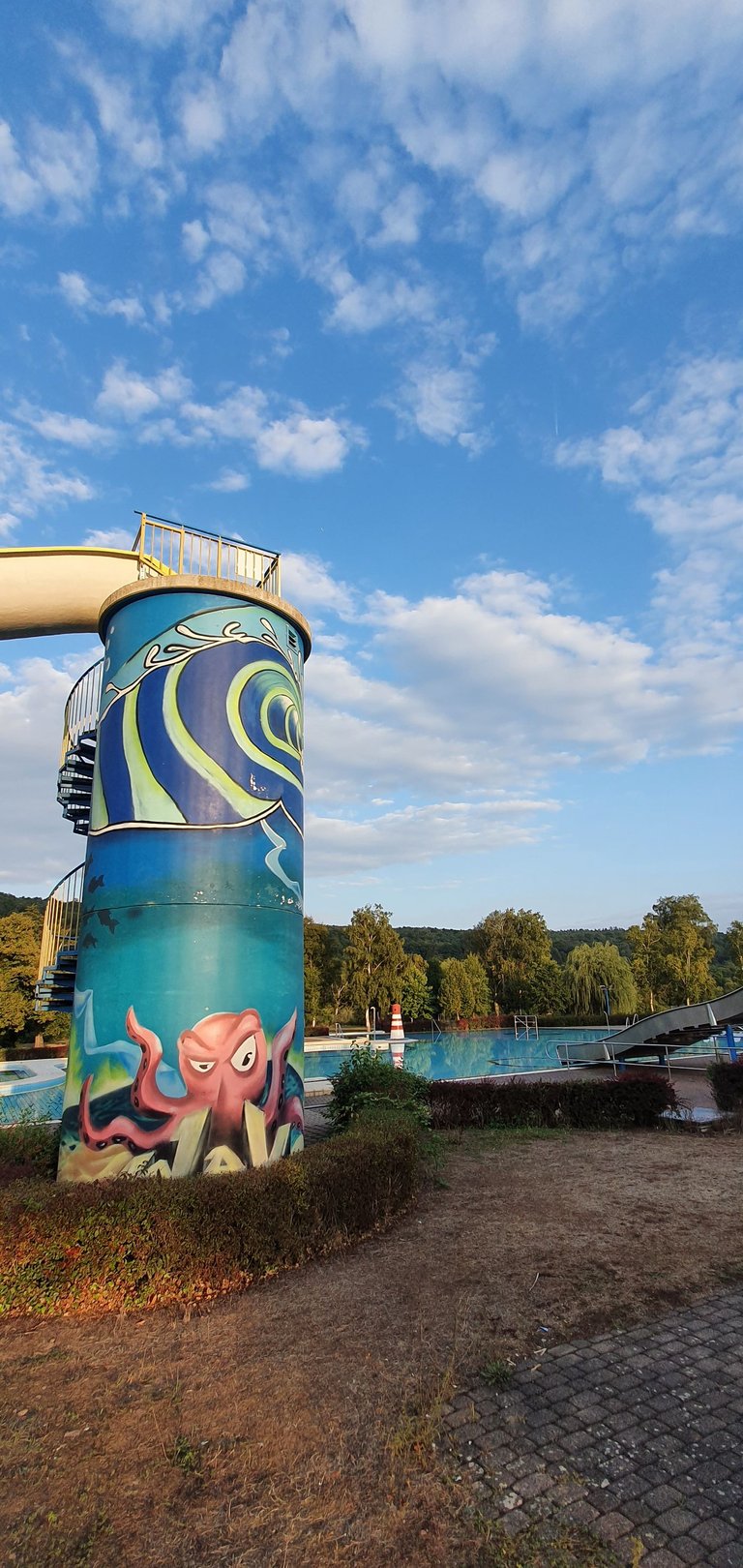 The non-swimmer pool is the main attraction for my kids. In addition to the two slides, there is also a water mushroom, a waterflow channel - which is very popular - and various water jets. Only on very few days this year would I describe the pool as crowded. Most of the time you still saw more water than people. I think you already know what and how I mean that ;-)
🌞 🌊 🌊 🌞
Das Nichtschwimmerbecken ist für meine Kinder der Hauptanziehungspunkt. Neben den beiden Rutschen gibt es auch einen Wasserpilz, einen Strömungskanal - der sehr beliebt ist - und diverse Wasserdüsen. Nur an sehr wenigen Tagen dieses Jahres würde ich das Bad als überfüllt bezeichnen. Die meisten Zeit sah man doch noch mehr Wasser als Menschen. Ich denke, ihr wisst schon, was und wie ich das meine. ;-)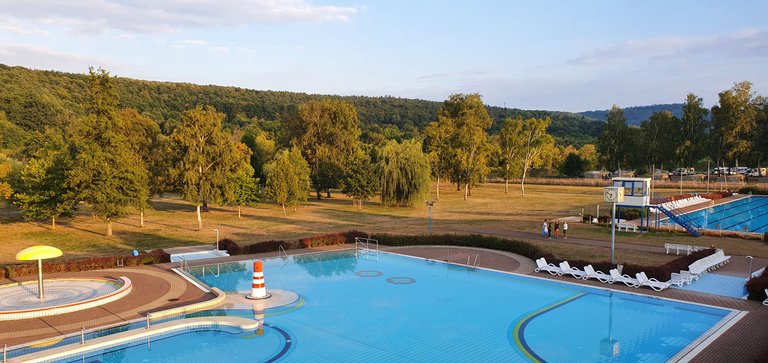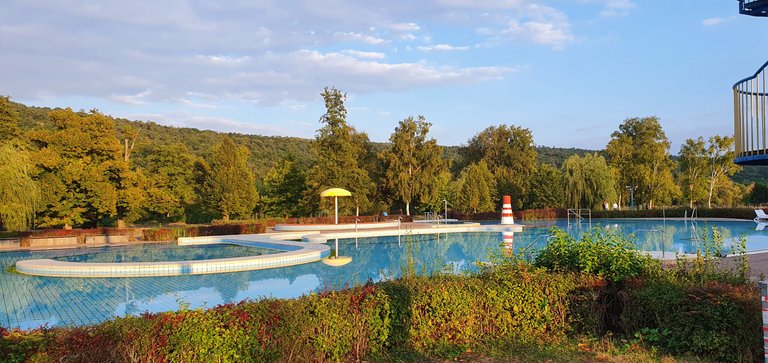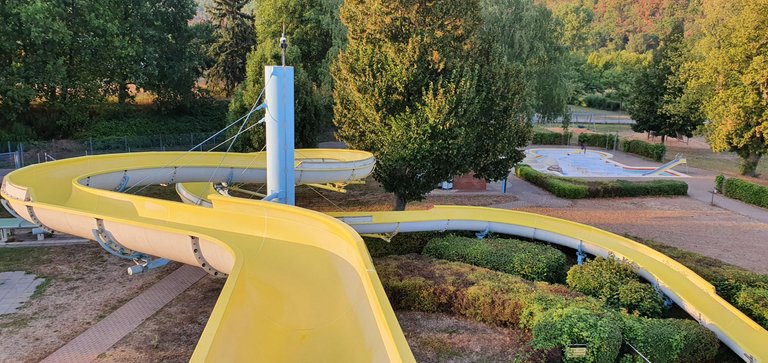 ---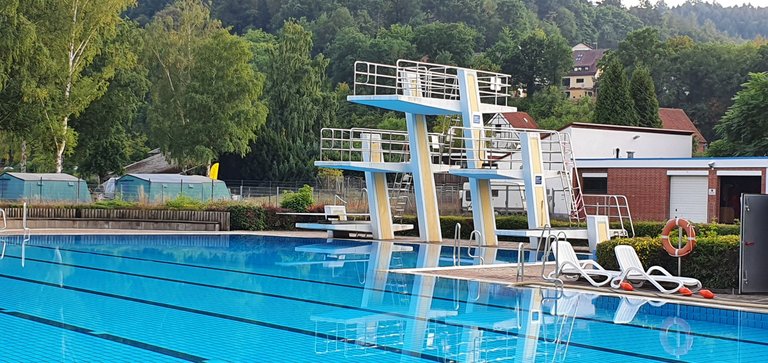 The diving tower at the swimmer's pool is still a remnant from the early days of the bath. It has been there for as long as I can remember. But now it was time to say goodbye to it. The old diving tower will be demolished this winter and replaced by a new steel construction. The new diving tower will not be higher than 5m, because the pool is not designed for higher constructions.
In any case, my daughter still made her first jumps from the 3 on the venerable diving tower.
Since I was the last swimmer this year - Yay! - I was also the last official swimmer who did a set from the 3. It was nice ;-)
🌞 🌊 🌊 🌞
Der Sprungturm am Schwimmerbecken ist noch ein Überbleibsel aus den Anfangszeiten des Bades. Solange ich denken kann, stand er dort. Aber nun war es an der Zeit von ihm Abschied zu nehmen. Der altgediente Sprungturm wird diesen Winter abgerissen und durch eine neue Konstruktion auch Stahl ersetzt. Höher als 5m wird auch der neue Sprungturm nicht werden, da das Becken für höhere Konstruktionen nicht ausgelegt ist.
Auf jeden Fall hat meine Tochter noch auf dem altehrwürdigen Sprungturm ihre ersten Sprünge vom 3er absolviert.
Da ich der letzte Badegast dieses Jahr war - Juhuuuu... - war ich auch der letzte offizielle Badegast, der noch einen Satz vom 3er gemacht hat. Schön war's. ;-)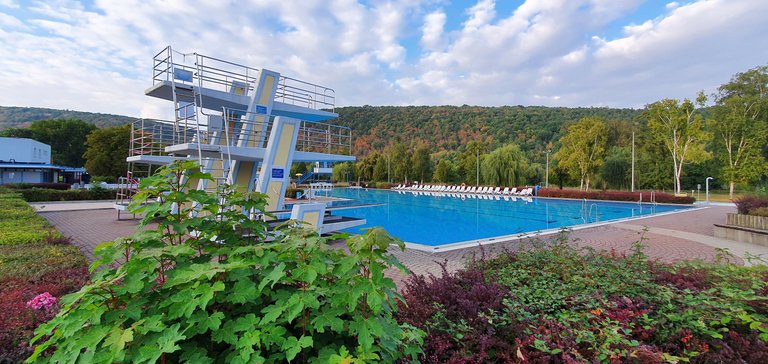 ---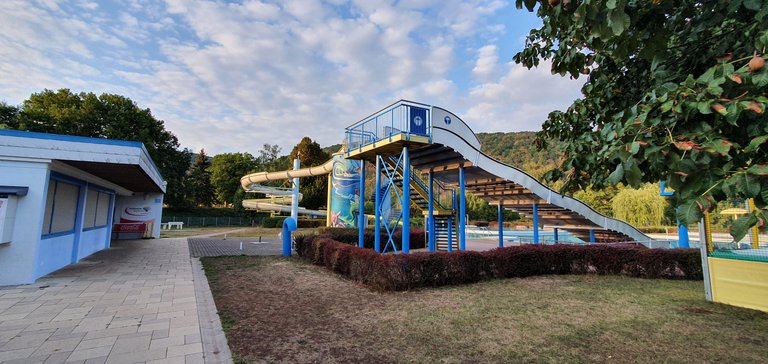 Also for the physical well-being is provided. At the kiosk there are chips, sausage, ice cream and drinks. Ok, it is not quite cheap, but what is cheap today. In any case, we have often eaten a portion of fries there.
🌞 🌊 🌊 🌞
Auch für das leibliche Wohl ist gesorgt. Am Kiosk gibt es Pommes, Wurst, Eis und Getränke. Ok,ganz billig ist es nicht, aber was ist heute schon noch günstig. Wir haben auf jeden Fall dort öfter mal eine Portion Fritten verdrückt.
---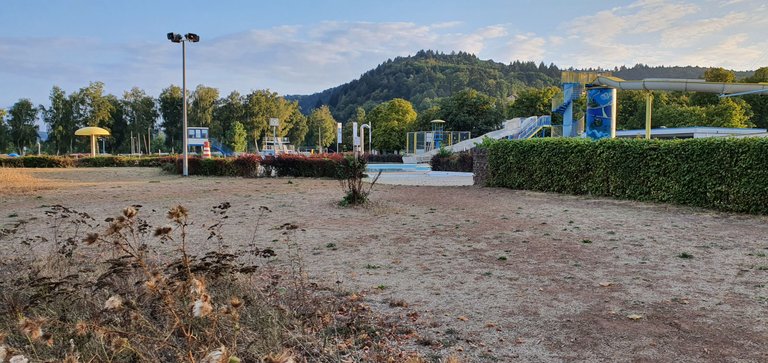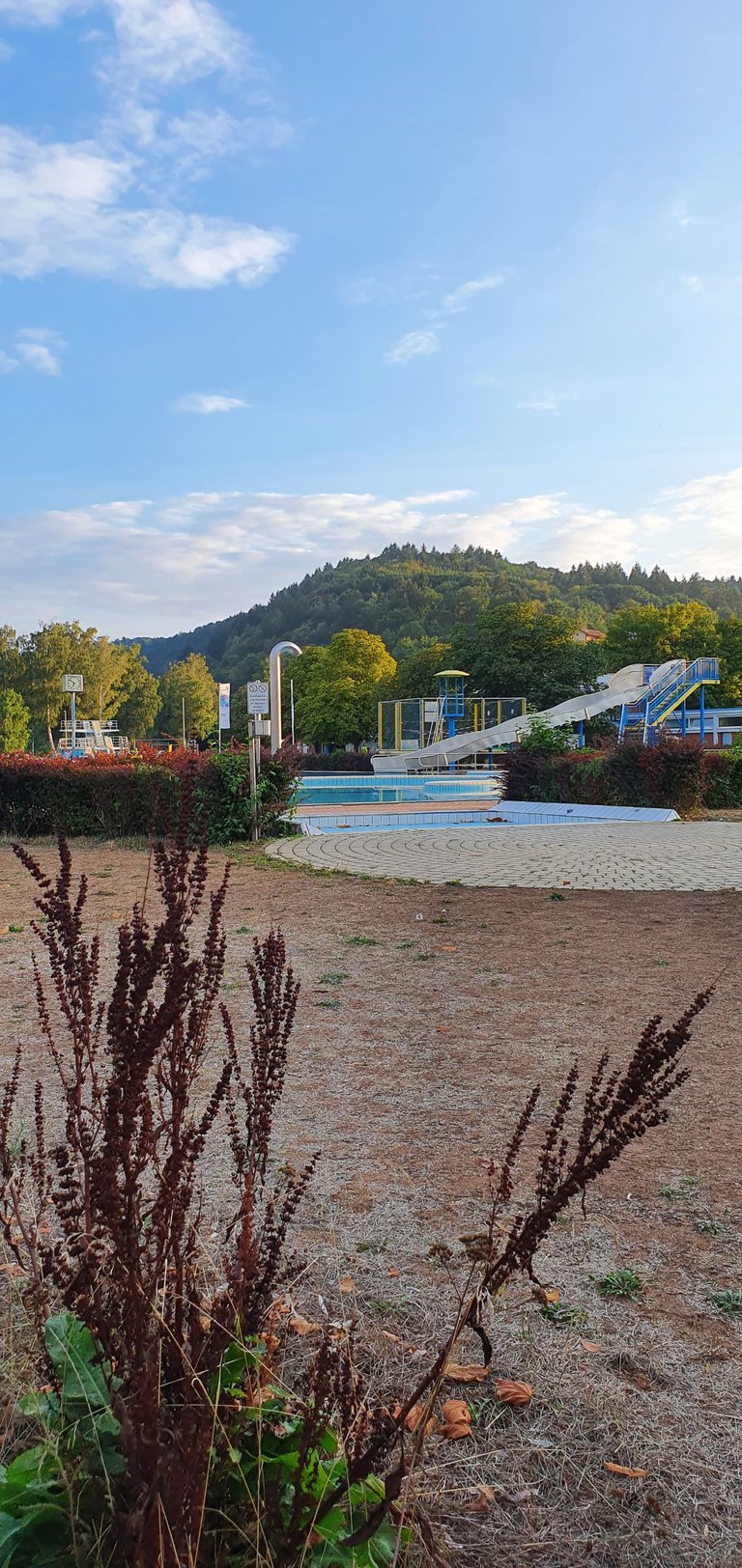 By the way, the sunbathing lawn, which was badly affected by the drought, has almost completely recovered within 2 weeks and shines with a deep green. The anticipation of the next bathing season has already begun. Fortunately, I could extend it but 2022 at our bathing lakes still something. About it more in one of the next articles.
🌞 🌊 🌊 🌞
Die durch die Trockenheit stark in Mitleidenschaft gezogene Liegewiese hat sich übrigens binnen 2 Wochen wieder fast komplett erholt und glänzt durch ein tiefes Grün. Die Vorfreude auf die nächste Badesaison hat bereits begonnen. Zum Glück konnte ich sie aber 2022 an unseren Badeseen noch etwas verlägern. Darüber mehr in einem der nächsten Artikel.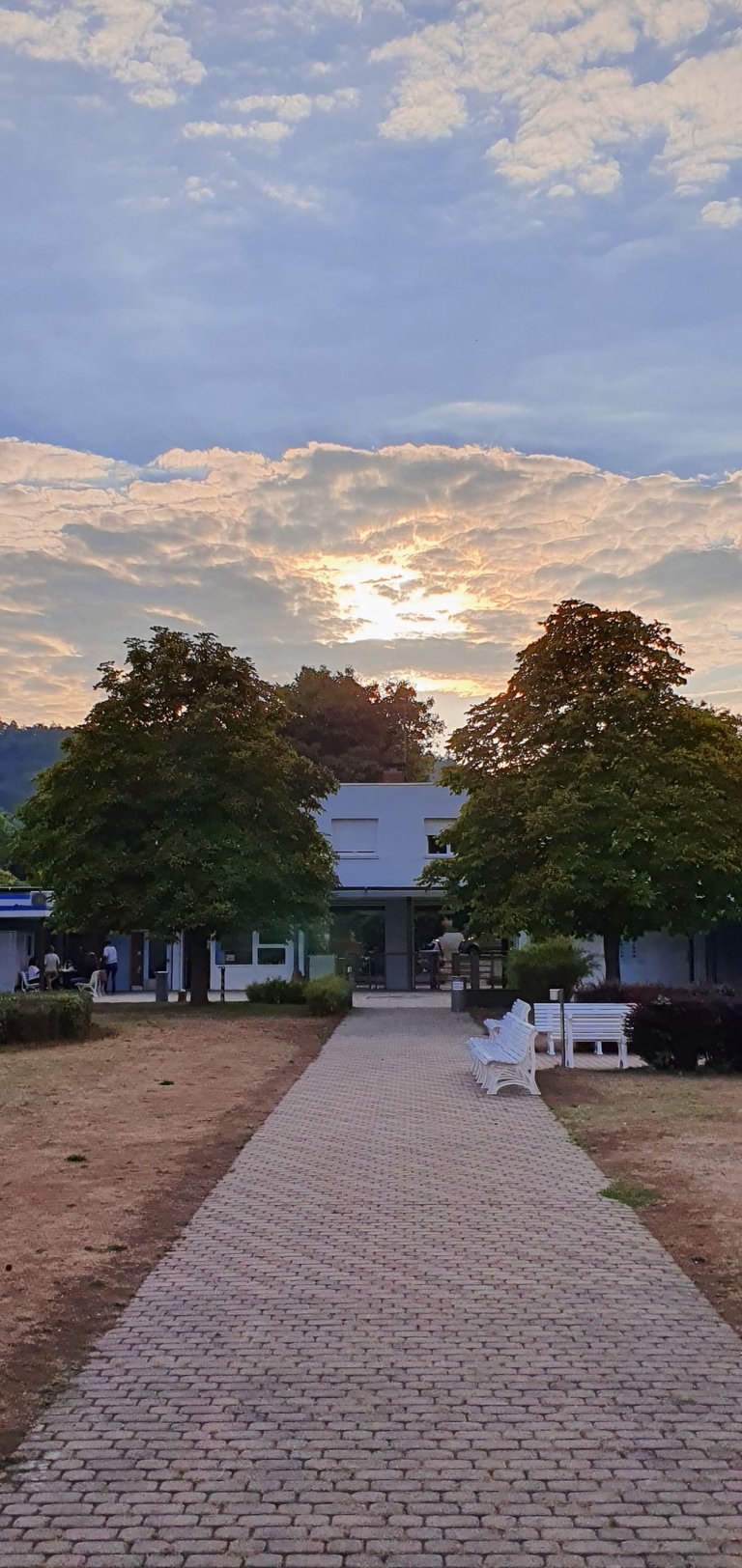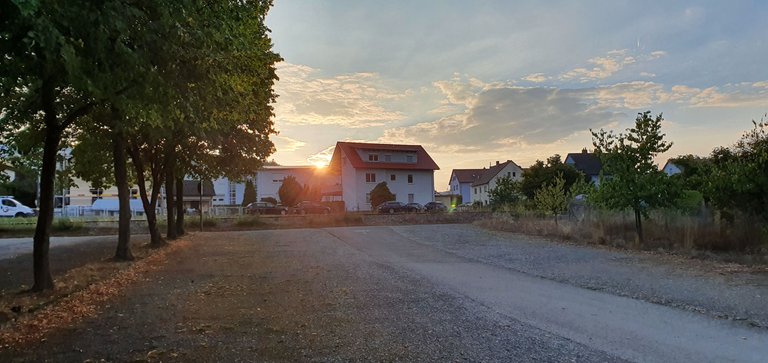 ---
Weblinks:
Andy Jay Powell Spotify
Andy Jay Powell YouTube Channel 1
Andy Jay Powell On Odysee
Andy Jay Powell On DTube
Andy Jay Powell On BitTube
---
🕊 🕊 🕊 Follow @andyjaypowell 🕊 🕊 🕊