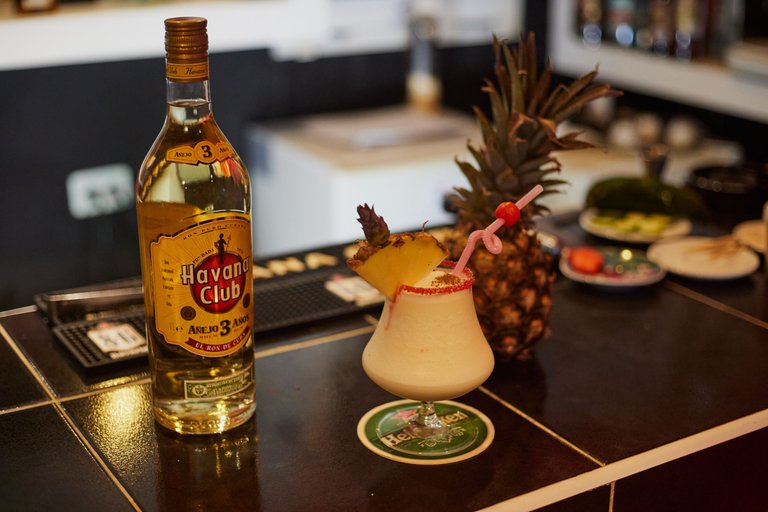 ---
Who doesn't like a refreshing drink when on vacation, especially in Cuba, a tropical island with its good humid heat. These photos are of drinks that are usually used for hot moments, like relaxing on a beach or just enjoying a good conversation in summer time. I took them a few days ago in a restaurant called La Fela where a friend of mine works and I helped her and some other photographers to take some pictures that they can use in their promotion. We had been wanting to do this session for a while but due to lack of time or the pandemic situation we had not been able to do it. I as usual with my Canon RP and used my 50mm lens to create a blur on anything other than the product itself.
We also sought to relate the product with its ingredients, for example, the first three images show a piña colada with alcohol, hence you can also see a pineapple and the rum that was used, in Cuba the excellence is the traditional Cuban rum Habana Club. In the following two pictures you can see a Gin Tonic, so part of its ingredients can be seen around it, although I can not capture the ice well, for that I would have needed a little more lighting instrumentation to get the light to highlight them.
A quien no le gusta una bebida refrescante cuando esta de vacaciones y mas en Cuba, una isla tropical con su buen calor húmedo. Estas fotos son de bebidas que se suelen usar para momentos calurosos, como estar descansando en una playa o simplemente disfrutando de una buena conversación en tiempos de verano. Las hice hace unos días en un restaurante llamado La Fela donde una amiga trabaja y le ayude junto a otros fotógrafos haciendo algunas fotos que puedan usar en su promoción. Ya llevábamos un tiempo queriendo hacer esta sesión pero por falta de tiempo o la situación con la pandemia no se había podido hacer. Yo como siempre con mi Canon RP y use mi lente 50mm para crear un desenfoque en lo que no fuese el producto en sí.

También buscamos relacionar el producto con sus ingredientes, por ejemplo, las primeras tres imágenes se muestra una piña colada con alcohol, de ahí que se pueda ver además una piña y el ron que se uso, en Cuba la excelencia la lleva el tradicional ron cubano Habana Club. En las siguientes dos fotos puede ver un Gin Tonic, por lo que parte de sus ingredientes lo pueden ver a su alrededor, aunque no logre captar bien los hielos, para ello hubiese necesitado un poco mas de instrumentaría de luces para poder conseguir la luz que los resalte.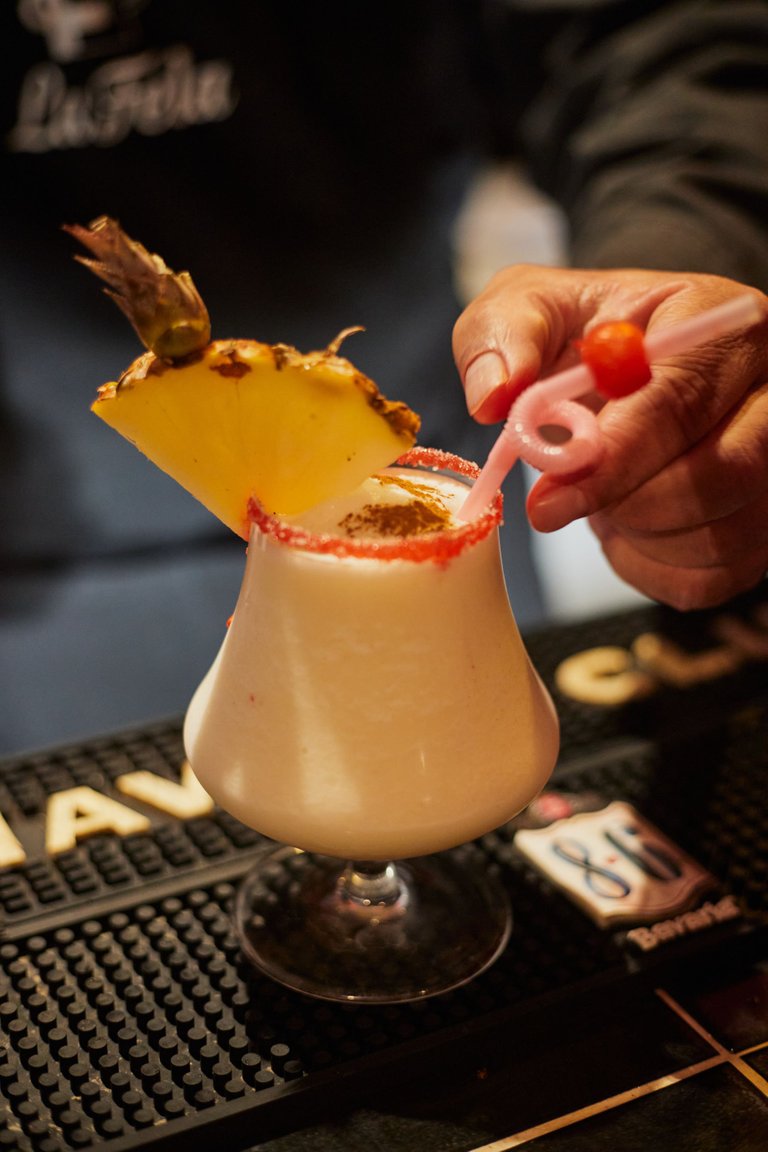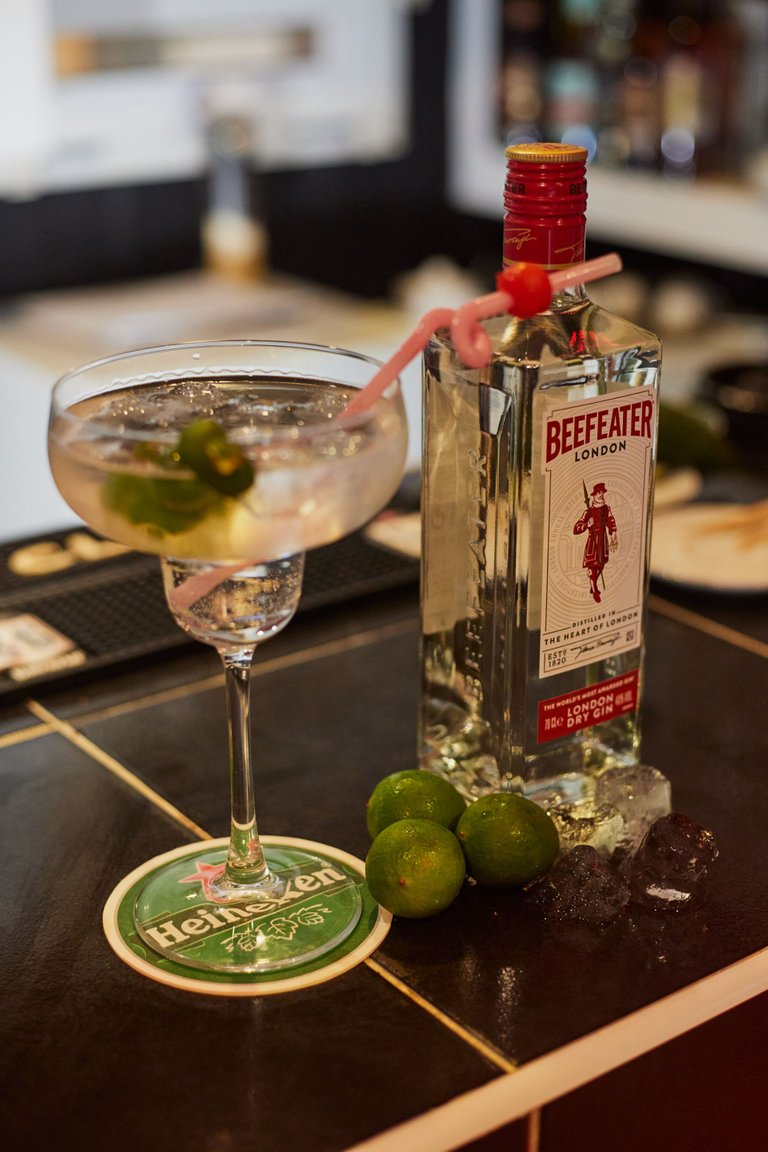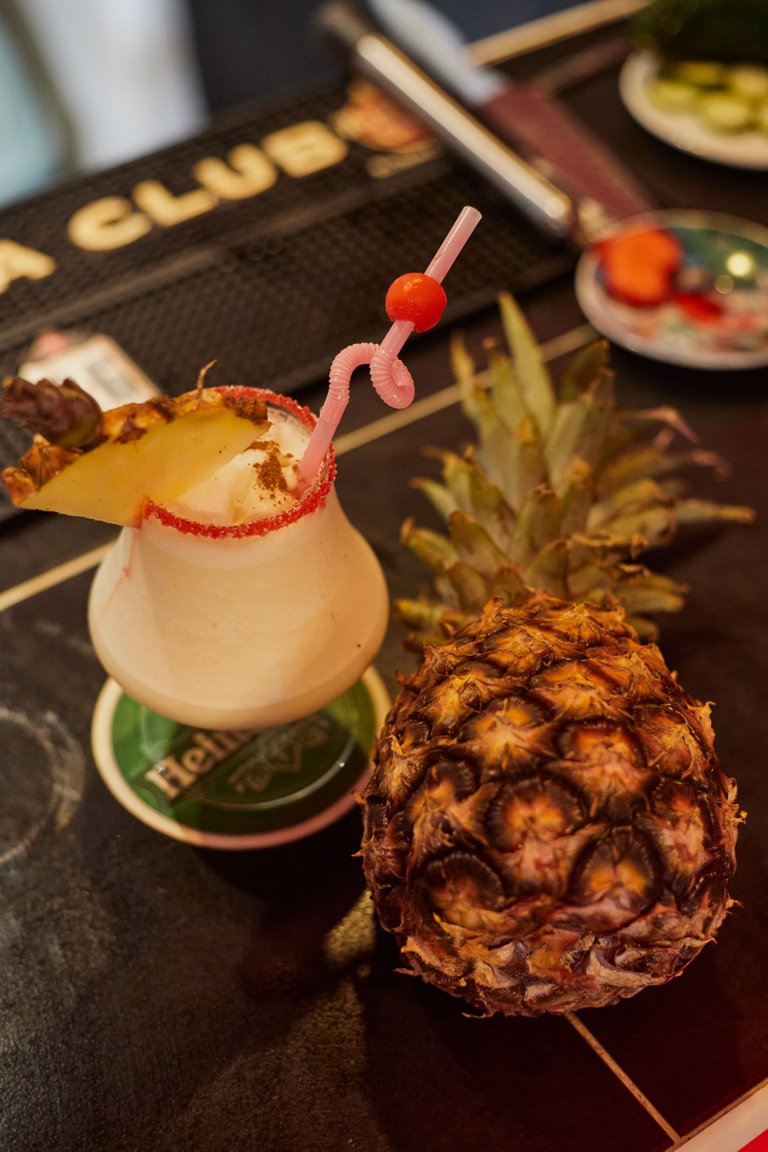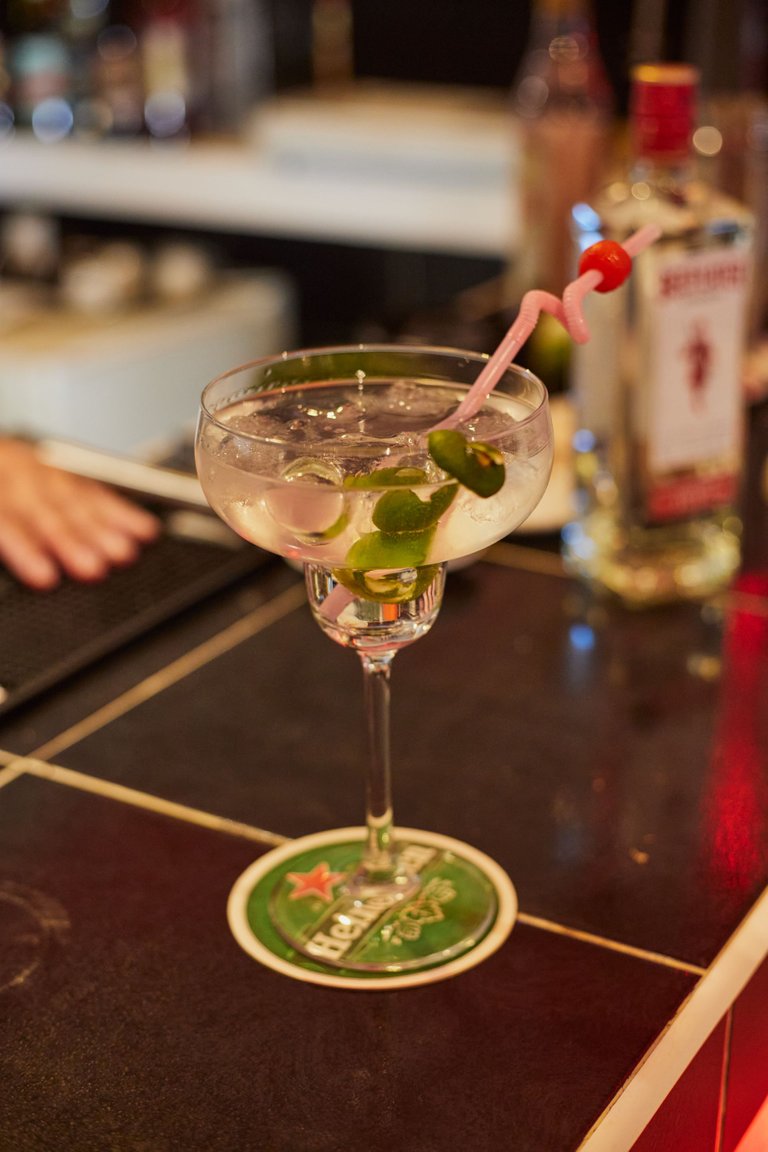 ---
Something that I loved was being able to taste them because I usually drink more beer than elaborated drinks like these and in my humble opinion they are very good. The one I liked the most was the following one, which had a great freshness and a rich flavor. I don't remember the name but it has rum, frappe ice and grenadine liqueur, apart from those ingredients you can play with some more according to what the bartender told me.
Algo que me encanto es poder probarlos pues suelo ser de beber mas cerveza que tragos elaborados como estos y en mi humilde opinión están muy buenos. El que mas me gusto es el siguiente, que tenia una gran frescura y un rico sabor. No recuerdo el nombre pero lleva ron, hielo frappe y licor de granadina, fuera de esos ingredientes se puede jugar con alguno mas según me dijo el bartender.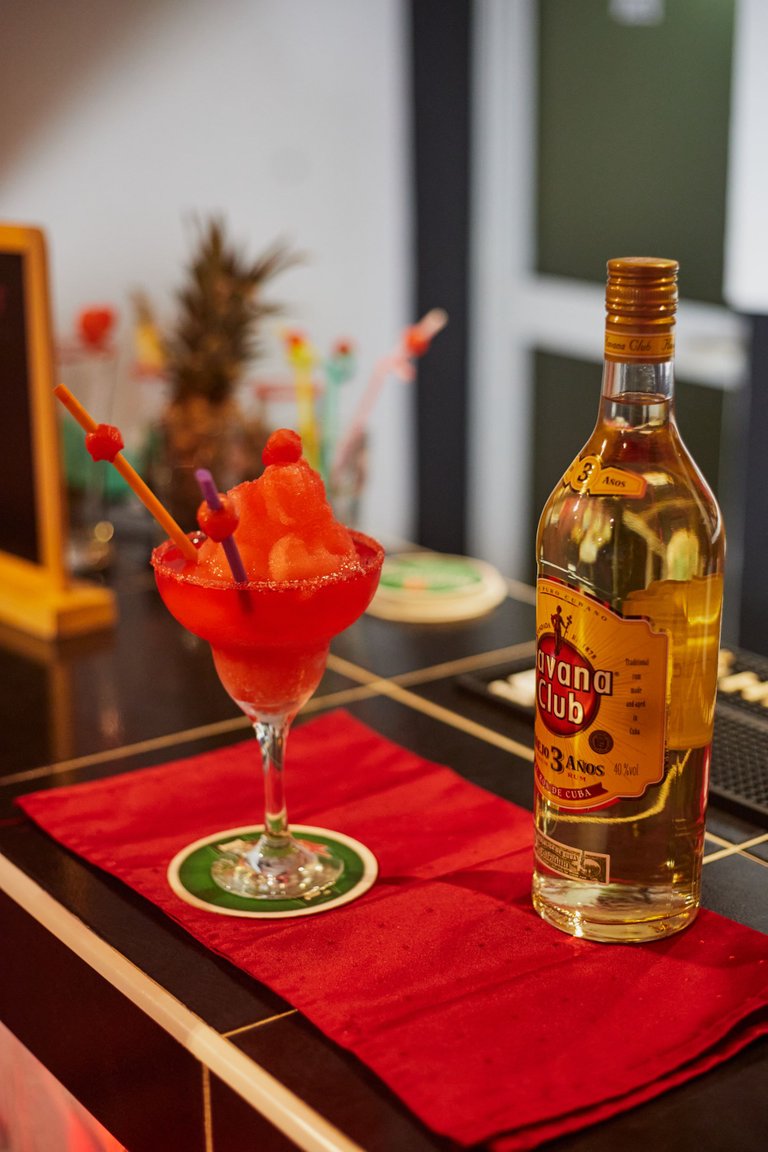 ---
When we finished with the drinks we made some of the already prepared dishes like these delicious tacos accompanied by a sauce. I only took this picture of the dishes but I didn't want to leave it out of this publication as it is still product photography. I can assure you that they were delicious, although I still miss the Mexican tacos from Cancun, the big difference is that in Cuba the dough is made of flour and not corn as in Mexico. Without further ado I hope you liked my work and soon I will be back with more of my photos but with another type of photography that is becoming a dream for me.
Al terminar con los tragos hicimos algunas de platos ya elaborados como estos ricos tacos acompañados de una salsa. Yo de los platos solo hice esta imagen pero no quería dejarla fuera de esta publicación pues sigue siendo fotografía de producto. Les puedo asegurar que estaban deliciosos, aunque sigo extrañando los tacos mexicanos de Cancún, la gran diferencia es que en cuba la masa se hace de harina y no de maíz como en México. Sin mas espero que les haya gustado mi trabajo y pronto estaré de vuelta con mas de mis fotos pero ya con otro tipo de fotografía que se esta volviendo un sueño para mi.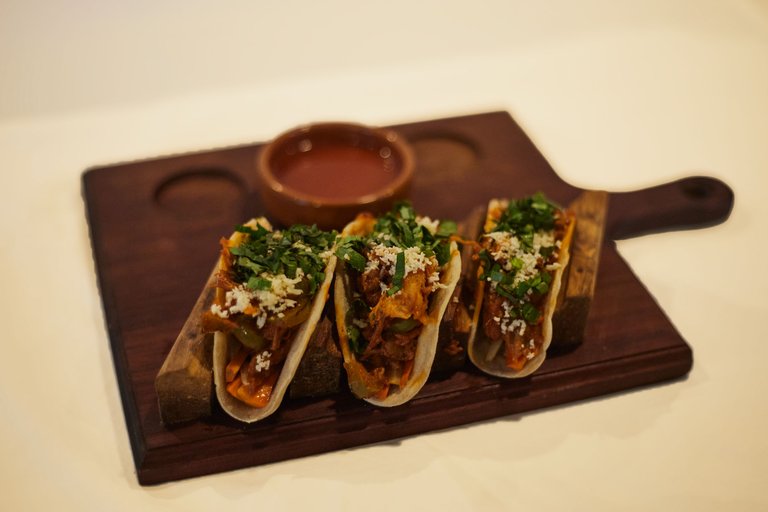 Puedes contactarme y seguir mi trabajo aquí
Contact me and follow my work here