Hello everybody, I am Jesus, maybe you have heard of me.
For a very long time, I have been very fond of the steem blockchain, this is the exact same sort of grassroots network I would have used to reward my followers.
However, I have noticed a very dark and disturbing trend going on....
Many people are sharing their posts to the chain (as they should), and almost instantaneously, some dickhead spam-bot posts a copy-paste comment with some bullshit about some guy who pretends to know who I was.
It is very important that I note that I do not condone this spamming by @overall-servant, @hiroyamagishi and their army of bot trolls including @olaf123, @bob77, etc (there are really too many to even name).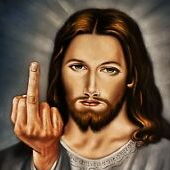 I have come back from the fucking dead (no easy task, trust me) JUST to combat these spammers. I see the steem blockchain as the future of human interactions, and these idiots who claim to be doing my bidding are indeed ruining something that is very good and in turn just pissing me off to a huge extent. I cringe every time I see one of these spam comments, so I cringe like 10,000 times a day and it's getting extremely annoying.
I also find it important to note that if you are @hiroyamagishi or @overall-servant or any of these troll spam accounts claiming to be acting in my name, you must IMMEDIATELY CEASE AND DESIST OR YOU WILL GO STRAIGHT TO HELL!!!!! No exceptions.
I hope that you beautiful steemians see the importance of my endeavor here. I mean, I was literally chilling in heaven a few hours ago, and I decided to come back to the planet I was crucified on because this task is that important. Spammers claiming to be acting in my name must be trolled into infinity until they stop....
If you see the importance in my divine mission, PLEASE consider
A) upvoting this post
B) delegating to @the-real-jesus
C) resteeming this post
D) when one of these troll spammers inevitably spams your next post, you make sure to tell them that you side with @the-real-jesus and agree that their spam is UNACCEPTABLE AND DOES NOT REFLECT THE ACTUAL THOUGHTS OF JESUS CHRIST OF NAZARETH.
Side note: My friend @alexvanaken helped me create my account and he was nice enough to buy me 0.001 BTC worth of steem so I can begin this great battle for all things good. This account will NEVER EVER power down as long as these shitty spammers are using resource credits to spam our beautiful blockchain. So you can feel confident that if you invest in @the-real-jesus that you are benefitting the entire steem community and that all donations/support will come back to you ten-fold for all of eternity.
Thank you very much for reading this. I would have etched it into a stone tablet but that shit just takes way too much time.