Warning, this is a graphic post that may disturb some people
I am not a religious person and I don't really care if other people decide to be. I'm all about freedom and think that people can do whatever TF they want as long as it doesn't harm other people (and i'm not talking about your feelings.) Worship whatever you want to is my motto.
I do however draw the line when the ceremonies, even if they are steeped in tradition result in a tremendous amount of cruelty and what in my mind (and I think most people would agree) is the senseless slaughter of animals.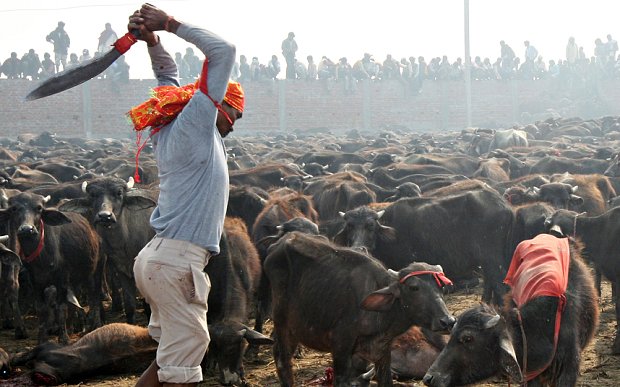 source
I am not an expert on this religion and I don't care to be. All i know is that this festival takes place every 5 years in a temple in Bariyarpur, which is near to the capital city of Nepal, Kathmandu.
During this festival, millions of people attend, and during that time thousands of animals are ritualistically slaughtered, many in a horrifyingly violent manor such as decapitations that take multiple strikes.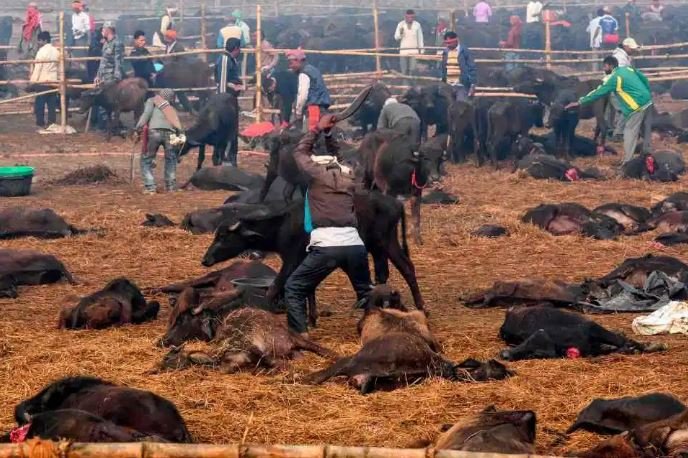 source
Now I'm not a vegan or a member of PETA, but i think the line needs to be drawn somewhere and that line should be a bunch of buffalo standing in a field watching the other buffalo getting attacked and killed in a painful manner with zero regulation.
Other animals are sacrificed as well including, goats, ducks, pigeons, and rats. In 2009 it is estimated that 500,000 animals were sacrificed during the multi-day event. Because of societal pressure that number was reduced to somewhere between 30 and 200 thousand (no one is really sure) by 2014.
In 2015 the event organizers said that the next gathering in 2019 (that's now, if you aren't paying attention) would have no animal sacrifice.
The Nepal Supreme Court has also dictated that the ritualistic sacrifice must be phased out although I'm not really sure what that means - sounds like a half-assed attempt at appearing to care.
However, drone footage from a few days ago shows several thousand buffalo being lead to the grounds by locals. People on the ground at the event have stated that hundreds of men with sharpened swords and knives entered a large stadium and i think we can presume it wasn't for a knife sale.
I think it is safe to say that the ritualistic slaughter of thousands of animals is in progress or has already taken place despite the ban and government efforts to stop it.
Animal rights activist Manoj Gautam, who was a major proponent in bringing this event global attention stated "The officials have let their personal beliefs rule over the court orders, they did not do enough to discourage the slaughters."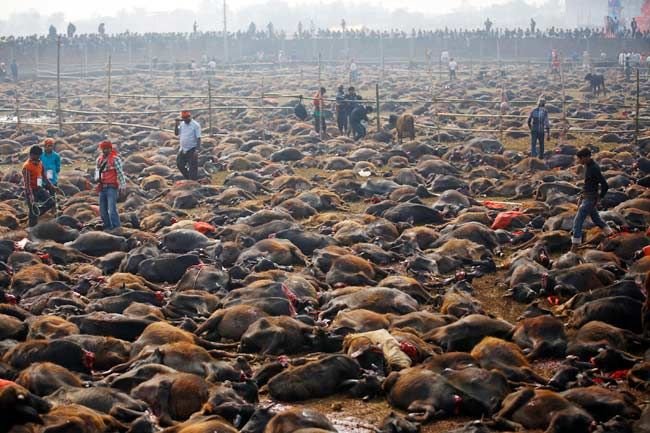 source
I'm all for people to be able to have religious freedom, but I honestly can not understand the mindset of a person, or group of people, let alone millions of people, that can look at this not with disgust, but in celebration and actually fight for it to be allowed to continue.
WTF is wrong with you people?
Am I a bad person for being judgmental about certain demographics' religious practices? Because if so, i don't care. This is dumb and i can't believe it isn't a story in a history book... this is happening right now.
Almost all religions at one point or another had some form of animal sacrifice involved but they have phased them out. I can't believe this goes on today. Color me outraged.