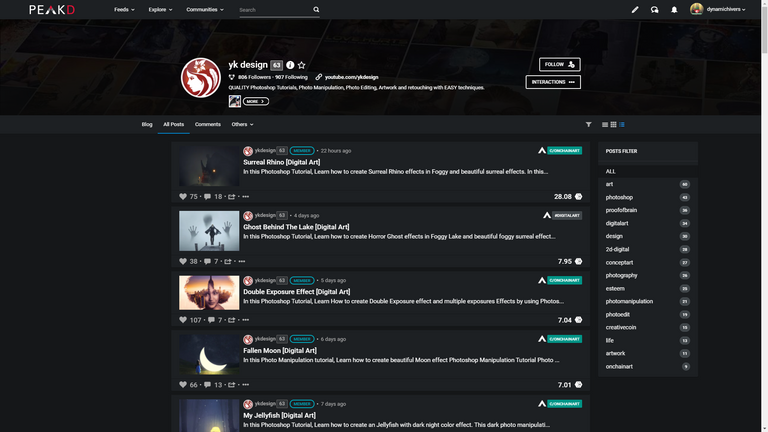 ---
@ykdesign online profiles:
Hive- https://www.neoxian.city/@ykdesign
YouTube- https://goo.gl/vmj6sg
Facebook- https://www.facebook.com/ykdesigns.in
Google+ - https://goo.gl/je0Xj0
Twitter- https://twitter.com/ykdesign_in
Pinterest- https://in.pinterest.com/ykdesign_in/
---
---
There are so many artists on Hive that I would love to feature and try to promote as I try to better engage with the art community on Hive. Truly, Hive has a very strong and dedicate group of artists that could be anywhere but chose to utilize Hive. @ykdesign does everything right in my opinion when it comes to establishing an online presence that is solidified with an active and focused Hive account.
---
I've learned that people will forget what you said, people will forget what you did, but people will never forget how you made them feel.
- Maya Angelou
---
YK Design is very consistent with their posting on Hive as well as responses to comments on her posts. She has very informative content for aspiring content creators who want to start utilizing Photoshop basics to better their content on Hive or just help start the process of becoming a Graphic Design artist. In fact she even makes time to visit other people's posts with lovely comments. In this regards she not only teaches us all photoshop basics but she also embodies a certain kind of philosophy that I always want to better utilize with commenting but I still have a long ways to go. YK Design will even travel to your own personal posts to say hi! Surly, if you have any questions in regards to Photoshop or the graphic design process, her engagement assures us she will respond to you and help! She makes you feel important, keeps things in perspective when I read her heartfelt yet simple to the point comments and makes you feel good!
---
Please visit this post to get to know YK Design better!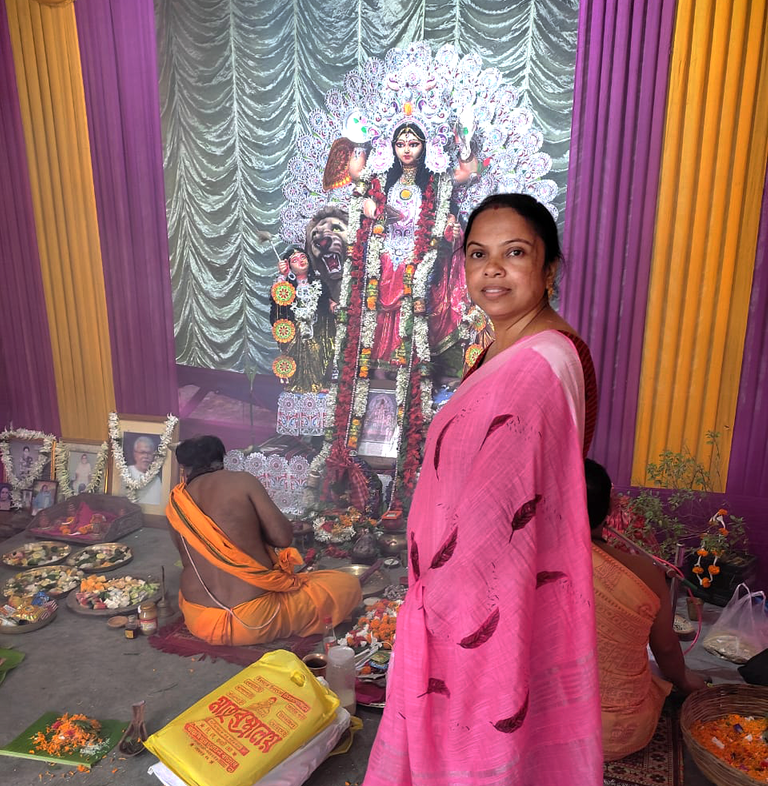 ---
I will now attempt to highlight a few posts from YK Design to hopefully showcase some work from her that can help give awareness to others about the awesome attempts to teach others on Hive about Graphic Design!
---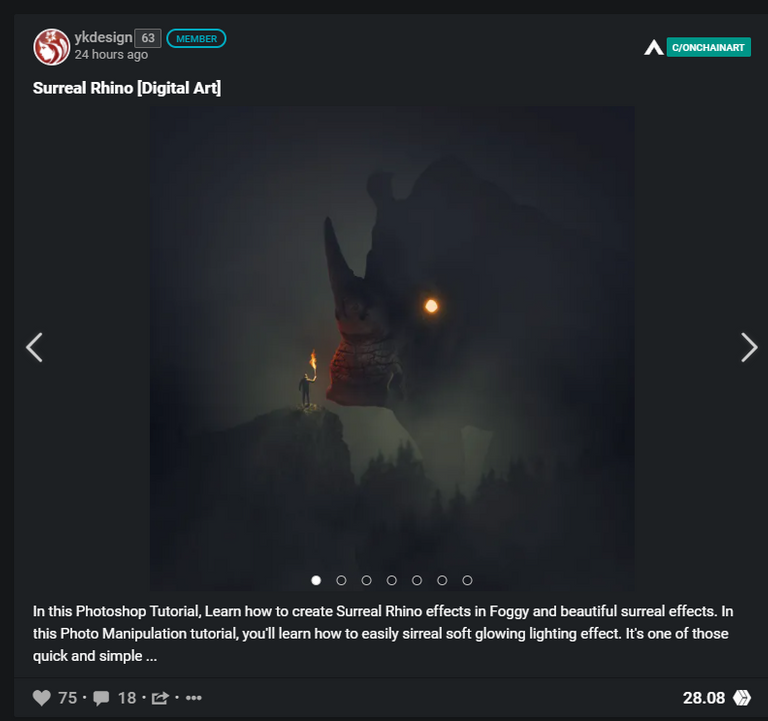 Surreal Rhino [Digital Art]
In this Photoshop Tutorial, Learn how to create Surreal Rhino effects in Foggy and beautiful surreal effects. In this Photo Manipulation tutorial, you'll learn how to easily sirreal soft glowing lighting effect.
It's one of those quick and simple Photo retouching tutorials you'll learn how to use the Adjustment Layer tool, Hue Saturation Tool, and photoshop camera raw to put Surreal Photo Manipulation.
---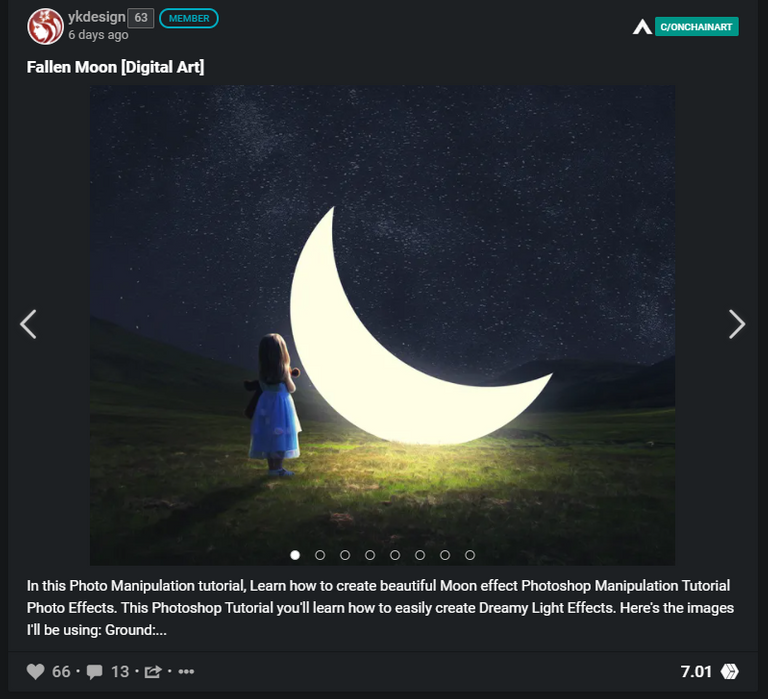 Fallen Moon [Digital Art]
In this Photo Manipulation tutorial, Learn how to create beautiful Moon effect Photoshop Manipulation Tutorial Photo Effects.
This Photoshop Tutorial you'll learn how to easily create Dreamy Light Effects.
The moon effect with the glow emanating onto the child and ground really stuck out to me just as much as the moon itself! I think this would make a lovely NFT on https://nftshowroom.com/!
---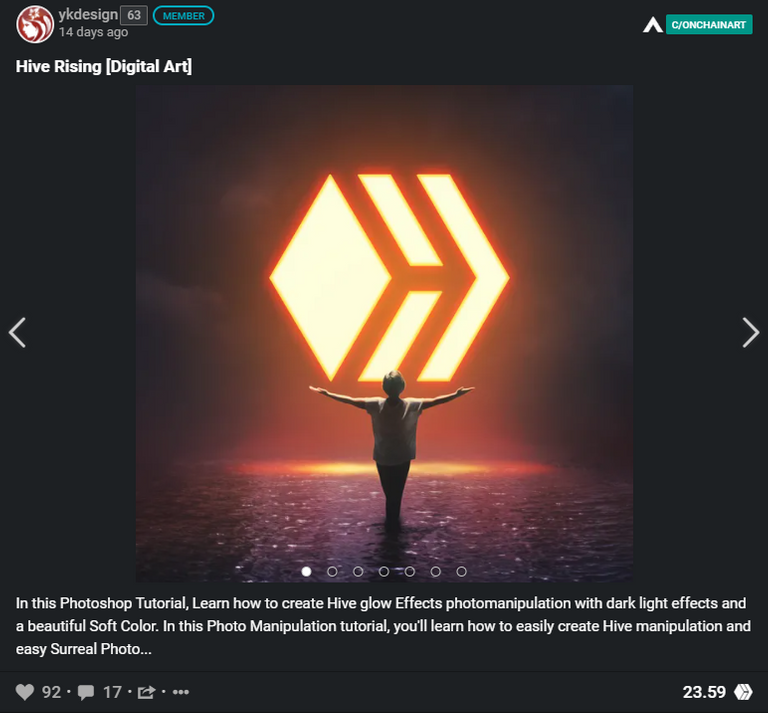 Hive Rising [Digital Art]
In this Photoshop Tutorial, Learn how to create Hive glow Effects photomanipulation with dark light effects and a beautiful Soft Color.*
In this Photo Manipulation tutorial, you'll learn how to easily create Hive manipulation and easy Surreal Photo Manipulation.
Especially, since I am collecting Hive NFTs on Nftshowroom, something like this I would for sure buy if it was minted on @nftshowroom!

Get better votes by using the neoxian.city website!
Please remember to use our website, it doesn't cost you anything. By only using our tag there is a 20% levvy on your neoxag earnings.


The city is now located in Element chat
Please visit us in Element. https://element.io/
Element information:
The id of the man to talk to there is @neoxian:matrix.org
Neoxian city chat: #cityofneoxian:matrix.org


Where do you fit into the City of Neoxian?
A lot of people come here and get sucked into the friendliness of our server. Some people want to take on roles in the city, others just want to chat and have a good time. There's nothing wrong with either!
What we haven't seen many of though is those wanting to create new roles and responsibilities for themselves in Neoxian City. Our Dragonmaster Neoxian is always open to new ideas.
Do you have a special talent? Let us see! Join our element chat.
-- we encourage growth here. What benefits us, also benefits you.
We have already started a School, A minetest server, A banking service, games, and so much more.
What can you bring to us?