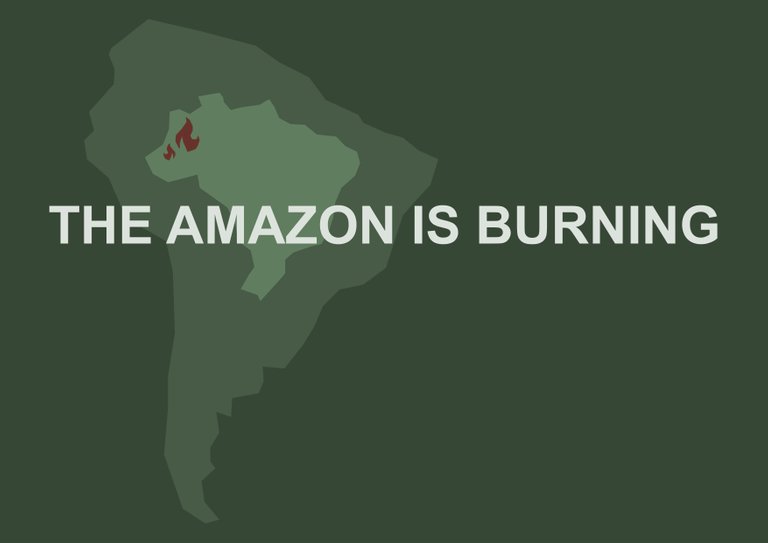 You might have heard about the fact that the amazon ha been burning for more than three weeks. People were upset that the media coverage was pretty bad. In comparison to the burning Notre-Dame church, where billions where donated within hours, it seems the rain forest in Brazil has been sadly left behind. I know that the burning rainforest is only one of a few environmental problems we are facing. But it is a bigger problem when you look at the facts.


Disclaimer
This initiative and blog post is based on my own research and my own opinion. Some info are hard facts but the changes i see as a solution are assumptions since the economy, the free market and politics tend to react unpredictable to changes. This post is not about politics in the first place, the initiative is not judging Brazil or its politicians in general.




The Info graphic

I was thinking for a long time about environmental problems and how we humans are about to destroy this planet. I was also thinking what i myself can do to save this planet? at least to make an effort to save it. So i worked with the resources i have:
I can design info graphics
I've build up a small community on social media
Combined i designed this template and shared it on my Instagram Story, as a post on Twitter, Facebook, Whatsapp and Instagram as well. Also added a call to action, trying to get the information viral.
Here is how it turned out (feel free to share and post them):
Instagram/Facebook/Whatsapp Story Template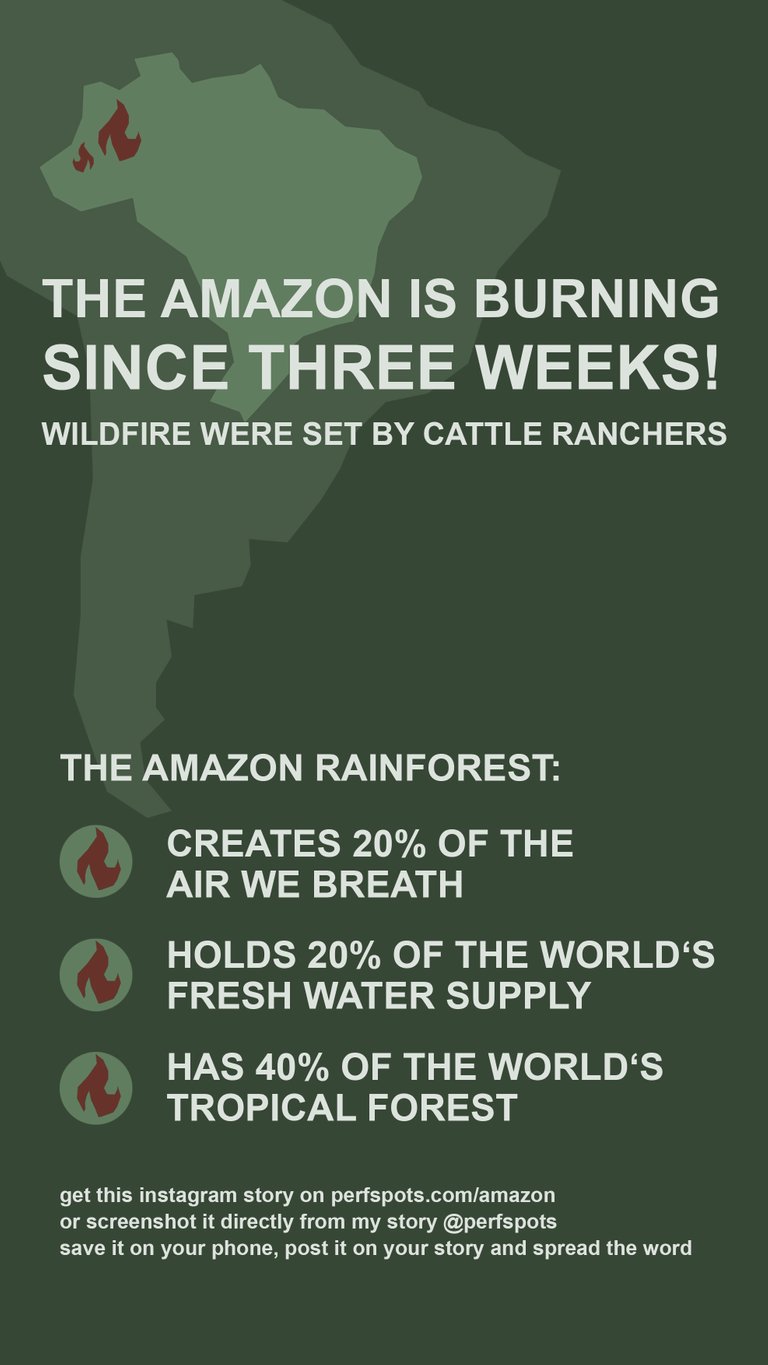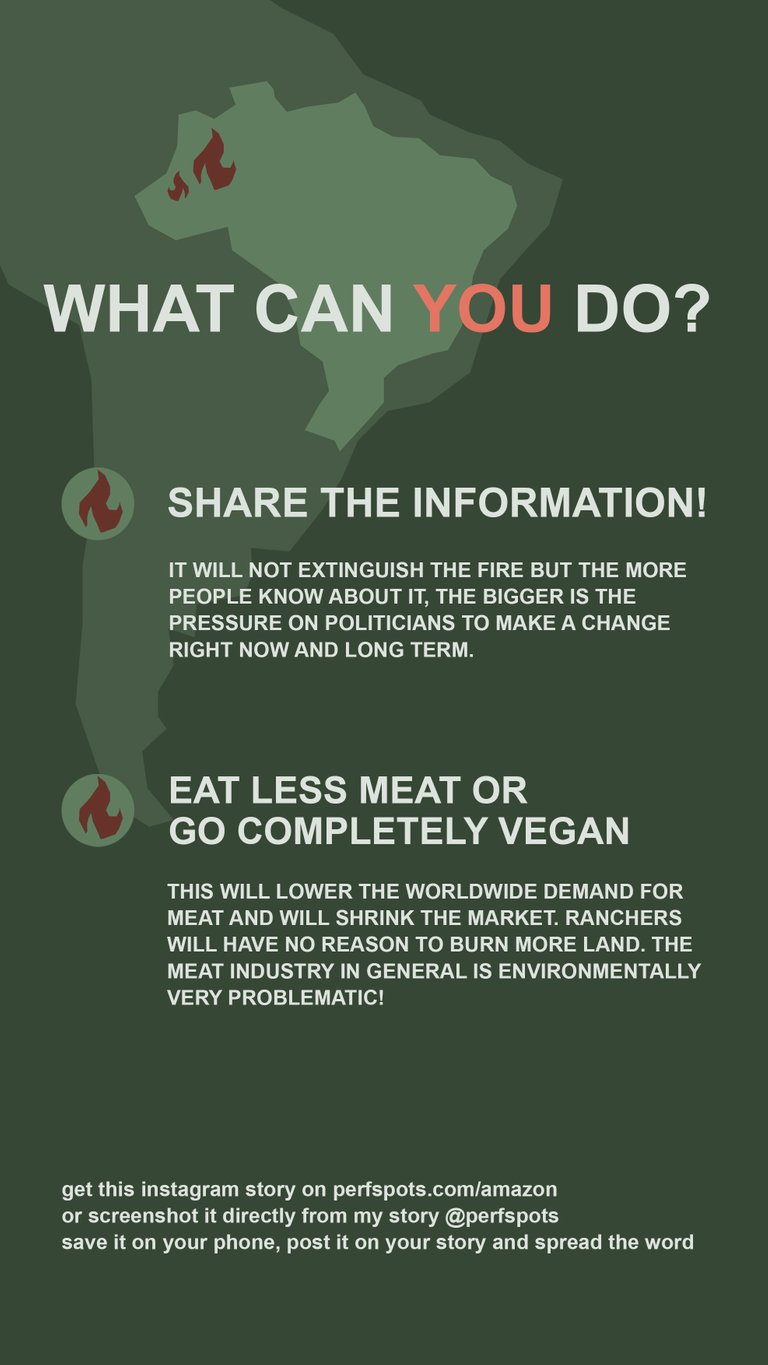 Post Size Template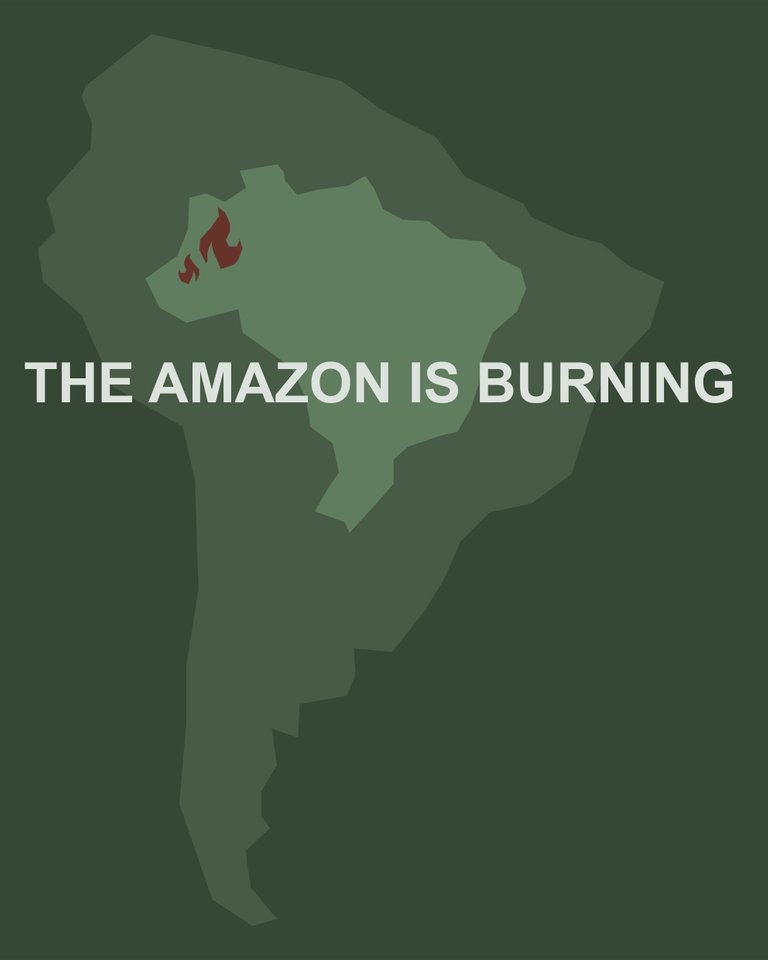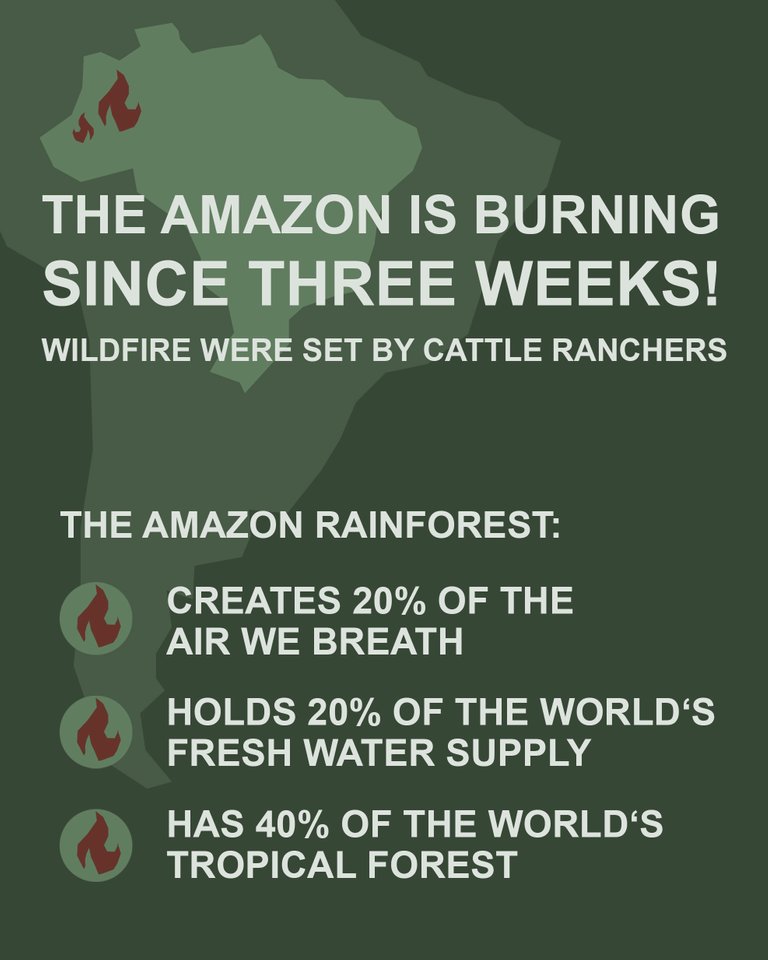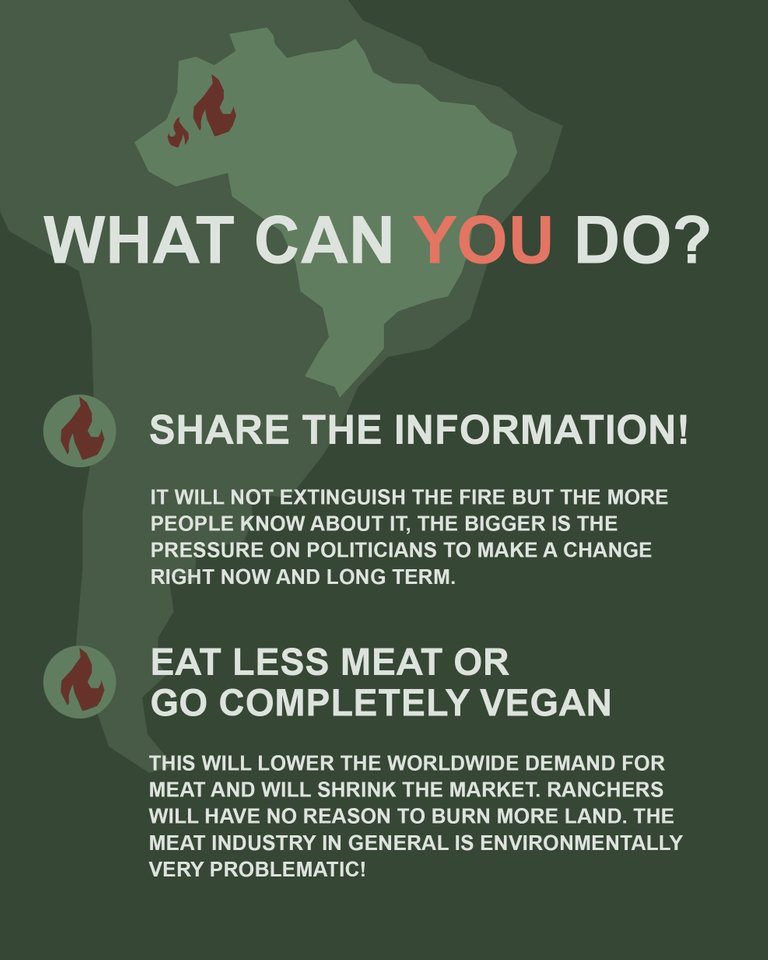 I tried to keep the inforgraphic as simple as possible. starting with the facts what we are actually destroying and the i focused on two points what every individual can do to change things.



What can you do?
Share the Information
Eat less meat or go completely vegan
donate
Share the Information
Some people say you won't save the planet by just sharing stuff like this, you gotta take action. I am not agree with this. Taking action is important without a doubt but sharing an information is the fundamental thing in making a change. It means educating people. So many people don't even know how their lifestyle or actions will affect the environment. So i believe that sharing the information, talking about this and inspiring others to change is the fundamental root for change. That means every like, share, retweet and tag really counts!
Eat less meat or go completely vegan
The consumption of beef is one of the biggest environmental problems we are facing nowadays. Believe it or not. If you want to learn more about this i can recommend you to watch the documentary "Cowspiracy". I am not vegan yet but after learning about the facts about the meat industry i decided to drastically reduce my meat consumption and who knows perhaps i will completely stop eating meat. I recommend you to do so as well. It won't solve all the problems but reduction in general will make a change: We reduce what we consume (food, clothes, plain trips, car trips, heating etc.) globally the demand for goods will shrink and the economy will stop the insane amount of destruction of our planet. i wrote a post on instagram about this here.:
"We want more. More money. More status. More clothes. A faster car. One more fancy watch. '
Things are produced to fullill those needs. Produced with the resources this earth provides. And the resources renew over time. The problem is when we consume more than the earth is capable of renewing, we will destroy this planet and ourselves too. This is logical thinking, no fancy numbers needed.
Why do you want more? Is this shiney watch making you happy and fulfilled? Perhaps, but only for a limited time i guess. Then you need something new.
Reduction is a solution
Reduce what you consume. Less clothes. Less meat. Less plastic. Less flights.
If you're struggling with reduction try to work on your mindset and your values.
Disclaimer: im not judging anyone and im not convincing that i live a perfect lifestyle. Im working on it because i believe only when we change and inspire others, slowly but steady our society and the economy will shift to a better direction."
Donate
Donations are very important to sustain the reforestation of the burned land. Most people are ain't got the resources to donate a big chunk of money but like sharing a information can have a big impact, a small donation will help! imagine you donate 5 bucks, everyone reading this can donate 5 bucks, then multiply it with 200'000 people doing so = 1 Million donated.
In this certain case about the fires in Brazile i recommend you to donate to the rain forest alliance.
This is what they announced on Instagram:
Amazon S.O.S. Part II🚨
Many members of our alliance have been asking what actions we are taking in response to the crisis in the Brazilian Amazon (which is now spreading into Bolivia and a region of the Peruvian Amazon where our longstanding partner communities live; 🔥 knows no borders). In addition to redirecting 100% of donations made in August via link in bio to frontline groups in the Brazilian Amazon, we are mobilizing our global alliance for a vigorous, multi-faceted crisis response. We're working with our partners—including multi-national companies, farmers, governments, scientists, and Indigenous and forest communities around the world—to put pressure on the Brazilian government to conserve the Amazon for the good of people and nature. 🌎That means, first and foremost, defending it against illegal logging, destructive slash-and-burn agriculture, and other existential threats.
In addition, we're harnessing international concern over the fires to intensify our ongoing advisory work with companies that source commodities from Brazil; leveraging our position as respected expert-advocates to advance responsive policy and regulation within the European Union to influence the Brazilian government; and urging business leaders around the world to embrace the Accountability Framework initiative, which provides guidance and benchmarks for sustainable supply-chain transformation. 💚 Work is love made visible, and we have infinite love for the Amazon. 🌳
What are you waiting for?
I hope i inspired you to take action, even if it is simply by sharing this post or one of the info graphics. You know now what you can do to make a change. Or do it like me, use the resources you have, filmmaking, painting, podcasting and spread the word. let me know in the comments what you think could make a change let me know whenever i can help!
Let's save this planet