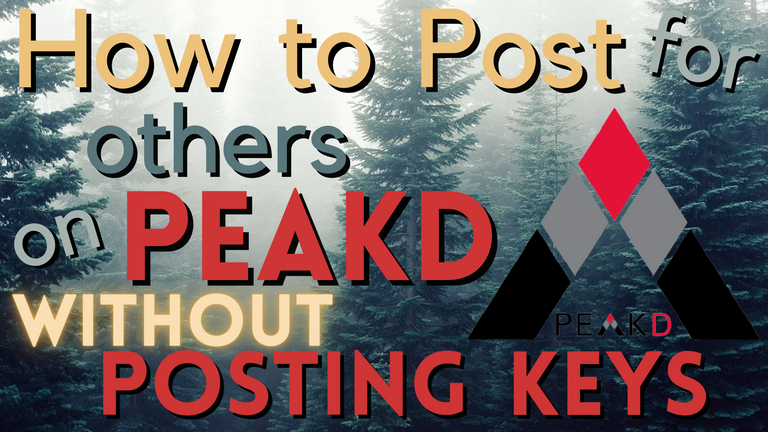 How to have Multiple People Share One Account without Giving away Posting Keys
Let's say you have a shared account but you're miles apart, or you were hired to be an assistant and you want to help blog for them. Perhaps you've created a company, and you have multiple people writing to the one account (like maybe I Love Dogs, Inc. and you have several people in the company who want to post stories about their dogs using the same one account). While it might seem complicated, #PeakD has made it incredibly easy to share posting authority for the account without any worries whatsoever about that person having access to the posting key or wallet or anything of that nature. I had to learn this due to a recent update in my life, and I thought it would be so helpful that I decided to step away from my usual #Splinterlands posts to do a quick one specifically on this feature. Let's walk through the steps!
Steps to GIVE Posting Authority
The person giving the posting authority needs to go to their OWN profile page and click on ACCOUNT ACTIONS.


Click on KEYS AND PERMISSIONS.


Then click on AUTHORITIES.


Then click ADD NEW AUTHORITY.


Choose posting as the role.


Then type in the recipient's account.
Steps to ADD the New Account you Received Posting Authority From
If you're the person who will be blogging/posting for someone else, then here are the steps you must follow (once the person GIVING you posting authority has actually done the steps mentioned above on their account.
Make sure you have Hive Key Chain. (If you don't have it or don't know much about Hive Keychain, click on this link to learn more about how it protects your account keys safely.)


Click on the "hamburger button" (the three horizonal lines that usually indicate a dropdown mention).


Click on ADD ACCOUNT.


Click on USE AUTHORIZED ACCOUNT


Type in your username and the authorized account username.


Click on SAVE.
Add the New Account to Your PeakD "Switch User" Area
Click on your name for a drop down menu.


Click on SWITCH USER.


You will see an Accounts Menu. Click on ADD ACCOUNT.


Type in the username that you have been given authority to use and click on the KEYCHAIN FOR HIVE login.

And you're done! You will only have to add that account in one time and then in the future, when you switch users, you'll have easy access to that account! Remember, however, you do not have access to use their wallet or anything of real concern, which protects you and them, but you will have the ability to post for them!
Update on Life/Blog
So, if you're read this far down then you're probably one of my precious readers that is curious why I went from daily posts to silence. Well, I got a new job! Yipppeee!! Those of you who are familiar with PeakD might know him. Hee Hee! Yep, I'm an assistant for @jarvie ! Yippee! In fact, he's the one that showed me these cool features on PeakD! (Now, imagine that? HA HA!)
So I still plan to blog here, and in fact, I've been doing some blogging on his account already, but I'll be writing here as well, and with only a few days left for vouchers in Splinterlands, I'll be writing about that big news soon. Thank you very much for following me and being so supportive! The whole community is amazing!
Since this post is more for PeakD and those benefits, I'll end it here, but thanks again for reading, and I'll be posting again soon about Splinterlands and those VOUCHERS! :)